Social media — something once thought of as a means of disconnecting people — is now becoming one of the main lifelines keeping people from different cities, backgrounds and generations connected.
Creating content and manipulating it to each social platform is crucial  for business growth and capitalizing on social selling opportunities. However, it can be hard to figure out where to start or how to measure the effectiveness of a social media campaign for law firms or other businesses.
While every social media strategy for franchises or brands is going to be different based on the industry, there are a few universal rules that apply when creating all social media content.
1.  Relevancy
Your content must be relevant to your industry. This does not mean that you should post or share branded content exclusively, but it does need to respectively tie into what your target demographics will engage with and your marketing objectives.
Example: A hotel chain may post about events happening in the area to appeal to their target market, rather than advertising new accommodations, price cuts and specials. This way the hotel is sharing content that is engaging to the audience and sparks conversions or generates new reservations. This same rule applies to social media strategies for restaurants, but instead of accommodations it's food.
2.  Engagement and Value
Your content must ignite engagement and include some kind of value proposition. When posting on social media you want to provoke thoughts, questions or form a connection with your audience. By doing this, you are increasing the likeliness of receiving comments, likes and shares that will build brand awareness and advocacy.
Example: When posting about the upcoming Georgia football game, instead of simply posting "There is a UGA home football game this Saturday at 7:00 p.m.," you should consider adding a statement to the post that will make your audience feel something. A possible option for addition to the post could be, "Who is your favorite Dawg?" or "Did you know that Sanford Stadium is the 10th largest stadium in the NCAA?"
By doing this, you will encourage your readers to interact with you.
3.  Don't Over Market
Don't make your audience feel like they are being sold something all the time. You want to be careful to not make your readers feel that their experience is being interrupted by advertisements. There are many ways that large companies incorporate their bottom line with content that is personalized for audience segments.
Example: Papa John's does a great job of incorporating stories of famous athletes with new pizza offerings. These posts are connecting with individuals via well-known athletes, while they are also promoting the brand's deals or new products.
Connect with your target demographics first by identifying their pain points. By doing this your social media campaigns will be much more effective.
Differences in Social Media Platforms
Depending on the social media platform that you are posting on, your post will need to be adjusted.
Facebook: When creating content for Facebook, you need to stay as personal as possible. Your audience on Facebook is looking for a connection to your post, whether it is something they personally connect to or something they want to be connected to.
Twitter: This is a platform for conversations. Here is where you will want to spark the most conversation in an easy, quick and simple way.
Google +: This is a space predominantly used by different demographics than Facebook and Twitter. Here is where you will want to focus the most on your call of action. You want to keep most of the fluff out of these posts and provide information.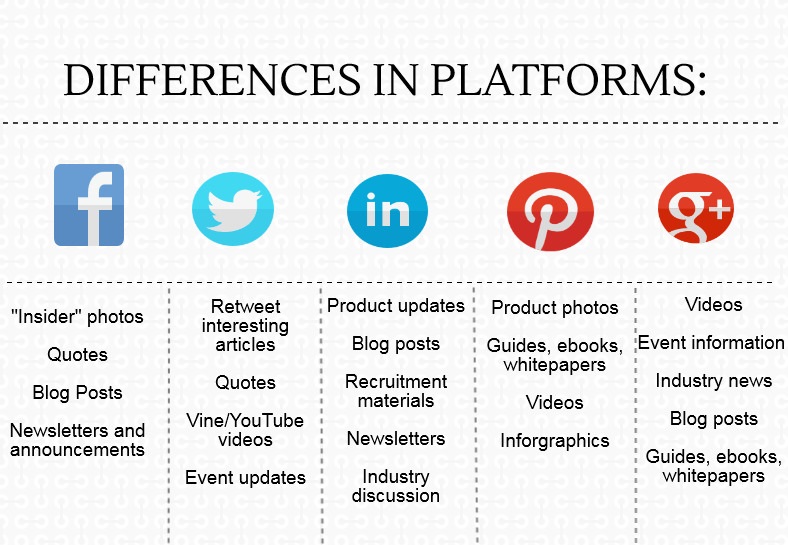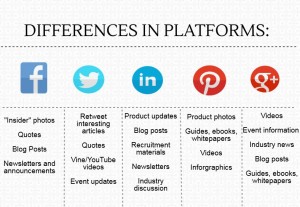 Why Social Media?
The new wave of social media marketing leaves many skeptical. However, people may be skeptical because the world of social media is relatively unknown.
Although the benefits of creating and maintaining brand awareness on social media are endless, here are a few of the best reasons why you should say yes to social media.
Word of Mouth: By making yourself visible and accessible via social media, you are building a team of fans that will ultimately be the voice of your business. These brand ambassadors will be the ones who are sharing your content and who will create buzz and attention for your company.
Google likes, what Google likes: Google is constantly changing, and recently Google decided that traditional link building will no longer help you, in fact it could hurt your business. The good news is that social media link building is much harder to manipulate than traditional methods. So, by maintaining an active presence on social media you are able to use links like "votes" for your website.
Leads and conversions: Although actually getting a sale is not the main purpose of social media marketing, you are always opening yourself up to gaining new customers and remarketing to current ones.
Be a trusted advisor: By following the basic guidelines for creating quality content and by knowing your industry and target market, you are able to gain the trust of your audience. Whether you are gaining their trust as an expert in your industry or as a pillar in the community, you are ultimately building authority, and when they are in need the audience will turn to you.
Interested in more tips on how to get the most out of your social media strategy? Download our eBook today.