Some advertisers ignore Google Ad extensions completely. However, if you want to acquire more "real estates" in Google search results, integrating ad extensions is critical to the success of your AdWords campaigns.
A brand like Accor Hotels already uses Google Ad extensions to increase conversions by 14%.
What are AdWords extensions, really?
These are new features or add-ons in Google AdWords that allow you to add more information such as product info, contact info, reviews, etc. to your ad.
Let's go over some effective ways to use the new AdWords promotion extensions.
1. Location Extensions
Whether your target audience resides in a particular geographical location or you want to prove that your company is a real company, you'll want to add location-related information to your ad.
Here's an example:

And there are a couple of reasons you might want to integrate location-related information into your ad. Let's consider a few core reasons:
i). If your business has a local office, you want to take advantage of the local extension to reach customers near the location where your business is located. Interestingly, you can set different bids for customers in different locations.
ii). You don't have to pay additional money to add it to your ad. This makes it even better. Especially if you want to do some testing for different locations of your business, you won't need to pay more.
iii). You'll have absolute control on location targeting around specific business addresses.
So, how can you add a location extension to your ad?
This is a simple and efficient process, just like any other extension, you can simply take this path:
Log into your Google AdWords account, navigate to your Ad group levels, or Campaigns, and then add the Local Extension.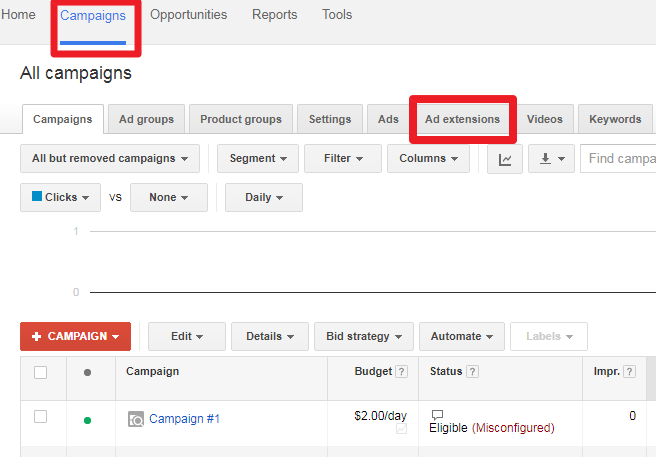 However, if you're using the new AdWords Experience. The process will be a bit different. You just have to navigate to the tab at the left "Ads & Extensions."
You should see the Extensions tab, click on it then click on the "+" button to choose the extension type you want to create.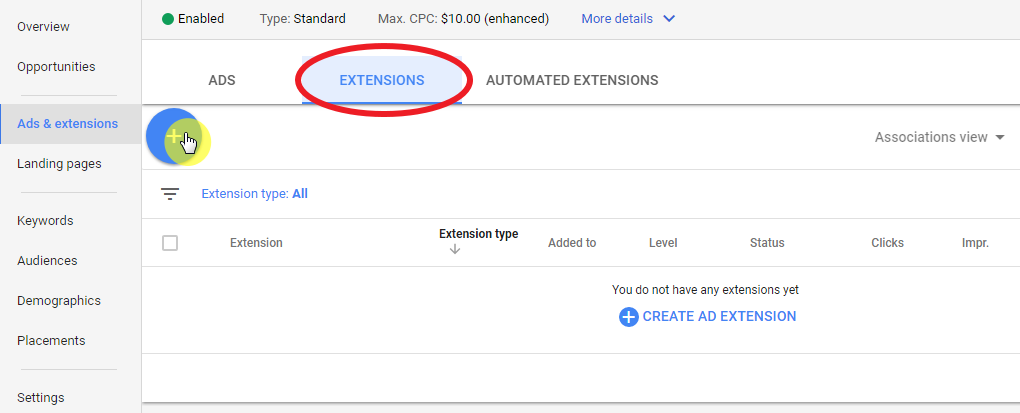 Since the new experience is still in the beta testing phase, we'll use the old version to illustrate the step-by-step process.
Click on the ":View" drop-down menu. You should see all the available extensions.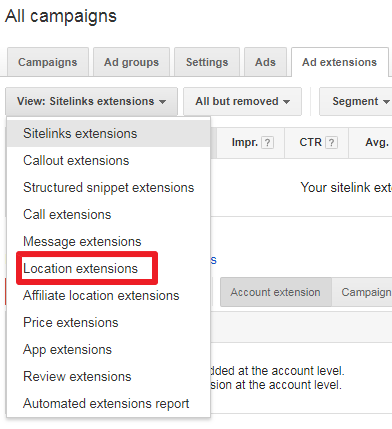 You can also pull your business information directly from your Google My Business account or create it from scratch.
The easiest way to create your Local Extension ad is by using your Google My Business account.
To get started you have to click on the "EXTENSION" button. If your AdWords account has the same login details as your Google My Business account, the data from your Google Business page will start populating the fields.

Remember not to change your business name and address from the AdWords interface as this may cause issues. However, you can play around with the images and the map icon.
More so, it's critical to note that your business image should be relevant to the current ad you want to run.
And of course, the content on your landing page should be in sync with your ad content as well to improve your user's experience and to convert visitors to customers.
If you've got a business to caters to local consumers, you sure should use the location extension to grow your business.
2. Ad Variations
The new Google AdWords Rolled out with a new way to test ad variations. It's obvious that Google now wants you to be able to test your ads and improve its performance. If you have a PPC campaign for lawyers, take advantage of this.
It allows you to test small variations of your ads across multiple Ad groups or Campaigns.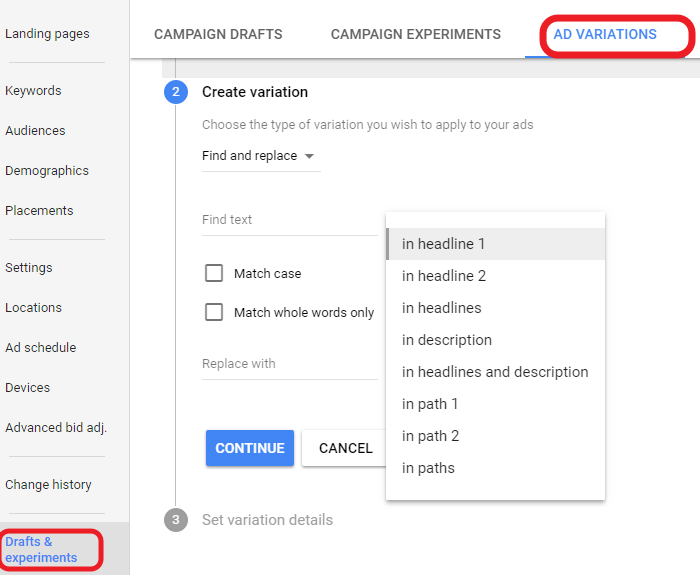 With ad variations, you can test how well your ads are performing especially if you change a different call to action. For example, if you change from "Buy Now" to "Buy Today."
Or something else entirely, like "Contact Us For a Free Quote"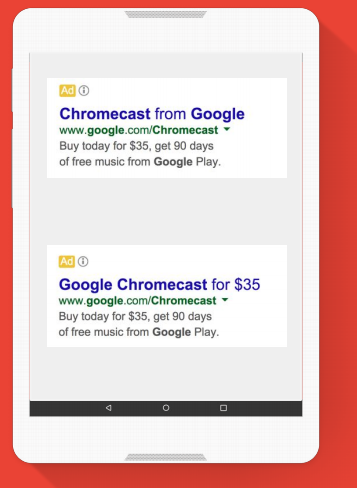 How do you create ad variations?
To create ad variations, you need to first of all select the scope — a specific campaign, an ad group, a custom scope, or your entire account. For example, you could find "Local eatery" and replace it with "Nearby eatery."
Here are some supported variation actions you can start using now:
i). Find and replace: You could find a text and replace it with another. Like the example we used earlier, find "Buy now" and replace with "Buy today."
ii). Set a new creative text: Another thing you can do is to create a new creative text. You could either update it or create an entirely new one.
iii). Swap Description lines: You could also swap the descriptions with other descriptions to see how it plays out.
iv). Change case: Yes, if a lower case didn't work. You could change it to uppercase or other case types. Find out the one that works best then use it.
v). Change ad rotation(optimize for clicks vs. rotate indefinitely): You can use the ad customizers to dynamically insert specific information from a feed. You get two benefits doing this:
You dramatically improve your quality score (as you improve the relevance of your ads)
And you're able to offer the best products or ads to your customers — thus making it easier for them to buy. In other words, you're giving them exactly what they want.
If you're managing multiple AdWords campaigns for your clients or company, then the Ad customizer can help you. You can improve your widgets, choose a different color scheme, create a limited time "countdown" ad and also showcase to your customers what you have in stock before they disappear for good.
vi). Test Ad Customizers: By now you know how to create an ad variation, you also have the opportunity to see the performance of different ad variations to help you make decisions that'll allow you maximize your AdWords ROI. Right?
The diagram below shows a report of the different ad variation performances.

From the report above, you'd see all the variations and their results. Once you're happy with the performance, you can apply the variation to your ad group or campaign.
3. Price Extension
Google just launched the pricing extension for mobile devices. As we know Google is a mobile-first company. This extension is very useful when you're executing PPC campaigns for restaurants.
The company doesn't isn't only concerned about ads their users see while using mobile devices, they also care about the advertisers, and how they can use their infrastructure to generate more business.
The pricing extension takes up a significant real estate on the Google search results pages.
You'll see the prices below an ad. It shows a list of items with their prices like this: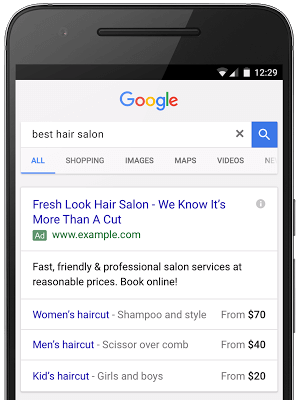 This is the first ad that'll allow advertisers to show the price of multiple items on search results. That's actually interesting. A searcher will have the opportunity to see the prices of items before actually giving it a go. That means there is a likelihood that they will respond positively to a product.
To complement your efforts, I'll suggest you create a high-converting landing page for your ad.
Here is how you can set price extensions for your ad:
As usual, log into your account and head over to the new experience view. Then click on the "Ad & Extensions" tab on the left-hand side.

Next, click on the "Extensions" tab that will show up at the top of the page.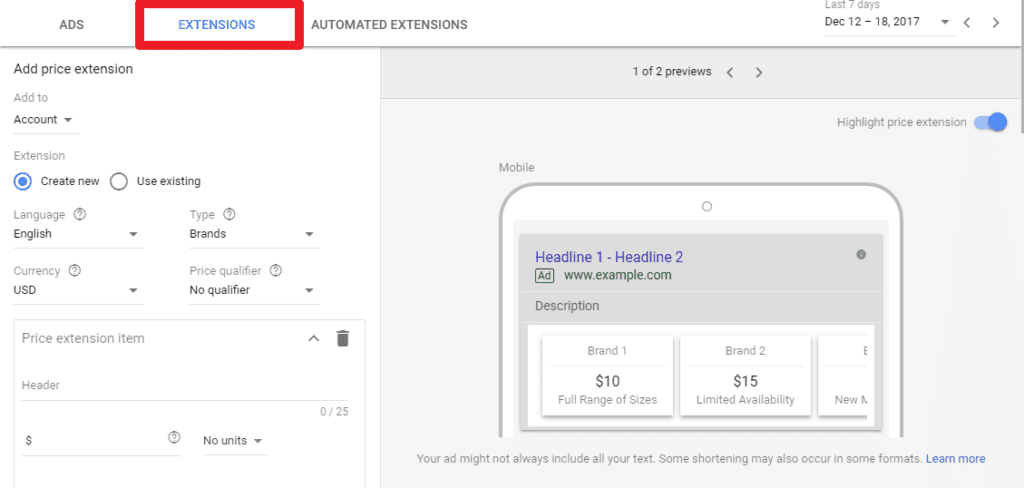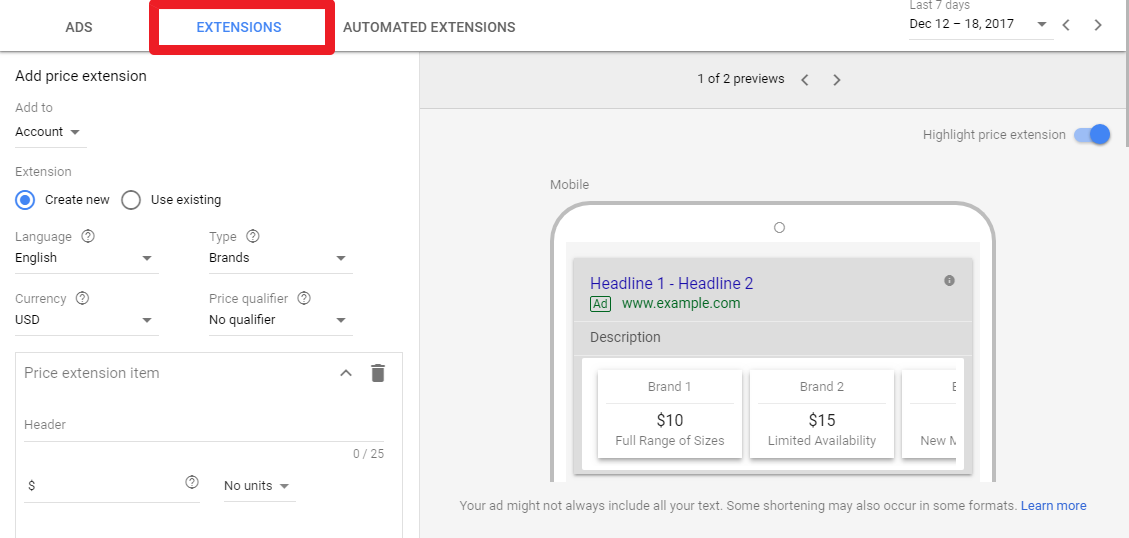 That's where you can start adding the prices for the items. And subsequently, add them to your campaign or ad group.
So the screenshot above shows some fields to get you started. However, there is more. When you scroll down a bit, you'll notice there are other items you can also add prices.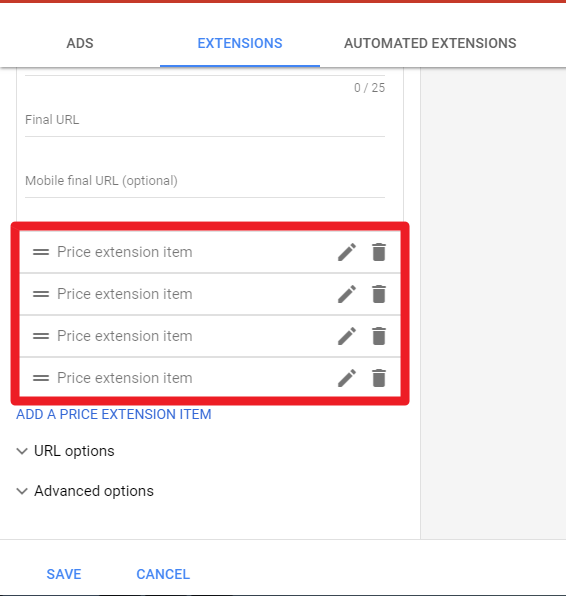 Assuming you're done adding the prices, you'll notice a drop-down that says "Add to," click on it and add your just created price extension to either your campaign or Ad Group from the drop-down.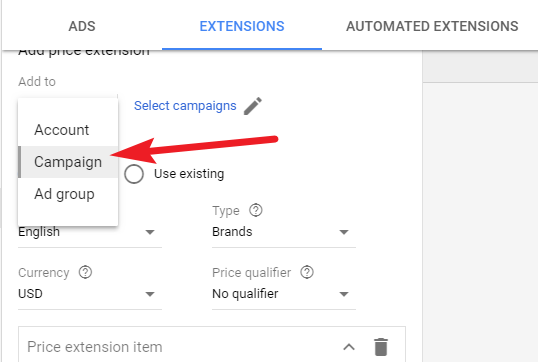 It might also interest you to know that you can reach your audience on other devices as well — Desktop, Tab, etc.


The Price Extension is an extremely needed extension for businesses that want to take their campaigns to the next level, get more valuable clicks, and increase sales.
4. Sitelink extension
This extension is pretty easy to set up. Sitelink is another important feature that is capable of increasing your conversion rate a great deal. But many advertisers aren't making use of it, yet.
It allows you to add more links to your ads. Thereby taking up more spaces on Google search engine result pages.
Here is how it looks: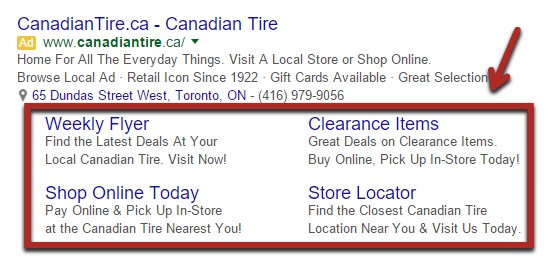 It's the easiest way to create multiple ads from one ad. Sitelinks are extremely critical for any paid search campaign.
We already covered some aspects of ppc management and how to run successful campaign with google adwords in previous articles.
According to Matt Lawson, "User interaction with sitelinks is so strong you should consider them a basic part of your ad text, which includes the title, description, display URL, and sitelinks. Optimize the messaging in this space routinely, just as you do with ad text."
Some of the benefits of using sitelinks are:
They provide an additional real estate for your ad.
Sitelinks offer a better search experience for your target customer.
You can use it to promote additional pages of your website.
If you've got specific products, you could also leverage this extension to sell specific products, too.
Another important thing to note is that they boost quality score which can actually help you reduce your ad cost. This is actually because they show value to customers before they even click through to your landing page.
According to Google, it's one of the ad ranking factors. That means, adding a sitelink has a direct positive impact on your ad ranking.
Google also found out that it improves click-through rate by 10% – 20%, which is a big deal.
How do I create an effective sitelink since they are so important?
i). Take Google's advice: Short sitelinks perform better — use them. "try to keep them closer to 18-20 characters for desktop and 12-15 characters for mobile."
ii). Have at least 6 active sitelinks for desktop and 4 active sitelinks for mobile.
Another thing you want to do is to test all your sitelinks to determine the ones that are performing better. When you find them, use that style consistently.
5. Call Extensions
According to a recent study, nearly 60% of searches now come from mobile devices. Are you taking advantage of that? You're probably losing out on sales if you're not using the AdWords "Call Extension" in your ad.

Especially if your business requires that people call in to make inquiries. It's easier to just hit the call button than copying the number to your phone before calling. Right?
Here is an example: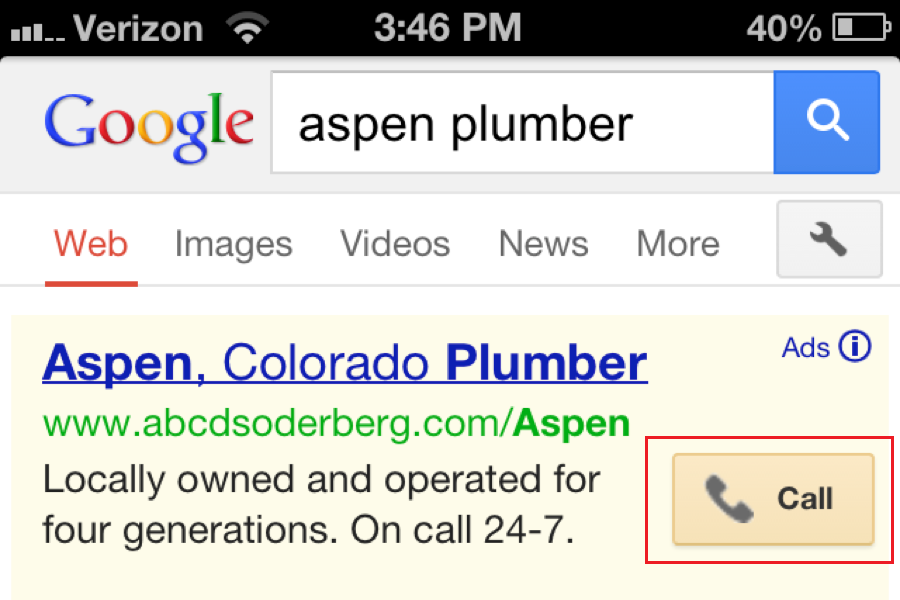 It's an incredibly powerful feature that can boost your click-through rate, generate more leads, and of course, yield more sales. You definitely don't want to miss out on this one.
Call extension is mostly used by local businesses and agencies that have local offices. If you own a brick-and-mortar business, you should consider adding a phone number to your ad to maximize conversion.
6. Promotion Extension
The AdWords Promotion Extension shows a price tag that is noticeable from search results. Much like the Price Extension, the Promotion Extension also highlights a sale on your website.
You can add specific details to your promotion, for example, whether it's an event or a promotion period like Black Friday. So people need to make purchases before the discount ends.
For example, take a look at this screenshot below: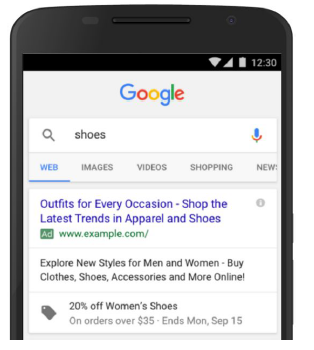 This is more like giving you a real shopping experience before you even click through to the website.
Best of all, you could even combine it with other extensions like the price extension. All you need to do is to add the price extension to your ad group or campaign just the way we did earlier.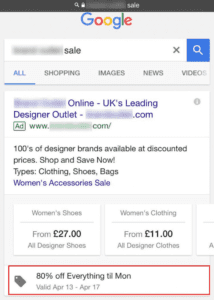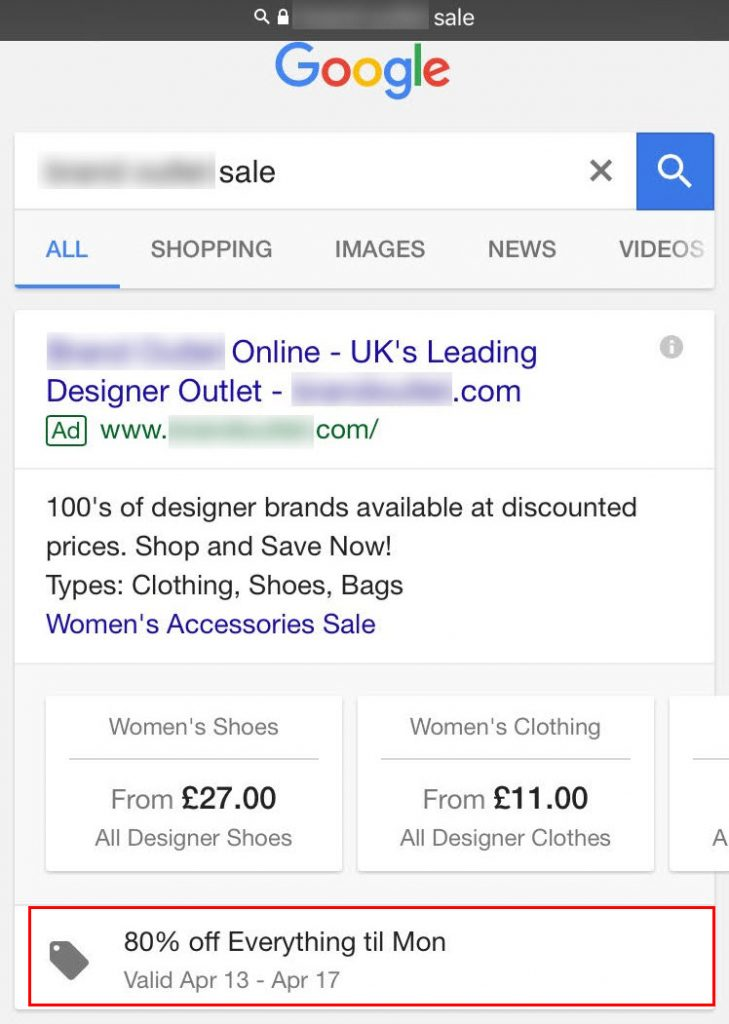 I guess you've noticed the Promotion Extension below other extensions. You'll have one shown per result. Maybe this will change in the future to match the way price extensions are shown, our Charlotte online marketing agency doesn't know yet.
Let's take a look at how to set it up: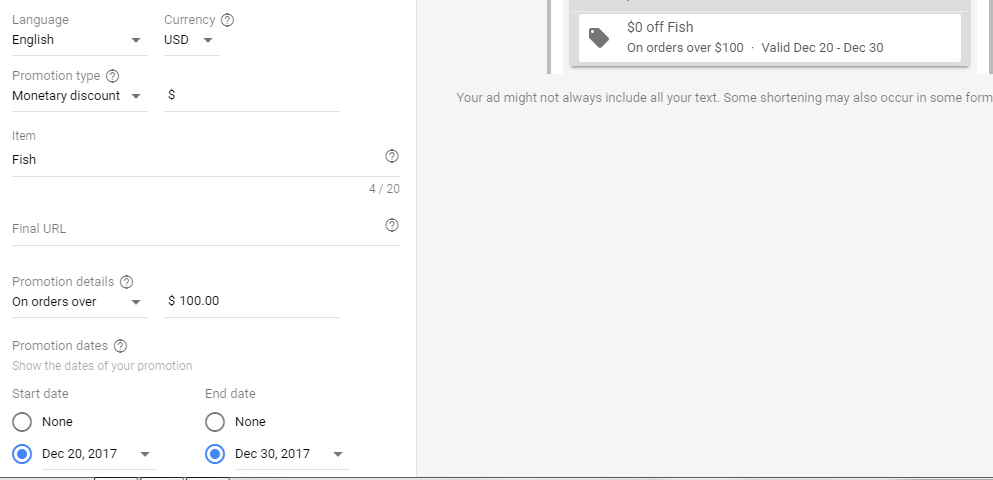 Go to the Ads & Extension tab, navigate to the Extension tab then hit the "+" button. This page should come up.
You should be able to make all the settings you want to make for your promotion here.
It doesn't get easier than that.
Once you are done with making the changes, you can add it to your campaign or ad group as usual.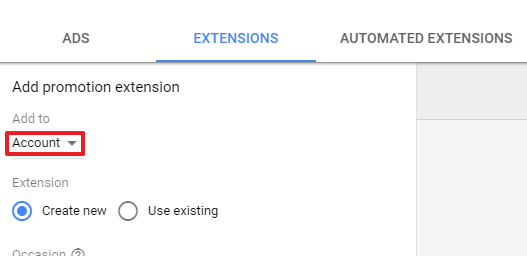 Why should you bother about adding a promotion extension?
There are a bunch of reasons why you should.
The obvious reason is that it takes even more real estate on Google search results — because it's more prominent and likely to attract users to click-through to your website.
The promotion extension gives you the privilege to add more information to your ads before sending your visitors to your website.
Undoubtedly, for the majority of businesses out there, improving sales conversion rate is what matters. If that's what matters to you as well, this extension is designed specifically for that purpose.
7. Review Extensions
The Review Extensions are important extensions with respect to increasing conversions. Here's why:
Often times before people buy a product online, they will turn to review websites to read up what other customers think about the product — whether or not they are satisfied after their purchase. What the post-purchase experience is like.
In fact, a recent study, "90% of customers say online reviews have impacted their buying decisions."
Adding a review extension to your ad will give you instant credibility. This is important because you need credibility to establish trust with customers. Otherwise, they will leave. This explains why a lot of customers abandon their shopping cart.
A recent study by Econsultancy reveals that about 44% of UK shoppers abandon their shopping carts for many reasons. The underlying reason is when they don't trust the marketer or brand.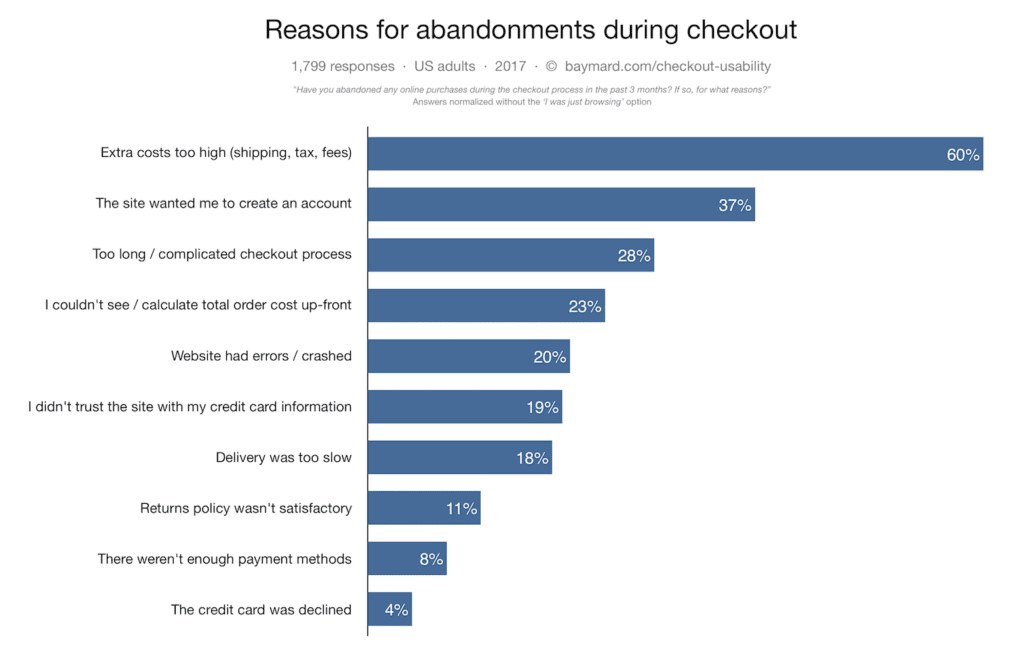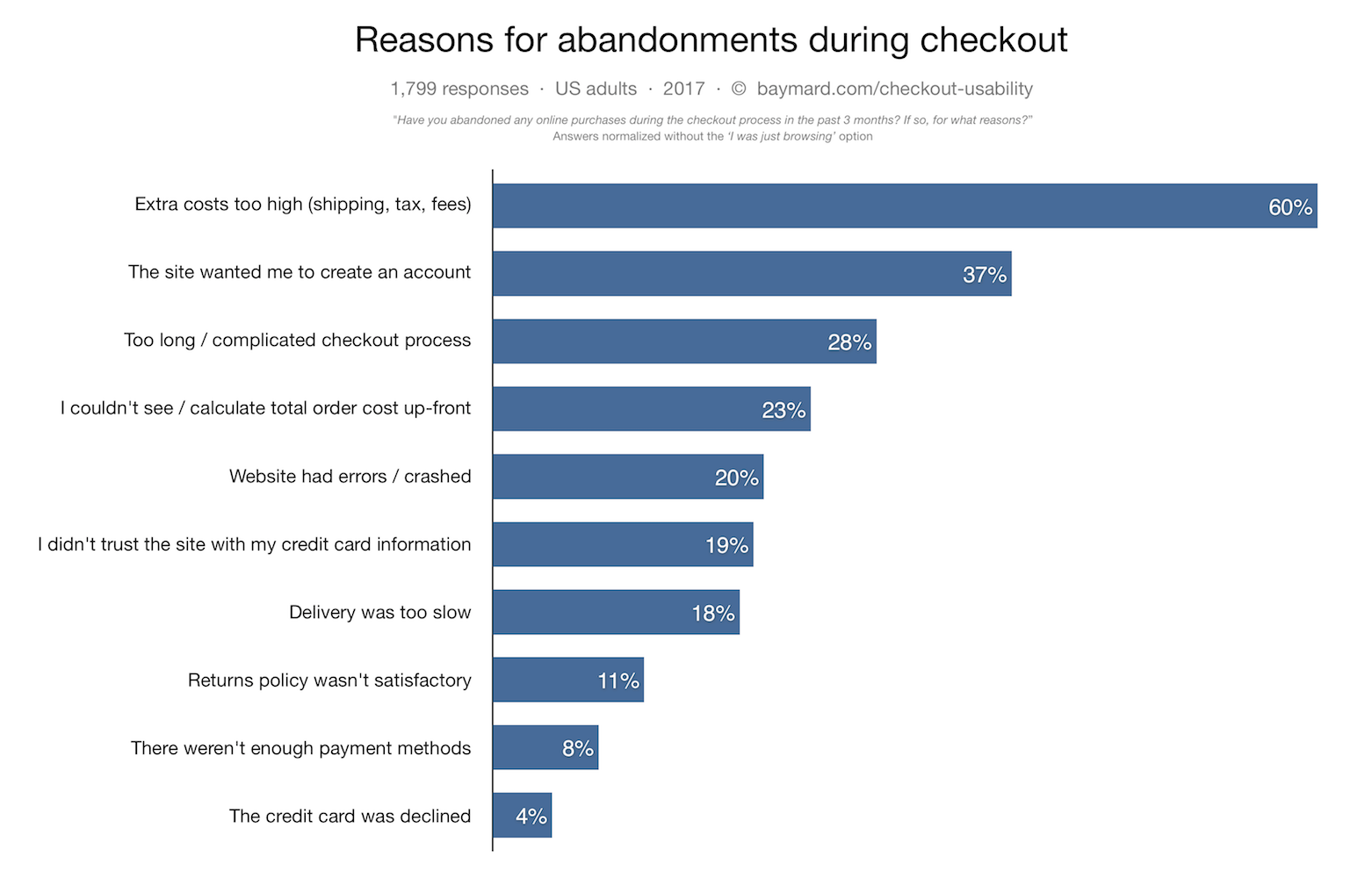 Interestingly, most businesses that run Google AdWords campaigns don't use review extensions, yet. That makes it even better as your ad will stand out from your competitors.
Google noted that businesses have seen a 10% increase in CTR when they implemented the Review Extensions.
Even though this is not a new feature, not many advertisers are taking advantage of it.
There are two types of Review Extensions — the exact phrase and the paraphrased. Here is an example: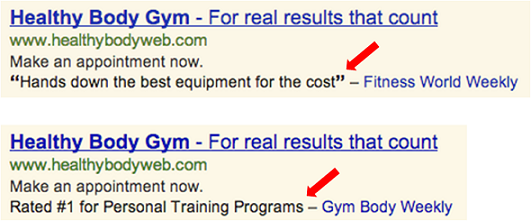 Having a review extension added to your ad will give you a big boost as your target customers will read the reviews from your ad before even going to your landing page. It gives them an extra confidence.
Make no mistakes, you can't just get a review and put it there. No. Google has a strict policy for approving reviews.
Because they need to verify that it's authentic. More so, if you send multiple requests for approval, only the first one that gets approved will be attached to your ad. Also, understand that you'll have to provide a link from a reputable website where the review was made.
So what are the best practices for high-converting reviews?
i). Use reviews from reputable websites: You should ensure that your reviews are centered on your brand, and not primarily on a particular product or service. This will make the review relevant to all your ads.
ii). Make your ad text different from your review text: Since you can use the same review extension for several ad groups and campaigns, then ensure you don't use the same text on both the ad and reviews.
I understand that some advertisers use reviews as their ad text.
iii). Make sure your review follows the rules: There are a lot of things that can cause your reviews not to appear (to be approved) in your ad immediately. Some of which are:
When you create the review yourself — more or less, you're making up reviews. This is a bad practice. Google wants you to collect reviews about your brand from trusted publications such as Yello Pages, Yelp, among many others.
When you repeat your business name in the review text. It won't get approved.
Again, if you use a review that's over a year old, you'll risk not seeing it when the ad is approved.
Another thing you can do that will affect your approval is altering the review text from what it was in the source. Even adding a full stop, exclamation, or anything should be avoided.
8. Custom intent audiences
Have you been looking for a way to show your products and services to those who are looking to do business with you or those who want to buy your product?
Custom Intent audiences were released recently to allow advertisers target specific audiences and meet their specific needs — based on data you collected from a website, ad campaigns, and even on a YouTube channel.
According to Google:
"Custom Intent Audiences uses Google's machine learning technology to analyze your existing campaigns and auto-create custom intent audiences based on the most common keywords and URLs found in content that people browse while researching a given product or service."
However, there are two variations of the custom intent audience. In one variation, advertisers need to create the audiences themselves based off of data from their website, topics, and URL their target audiences are likely interested in.
The second variation is the use of machine-learning and automation. With this, Google will create an audience for you based on your campaign and intuitively choose your target customers for you.
For example, here are some data that have been generated from our own campaign.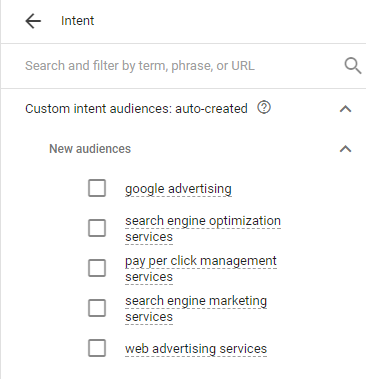 Custom intent audiences are majorly for Display Network advertisers who want to maximize their AdWords budget.
Whatever your business model is, if you have always wanted to leave the comfort of search engine result pages to put your business in front of your target audience — you should start taking advantage of Custom Intent Audiences.
Where can you find the Custom Intent Audience in your AdWords account?
It's quite simple.
Log into your AdWords account and navigate to the tab at the left where we have the Audience Tab. Click on it. Then move to the tab at the top. Click on the AUDIENCES tab and here you are.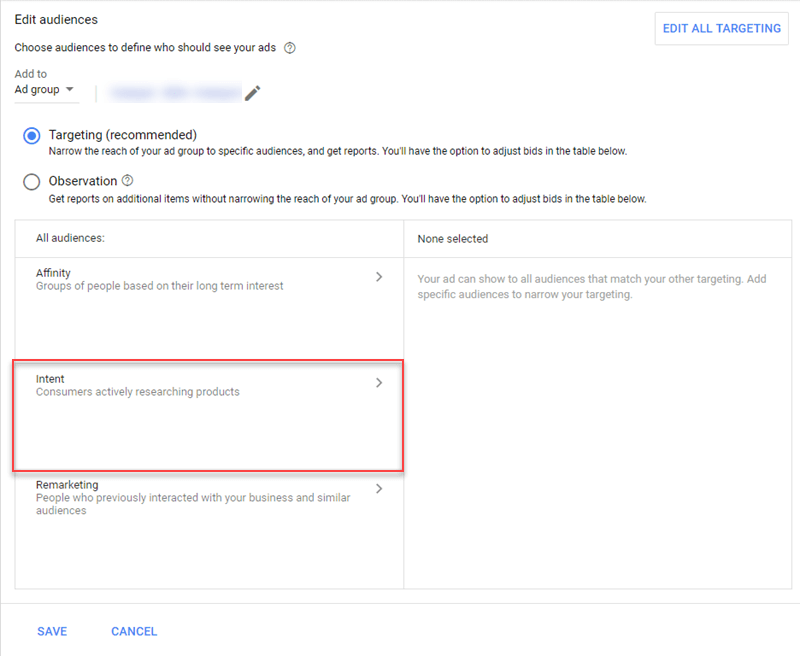 Next, assign your audience to an Ad group or Campaign. Once you're done, choose the target radio button.
From here you can you choose between generating your audiences automatically and auto-generated Custom Intent Audience or make your own from scratch.
How then do you create your own Custom Intent Audiences from scratch?
From the screenshot above, you can start creating Custom Intent Audience by following the following steps:
Click on the "Intent" tab, then you'll see a blue "+" button next to the words "New Content Audience." Click on it.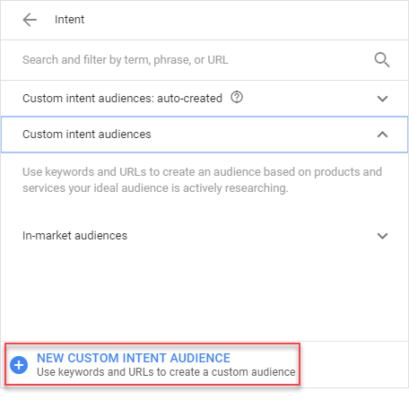 Next, you will see a popup that will allow you to name your new audience.

Then a form will show up. Enter a URL and some related terms your prospects are likely interested in. For example, you could enter Cardinaldigitalmarketing.com if your target audience is digital marketers.

Once you have selected your preferred keywords and URLs, click on the create button, and then return to the previous interface, where you'll see your estimated reach like this: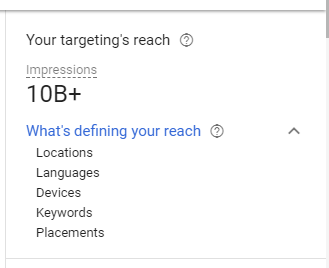 Congratulations, you have succeeded in creating your Custom Intent Audience.
What if you don't want to go through the stress of doing all of these steps?
You can allow Google to do it for you.
This time you'll have to choose the "Auto-create" once you get to the interface, you'll see a lot of audience options. Choose the one that resonates with you.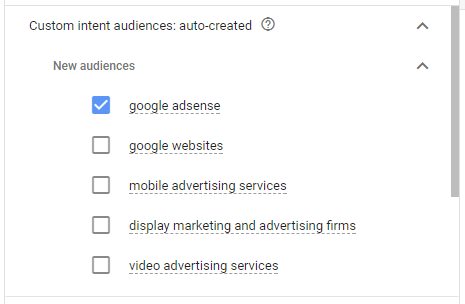 Want to know what your chosen audience is made of? Hover over the auto-created Audience, you'll see something like this: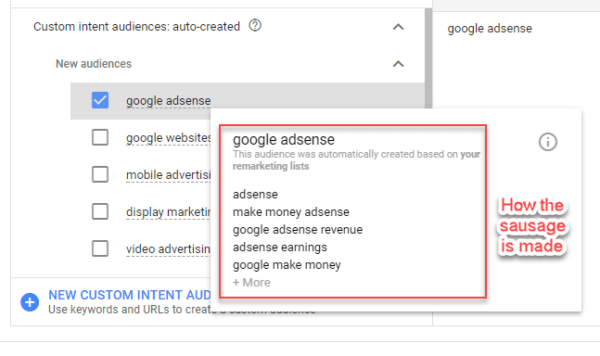 In the end, using custom audience the right way is the best way to maximize your display ads revenue.
Conclusion
It's true that running a successful Google AdWords campaign is hard.
However, with the new promotion extensions — tools that are designed to help you achieve more with your ads, you could make your AdWords spending a lot more rewarding, even as you drive more clicks, acquire new clients, and grow your revenue.