Good news, healthcare marketers—Google has made Local Services Ads, or LSAs, available to the healthcare industry. Originally designed for legal services and home services such as plumbing and electrical repair, Google now extends these helpful local ads to a wide range of industries, including healthcare. While there are differences in how you can use LSAs in healthcare, they offer a powerful way to access local leads— always a priority with healthcare organizations. We've put together our strategy recommendations below for how to get started, including the best ways to get the best lead quality. Ready? Let's take a look. 
What are LSAs?
You've seen an LSA before, most likely. LSAs appear at the top of a Google search results page, where they stand out to high-intent searchers. Their major selling point to marketers, of course, is that they can help businesses advertise their services locally and book appointments directly. Potential customers can see a business's information, read reviews, and call or message directly all from within an LSA.
How do LSAs vary from Google Ads? With LSAs, you pay by the lead instead of the click—an important detail we'll dive into later. For now, let's take a moment to discuss why LSAs are a great tool to add to your healthcare marketing toolbox. 
Why are LSAs Important for Healthcare Organizations?
So, why are LSAs important in healthcare marketing, and why should you dive in? The major selling point with these ad models is that they are additive to search, not a replacement ad type. In practice, that means that LSAs give you yet another way to dominate the SERP… and who doesn't like that. 
With LSAs, you also get a new and eye-catching way to capture potential patients' attention, as illustrated below: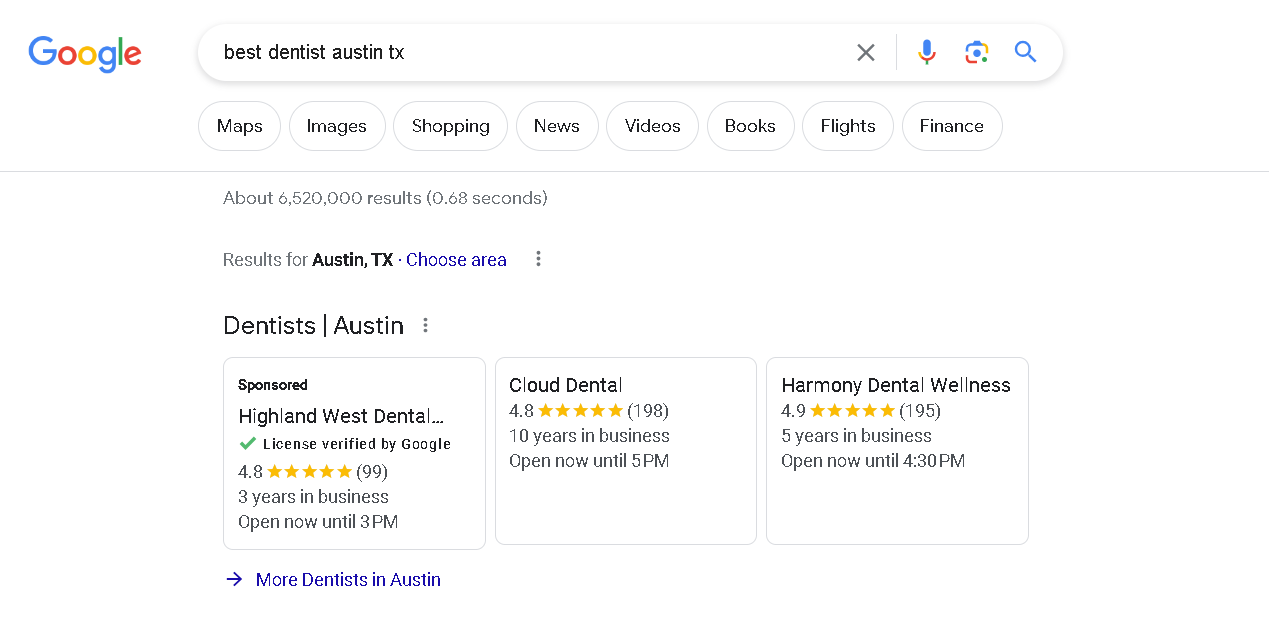 See? You're the first result at the top of the SERP. 
LSAs, are also bigger ads; the extra real estate allows you to layer in more options for messaging and include more information— just what those seeking out healthcare need to make a decision and convert.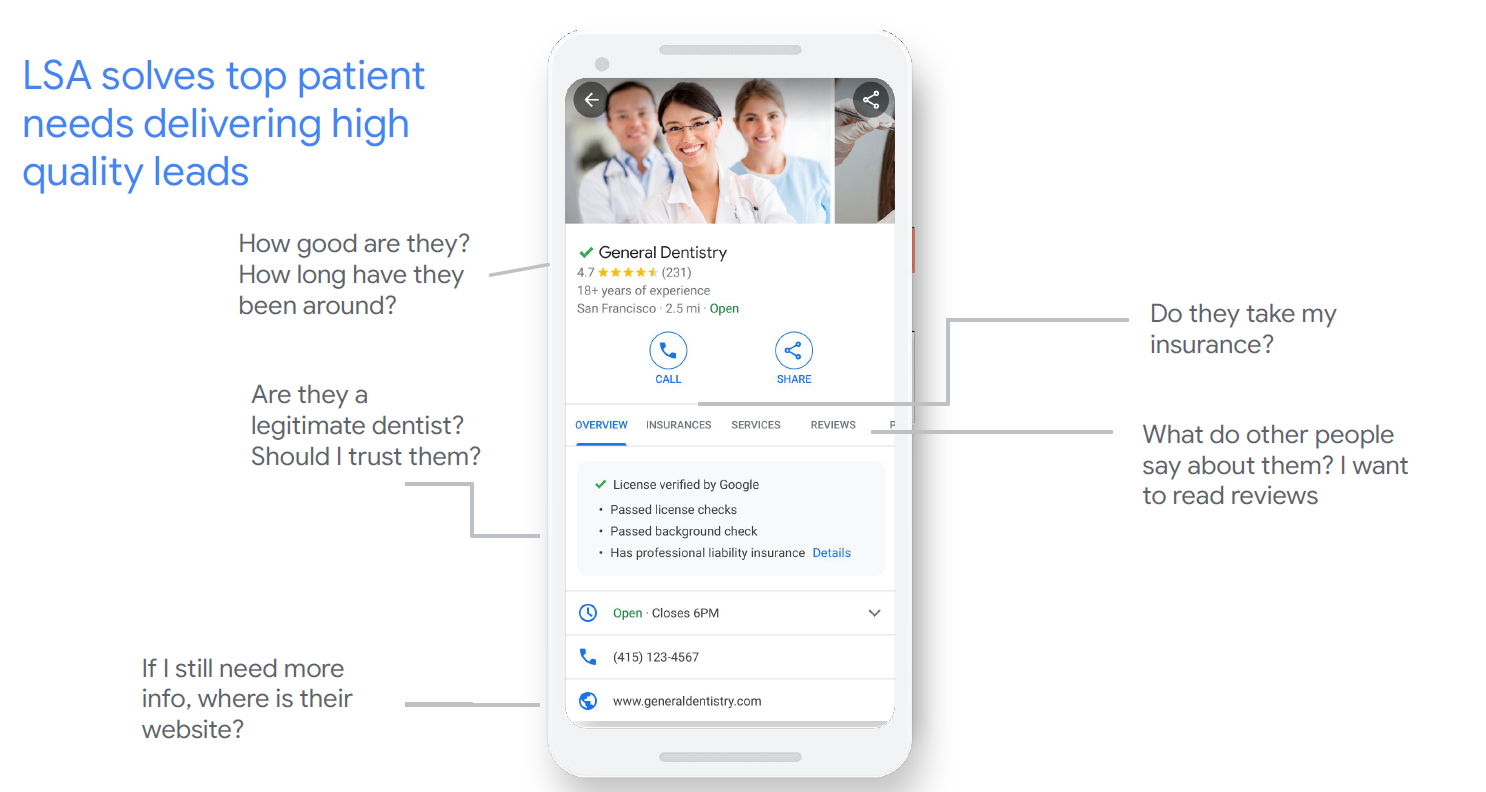 Let's look at an example of how this plays out. Let's say a dental practice wants to use LSAs to appear in results when someone nearby searches for "dentist near me" or a similar query. These ads not only help that dental practice increase their visibility and attract more patients but also deliver different views that answer different information needs of a potential patient.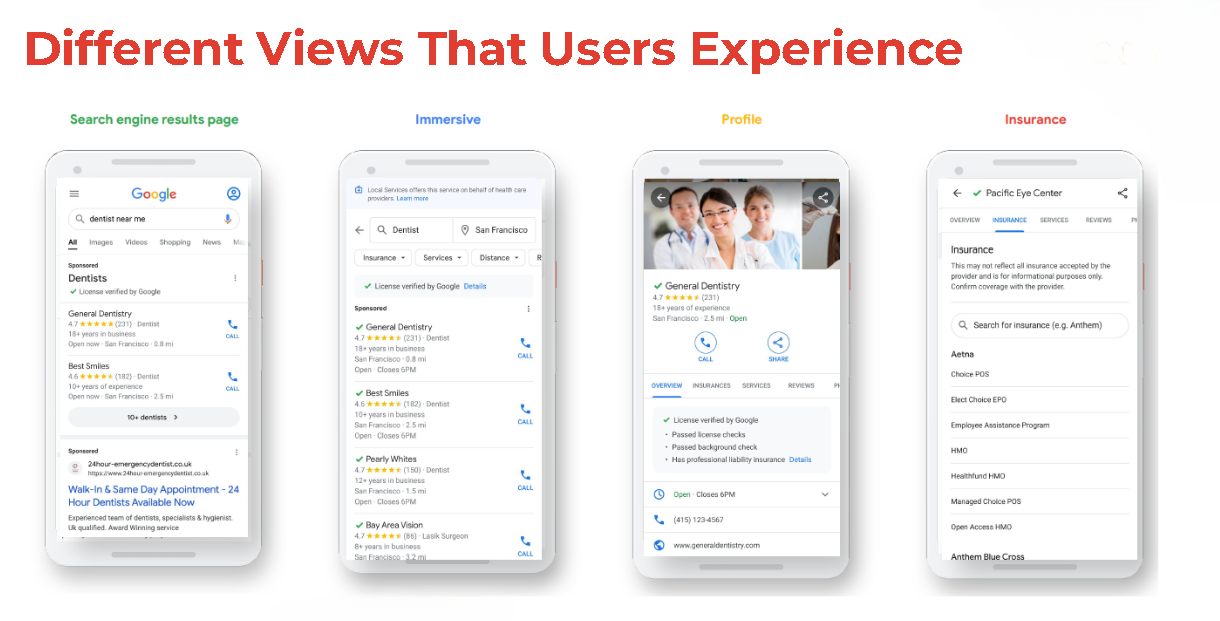 As our potential dental patient clicks through the practice's ad, they view a range of information, including the practice's profile information, licensing status, and insurance details.  From the marketing side, you can see, too, how this gives advertisers more opportunities to communicate with searchers.
One important note on LSAs in healthcare: 
Traditionally, LSAs were recorded, and you could store the files in your account. One reason for this was so that advertisers could review and analyze calls and dispute those that were low quality or not valid. Since you pay by call lead, this was important to cost control. 
The landscape is somewhat different in healthcare. Google eliminated the recording and logging feature in the space to ensure compliance with HIPAA regulations. With the increasing pressure on healthcare marketers to stay compliant, this is a small price to pay for an otherwise advantageous tool. 
What Providers Can Use LSAs?
As stated earlier, Google has been expanding its LSA offering to a wide variety of industries. That expansion is taking care in healthcare, as well. In January 2023, Google was only offering LSA use to Dental providers, but In April 2023, Google added these additional verticals:
Not on that list? Don't worry. Google will continue to expand LSAs to more and more healthcare specialties. So, if they are not available in your vertical yet, they might be soon. There are a lot of reasons you want to be an early adopter when they launch in your local market, so make sure to keep an eye on things.
How to Get Started Using LSAs
Ready to get started with LSAs in healthcare marketing? You'll need to go through a screening and verification process. Google does this to ensure that all businesses advertising with LSAs are valid businesses with appropriate licenses and insurance, where applicable. You can review details on the Google screening process here.
Tips & Strategy Recommendations for Using LSAs
Once you clear the screening and verification process, you can start focusing on strategy. At Cardinal, we recommend starting with your locations that have the best reputation on their Google Business Profiles (GBP). This means those with the most ratings and best reviews.
LSAs are based on GBPs—that is what the ads promote and show to searchers—so starting with your strongest performers puts the brand's best foot forward, so to speak. From there? Stick with our tips and strategy recommendations below!
Tip #1 – Stay vigilant. Since healthcare providers can't analyze and dispute calls within the LSA platform, you can't tell Google which LSA leads are not valid, which can mean you end up paying for bad leads. For that reason, you need to be hyper-vigilant about lead quality and campaign performance from day one and stay on top of it as your campaign runs.
Tip #2 – Analyze, analyze, analyze. Healthcare LSA users should be prepared to analyze the efficiency and effectiveness of their LSAs. To that end, you need a way to measure your LSAs against other media channels, while also measuring lead quality. 
We recommend using call analytics to do this. Call analytics involves the collection and analysis of call data that your team can then use to derive insights to optimize calls and campaigns. While you won't be able to listen and dispute leads within Google, you can still listen and understand the quality of calls with a third-party tool. Our recommended vendor for call analytics is Liine—a HIPAA-compliant solution. 
Liine allows you to analyze calls to understand the lead source, caller sentiment, conversion barriers, and more. Based on those findings, you can then adjust your campaigns to ensure that you are getting the biggest ROI on your LSA investment. 
Conclusion
LSAs bring yet another level of outreach to your healthcare clients' local and regional patients. When used effectively, these ads deliver the detail patients want and put your clients front and center in SERPs. By sticking with our tips and taking the right strategic approach, you can easily leverage these ads to burnish both your and your clients' reputations.