As we point out often around here, Google wants businesses— including, of course, healthcare organizations— to succeed. Google wants patients to commit to and invest in your business; after all, a thriving economy means more money for them. 
The vast majority of healthcare organizations rely on attracting patients who live and work in their local, geographical areas. For that reason, a local SEO strategy is crucial for success. Your patients don't want to travel far, and it's important to ensure that your organization appears when patients search for nearby care. 
While you may well be aware of Google's relevance and the importance of local SEO, you may not be aware of a curious little corner of healthcare marketing— the Google Business Profile (GBP.)
In this article, I'll first discuss why you need a strong GBP listing and then share some step-by-step instructions to optimize your listing, along with recent changes to GBP.
Let's get started.
Why You Need a Strong GBP Listing
Good news first— Google has been rapidly adding features to GBP and giving healthcare marketers more tools to engage with searchers. That means, however, that marketers need to make optimizing GBP listings a top priority. This Google feature is not only influencing rankings but is also often the first thing potential patients see when they enter a search query to find a nearby provider. GBP is a listing for your physical location tied in with Google Search and Google Maps. It is Google's primary way of getting information on your practice and a fix on your location.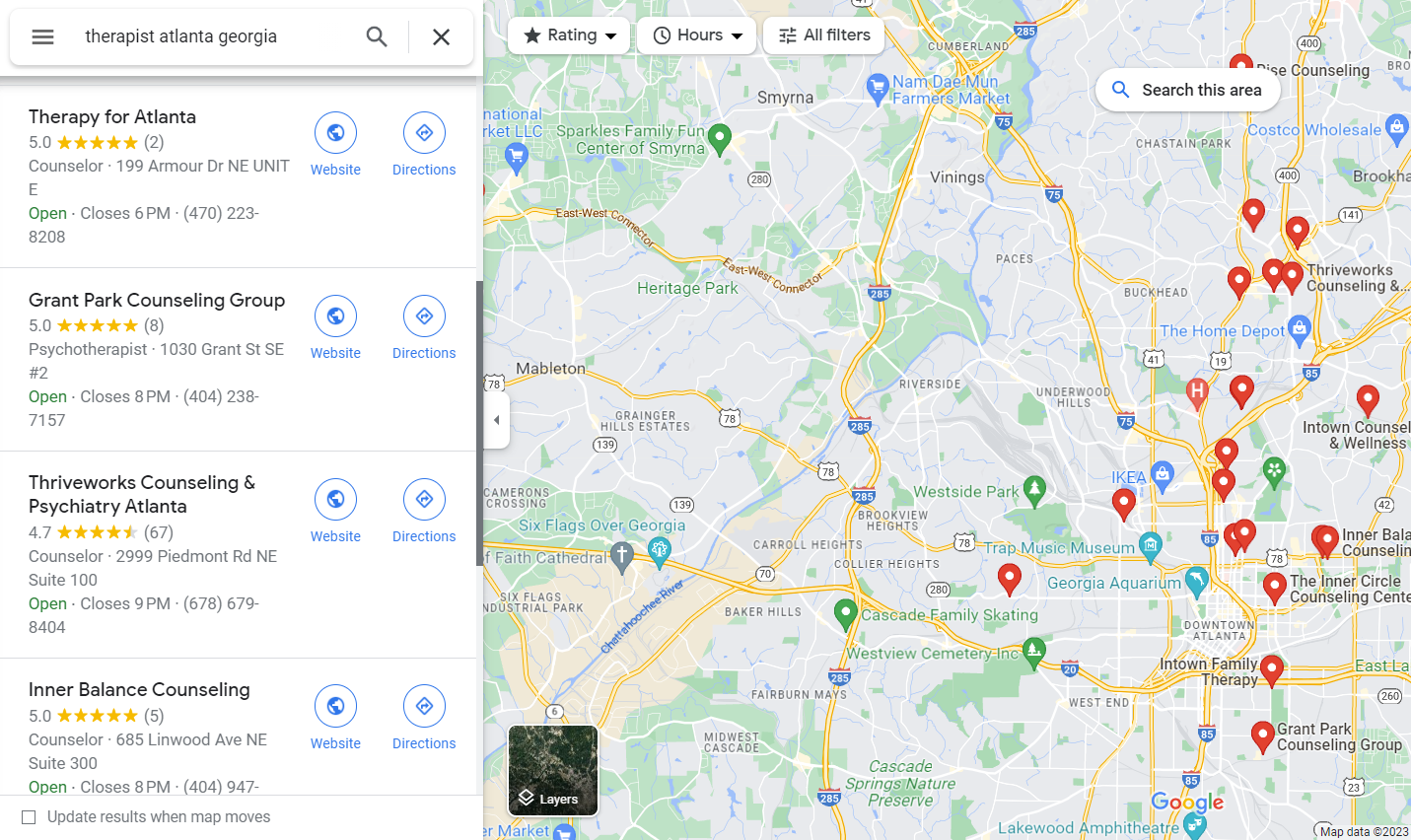 Having an accurate address, hours, phone number, and an optimized location landing page is not enough. You must provide more value with FAQs, healthcare attributes, and honest, positive reviews to capture consumers' attention.
What does this mean, in practice? To start, it's vitally important to manage information like business hours and phone numbers, adding links to book online appointments and virtual care.  You also want to add health services offered, like house calls, diagnostics, and procedures, and use GBP as a way to engage with patients. For example, you could post high-quality photos to show patients what to expect before they arrive.
But the most compelling reason to use a GBP listing is simple— it's free. How can you argue with "free"? If you're investing in local search engine optimization (SEO), you want to be sure that when your practice pops up, there's a complete and persuasive GBP listing present.
Want some tips on how to get the most out of your GBP listing? Here's what we recommend.
Step One: Be Sure You Have a Google Account
This should go without saying, but there might be a few people who don't have one yet. If you sign in to Gmail or YouTube or any other Google property, you've got this already.
Step Two: Check if You're Already Listed
Since you have a physical business location, you just might already have a Google Business Profile listing. To check, go to Google Maps, and enter any combination of the following into the search bar: your practice name, address, or phone number.
If your practice pops up with a little red pin and an address listing in the sidebar, Google was already nice enough to take care of the address listing for you. Click "claim this business" next to your address and away we go to the next step.
If there is no "claim this business" link, it may have already been claimed. There is a verification process for this, so if it was claimed already and it's not you, it's likely that a partner, associate, or employee claimed it already. Reach out to them to have the claim transferred if that's what's needed. If that's not possible (or somebody did manage to sneak in a bogus claim on your organization), petition Google for "request ownership of a business profile," following the instructions there.
The point of the business profile is to link your account with your business and let you control the listing. We want verification, of course, so rogue parties can't lay claim to your practice or go around telling people you're closed.
Step Three: Create a Business Profile Associated with Your Account
Assuming you didn't already start the process from a Maps find, you'll need to go to the Google Business Profile start page to begin the listing from scratch.
This will ask for a business address if you did not claim one in step two.
The business address can be your practice location or even nothing but your website link. You do not need a physical, brick-and-mortar, kick-it-with-your-foot address. Chances are in healthcare you do have one, and that's ideal, but even if your healthcare business model is virtual, it is perfectly OK resting in the clouds. The only downside with no physical address is that you're absent from Google Maps… but it's doubtful somebody was looking for your cloud-based service on Main Street anyway.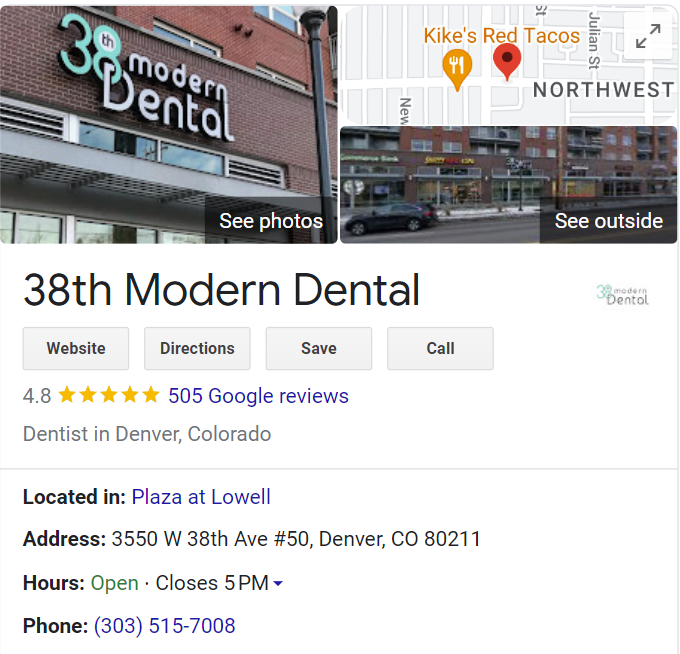 Remember that you want to enlist your true, legal practice/organization name— the way it would appear in the Yellow Pages or on tax forms. This isn't the place to embellish with slogans. Next, select your business category. If your practice offerings or business model changes over time, you can change or add business categories later.
For the website step, your options are to enter your site URL, or check "I don't need a website," or "get a free website based on your info." This will let you create a small, hosted web page under GBP's Business Profile section.  
Keep in mind: Before you get too excited about the free website, be advised that it's pretty bare-bones and not meant to replace an actual hosted website. Think "GeoCities page." 
Step Four: Optimize Your Google Business Profile
Once you're set up with a verified account and log back in, you'll wind up at a dashboard, not unlike the kind you'd see in Tumblr or WordPress. There's a gauge in the upper right-hand corner that tells you how complete your listing is. Your options to add content include:
A place to list and describe your services offered

Listings for amenities, payment types accepted, hours, contact, etc.

A place to add photos

A place to add videos

A menu feature for any kind of list of products or services
If you have ever researched a business on Google Maps, you've seen local business listings that are filled out with a photo gallery, hours, messages from the business owner, and all the amenities of a virtual storefront. The most vibrant listings that really come to life are the media-rich listings with photos and videos. This is no less relevant in the healthcare space. You are free to add all kinds of content here:
Your practice logo

Photos of the interior and exterior

A virtual tour

Ads for special promotions

Snaps of your happy team
That last one is very important— make sure to include photographs of your practice or team. Before selecting a practice, your potential patients want to visualize where they're going and how they'll be receiving care.  
It doesn't have to be complicated. If you have a smartphone, you should be able to take photographs that tell a story about your practice. 
Your Google Business listing will also have space for patients to add reviews. These work exactly like those on Yelp, BBB, Angie's List, and other consumer-facing review sites. You do have an option to flag inappropriate reviews if you have the bad luck to be visited by a toxic individual (it happens to the best of us).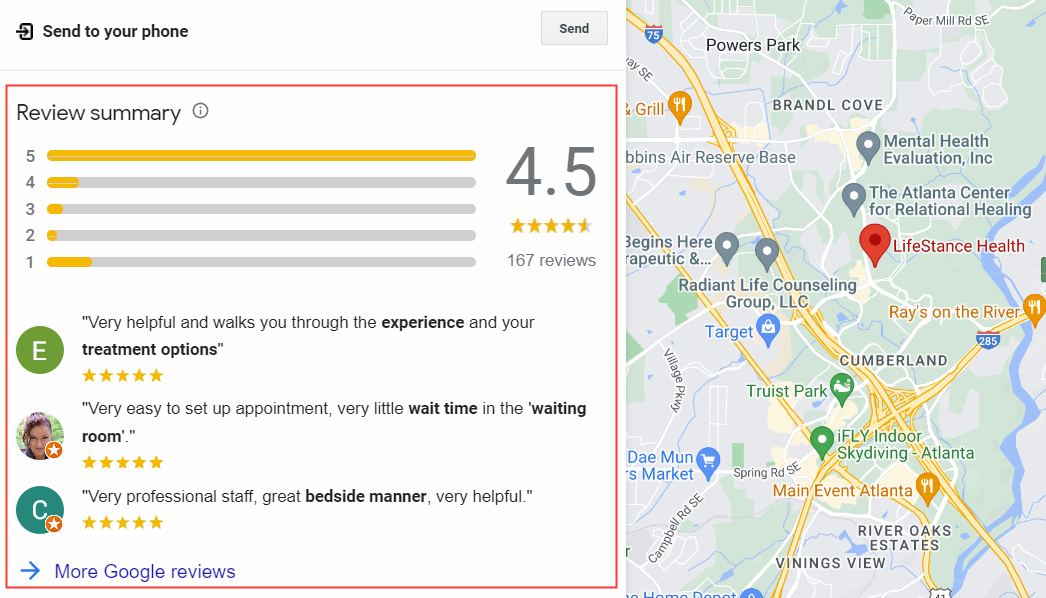 And that's it! It's relatively simple to create a GBP listing, and the returns far outweigh the effort.  
Recent Updates & Changes to GBP
Manage GBP Profile Directly on Google
With the recent update, Google has started pushing GBP's most useful features to a more visible location – the search results page. Before this switch, it was harder to use the dashboard from a desktop as its URL is longer and not that obvious, so most of the users trying to find this URL would type in Google search to get the URL from the SERP and again navigate to the actual GBP listing. With this new update, you can access your GBP in Google Search and Maps.
Creating Compelling GBP Posts
Another recent feature to pay attention to is GBP's Posts. In 2023, healthcare groups need to take full advantage of the Posts feature of Google Business Profile, as it is essential to increase local rankings.
Most people think of social media as mainly Facebook, Twitter, Instagram, etc. GBP has adopted that social media "feed" aspect with Posts. Unfortunately, Google Business Profile is one of the most overlooked of all the social media platforms out there. That's unfortunate because this platform can help to support your overall digital strategy when used effectively.
This feature allows you to make short updates, up to 1.5K characters (the ideal is around 300 characters.) It works just like your Facebook or LinkedIn profile, a mini-blog space to use for your practice promotion. When it comes to creating posts, you will want to optimize them as much as possible. This includes putting location-specific content in posts to target your audience, adding compelling images, and leaning into "infotainment" – a good mix of "advertisement" and "entertainment".
Posts expire after seven days, making this venue unsuitable for long-term SEO practice, but great for short-term promotions. Google will even send you an alert when your Posts are running dry. You can always save a file to repost if you want to keep the same announcement up for 30 days or so.
FAQ
Just like the FAQs that appear in Google search results, Google has a "Questions and Answers" feature that anyone can use. This useful feature can be accessed within a GBP listing. It's intended to be a more customer-facing feature that allows patients to easily interface with healthcare practices. Instead of searching for contact information to send a query, people can do it here.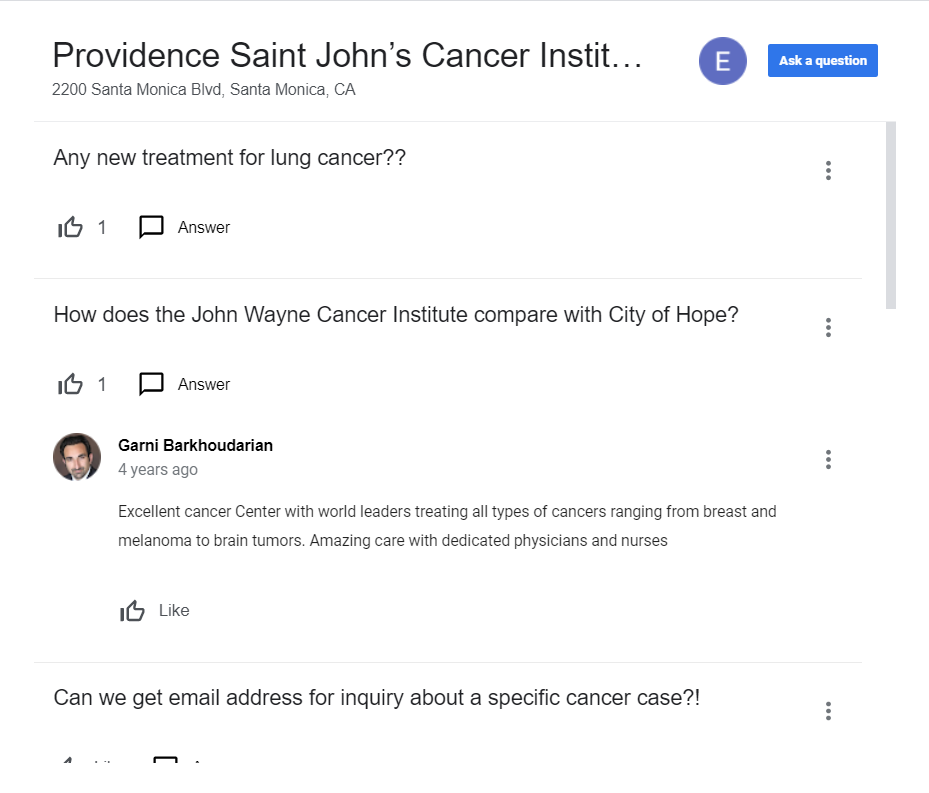 Here's the catch: anyone can answer a question. We recommend that you monitor incoming questions and provide timely answers. That way, you'll be able to control the flow of information. When you're responding to questions, make sure that you're logged into the account that is tied to your practice's GBP listing. You want to make sure that the correct profile is displayed next to your answer and that Google acknowledges that the response is from the practice.
Review Our GBP Optimization Checklist
Before you call it a day, take a moment to review our Google Business Profile optimization checklist. You want to be sure that you've completed each item on this list.
Verify your listing

Use a complete USPS-approved address

Ensure NAP consistency between your website and GBP

Specify the area or region that you serve

Check all relevant service or product categories

Write a compelling introduction

Add optimized photographs

Implement a review encouragement program and monitor it

Share timely and relevant posts

Monitor Q&As and provide answers
Most importantly, make sure that your listing is accurate; incorrect information is a negative local ranking factor. Once your GBP listing is optimized, don't just forget about it. You want to continue to interact and frequently update it. Add new photographs, share posts, and respond to Q&As.
Not only does this tell Google that your practice is active, but it also shows prospective patients what it's like to receive care from you.
The Future of GBP Listings
Since Google has shut down Google Places and Google+, along with the usual piecemeal services that Google likes to test-drive, Google Business Profile has become increasingly relevant. It's important for healthcare organizations and practices to take full advantage of GBP & its new features. When utilized, your practice's GBP is an extremely valuable asset to your practice. Grow your visibility and keep patients engaged by fully filling out and optimizing your GBP, and keeping it updated often. Remember— not having a (or claiming your) Google Business Profile can impact your online reputation, and that's never good.
Since Maps has been one of the services Google has kept up nearly since its founding, it's likely to remain in place for a long time. Google Street View is also part of this ecosystem, as the snapshots from the Street-View Cam become storefront images in Google Business Profile listings by default for practices that go unclaimed. 
GBP integrated with Google Maps just might become one of the most important healthcare marketing tools of the early 21st century. In any case, if you want to reach your patients where they are, it needs to be part of your digital marketing strategy.
If you need help optimizing your Google Business Profile listing or want to talk about your local SEO strategy, feel free to contact us. We're here to help!