Marketing services are a necessity for any business, but it's a particularly delicate matter for drug and alcohol addiction treatment centers. On one hand, you don't want to come across as intrusive to your potential clientele. But at the same time, you know how important it is to reach and connect with local individuals who need your help.
How can you toe this line? One of the ways to get your rehab center "on the map" without coming across as pushy or "salesy" is through search engine optimization (SEO).
In a 2014 study, Conductor determined that organic search is responsible for 64% of all web traffic. Of all that organic traffic, Google makes up more than 90% of the market, meaning if you want to get your center discovered online, you need to set your sights on Google's SERPs (search engine results pages). Here's how our SEO Agency does it; you can do it too!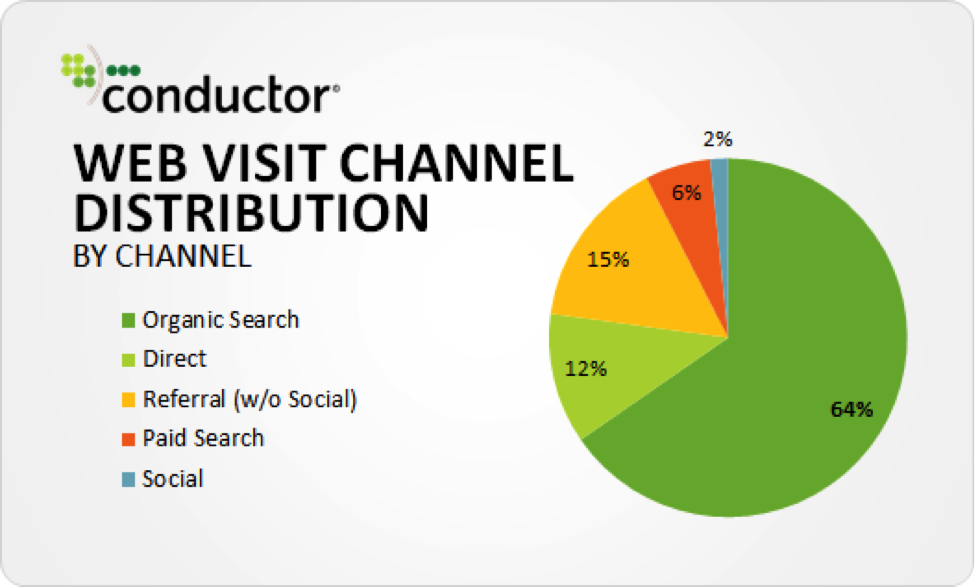 A conversation on SEO must always start with content
Google ranks pages based on how relevant that page is to a user's query. There are a lot of factors that go into Google's famous – albeit mysterious – algorithm. But you can be certain your content is a huge influencer.
You must produce the type of content that your ideal audiences are searching for online. The thing is, your center has multiple audiences, whether you realize it or not. First, you have the web surfer who needs help now. They might use searches such as:
The nearest drug rehab center
How do you rank high for a phrase like this? For starters, you'll see that there isn't a ton of keyword potential there. The word "nearest" isn't a word you really should be looking to rank for – luckily you don't have to. Google has placed an incredible amount of energy on perfecting its local results. For folks who are on mobile devices, or who are logged into Chrome from their desktop, Google knows their current location and will tailor the results accordingly.
Just look at what came up when we conducted that search out of Tacoma, WA, from a desktop logged into Chrome: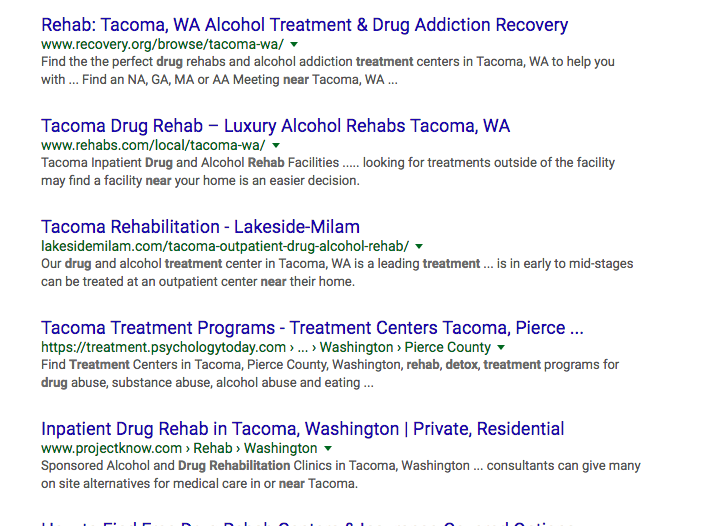 These five results all have one thing in common: They used the word "Tacoma" in their meta title (the large, blue lettering). Since our search was done in Tacoma, Google knew to seek out drug-rehab sites that, to them, clearly offered services in the Tacoma area.
Now, we're not saying adding a simple location name (like Atlanta, Tacoma, Boston, etc.) to your web pages' meta titles will help you rank, but it's a tremendous start. There are a few other local tips you want to tackle as well, including:
Optimizing your Google My Business page
Adding localized content throughout your entire website (it's not a bad idea to have dedicated pages for each town, county, and region you serve)
Getting listed on online business directories and citation sites
Getting a good amount of positive reviews on Google and other third-party review sites
These strategies will help Google easily identify you as a local resource, and heck, it might get you to rank on Google's Local Pack: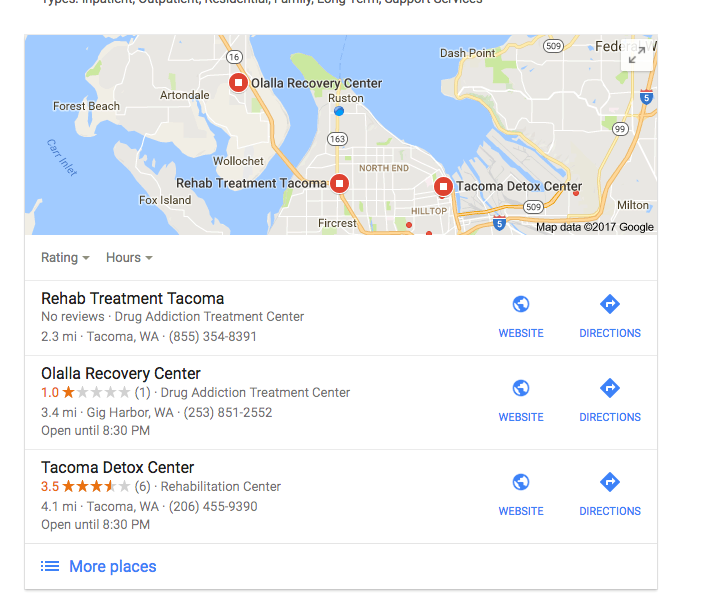 Currently, this local pack features three businesses (down from seven), and soon enough will be reduced to 2 organic spots, and one paid spot. But if you really flex your local standing – using the tips above – you increase your chances of getting listed in this local pack for searches performed near your facility. Our online advertising company for orthopedic surgeons uses this strategy all the time.
Your other audiences
Until now we've focused on the web surfer who needs help now. These folks are most likely to click on the nearest possible center. When you combine both the local pack and the organic results that fell below the local map …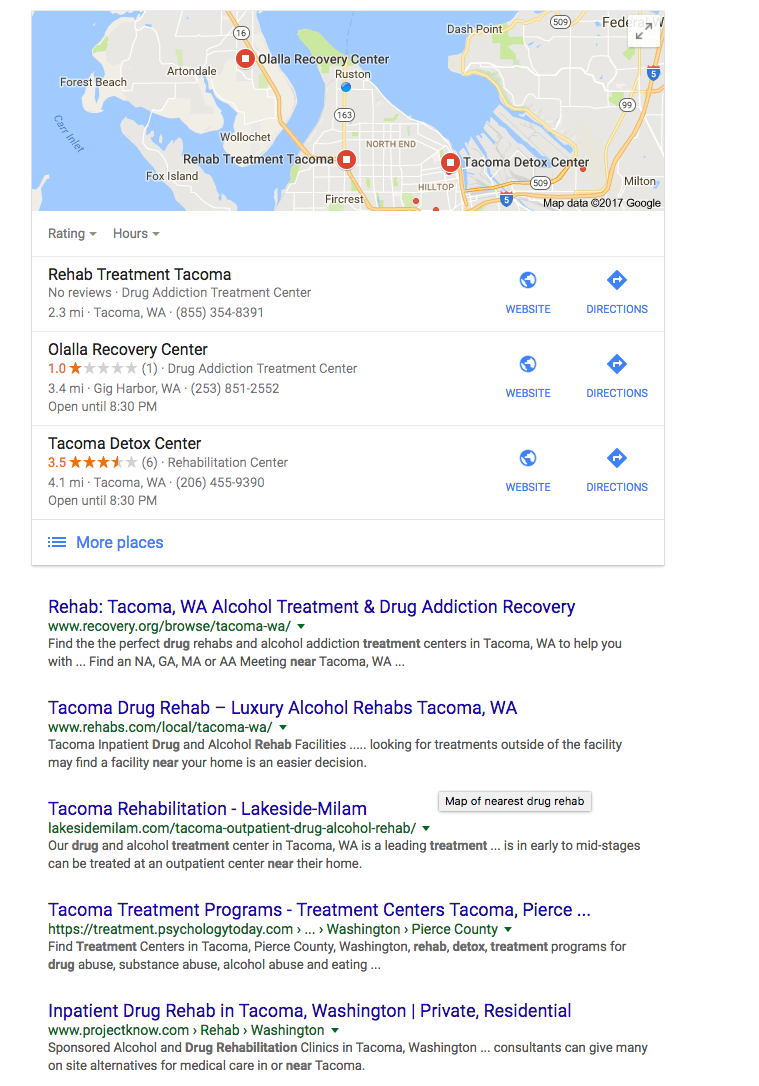 … we're willing to wager this searcher would first click on the Tacoma Detox Center found in the local pack, simply because it has the highest reviews. If they like what they see, they might convert. If they don't, they'll keep searching.
But all of your prospects don't fall into that category. You might have a potential client who's unsure if they need help. They might use a search phrase like:
How do I know if I have to go to drug rehab?
This type of searcher is likely not ready to convert just yet. He's in a heavy research phase. The last thing he wants or needs is to be pushed into making a decision. Here's where addiction treatment SEO really can help you differentiate from the rest of the pack.
First, take a look at the ads that appeared atop the results page for this query: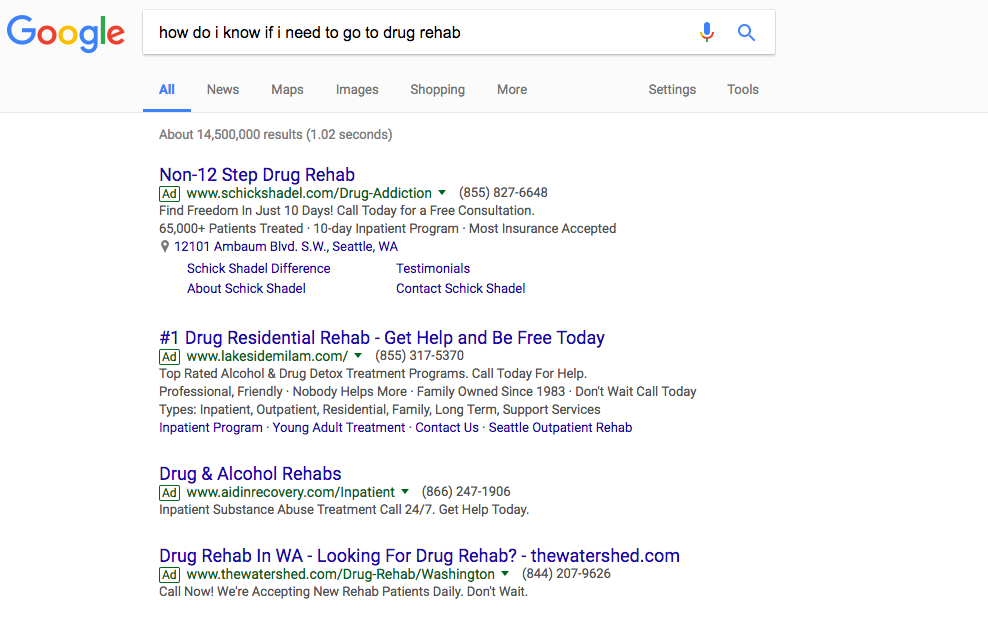 None of the ads speak to the mindset of this searcher. So he'll just move on down the page …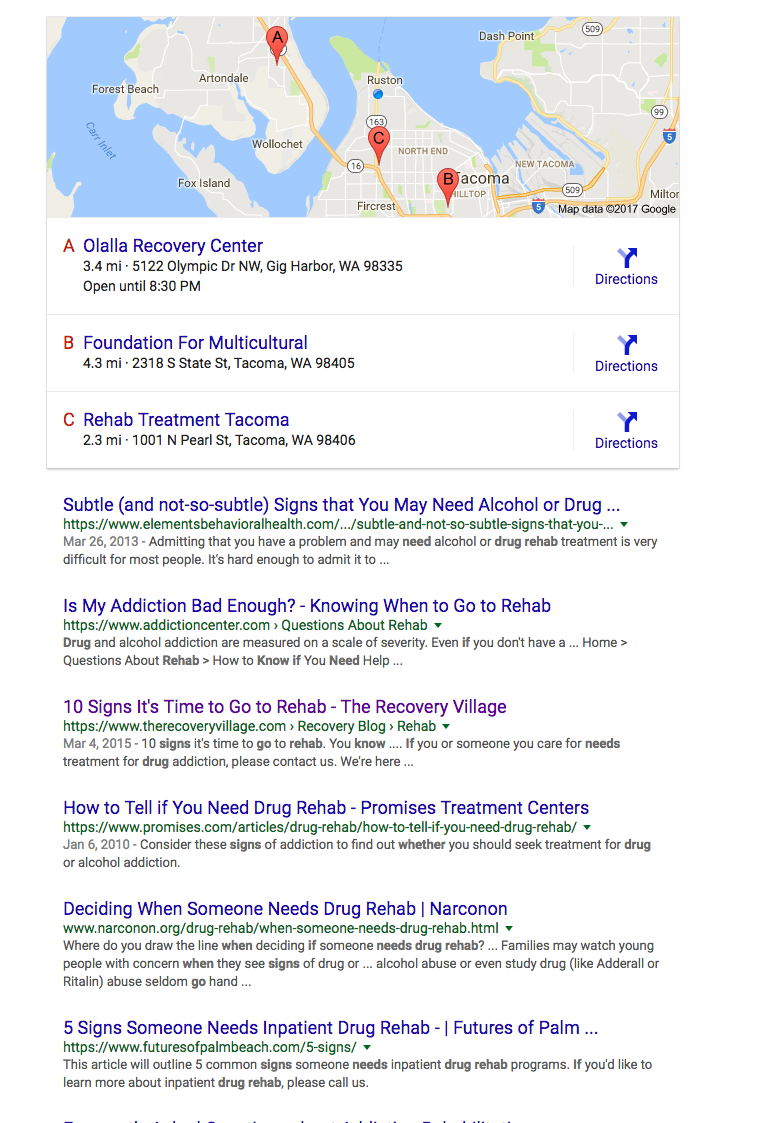 Here, we again see that local pack. But with this type of query, it's far less effective. Sure, it's nice for the searcher to know a few centers nearby; however, he's not looking to call or visit a center yet. He just wants information. And so, he keeps on scanning the page, and comes across those 6 organic entries, each of which do a good job of luring the searcher in. They all, in their own ways, try to answer the searcher's query with their meta titles and descriptions.
Human nature tells us that we really like finite lists, so in this instance, the two entries (10 signs … and 5 signs …) might garner the most traffic, despite not being in the "top spot." The entry that starts with "Is my addiction bad enough?" is also pretty powerful, because it's almost certainly a question the searcher has asked to himself. There are two issues we have with these entries, however. Only one of these entries properly optimizes their meta description entry:

The meta description in the entry above is the line that begins with "Consider these signs …" Three of the other entries have descriptions that run off the page. The last entry (5 Signs Someone Needs Inpatient Drug Rehab) fits within the space allowed but is dreadfully crafted.
Here's a good tip to follow when it comes to your metadata:
Your meta titles (which should be no longer than 65 characters) are like the spines of books on a bookshelf. Unless the title is captivating, no one is going to take the book off the shelf to look at it. You want to craft a title that has your keyword in it, but is crafted in a way that speaks to your audience. Titles like Drug Rehab | Tacoma | Call Now are terrible. Use sentences or powerful phrases.
Your meta description (keep it under 155 characters to be safe) is like the back of the book – that little synopsis that hints at what the story is about without revealing too much. You want to compel the searcher to click.
The lack of local in organic results
Yet here's another problem with the example we've used above. Not one of the organic entries that showed up for our "How do I know if I have to go to drug rehab?" search is local to our web surfer. That's fine, in theory. The web surfer could find the answer he's looking for from one of these generic, non-local sites, then conduct a new search (when he's ready) for centers near him.
But what if you simplified the process for him? What if you created the type of relative content (blogs, case studies, videos) on your site that ranked for these types of terms. Then, not only will your prospects get answers to their questions, but they'll be exposed to your center and will be far more likely to choose you over your competitors.
Taking this extra step will help you be the only rehab center in your region to pop up for those coveted organic spots.
Rinse and repeat – you have many audience types out there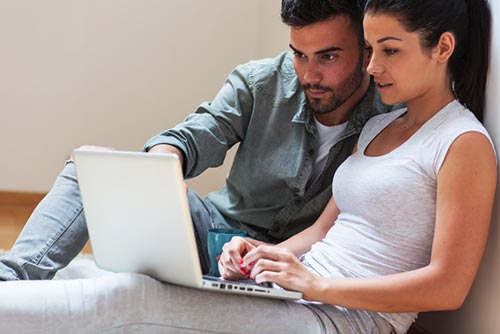 We've walked you through two different audience types, but the reality is you have many more audience types you could target with organic content, including (but not excluded to):
Parents of a teenager in need of your services
Teachers/school administrators concerned about a student
Friends of a person in need
Each of these folks would use a different type of language in their search query.
You can even segment your content based on your services. For example, do you offer both drug and alcohol rehabilitation? Do you have specific courses that specialize in specific addictions (opioids, for example)? An effective addiction treatment advertising strategy will be comprised of a ton of content that covers all your bases.
What we suggest you do is:
Determine all of your potential audiences
Discover their most used search terms for finding services like yours
Group these into topics/concepts
Brainstorm dozens of content ideas for each topic/concept
For example, let's say one audience segment is the person not sure if he needs rehab. Rather than create one blog post to target this individual, brainstorm dozens of content ideas. And think beyond posts. In what ways can you attract this person? Perhaps a video that you post on YouTube? A case study? An infographic? An interview with your counselors? Testimonials from past clients?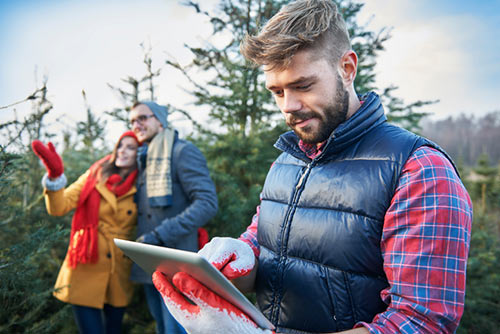 The more content – and types of content – you develop for each of your audiences, the more likely you'll show up on their Google radar.
A note on evergreen content
In order to make the most of your SEO efforts, we strongly suggest you focus on producing evergreen content. Evergreen content is content that you can use over and over again; it doesn't have an expiration date. For example, a blog post that discusses what to expect in the first few days of rehab has a very long shelf-life. This type of content is the holy grail of SEO because you can promote and use that content all year long.
Summing it up
There's a lot of information packed into this post, and it all might seem a bit overwhelming. Keep in mind the following:
Optimize your site for local SEO by adding pages for every town, region, and county you serve
Increase your chances of showing up in Google's Local Pack with the tips we outlined above
Create content that targets each of your potential audiences
Think beyond posts for your content. Videos are huge right now, and the right infographic will spread like wildfire across the web
While paid search will certainly deliver faster results, SEO is like the tortoise – it's slow and steady but will win the race.