Another year, another period of considerable growth for the dental industry. Healthy smiles don't go out of business, it seems. Take the Inc. 5000 list of fastest-growing privately-held companies, for example. The 2020 list includes a lot of dental group practices, dental support organizations (DSOs), and dental companies. As GroupDentistryNow.com points out, there are 34 dental-related companies on the 2020 list, 18 of which are "dental care providers with a mix of DSOs, single location dental practices, and dental group practices."
Yet, tapping into this growth requires more than just existing as a dental provider. You need an updated digital strategy to account for the industry-specific needs of your particular market. Dental care is a very local decision, for one thing. You're not going to find many people commuting much more than half an hour to their dentist's office. And consumers don't think through the decision to select a dentist as thoroughly as they might for other healthcare decisions (you're going to spend a little more time vetting your knee surgeon than you will your yearly dental cleaning).
So, how do you attract these locally-minded people to one of your group's dental practices?
Why Dental Practices Need Local Search Engine Optimization (SEO)
At the end of the day, people tend to find and choose their dentists online, ideally in their local area. It's what most of the 18 dentistry businesses on the Inc. 5000 list have in common, after all: physical locations serving specific geographic areas. As a result, the time is now for rapidly growing dental groups and DSO-backed practices to implement a well-rounded, local SEO plan.
The numbers don't lie: something like 7 percent of all daily internet searches are related to healthcare. In other words, billions of people turn to Google—every day—when they have a healthcare need. That includes dentistry. On top of that staggering figure, 84 percent of "near me" searches are carried out on mobile devices. Guess who else uses mobile-enabled "near me" searches?

People looking for dental care.
Increasingly, connecting with these people means ranking content locally. The catch is that optimizing a multi-location dentist's website to rank in these local search experiences is somewhat different than an overarching SEO strategy. If you're a DSO-backed, multi-location dental group—or really any practice with a physical location—here's a five-part local SEO strategy to do just that.
A Five-part Local SEO Strategy for Multi-location Dental Groups
Here's a common scenario we come across with our clients in the dental industry. Jane heads the marketing team at a multi-location, DSO-backed dental group. She's just taken the reins and decides to put in place a foundational SEO strategy for all of her group's locations—scattered throughout the southeastern states. On top of establishing a baseline strategy, it needs to be repeatable: Jane indicates that the dental group has aggressive growth objectives. She'll need the ability to extend the local SEO strategy to any new locations her group adds in the coming months and years.
Jane's scenario isn't uncommon. Naturally, a few important questions come with the territory:
Once I add additional locations to my dental group, how do I need to change my SEO strategy?
How does SEO differ when you have more than one location?
What are the most important things I need to optimize or change for multiple locations?
Here are the five core things that we recommend to Jane and others like her.
1. Develop a Comprehensive Keyword Strategy
Elsewhere, we've said that keywords grease the wheels of search engine optimization (SEO). And it's very much true. Keywords are the language that people use to look online for dental care. They're what search engines use to help dental patients find what they need online. For this reason, you find them throughout website content of all sorts.
In a keyword strategy, you're defining the specific list of keywords you want to rank for, monitor, and measure performance against. It might be five keywords, or five thousand. Generally, your locally focused keyword strategy will break down into three parts:
Determine the goals of your keyword strategy
Learn how your prospective patients search online
Develop a keyword strategy that's aligned with the patient journey
Rather than dive into all the nitty-gritty details here (you can get it all in our free How to Create a Keyword Strategy for Your Medical Practice guide), we'd like to highlight two important aspects: high-intent "solution-aware" keywords, and location-based keywords.
To target high-intent, solution-aware keywords means anticipating the needs of a person who already knows the outcome they want, but not necessarily the dental service that will get them there. It's kind of like having a big bag of change sitting at home, unaware that the bank down the street has a coin counting machine.
Here a few examples of such queries specific to the dental field:
"get whiter teeth chicago"
"fix children's underbite san diego"
"straighten crooked adult teeth toronto"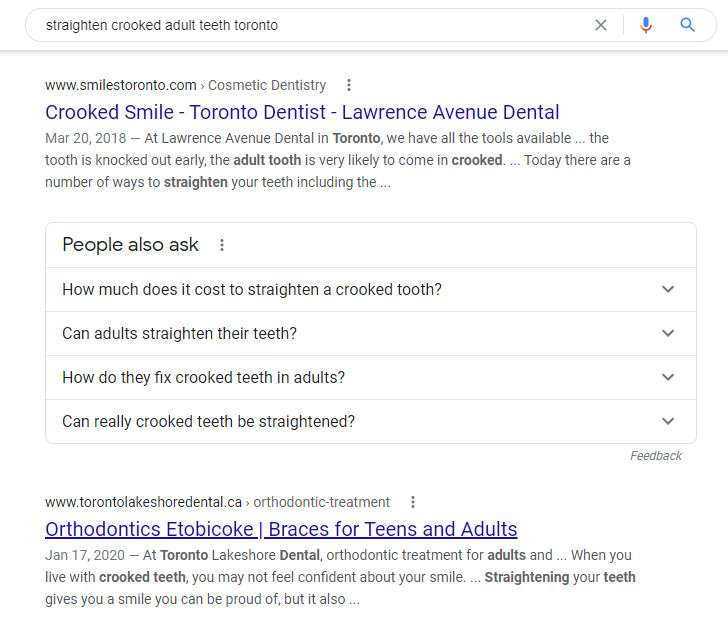 Location-based keywords, on the other hand, are longer tail keyword phrases that include location identifiers (postal code, area code, city name, streets, and so on). As the name suggests, these keywords are highly localized, for example:
"broken crown north park dentist".
"get cavity filled 60015"
"teeth cleaning atlanta accepting new patients"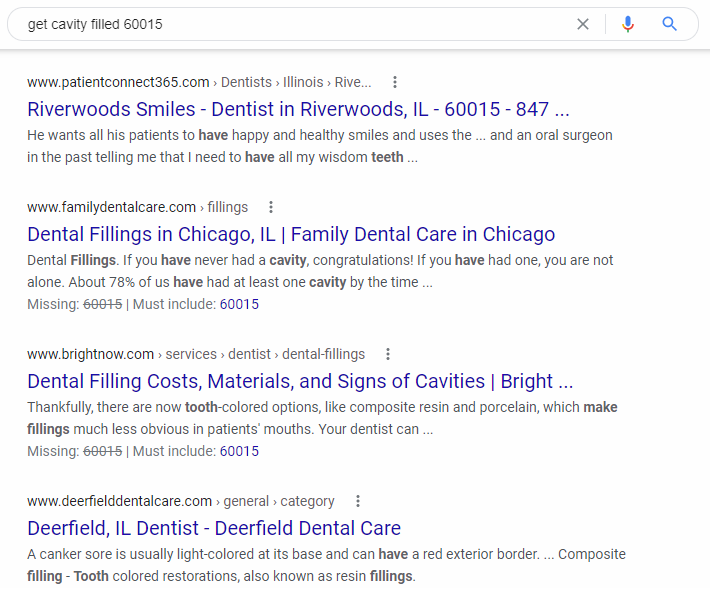 Both higher intent and location-based keywords are particularly useful for multi-location dental practices. However, they're only two parts of a broader keyword strategy.
2. Build Comprehensive Location Web Pages
We recommend creating a unique website page for each location within your dental group. This location page will help your dental practice rank for location-based searches. You want to make sure, for instance, that your implant dentistry group's Tampa Bay location ranks on the first page for people searching Google for implant dentistry in that location.
When building these dedicated location pages:

Give each location page a distinct URL that includes location information (city, state, etc.).
Include at least 500 words of content that provide details about dental services offered at this location, dentists that work there, as well as photos, video, and other media. Tie in references to local attractions, landmarks, and geographical points of interest. This will help Google understand where your practice is located.
Incorporate your local keyword strategy by using location-specific keyword combinations (naturally, without forcing them) throughout the content.
Bring valuable information to your prospective patients, including service details and FAQs they might be looking for right now (and that only you can provide).
Develop a template that makes it easier to roll out pages for new locations as they're added to your group or network.
Finally, each location will benefit from the addition of new web content—pages, blog posts, event listings, and so on—that incorporate location-based keywords into:
URL and page titles
Meta descriptions, image alt text, and captions
Internal links between those new pages and the main location page
Content headers (H1 to H6)
3. Manage Your Citations
Not every part of your local SEO strategy has to do with your actual site. Your business listings, or citations, are an important component that, unfortunately, many dental groups overlook. Citations send signals to Google that help confirm your business exists and where it's located. Citations include your NAP, which is your business's name, address, and phone number. The NAP for each location must be consistent across all citations.
To ensure you have consistency across the web, start by taking an inventory of the digital profiles, sites, channels, and listings you currently have today. Develop a system to track and update them so that every citation matches 100%. Next, think about where do your ideal patients go to find a dentist? Where do they read and leave reviews for each of your group's locations? Usually, this list includes the following:
Dentistry-specific review sites
Google My Business (GMB), Yelp, and Facebook Business
Google Maps, Bing Maps
Dr. Oogle, Healthgrades, ZocDoc

Make sure you have accurate and update-to-date listings on all of those directories. Citation management isn't sexy work, but it has to be done if you want to rank locally.
How to build an engaging GMB listing
If nothing else, get each of your locations verified on GMB. That's right: optimize an entire GMB listing, including the accurate NAP, business categories, and photos, for each of your locations. GMB listings can factor significantly in local search experience—the better optimized, the more likely they'll show up in local searches.
Which matters for dental groups. A billion+ people use Google Maps every month to find information about dentists in their area, including:
Hours of operation, address, and contact information
Links to websites and appointment scheduling
Reviews and ratings of dental groups or even individual dentists
FAQs about your dental services, insurance, and so on
Photos of the dentist office and staff
Announcements and promotions for common dental procedures
Updates about COVID-19 protocols
Get more tips for optimizing your Google My Business listing on our blog.
4. Solicit Patient Reviews
"Going to the dentist" isn't exactly a favorite pastime for most people. In fact, most people try to avoid the dentist altogether. To avoid a bad experience when they do have to go, people read reviews online. What was the bedside manner or the end-to-end experience like? Were they nice? Expensive? Nowadays, it's all online.
According to an NRC Health Study, "74.7% of patients want to see at least seven ratings before they'll trust them. 77.6% need to see seven comments that say the same thing before they'll believe that there's a trend." You'll need a steady flow of reviews—for each location within the group—to support your local SEO strategy.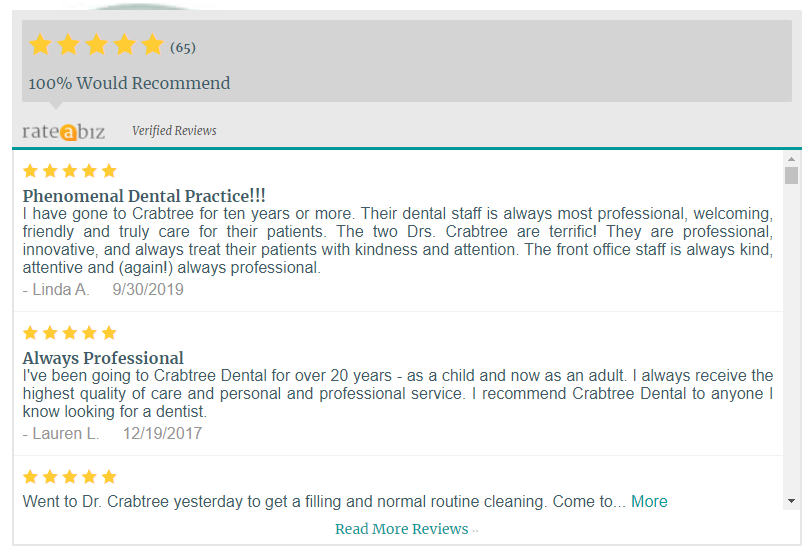 Here are a few ways to get people to actually leave reviews:
Send out links to leave a review. Consider including a link to your review form in your automated email messages, customer communications, and website.
Ask for reviews at key points in the patient journey. This could be before or after an appointment, or an email you send after a major procedure.
Train staff to ask for reviews. Give your staff members the script for when, where, and how to solicit reviews.
Automate review program. Software, like BirdEye, can seamlessly integrate review solicitation with email, SMS, or even regular mail.
Read our article to learn more about developing a reputation management strategy that gets your more reviews.
5. Make Your Website Great for All Users and Devices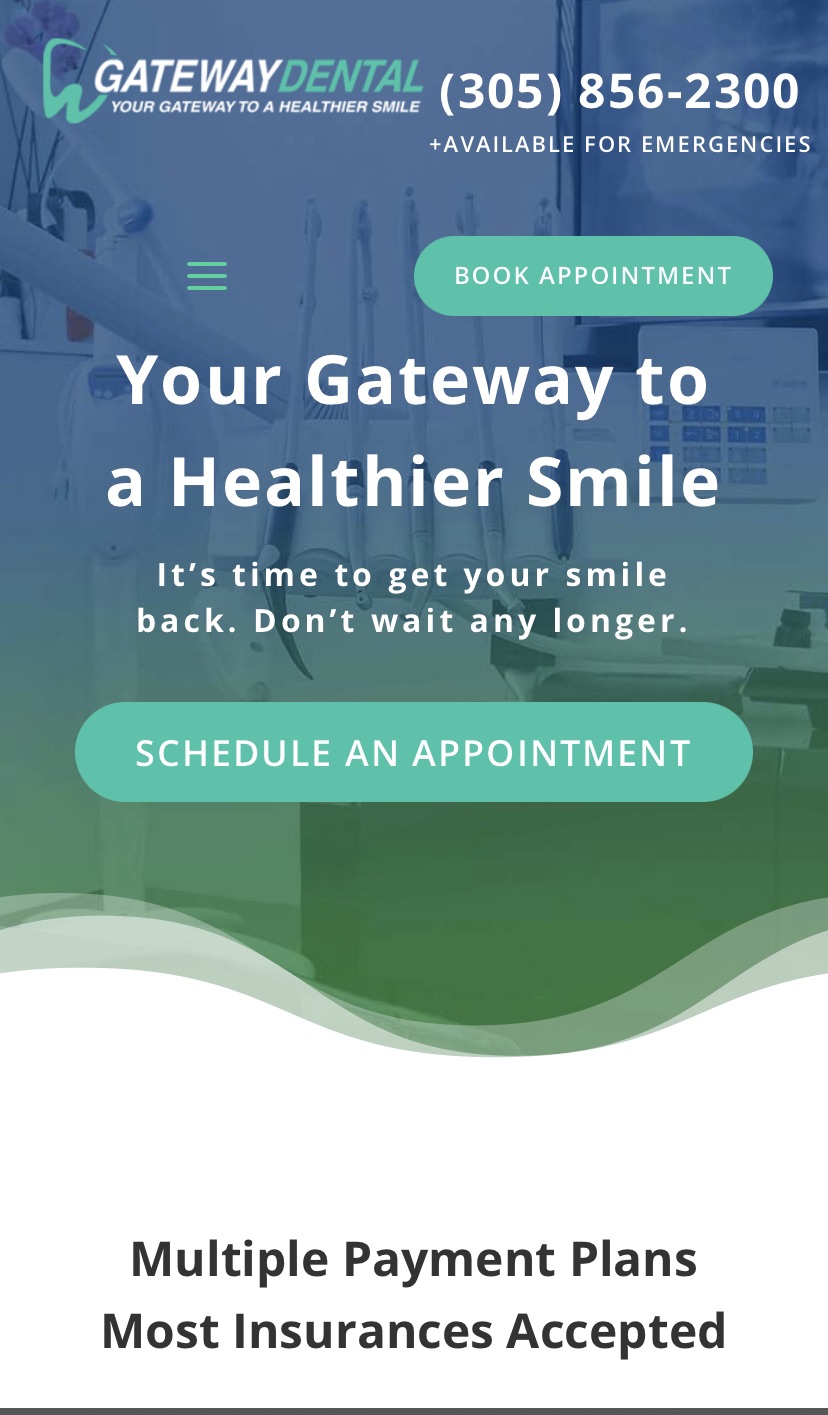 As we mentioned, a lot of people are going to find your dental group using a smartphone. Will they be able to navigate your site and do things like make an appointment, or contact you, with minimal friction? Asking these hard questions is now more than a best practice—it will be a search engine ranking factor according to Google Core Web Vitals.
In other words, it's important that your site is fast and easy to use for all kinds of people on all kinds of devices. Here a few ways to elevate user experience (UX):
Run the Core Web Vitals report to see how you're doing in terms of UX perspective. This report also includes actionable suggestions on how to make improvements.
Minimize pop-ups and other distractions that interfere with "conversions"—appointment scheduling, contact form submissions, and so on.
Be mobile-friendly and responsive on as many devices and operating systems as possible. This includes iOS, Microsoft, and Android—smartphones, tablets, laptops, and desktop computers. Look for slow-loading pages, intrusive or janky layouts, and high-effort experiences.
Above all, make sure your web pages load fast. A fast web experience is important to both consumers and Google. If patients have to wait too long, they'll bounce and find another provider. Google takes it a step further, and they'll ding your rankings if your website is slow. You can use Google's PageSpeed Insights to determine if you have work to do.
In Conclusion, Growing Fast Means Going Local
While all dental practices can benefit from a dedicated local SEO strategy, multi-location and DSO-backed groups stand to benefit most. Today, we believe many large dental groups are still failing to capitalize on local search demand. A repeatable framework for local SEO, one that can be spun up for new locations with relative speed, is a surefire way to keep pace with rapid growth.
RELATED: How we helped a 160 location dental care brand with national recognition turn their painful PPC woes into a spitting success.