When faced with lofty revenue goals for a new multi-location healthcare brand, you need a repeatable digital marketing framework: one that is scalable, as well as time- and cost-efficient. Anything less introduces inefficiencies across your locations that will bog down growth and disappoint investors.
To that end, we've scoured our client portfolio to find the must-have components of successful digital marketing strategies for high-growth multi-location healthcare groups.
Essential Components of Successful PE Growth Marketing Strategies
While each market and company is unique, you can use this guide to identify the right starting point for your strategy. Whether it's a new acquisition or an upcoming merger, you can also use the five focus areas below to evaluate potential weaknesses in your acquisition's digital strategy.
1. Website
Your business's website is the foundation of its digital presence. It's where all roads point, including search engines, local search experiences, advertising, and so on. You simply cannot support scalable marketing strategies without a solid website, one that is optimized for search engine optimization (SEO), user experience, and conversions.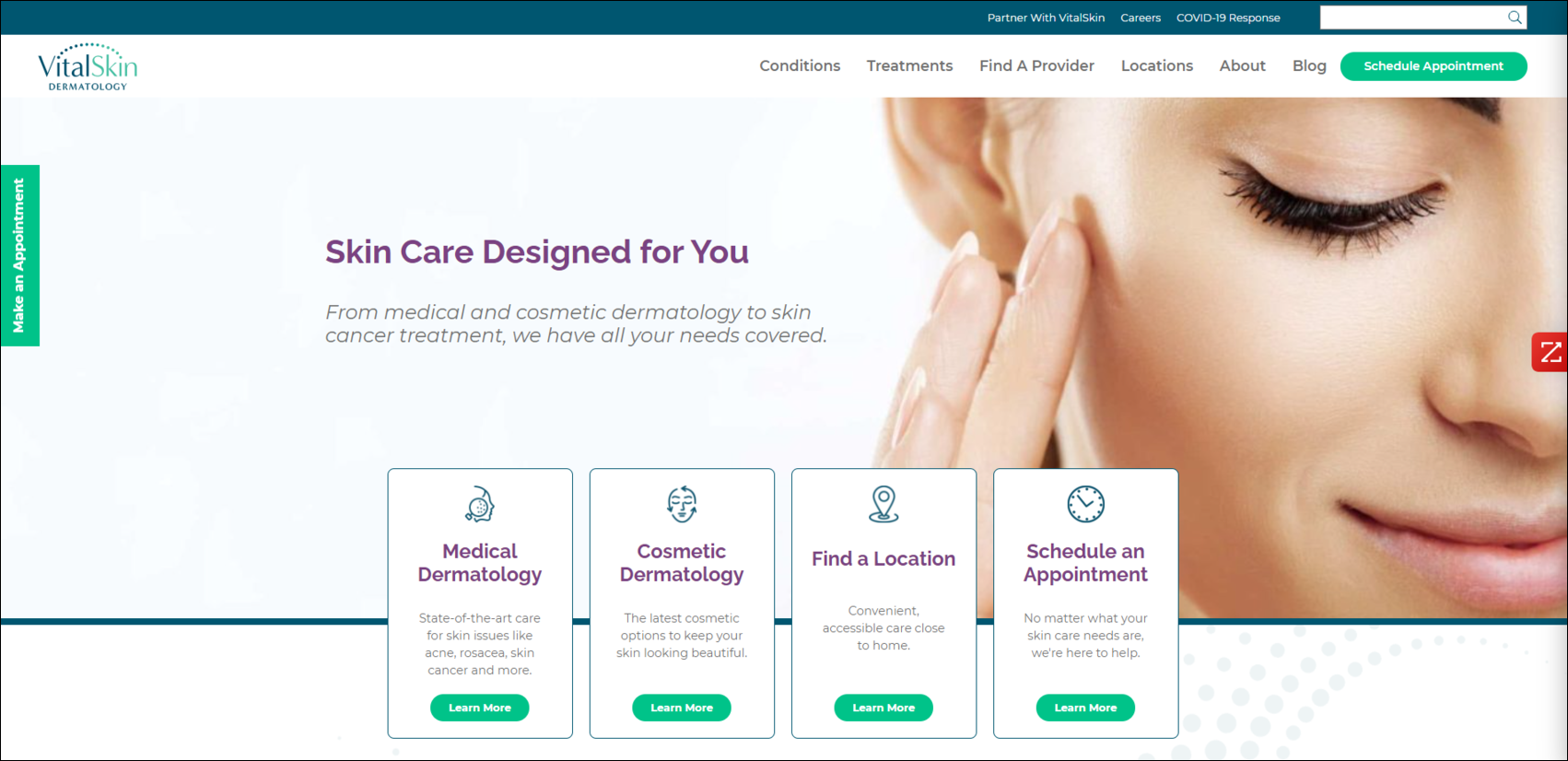 One of the biggest challenges that private equity firms face when building a new brand, or merging new acquisitions, is what to do about existing web properties. Do you fold all acquisitions into one major brand? Do you keep each acquisition separate? And what's the best way to leverage the existing brand reputation and equity?
The answers to these questions directly influence website strategy. First, remember that high-growth, multi-location healthcare organizations need a website that can grow with them—future-proof web design, if you will. Second, regardless of how you decide to handle each web property (merge, keep separate, etc.), you'll need to account for a sound SEO framework. Without a solid website foundation, your SEO strategy will flounder.
To ensure your businesses are supported by SEO-friendly best practices that allow search engines to discover, crawl, index, and rank, see Your Website Structure and SEO: A Primer.
2. SEO
Today, Google is where consumers turn for information. According to Think With Google, people go online first for more than 60 percent of "shopping occasions." And "35 percent of shoppers have shopped repeatedly at brands/retailers they first discovered online." It's just easier to pick up your phone when you need something.
That said, your brands need to appear high in these kinds of search experiences. Ideally, your sites rank just when your target audiences are researching solutions, comparing products, and vetting vendors. In this way, a strong SEO strategy is essential if you want to increase organic visibility and drive traffic to your website.
We recommend that your approach to SEO follows three fundamental pillars:
Technical Optimization
This is the foundation of any website's SEO. Without having a solid foundation, all of the other efforts fall short. When developing your website at the code level, so to speak, you must keep SEO in mind. That means remaining up to speed and abreast of the latest Google algorithm updates (Core Web Vitals being a recent example). Technical SEO might include:
Building organized site architecture and URL structure
Implementing structured data
Assessing and optimizing site speed
Adhering to Google's Core Web Vitals metrics
Adding XML sitemaps
Removing duplicate content
Using language tags
Setting up 404 pages and redirects
Content
Code and core web vitals are one thing, but content is the core of SEO and how your website is found by people using search engines. When building a comprehensive content strategy, you must take into consideration the different stages of the buyer's journey, then build robust content for each stage. Ideally, each piece of content you build should be optimized for target keywords while always bringing value to your customers.

Link Building
Google uses links to determine the quality of a web page. If many websites link to it, it considers that a good signal. Link building is a fundamental way to build authority, increase rankings, and generate referral website traffic. Link building efforts should be multifaceted to acquire a mix of quantity and quality links in an organic way. We find that link building efforts tend to have a snowball effect, with links earned naturally over time as you continue building quality content.
One thing to keep in mind is that successful link building is best achieved in conjunction with PR teams, as you'll want to conduct niche edits, guest posting, forum commenting, and then reclaim old links, clean up defunct pages, and fix redirects.
Finally, we wouldn't be much of a digital marketing agency if we didn't remind our clients that SEO takes time. You won't soar to the top of Google in one month or even three. In competitive markets, it can take up to a year to make significant improvements. So while you're building each aspect of your SEO strategy, make sure to invest in paid media to build a more immediate pipeline (more on that below).
3. Local SEO
Increasingly, people are looking for products and services nearby. Take healthcare consumers, for example: according to Think with Google, "near me" searches for health-related services have doubled since 2015. In many contexts, it's far more convenient for people to get what they need in their own backyard. Yet, local SEO is its own subset of a broader strategy, with its own best practices, tactics, and strategies.
Multi-location businesses must demonstrate to Google their relevance to local search queries. The best way to get there is to optimize each website or web page to appear in the Map Pack and on Google Maps. To do so, follow these local SEO best practices:
Location Page Optimization
Google and other search engines look to the actual content on the location page for a variety of trust signals and content indicators. By fully optimizing the content on each location page, you'll be able to compete on a hyper-local basis.
Citation Management
This is an essential element of local SEO. Are your citations—including all relevant business info—consistent across all locations and channels? By ensuring up-to-date citations, you help algorithms understand your location and broaden your footprint on the search engine results pages (SERPs).
Reviews
Google uses reviews as a key trust signal when ranking local businesses. In addition to net promoter scores, Google uses keywords within reviews to help provide the best results to searchers. So make sure to not only generate reviews on an ongoing basis but to make a plan for managing reviews across the board. For more specific strategies, see How to Get More from Your Online Reviews.

4. Paid Media for Multi-location Groups
For multi-location healthcare groups, paid media's primary function will be to augment your SEO efforts. As mentioned, SEO takes time, especially for new companies. You can't expect to see results immediately. In the interim, paid media can help you generate brand awareness, capture bottom-of-the-funnel search queries, and build your lead pipeline. Paid media can also provide visibility on solution- or product-aware keywords.
Yet, to achieve strong ROI on paid media strategies, you must develop the right media mix to reach target consumers and drive down cost per acquisition (CPA). The goal is to invest the next dollar in the most effective channel. As such, your media mix will vary based on industry, competition, and digital marketing maturity but can include:

To drive down CPA and improve conversions, we need a multi-channel approach that's solid in four key areas:
Build Simplified Account Structure
Remember that Google offers several automated bidding strategies that can effectively help boost conversion volume. Yet, to use these automated bidding strategies, you must structure your account, so Google has more data to learn from. In paid media, the most important thing is to build a solid account structure. Unfortunately, too often, we come across multi-location brands with convoluted account structures.
We suggest that you only create granularity at the campaign level if and when budget control is needed. When developing your paid media strategy, assess your goals across locations. Do specific locations have unique goals and budgets? If not, you can reduce granularity and capture more data to train the algorithm. The point is to determine the right structure to maximize efficiency while maintaining the necessary control.
We can't emphasize enough how a well-structured account foundation will ensure campaign efficiency and increase advertising ROI.
Leverage Smart Bidding
The right account structure gives Google the conversion data it needs to fuel its algorithms. We recommend using enhanced cost per click (CPC) for 30 days. This allows Google to accumulate the conversion data required for smart bidding to be effective. Google's machine learning algorithms use that data to make more accurate predictions as to how an ad will perform and adjusts the bid accordingly.
Develop Robust Keyword Strategy
This is the most effective way to allocate ad budget appropriately. As you build your keyword strategy, you'll want to target the right keywords that lead to conversions. Keep in mind that upper-funnel keywords are often exploratory—people using this search language aren't always ready to act. On the other hand, people using bottom-funnel keywords have high intent and are looking for a solution. For new companies that need to build their lead pipeline, focus on the bottom of the funnel when building your keyword strategy. As you build brand equity and awareness, you can adjust your strategy and expand to other funnel stages.
Use a Full-funnel Advertising Strategy
A full-funnel strategy can help move people through the funnel towards conversion. This approach to social media ads, in particular, is designed to reduce the overall cost to generate a lead at the bottom of the funnel. In our experience, serving direct-response ads to prospects who have never interacted with your brand before can drive up CPA costs by more than 400 percent. Instead, we recommend optimizing ads for solution-aware, product-aware, and most-aware audiences. For more, see How to Engage Patients with a Full-Funnel Facebook Ads Strategy.
5. Analytics
Finally, listen to what the numbers are telling you by focusing on data-driven marketing. You need to ensure that every marketing dollar is working harder across your portfolio by focusing on the metrics that tie to revenue. This requires a deep understanding of the performance of your digital marketing activities, including:
Web analytics (page views, page speed, location, referral sources, device)
Organic search traffic
Paid media analytics
Conversion rate
Lead attribution
This kind of analytics starts with a solid foundation of integrated marketing technologies. You'll also need to build attribution models that work best for each of your companies (first click, last click, or multi-click). To get there, we recommend putting together a data-savvy team that can help guide investments in the martech tools that will help you have better insight into performance.
SEO tools, such as SEMRush, Google Analytics, and Google Search Console
Call tracking software, such as CallRail
CRM and integrations, such as SalesForce, that tie campaign data together and tap into revenue management software
A Rinse-and-Repeat Approach to Digital Marketing
Website. SEO. Local strategy. Paid media. Analytics. Those are the key ingredients that comprise our digital marketing playbook for high-growth multi-location healthcare groups. While this model isn't simple or easy by any stretch of the imagination, it's a dependable and repeatable way for private equity firms to scale digital marketing.