Healthcare organizations rely on accurate data to make strategic marketing decisions and gain a better understanding of the patient journey. Google Analytics has long been an essential tool for healthcare providers to track website performance, measure conversions, and optimize digital marketing efforts through a data-driven process. With the announcement of the sunsetting of the Universal Analytics product in favor of Google Analytics 4, healthcare organizations are encouraged to migrate to the newer platform as soon as possible.
Google Analytics 4 offers many benefits, including a more optimized dataset layout, event-based data models, compliance with upcoming internet privacy regulations, and many features previously reserved for Google Analytics 360. Additionally, the migration process provides an opportunity to improve website analytics and upgrade conversion tracking and data visualization with dashboards.
Although GA4's capabilities are extremely beneficial to healthcare organizations, data is only stored by default for 2 months. This can be switched to 14 months, but must be done manually for every account. That's why it's important for healthcare groups to work with an agency like Cardinal, that's equipped to help with this migration, to ensure a seamless transition with no lost data.
What is Google Analytics 4?
Google has created a new iteration of their Google Analytics product. This new product, Google Analytics 4, was first released in October 2020 with a limited amount of features and support for third-party integrations and was met with low adoption.  Since then, new features have continually been added over time, and an increasing number of our partners have created integrations and other features to be used alongside the newer product. More recently, Google has determined this newer product will be the sole successor to the current Universal Analytics product, and has announced that they will eventually stop supporting and feeding data to Universal Analytics.
Google Analytics 4 represents the most significant change in a GA iteration since the platform first launched. Google Analytics 4 has the flexibility to measure more data, delivering a strong analytics experience that's designed for the future. It allows businesses to see unified user journeys across their websites and apps, use more of Google's machine learning technology to surface and predict new insights, and most importantly, it's built to keep up with a changing digital ecosystem and to allow for compliance with growing adoption of internet privacy laws. 
Universal Analytics was built for a generation of online measurement that was anchored in desktop computers, a session-based approach to website measurement, and more easily observable data from cookies. This measurement methodology is quickly becoming obsolete due to the usage of multiple devices and experiences, vulnerability to manipulation by bots, and a growing adoption of internet privacy laws. Google Analytics 4 operates across platforms, does not rely exclusively on cookies and uses an event-based data model to deliver user-centric measurement.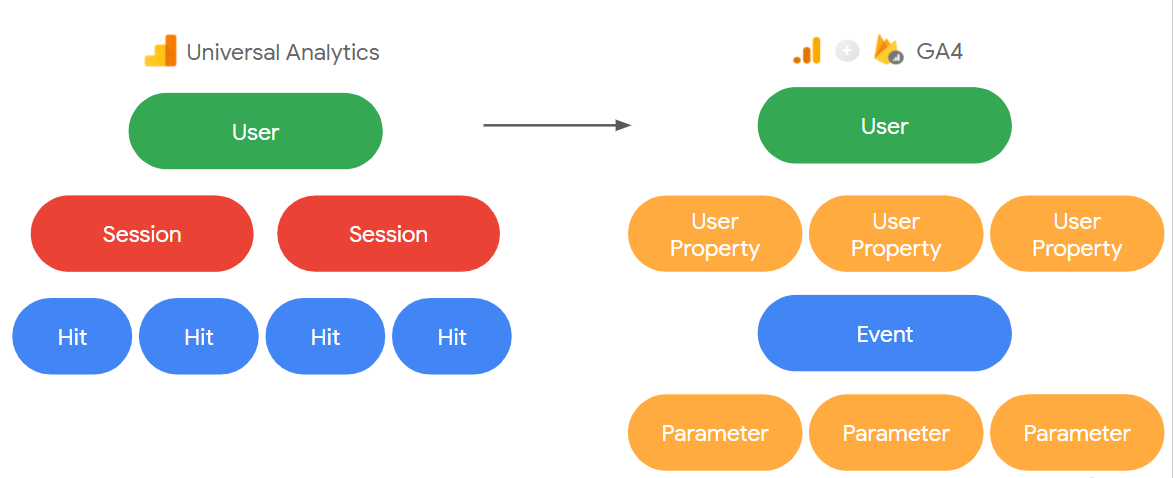 Why do I need to migrate?
On March 16, 2022, Google announced that they would be sunsetting the 'Universal Analytics' product in favor of only supporting 'Google Analytics 4'. Google's announcement states that 'Universal Analytics 'properties will stop collecting new data on July 1, 2023 when Google stops supporting the product. This means every website is going to be forced to migrate their analytics to GA4 in order to continue to measure website activity and feed website conversion data to Google Ads. 
With this announcement, the addition of new features to Google Analytics 4, and an increasing adoption rate and integration support from our partners and data providers, Cardinal is recommending that clients complete their migration to 'Google Analytics 4'  as soon as possible in order to avoid stress as the deadline gets closer. 
Additionally, the migration presents an opportunity to reexamine and improve website analytics. During the migration, we will be able to take advantage of all of Google's newest features and tag configurations using Google Tag Manager, as well as clean up old tags and pixels from past website builds that no longer function. With an improved level of website and conversion tracking, we will be able to provide the best data stream as possible to optimize our digital advertising and SEO efforts. 
Why should I be excited to migrate?
Google Analytics 4 has been designed to be future-proofed against increasing levels of bot activity on the internet, a growing adoption of internet privacy laws, and a growing variety of devices and experiences. Additionally, Google Analytics 4 has a more optimized dataset layout and allows for more discrete measurement of user activity with their 'event-based model'
Google Analytics 4 also has exploration and analysis features that were previously reserved for Google Analytics 360 (the paid version of Google Analytics) or are completely new in Google Analytics 4. These features include improved pathing, custom funnels, segment overlaps, and a more flexible free-form reporting interface.
In addition to upgrading the fidelity of website measurement and future-proofing, the upgrade to Google Analytics 4 also presents us with the opportunity to upgrade your conversion tracking and data visualization with dashboards. Cardinal has recently invested significantly in Analytics in order to provide improved services. 
One of Cardinal's more unique value propositions is that we are able to combine data from Universal Analytics and Google Analytics 4 in our data warehouse. This in combination with our dashboards will allow us to be able to view and monitor performance across the transition and retain historical data from Universal Analytics after the transition. 
Out of the box, Google does not make this possible due to the different dataset layouts and data streams for Google Analytics 4 and Universal Analytics, but we are able to use our data transformation system to map these datasets together to provide a seamless measurement experience.
What's involved in the migration process?
The process for Google Analytics 4 migration includes the following steps:
Create a Google Analytics 4 Property

Create the necessary data streams using your website and/or app

Add GA4 property tag to the website through Google Tag Manager.

Link GA4 to Google Ads (if applicable)

Create new GA4 events based on existing Universal Analytics events as well as through an audit of the website and designate events as 'conversions' where appropriate.

Set up QA and conversion events

Create retargeting audiences and custom segments (if applicable).

Configure a connection and data feed between Google Analytics 4 and our data warehouse.

Map data from Google Analytics 4 to Universal Analytics to create a seamless measurement of website activity and key conversion events. 

Create customized dashboards and reporting with the new dataset.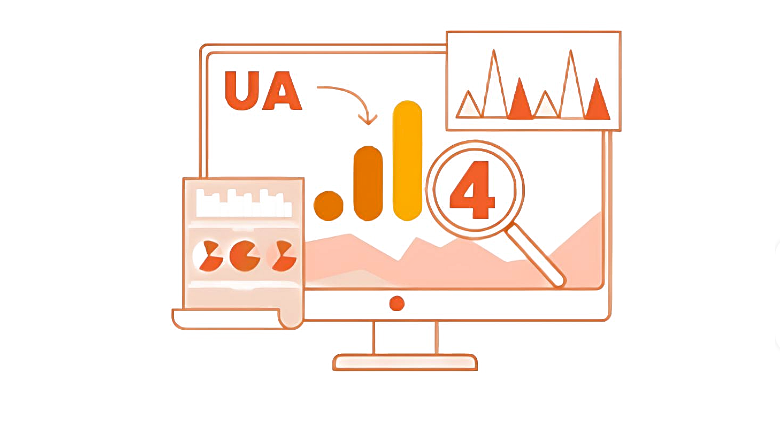 What will happen to reporting?
After July 1, 2023, Google Analytics UA properties will cease to collect new data. Any websites using Google Analytics UA that have not transitioned to GA4 will no longer be able to report website performance.
Once we set up and configure Google Analytics 4:
Existing data will be merged with data from Google Analytics 4  properties through Cardinal's data transformation system. This will allow for seamless reporting despite a transition to a new analytics account.

Dashboards will be given a visual update and adjustments alongside the data refresh in line with Cardinal's latest analytics offerings.
Note that GA4 accounts set up to measure the same website as Universal Analytics accounts generally show slightly less traffic due to auto filtering of bots and changes to measurement. 
Additionally, there are a few third-party integrations we are waiting for some of our partners, such as CallRail, to finish. If this applies, we will complete the setup of GA4 to the fullest extent possible ahead of the integration, and finish as soon as those integrations are complete.
In Conclusion
For healthcare organizations, migrating to Google Analytics 4 is an important step towards future-proofing website measurement. We recommend that provider groups complete the migration process as soon as possible to take advantage of all the new features. It's crucial for healthcare groups to partner with an agency like Cardinal, to capture and store GA4 data. Groups that aren't taking advantage of this will lose valuable data and won't be able to do a full year-over-year comparison when the time comes. Don't wait until it's too late. 
For more information about how Cardinal can help your healthcare organization navigate the GA4 migration before July 1, 2023, contact us today!