One of the most effective healthcare digital marketing tactics to use – that's built on the foundation of customer psychology, is social proof.
This is particularly true for medical practices – the people you're hoping to convert into patients need evidence that you're professional, qualified, and someone they can entrust their health with.
To understand how this works, we have to first delve into the meaning of social proof:
Social proof is when your prospective patients take actions based on the actions or advice of others.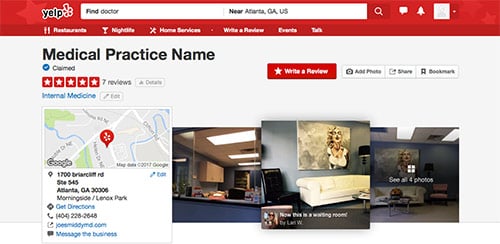 For example:
We buy products endorsed by celebrities because we want to look like them
We value the advice of so-called experts and are more likely to use things they endorse
We trust user reviews because these reviews were made by folks who actually used the product or service
The types of social proof you can use in your medical marketing
In general, there are six types of social proof you can use for your marketing needs:
Expert: This is where an expert in your industry recommends your practice.
Celebrity: Where a celebrity endorses you and your practice. We see this often with celebrities and plastic surgeons and weight specialists.
User: When your current patients recommend your practice based on their experiences.
Crowd wisdom: When large groups of people seem to endorse your practice (like if you have a huge Facebook following)
Friend wisdom: This is when people see their friends approve of your practice.
Certifications: When you're given a stamp of approval from an authoritative figure in your industry.
So, how can you all this to market your practice? Let's take a look.
Share your reviews with your audiences
Medical professionals are reviewed online all the time (for better or for worse). While many of your prospects go to these rating sites as part of their search, not all of them do. It's a good idea to make it easy for your audiences to find your reviews and ratings by sharing them across your social media channels and on your website.
Think of it this way. If someone lands on your site, chances are they're not wholly familiar with you (or else they'd have just called you) and are looking for more information. Your service pages and about us page will help; however, once they conclude that you offer services they need, now they want to know if you're as good as you say you are.
Promoting your reviews and testimonials on your website makes it easy for these folks to see your value immediately. By also sharing them on social media, you're merely increasing the number of people who are exposed to this type of social proof.
See how KSF Orthopedic Center in Houston promotes their reviews: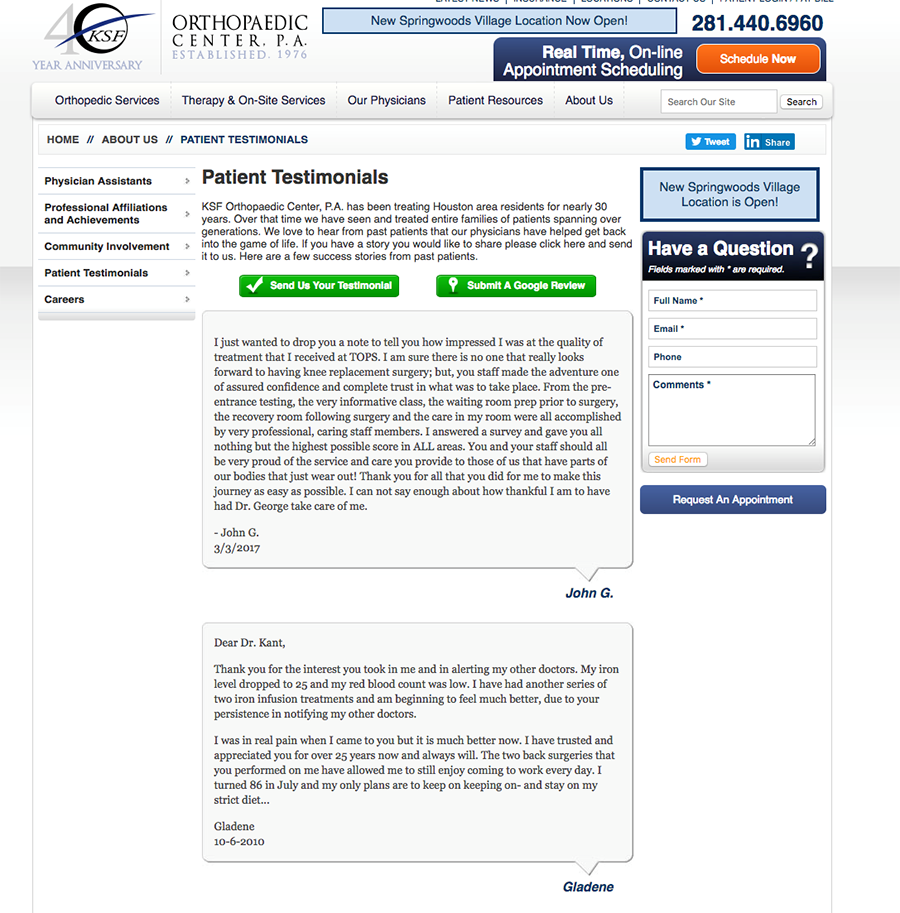 Not only do they include detailed reviews on their site, but they make it easy for visitors to submit formal testimonials and reviews as well, with green, conversion-optimized buttons.
Reach friends of your Facebook Page fans with Facebook ads
There are many reasons why you should have a Facebook Page for your practice. Facebook allows you to accept reviews on your page; you can promote upcoming events or specials; you can connect with your audiences in a more meaningful way, and more.
But organic approaches to Facebook will only take you so far. Simple postings might keep your page active, but if you really want to make a mark in your marketing, you have to turn to Facebook ads.
What you can do is target your Facebook ads to friends of the people who like your page. When these new people see your ad, they'll see that their friends already like your page, which may provide them enough reason to give you a second look.
To do this, while you define your target audience in the Facebook Ads Manager, scroll down to "Connections" and select "Add a connection type." Then select "Facebook Pages" >" Friends of people who like your Page."
Encourage folks to leave good ratings on key online channels
We've written a great many articles on reputation management, and how best you can increase the number of positive ratings for you and your practice.
Suffice to say, one of the best ways to get more reviews is to, well, ask for them.
For your practice, we'd recommend encouraging folks to leave reviews on Facebook, on the main industry-specific rating sites (like Healthgrades) as well as your Google My Business Page.
The latter is extremely impactful when it comes to search rankings. Take a look at the results for "neurosurgeon in Atlanta":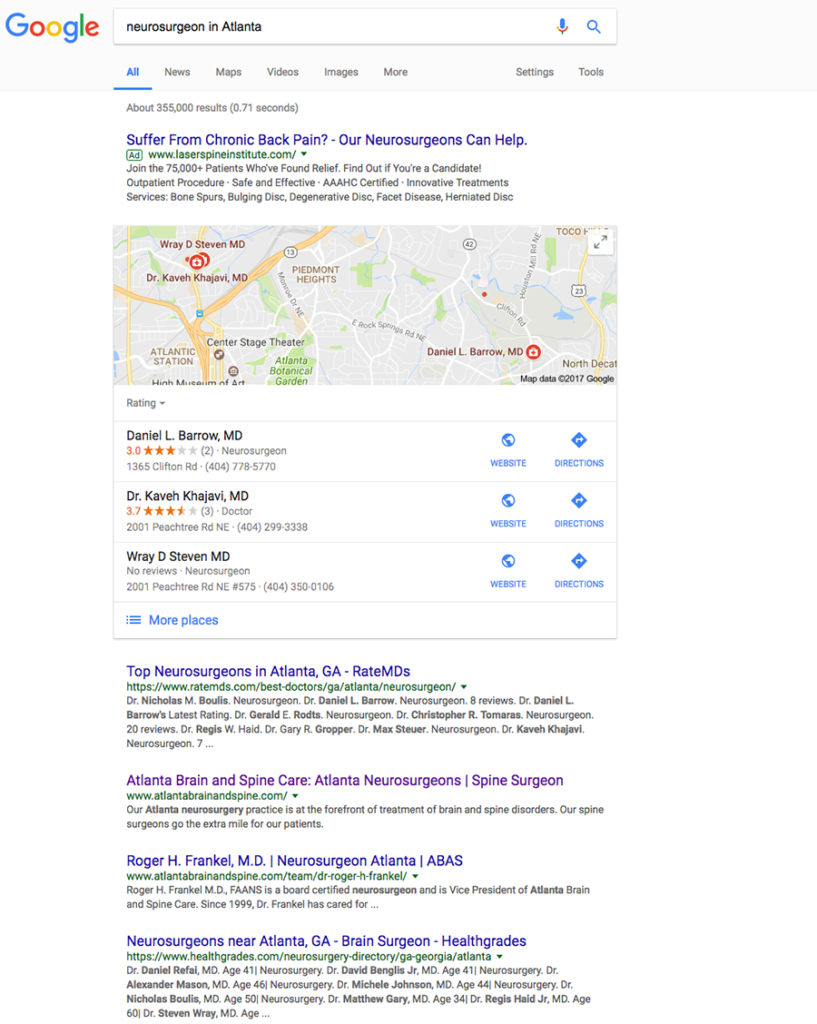 Before you get to any of the organic results (which include a popular rating site, followed by one of our clients), you're taken to the Google Local 3-Pack. This Local 3-Pack uses your Google My Business page to decide whether your entry is relevant toward this search.
Notice how Wray D. Steven MD has no reviews on his page. Chances are he's likely not going to be the doctor searchers click on.
You want to make sure you not only have a good number of reviews but that your reviews leave you with a positive rating. In short, whenever possible, avoid asking for reviews from patients who did not have a positive experience.
Show off your badges
Most medical professionals and clinics are members of key associations or have been recognized for their work by industry leaders or media publications.
Make sure to include those badges of certifications on your website and across social media. But don't just settle on those types of badges. Look what OrthoAtlanta has on their homepage:

By showing that they are the sports medicine provider for several local and well-known teams and events, they're proving their value to their audiences. This type of approach incorporates a bit of celebrity endorsement: If OrthoAtlanta is good enough for elite athletes, they must be good enough for me!
Get inside the minds of your audiences
The medical world is flooded with competition. Each of your competitors is spending money on digital marketing and paid advertising to get their messaging seen by their prospects.
But once that message is seen, what type of social proof do these clinics and practices promote to help convince their visitors to become leads and patients?
By developing a strong social proof strategy, you can make it easy for your online visitors to make the decision that their health can be trusted in your hands.