That's really what the beginning of the patient journey boils down to: a "prospect" picks up their smartphone and searches Google. What exactly do they search for? Maybe it's a specific type of plastic surgery in their city—an "Atlanta tummy tuck," for example. A "Pacific Beach breast reduction surgeon." Or maybe they type in a longer-form query to get more in-depth information about a particular procedure they're considering ("how long does breast augmentation recovery take?").
Either way, those patients are evaluating their options, including who they're going to call when they do decide to move forward with a procedure. As such, you need a robust search engine optimization (SEO) strategy if you want your website to be found when they start searching.
Why Plastic Surgeons Need Search Engine Optimization (SEO)
Wouldn't it be great if the search result they clicked on was from your plastic surgery practice? If it was the tummy tuck service page on your website or the guide to considering breast augmentation you published to your blog? It's certainly possible for plastic surgery practices to achieve these kinds of results. However, it does require a more comprehensive approach to SEO.
To say that the real estate on search engine results pages (SERP) is competitive among plastic surgeons would be an understatement. To see what I mean, open up Google and search for "plastic surgery Atlanta," or whichever city you live in. You'll see a SERP littered with paid search ads, knowledge graphs, and answer boxes from all kinds of plastic surgeons, some of whom specialize in the very same procedures that you do.
With a well-rounded SEO strategy, you can displace these competitors in a few ways:
Rank your content in the top three search results for "high volume" keyword phrases that are more likely to bring you qualified leads. If 10,000 people a month search Google for "tummy tuck surgeon in Atlanta," you'll want to make sure one of your URLs shows up (way up) in the search results.
Build brand awareness by expanding your practice's "share" of ranked keywords, top-three rankings, featured snippets, and so on. As your SEO strategy gains momentum, you'll begin gaining in these areas.
Drive traffic to dedicated blog posts and web pages that are optimized to capture leads (consultations, appointments, and so on). If you're ranking a page for "tummy tuck surgeon in Atlanta", you'll want to enrich that page with information about your tummy tuck services, as well as the procedure in general.
Earn valuable backlinks that build brand visibility and domain authority. Google was founded on links and its PageRank uses algorithms that determine your page ranking based on the number and quality of reputable backlinks that your site has. It all starts with authoritative content and a sustained link-building campaign.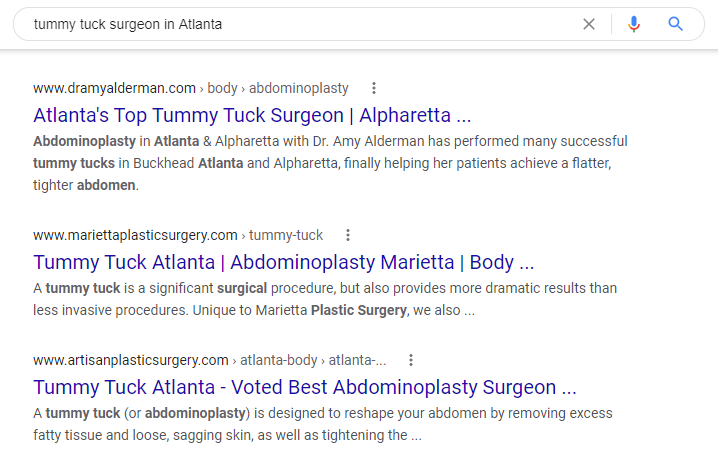 How SEO Works and Where to Start
At a high level, your SEO strategy will encompass a couple of focus areas, which Search Engine Land breaks down as follows:
Technical SEO includes structured data markup, site speed optimizations, and site security measures.
Content refers to site pages, subpages, blog posts, and content marketing assets.
On-Page includes content layout and structure, embedded media, metadata, and links.
Off-Page SEO typically refers to listings, citations, and link building.
Each of these focus areas includes many different best practices, tips, and strategies. We're going to cut to the quick and give you the most practical and actionable tips you can use now to grow your plastic surgery business.
1. Audit and Optimize Your Website
This is kind of like the X-Rays and gum measurements that dentists take for their new patients. An SEO audit of your website will not only provide a baseline score for various aspects of your site's SEO strategy, but also reveal issues, problems, and warnings that ought to be addressed (broken links, for example, or missing meta descriptions). The process of auditing and optimizing a site encompasses aspects of all of the focus areas listed above.
Here are the most common issues that we tend to address during this phase.
Page speed. Pages that load slowly are less likely to rank well. Fortunately, there are several optimizations, such as "lazy loading" images and disabling problematic plugins, that can drastically improve site speed.
User experience (UX) is now an important ranking factor in Google Search. You can improve your site's UX by optimizing site and URL structure, categories and tags, and building responsive pages.
Old, redundant, and irrelevant content. Consolidating redundant or orphaned pages, cleaning out your years-old catalog of random blog posts, then performing on-page SEO and cleanup for the pages you keep, can provide a significant SEO boost.
2. Optimize for Your Local Market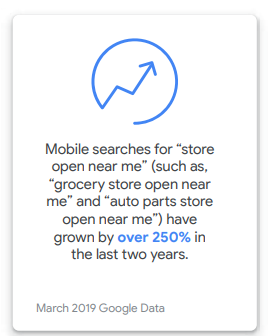 Ensuring that each of your plastic surgery locations shows up as one of the top three positions in a search engine's "Near Me" map is one of the best ways to build search equity. In fact, mobile searches for "store open near me" grew by over 250% in the last two years, according to Google 2019 Research Review. People using their smartphones to search for plastic surgery services are probably on the "warm side" of the prospective-patient spectrum.
In terms of local SEO, start with a simple rule of thumb: each of your physical locations ought to have its own digital "footprint." Especially when it comes to the plastic surgery field, consumers tend to look for providers nearby. Given that local demand, Google and other search engines prefer to serve up location-specific results to their users (where appropriate).
A local SEO checklist for plastic surgeons
This creates an opportunity to optimize each of your locations for "local SEO." Here's a local SEO checklist that you can go through for each of your plastic surgery offices:
Create optimized location pages. To help patients find you in the local area, you need to start with comprehensive city-specific or region-specific landing pages. Location landing pages are unique destinations on your main website dedicated to a single physical location (such as a city or state) with its own URL. Write at least 500 words of high-quality unique content per page and incorporate local keywords, physician bios, services provided, location-specific photos, and an embedded map.
Build a portfolio of local backlinks and citations. On an ongoing basis, place links back to your content in local publications, trade websites, and other digital destinations. Also, update your listings on the healthcare networks and insurance groups you're part of, as well as relevant business directories (Yelp, Healthgrades, Zocdoc, Vitals, RateMDs, RealPatientRatings, and RealSelf, to name a few. Read our link-building guide to get more tips.
Update and engage with your Google My Business (GMB listing). Google My Business (GMB) should be taken as seriously as your website. Not only does GMB influence page rankings, but it's often the first thing potential patients see on search engines. Consider GMB your virtual front door to introduce patients to what they can expect from their patient experience with your provider. From there, they can contact you directly, verify your location and hours, or visit your website. Complete your GMB listing and regularly update it with photographs of your practice, staff, and other interesting information, a virtual tour, as well as FAQs
Build a review encouragement program. Google considers reviews as part of its search ranking. The trick is to get (and respond to) patient reviews consistently. This includes Yelp, Google, and Facebook Business, among other review sites. Consider using a review encouragement program like BirdEye, Podium, and TrustPilot to do it all for you.
3. Create Content That Your Audience is Searching For
There are two ways to put yourself in your patients' shoes: audit the entire patient journey from the patient's point of view; and look at site engagement and search data to see what content people look for and click on. From there, you'll have the information and analytics you need to build rich content around the questions your patients need to be answered.
What you can do to build valuable plastic surgery content
This all depends on the mindset of your prospective patients. For example, you might find that many "top of funnel" prospects are still in the exploratory phase—they're not quite sure if they want to get that nose job, body sculpting, or liposuction at all. The content you create for this particular persona should provide a lot of details about the benefits and specifics of each procedure.
For example:
A subpage that provides a detailed overview of a specific procedure (/nasal-surgery).
5-10 blog posts, each one dedicated to a more specific topic within a given procedure area ("Long-term effects of nasal surgery," for example).
Polished, well-researched eBooks, white papers, and infographics that go more in-depth on a "pillar" theme ("Guide to Evaluating Plastic Surgeons," or "An Introduction to Hair Replacement Surgery").
A dedicated FAQ for each procedure.
Your goal here is to produce diverse content that is narrowly focused on all of your target keywords. A blog post titled "The benefits of plastic surgery" (where you highlight all of your services in brief paragraphs) is not going to yield great traffic or results. You're better off creating multiple posts, each of which takes a deeper dive into your individual services ("the risks and benefits of getting a nose job," "How a brow lift can change your overall appearance," and so on).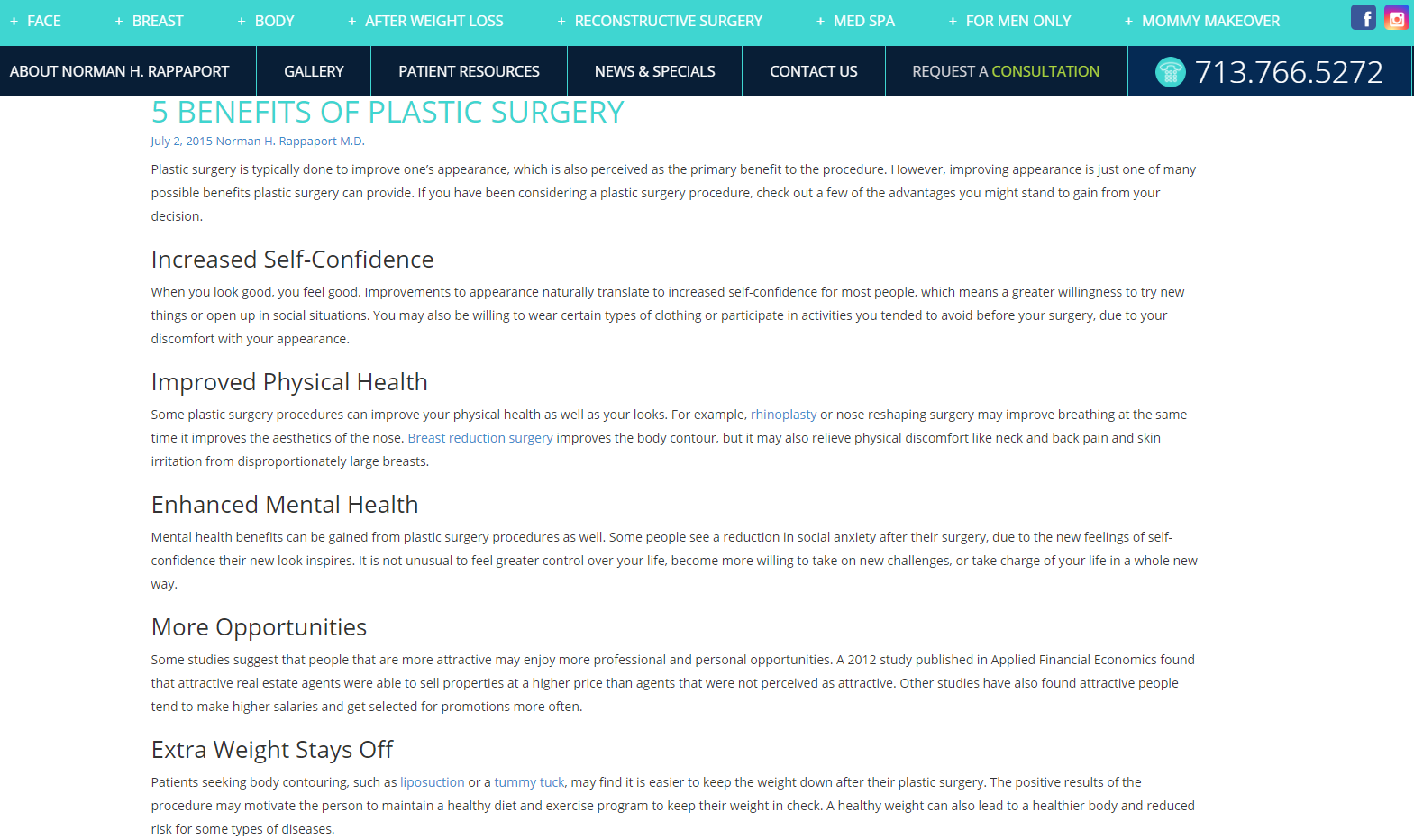 There's no end to the kind of content you can produce here to target keywords. The topic "nose job" alone could have dozens (if not hundreds) of blog posts related to, each focused on one singular aspect related to what a potential nose-job patient searches for online. These narrowed-focused posts will rank high for prospects who use long-tail keywords when searching for these services. These folks are far more likely to be qualified prospects, particularly if they're drawn to one of your specific posts.
Final Takeaway: Plastic Surgeons Tap Into SEO Benefits By Creating Value
If improving SEO for your plastic surgery locations is a priority in 2021, the three focus areas we've explored are great places to begin. Consider this your "SEO quick start guide" for plastic surgeons, one shaped by a universally guiding principle:
ALWAYS CREATE VALUE FOR PEOPLE AND SEARCH ENGINES.
By auditing and optimizing your site, you give people and algorithms a site that's straightforward to find, organize and understand—a site that loads fast and is free of irrelevant or outdated content. By optimizing for each geographic location, you connect with people searching for reputable plastic surgeons in their area. And by creating rich content, you educate your current and prospective patients about specific plastic surgery services, helping them to make a sound and informed decision.
In other words, treat your digital presence like one of your patient consultation rooms. Keep it clean, organized, and welcoming. After all, your website and digital channels might be the very first place that your patients engage with your practice.