Remember how nervous you used to get before going to the dentist? Maybe you are among the one in five people that still fear a trip to the tooth doctor. Beyond the big scary needles or the sound the drill makes, dentistry can impact both quality of life and a person's wallet. Not surprisingly, whom people choose as their dental provider is kind of a big deal.
"So, I Was Reading Your Reviews …"
Understandably, people tend to scrutinize dental practices before pulling the trigger. How? They go online to read the latest reviews, for one. Generally speaking, nearly 60 percent of patients have decided against a healthcare provider based on negative online reviews. Overall, 34 percent of people consider online reputation to be an important part of their decision-making process.
This includes dentists.
Suffice it to say that your DSOs online reputation—your ratings, reviews, and publicly visible patient feedback—matters greatly. What's more, digital reputation can impact your local SEO strategy. It's all intertwined. Today, prospective patients will encounter Google Map Pack ratings and reviews on search engine results pages (SERPs).
To help make sure you put your best foot forward in these digital experiences, we've put together three core strategies for maintaining your DSO's online reputation. What follows can be used for singular dental practices, or larger, multi-location dental groups.
RELATED:
Why You Can't Neglect Your Digital Reputation
1. Keep Tabs On Your Digital Profiles
If we were to Google your dental practice today, what would we find? How does your Google My Business listing look, for example? What about your Yelp reviews and Facebook Business? Now's the time to take an inventory of all your digital listings across the following channels:
Dentist review sites
Dental and insurance group listings
Google My Business, Yelp, YellowPages, and Facebook Business
Healthgrades, 1-800 Dentist, and other healthcare-specific review databases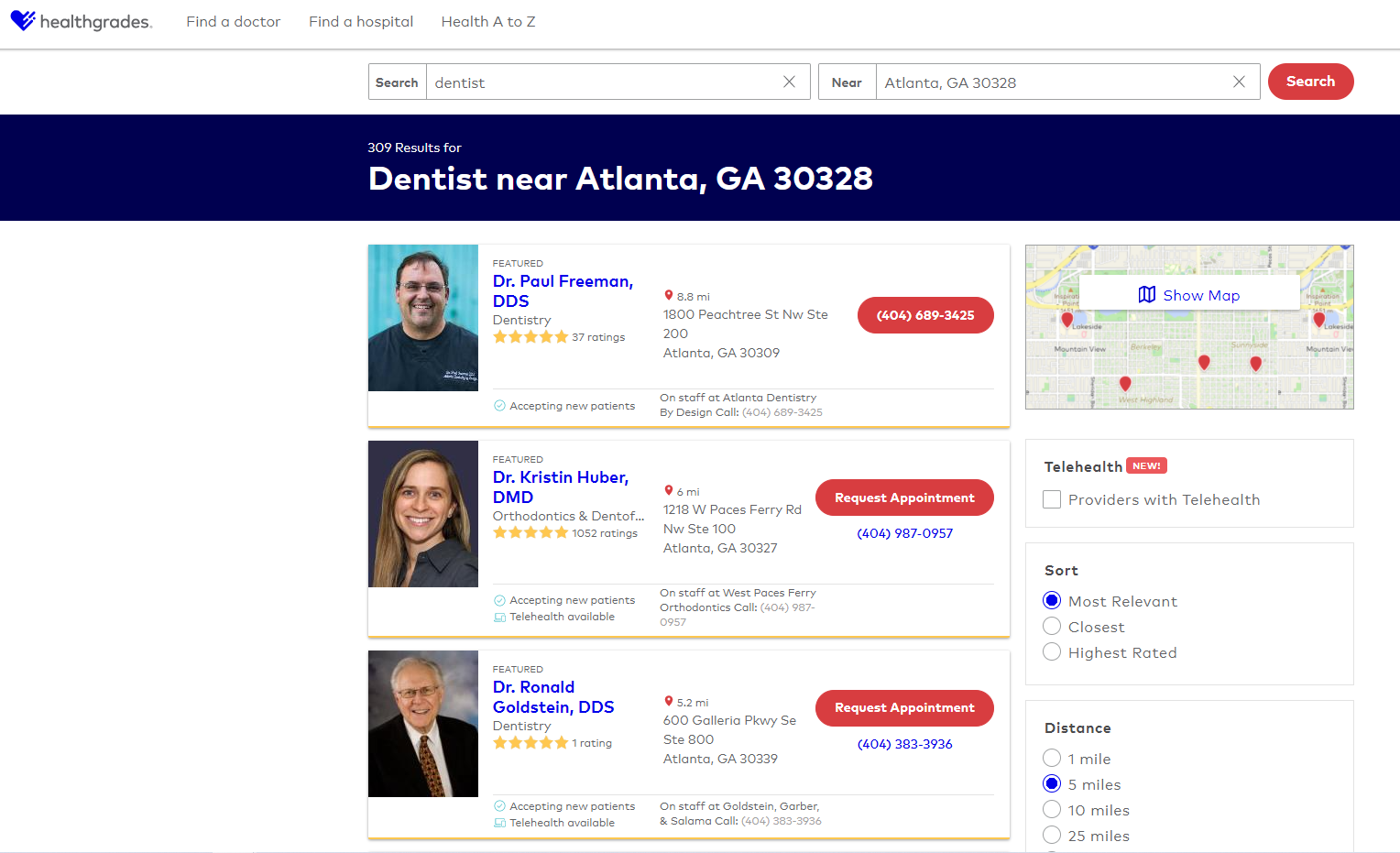 With the listings, you must make each one as complete and rich with information as possible. Think about the information and prospective, new, and existing patients look for when looking for dentists online. At the very least, get your Google My Business, Facebook Business, and Yelp listings squared away (for each of your locations—more on that later).
As part of this important first phase, mobilize the team members who'll be responsible for keeping an eye on and responding to reviews—good and bad. Typically, your marketing and/or PR team will be involved. However, things get considerably more complicated for larger dental groups with both organization-level and location-specific marketing structures.
Regardless, these stakeholders will need a response plan for negative reviews. Here's a basic example of such a plan:
Respond to all negative reviews, but don't just copy/paste canned responses.
Be polite and respectful no matter what the customer says.
Acknowledge the problem and how the customer might be feeling as a result.
Offer the next step toward reconciliation, if possible, such as taking the interaction offline for direct contact.
For no-resolution issues, let the customer know that their feedback has been passed on to the right people.
For positive reviews, especially those from customer champions, seize the opportunity to:
Respond personally with gratitude and acknowledgment of your team.
Incorporate those reviews into your social media, website, and other digital channels.
2. Develop a Review Solicitation Strategy
While it's true that reviews will eventually come in on their own, you can improve the frequency and quality of your reviews in several ways. To begin with, you'll need a more formalized process for regularly soliciting patient reviews. Some patients don't ever think to leave a review!
Here's what we recommend for dental practices and groups:
Identify points of the patient journey where you can ask for reviews or testimonials. You might find that it makes sense to include a survey link in the automated email you send after an appointment or procedure. Some dental practices solicit reviews by text message after a dental cleaning or through their mobile app after a user logs in.
Train staff to ask for reviews. Other practices have success soliciting reviews at reception, or even on the phone. The key is to give your staff members the script for when, where, and how to solicit reviews—to normalize the act of asking for reviews (and making patients aware that this option exists).
Automate your review solicitation program. There are great programs like BirdEye that can seamlessly integrate review solicitation with email, SMS, or even regular mail. Reputation management tools provide a great way to improve and monitor your digital reputation on an ongoing basis.
Don't forget snail mail. Like many dental practices, you might be sending personalized letters, reminders, and notices to patients. These communications are yet another opportunity to solicit a review by providing a link or scannable QR code.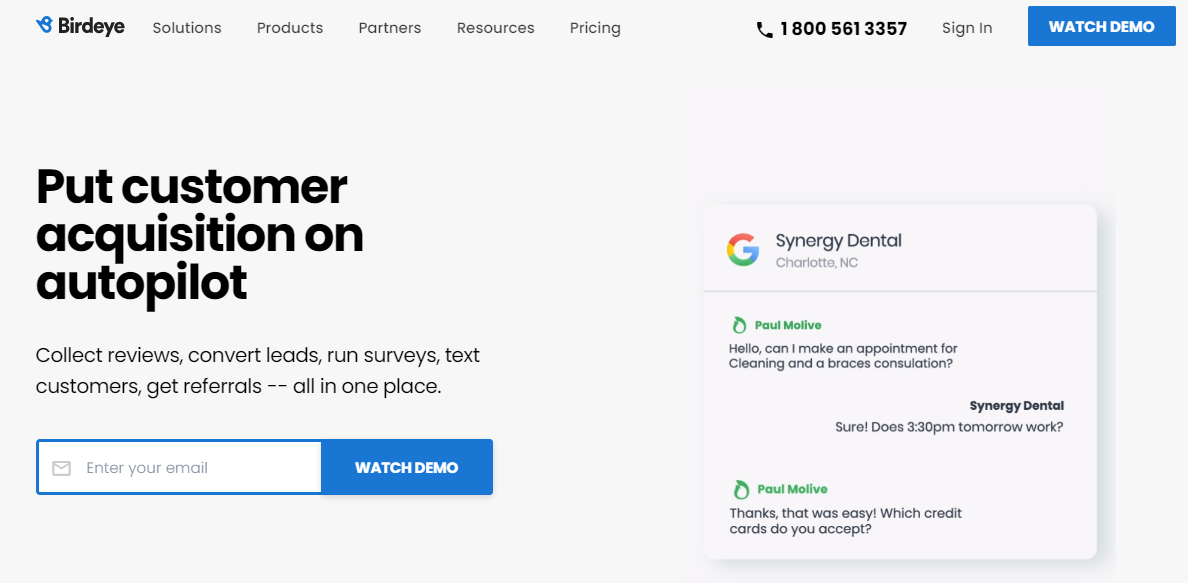 Why You Need a Steady Flow of Reviews
As a general rule, the fewer reviews you have, the more impact a negative review will have. That's because most review sites give you an aggregate star rating based on all of your reviews considered together. A steady flow of online reviews—even a couple weekly or monthly—means you're better suited to absorb a negative review here and there. For patients sizing you up, a high volume of reviews with a strong aggregate star rating can speak volumes.
3. Solidify Your Digital Presence With a Strong Website
Your website is quite literally your digital front door; patients come to it and knock to ask questions, get information, and make appointments. Like homebuyers, they pay attention to curb appeal, interior layout, and overall feel. How your website looks, feels, and sounds is a reflection of your brand and part of your digital reputation.
Here are a few dental homepages we like:

Put Your Best Foot Forward
This is your chance to guide people to your bread and butter—to the differentiated services you provide. Many dental practices strive to create a gentle, kid-friendly environment and they should communicate that on their websites. Others showcase their "pain-free" approach (such as the painless novocaine wand example), or their unique approach to sedation dentistry. Your differentiators should be reflected in the words, imagery, and design of your website.
Build an Engaging About Us Page
Your About Us page is an opportunity to give patients a feel for your depth of experience, background, and reputation. It's a chance to put a face to names and deploy a bit of storytelling to describe how your practice came to be and what it's all about. Consider including mission and values statements based on the value your aim to bring to your patients. Don't make the mistake of standing up a flat About Us page—it's often one of the first places your patients go to get to know you.
Ideas for a Strong About Us page
Tell a story instead of just your history. What quirks, unique philosophies, and other interesting details might engage and entertain patients?
Center your ideal patients' most pressing problem. What is it about your story, background, and experience that solves problems for your patients? What value do you bring to their lives?
Build a report and establish comfort by showing some personality and being, well, likable.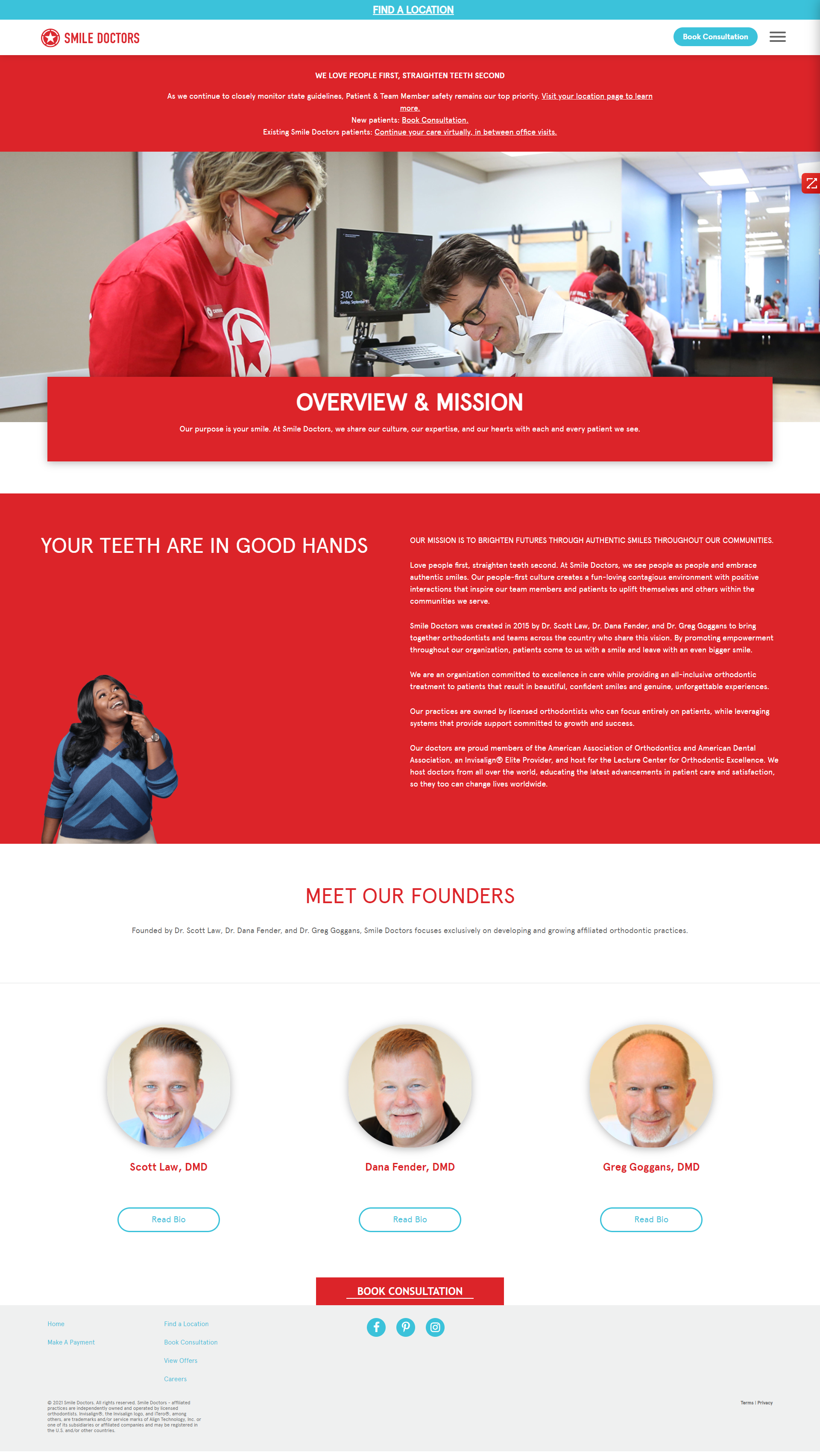 Highlight Glowing Patient Reviews
A simple way to showcase (and solicit) patient reviews is to embed them directly onto your website. Many dental practices display Google Reviews, Yelp, and Facebook Business reviews on their website in real-time. This can usually be done through third-party plugins and other methods.
You can also build out dedicated testimonials pages, approved customer quotes, video testimonials, and even full-length case studies. The point is to supply website visitors with reviews, testimonials, and patient stories that give them an idea of your reputation as a dental practice.
Tips on Managing Reputation for Multi-Location Practices
A lot of dental groups—especially DSO-backed practices—are regularly expanding to new locations. Because dentistry is so powered by local demand, each practice needs to have a strong digital reputation if it hopes to attract patients. Without a repeatable framework for doing so, it can be difficult to maintain the kind of consistency and engagement that's needed.
Here's what multi-location digital reputation looks like:
Create and Verify a GMB Listing for Each Location in Your Practice or Group
Make sure each of these listings is as complete as possible, including:
Accurate business name
Location
Contact information
Operating hours
Available services
You can further enrich GMB listings by regularly posting content, photos, promotions, and other information that might be useful to new and existing patients. As always, keep an eye on your Google reviews and share out your review link wherever possible.
For our free, full guide to setting up GMB, see How to Optimize Your Google My Business Listing.
Determine Roles and Responsibilities
In some situations, it might make sense to have each location manage its own digital reputation. In other settings, it might make sense for the corporate marketing team to take the reins. Ultimately, it will be up to you and your dental group to determine what's best for your particular dental practice. However, here are some pros and cons to consider for groups large and small:
Each location manages its own reputation
Pro: Access to instant feedback and the ability to quickly rectify negative patient feedback
Con: This can lead to inconsistencies in brand messaging on listings and review sites
Centrally-managed digital reputation
Pro: Consistent messaging, better oversight and control
Con: Can come across inauthentic or create delays following up with patients
Create Templates and a Brand Voice Guide
Whether your corporate marketing team manages all locations or each location is responsible for its own digital content, consistency matters. A brand guide, including rules around style and voice, can help ensure a cohesive presence across all listings and review sites. A brand guide is also useful in ensuring that all locations interact with patient reviews in a uniform way reflective of your overall brand.
Workflow templates for new location rollouts can be built-in project management tools, such as Asana, Monday.com, and Zapier. These tools put all repeatable tasks in one place, including the ability to assign them to team members, monitor progress, and launch new projects in one spot.
Consider Rolling Out Reputation Management Software
Eventually, managing digital reputation for all locations will become unsustainable. Without third-party help, at least. Especially for large dental groups, we recommend using reputation management software vendors.
Examples of popular reputation management software
BirdEye
Podium
TrustPilot
Among other things, these solutions centralize solicitation, management, and reporting of reviews. That last part is important. As you accumulate a higher volume of reviews and ratings, you'll want to dig into review analytics. This kind of reporting can reveal common issue areas along your patient journey or specific staff interactions that need to be addressed. This capability alone makes reputation management software well worth the investment.
Finally, What's the State of Your Digital Reputation?
In terms of reputation management, we generally come across three types of dental practices:
Reviews here and there. No reputation management strategy at all.
Established listings and a fair amount of reviews, but no cohesive plan.
The need to put in place a scalable solution to make digital reputation a driver of business and brand.
What these three groups all have in common is a desire to create a strong, healthy digital presence. They want to make a good impression on prospective patients while encouraging new and existing patients to leave more reviews. And they're interested in what a more formal review management strategy might look for their practice or broader dental group.
Today, online reviews and ratings cannot be ignored. For dentists, online reputation can directly impact organic and paid lead generation, as well as bottom-line business. In that sense, reviews are like hard currency: the idea is to keep a steady flow coming in to stack, manage, and convert into new and repeat business.