There are a number of ways for brands to reach, and connect with, their prospects and existing customers. Social media and emails are two of the most prevalent examples
However, in an age where real-time communication is as easy as downloading an app like WhatsApp, brands need to rethink how they choose to build trust with the people who matter most.
One of the significant issues with communication forms like email and social media is that their asynchronous – the communication between brand and consumer doesn't happen concurrently.
That's why the open rate for branded newsletters and emails is so woefully low, particularly when you compare that to the open rate of mobile messaging, which hovers around 98%.
Even wildly successful newsletters, like The Skimm(which has a readership of 5 million+) has an open rate of only about 40%.
Different types of technology, like mobile and in-app messaging, introduces the potential for far more personalized experiences.
Brands can only reach a consumer if that consumer opts into receiving messages (via an app like Facebook Messenger) or if they visit your site (using apps like Intercom).
And messaging chatbots make it possible to learn a consumer's preferences over time and adjust content accordingly for a for more personal experience.
Getting personal – delving into the world of messaging apps
Messaging is the most personal of platforms. It's where people communicate daily with friends and family.
WeChat, for example, is China's most valuable company.
"… In China, where relatively few people use email, almost everyone uses WeChat," according to FastCompany. "In a country of 710 million internet users, Tencent, the Shenzhen-based goliath that owns WeChat, reports that as of September, the app has 768 million active users."
And it's not just a Chinese phenomenon. Some 250 billion texts are sent out each day across the world. On WhatsApp alone, 55 billion messages are exchanged daily. As the most popular messaging app in the world, WhatsApp is used by more than 1 billion people every day: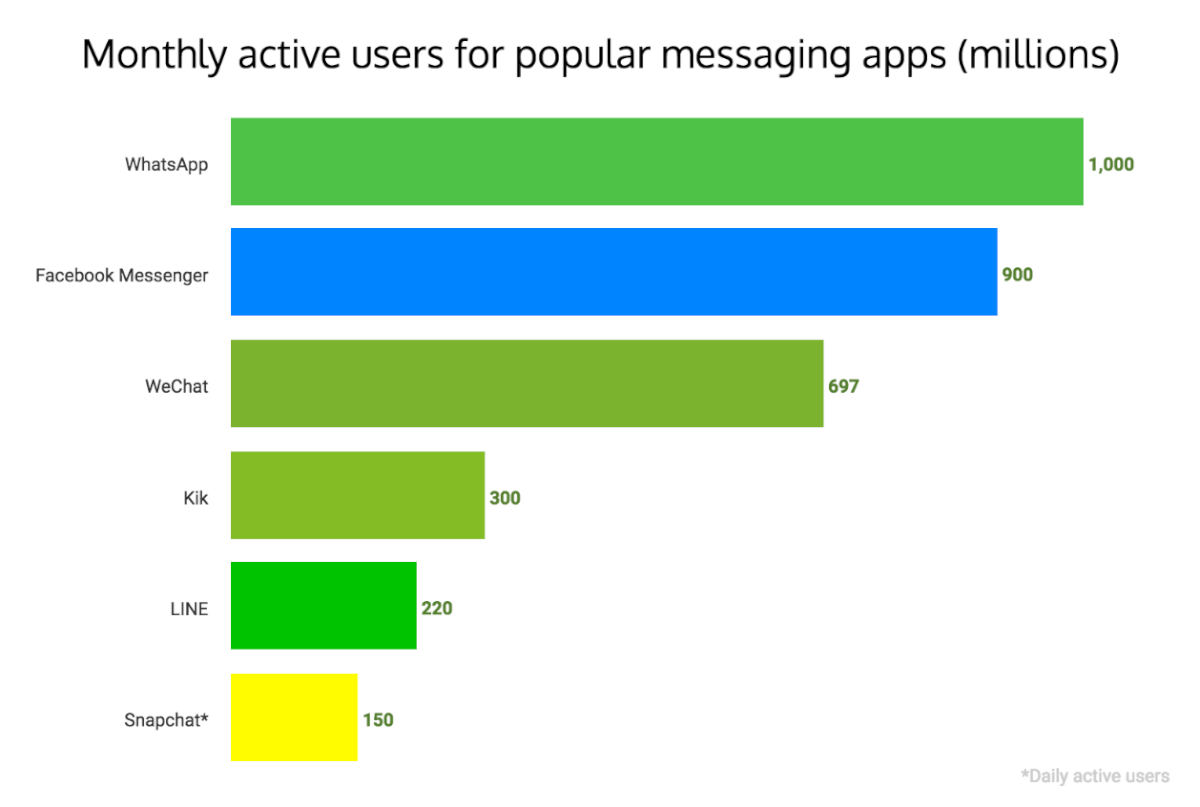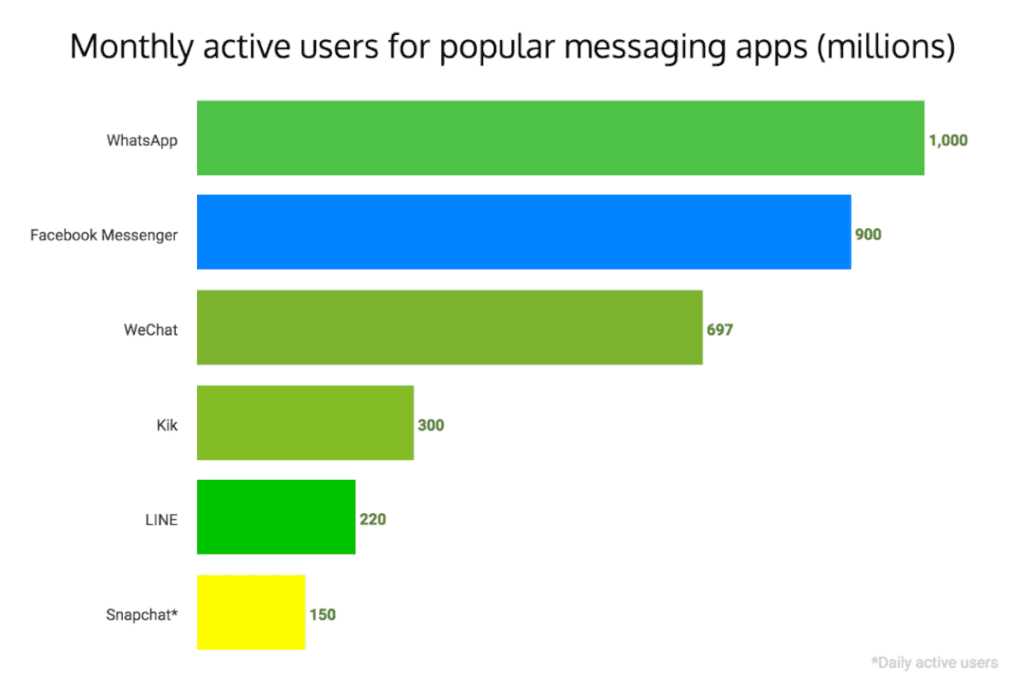 Source: GetApp
Now that's high engagement.
So, how can your brand take advantage of that level of engagement?
Telling a story
Well, you could take a page out of a brand like Clarks. Clarks's campaign on WhatsApp for its Desert Boot delivers a character-focused retrospective into the history of the boot, that just so happens to tap into the millennial approach to consumerism.
The name of the campaign is Rats to Rudeboys. WhatsApp users who engage with the Rats to Rudeboys campaign speak to three non-fictional characters who are available to chat on different days. Each character has some type of influence in the Desert Boot history.
The first character is Steve Barrow. He's known for sporting the Desert Boot with tweed suits.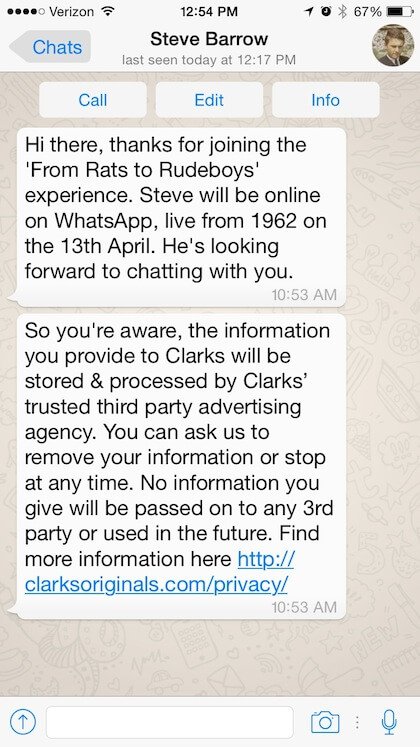 Bruno Barbey is famous for photographing student protests during the late 1960s, many of which featured protesters wearing the boot.
The final figure, Stitch, is a known Reggae icon from the 1970s, representing the Rudeboy name of the campaign and was often seen displaying the Desert Boot.
This type of story campaigning is far more representative of what today's consumers want to experience from brands, vs. the formerly used blatant advertising ploys.
Bring the "in-store" experience to messaging
If you're a bit uncomfortable with this story approach, you could consider taking a more straightforward approach, like Sephora: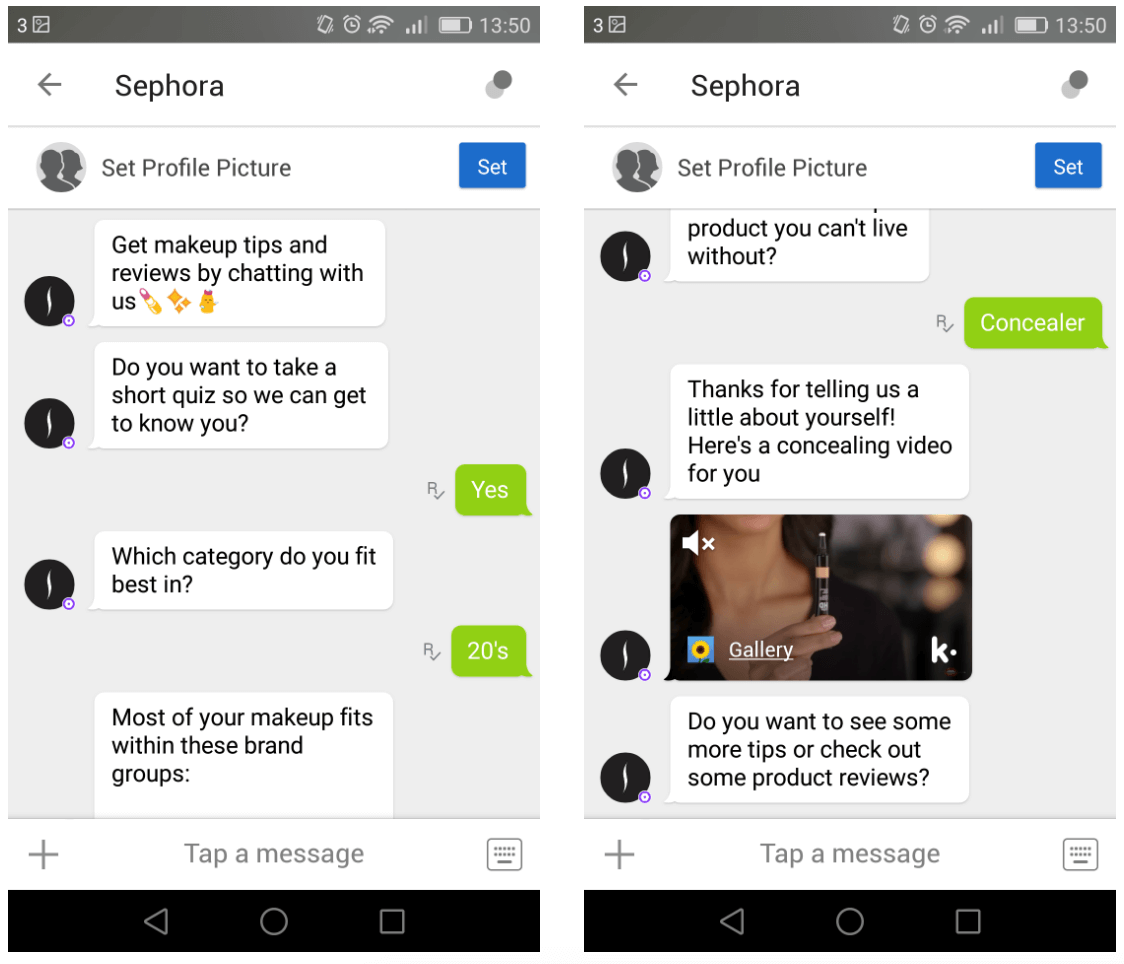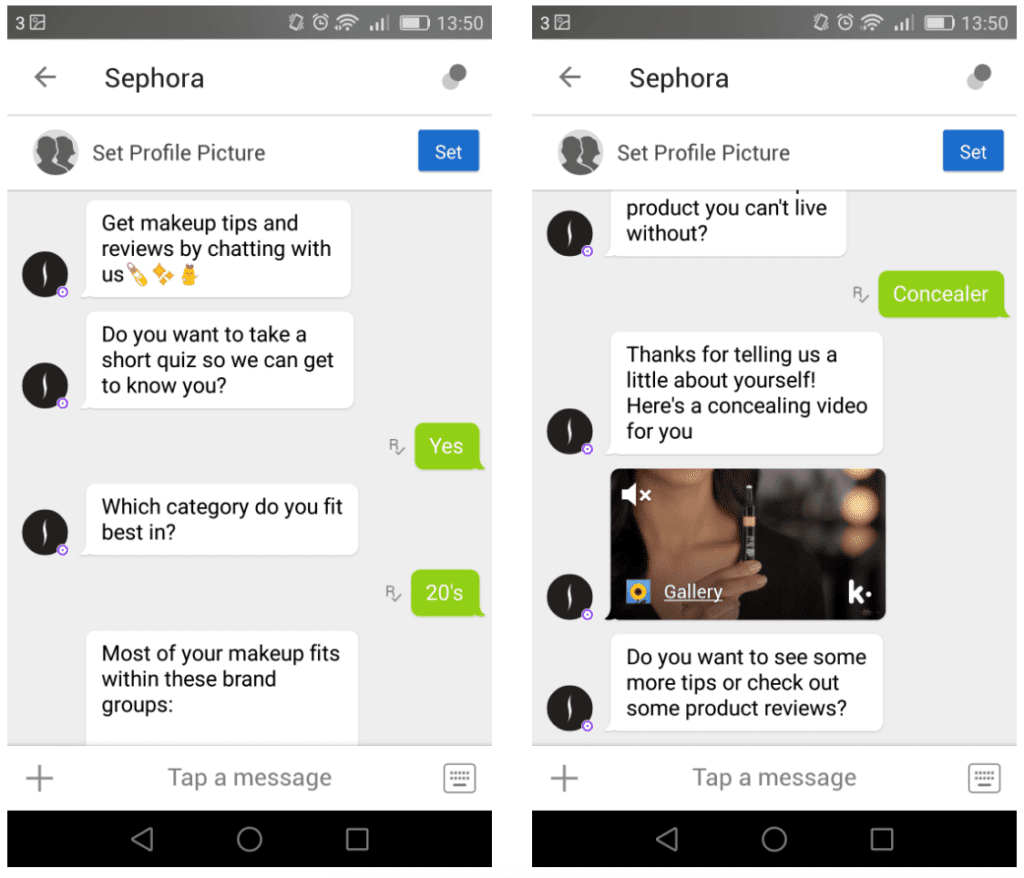 The image above represents a Kikchatbot that offers makeup tips, product recommendations, item reviews and video tutorials.
It also allows consumers to make purchases directly from the app.
This type of strategy is perfect if what you're looking for is to replicate an in-store interaction with a friendly store associate.
Offer customer support
Not too long ago, Hyatt decided to test out Facebook Messenger for its customer service. With one billion users, and an active base that makes up 11% of the world's population, Facebook Messenger has become the prime messaging app for Hyatt's operations, which are based across the globe.
With various integrations, users can hop on Facebook Messenger to make reservations, ask for room service, and check vacancies. All without leaving the app they're familiar with and use on a daily basis anyway.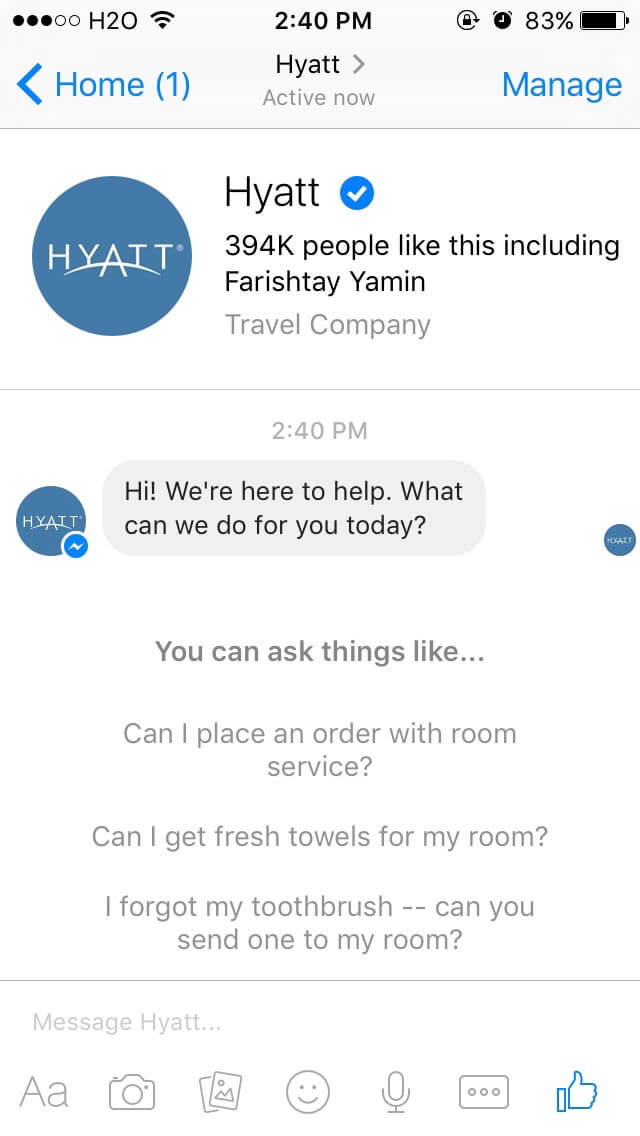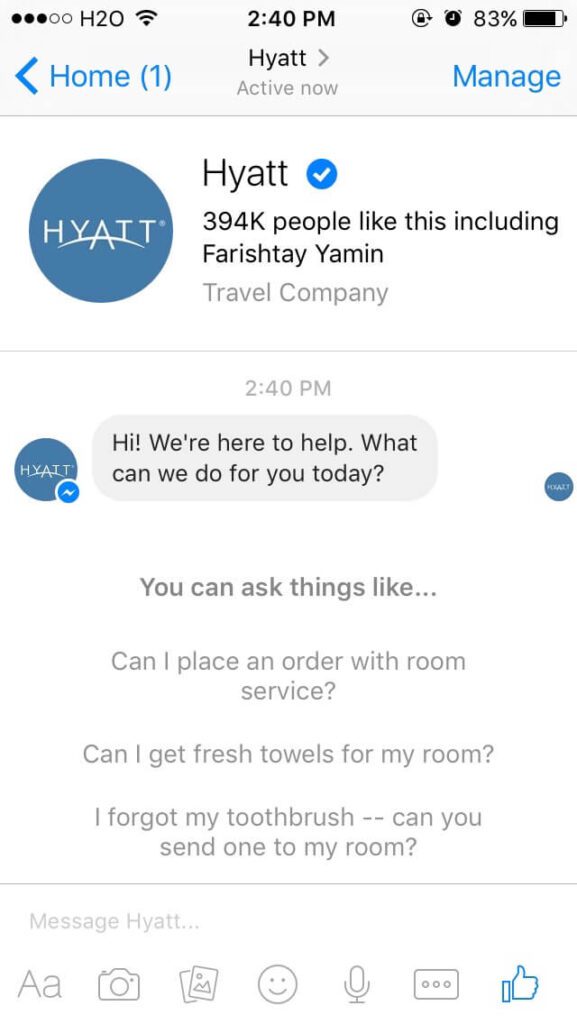 By searching for Hyatt in the messenger's search bar, folks can engage in real-time communications with the Hyatt team. It's like getting the in-lobby experience at Hyatt, but right from your smartphone.
Take your brand to the next level like The Washington Post
It's no surprise The Washington Post is at the forefront of technology. It is now under the control of Amazon's Jeff Bezos.
The Post (WaPo) recently developed its own news bot, allowing readers to engage directly with it.
Users can type questions, such as What's the latest on the presidential debate, and the bot delivers related articles: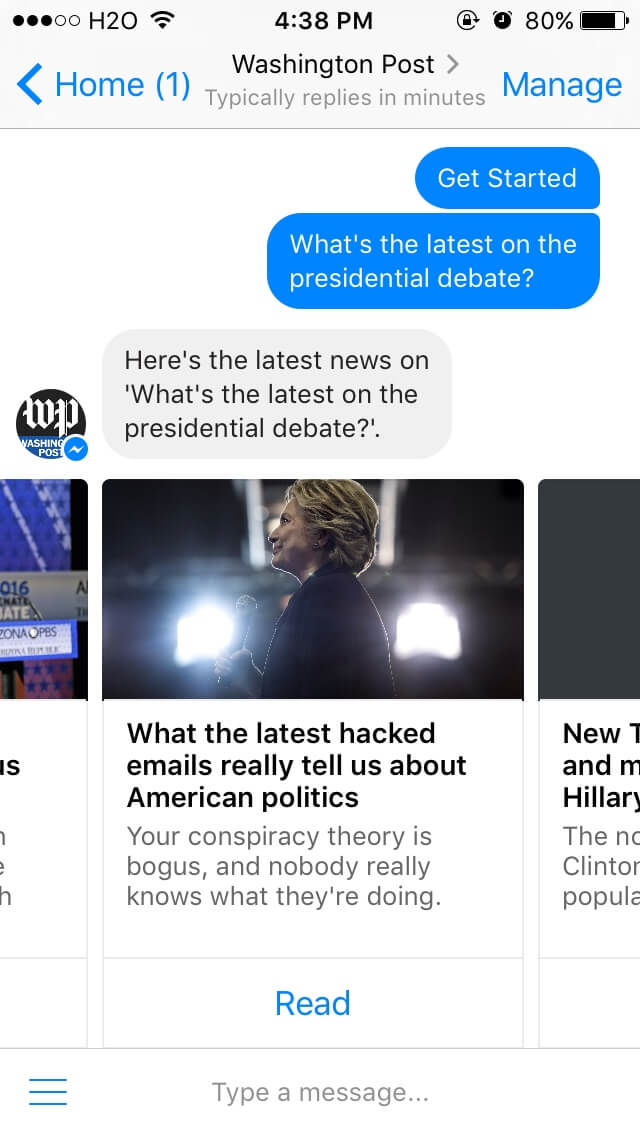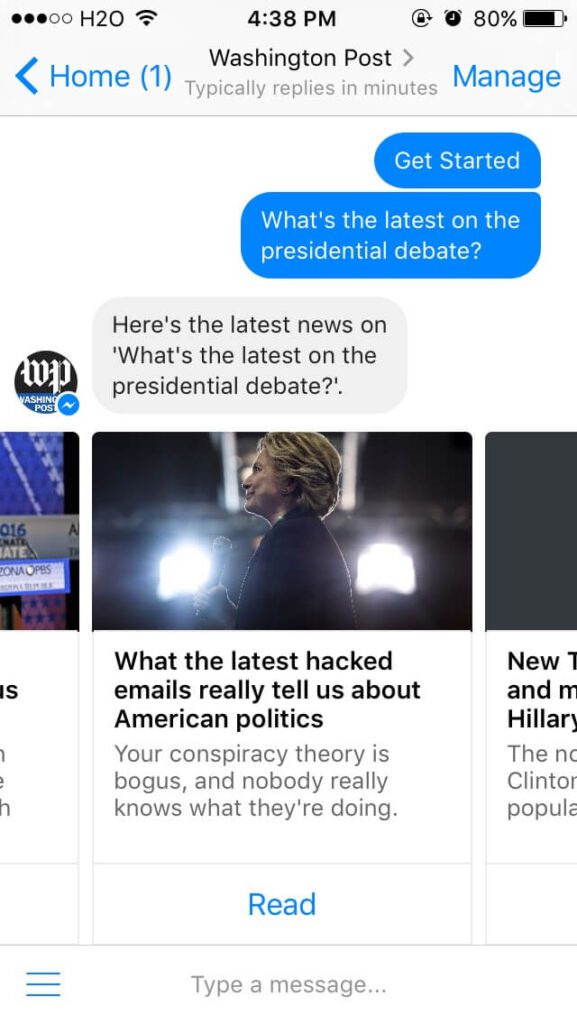 Each response comes with five news items, as well as an option to go beyond the headlines. This tactic has allowed WaPo to customize the news experience for its users, and also cements its credibility in the eyes of the modern-day mobile reader.
Being the helpful brand – integrating in-app and site messaging
Up until now, we've talked at length about messaging apps like Facebook Messenger and WhatsApp.
But that's not the only type of messaging you can incorporate to engage with, and convert your visitors.
In-app (or on-site) messaging can also do the trick, if used correctly.
What is in-app messaging?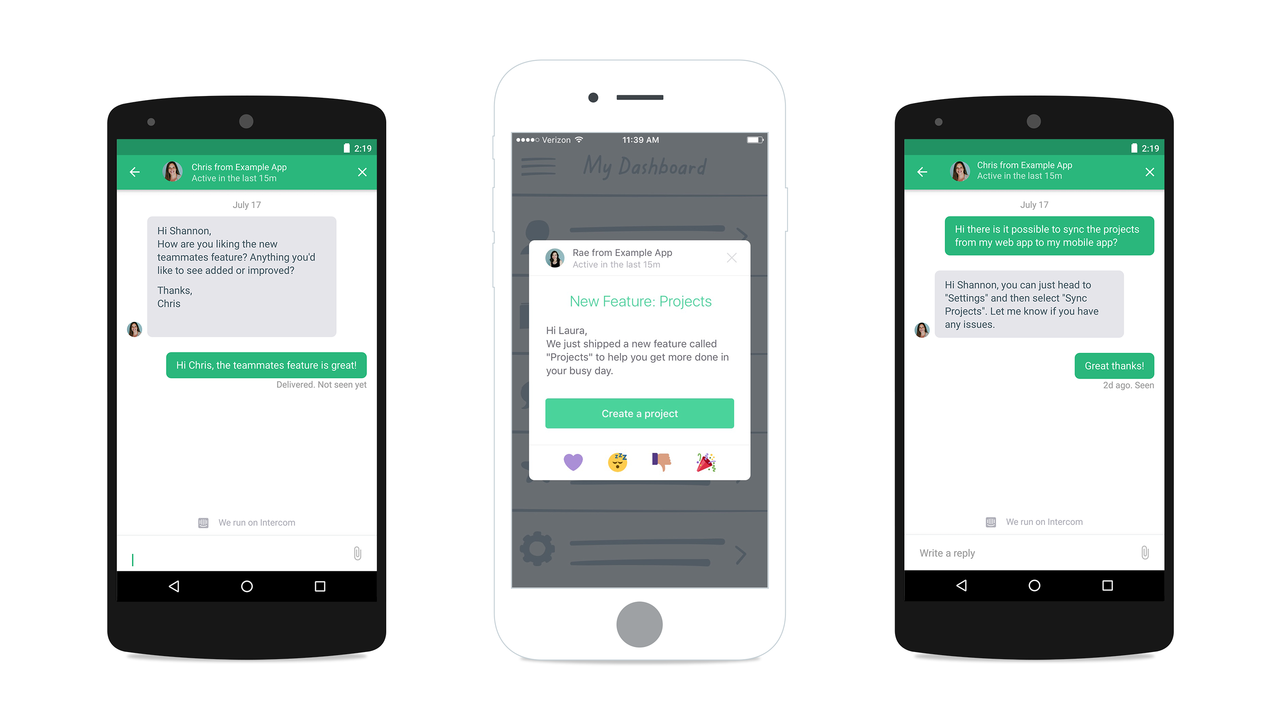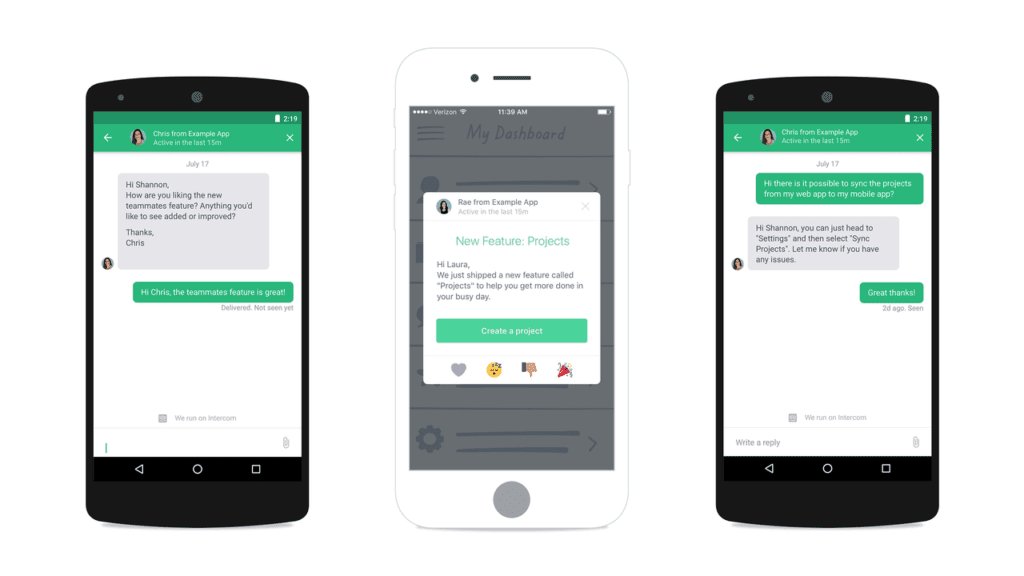 When folks visit your website, you can't assume they know where to go, or what to do, to find the information they need.
That's why services like Intercom have become so popular. They let brands deliver in-app, and on-site messaging in a manner that, when done correctly, will help you establish a conversation with your prospects and leads.
The strategy is called in-app messaging because many SaaS companies (think Hootsuite, Buffer, AirBnb, Uber) use this type of service to guide their users while they're inside the app.
But for our purposes, you can simply replace the idea of "app" with "website."
Take a look, for example, at Intercom's website: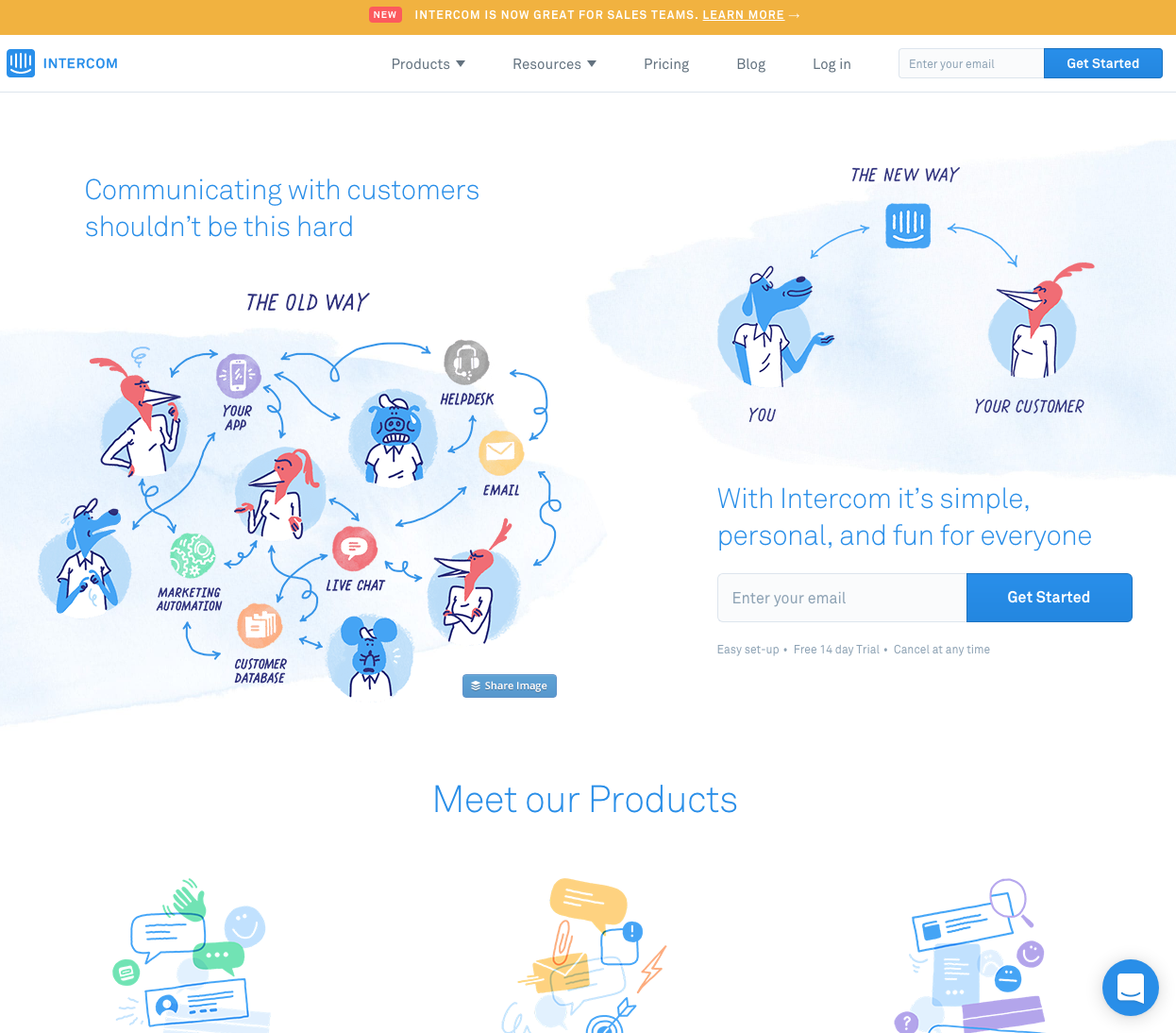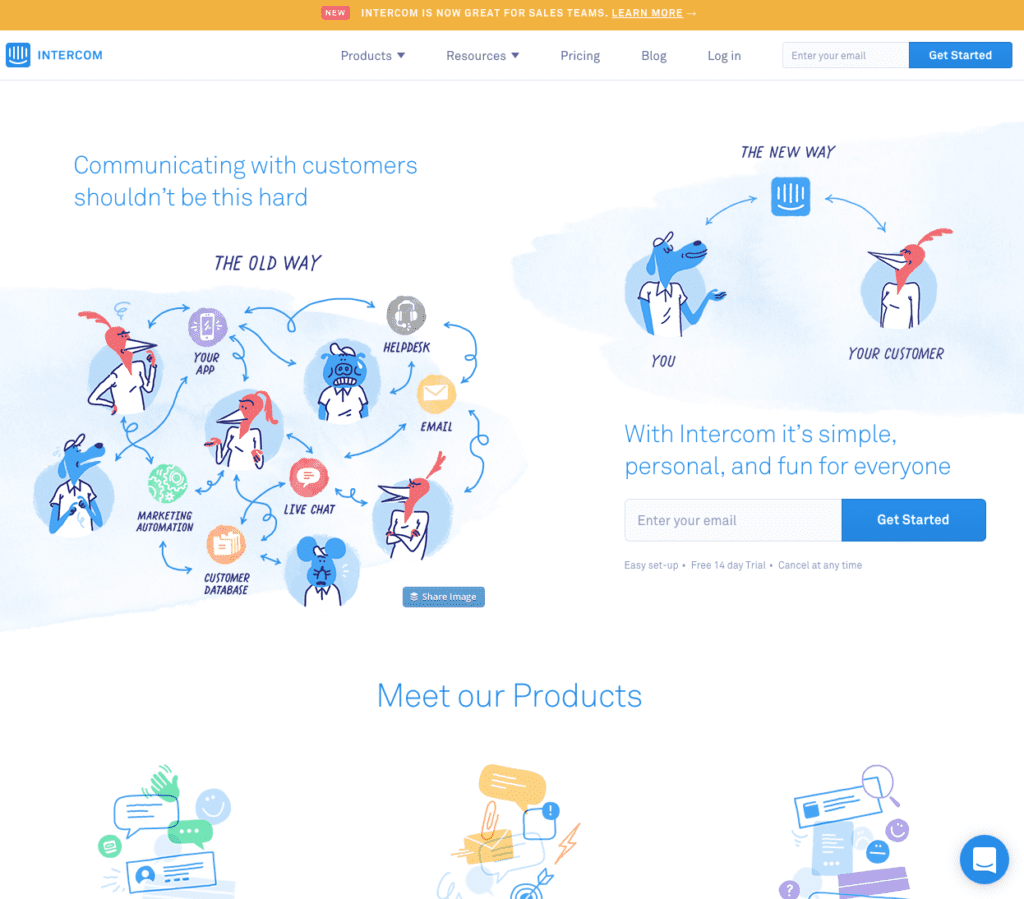 You'll notice that little speech bubble on the bottom right-hand side. That's Intercom's signature bubble. Other companies have similar approaches. Here's what you see when you go to Buffer's web-based app:

Same idea.
Now, here's what happens when I click on Intercom's icon: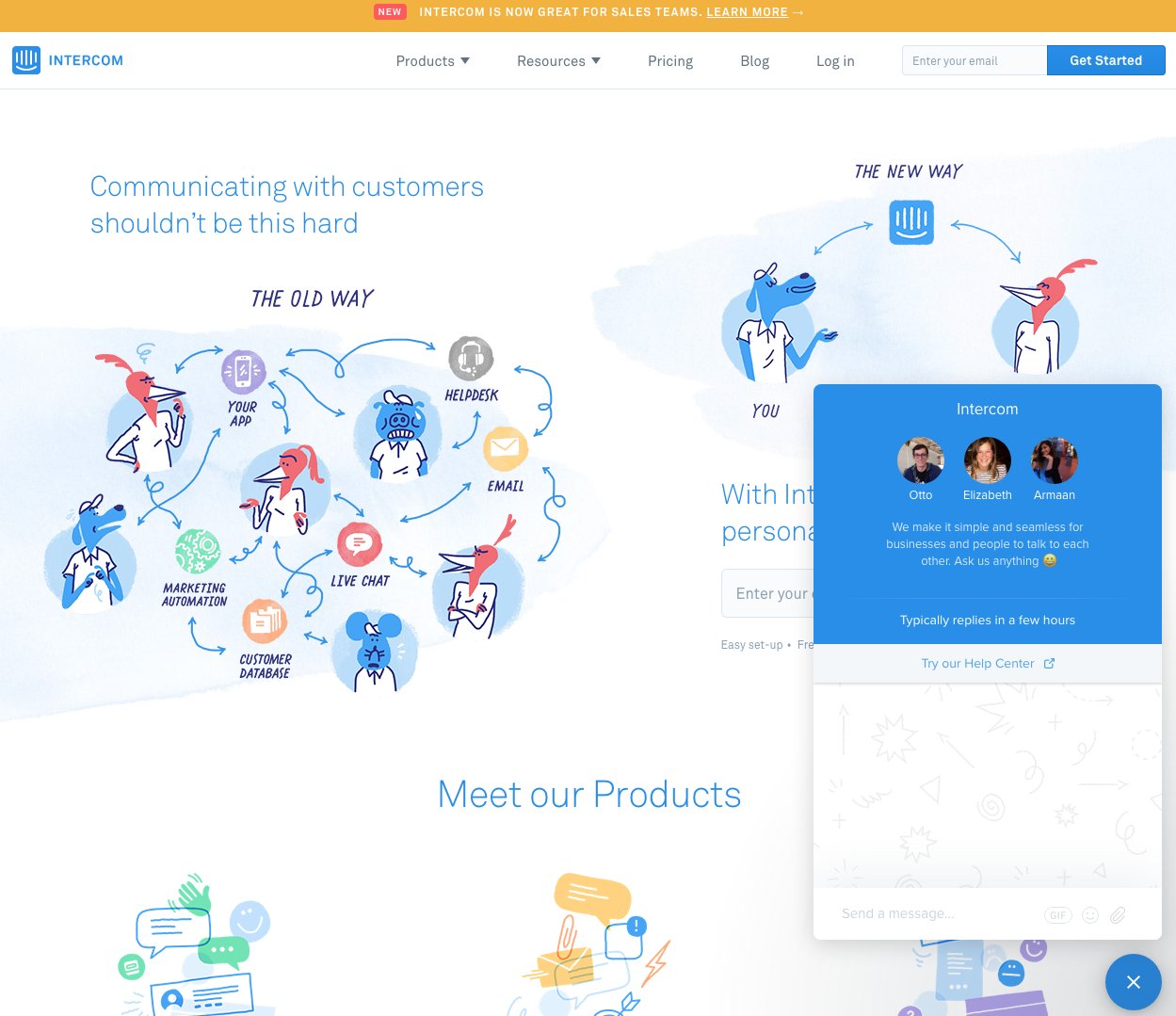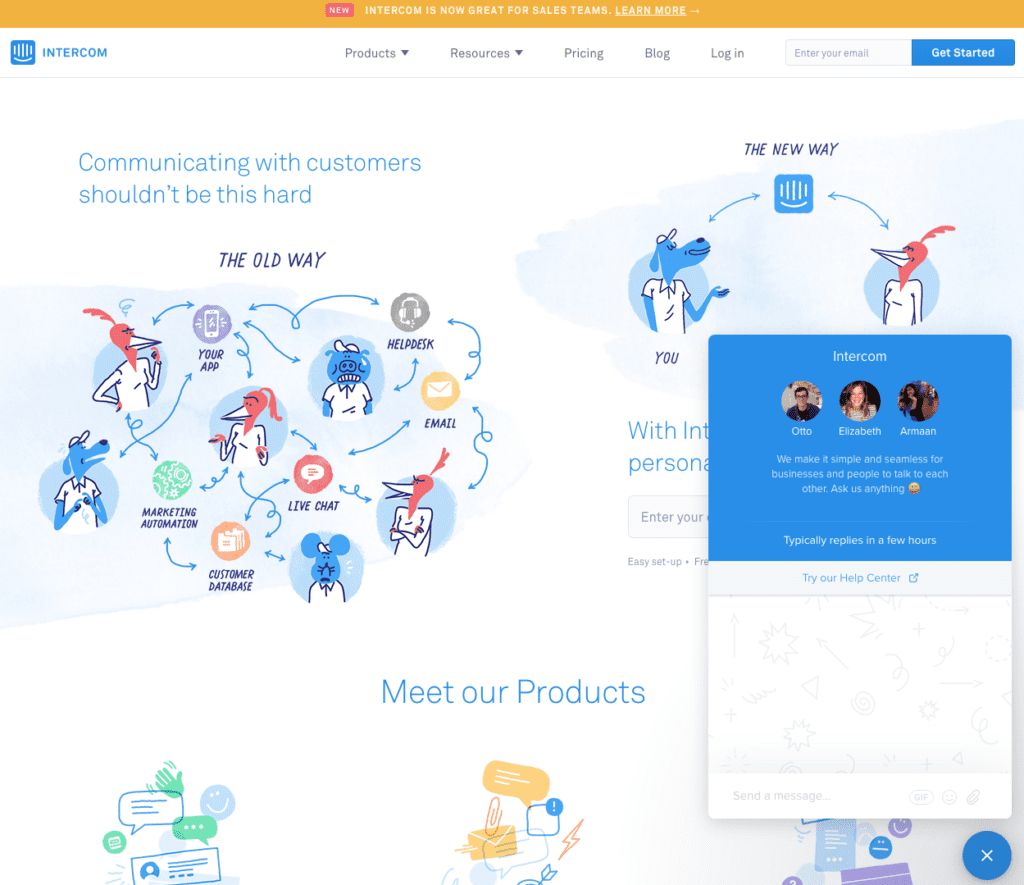 What happens is the user (us, in this instance) can now speak directly to the Intercom team, right from their website.
This is an incredible tool. And, when you employ an app like Intercom, you have an unbelievable amount of power over what type of messaging you show to users, based on their previous actions, what page they're visiting, and more.
In our Intercom example above, the Intercom team has made it clear that they have three folks on-staff ready to help you out: Otto, Elizabeth, and Armaan. They even have headshots, to help personalize the experience.
They also make it clear that you might not get a response right away, by adding the line "Typically replies in a few hours" to their message.
You could also create some auto responses based on the questions folks type or, if you do have someone on your customer service team ready to take all requests, your Intercom in-app message could reflect that, so that your visitors know they'll get a response right away.
So, how can you use a tool like Intercom to help engage with, and convert, your website visitors?
Well, let's use this site, Envoy.com, as an example: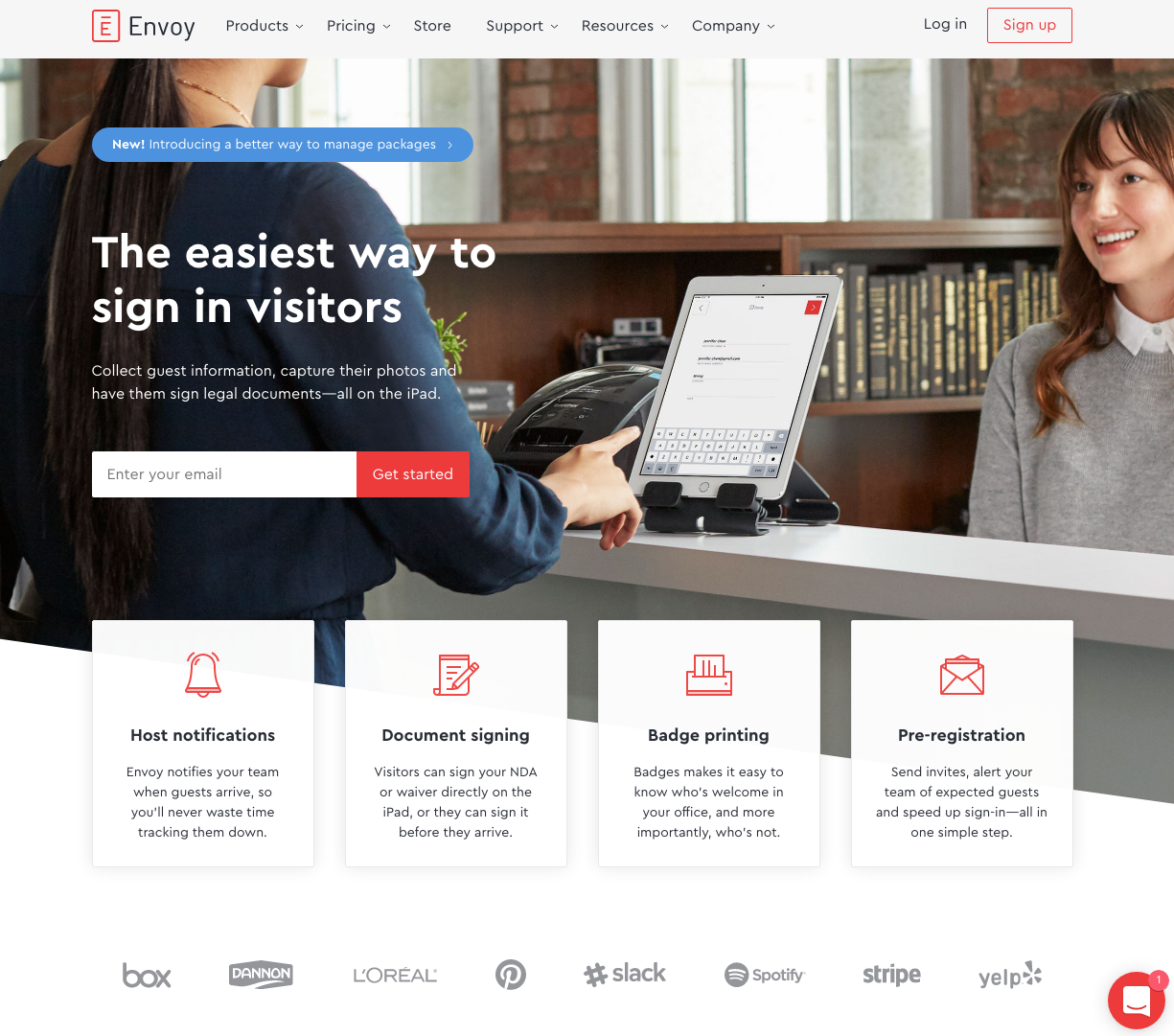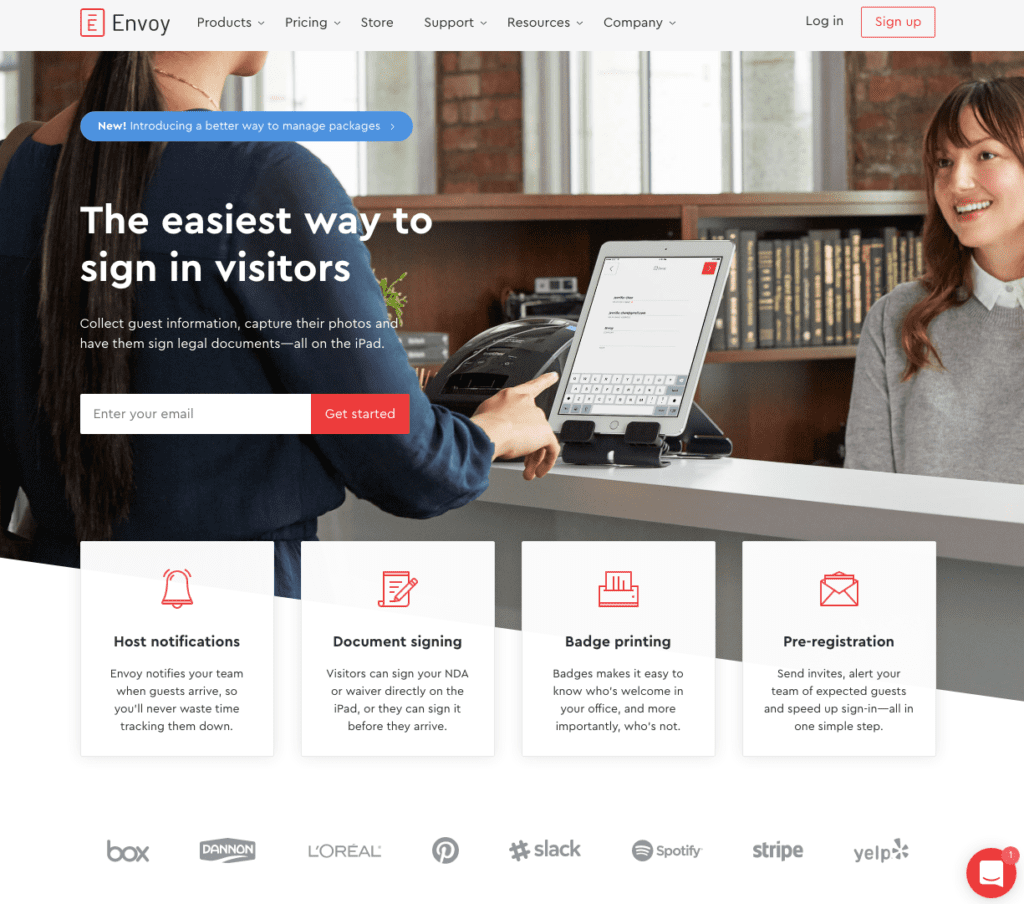 This SaaS simplifies the visitor-sign-in process.
Now, let's say that a prospect visits this home page for the second time. Using Intercom, Envoy could create a highly personalized message to get that visitor to take action. How about something like:
Hey there!
Back for a second look around? I'm here to help if you have questions.
Let me know!
Sam – Sales team.
Something as simple as that is a great way to personalize the web experience. But let's take it even further.
For this example, let's use WebMD: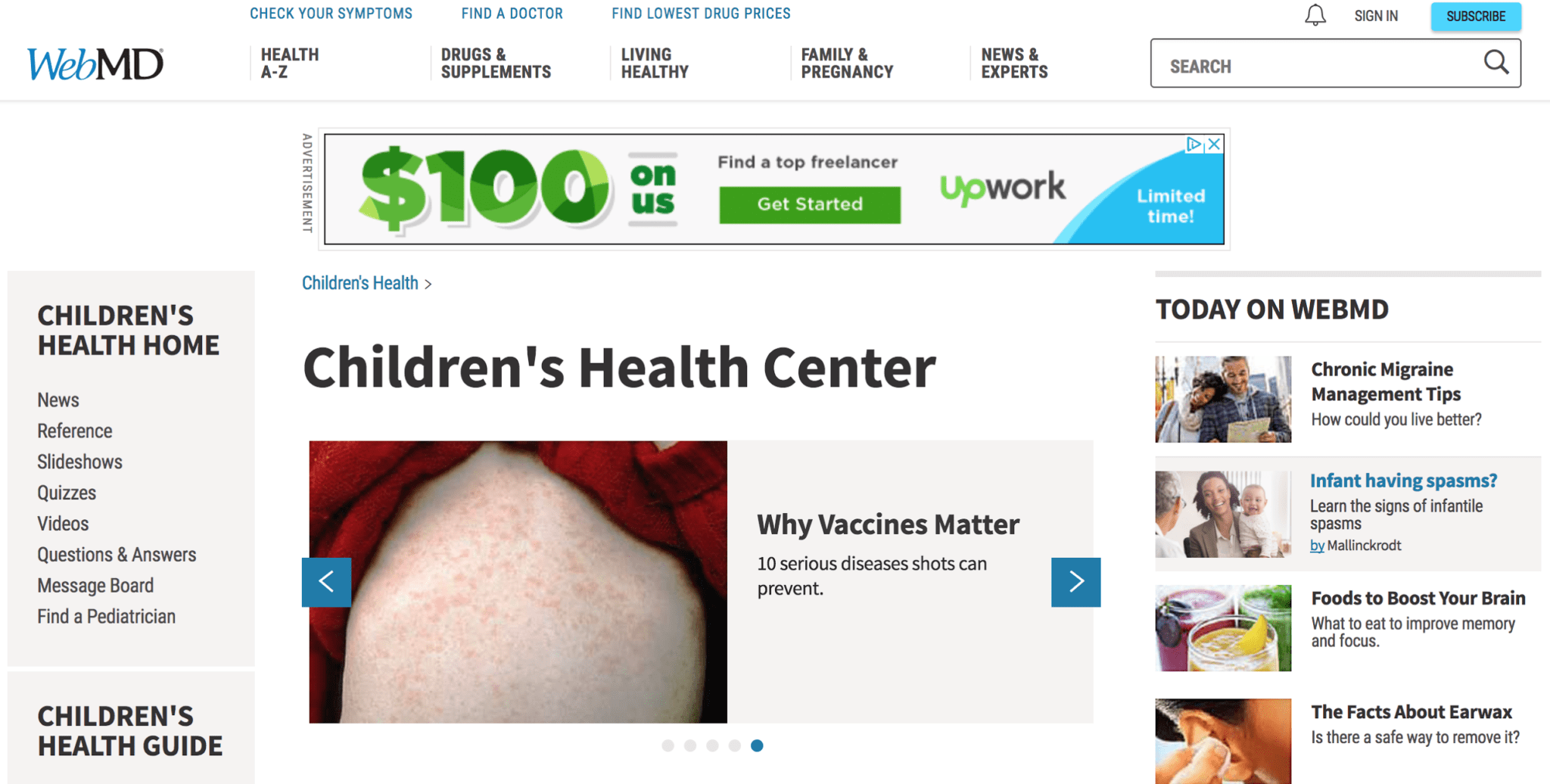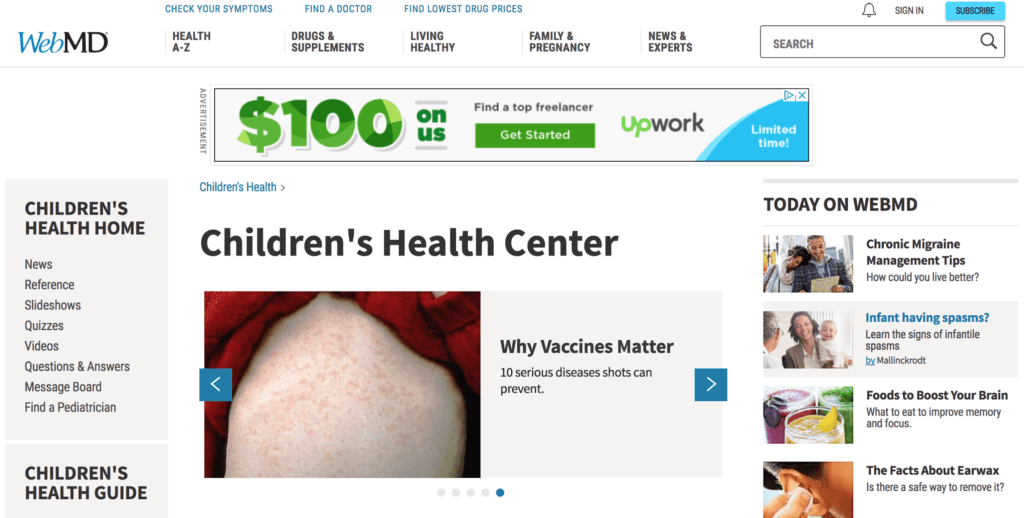 This page, above, is the Children's Health page found on their main site. If someone comes to this page, they have a clear intent and purpose. While the content on that site is useful to the visitor, adding a little pop-up dialog box on the side could help turn a visitor into a customer, all by offering real-time solutions and conversations.
For example, on this page, it could be useful to add an Intercom box that says something like:
"Questions about your child's health? Go ahead, ask away. We have a team on staff ready to reply!"
That ability to converse with a brand in real-time is often what transforms visitor to customer.
But it all depends on the relevancy of your messaging.
Of course, that's what any good marketing comes down to: delivering the right message, at the right time, to the right people.
The beauty of in-app messaging services like Intercom is you can tailor your messages down to the nitty-gritty.
You could tell Intercom, for example, to show message X on PRODUCT PAGE Y only if the user has visited pages A, B and C first.
It really can get that specific.
Taking in-app messaging to the next level with a message center
By nature, in-app messages are temporary, unless you add a message center. We actually saw an example of that in our screenshot of the Intercom website. Let's look at that one again, a bit closer: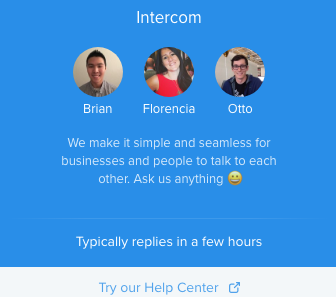 By the way, fun fact: in just the few minutes since we last visited Intercom's site, their team changed! Now we have Brian, Florencia, and Otto. This is just more evidence of how effective a tool like this is in adding transparency to your brand.
Anyway …
The key term we're looking at here is "Try our Help Center".
That's Intercom's message center. What this does is gives your in-app messages a destination on your website (or in your app) for storage and organization.
It also makes it easier for users to find relevant content.
Let's go back to our WebMD example. Remember when we recommended that an in-app message on their Children's Health page could be useful? Here's the messaging we suggested at first:
"Questions about your child's health? Go ahead, ask away. We have a team on staff ready to reply!"
There are a few things you could do here if you had a message center. In fact, for our WebMD example, that entire page is a message center. So, what WebMD could do is something that delivers a personalized experience that minimizes clicks and efforts on the part of the user. How about something like:
"Type your question in here. We'll narrow down your search in seconds."
Then, based on the question asked, your in-app message would deliver the 3 most relevant content pieces you have in your message center. And then, underneath those responses you could add:
"Still have questions? Shoot us a quick message. We typically respond within one hour."
Aside from the initial work to set up this system, what you've created is a digital customer service experience with very little time or effort. It's a self-sustaining strategy that will continue to be useful to all of your visitors, no matter how varied they are.
In the end, try to connect with your customers in a personal manner
Both mobile messaging and in-app messaging vary in their intent and purpose. Mobile messaging, for example, requires users to opt-in. This gives you greater leeway in how you approach these visitors. They've already said they're interested in hearing from you.
That's a huge advantage.
But the reality is, most of your prospect won't opt-in to that communication. That's why in-app (or on-site) messaging is yet another key tool in your arsenal. It allows you to connect, in real-time, with your prospects, even if it's the first time you've ever reached out to them.
When you pair these two together, what you have is the ability to hold actual conversations with your audiences, as if you were talking to them one-on-one.
But here's the reality of these two strategies: setting them up from scratch is alot of work. Whether it's creating your own chatbot for Facebook Messenger, or the conditionals for your messages in Intercom, you'll invest a great deal of time creating that perfect user experience.
But once that initial setup is complete, the nature of these strategies is to run on autopilot. Sure, you should check in on them periodically. It's important to ensure your messages are hitting home; but generally speaking these messaging campaigns are self-sufficient.
As more and more people rely solely on their mobile devices to go online, brands need to think of new and innovative ways to communicate with these folks.
Real-time messaging has proven to be the keystone between your brand and your prospects.