In our practical guide to search engine optimization (SEO) for addiction treatment centers, we talked about why search visibility is so important in this space. Long story short, most people looking for help with their addictions turn to Google for answers first. For good reason: feelings of shame, fear, and uncertainty often prevent people from getting help through their healthcare provider, employer, or family network.
A Google search, on the other hand, is relatively anonymous.
For addiction treatment centers, this first page of Google search results is an opportunity to connect with people who need help in the area. From a marketing perspective, there are two primary ways to do so: SEO and pay-per-click (PPC) advertisements.
A Quick Look at the Benefits of PPC
What's nice about PPC is that it's a very effective way to place content at the top of search engine results pages (SERPs) quickly. Many treatment centers use PPC to connect with people online, especially during the 6-12 months it may take for organic SEO strategies to gain traction.
This is one of the top benefits of PPC: it can deliver results faster than SEO. Because SEO is "organic," it takes time for search engines to pick up on and respond to keyword strategies, on-page/off-page site optimization, new content, and new backlinks. Even with the best SEO strategy in place, it can be difficult to rank content for competitive keywords.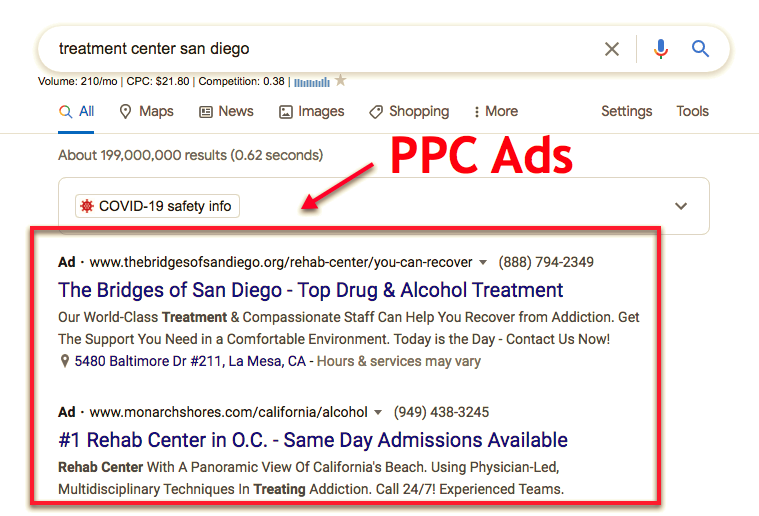 With PPC, treatment centers can "buy" a spot in the top three search results (see the example above). What's more, you can use precise targeting by location, intent, and other variables to display your PPC ads to people more likely to click and engage with your content.
This, of course, can come at a considerable cost.
First, Make Sure Ad Platforms Can Trust You
To keep your PPC campaigns as efficient as possible, you need to put a few fundamentals in place. Platforms like Google Ads, Facebook Ads, and Bing restrict the ability to advertise addiction services to organizations certified by LegitScript. This certification is somewhat of a gold standard for treatment center PPC. According to LegitScript, ad platforms use their certification to determine the eligibility of:
In-person treatment facilities
Addiction support groups
Hotlines
So, first and foremost, you'll need to get your LegitScript certification (and pay the associated fees) to run ads on most major ad platforms.
Then, Focus on These 7 PPC Best Practices
As significant as its return on investment (ROI) can be, PPC advertising is not a silver bullet. Without the right fundamentals in place, alongside a well-rounded strategy for keywords and campaigns, PPC ads can quickly become a drain on your marketing budget.
To get the most out of your Google Ads campaigns, focus on these seven PPC best practices we've put together specifically for addiction and recovery centers.
1. Refine Your Keyword Strategy
Keyword strategy has got to be step one. Keywords are the very language that search engines use to connect people with authoritative websites and content about addiction. They're the "stuff" your next admission used to first seek help online.
Your job is to build a list of the top keywords you want to advertise for. As you do so, here are a few things to keep in mind:
Broader rehab-related keywords can be very expensive. It's hardly surprising that keywords like "drug rehab," or "atlanta alcohol addiction" are highly competitive, as is the cost to bid for ads on those keywords. These keywords might get thousands or tens of thousands of hits a month.
Focus on the keywords most likely to drive admits. Many addiction centers use call tracking to track which ads drive calls and appointments, for example. You can use call analysis to dig into what words people use when they call you, too. These are rich sources of high-intent keywords within your reach.
Don't write off long-tail keywords. Most people these days search using natural language. These longer keyword phrases (usually more than three words) are referred to as "long tail." Because of their variability and specificity, you might find sweet-spot long-tail keywords that are cheaper for PPC, help you reach niche audiences, and drive important metrics like return on ad spend (ROAS). A long-tail keyword might be "how do I get my child into a detox program?"
Build out negative keyword lists. These are keywords that you'd rather not display ads for. "Recovery program" might be problematic, for example, because that keyword might include people searching for physical therapy topics who are far less likely to convert. Negative keyword lists can be integral in ensuring your ads reach the right audiences while reducing wasteful ad spend.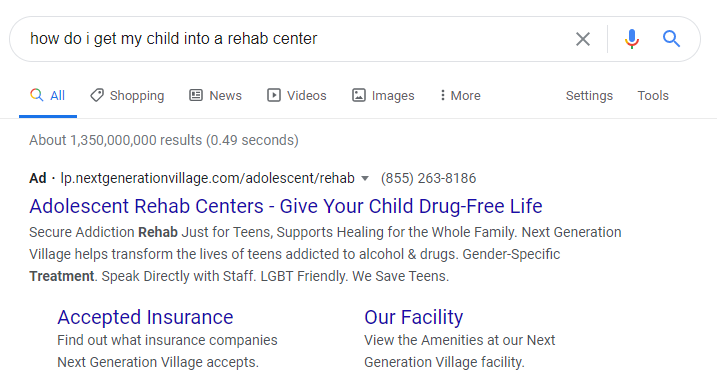 2. Optimize Your Campaign Structure
Google Ads emphasizes account organization for a reason. A good campaign structure can help you:
Budget appropriately
Improve ad quality score
Write more persuasive and engaging ad copy
Get better reporting you can use to improve PPC strategy
Optimize your broader account structure
Within each Google Ads account, there are separate "campaigns," with "Ad Groups" organized under each. As you go about organizing your own PPC campaign structure, keep the following tips in mind:
Create a separate search campaign for branded keywords (those that include your center's name, primarily)
Don't target more than one network in a single campaign
Create a campaign structure that will support your specific goals. Do you have multiple locations, for example? Are there ad goals for each location, or overarching goals that each campaign supports? What's the budget for each location or specific recovery service?
Use consistent naming conventions across campaigns. This way you won't serve up ads for alcoholism programs to people searching for help with a prescription medication problem.
These tips cover the basics, but campaign structure can play a huge part in the effectiveness of your campaign and costs. As your PPC strategy matures, you may need to consider different campaign structures to improve your results.
3. Optimize Ads for Mobile
Often, the easiest option for people with questions is to pick up their smartphone. It might already be in their hand! Heck, people spent 23 additional minutes per day on their smartphones in 2020. Which is part of the reason why it's so important that your PPC ads are optimized for each type of device and platform. Poorly optimized ads create higher-friction experiences which, in turn, can impact ad performance. You want people who see your ad to be able to quickly get information, schedule a consultation, or call you.
Indeed, getting text, images, CTAs, and other elements of your PPC ads optimized for mobile devices can be the difference between percentage points on CTR, ROAS, and other metrics. These days, there's a rather handy way to take care of mobile ad optimization in one fell swoop: responsive search ads (RSAs).
With RSAs, you feed the system ad headline and description variations and let Google's AI choose the optimal combinations based on, among other variables, the device a person is using when they see the ad. RSAs have proven highly effective, and they're what we recommend to most addiction treatment centers looking to bring PPC into the fold.
4. Develop a Seamless Experience
You'll learn a lot when you put yourself in your target audience's shoes. Take things for a spin, test out your ad experience end to end, and you're sure to find the "seams"—points of friction that keep people from moving forward and clicking, converting, or contacting you.
Your goal should be to orchestrate a journey in which every piece of your PPC journey is on point. Here's how:
Don't bait and switch! The offer on your ad copy ought to align with the offer on the ad's corresponding landing page copy. Who wants an ad that says one thing and an offer that's completely different? If the ad is about twelve-step programs, for example, you don't want to send clicks to your generalized homepage.
Make it easy for people to schedule an appointment from the ad. Some people don't want to click through to your website or read more content. You can give them the option to call you from the ad by enabling certain ad extensions.
Try booking an appointment from Google. Is there any part of the journey that's high effort, or doesn't make sense? This is your opportunity to clean things up and "hide the seams."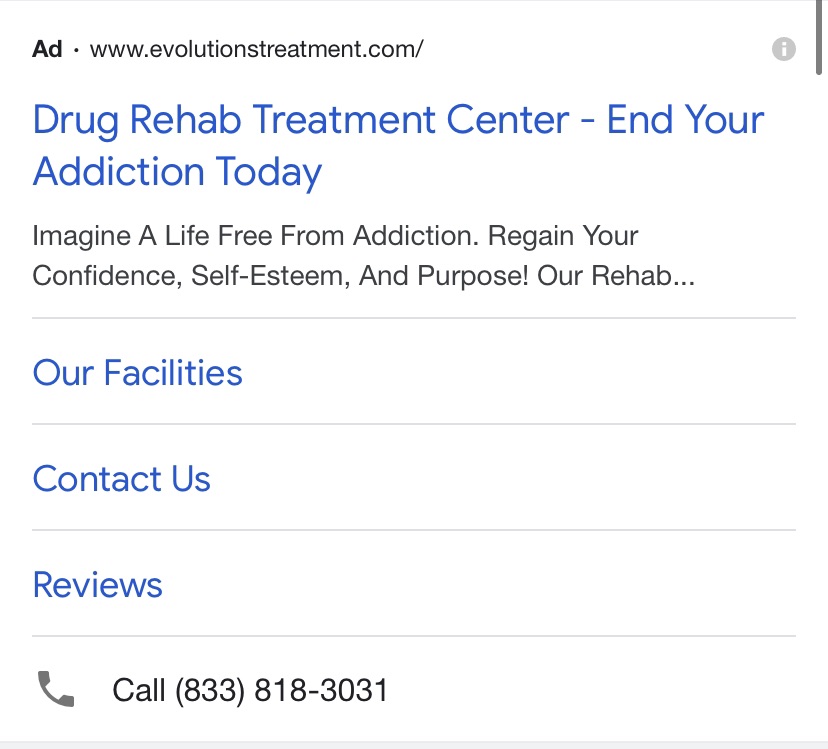 5. Make Sure Your Landing Pages Sparkle
Rule number one of PPC: don't point ads to your homepage!
Your homepage might be a superb reflection of your brand and services. But the point is to get as specific as possible—to tailor ad audiences, ad copy, and landing pages to particular people and parts of the journey. In that regard, your landing copy matters very much. So does your page design, layout, and user experience.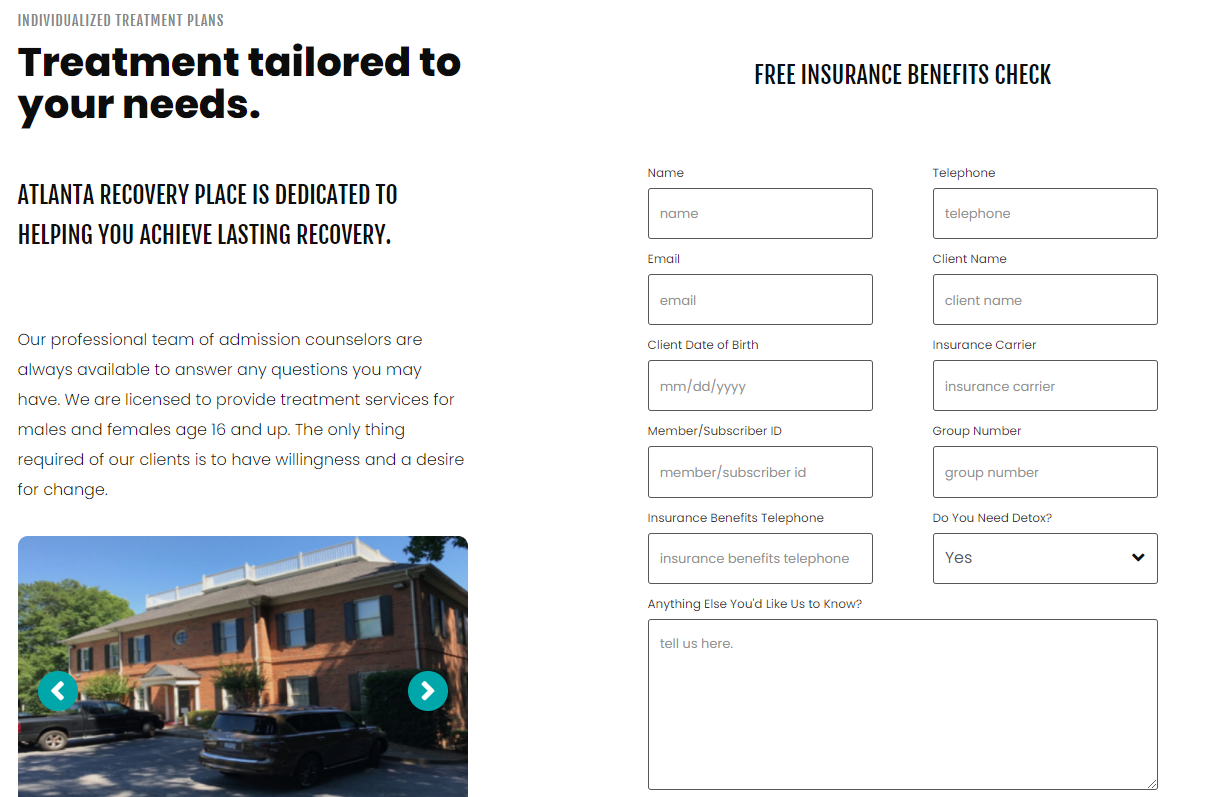 Your campaign landing pages are prime real estate, where everything needs to be dialed in to maximize conversions. First and foremost, make sure it's easy for people to do what you want them to do (call you, fill out a form, etc.). Consider including video testimonials, which can be especially powerful in the context of recovery. If possible, build in a live chat option so that people can get immediate answers to their questions.
Your landing page should include all the information people need to make the decision to contact you.
6. Develop Ad Campaigns to Target the Entire Journey
At its core, the decision to seek help for an addiction is a complex and difficult one. As people consider their options or treatment, they move through different phases of an overall journey. Each phase is an opportunity for addiction treatment centers to surface relevant topics that rank for the keyword people use at a particular phase.
Top of the funnel: Some people at this stage might not be actively considering rehab or might know what rehab offers but have no awareness that your particular center exists. Broad keywords at the top of the funnel can be very competitive; when starting with PPC, you might want to focus on the bottom half of the funnel.
Middle of the funnel: At this point in the journey, many people are actively looking for a treatment option in their local area. This is your opportunity to answer the questions that people "shopping around" likely have (for example, "what does rehab cost?").
Bottom of the funnel: People have identified their solution and are very close to making the final "purchase" decision. They're looking for the best rehab center near them. This is a great time to include sitelink extensions in your Google ads to relatable testimonials from people who've already gone through a particular treatment program. You should also use call extensions so people can easily contact you and schedule an appointment.

7. Use Geo-targeting
Location can be a very important part of a person's decision-making. Are your potential clients located in a specific region? City? State? Are there specific areas that you don't want to market to ("negative" locations)? This is where geo-targeting can come in quite handy—especially for multi-location centers.
When targeting your ads toward specific geographic areas, start small and keep the following best practices in mind:
Use geo-targeting only if it makes sense: There's a tendency to go wild with hyper-targeting when a more general approach delivers adequate results. Understanding where your patients come from is a fundamental first step.
Group similar performing locations/markets into one campaign to optimize budget spend.
Include the name of the location in your PPC ad to quickly let customers know where you are.
Use location extensions in your PPC ad to help clients find you and contact you more easily (call, address, operating hours, and so on).
Finally, Start Simple and Build Efficiently
As with any marketing strategy, PPC is not a cure-all or quick fix. Our recommendation for addiction treatment centers looking to bring PPC into the marketing fold is to start small. Put the fundamentals in place, as outlined above. Think of PPC as another way to strategically place ads that increase online visibility and connect with more people who need treatment.