Due to the COVID-19 pandemic, the dermatology market has observed some indirect and direct impacts and may continue to do so several years from now. For example, the management of dermatological diseases was more challenging during the pandemic period and deman has surged in 2022. The global dermatology market is projected to reach $11.3 billion by 2027 from $6.2 billion in 2022. Much of this growth has sparked new industry trends, such as marketing automation and the adoption of more robust practice management systems.
Understanding these trends will help your dermatology practice stay competitive in 2023 and beyond. Here are the top Dermatology Marketing Trends to keep in mind in 2023.
1. Dermatologists Need Scalable Platforms to Accommodate Growth
Dermatology remains one of the fastest-growing healthcare industries, attributed mainly to the high prevalence of dermatological conditions. According to the Journal of Psoriasis and Psoriatic Arthritis in 2021, 3% of U.S. adults suffer from psoriasis–and that's just one of the many skin disorders driving the market.
In addition, private equity buyers have aggressively approached dermatology practices in the country, and many dermatologists have completed such transactions as part of their retirement exit plans or to grow their businesses. With the aging population and younger people becoming increasingly conscious of their appearance, the dermatology market will only keep growing in 2023.
With that said, multi-location dermatology brands must have scalable websites to accommodate their growth and support their umbrella brands. A centralized website that connects all brands within the dermatology practice will help in efficiency and maximize returns. If a centralized mast brand strategy isn't ideal, you can still gain efficiencies by developing a base website template that can be used across subsidiary brands.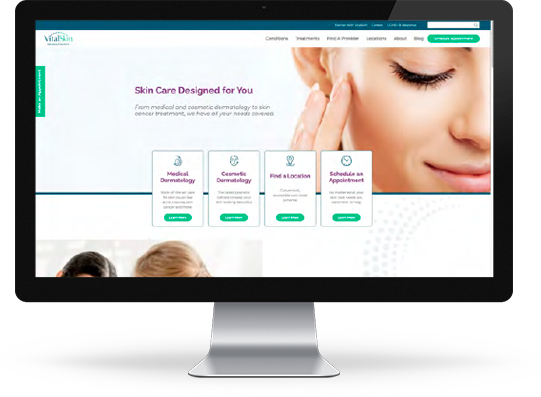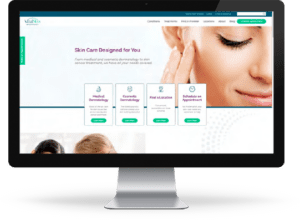 If you're looking to build a brand-new dermatology website in 2023, we highly recommend the following:
Adopt a modular WordPress framework for ease of use, consistency, and SEO purposes

Create branded website templates that can be tailored based on location or affiliate practices

Use consistent and comprehensive information across all brands and affiliates

Integrate marketing analytics that ties all dermatology brands and marketing activities together
Learn more about our efficient approach to building scalable websites for multi-location brands. 
2. Dermatologists Must Have a Patient-Centric Content Strategy
If your dermatology content strategy still fixates on keyword density or content length, then you're doing it wrong. 
The days of writing for search engine algorithms are long gone. Google's Helpful Content Update shows that all healthcare businesses must pursue a patient-centric content strategy with content that provides real value to searchers. But more importantly, and no offense to dermatologists, many of you don't blog enough!
Most healthcare consumers, including those looking for a dermatologist, will turn to search engines before booking an appointment. With a robust full-funnel marketing strategy, dermatologists can answer questions and address consumers' pain points in the top (TOF) and middle of the funnel (MOF).
When consumers search for "causes of eczema in adults," a patient-centric content strategy will place your dermatology practice in front of consumers who can benefit from your services. If dermatologists want organic search visibility from TOF and MOF, they'll want to produce original, relevant, and high-quality content.
So what should dermatology practices focus on when creating a patient-centric strategy? Consider the steps below:
Identify the needs of your patients and keep your messaging relevant to those needs.

Create thorough and comprehensive content that answers relevant questions and addresses patient pain points.

Produce evergreen SEO content that stays fresh and relevant for readers over a long period of time.

Become an authoritative and reliable content source by providing timely and consistent updates.
Remember that "helpful" content will depend on the dermatology specialty and service lines.
For example, people searching for "full body skin exams near me" likely have a somewhat clear understanding of this particular service line. For this reason, having in-depth information on the service pages isn't that crucial. In this context, you're better off including details such as maps and directions, operating hours, dermatologist profiles, and insurance information.
On the other hand, switching to more complex specialty services such as Mohs surgery may need a different approach. A person searching for Mohs surgery is likely in the research phase and has many questions about the procedure. In this case, genuinely rich content is required to capture consumers that need more information on Mohs surgery.
By having a robust, patient-centric content strategy, dermatologists may discover more opportunities for funnel optimization.
3. Focus on Providing Excellent Digital Experience Remains Critical
As the world has become more digitally savvy, their tolerance for poor digital experiences has shrunk. A bad user experience (UX) sends healthcare consumers back to the SERP. Google knows what healthcare consumers want, and a bad UX will result in your website ranking lower on the SERP. 
Dermatologists should focus on developing easy-to-navigate websites that allow visitors to find the information they need quickly. For example, when designing a page for general dermatology services, ensure that searchers can quickly find the following information:
What's your appointment availability?

Which insurance do you accept?

Who are your staff members?

Do you have reviews from past and current patients?
In general, dermatology websites should consider the following guidelines for improving the user experience:
Keep things neat and organized:

More than 9 out of 10 consumers say websites must be easy to navigate. Therefore, keep your site structure and menus tidy and organized for hassle-free navigation.

Make key content easy to discover:

Most consumers will leave your website if they have to dig through it to find the content they need. Ensure that all your key content is easily discoverable and doesn't involve too much clicking and multi-page navigation.

Apply consistency:

You want continuity in your theme, structure, and page types throughout all your location and affiliate websites. Consistency gives visitors a more recognizable and memorable experience and improves overall usability.

Keep the site linkable:

Ensure you have natural linking opportunities within your website, making it easier for visitors to link your website once they find share-worthy content within your site.

Provide a fast and snappy experience:

Fast websites enhance the user experience. Most consumers say that page speed heavily impacts their willingness to do business, especially in healthcare. Make sure that you optimize all your pages for mobile as well.
Please feel free to check out our in-depth guide on the 7 Essential Principles for Optimizing Your Website for Search for more search optimization tips and improve the user experience on your dermatology website.
4. Personalization is Still a Priority
As soon as they click your PPC ad or website, healthcare consumers expect to be treated as unique individuals with unique healthcare needs and circumstances. This equates to being served relevant content and a hassle-free user experience. There are a few ways to help you leverage personalization in your dermatology digital marketing while adhering to healthcare privacy laws:
Use geo-personalization:

This enables you to personalize landing pages, so every piece of information the potential patient will see is relevant to their current location. Someone looking for a dermatologist will want to consult with a nearby specialist. With custom information catered to their location, visitors will find geo-specific details that will help them convert, such as clinic locations, a list of services for certain locations, and insurance specifics.

Personalize patient portals and mobile apps:

More people use patient portals and mobile apps due to personalized experiences. You can have your portal or mobile app to show specific details about skin conditions and content related to treatments and procedures. You can also use the portal to remind them of routine skin examinations and skincare treatment recommendations. 

Let patients choose their journey:

Personal health information is not necessary for creating personalized experiences. If you're getting organic traffic from a search term like "cosmetic injections everett wa," you can cater to that specific journey. What sort of information would a person looking for cosmetic injections look for? What changes can you make to cater to that particular journey?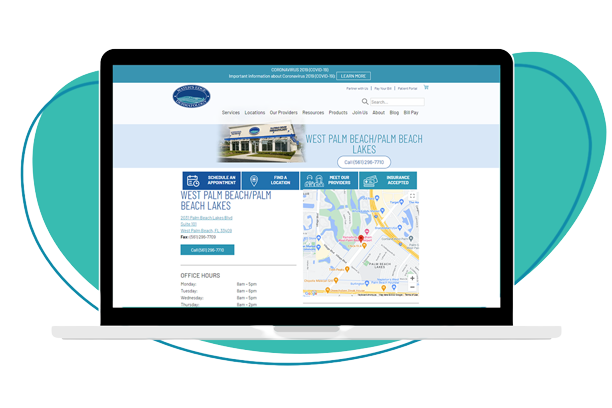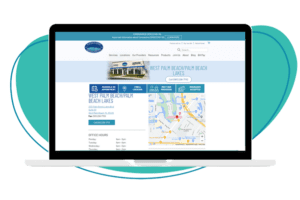 5. Dermatologists Must Leverage Recruitment Marketing to Attract Healthcare Talent
Since the start of the pandemic, staffing challenges have been a familiar issue for many healthcare organizations, including dermatologists. According to the 2021 ASDS (American Society for Dermatologic Surgery) Pandemic Impact Survey Results, 51% of practices resorted to staff reduction, while 85% say staffing is an ongoing challenge. As pandemic conditions started to ease, many dermatological groups have begun restaffing. However, only 25% of those who were laid off or terminated have returned.
Providers also have to grapple simultaneously with the rapid growth of the dermatology industry. Without a robust recruitment pipeline to attract healthcare talents, derma companies are effectively stunting their capacity for growth.
Therefore, it's clear that dermatology providers and skin clinics should invest in recruitment marketing to attract top candidates and remain competitive in 2023. However, dermatology is one of the most competitive talent markets, so providers need a robust recruitment marketing strategy to attract the best talents. Below, we outline some key strategies to help dermatologists create a strong recruitment marketing program.
Communicate Employer Brand and Value to Candidates
Many healthcare hiring managers spend a lot of time crafting the persona of their ideal candidates. However, some hiring managers neglect to present value to potential candidates. According to LinkedIn's The Ultimate List of Employer Brand Statistics, 75% of job seekers consider the brand of the employers before applying. This highlights the importance of a healthcare brand's reputation as an employer.
Therefore, healthcare talent recruiters should look through the marketing lens and consider how potential candidates interpret their brands. Effective employer branding involves communicating your brand's positive culture, employment perks, and employee experiences and triumphs. Also, be proactive in addressing negative feedback from recruitment platforms like Glassdoor and Indeed. A positive digital reputation can go a long way in supporting your recruitment efforts.
Run Targeted PPC Campaigns for Recruitment
While the majority of dermatology PPC campaigns are designed to attract patients, they can also be leveraged as a recruitment strategy to attract frontline talent, like administrative staff, technicians, and other operational roles. Allocating some of your recruitment budgets for Google Ads can be effective, and many headhunters have reported great results.
Thanks to Google Ads' extensive targeting options, you can ensure your recruitment budget is spent on reaching your ideal candidates. Moreover, you can use a tight keyword strategy with long-tail keywords to target more niche positions, specialists, and other hard-to-fill roles–most of which are easier and cheaper to target.
Optimize Job Postings and Career Pages
Search engines value the "completeness" of information when it comes to job postings. Thus, the more information you have on your recruitment pages and job listings, the more likely they'll appear on top of the search results. To optimize your job postings and career pages, make sure you have the following information:
Employment type (full, part-time, PRN, etc.)

Salary details

Minimum education requirements

Minimum experience requirements

Typical work schedule and hours

Required skills (e.g., clinical and diagnostic skills, manual dexterity for skin examinations, intrapersonal skills, etc.)

Clearly defined responsibilities and job duties

Qualifications and certifications
Once you have suitable candidates, ensure your recruitment and career pages are in good shape, meaning they can convert. As such, develop employee-centric recruitment and career pages that will sell your company culture. In addition, you should also streamline the application process with clear call-to-actions. It would help if you never made potential candidates hunt down the next step for application.
6. Global Economic Uncertainty Forces Dermatologists to Maximize Marketing Budgets and Minimize CPL
The current staffing issues from the pandemic to the ongoing war between Ukraine and Russia, are just some of the many factors forcing global economic uncertainty as we go into 2023. For healthcare companies, including dermatologists, the looming economic uncertainty means tighter marketing budgets, inflated patient acquisition costs, and higher ROI targets.
With budget constraints, dermatology providers must implement Google Ads optimization strategies in 2023 to maximize their budgets and minimize cost-per-lead (CPL). Below are strategies to help optimize your dermatology PPC campaign, improve your Ad Quality Score, and minimize CPL:
Evaluate Your Keyword Strategy
Before moving forward, conduct an in-depth audit of your keyword strategy to ensure you're not missing out on crucial optimization opportunities. For starters, you should remove low-intent, low-quality keywords. Many of these keywords may be attractive to include, but they rarely translate into buying intent and are too high up in the sales funnel–effectively wasting your marketing dollars.
Refine your keyword strategy by targeting the most relevant keywords to your dermatology practice. Create a keyword list to make it easy to organize your keywords and evaluate their performance. Plus, a list also enables you to determine which keywords you don't want to target (negative keywords). In summary, dermatologists should monitor keyword performance, update negative keyword lists, and pause or remove underperforming keyword groups. 
Optimize Landing Pages
One of the best ways to enhance the user experience and lower CPL is through landing page optimization. Several fundamental changes to your landing page can do wonders for your PPC campaign's conversion rates. For multi-location dermatology groups, you should create dedicated landing pages for each location or affiliate brand. Below are some actionable steps for optimizing your landing pages:
Landing pages must match search intent.

Stop linking your PPC ads to your home page. You must optimize your landing pages specific to the ad's keyword and audience. For example, if the ad talks about finding an eczema doctor, don't link it to your generic service page, where the searcher needs to dig through more links to find an eczema specialist. Good landing pages deliver on what's promised in the ad.

Prioritize a good landing page experience.

Provide clear CTAs to guide users to the action you want them to complete. While you're at it, ensure you minimize the number of clicks to your conversion paths to provide a seamless experience.

Make your landing fast and mobile-friendly.

A slow landing page will not only cause your leads to bounce but also lower your Google Ad Quality Score. Ensure fast-loading landing pages by optimizing images, videos, and other media files and implementing backend fixes like improved caching. Moreover, it would be best if you tailored your landing pages to adapt to mobile devices.
Read our comprehensive guide on How to Build Landing Pages that Improve Google Ads Performance to learn more.
Improve Ad Copy
Improving your ad copy is another great way to increase the Ad Quality Score and minimize CPL. Great copy will compel searchers to become interested in your offers and click your ads. In this context, the most obvious tactic is to keep your ads relevant to the visitor's goals. Your PPC ad copy must address their specific needs and their specific stage in the patient's journey. In addition, avoid using generic or robotic language in your ads. Use personalized messaging, and you can even try being a bit controversial to come off as personal.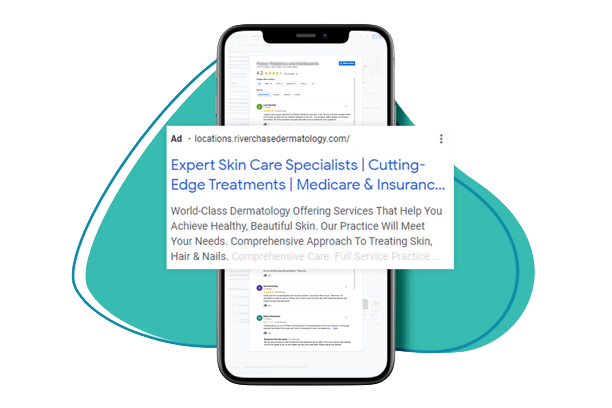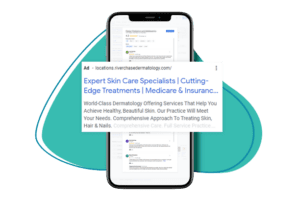 Conclusion
That wraps up the top dermatology digital marketing trends for 2023. In summary, staffing challenges and global economic uncertainty will remain prevailing challenges for many dermatology practices. However, the aging population and younger people becoming more conscious of their appearance will drive the dermatology industry to rapid growth. If dermatologists want to remain competitive in 2023, they need scalable platforms and attract talents to spark growth and increase their patient base. Meanwhile, they should also implement a robust patient-centric content strategy, focus on providing top-notch digital experiences, and maximize their constrained marketing budgets to come out on top.