Let's be frank, every business needs exposure. But only a few are getting it.
Not because other businesses are not trying, but because they have neglected the little things that make big differences in business.
When you have your business listing on search engines, you should always have local searchers in mind. You need to craft your business listing with the purpose of attracting more clicks from searchers in your locality.
When you consider that 50% of people perform a local search on their smartphones and 34% of those who searched on a computer or tablet visited a store within a day, you must sit right and pay attention as a local business owner.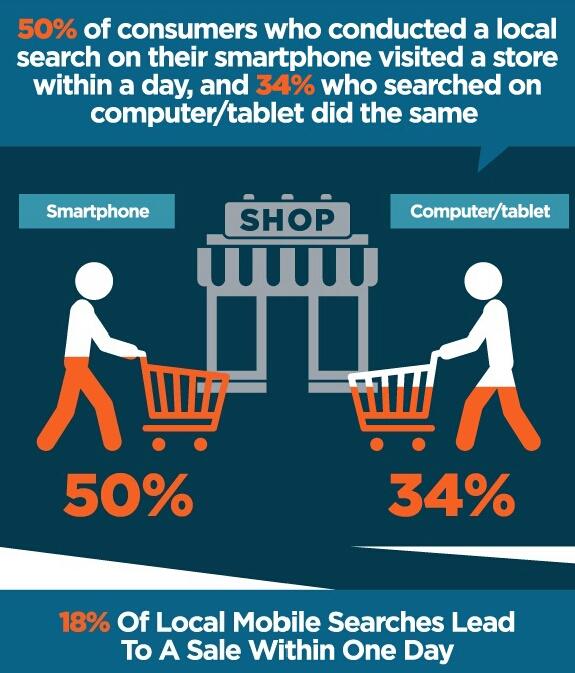 Google Map Packs is a free advertisement that your business needs to utilize. When people search for a term and your business shows up, they can get more information about your business and do business with you.
For instance, someone searching on their smartphone can click on your phone number and call you right away. Or if they're in their car, can click on the address and get a direction to your location.
But how do you drive more clicks to your business using Google Map Packs? This post will show you 7 steps you can take to attract more clicks to your business.
But before we go on, a quick definition.
What is Google Map Packs?
Google Map Packs is a pack of 3 results that shows local business listings for a search term. It shows the basic information of the businesses like the name, address, and their telephone number, and even the business hours.
There is an option below the 3 results to check more listings. This is an example of a map pack for 'restaurants.'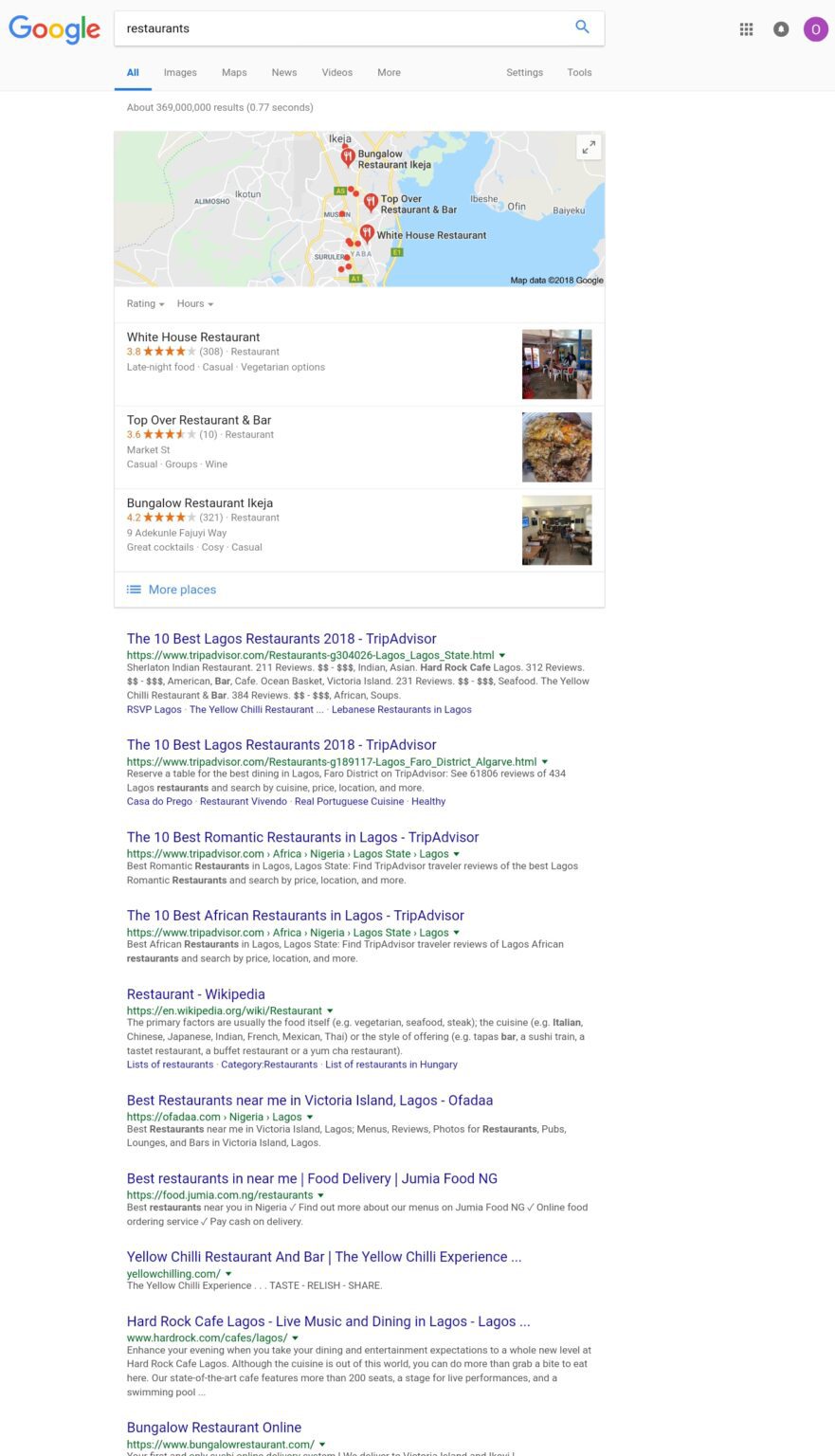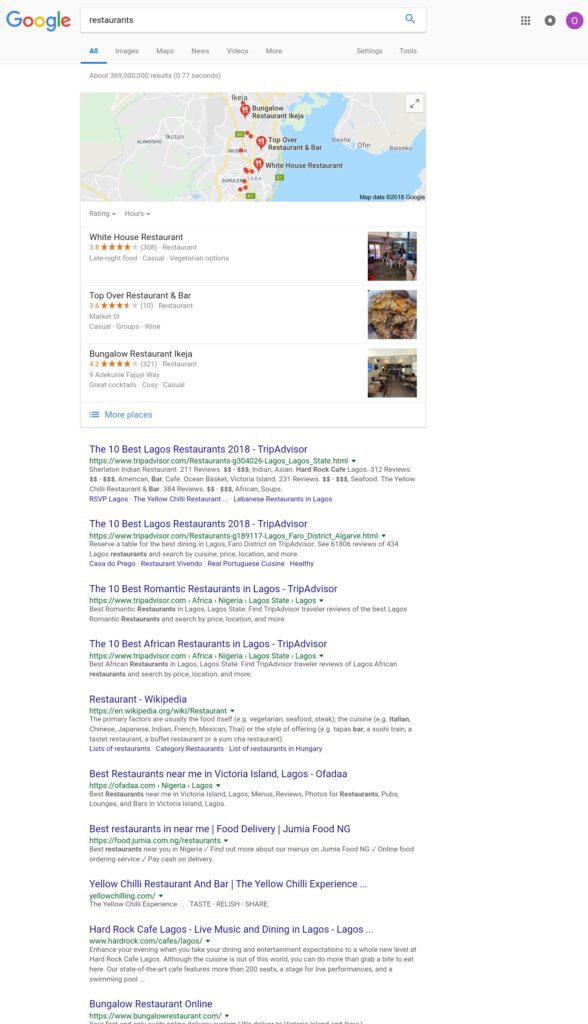 Underneath these 3 results, there's a link: 'More places' where you can see more businesses. When you click on it, you see more businesses.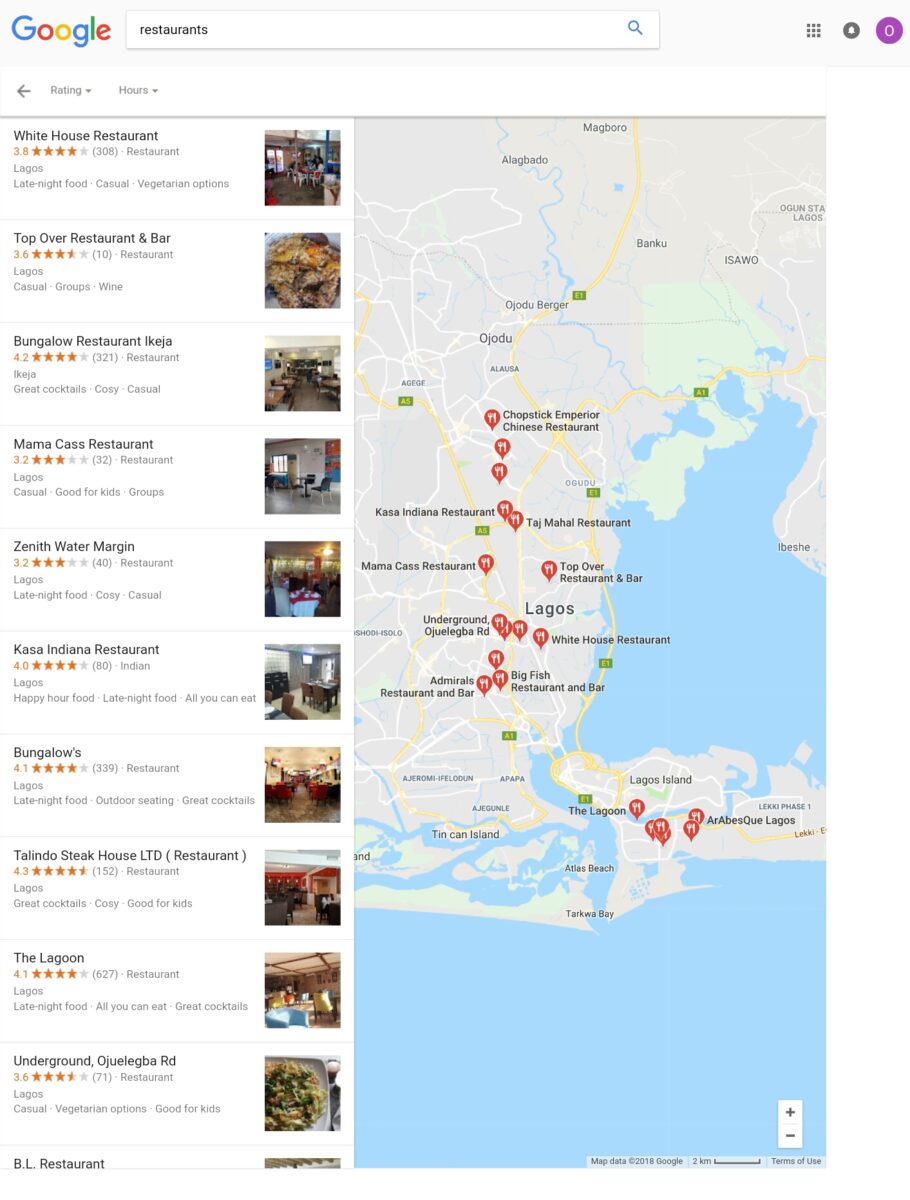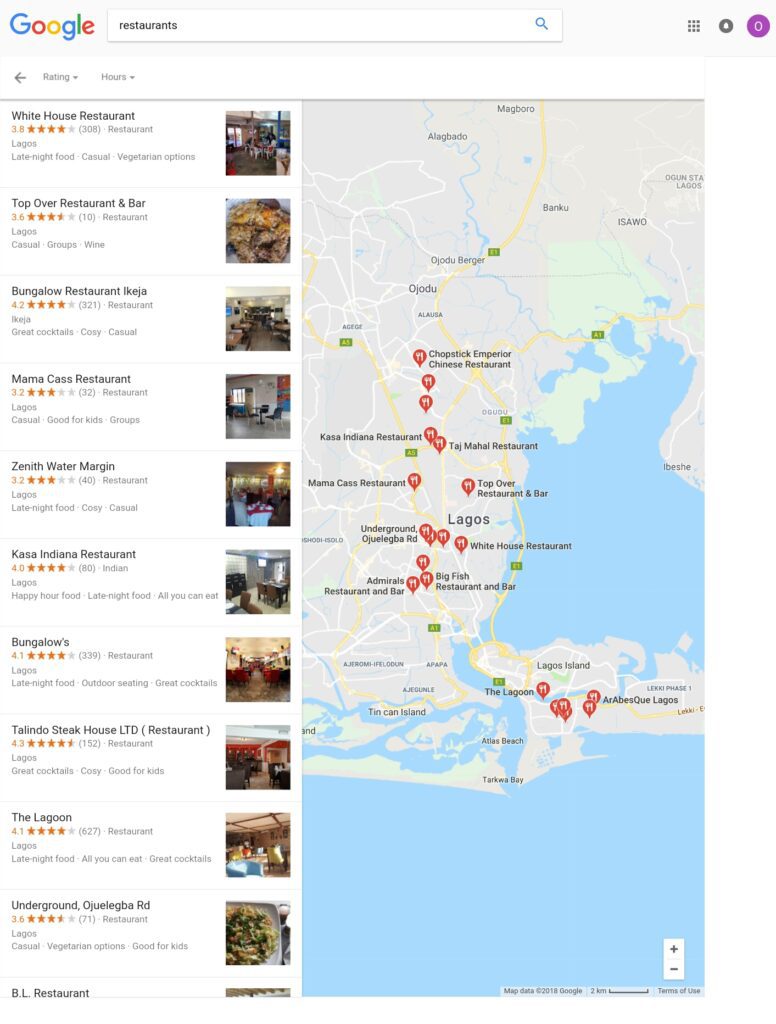 When you click on any of the business, you see more details about the business.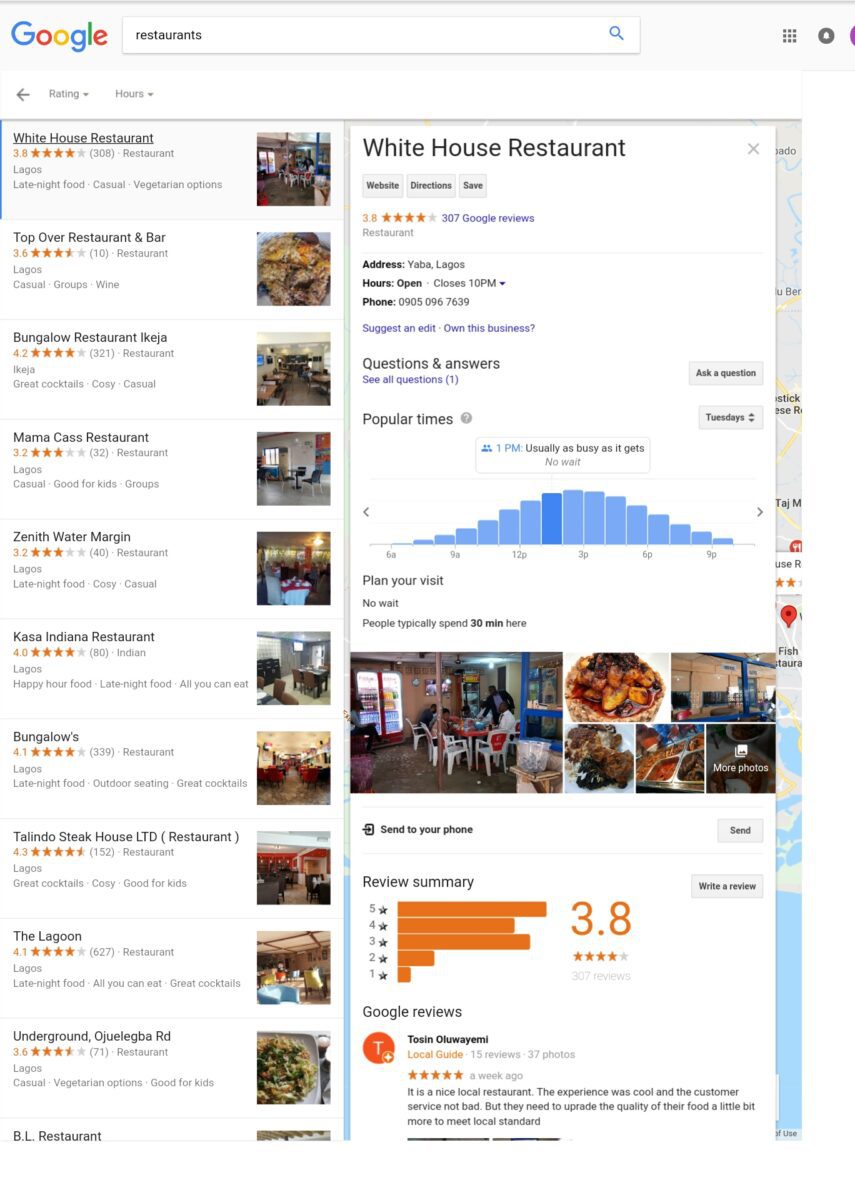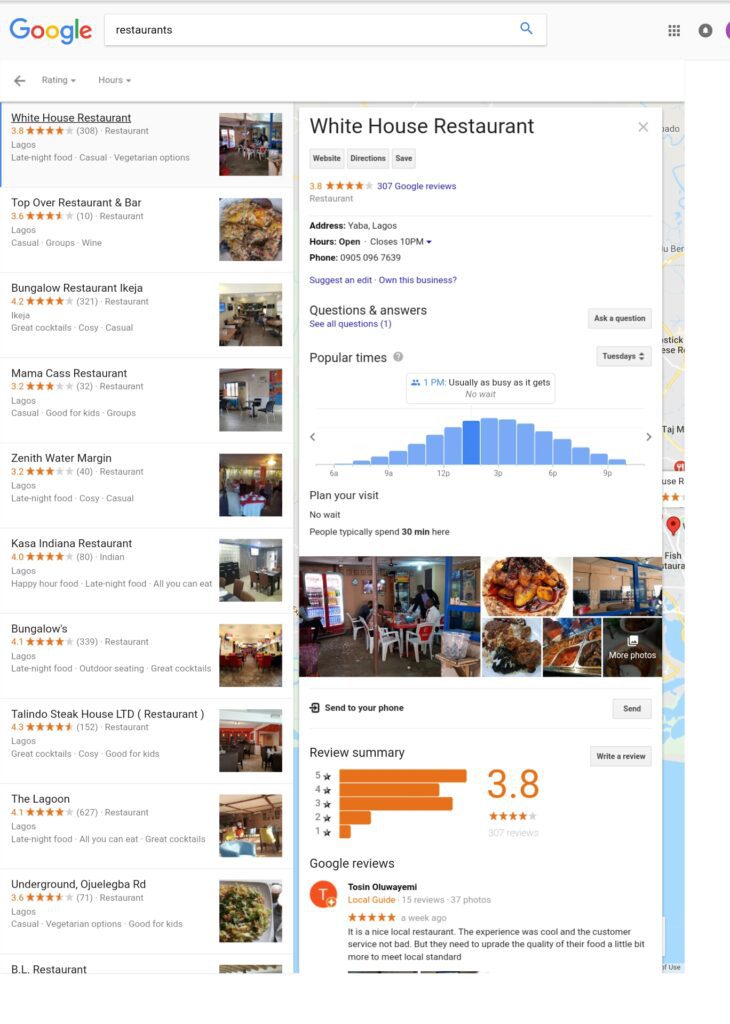 Google map packs used to be a list of 7 businesses but that has been reduced to 3. This means there is now a greater competition and you have to optimize your information as best as you can to have a chance at showing up. Especially for keywords with stiff competition.
Without further ado, what are the steps you can take to improve visibility and clicks from potential customers?
Step One: Google My Business: Claim Your Business & Optimize
Would you believe that there are many businesses today that have no business listing in Google? Yes, it's difficult to believe but it's true. And there are even many businesses that were registered with wrong or inconsistent information.
This is a bad business strategy. On the Internet, listing your business in Google for a chance to appear in the map packs is one of the most important things you can do for your business especially if you want more sales.
If you don't have your business listing on Google My Business, you should register it today.
To create your Google My Business listing, go to the Google My Business page. Then click on the "START NOW" button.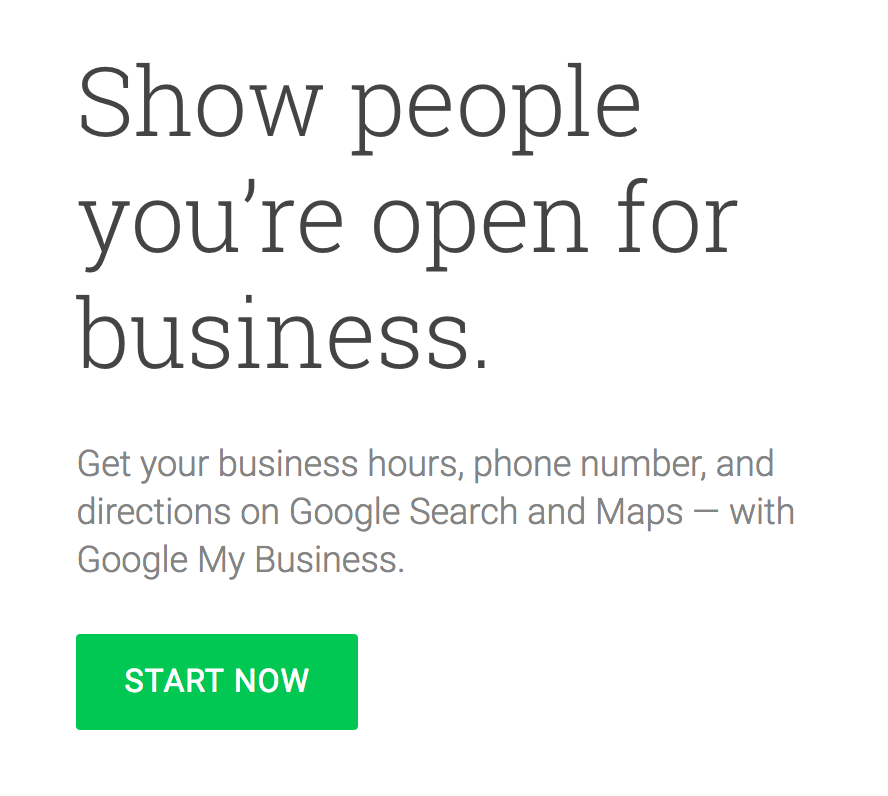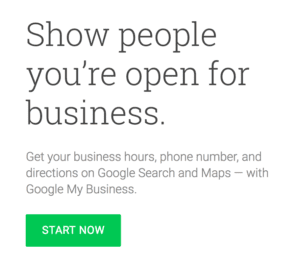 After signing in, search for your business. If your business has been listed already, you can claim it.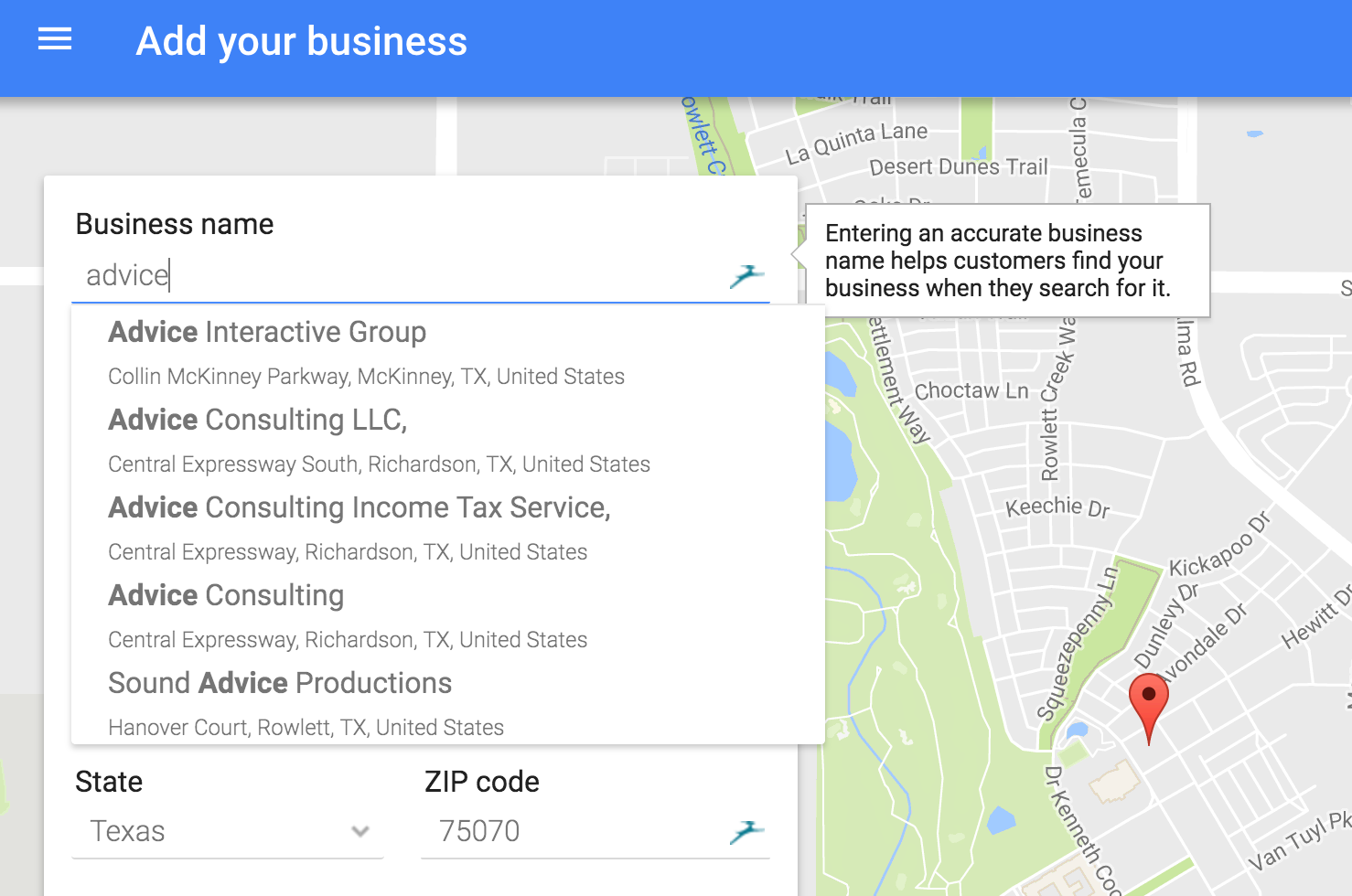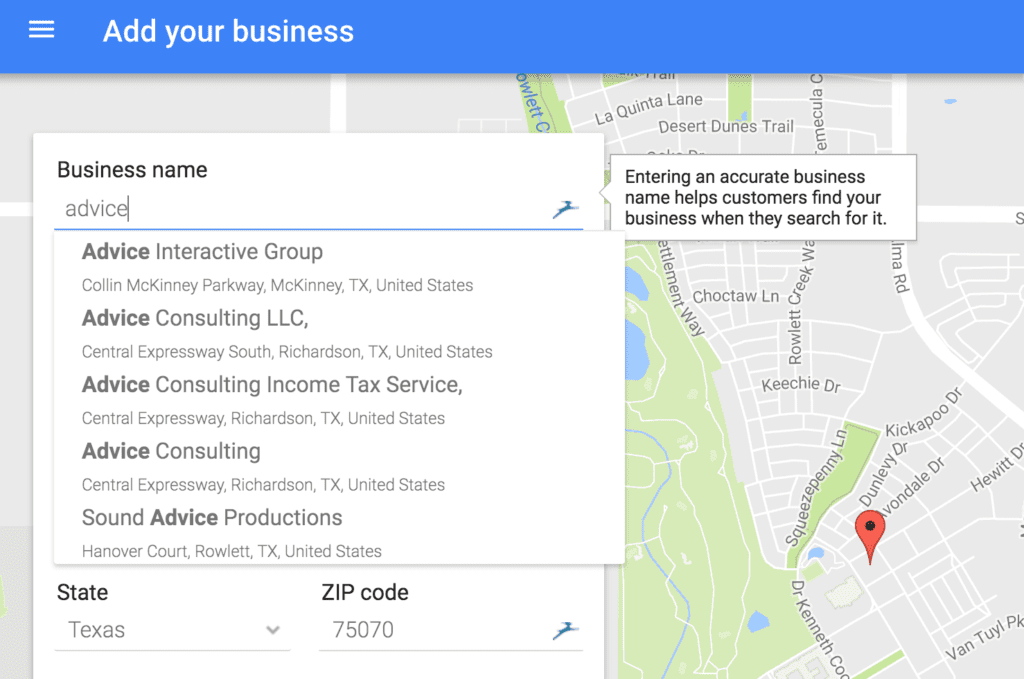 If it has not been listed, enter your business details. It is important that you keep all these details in a document that you'll be referring to when creating other listings for your business. The best practice is to make sure all your details on every listing are consistent.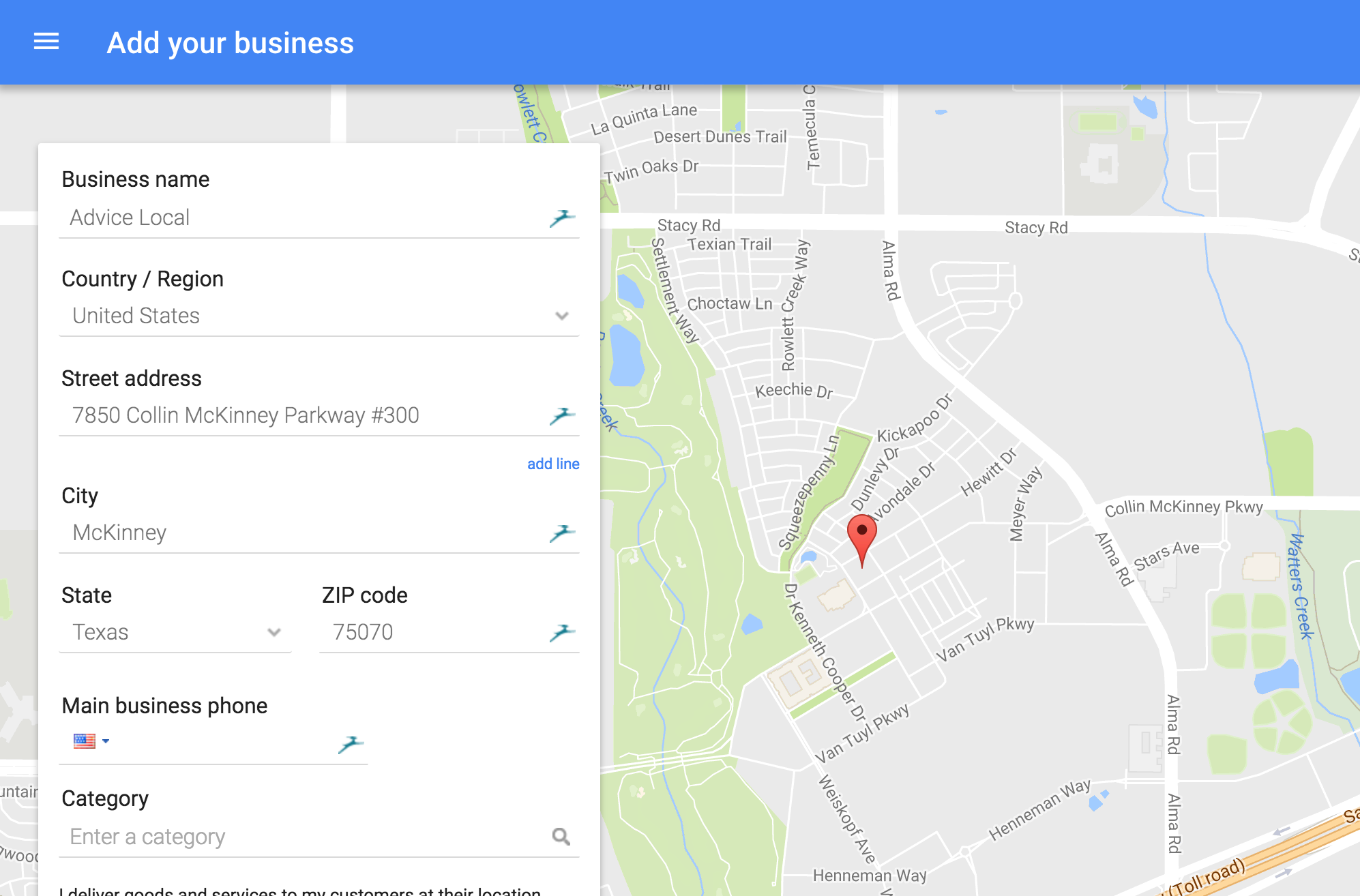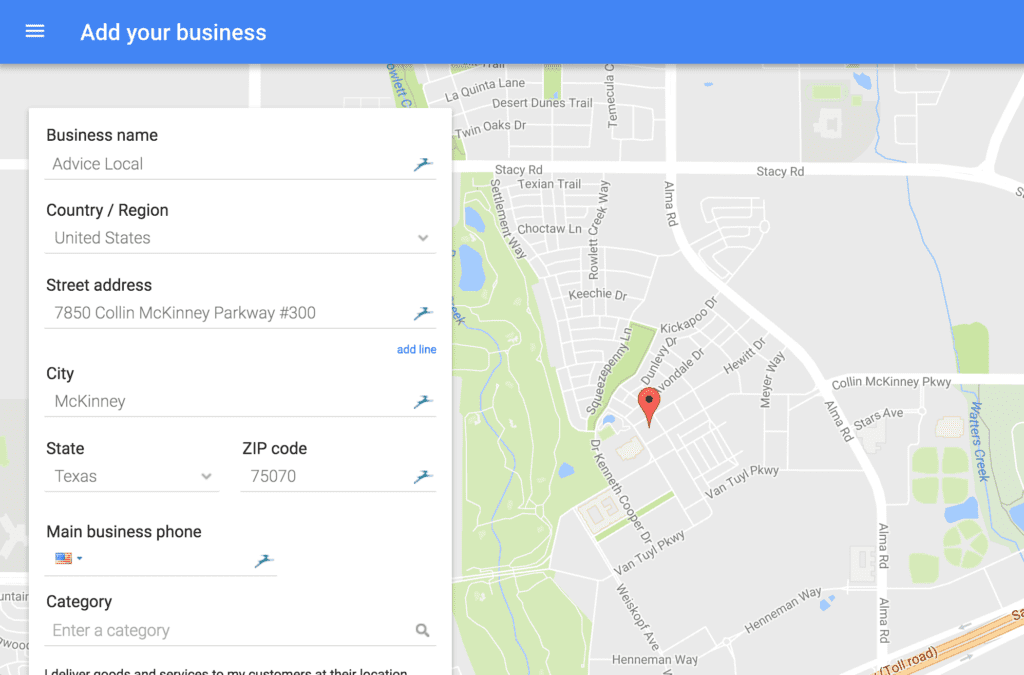 After listing your details, you're asked to verify your business location.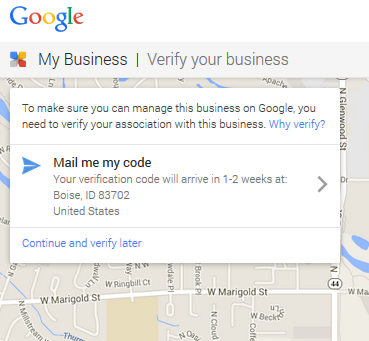 Google will send a pin through a Post to your location. You can also verify with a phone.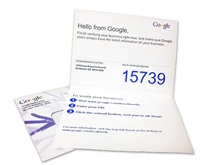 When you verify your business listing, you're asked to open a Google + page for your business.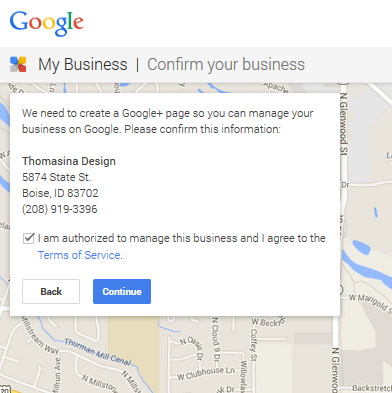 You should also add images of your business location as soon as possible.
On your business listing, you must optimize for your most important keyword and also your location. Although most people searching for a term may not input the location, Google serves them results based on their location if they have it enabled, especially on mobile devices.
For instance, someone searching for a tax lawyer will get results of lawyers who are based in their metro area and those closest to the searcher.
The 3 most important information you provide when registering your business is the Name of your business, Address of your business, and the Phone number of your business (NAP).
When choosing the name of your business, it's important to include your business name, most important keyword and location, for example, Atlanta SEO Digital Marketing Agency.
For instance, if you're a tax lawyer, your business name could be Donald Associates, tax lawyer, Chicago IL. When people are searching for tax lawyers in Chicago, your business is more likely to show up even if they left the location out in their search term.
However, one thing to note is that people who are in a hurry to purchase a product or get a service will include a location to streamline the results better.
Also results for voice searches like 'restaurants near me' would naturally trigger location-based results. Most times, these are people who want to do business right now. And this leads to the next detail.
The address of your business. When people see the name of your business, then they also have to know it's location to be able to approach you for business. There is a checkbox where you can select whether to show your business or not.
If you serve your customers at that location, then it's necessary to show your address. You have to note that your business address will not be a P.O. Box address.
A phone number is another important information you should provide in your listing to attract local business. In some cases, potential customers might have to call you to make some inquiries before coming over to your location.
A wrong phone number or none at all could drive them to your competitors. Remember it only takes a click to switch when your potential customer is online.
Don't give them that reason.
Another important thing to note is that is that these details should appear in many other sources. For instance, all these details should also appear on your website. You should also submit your business details to directories like Yelp, Yellow Pages, SuperPages, Bing, DexKnows, Yahoo!, Facebook, etc.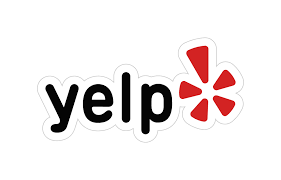 When you have your details on these sources, you must make sure that information like name, address, and phone number are the same no matter what platform.
Google checks multiple sites to confirm your business details. When you have different information on different websites, it becomes difficult for Google to pick the accurate information. This can lead to your listing going down the rankings or being removed totally.
Another way to optimize your listing is to have pictures of your business location. Having pictures makes your business looks more natural and lends credibility.
Have an adequate description of your business on your listing. Optimize your description with keywords that users might use to search for your business. It is also important to link your listing to your website where potential customers can learn more about your business if they want to.
Step Two: Build relevant Local business citations
Having citations of your business online is one of the biggest means of image management.
Have the right citations on the right platforms and it could impact your rankings, reputation, and revenue positively. Neglect citations and you could have a lot of wrong information and misconceptions about your business online.
What information should be present in your citation?
The most important information to have in your citation are your:
Company name
Company address
Company Telephone number
Other information that should be present are:
Business description for people to know what your business is about.
Business categories
Hours of operation
Images
Reviews
Link to your website
Links to your social media pages
Apart from the citation you have on Google, it is important to have citations on other websites, especially local websites. There are many platforms you can have your citation:
Local Business Platforms: these platforms include Google My Business, Bing Places for Business, Acxiom, Localeze/Neustar, Infogroup, Yelp, Facebook etc. These cater to all types of businesses.

Geo/Industry-specific Platforms: these are platforms that serve specific industries and location. For instance, you could have a website for professionals in a specific industry.
If your business has this type of website, then you should have your citation on it. You must always look to have citations on reputable industry websites as this gives you a higher local authority.
Active local business citations give trust signals to search engines and helps to improve your local search rankings. It also impacts how customers view your business. Inaccurate citations may give customers wrong information and impression about your business.
There are many local websites you can have your citation but how can you know the ones you should be on? One way is to study your competition.
Search for an important keyword in your industry and see which company comes at the top of Google map pack. For instance, a search for 'law office' in Miami gives you this results.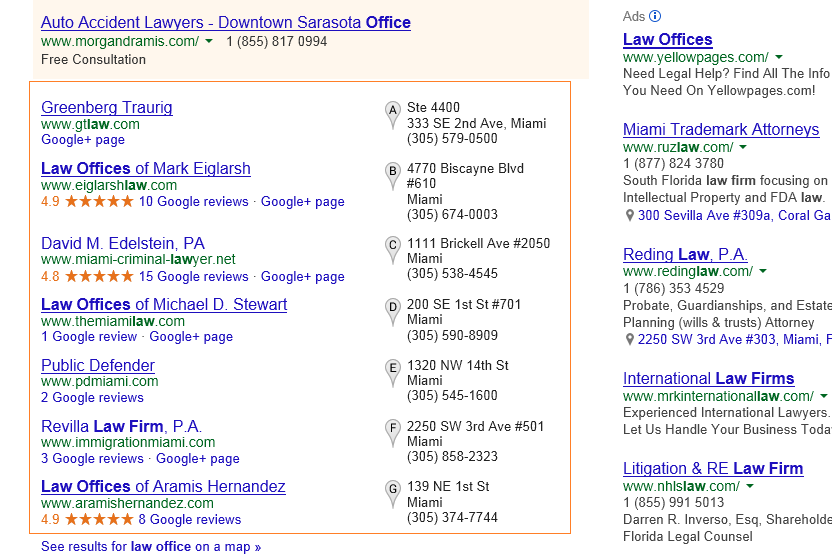 Let's look at the top result which is Greenberg Traurig. The next step is to check for their citations. Search "Brand name" "phone number" "address" -site:domain.tld e.g "Greenberg Traurig" "(305) 579-0500" "333 SE 2nd Ave" Miami -site:gtlaw.com
The result is shown below: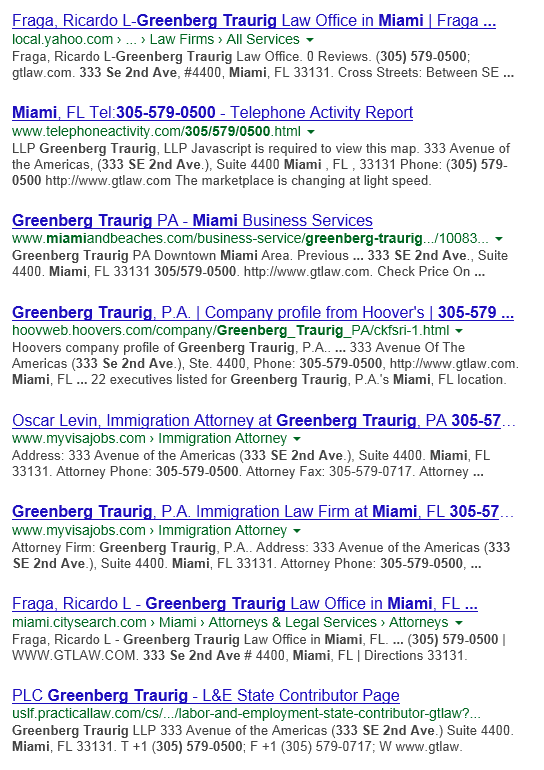 This gives you an idea of websites you should have citation if you want to rank for the same keywords.
How to write a citation on Bing
Bing is the third largest search engine in the U.S. Having your business citation can expose your business to many local customers. What are the steps to take to write your citation on this website?
Visit the Bing Places for Business homepage. Click on the Get Started button.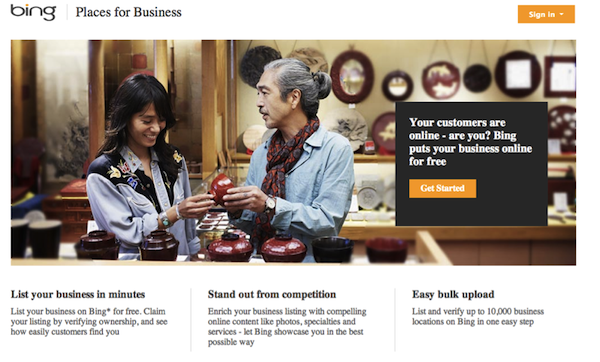 This takes you to the next page. On this page, you'll enter your business details to see if there's already citation for your business. If there is, you can claim the citation. If there is none, click on the 'Add New Business' button.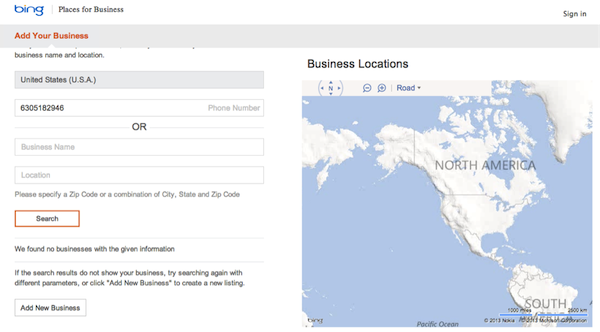 You're prompted to sign in with your Microsoft account details. If you have none, you'll have to open one. When you log in, you can add all details about your business. The Bing map on the right side will adjust as you fill in the details.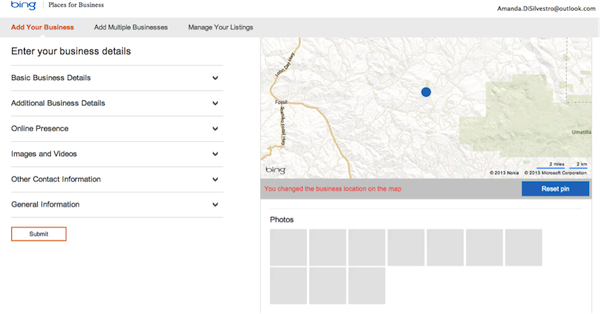 After filling your details, submit. When you submit, you'll be asked to verify your details. You can do this in two ways: either through a pin that will be posted to your physical address or through a phone verification.
If a pin is posted to your address, you can expect it within 3 to 5 days. You can verify your listing when you get the pin.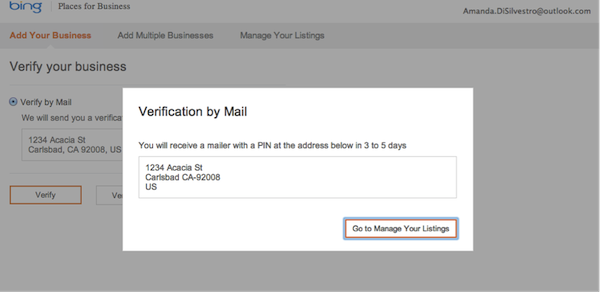 If you want to add more than a business, for instance, if your business has more than one branch, there is a provision to upload a spreadsheet for 10 to 10000 businesses. You can upload the data at once. This way, you can link your businesses to a single account.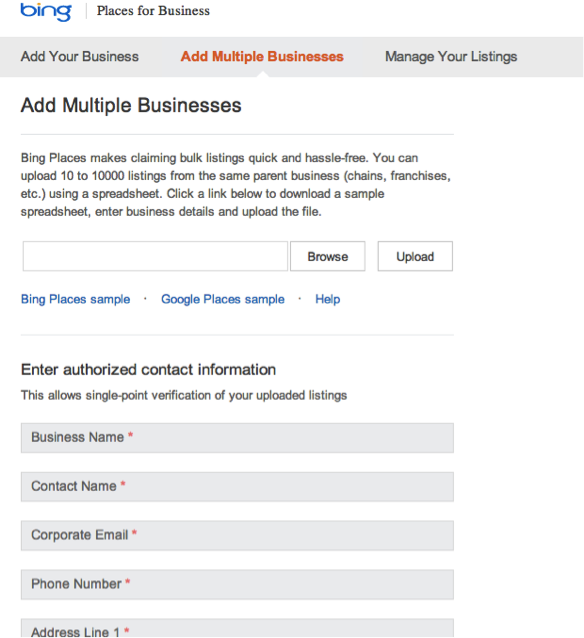 After getting your listing on Bing Places, you can manage your listing to edit the details of your business.
One way to make citation easier and stress-free is to use a tool like Moz Local to help you send your business listing to various directories.
Step Three: Use relevant subcategories in Google My Business
When you register your business on Google My Business or Bing Places for Business, you're required to pick at least one category for your business.
But most people leave it at this. This may be a mistake since you're allowed to pick 5 categories. These categories affect the results you rank for. It is important to pick other categories that are associated with your business.
The first category is the most important category for your business. That's what your business is based on. For instance, your business could be Internet marketing. That's your first category.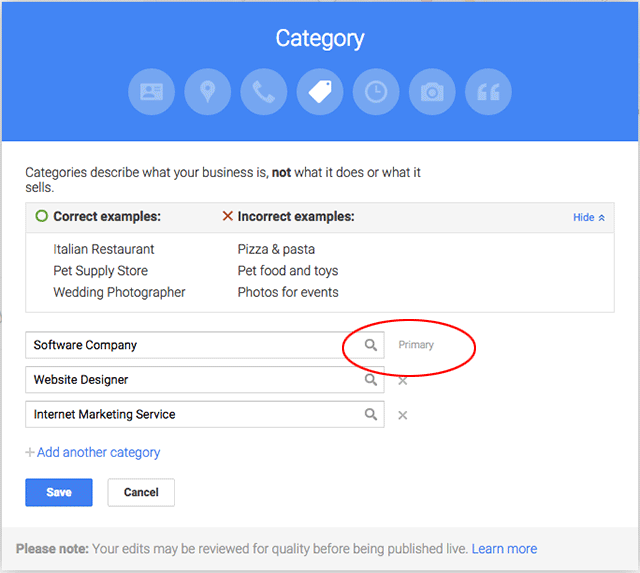 But you could also pick other categories like content marketing, social media marketing, SEO, PPC, etc. These categories are related to your business and you also want to rank for them.
However, in some cases, you should be careful when picking a similar category. For instance, pizza delivery looks related to pizza restaurant. If you have a pizza restaurant that also delivers to customers' houses, then you should have both categories under your business.
But if you only deliver pizza, then you shouldn't have pizza restaurant under your categories. You must be conscious of little things like these as they could make a lot of difference.
How do you select categories for your business?
Go to your Google My Business page and click on 'Add a location' button. Type your country and click 'categories.'
You can now add other categories to your business.
Step Four: Use Schema to Optimize your NAP for better visibility
Schema is used to tell search engines like Google, Bing, and Yahoo about your business. Although search engines are powerful to get most of this information, it is necessary to help search engines clear confusions.
For instance, if you sell the bird, Turkey, you do have to consider that there is also a country with that name. A schema markup including the name, address, phone number, business description, and other details help the search engine know you're a local business.
Very few businesses are doing this. In fact, only 17% of businesses use Schema markup according to research by Bing. This could be an advantage in appearing in Google map packs.
Before adding the Schema code to your website, check the Google Structured Data Testing Tool if your business details are already present.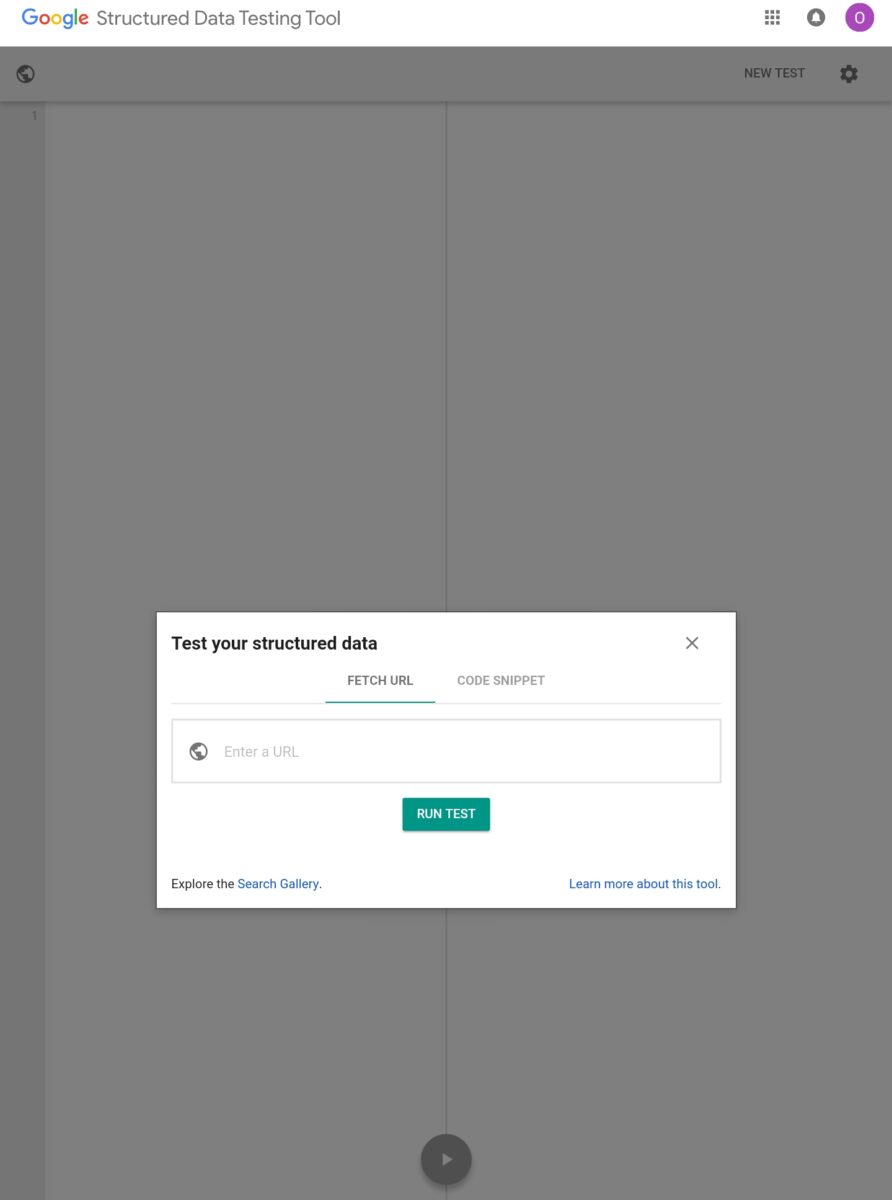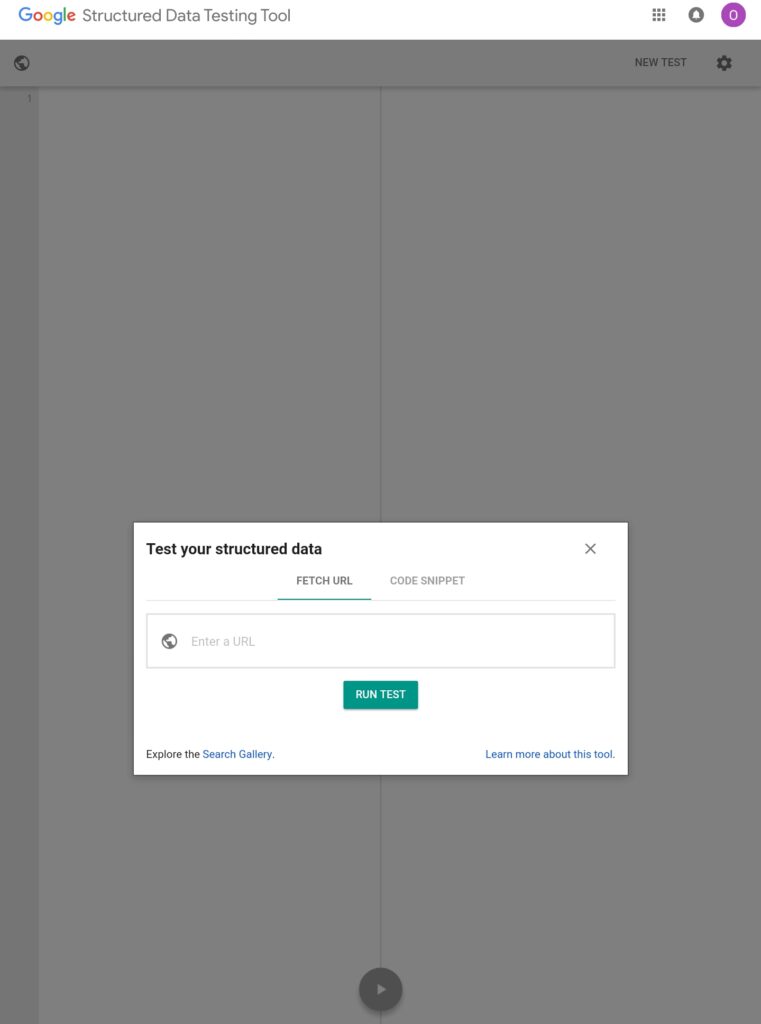 This is an example result for StudioYDesign.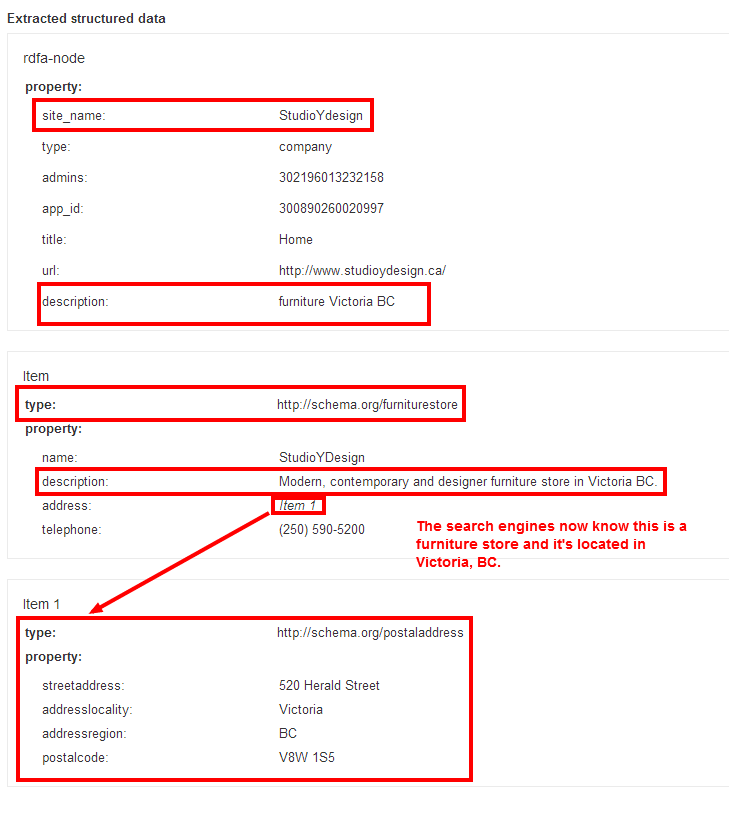 To add Schema markup for your website, you can use the example shown below or edit this doc.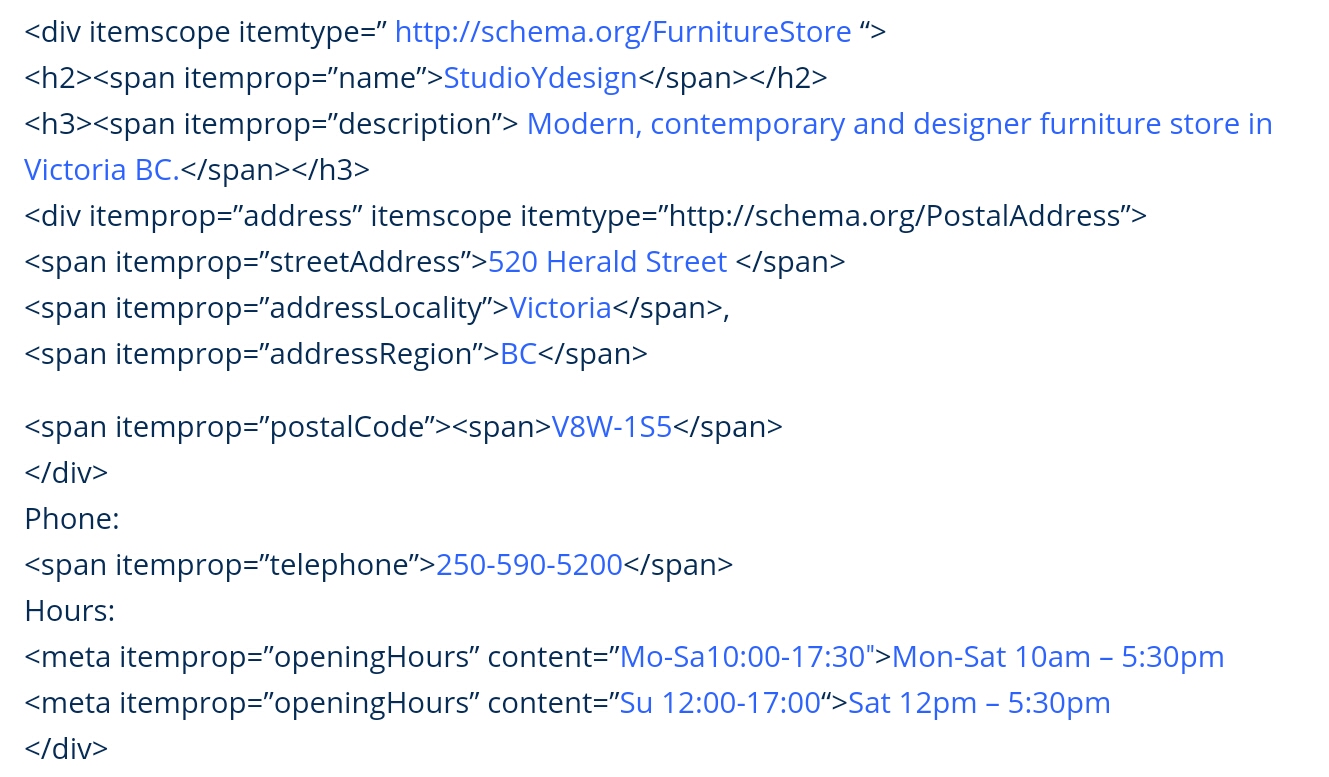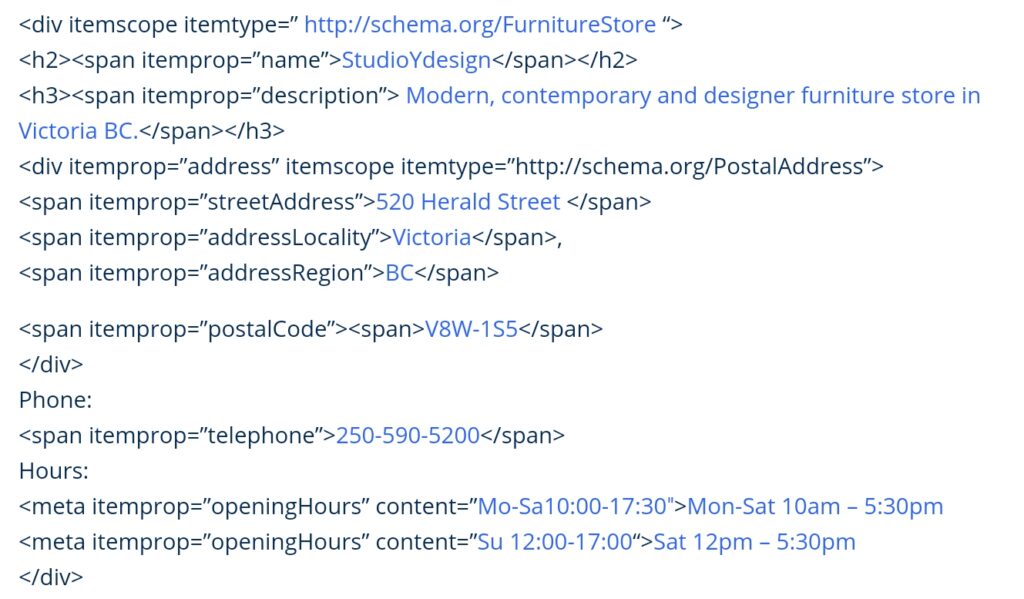 You can see the details in blue. Here, you can change your Schema URL. You can check this on Schema's website depending on the category your business belongs to. You can also change the description, name of the business, address, telephone number, opening hours, etc.
These details tell search engines you're a local business. After editing this code, insert it below the "head" tag in your website.
Step Five: Get some valuable online reviews
When people search for a term and find your business, they're influenced by reviews of other people who have done business with you in the past. A study by BrightLocal shows that 88% of consumers read online reviews to determine the quality of a local business.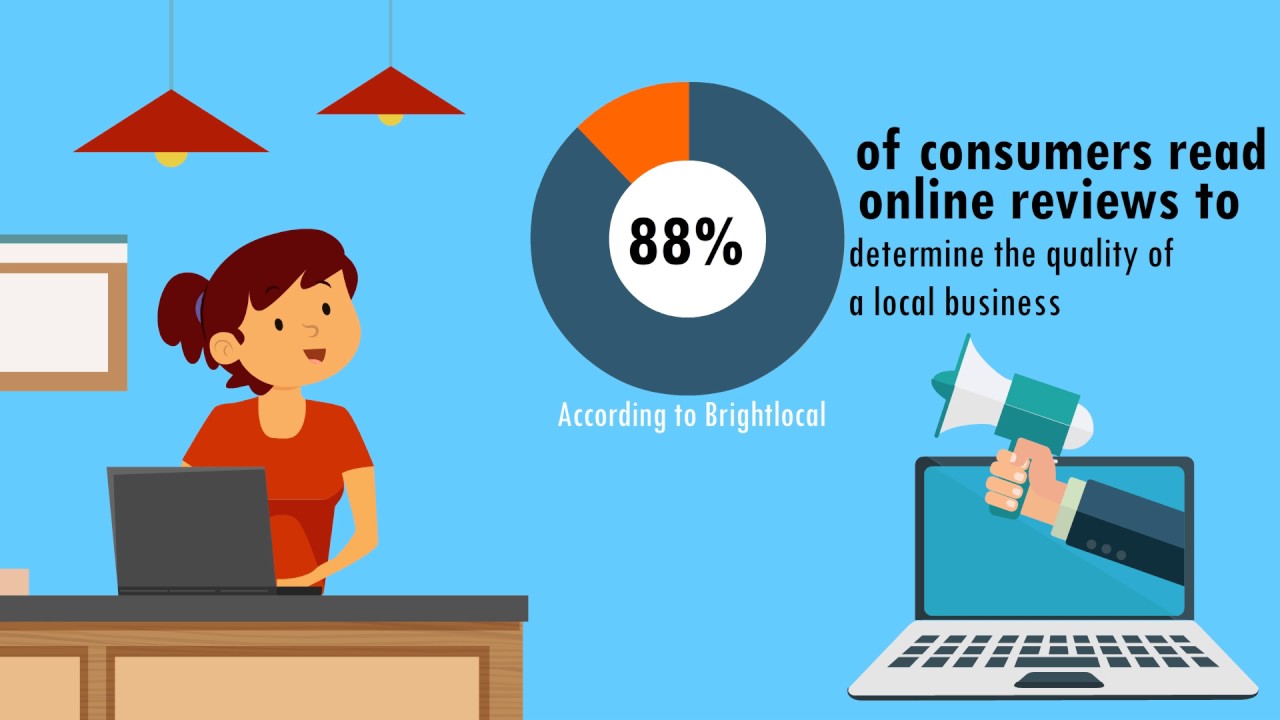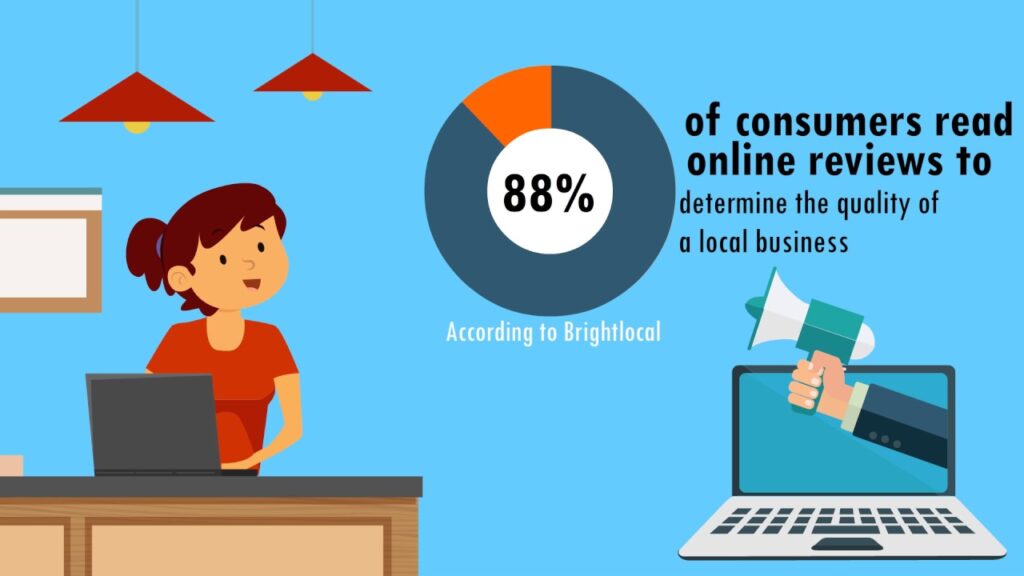 Remember your listing is not the only result on the page. It is a disadvantage if your business has no review and your competitors have many favorable reviews.
In fact, in a test, Casey Meraz found that people actually went for businesses that already had reviews of users.
Reviews is a social proof for your business. And favourable reviews tell searchers that they're taking a low risk by doing business with you. If so many people have found your business wonderful, then you must be doing many things right.
In the same study by BrightLocal, 40% of buyers form an opinion of a business after reading 1 to 3 reviews. Another study shows that 68% of buyers read reviews to build their shortlist. No reviews mean you're out of consideration.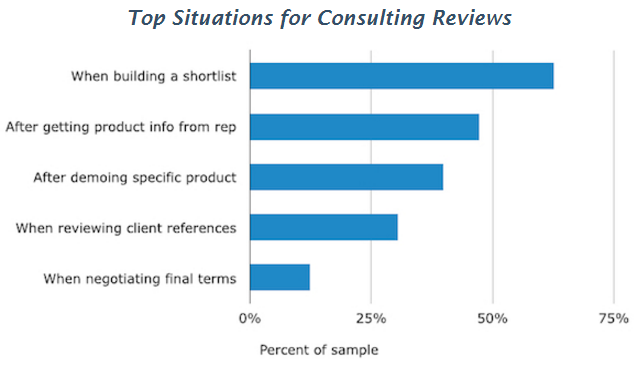 Even though there's no direct link between reviews and your visibility on the 3 pack, there's a correlation. It's rare to find businesses showing up on the search engine results page if they have no review. Especially if it's a competitive term.
Reviews are so important. Because even if you don't show up on the 3 pack, you may still end up gaining customers outside of organic searches.
For some terms in some locations, getting on the top 3 may be very difficult and almost impossible. Because you're competing with popular businesses who have deep pockets to get the ranking.
But in many cases when people click on a business name in the 3 pack, they're taken to the map where other businesses show up apart from the 3.
So ultimately, the searcher may end up checking more than those 3 businesses and if you have enough favourable reviews, you may still end up getting business this way.
What are the things you can do to gain more reviews?
i). Solicit for it. Do you have satisfied customers who rave about your business regularly? Well, there is your opportunity. Tell them to write a review for your business.
Always encourage your customers to leave a review on Google and other review sites as this helps you gain more customers. You can even attach an incentive to it to encourage your customers.
ii). Target as many reviews as possible. You have more credibility on Google when you have more good reviews. It shows customers are doing business with you. It is also important to increase the number of reviews that you receive gradually. Rather than have many reviews at once. This looks suspicious.
iii). Mixed reviews are normal. Even though you may feel very confident about your business and see it as the best ever, not every customer will see it that way.
When you encourage your customers to write reviews, you don't need to tell them how to rate you. Your great service should tell them how to rate you. And if they find a problem with your service, their reviews is one place they can tell you.
iv). Reviews of your business should not only be on Google. Having favorable reviews on other sites like Yelp, Yellow Pages, Angie's List, etc. can make a case for your reliability as a business and Google will reward you for this.
Some review sites you can use include:
Angie's List is a review site for local businesses. It allows you to register an account for your business and also acts as an intermediary between businesses and their customers.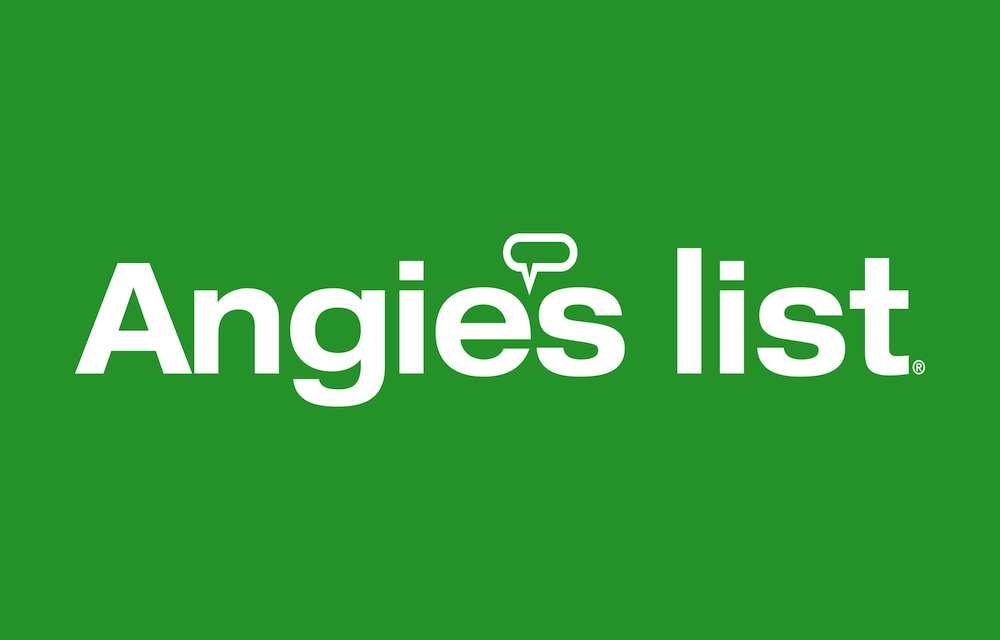 Bing Places allows your customers to leave a review about your business on your listing page.
Epinions is a website which is for products. If your business is into production, then reviews of your products should show up here.
Facebook is the most popular social media network with over 2 billion users worldwide. On this platform, you have exposure to many potential customers.
Customers can leave reviews on your page so that potential customers can see how satisfied your customers are.
Foursquare allows users to check in at different businesses. Users can also leave reviews about different businesses.
G2 Crowd is a platform for business software reviews. If you're a startup that has built a software product, then you should have reviews here. Because that's part of the places your potential customers will check.
Glassdoor is a review site for reviewing employers. Whether you treat your employees well or otherwise, it could reflect in your ratings as an employer. This is also important as businesses that treat their employees badly tend to perform poorly.
SuperPages has a listing of businesses and customers can leave reviews about businesses.
Yellow Pages is a business directory covering millions of companies and hundreds of industries.
Yelp is one of the most popular review sites online. If you're running a business, you should check Yelp. It's possible you already have reviews there. You can read user reviews about your business.
You can also claim your business on the platform.
Reply to your customer reviews. It's part of your customer service to reply to your customer reviews, especially the negative ones. Was it just a misunderstanding on their side? Were their points valid? If they are, what will you do to correct it?
Replying to negative reviews could be a way to show that you're a business that listens to your customers. And since there's no perfect business anywhere, potential customers will appreciate this gesture. At the end of the day, the most important thing is to provide the best service possible to your customers.
Step Six: Use local data structured markup
To check if your website has the local data structured markup, go to the Structured Data Report in Google Search Console.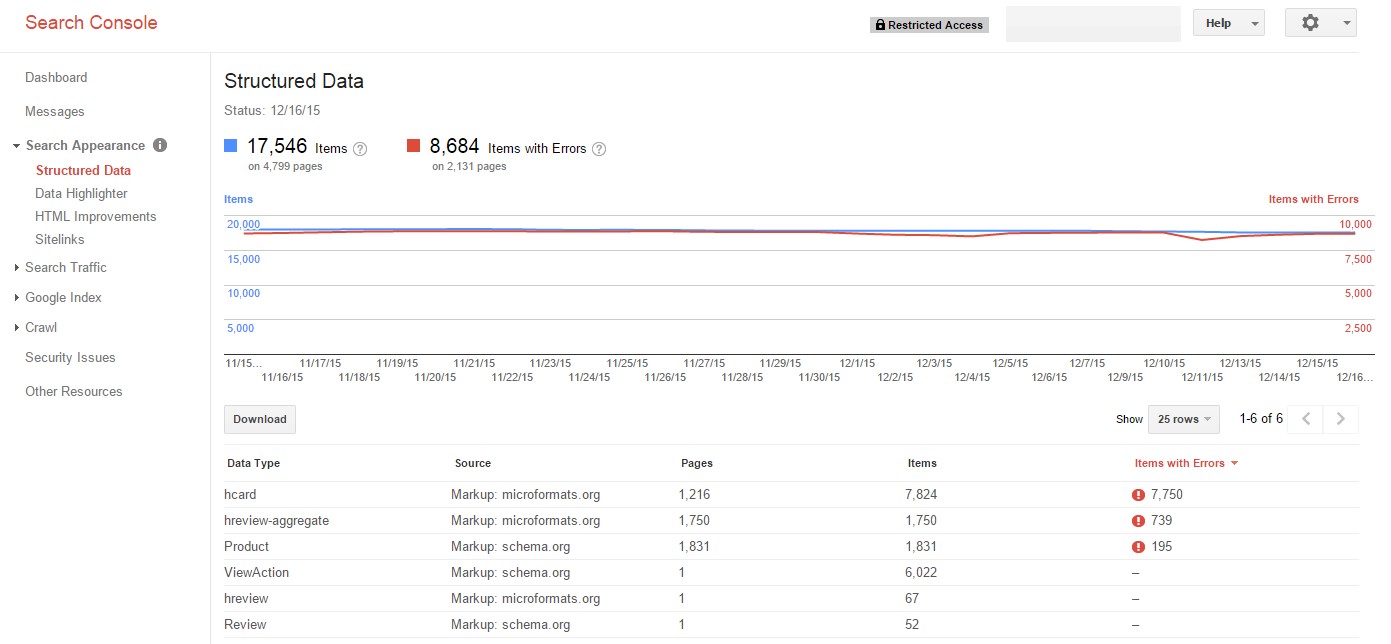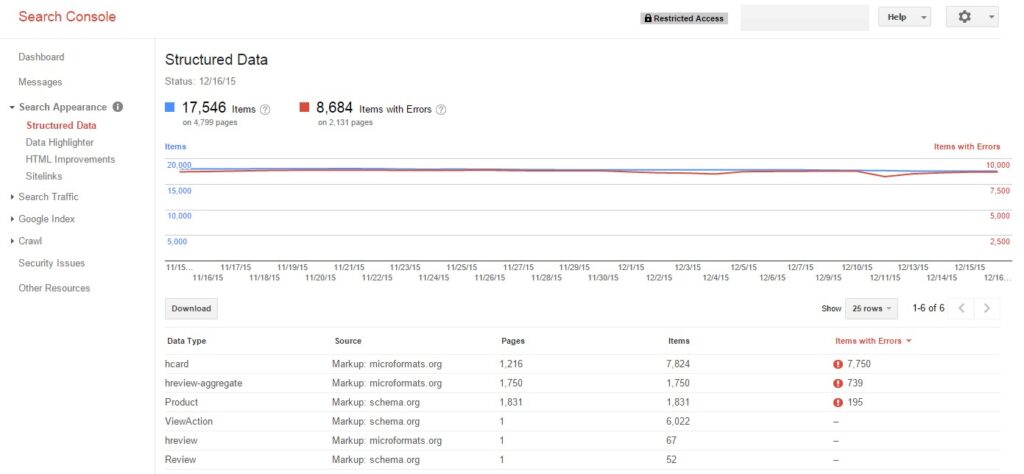 This will also show you the error on the page. If you want to markup an individual page, for example, the product page, you have to markup content on this page alone for local searches.
Use Google's Structured Data Markup Helper to help add structured-data markup to your page.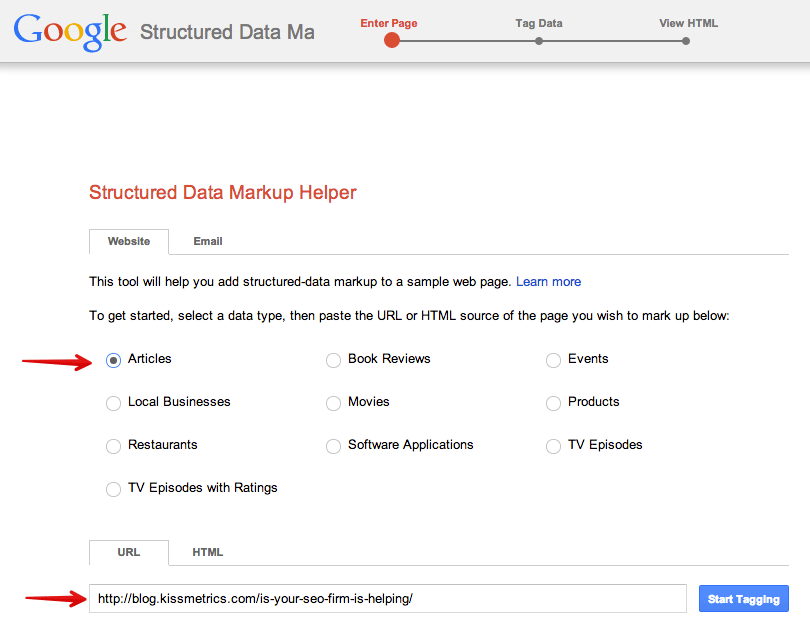 Check any of the categories you want to markup and enter a website address in the space provided. This brings up the page.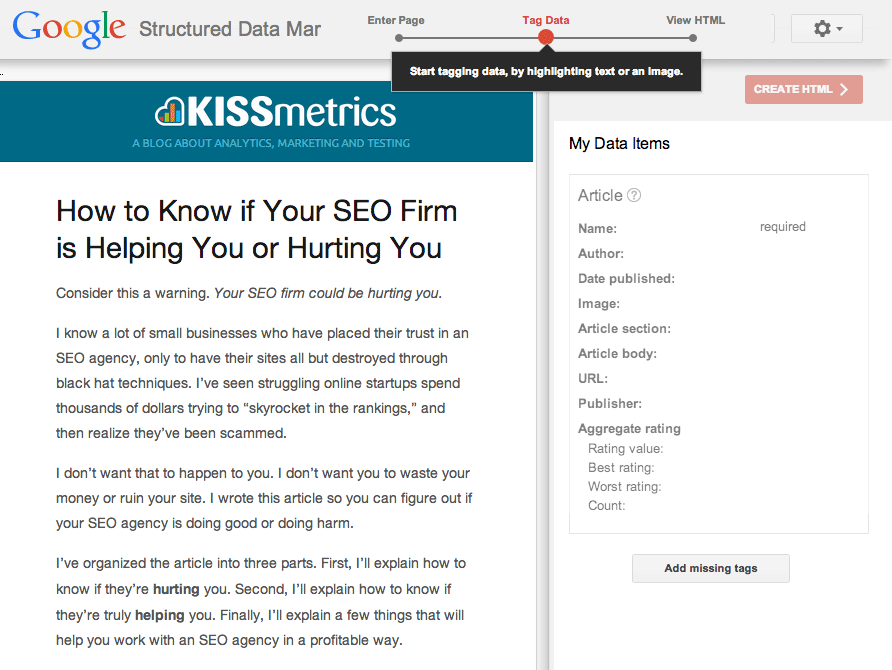 You can tag the words on the page that you want to markup like the title.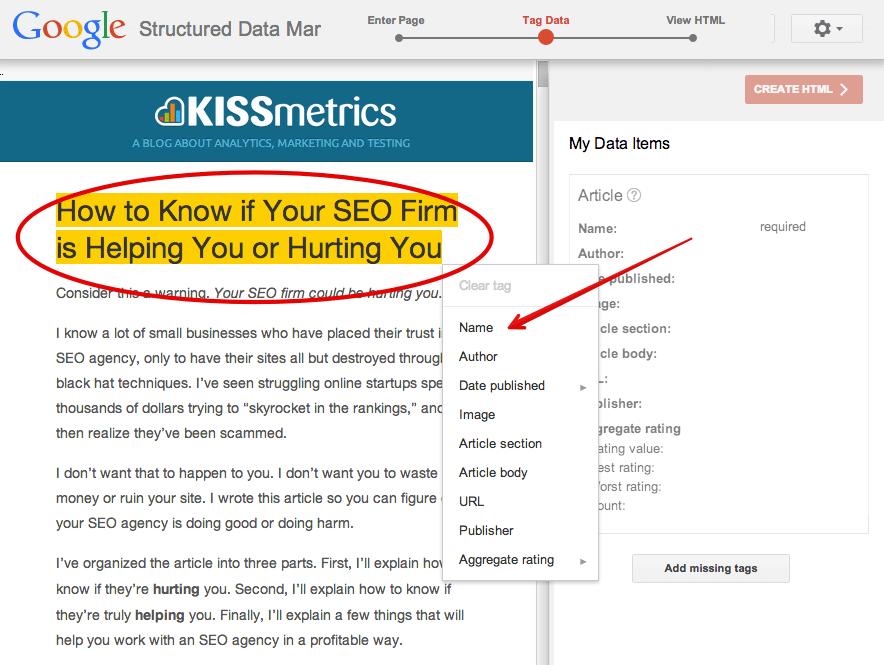 After this, move on to create the HTML and add the markup to your web page.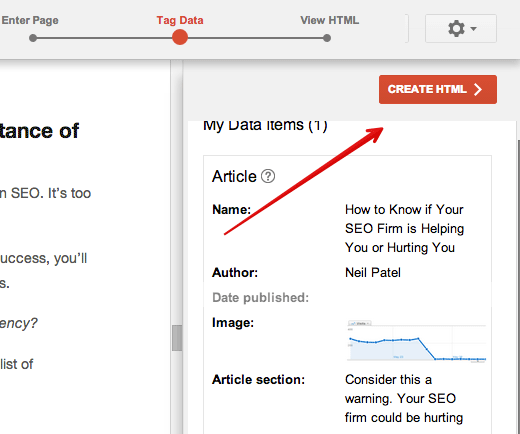 Add the highlighted codes to your page's HTML so that the changes can reflect.
Step Seven: Build more authoritative links to get organic visibility
Building inbound links is a way to improve trust with Google. These links pass strong SEO juice when it's from authoritative websites.
But how do links affect your business listing visibility if the links are connected to your website? Well, it has an effect because your Google My Business listing is connected to your website.
However, the best advice about building links is not the link building itself.
The best advice for building links is providing value. Is your content valuable enough for your readers that they can share it with their followers? Is it good enough that your followers on social media will re-share it?
Your content should provide enough value that other websites, especially authoritative ones, can link to it, even without asking. This is the type of links that carry the biggest weight with Google.
Google's Matt Cutts said your link building shouldn't seem real and unsolicited, but it should be real and unsolicited. But this can be very difficult if you're just starting out.
Most businesses now realize the importance of great content and it can be difficult to get the attention of authoritative sites if you're not popular. The point I'm making here is that there is nothing wrong with asking for links from authoritative websites without being blatant about it or paying for it.
Even though these links may carry lower weight, over time, your popularity will increase and you'll begin to get more natural unsolicited links for your website. And consequently, a better local listing.
What are the important steps to take to improve link building for your business website?
Have a blog on your website. Most links you'll build to your website will be through your blog.
Update your blog regularly. Nobody links to an empty blog. You have to produce valuable content regularly to build a loyal follower base and gain exposure to more websites in your industry that will link to your website.
Build relationships with authoritative figures in your industry. There are popular figures in your industry who have built trust over the years. Don't just associate with them for the links.
Associate with them for good relationships because that's important in any business. When you associate with people like these and provide valuable content, they might share your posts. A share from a big figure in your industry could lead to more exposure, traffic, and unsolicited links.
Link to authoritative websites in your content. As the saying goes, do unto others what you want them to do to you.
To make your content valuable, there are some resources on other websites you can link to for further reading if your readers want to. Through this, the websites you link to can notice you and see your content valuable enough to look to.
Conclusion
The internet has not only come to expose your business to the world. But also to people who are in your locality — who may be unaware of your products or services.
Are you trying to get more people from your locality to do business with you? It's time to utilize Google Map Packs for your business. It's a free advertisement for high value.
I believe these 7 Steps are simple and can be implemented by most people. I'd say the effort is worth it when you consider the benefits.