That's where geotargeting comes into play. Geotargeting– also known as local PPC– is a feature built into AdWords that lets you target your ads to prospective patients in a certain location, or set of locations, that you specify.
For medical practices, proximity plays an enormous role in whether a prospect becomes a patient, which means employing geotargeting, simply put, is a no-brainer. By implementing geotargeting, you can ensure that your PPC ad budget isn't spent on wasted and irrelevant clicks from folks outside of your target area.
How to Set up Geotargeting
Inside your AdWords dashboard, choose the campaign you want to target and click on the Settings tab. Scroll down to the Locations and Languages section, and click on edit under Locations.
Click the Search tab and start typing in the location you wish to target (your options include country, region, city, postal code, and even airports). Once you find your location in the dropdown menu, select it.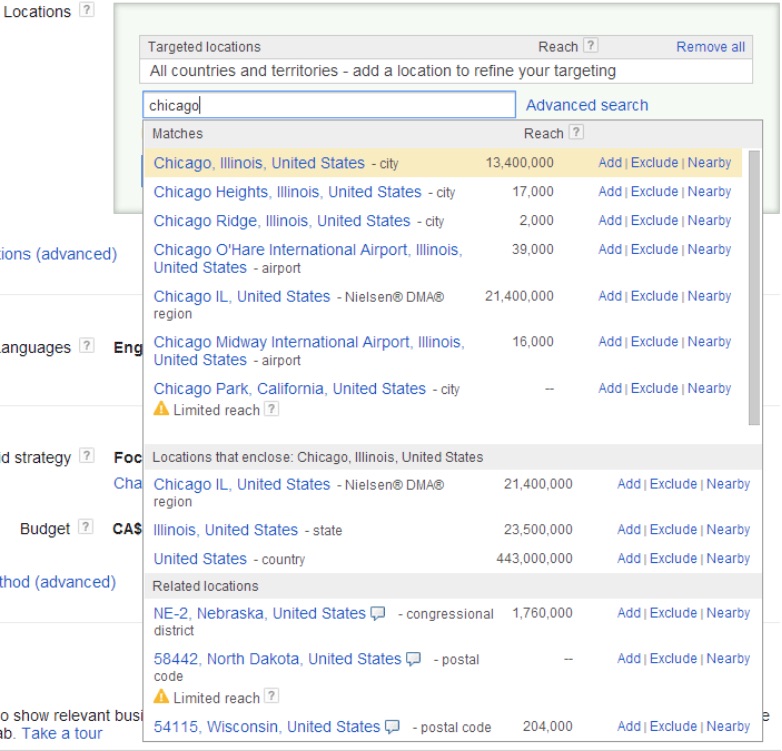 In the image above, you'll see Reach. This shows you how many people could see your ad if you choose this location. You'll then see three different options for each location: Add, Exclude, and Nearby. 
By choosing Add you'll add that location to your list of targeted locations
By choosing Exclude you'll prevent that ad from appearing to this location
By choosing Nearby you'll then be shown a list of nearby regions you might also consider adding
After selecting a region, AdWords will then show you a map with your new, targeted area highlighted.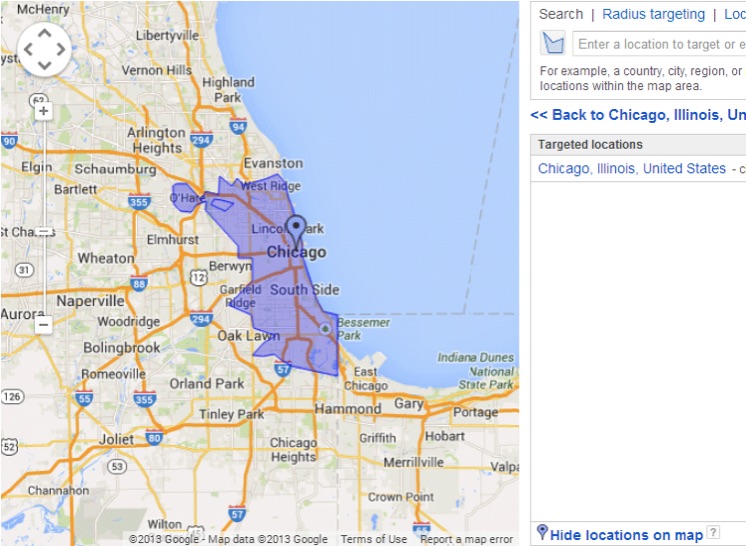 In this screenshot, you'll notice a Radius Targeting tab in the upper-right-hand corner. If you use this tab, you can select a distance radius around your location. This type of strategy is known as proximity targeting. You can enter any location you want to into that box below the Radius Targeting tab, and that location will become the center of the radius.
How to Manage a Geotargeted Campaign
After you set up your geotargeted campaigns, you want to monitor these campaigns to see which locations are bringing in the most clicks, impressions, average cost-per-click, and average position.
You can find this information by clicking on the Locations tab under Settings.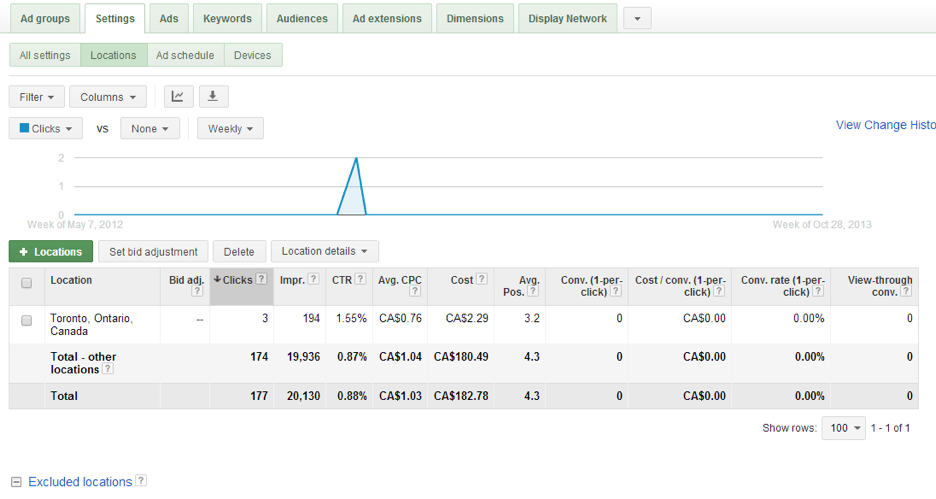 See the row labeled Total – other locations? That indicates all traffic from everywhere other than the locations you specified. While AdWords doesn't breakdown these "other" locations, if this number is high you'll want to revisit your strategy to add or exclude more locations.
You should also turn to your Search Terms Report to determine which keyword searches triggered your ads. This can be useful to help you see if any keywords outside your target locations triggered an ad. If so, you'll want to exclude these keywords.
It's actually pretty simple to do. All you have to do is click the checkbox next to the word, then select Add as a negative keyword.
Best Practices to Get the Most out of Your Local PPC
Here are a few tips and best practices to help you maximize your return on your geotargeting investment.
As a multi-location medical practice, you'll want to target several locations. AdWords makes this simple for you. But, because of its incredible versatility, you might want to consider creating separate campaigns and ads for each of your locations and create your geotargeting strategies accordingly.
Part of this strategy means having to exclude certain locations for each of your campaigns; that way your ads aren't competing with one another. We recommend you use the name of your target location in your ad, when applicable, and preferably in the title (such as Atlanta Orthopedic Doctor). If the ad text matches the searcher's query, then your relevant ad text will appear in bold, which is just another way to make your ad stand out.
You should also enable location extensions and call extensions in your local ads. That way your prospective patients can find and contact you more easily.
Lastly, it's worth noting that Google–by default–targets your ads not only to people within your targeted locations but also to people searching about your location.
You'll want to change this.
Simply go into Campaign Settings and click on Location options. Under the Target section, click "Edit" to open the dropdown menu and select the second option ("People in my targeted location.")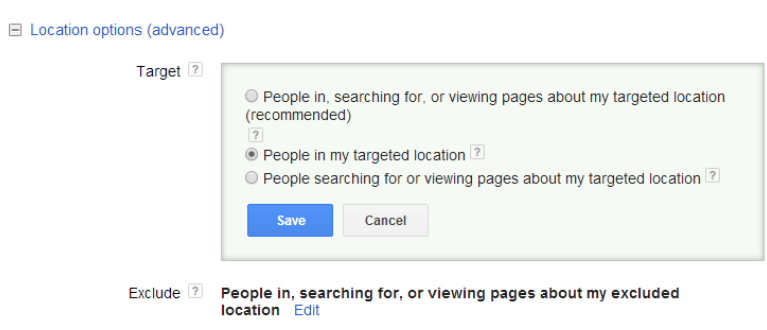 With a solid geotargeted strategy in place, you can reap the benefits of an aggressive, targeted PPC campaign, without fear that that campaign will break the bank.