The phrase "customer is king" is taking on a new meaning in healthcare. Chalk it up to new technological advances, the ubiquity of smartphones with internet access, or the simple fact that customer experience is more of a business priority than ever.
Regardless, healthcare consumers have an unprecedented choice when choosing their providers. That might be why UBS estimates the addressable market for the consumerization of healthcare "was ~$600 bn in 2019 and will increase at a 5.5% CAGR through 2025.
Welcome to the "Age of Consumerism"
In Healthcare Marketing in the Age of Consumerism, I hearkened back to the pre-internet days when so-called healthcare consumerism was rather straightforward. The choice of provider was limited. There was no way to schedule appointments online or read digital reviews.
Today, consumers not only demand better healthcare experiences, but they won't put up for inadequacy, slowness, or friction for very long. They want the latest technology, medical integrations (for healthcare information and access), and excellent digital experiences.
How are healthcare providers meeting these demands? They're launching mobile apps and online portals where patients can communicate with physicians, check results, and make appointments. They're investing in cutting-edge appointment scheduling solutions, as well as telemedicine and online triage.
Where Private Equity Must Focus Funding to Meet These New Demands
Obviously, the consumerization of healthcare has a bearing on private equity firms. With the right funding strategy, we've found that private equity can fuel the innovation needed to transform portfolio healthcare companies into modern, patient-centric brands.
1. Customer Intelligence
If you want to be a customer-centric organization, you must start by seeking a deeper understanding of your customer. The same goes for healthcare consumers. How else can we give them the value they demand from their healthcare provider?
Key Ingredient: Data
Of course, customer intelligence is an area of business intelligence with many aspects. At the core of a good customer intelligence operation is data. That data might come in the form of 1:1 direct interviews, patient feedback, and reviews. It might also be extracted from a customer relationship management (CRM) solution or a call tracking platform.
Analysis & Tools
Private equity firms can support customer intelligence by investing in the gathering and analysis of customer data. It's during analysis that your portco will uncover the optimal ways to interact with patients at given parts in their healthcare journeys. In most cases, some form of customer intelligence solution, such as SAP Analytics Cloud, Oracle, or Zeotap, will be needed.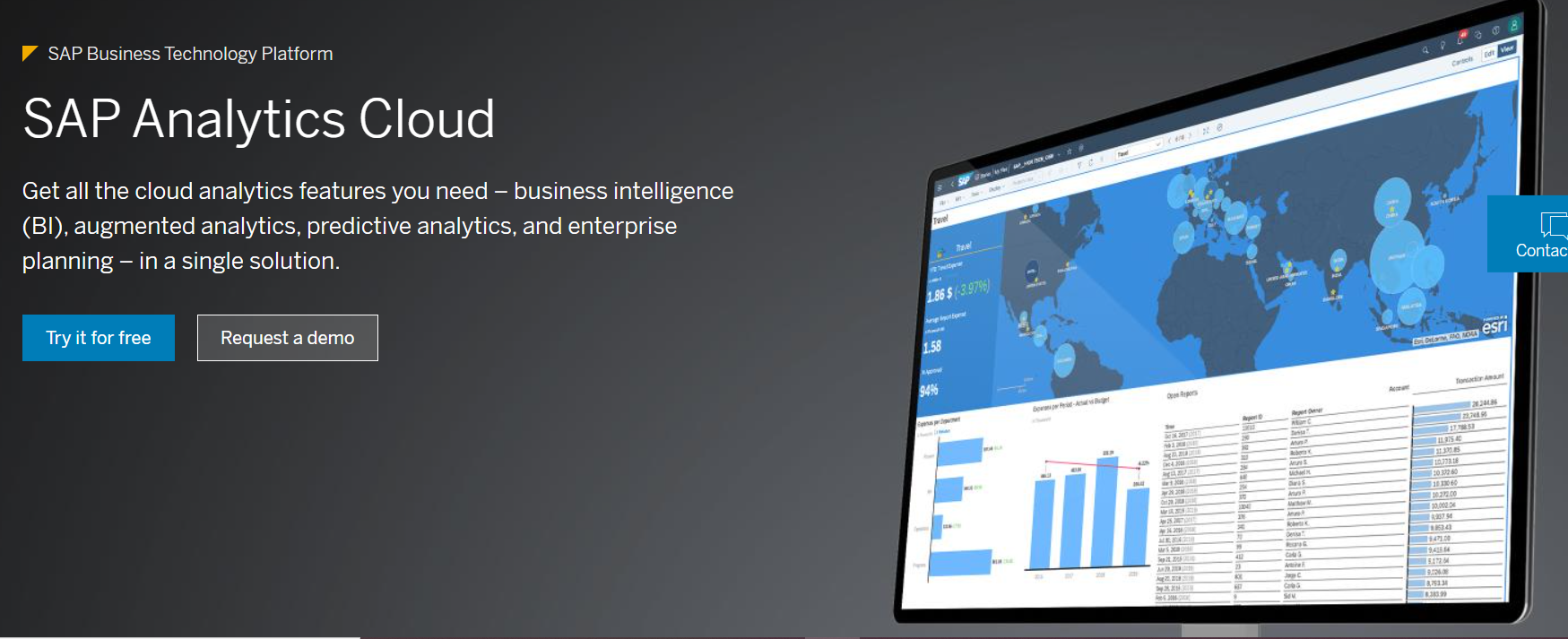 A Data-Driven Culture
It's easy to make assumptions about our customers. But when those assumptions creep into business decision making, the results will be mixed at best. Instead, make data-driven decision making part of the culture. And empower that decision making with tools that democratize how, when, and where people use customer data.
2. Brand Reputation
Ratings and reviews are now a fundamental part of the patient experience. From the very top of the patient funnel to the end, healthcare consumers are evaluating providers based on reviews (or lack thereof).
In How to Build a Thriving Digital Reputation for Your Medical Practice, we discuss our best tips for review generation and monitoring. Here's an overview of what you'll want to implement in your portfolio company:
Establish, manage, and monitor business listings/digital profiles (e.g., Google My Business)
Generate patient reviews on a regular basis
Showcase positive reviews and testimonials on your digital channels
Consider investing in a reputation management solution to automate review generation
At a high level, you want to put the foundation in place, generate a steady cadence of strong reviews, and monitor all review channels to gauge the temperature and, where necessary, respond to customer service issues.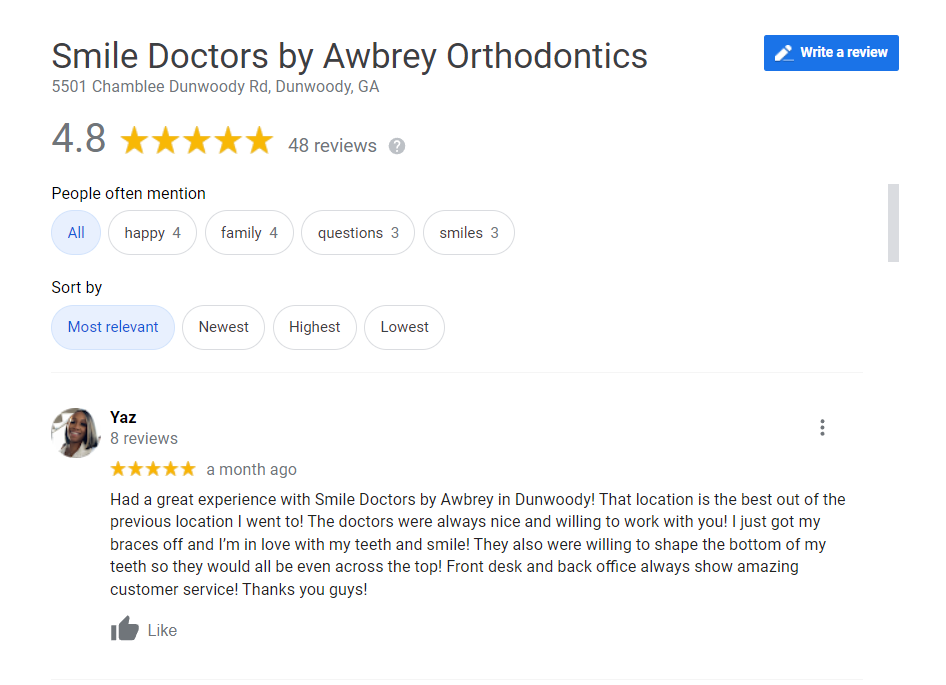 3. Unparalleled Customer Experience
Earlier, I mentioned the rising demand for apps and patient portals, two pieces that can make the patient experience more convenient and personalized. But a mobile app and/or patient portal is just one potential touchpoint.
The hallmark of superior patient experience is convenience, ease, and personalization where and when patients interact with your brand. Here are four investments that enhance the patient experience and maximize return on customer service budget:
Chatbots and Live Agent Chat
The healthcare industry has a bit of a reputation for subpar customer service. Endless phone queues. Poor customer service etiquette. Archaic processes for accomplishing rather simple tasks, such as records requests.
Millennial and Gen Z patients prefer not to call in at all. Which is where chatbots and live agent chat shine. Set up correctly, a chatbot and live agent chat can work in tandem to quickly answer common questions, guide customers to the resources they need or walk them through more complex questions.
At their very best, chatbots and live agent chat remove barriers to care and increase access for more people across more devices and digital experiences.
Online Scheduling
In 7 Ways Digital Marketing Can Improve The Patient Experience, we discuss the importance of easy online scheduling. To sum it up: convenient online scheduling increases access to a broader patient base, regardless of their demographic or technical expertise—at least it ought to!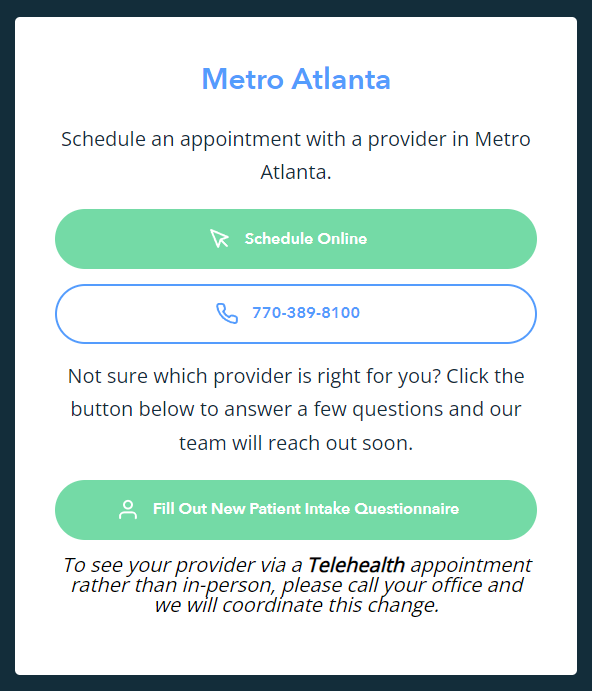 The idea is to place optimized scheduling options on your website, business listings, social media channels—anywhere that a patient might find you. Consider the following locations to add CTAs for online scheduling:
Links within your social media profiles and pages
A dedicated contact page with all methods of contact listed
Within patient portals so it's easy to schedule a follow-up visit
SMS appointment follow-up messages that direct patients to the online scheduling page
You want to make it extremely easy for patients to book the next appointment using the channels they're most comfortable with.
Telehealth Platforms
Remote access to care is more important than ever. In Telehealth Marketing Best Practices, we walk through some of the ways that healthcare organizations can not only fulfill the telehealth requirement but make it an asset for both patients and physicians.

These telehealth best practices include:
Attract and Convert Patients with Compelling Messaging
Create Educational Content to Overcome Barriers
Build Trust through Telehealth Success Stories
Promote Telehealth Through Paid Advertising
Create a Seamless Digital Experience to Increase Conversions
Share Telehealth Options with Existing Patients
Naturally, all of this will require a platform that supports your telehealth offering. From a private equity perspective, this will likely comprise the most upfront investment.
Employee Training
Beyond tools and technology, your people need to have an empathy-first mentality. Healthcare is an inherently sensitive topic, one fraught with frustration, stress, and even pain. A mature employee training program can go a long way to ensuring that customer service experiences are always empathy-first.
4. Digital Presence and Search Engine Marketing (SEM)
The last key investment should be in making sure patients know yours is the right choice for their healthcare decision. Today, providers are competing for attention in crowded marketplaces—for new patient acquisition, elective treatments, etc.—and much of that competition is happening online.
To win patients, your organization's digital presence needs to stand out. If that presence isn't strong enough, here are a few investments that can help to strengthen it:
Organic and Paid Search (Search Engine Marketing)
These are the primary acquisition channels for most healthcare providers. In terms of organic SEO, your portcos need to follow strong SEO strategies to sustain traffic over the longer term. A well-rounded SEO strategy will include:
The other aspect of search engine marketing is pay-per-click (PPC) advertising. In contrast to organic SEO, you can use PPC to generate leads in the shorter term (though PPC ought to be a longer-term strategy as well). In 6 PPC Best Practices for Attracting More Patients, we detail some PPC best practices that can be applied to any PPC channel (Google Ads, social media, etc.).
Invest in Putting the Patient First
Directing healthcare portco investments that both create value and support better patient outcomes can be a challenge. With the rapid consumerization of healthcare, I'd argue the two are far more closely intertwined. Starting with the patient experience as your north star should carry your investments a long way.
As to what those specific investments should be, we've laid out four important ones: customer intelligence, brand reputation, patient experience, and digital presence. Granted, each of these investments introduces considerable scope and complexity, I'd argue all four are must-haves for next gen healthcare portcos.