To get increased engagement and results from your website, search engine optimization is a vital activity you have to put some attention towards. However, we know that's easier said than done.
Some may argue that your SEO Company skills or instinct is more important than using tools or paying money for them, but they can provide a lot of value.
Some SEO managers are great because they understand and use the right tools. But with hundreds of tools available, it might be difficult to pick the right ones.
In this post, we'll cover the 6 SEO tools that you can start using today. But before we go into details, you should understand that there are many facets of SEO.
Having a high performance in all these areas will give you a better chance than mastering just one single aspect of digital marketing.
Some important aspects of SEO you should consider improving are:
Keyword Research: this is probably the most important focus of SEO. Having great content for readers is good but without the right keywords to get you to the top of the search engines, no one may be able to find it.
Fortunately there's a way you can produce great content for your readers while still incorporating your keywords into it.
But what keywords are you going to target? How do you know what search terms your potential customers are using in search engines? Keyword research tools will help you to find these out.
Backlinks research: links from other websites to your website is a sign of trust and helps boost your reputation. It's one of the most important ranking factors. In fact, Google's Andrey Lipattsev claimed that backlinks, content, and Rankbrain are the 3 most important ranking signals.
Likewise, according to a study done by Ahrefs when they analyzed the performance of close to 1 billion pages, they found a strong correlation between the number of referring domains and the site's organic search traffic.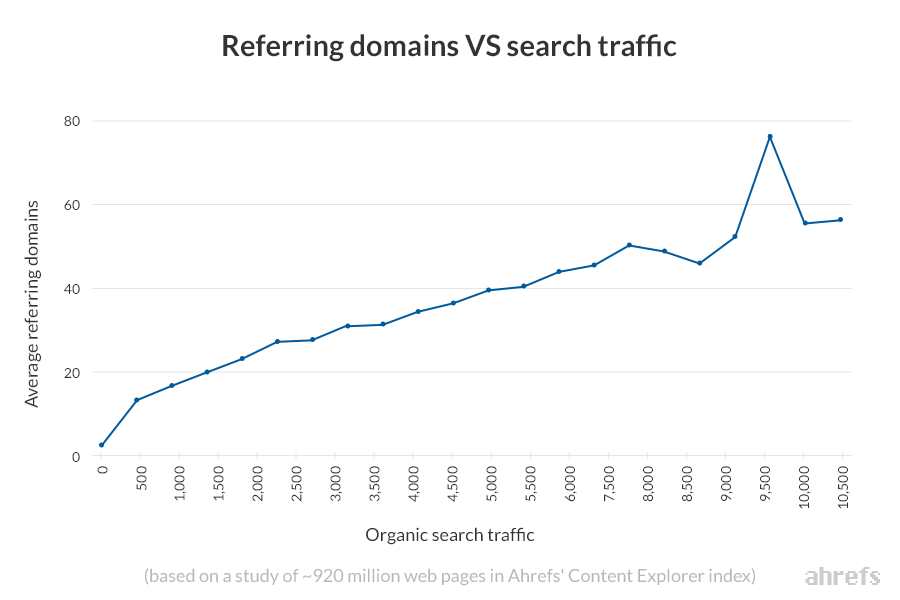 There are many other reasons to use backlinks research tools as well.
They help you to see your link profile, the number of backlinks and referring domains. You can see your content with the highest number of backlinks and those that need more. You also get link building opportunities.
Competitor analysis: it's important to monitor what your competitors are doing. You can gain more knowledge about your website when you see the keywords your competitors are using and where they're getting backlinks.
Search performance: when you implement changes on your website, you can quickly see the effects of these changes in your search rankings. You can also see the positions of your content and get an idea of what you can improve upon.
Mobile performance: with users shifting to mobile devices to access the internet, they are becoming more important to SEO than desktop.
This was further reflected in Google's move to mobile-first indexing where pages viewed from a mobile device are first and foremost in the rankings. Having tools that can help you improve mobile performance will make your SEO more productive thus leading to a better ROI.
Speed performance: users bounce when a website takes too long to load, which negatively impacts your SEO performance. Digital marketing tools can quickly help you figure out your page speed and fix problems on your website.
Here are the main SEO tools that will help you to improve the important aspects of your website:
This is a tool that helps website owners improve their SEO through metrics like backlinks profile, organic search, and other features.
To check your general backlinks profile, enter your domain name in Ahrefs Site Explorer and click on "Backlinks profile" in the overview.
This will give you access to information like the number of backlinks from other websites, referring domains, URL rating, and domain rating.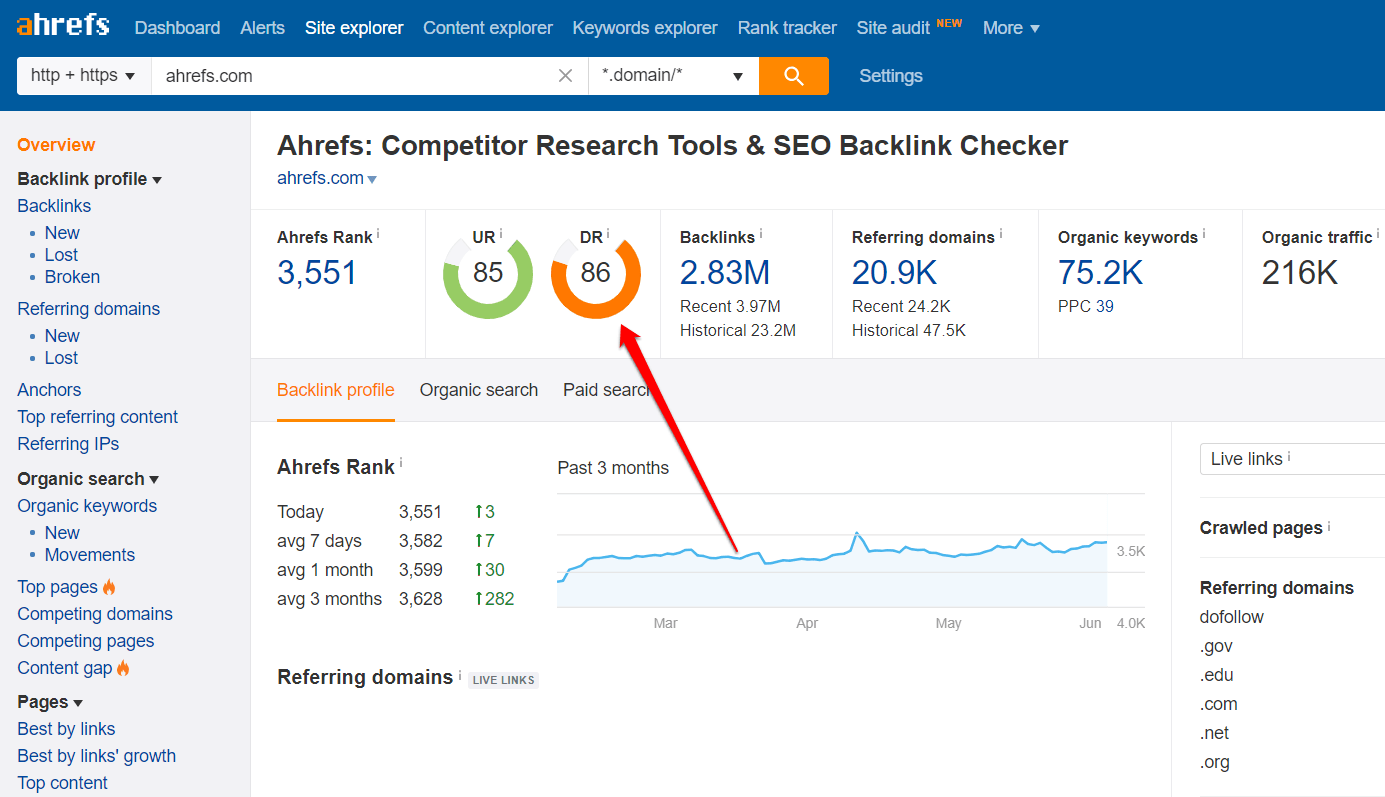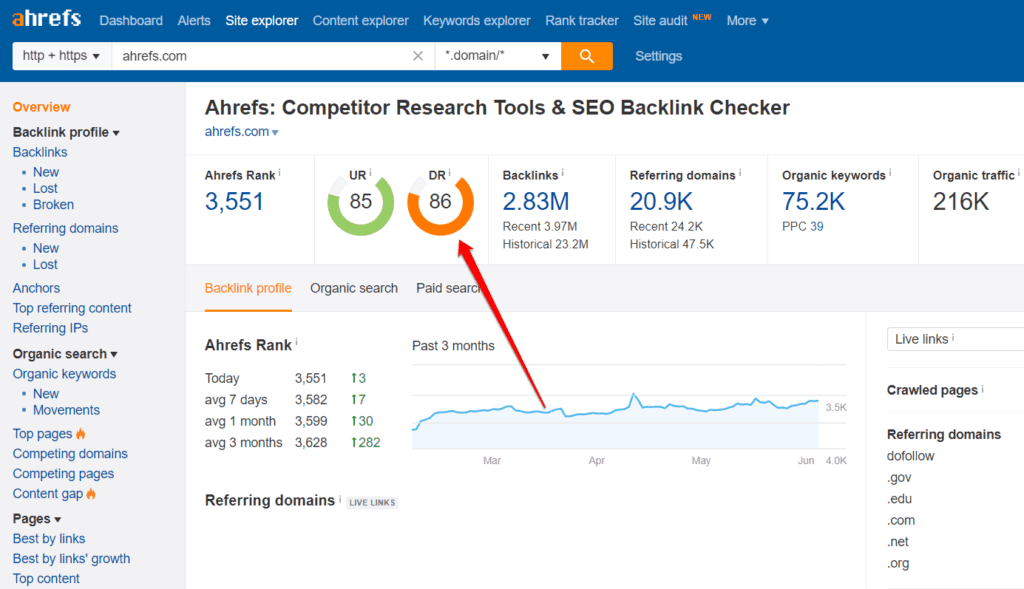 The domain rating shows the authority that a website has on the internet based on backlinks while the URL rating shows the authority of a particular page based on backlinks,coupled with some authority from its domain.
In most cases, a backlink from a page with a high UR will pass more authority than one with a low UR.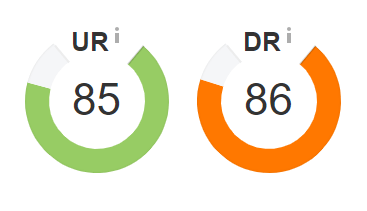 Apart from having your backlinks overview, you can also get other details about them, such as:
• Backlinks growth– which shows your progress in acquiring new links over a certain period of time.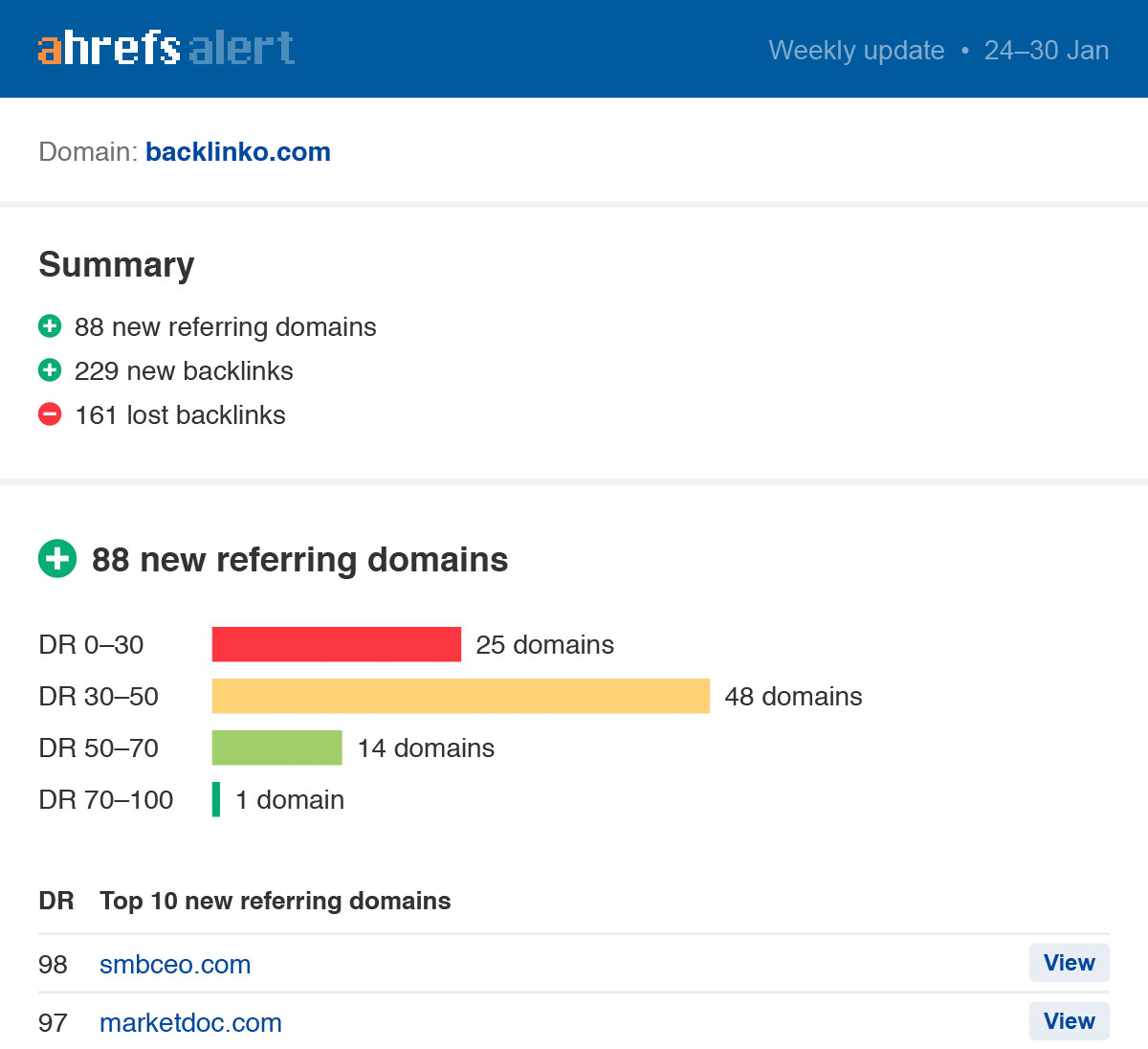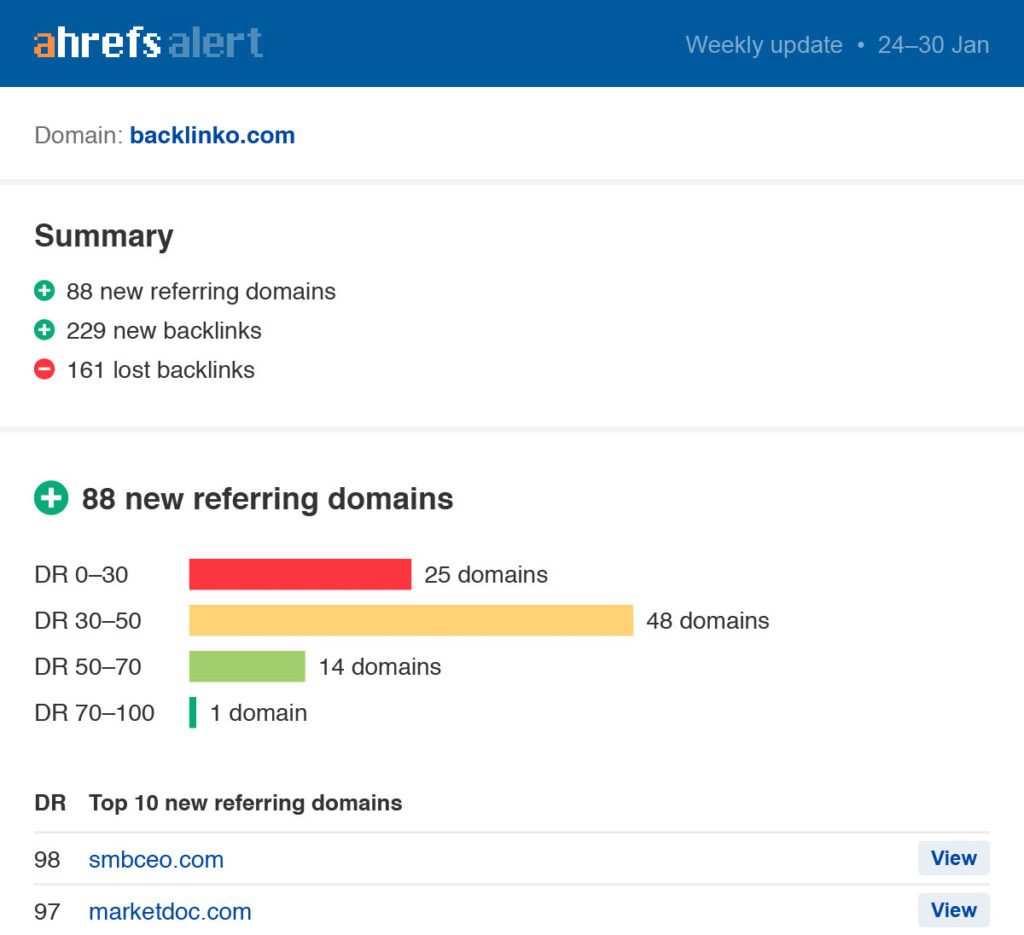 • Do-follow and no-follow links
• Inbound and outbound links
• Referring domains
• Broken backlinks
• Backlinks anchor text
• Filter and sort backlinks
• Link intersects- which shows a website linking to many other websites in the same niche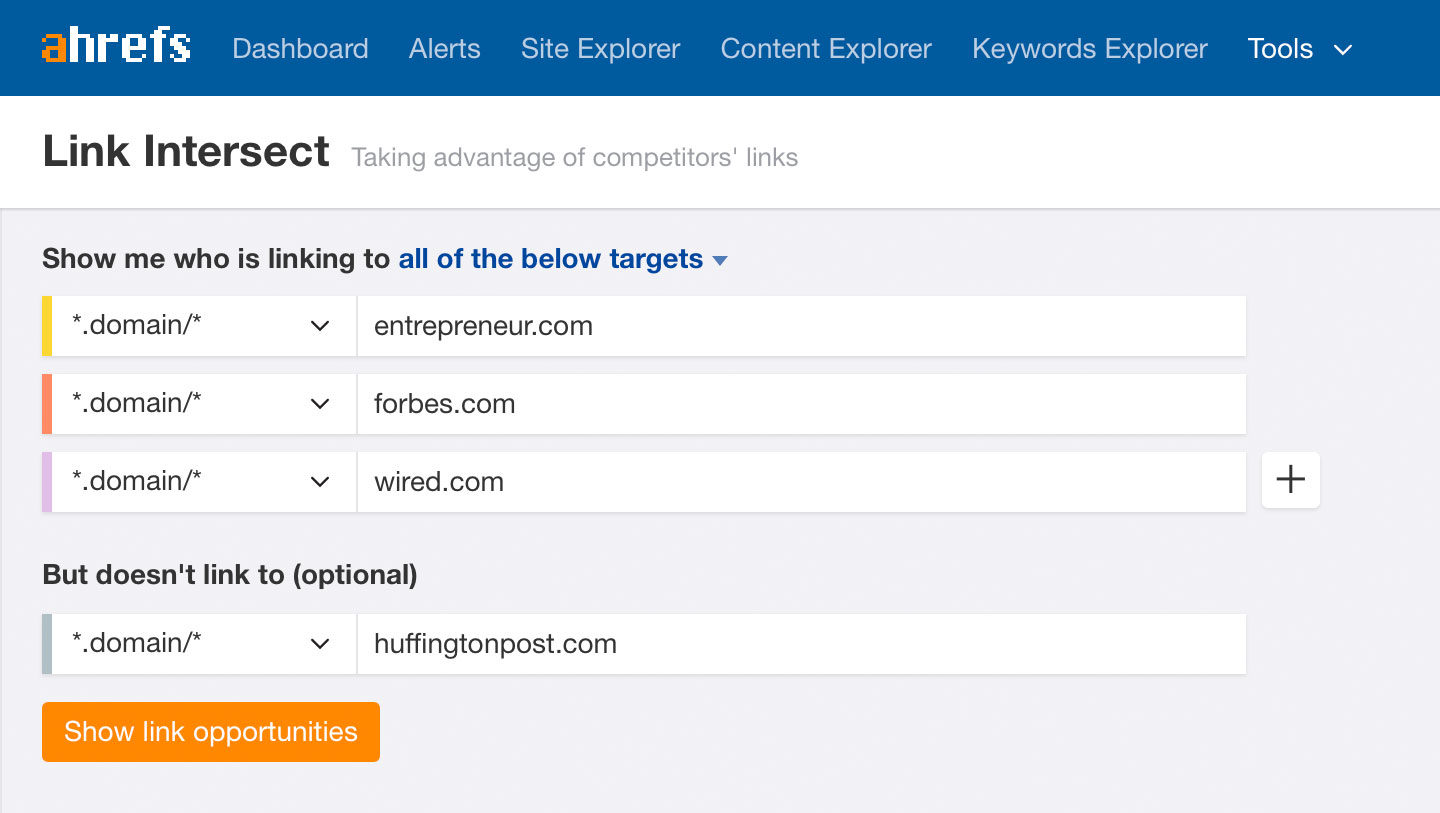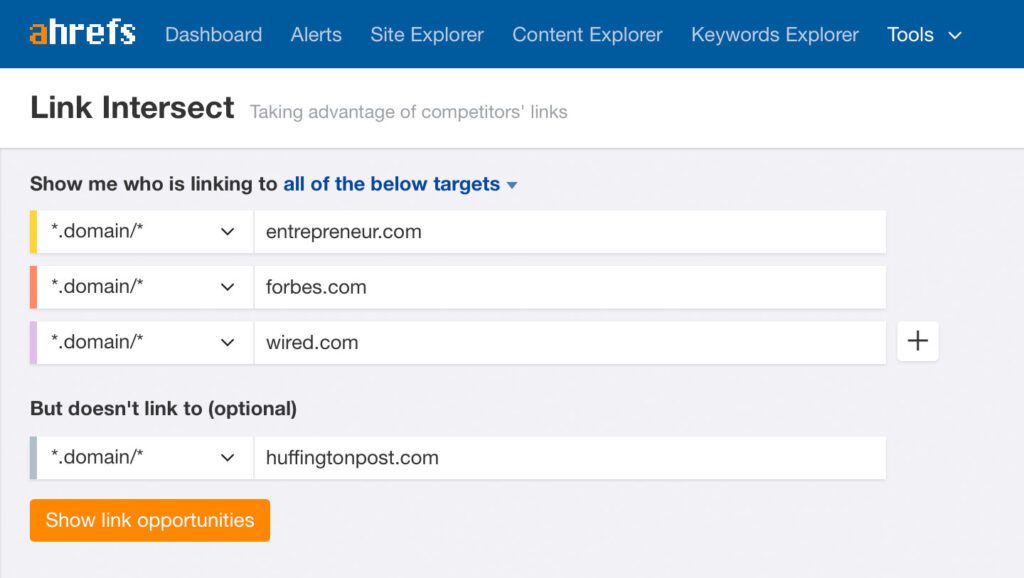 • Best by links– which show pages with the best link profiles on a website.
You can also export all these data in form of a PDF file or CSV. To get more information about your competitor, simply enter their domain name to check their link profile.
You can also set up alerts for backlinks opportunities which can be sent to your email address.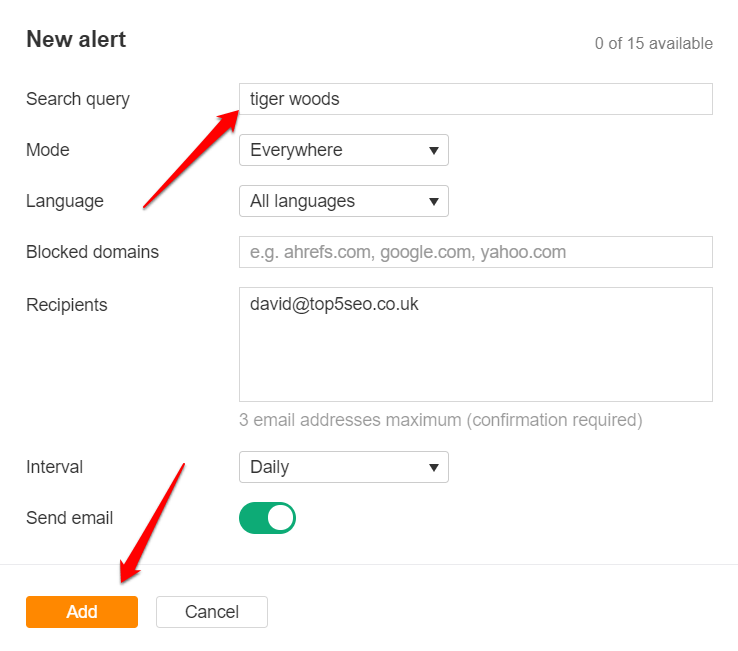 This is one of the most popular SEO tools in the market today because it's great for conducting SEO analysis to rank higher. Your competitors are essentially websites that target the same keywords that you do and so it is advantageous to know what those websites are and how you can get ahead of them.
If you don't know your competitors, login to your SEMrush dashboard. Select "Organic Research" and click on "Competitors" to see websites that rank for similar keywords that you use.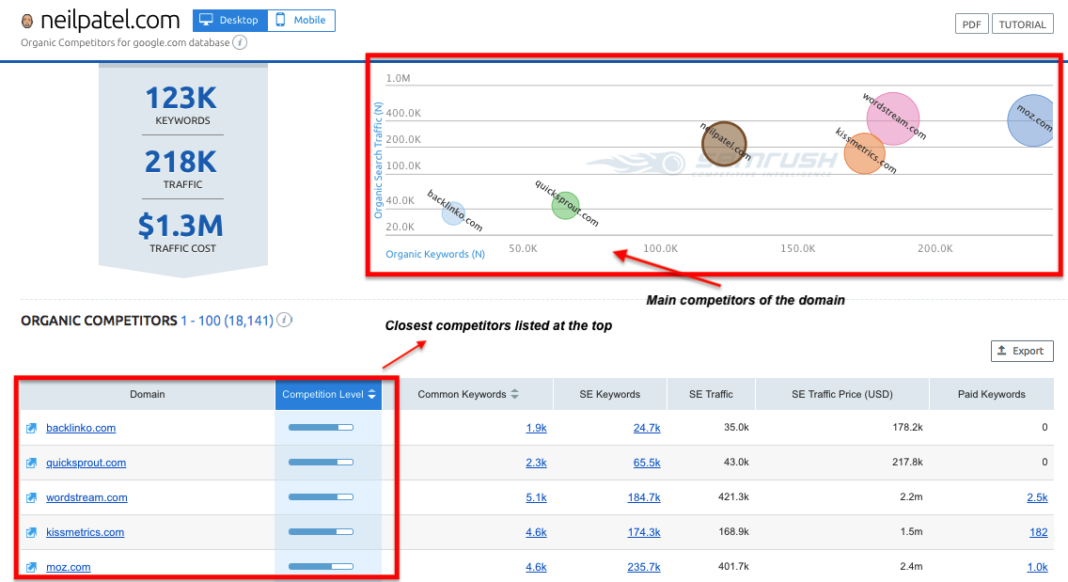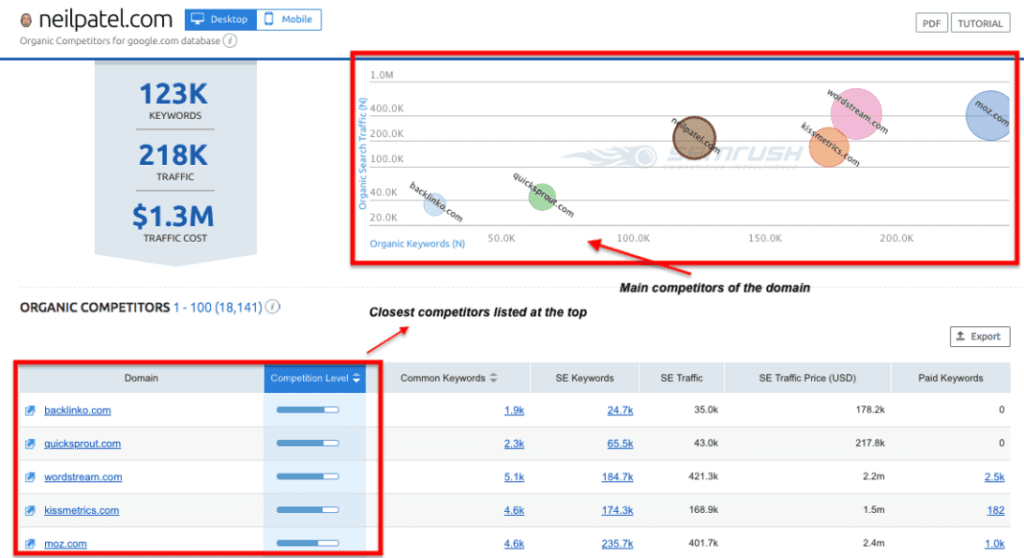 You can get a lot of information about your competitors' organic and paid search traffic when you enter their domain name for a domain overview search.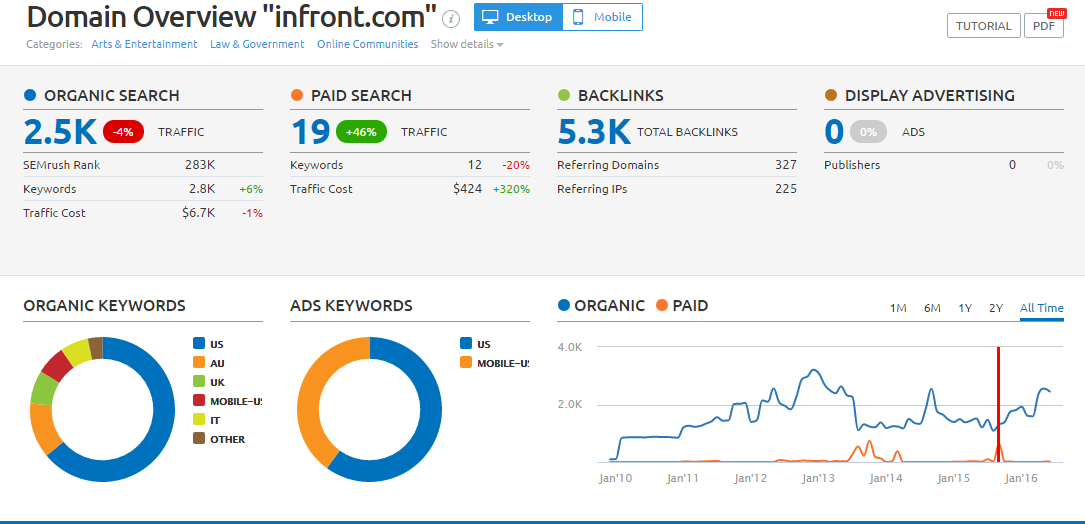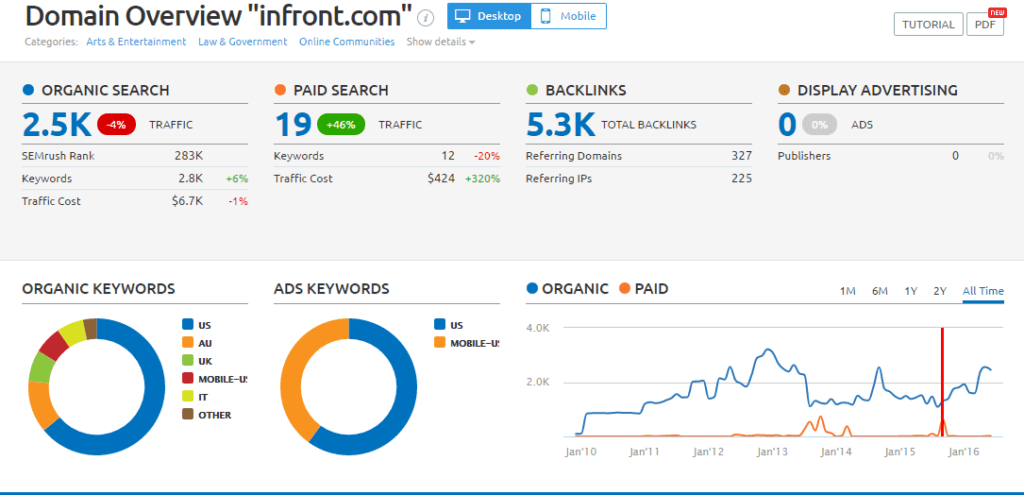 This includes their top organic keywords and the organic position distribution:


One beneficial stat you can also get is the percentage of their branded search compared to non-branded search. It's much more difficult to compete with a branded search than the non-branded terms.


This tool also allows you to see the traffic they get through paid search, including their top keywords in Adwords, their position, CPC, and the volume they've received.


Another area that SEMrush helps you with in competitor analysis is through their backlinks profile. For your competitors' domain, you can receive information about their:
Total number of links
Number of referring domains
Number of follow and no-follow links
Number of external and internal links
A list of backlinks from a particular domain
Anchor text of each link
You can find these pieces of information about your domain a well,but it's an advantage to have access to your competitor's. You can also use the backlinks comparison tool to compare backlinks, referring domains, and other details of their websites and how it performs to yours.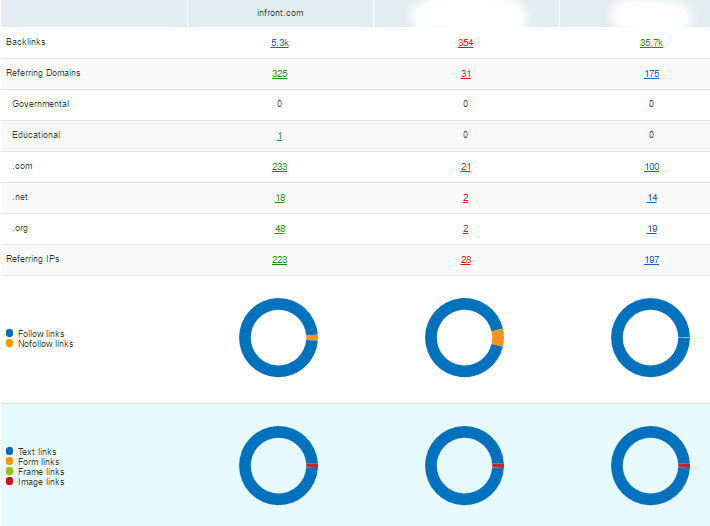 You can also create projects that will help you to track backlinks to your website, your your rankings compared to your competitors, your website's overall health, and other metrics.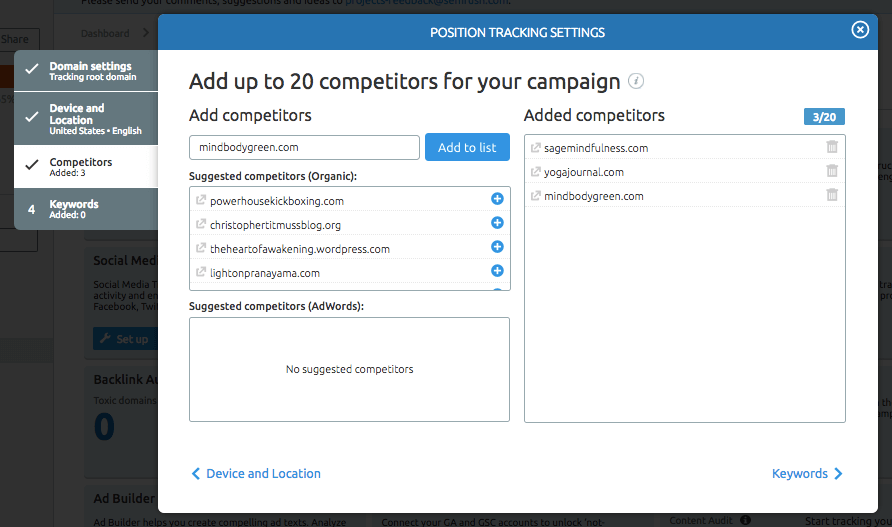 This tool helps you to monitor and maintain your site's presence in Google Search results and it allows you to check the number of your web pages indexed by Google.
You can also see if there are crawl errors preventing Google from accessing some pages on your website.
Along with these great features, you can see the search terms that your website is currently ranking for and your position in the results. You are also able to view the number of impressions, clicks, and click-through rate.
These details give you insight on your best and worst performing content and how much traffic is coming to your website through Google.
Plus, you can use filters like type of devices their searching with, where they're located, and other demographics of users coming to your website.
To check the search terms your website ranks for, navigate to your Google Console dashboard. Click on the dropdown on the search traffic option and click on "Search Analytics".


This brings you to the search terms and the different filters you can use.


One important thing to check out is the CTR- the number of clicks compared to the impressions.
If you have a good position but a low CTR, it could be that your headline and meta description are not enticing enough to attract visitors.
To check for crawl stats and errors, navigate to Crawl on your dashboard and click on the dropdown menu.
You can check the number of pages that have been indexed through the crawl stats. You can also check the pages Google is unable to crawl in the crawl errors.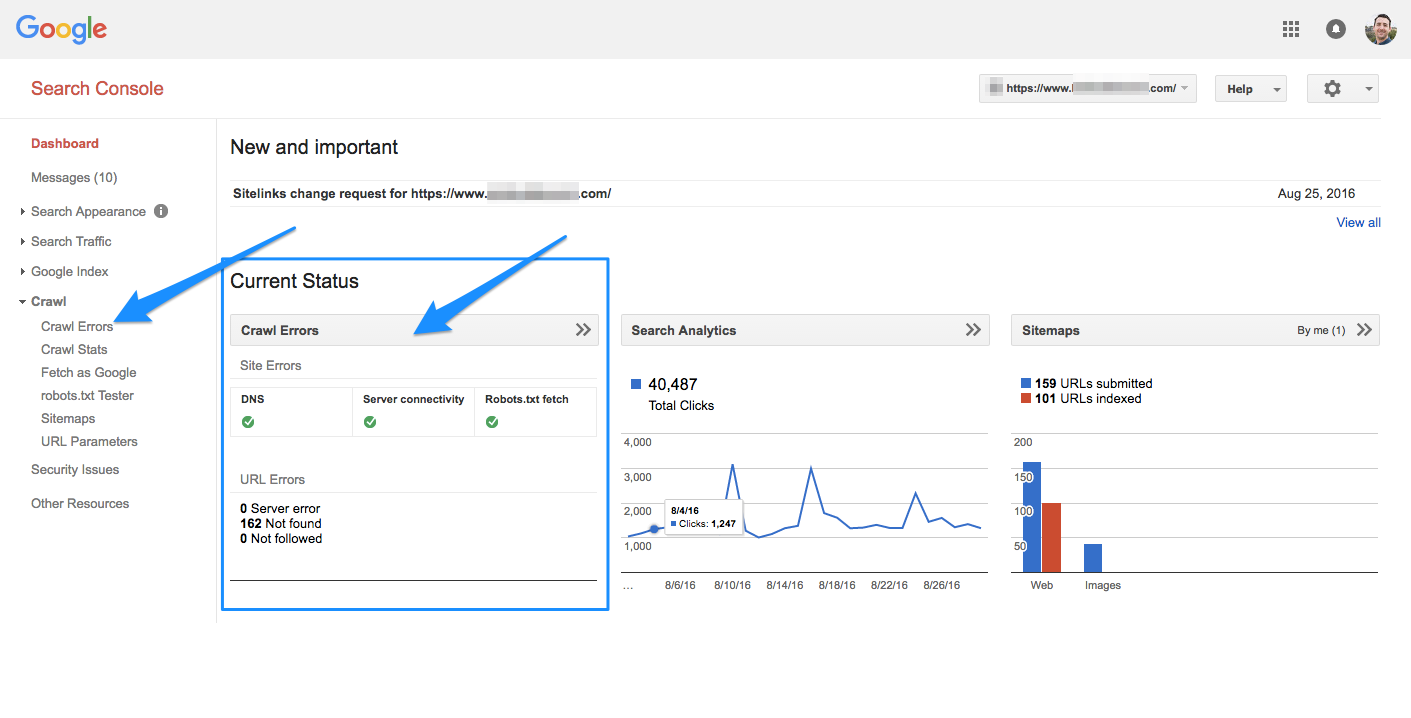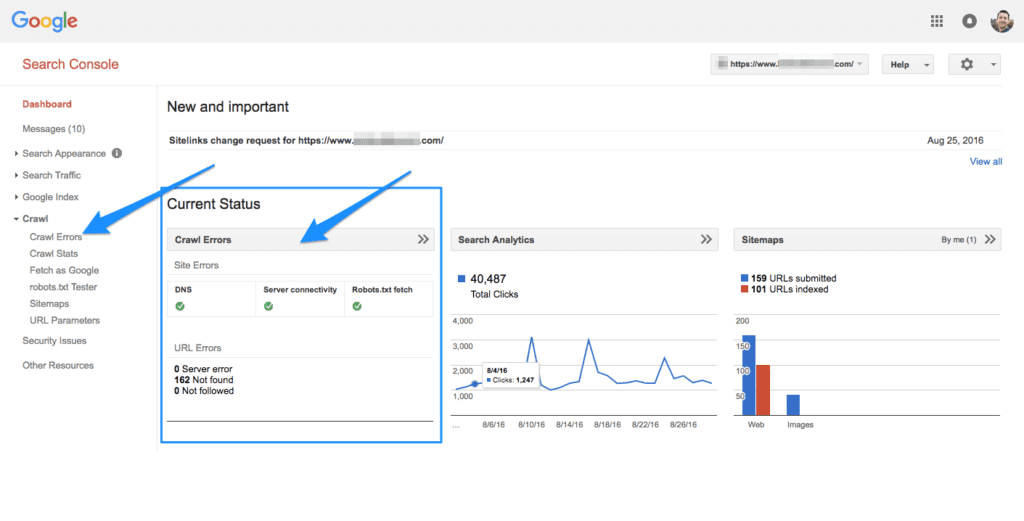 This was a simple tool that used Google's autocomplete to give suggestions about a broad term.
Fortunately, the tool has improved since being acquired by Neil Patel. Now, the tool offers keyword suggestions, CPC, search volume, and more.
With the tough competition for broad terms, it's usually a waste of time and resources to go after those terms. Added to that, the terms usually don't indicate user intent/motivation.
That's why targeting long-tail keywords that show the intent you're after is a far better SEO strategy for your business. You may have a lower traffic but it's easier to rank and this tool helps you to find those keywords.
To use it, visit the page and select the country you want to target.

After doing this, type in the target general keyword and click on "Search". This will generate keyword suggestions for this term. You will be able to see the keyword difficulty for each term, the search volume, and other details.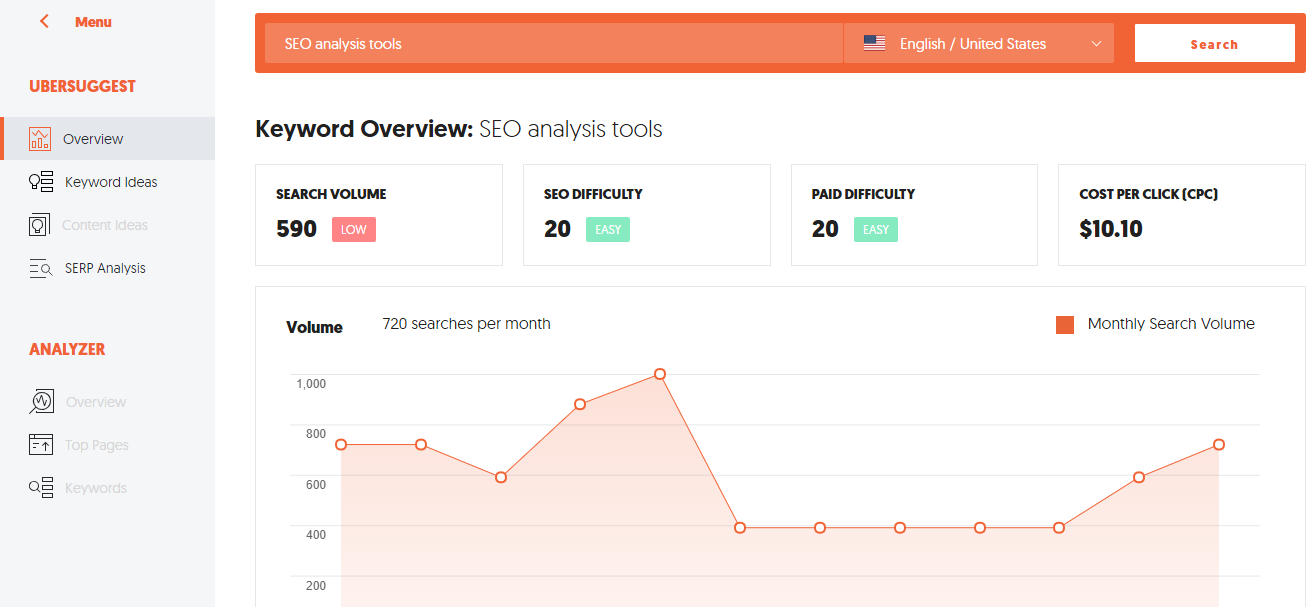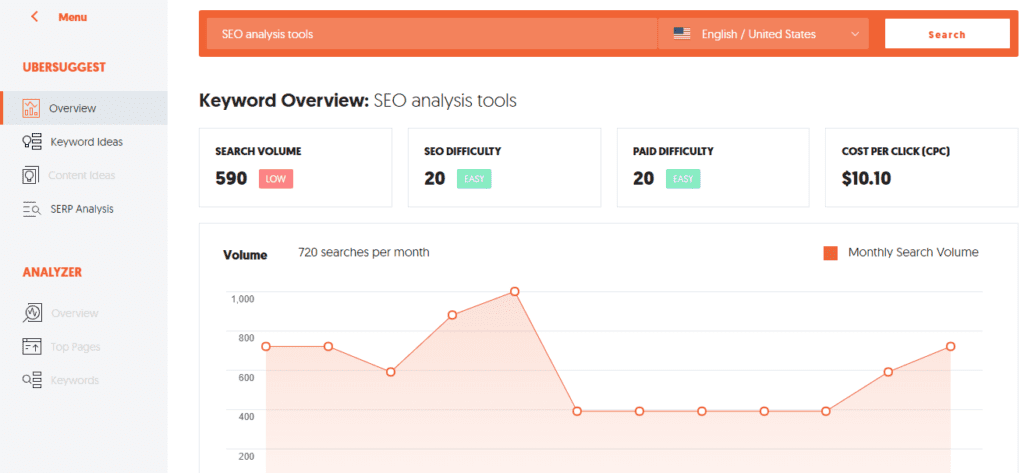 Usually, you want to target the long-tail keywords that have the intent you want, a low difficulty, and a high search volume. If you click on "Keyword Ideas", you'll see long-tail varieties of the keywords related to your business. You'll also see the current page ranking for the keywords.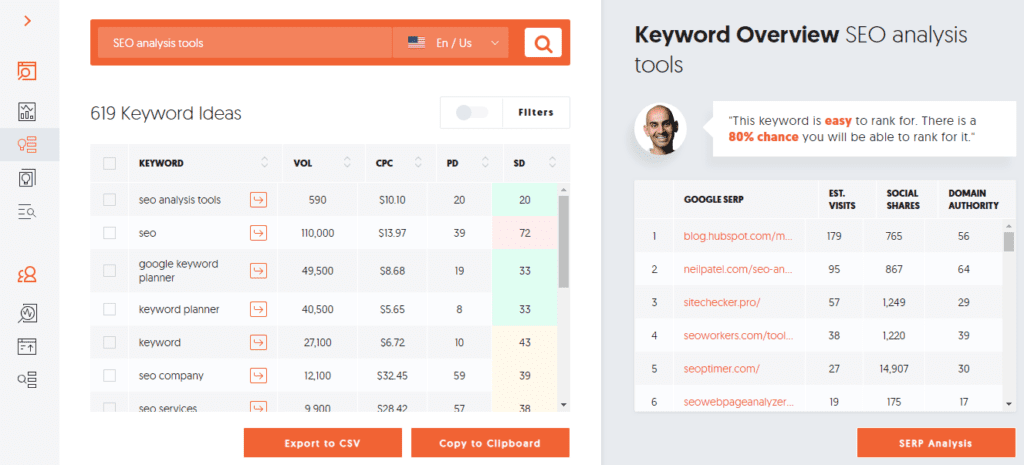 If you want to engage in pay-per-click (PPC) campaigns, the cost-per-click (CPC) gives you a good idea of how much you'll need to bid. You can also add filters to the keyword suggestions. These include:
Search Volume
Estimated Clicks
Paid Difficulty
Cost Per Click (CPC)
SEO Difficulty
Include Keywords
Exclude Keywords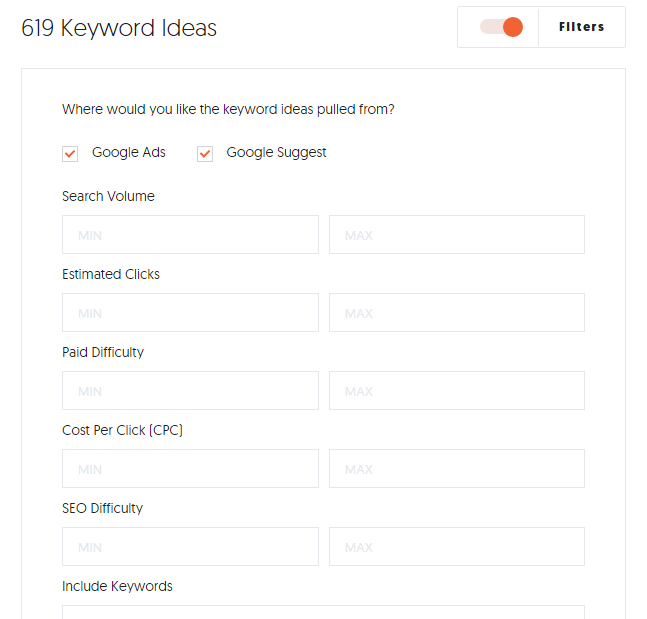 After adding these filters, click on "Apply" to see new keyword ideas based on the suggestions.
If you want to view this data offline, you can export it as a CSV or copy to a clipboard. The biggest benefit with Ubersuggest though is that you can get all of these insights free of charge.
This is one of the most popular tools for checking your website speed and performance and it's one of the best you'll find on the market. If you run a small or personal website, then the free account is enough to get the information you need. But if you have a large website, you may want to opt for the paid version.
To use the free version of this tool, navigate to the Pingdom page and click on "Tools."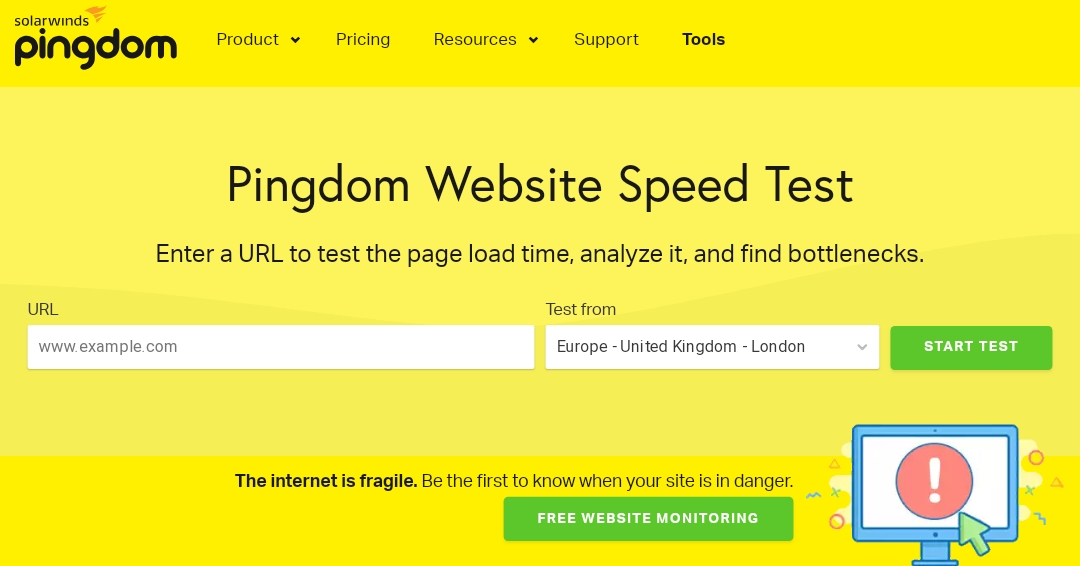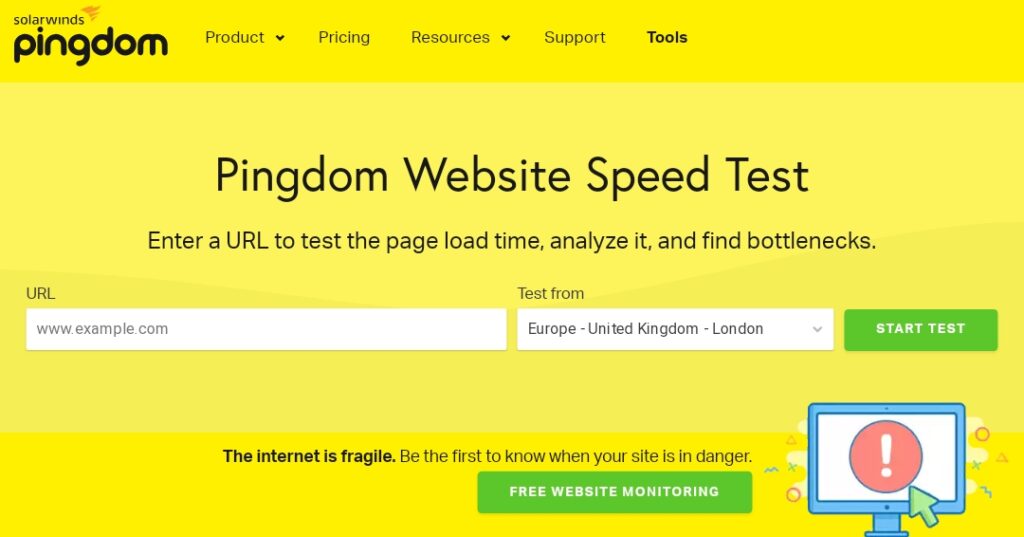 On the page, you'll enter your website address and select the location of your server. Locations include:
Tokyo
Frankfurt
London
Washington DC
San Francisco
Sydney
São Paulo


You should select the location where the majority of your audience is and click on the "Start Test" button. This will let you know how fast users are able to view your site.
This test shows the results of your performance score, load time, page size, number of requests, the location where your test was performed, and how your website compares speed-wise to the others.
Many times, how fast your website is performing at a particular location is affected by how far the location is from your website hosting server.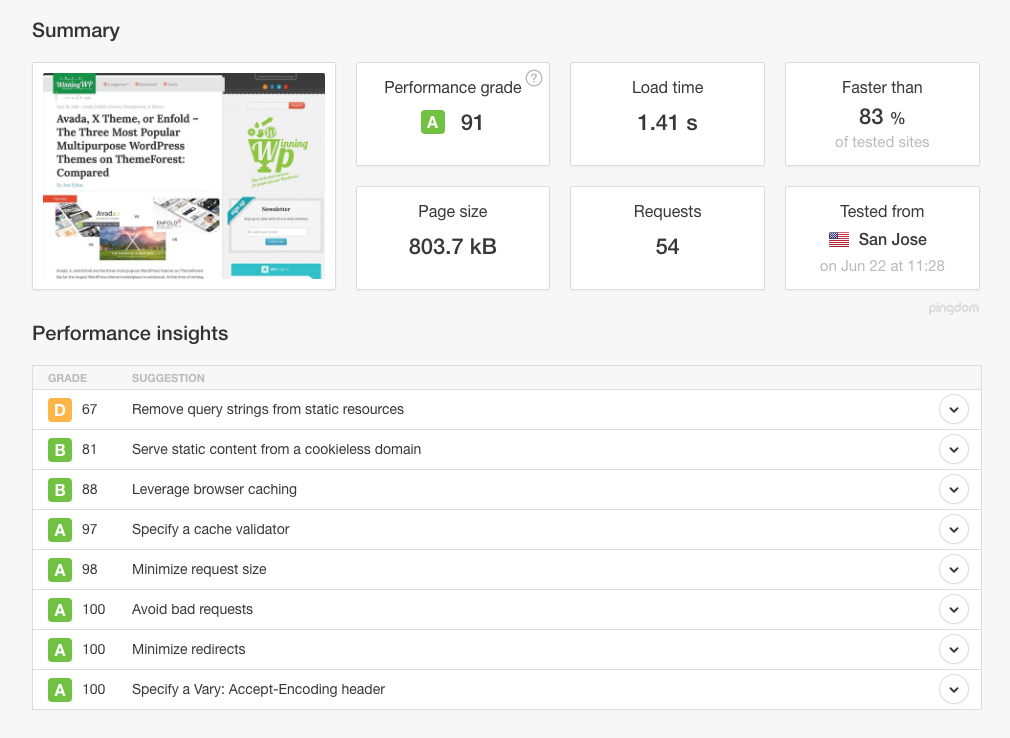 There are other details underneath these values where you can see the breakdown of your website performance. For areas with low performance, you can receive tips on how to correct those issues.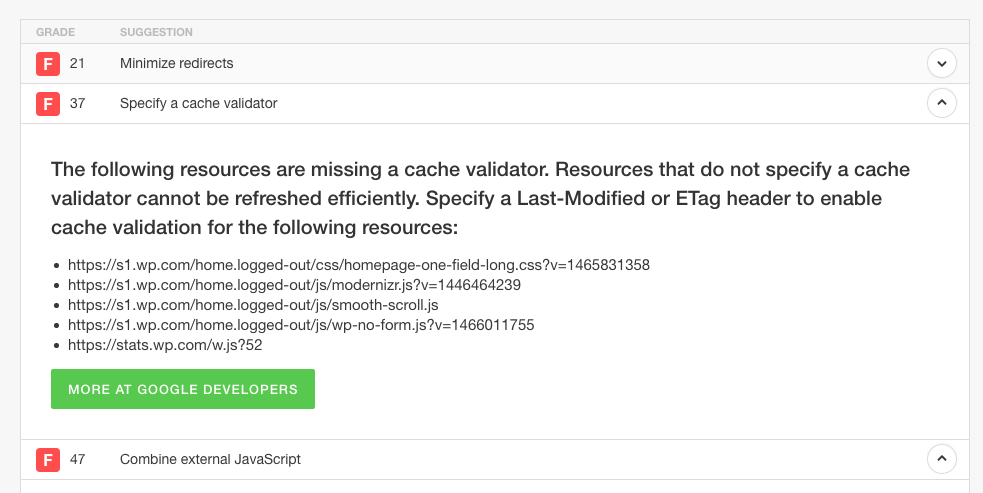 This can all serve as a checklist for your website and after you go through and fix all of the areas, perform another check to make sure you've caught them all.
There are three tiers to a paid account. The basic account costs $14.95 per month, the advanced account is $89.95 a month, and it's $249 a month for a professional account.
For the paid accounts, you get more features like uptime monitoring, page speed reports, real user monitoring, alerts, and a mobile app that allows you to track your website performance from your smartphone.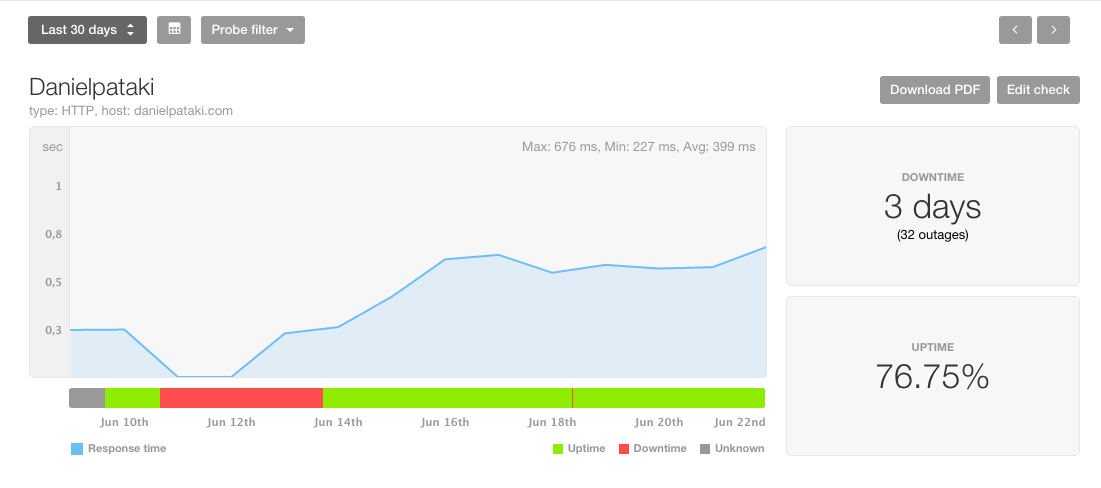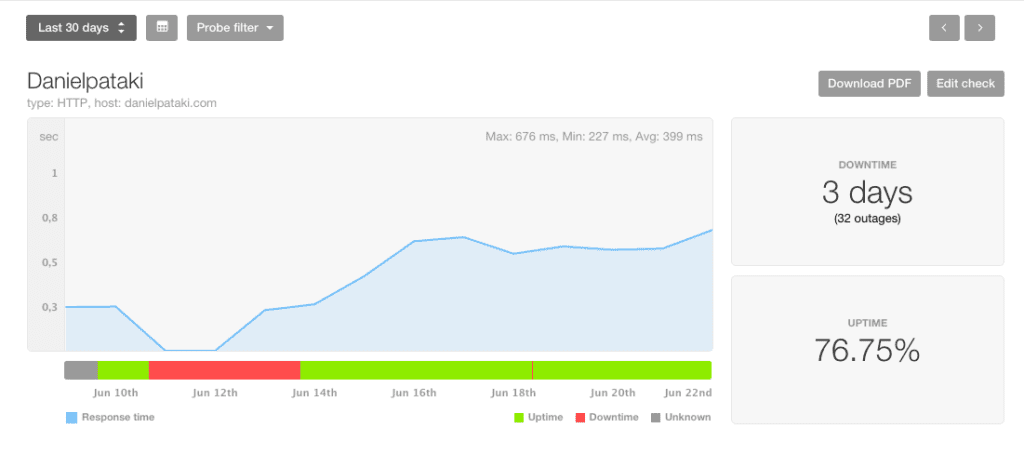 This tool allows you to check how mobile-friendly your website is. It determines how well users can navigate around your website and how easily your website adapts to what they see on their phone.
With a mobile-friendly website, it becomes eligible for mobile-first indexing and it reduces the bounce rate from visitors coming to your site.
To use this tool, visit the Google Mobile-Friendly Test page.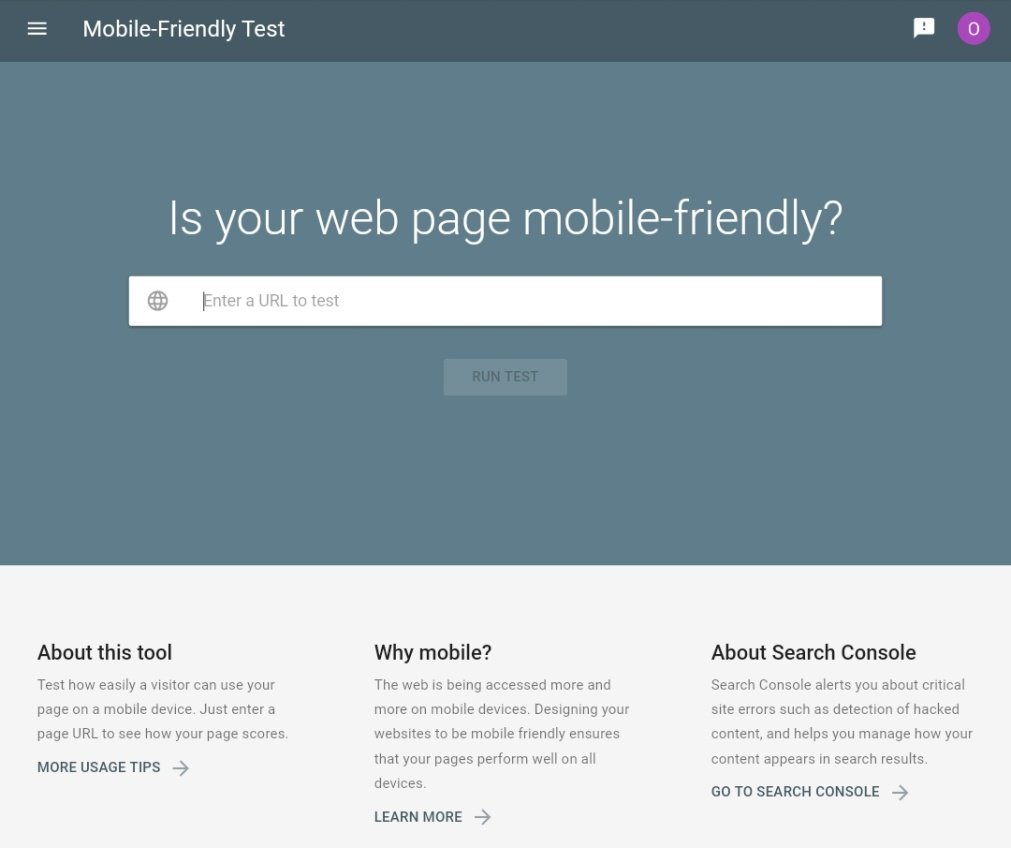 Enter your website address and then click on the "Run Test" button.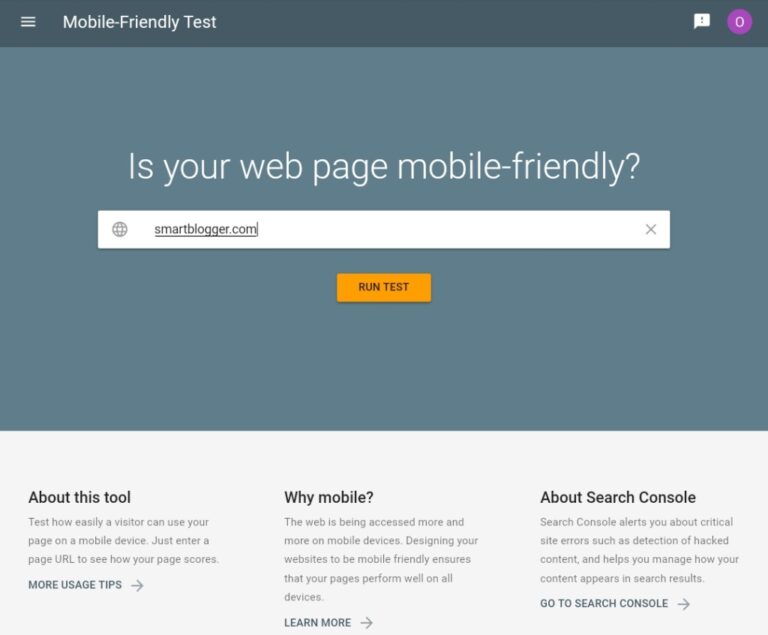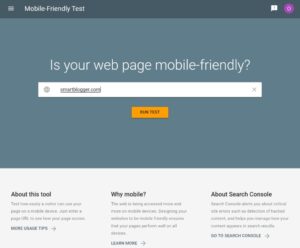 After running the test, you'll see whether your page is mobile-friendly or not.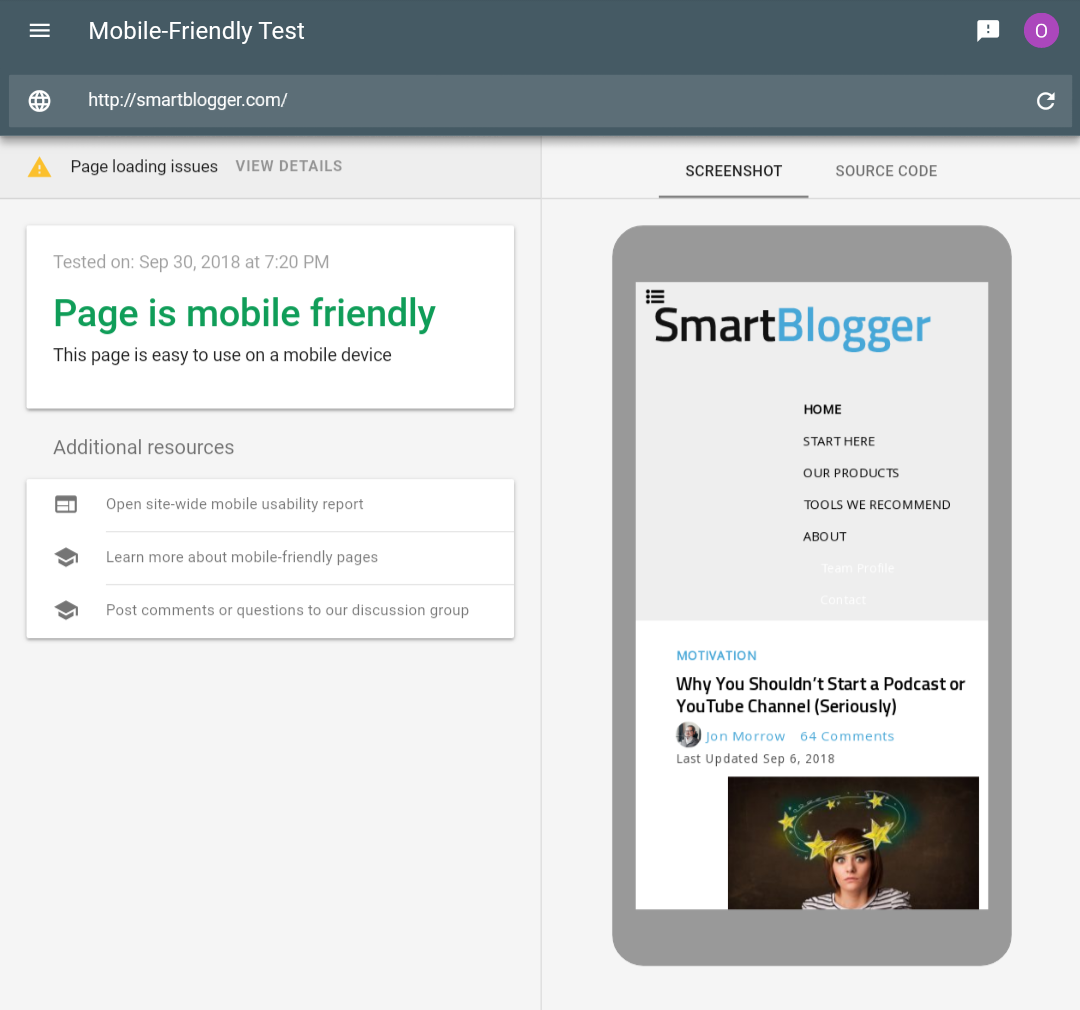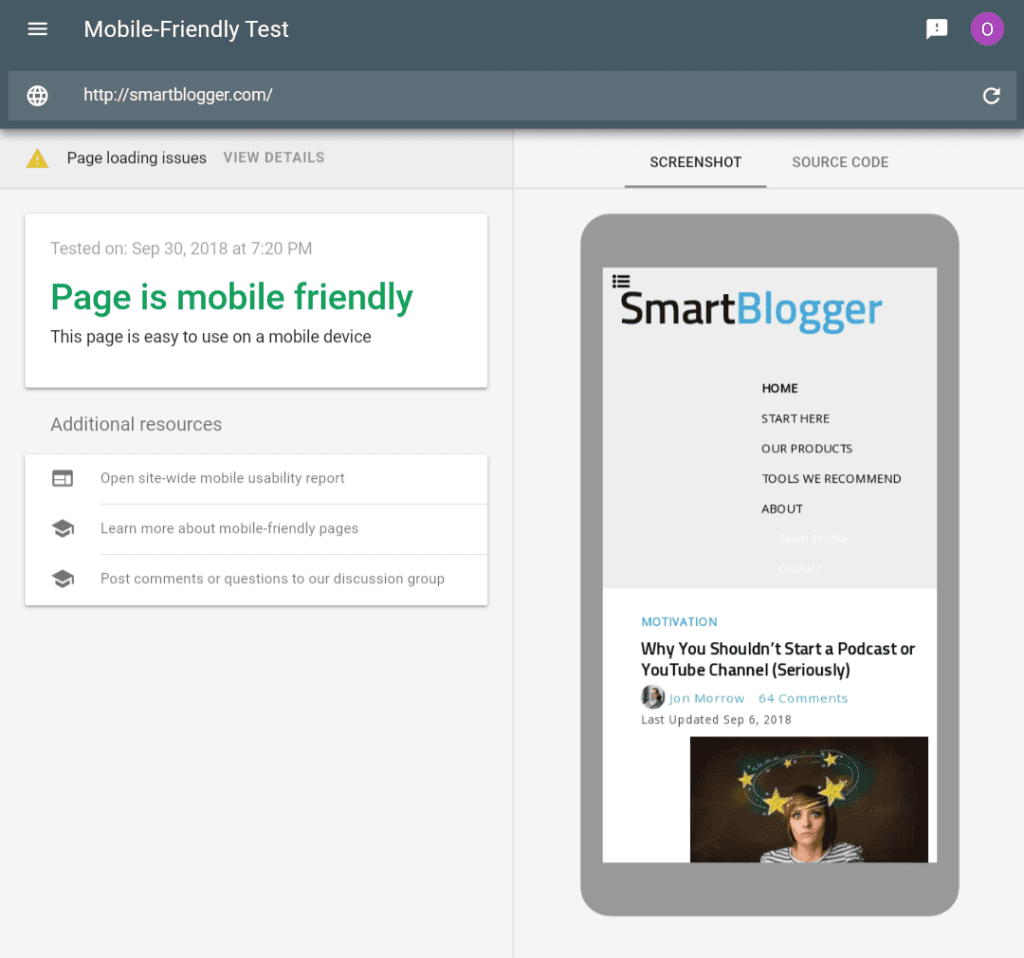 On the page, there are also other tips and options you can explore. If there are page loading issues, you'll see it at the top with a link to view the details. When you click on "View Details," you'll find out more about the issues on the page that should be corrected.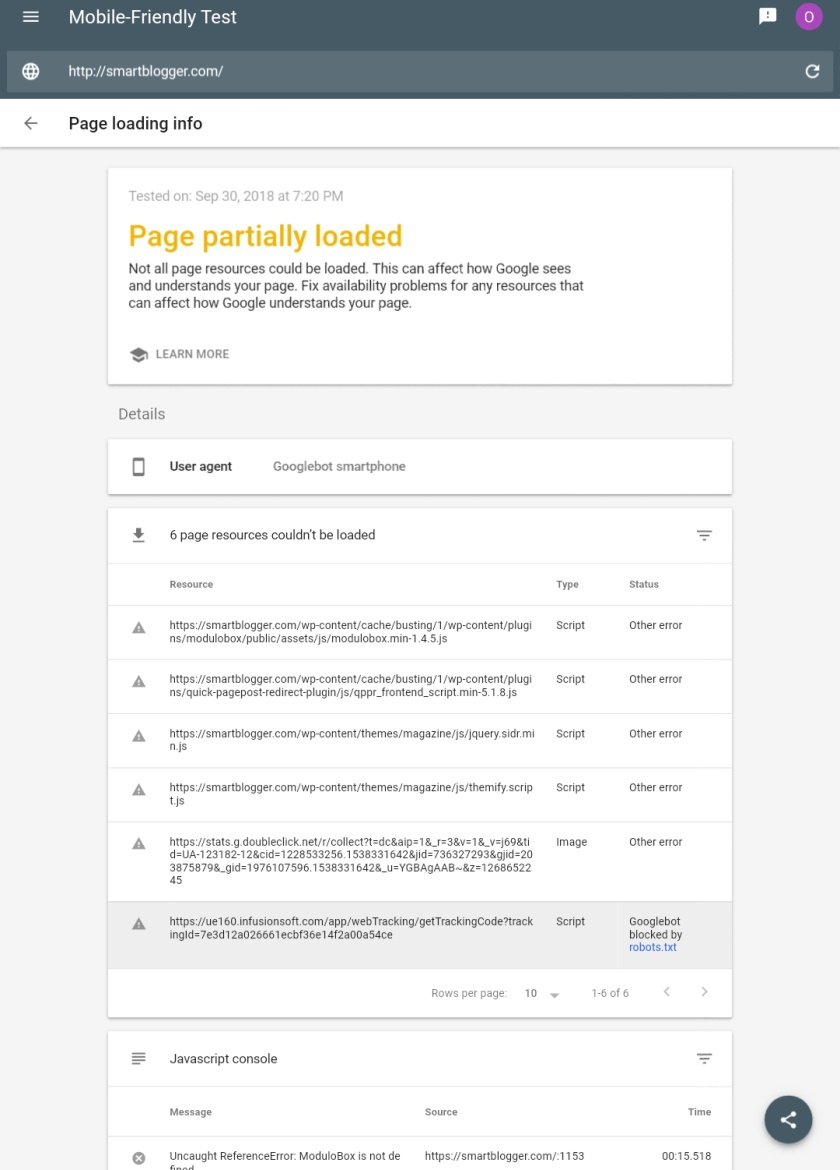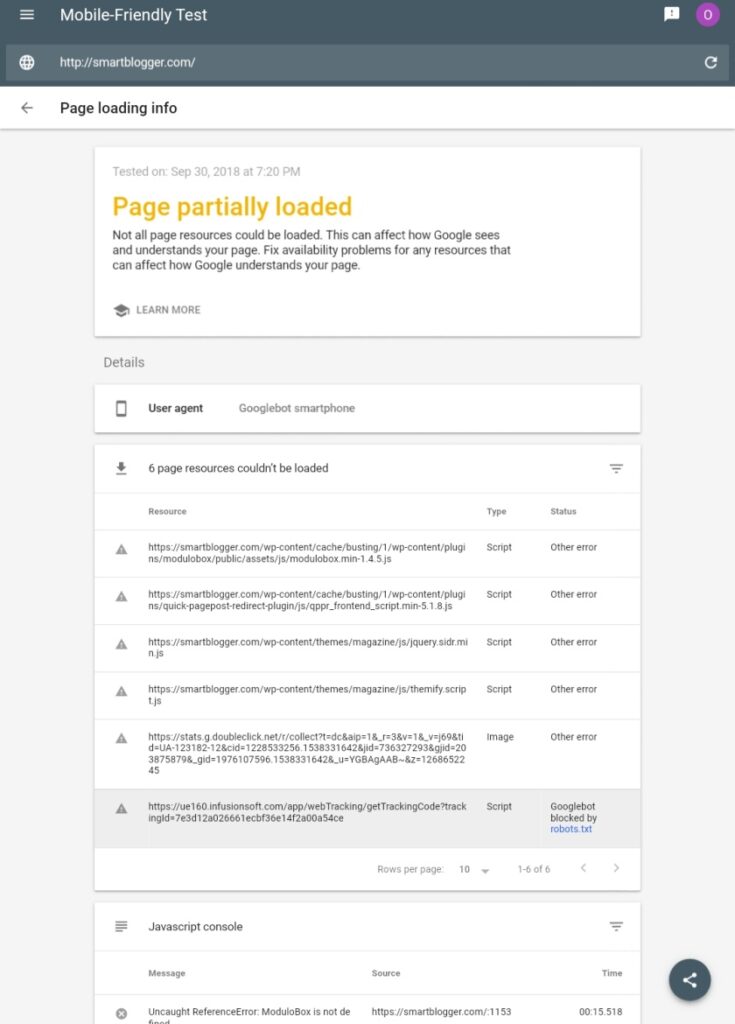 There are also additional resources on the mobile-friendly results page. When you click on "Open site-wide mobile usability report," you are led to the Google Console dashboard for your website.
There are other links to learn more about mobile-friendly pages and you can find out about more of its features in the discussion group.
Conclusion
Due to regular changes in search engine algorithms and user behavior, it's important to track all aspects of your SEO regularly.
These tools can help you track your SEO activities and allow you to make necessary improvements to lead to more ROI.