Uncertainty seems to be the word du jour for 2020. People are uncertain if it's safe to travel, go out to restaurants, or send their children back to the classroom. This is especially true within the healthcare space, where consumers are continuing to defer treatment out of an abundance of perceived caution.
In the past, healthcare facilities and medical procedures were almost synonymous with safety. And while physicians and medical staff are still doing all they can to ensure patient safety, perceptions have changed. People are concerned that coming to a healthcare facility will expose them to COVID-19.
Here's Leslie Gibbs, CMO of Modern Vascular, in a recent round table with Cardinal Digital Marketing:
"Our consumer is a lot more nervous. We tend to target seniors over 60. And they have a lot of concerns about their condition, and so they need a lot more reassurances."
This uncertainty must be addressed if we expect to get patients back on track in terms of regular care, special treatments, and surgeries. To get there, healthcare organizations need to develop marketing strategies to build trust with healthcare consumers and the communities they serve. As patients continue to look for answers and reassurance, healthcare providers have an opportunity to provide authoritative information—to build a reputation of reliability, trust, and expertise.
Here are six strategies to do just that.
1. Create Content to Answer New Questions
Think about why patients typically call their healthcare provider. To check on symptoms, make or reschedule appointments, and follow up on test results, right? Maybe a question about billing. Today, however, patients are calling in with concern about cleanliness and COVID-19 prevention protocols. They want to know every step their healthcare organization is taking to prevent the spread of diseases and protect them from COVID.
This demand for answers and information begs for timely, accurate content. To that end, healthcare marketers ought to be proactive. Don't let healthcare consumers speculate as to what your practice is doing in response to COVID-19. Make information about cleanliness and safety procedures easily accessible across your website, social media, and even display ad campaigns.
For example:
Nurture patients already in your marketing pipeline with content that answers questions about safety, COVID-19 precautions, and guidelines.
Send email newsletters on a biweekly or monthly basis that detail current operations, including updated procedures and guidelines for in-person visits.
Publish comprehensive blog posts answering new patient questions as they arise. You can source inspiration for these posts from patients themselves, including what your front-line staff hears on a daily basis, as well as recent patient emails or reviews.
Create updated procedure guides and brochures to share in-person, by mail, and through your website. These might cover common questions about COVID-19, or checklists for patients to complete in advance of their next telehealth appointment.
2. Become a Medical Resource in the Community
A community outreach and public relations program can be a direct and effective way to connect with current and prospective patients. Look for opportunities to conduct media Q&As and interviews, offer medical expertise to local news media, or publish guest content in blogs or digital and print publications.
As we advise our own clients in healthcare, it's important to share expertise and position yourself as a trusted medical resource. Don't be self-serving or promotional! Think about how your medical experts can bring value to a patient's journey.
Here are a few more tips for effective community outreach:
Share useful information that's relevant to your practice area. A pulmonary clinic, for example, might serve a specific demographic with more acute concerns around COVID-19. A pediatrician might want to provide information for parents wondering how COVID-19 impacts infants, toddlers, or young children.
Be transparent about how COVID-19 has impacted your practice, as well as risk factors and at-risk patient populations.
Share information that will help your patients get the care they need, including what, how, when, and where to get tested for COVID-19.
Pay attention to questions people are asking and provide public answers. Again, a lot of this information can be gleaned from patient satisfaction surveys, reviews, and interviews with frontline staff.
Finally, consider staffing or hiring a PR specialist with a medical background that's qualified and capable of commenting publicly on medical issues.
3. Use Social Media to Share Facts and Education
We mentioned the importance of creating rich, authoritative content. Once your marketing team has put together a rich body of content, you can take that content and share, reuse, and repurpose it for your social media audiences. Many of our own healthcare clients have found success with educational ad creative, downloadable content, and video—both for organic and paid social audiences.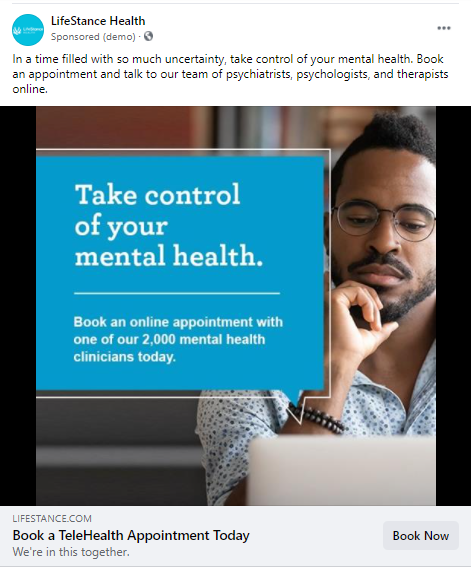 Best practices for limiting COVID-19 exposure, as well as what to do in case of suspected infection.
New awards and announcements that highlight your practice's ongoing commitment to excellence.
Photo and video content from your practice that gives patients a feel for what the patient experience looks like today.
Links to local and national resources for up-to-date COVID-19 information, guidelines, and best practices.
FAQs, checklists, and one-pagers with easily digestible info about telehealth, COVID-19 protocols, and updated check-in procedures.
Testimonials that showcase the patient experience and relevant success stories.
Video can be especially effective on social media. Aside from messages directly from physicians, or patient testimonials, many healthcare organizations are leveraging Facebook Live or Instagram Live to hold live Q&As. These live Q&As are real, informal, and can make a real connection with patients who have questions about their healthcare.
4. Embrace Video
Beyond your social media channels, consider incorporating more video content into all of your marketing channels. Especially at a time with limited in-person contact, seeing really is believing. And there are plenty of opportunities to weave video into your website content and email communications, such as:
Provider introductions. People like to put a face to a name, especially when it comes to their upcoming medical appointment. A video introduction can put patients at ease and give the experience a more personal feel.
"Check-in" messages. These messages can let patients know the provider is thinking of them while providing reminders and recommendations at key milestones after an appointment, procedure, or visit.
Video walkthroughs of new office check-in procedures. The #1 question right now is "what are you doing to keep me safe from COVID-19." Rather than tell your patients, show them with a narrated video walkthrough that highlights the steps you're taking to keep patients safe.
Share screen videos of new patient portals. If you've introduced a patient portal for things like account management or telehealth, create video walkthroughs/tutorials so patients can familiarize themselves with the new interface. This can help ease the onboarding process and limit unnecessary "tech support" calls and emails.
Video guide for telehealth appointments. Telehealth itself is a new concept for many patients. Create a quick guide to how telehealth works, what it will look like for your patients, and what they need to prepare in advance of their appointment.
5. Show Patients Who You Are
The more we work with healthcare organizations, both in our personal and professional lives, the more we come to see the amazing people working at each practice. From the front desk to nursing staff and physicians, each person brings personality and their own personal story. This is what patients connect with most! It's what makes visiting the dentist, pediatrician, or specialist a positive and uplifting experience.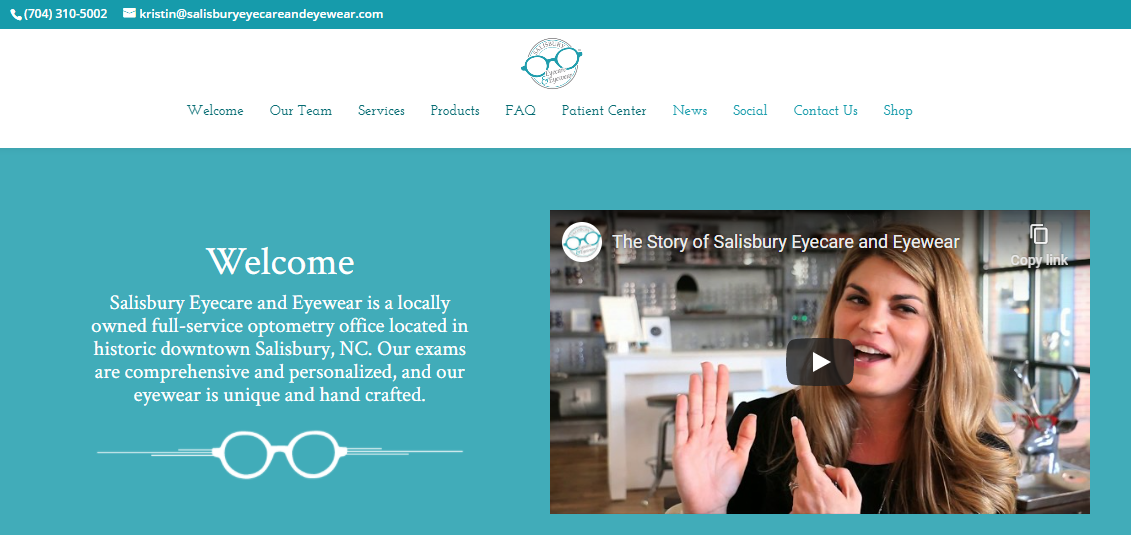 So, showcase who you are! Bring a human face to your staff and thread those personalities and stories throughout your in-person and digital experiences. You can:
Build a robust bio page on your website for each physician, nurse or assistant, and even staff member. These bios should be about 500 words long, including degrees, certificates, and years of experience. But they should also include a fun photo and some personality.
Embed welcome videos on landers for specific offices or departments. Think of how much more personable it is when a patient comes to the webpage for your cardiology department, for example, and there's an embedded welcome video from your head cardiologist there to welcome them?
Be known for your patient-first culture. We all know those healthcare practices that leave us feeling taken care of whenever we call, email, or stop in for a visit. Make this kind of patient-first service what your practice is known for by cultivating a standard of friendly service—from hiring and onboarding to ongoing staff training.
6. Develop a Review Encouragement Campaign
Reviews are still one of the primary ways that people (and search engines, for that matter) determine trustworthiness. This is especially true of healthcare providers. To commit to care, healthcare consumers need to feel confident in their decision, so they turn to things like Google, Yelp, and Facebook reviews to see what people are saying.
What's more, today's healthcare consumer is savvy. They're looking for recent reviews pertinent to the questions they have now. What are recent patients saying about how safe they felt given the COVID-19 pandemic? What about wait times and customer service?
Here are a few strategies to generate regular reviews of your healthcare practice(s):
Establish verified, complete, up-to-date listings on Google My Business, Facebook Business, and any other relevant listing services. Each of these services offer options for people to read and leave reviews.
Develop out-reach campaigns to ask patients for reviews on an ongoing basis. You can embed a link to your review forms in email messages, text follow-ups, and even direct mail. Focus on getting testimonials or reviews from people who have worked with you during COVID-19, or reviews that detail the COVID experience and post-COVID experience.
Manage your online reputation by regularly reviewing and responding to reviews. While you might not be able to change a negative review, you can demonstrate your commitment to improving by responding directly and respectfully. These are also opportunities to glean important information—in the patient's voice—about what is or isn't working, then use this information to directly inform improvements to your patient experience.
Final Thought: The Focus on Patient Safety is Here to Stay
While viewpoints on the threat of COVID-19 and our outlook for a "return to normal" vary, the effects of the pandemic on the healthcare system and patient perceptions are certainly still here and real. According to a recent article published by the New England Journal of Medicine, "office-based practices had reductions of 60% in visit volumes in the first months of the crisis, and, by their own estimates, hospitals will lose an estimated $323.1 billion in 2020."
The lack of clarity around when a vaccine might become available only adds to this uncertainty. The World Health Organization estimates that there are more than 100 COVID-19 vaccine candidates in various stages of development and testing. Even if a vaccine were to magically be discovered tomorrow, it might take months or even years to scale up manufacturing and distribution for widespread availability.
All of this to say that patients and healthcare providers are navigating a volatile environment that might remain that way well into 2021. And yet, the need for routine care, specialized treatments, and surgery—for maternity, urgent, and senior care—will also remain. For healthcare providers hoping to continue bringing new and existing patients through their doors, while keeping their business operations healthy and sustainable, building patient trust will be mission-critical.