In marketing, there's a difference between modesty and missed opportunities. Your DSO might have a very mature marketing operation. Your teams might be well-versed in traditional DSO marketing practices. You might read our Complete Guide to Digital Marketing for DSOs and say, Yup—been there, done that. SEO, digital advertising, and analytics?
We've got that covered, too.
But how well do you showcase the experience of your dentists? Set your humility aside for a second because we're not advocating that you boast. We're talking about marketing in the era of personal story sharing. Today, patients appreciate a more personal approach, in which they can get to know their provider a bit before putting their dollars down. They rely on reviews and feedback when making decisions about their care. They read testimonials, watch videos.
Who can blame them? It's a stark contrast to the cold, corporate messaging they've grown accustomed to—especially from other DSOs. The question is, are you telling your dentists' stories in a compelling way?
Back to Basics: Put the Patient Experience First
This shift in patient expectations is driving a broader shift in the ways that DSOs approach their marketing. Today, it's all about people-first, not necessarily revenue-first. That is, marketers are more focused on what the patient wants, as opposed to just satisfying a one-time need related to oral care. Here's how they're bringing that focus to bear in their marketing efforts:
Start by Creating a "Shareworthy" Patient Experience
When we say shareworthy, we mean the kind of experience that people can't help but tell their friends and family about. And your dentists play the lead role in making it happen. Collaborate with them on improving in-visit and digital experiences (teledentistry included!) and capturing patient feedback along the way—all the shareworthy stuff you'll need to tell these stories online.
Of course, some experiences make more of an impression than most. At the very least, the qualities and values of the leaders in a given dental practice ought to permeate the patient experiences that tend to leave the most memorable imprint. These include:
Scheduling and rescheduling appointments online, over the phone, and in-person
Intake experiences, from walking into the office for the first time to checking in and being called back
In the chair with the dentist, technicians, and other supporting staff
Closing the visit with prompt and straightforward handling of payment, appointment scheduling, etc.
Follow-up reminders, instructions, and results sent by email, phone, or text in advance of the next appointment
Use Patient Testimonials To Build Reputation
Give patients a way to tell their stories and share their experiences working with your dentists. Create an easy, frictionless way to capture each testimonial. In the example below, the staff members captured a simple video of a milestone moment in raw form.
Leverage positive reviews from across your review channels as well. Make your testimonials a priority in marketing activities, especially those that highlight experiences with particular dentists or practitioners. A wise person said that the best way to talk about our product is through the voice of the consumer—aka testimonials.
The same goes for dental marketing, as testimonials provide a credible voice that's not a creation of people tied to the practice. They also let patients tell the stories, such as how a healthy mouth can change one's life or how braces impact the rest of your health. Here's a great real-world example of the latter:
[
Emily gets her Braces off!
]
Work those testimonials into your campaigns and onto your website! But do make an effort to preserve the legacy of acquired dental practices. Fold patient experiences and dentist stories into broader DSO branding without erasing the identities of individual practices.
Lastly, we must remind you to ensure that testimonials are HIPAA-compliant, including anything you use in marketing communications. For more, read: How to Use Marketing Personalization While Protecting Patient Privacy.
Capture the Dentist's Story
It's important to tell the stories of your dentists, too. This might come in the form of a dedicated bio page on your website, a video introduction, or both. Whichever route you go, your goal should be to exude the character, values, and personal experiences that make your dentists who they are. Of course, you'll want to firmly establish credibility by highlighting professional achievements and accreditation.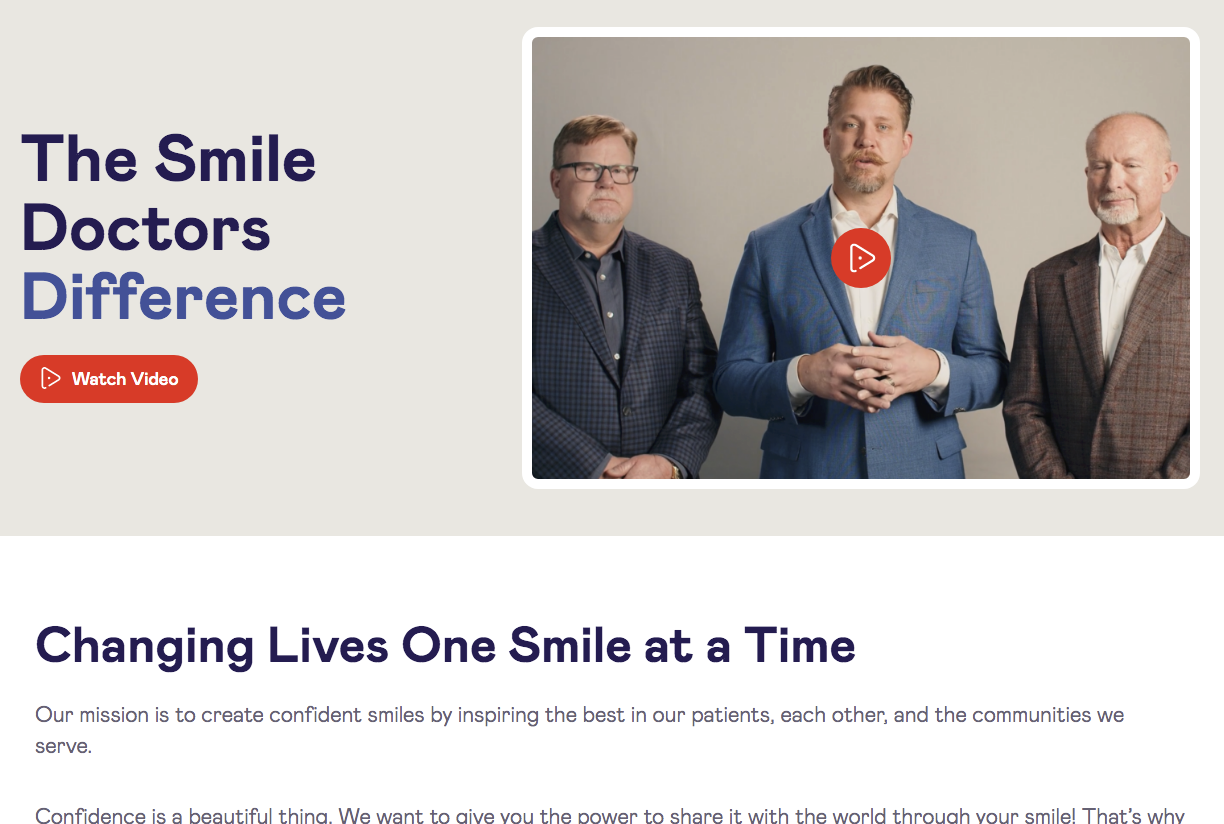 Source: Why Smile Doctors
Yet, beyond placards and certifications, patients are more interested in seeing how committed the dentist is to putting patients first. This is your dentists' opportunity to illustrate their patient-first approach with examples, anecdotes, and underlying motivations.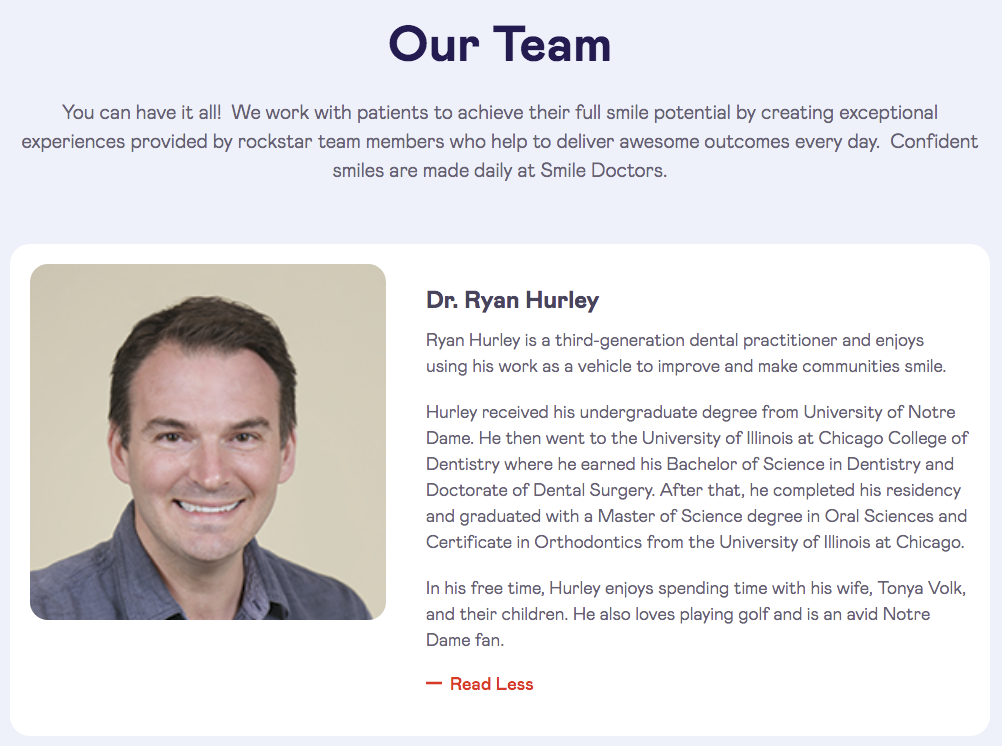 Source: Smile Doctors by Hurley & Volk Orthodontics
One strategy we've seen DSOs leverage to great effect is localized stories. In telling your dentists' stories, look for opportunities to tie in the surrounding city or region. For example, perhaps the dentist heading up your Greenville, South Carolina office is a huge Clemson fan. Maybe the dental surgeon at your Chicago, Illinois office was born and raised in the Windy City. Anything to make a connection to the community and give the story a bit of relatable personality.
Use the Dentist Story and Patient Testimonials to Create a Call to Action
Every patient that walks through the doors has needs, wants, and desires (NWD, for short). The savvy dental marketing teams know how to connect the dentist's story to the patients' NWD. How would you tell your dentist's story, for example, if your target audience needed immediate, high-quality care from a laid-back professional that they could relate to?
Needs, wants, and desires will vary from patient to patient. A senior citizen might be heavily focused on insurance-friendly dental implants, whereas parents might be interested in affordable, high-quality braces from a reputable orthodontist. Once you have a better understanding of the prevailing NWDs among your target patient base, it's time to transform that information into a call to action.
Here's what I mean: at the close of a dentist's story or patient testimonial, guide patients to the next step. In essence, your CTA is saying, "Wouldn't you like to work with a dentist like this?" or, "Isn't this exactly the kind of experience you're looking for?" Using dentists' stories and testimonials to create CTAs is an effective way to create urgency—to connect past patient experiences into a high-demand need for new patients.
Feature Dentist Stories & Testimonials in Marketing
The reason we recommend you take the time to build out dentists' stories and patient testimonials is because they're marketing gold. There are so many ways to incorporate these stories throughout your digital channels, campaigns, and even patient experiences, namely:
Website: You can create a dedicated testimonials page, dentist's bio page, and embed video reviews on certain pages (such as high-traffic or high-revenue services pages).

Ads: We've seen dental marketers use patient testimonials and dentist stories to build entire paid advertising campaigns, complete with video clips, graphics, quotes, and images. The trick is to target these campaigns for the parts of the marketing funnel where people are looking for testimonial material.
Social media: Rather than showcasing products or services on Facebook and Instagram, let your dentists and patients show your followers what their experience will be if they purchase those products or services. A simple way to do this is to repurpose existing testimonials into a form suited for sharing on social media and to engage with patients who engage with you.
Email: Build a targeted (HIPAA-compliant) list that's likely to be interested in a given service, then build them an email campaign that shares testimonials about that service. Many email marketers will target, for instance, parents above a certain age with testimonials about braces.
Printed collateral: How many times have you seen a billboard, or in-office print collateral, depicting a smiling face next to a quote and the company's logo? It's a simple formula for using testimonials in print collateral, one that can be used in-office or out in the wild to tell people how great you are in your patients' own words.
Make the Move from Traditional Marketing to Patient-First
The traditional ways that DSOs have approached marketing dental practices still make a lot of sense. SEO, PPC, and new marketing technologies aren't going anywhere. What's changing and changing fast is the focus on the patient- and, in turn, dentist-led means for executing these channels.
The Lightwave case study from Group Dentistry Now distills this shift best: "Dentists are the natural leaders of the dental practice, and the best way to support doctor growth is by doing things the right way with a tight focus on high quality, core values, and taking care of people. Lightwave's approach preserves each private practice's unique identity and legacy and strengthens them with best practices, technology, and leadership training. This approach has taken Lightwave from 8 practices to 60 practices in five years."
Put differently, it's all about patients, and patients continue to look to dentists—their reputations, stories, and professional credentials—for guidance. And that's precisely what makes this kind of storytelling so powerful.