Summary: Personalization is all the rage. As more and more healthcare marketers look for viable ways to personalize patient experiences, we explore the pros and cons, as well as three tactics that personalize marketing content without compromising patient privacy.
There's a simple reason that personalization is such a huge trend in healthcare marketing: it's a win-win. On the one hand, consumers in the healthcare space and beyond want personalized experiences. They want to see tailored content. They want to be addressed by their first name. In its 2020 ​​Trends in Personalization report, Salesforce found that 92 percent of marketers state that their customers and prospects expect a personalized experience (up from 85 percent last year).
On the other hand, enterprise marketing teams have an incentive to personalize their experiences, too. The latest research shows just how markedly personalization can improve marketing performance. The same Salesforce report, for example, found that 99 percent of marketers "overwhelmingly agree" that personalization is helpful in advancing customer relationships. This leaves only one question for healthcare marketers:
How can we personalize healthcare marketing content while still protecting patient privacy?
Why Personalization is Worth Your Time and Effort
Every healthcare journey is relatively distinct. At least it feels that way to each person. Think about your last interaction with a doctor, dentist, or medical facility. If you're like me, you were hardly seeing much beyond your own immediate healthcare needs.
Indeed, the last thing patients, healthcare consumers, and their loved ones want is to feel like just another number in a crowd—especially when making important healthcare decisions. Personalized marketing communications have the potential to change this perception—to enrich the patient experience, reduce friction, and even improve outcomes.
Here are just a few examples of how healthcare organizations use personalization today:
Preventative healthcare material tailored to particular patient profiles
Personalized reminders and preparatory information for upcoming appointments
In-app or in-portal direct messaging with physicians
Customized patient portals with updated test results, conditions, etc.
Location-based website experiences (more on this later on)
3 Ideas for Personalizing Your Healthcare Experiences
Of course, personalization in the context of healthcare marketing is not without its obstacles. While creating high-value, highly personalized experiences is certainly a priority, almost nothing supersedes patient privacy. HIPAA restraints prohibit, for example, sending emails that contain, or are based on, personal health information (PHI).
It's easy to see how sticky things can get when walking the line between marketing personalization and HIPAA compliance. Unfortunately, this leads many healthcare marketers to simply assume they can't use personalization at all. This is far from the truth and a huge missed opportunity. To help set the record straight, here are a few ideas on how to personalize your healthcare experiences while working within the constraints of the latest healthcare privacy regulations.
1. Launch Personalized Patient Portals
Personally, one of my favorite developments in healthcare marketing has been the arrival of patient portals and mobile apps (Follow My Health is a strong example of the latter). Using a single login, I can see my appointment information, health records, and even communicate directly with my physicians. In some cases, I can see test results before my physician calls to discuss them with me.
It's healthcare personalization at its finest.
Because patient portals are protected by login and password, they make it far easier to protect patient privacy. Patients have to register, acknowledge certain HIPAA agreements to make their accounts, and opt-in to certain communications, in order to establish their accounts. Of course, all sensitive information is kept private within the portal—only patients and their healthcare providers have access.
Within the patient portal, healthcare providers can personalize the experience far more freely than traditional marketing channels (email, form example). This is a great opportunity to provide patients with educational resources that help patients with their particular medical issues. Within the portal, they can also share relevant blog articles, videos, checklists, procedure follow-up instructions, and doctor notes.
2. Add a Little Personal Touch
It's not all about email marketing campaigns and digital advertising. Adding a personal touch to other communications can go a long way. Addressing patients by name in digital communications, for example, such as email and text messaging, is a simple way to personalize the experience. The same goes for sending communications from the patient's doctor. Some practices will personalize their communications based on location to build a little local camaraderie (location data is not necessarily protected by HIPAA regulations).
Others will use geographical personalization in a similar vein. For example, you can add geographical code to your website, which recognizes a visitor's IP address to identify their location. The webpage can then be customized automatically to share the most relevant services and providers by location. This happens without the viewer realizing and creates a seamless digital experience that's personalized to their location.
So instead of seeing providers or locations outside their region, they're shown the doctors that are available nearby.
3. Give Consumers the Option to "Choose Your Own Adventure"
Then there's the "choose your own adventure" approach to personalized healthcare marketing. Instead of using existing patient data to build campaigns, allow patients to determine what they see in a given experience. On your homepages and landing pages, for example, give patients the option to self-select who they are ("I'm a: new patient/existing patient"), or what they need ("I'm looking for: COVID-19 updates/make an appointment/contact my doctor").
For example, an assisted senior living organization can give viewers the ability to immediately select "self," "spouse," "adult daughter," and so on, so they only see web content relevant to their role in relation to the patient. From there, the information they receive is personalized to their persona and addresses their unique pain points and goals. This allows you to protect their privacy and still give them highly targeted information that will result in a more engaging session for the visitor. On the marketing side, this kind of personalization typically leads to far better engagement and conversion rates.
Even with the best intentions, it can be difficult to ensure that all email communications containing PHI are encrypted. Or that you're ticking the other boxes like an unsubscribe option, or a sender address that's monitored by real people.
One option is to invest in an email marketing platform that specializes in HIPAA compliance. Here are two examples:
Be Human and Bring Value
What you'll find across the three healthcare personalization tactics we shared above is that they hinge on age-old marketing techniques, such as segmentation and audience personas. Location-based marketing is a great example: you can build a healthcare persona based on location, then target that persona with tailored communications, without violating HIPAA regulations.
There's another common thread to the three tactics shared above, one that hearkens back to the point of personalization in the first place: bringing value to the patient journey. While personalization of any kind can certainly contribute to better marketing metrics—improved clicks, conversion rates, leads, and so on—it will ultimately fall short if it doesn't create value.
In the end, personalization is an opportunity to educate, empathize, and reduce friction. Do that within the constraints of HIPAA and other regulations and you'll be head and neck ahead of the competition.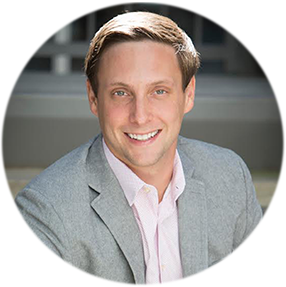 Alex Membrillo
Founder and CEO
Alex Membrillo is the CEO of Cardinal, a digital marketing agency focused on growing multi location companies. His work as CEO of Cardinal has recently earned him the honor of being selected as a member of the 2018 Top 40 Under 40 list by Georgia State University as well as 2015 and 2016 Top 20 Entrepreneur of metro Atlanta by TiE Atlanta, Atlanta Business Chronicle's 2016 Small Business Person of the Year,and the Digital Marketer of the Year by Technology Association of Georgia (TAG).