Within your box of healthcare marketing tactics, SEO remains a vital component of your patient acquisition strategy. With more and more patients beginning their healthcare journey on Google, healthcare groups cannot afford to ignore their SEO game. To ensure that patients can easily find you at every stage of their journey, it's crucial that your brand consistently appears at the top of the search engine results page (SERP).
A robust full-funnel SEO strategy increases organic traffic and can drive qualified conversions to your medical organization, serving as the foundation for any healthcare group's digital patient acquisition strategy. To see just how relevant SEO is in healthcare, we've brought together 7 case studies that really illustrate SEO's ultimate relevance in the space.
1. LifeStance
Scaling Digital Marketing Across 500+ Locations for Leading Mental Healthcare Provider
One of the nation's largest providers of virtual and in-person outpatient mental health care for children, adolescents, and adults experiencing a variety of mental health conditions, LifeStance employs more than 4,000 medical professionals across 31 states and approximately 500 locations.
The Results
Since engaging Cardinal, LifeStance has seen its organic efforts outpace the market average. Long-term results experienced include ranking for 14K+ new keywords within one year and achieving top national rankings for "high-volume" search terms (5,000+) such as "telehealth psychiatry," "telehealth therapy," and "online psychologist.

The Challenges
LifeStance had plans for growth in place and needed to scale marketing up from three fragmented regional brands to more than 20 brands across the country. To do this effectively, the brand needed to create a "repeatable" digital platform that it could spin up easily for each new regional brand.
The Strategy
Cardinal was able to unify LifeStance's multiple brands and implemented a comprehensive SEO strategy that included link building, content marketing, and technical SEO, building a solid, scalable foundation that LifeStance could easily reproduce as it acquired new locations.
Read the full Lifestance case study.
2. Mission Healthcare
Growing Home Care Group Increases Organic Leads with Cardinal's Scalable Approach to Marketing
A leading national provider of home-based healthcare, the growing Mission Healthcare network currently includes 40 locations across 75 counties in the western portion of the U.S.
The Results
After partnering with Cardinal Digital Marketing, Mission experienced a 151% increase in GBP views YoY, a 95% increase in total impressions, and a 69% increase in total organic clicks. With a 25% increase in total keyword rankings YoY, Mission is now ranked #1 for keywords "hospice goals" and "what is the difference between home health and home care," significantly impacting its presence in the home care space. Cardinal's efforts also increased visibility on SERPs and in local map results for all of Mission's locations, creating more quality traffic to their site and, ultimately, more leads.
The Challenges
Static location pages, a lack of quality educational content, and an overall clunky site design were holding Mission back. The brand needed to optimize their site while also improving local visibility— an essential component in such a competitive space.
The Strategy
Cardinal redesigned Mission's site for organic growth, then implemented a strong technical SEO strategy that consisted of a full SEO cleanup, content creation, and strategic link building.
Read the full Mission Healthcare case study.
3. BestMind Behavioral Health
Emerging Mental Healthcare Brand increases TMS lead volume by 1000%
A new provider in the mental healthcare space, BestMind Behavioral Health offers in-person and telehealth treatment options, along with medication and alternative therapies, at four locations in Colorado and Oregon.
The Results
By creating a successful full-funnel marketing strategy from the ground up, we delivered exceptional results and high ROI for BestMind within a few short months. With a new, reputable brand and an effective search strategy, we helped create a strong pipeline of new patients. Results included:
4,146% increase in total keyword ranking YoY
950% increase in total organic clicks
33% lower CPL for TMS-related leads
The Challenges
BestMind needed to build an entire brand from scratch but had limited digital marketing experience. Compounding the problem was the fact that they needed to scale quickly in a competitive market, generating and capturing demand as soon as possible and driving high-quality leads to all locations.
The Strategy
Cardinal developed a website for BestMind that focused on SEO best practices, including establishing a good URL structure, proper internal linking, and supporting content for the main service pages, as well as intuitive navigation and the proper use of structured data/schema.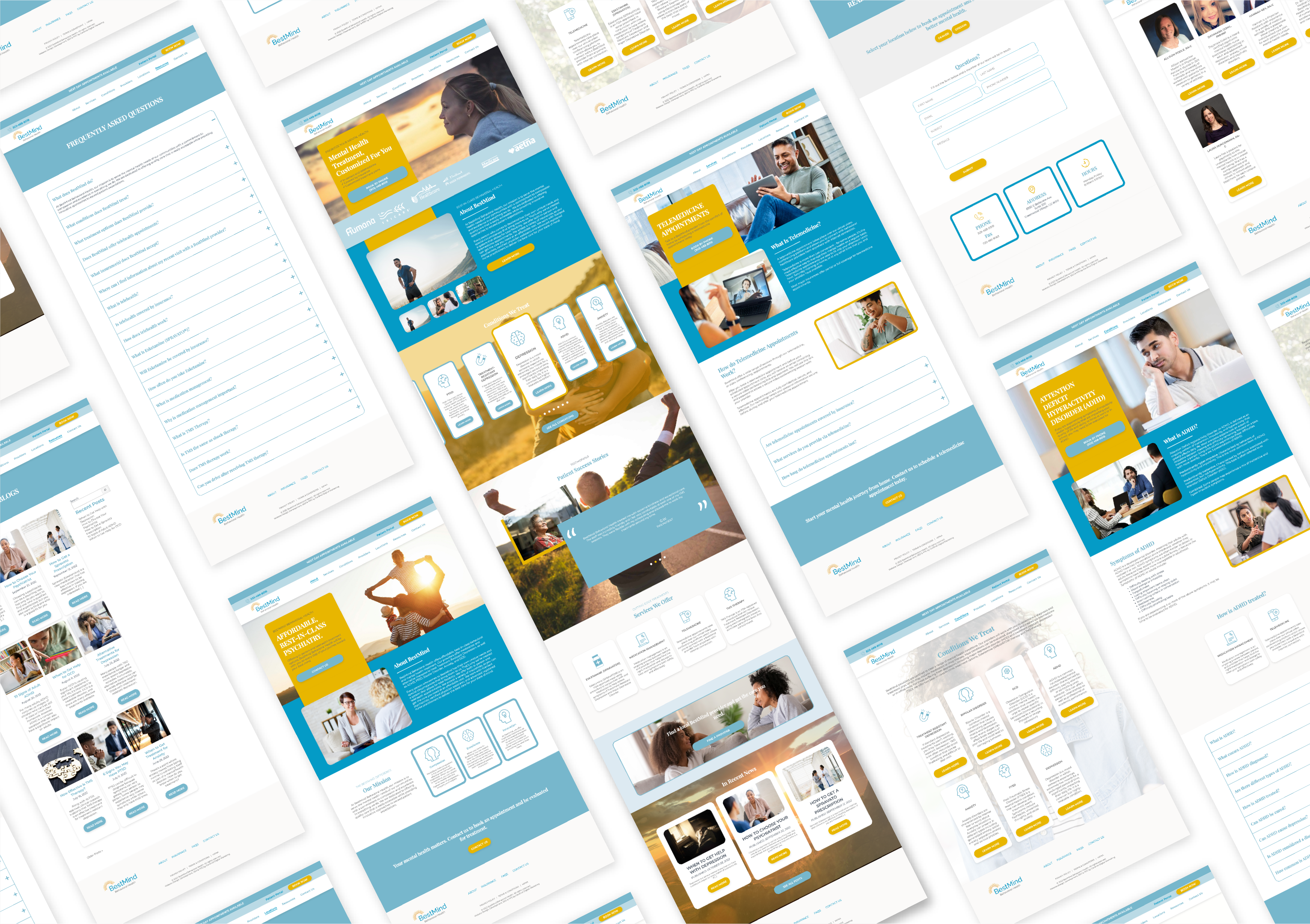 Read the full BestMind Behavioral Health case study.
4. Milestones Wellness
Addiction recovery center improves their organic online traffic and conversion rates.
An addiction recovery center with over a decade of experience, Milestones Wellness Center provides services for opiate addiction.
The Results
As a result of its partnership with Cardinal, Milestones saw a 62% increase in organic sessions, a 130% increase in organic conversion rate, and a 273% increase in organic goal completions post-site launch YoY.
The Challenges
Historically, Milestones had relied too heavily on referrals and lacked in-house resources and expertise in digital marketing strategies. As a result, the brand was not performing as well as its competitors in terms of reaching its key audience and attracting the right patients.
The Strategy
Cardinal developed a comprehensive website redesign and SEO strategy to improve organic traffic and increase organic patient acquisition for Milestones. We used a three-part approach to build a strong SEO foundation for Milestones, which encompassed technical SEO, content strategy, and link building.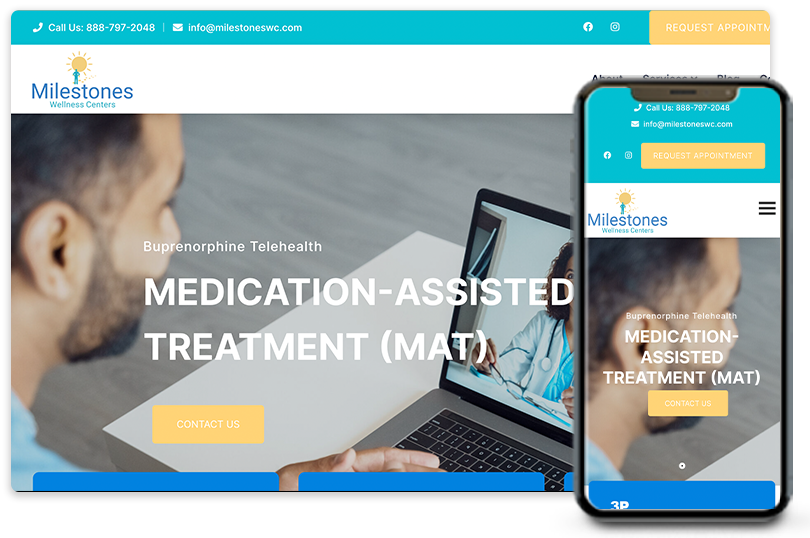 Read the full Milestones Wellness case study.
5. Geode Health
New behavioral mental health brand grew from 6 to 31 locations in just 5 months.
Geode, a growing mental health brand, was quickly scaling up and opening new locations. As a result, they were on the lookout for a partner who could drive their overall digital marketing strategy and support new locations.  
The Results
Geode experienced significant improvements in SEO and media due to our team's efforts, including a 97% increase in top 10 keyword rankings, a 120% higher bookings and, a 208% increase in organic traffic since June 2022. Geode also saw a 39% drop in CPL in the first 3 months of Cardinal managing the account, despite a 227% increase in spending, leading to a 435% increase in lead volume.  
The Challenges
Geode's existing website was not designed to scale organically. What's more, their organic presence was very limited— a real disadvantage in such a competitive space. Existing campaigns were missing out on opportunities due to poor structure. The brand was also tracking the wrong KPIs and did not have an eye on the right campaign metrics.
The Strategy
Cardinal developed a full-service digital marketing strategy for the brand that included SEO, Paid Media, & Analytics. To address Geode's focus on de novo locations, we also tailored the strategy to build demand for each new location. In that way, new locations are able to launch quickly and with patients already booked in for appointments.  
Read the full Geode Health case study.
6. IVX Health
Multi-local infusion center practice experiences significant growth in organic digital presence
A leading infusion and injection therapy provider for patients with complex chronic conditions, IVX Health provides comfortable and personalized treatment at more than 58 centers across 15 markets.
The Results
IXV Health experienced drastic improvements to the overall quality and quantity of visitors to their website, along with longer page visits and increased organic traffic from potential patients. Additional results included:
356% growth in total keyword rankings YoY

130% growth in Top 10 keyword rankings YoY

67% growth in total "near me" keyword rankings YoY
The Challenges
With a smaller in-house marketing team, IVX Health had been unable to achieve their true potential and growth goals and needed a partner who could help them reach a wider audience and expand into new markets. While they had experienced consistent growth, they needed to offset the average of 12 months it takes to break even when opening new markets. To address this, they wanted to maintain brand recognition locally while growing more quickly on a national scale.
The Strategy
To help them achieve their goals, our team at Cardinal Digital Marketing collected and analyzed data through SEMrush, Google Search Console, and Google Analytics to get a well-rounded idea of the effectiveness of their online reach. We then provided a range of solutions to increase organic visibility that included: 
A technical health auditing and cleanup

Optimized website content

The implementation of a strategic keyword map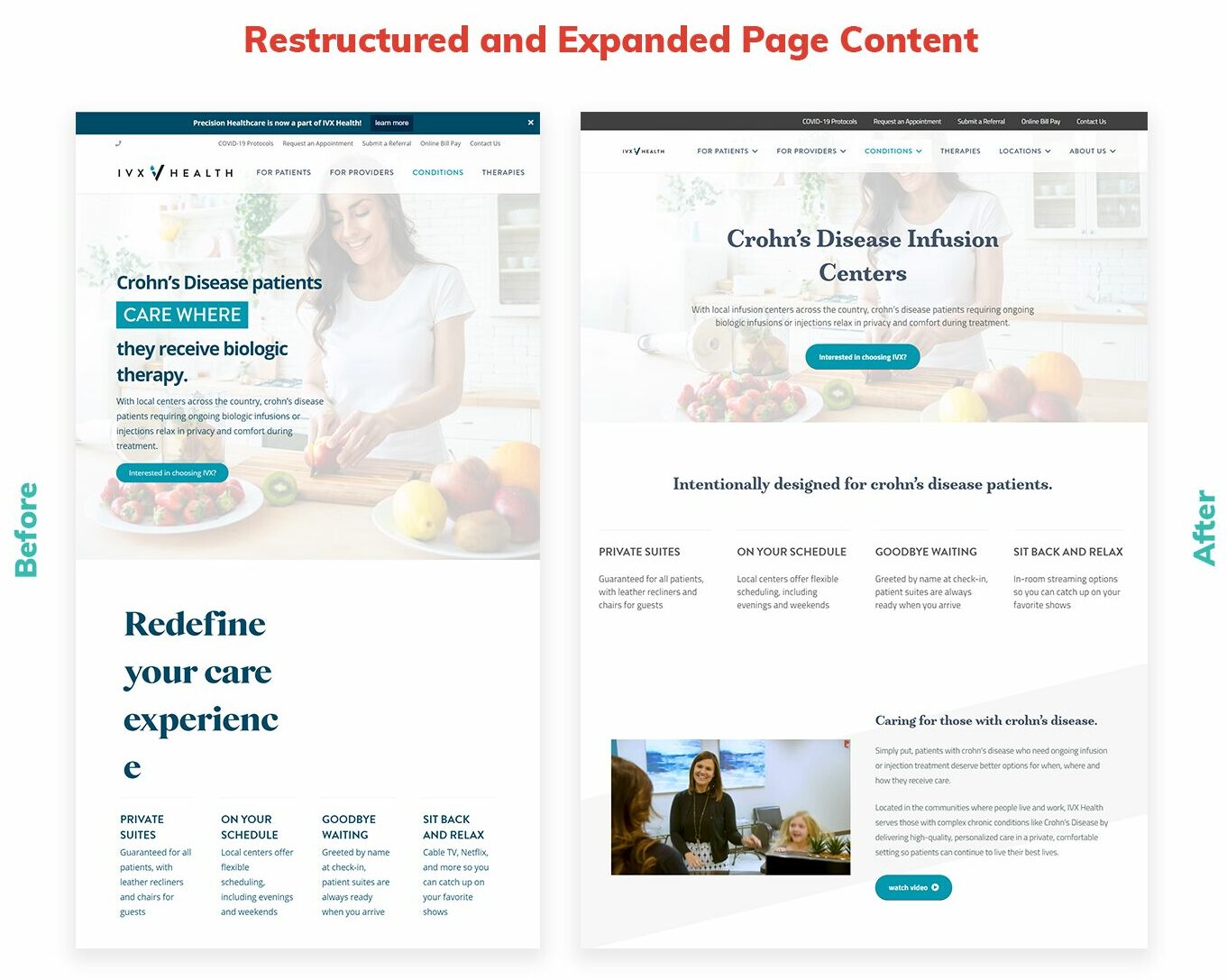 Read the full IVX Health case study.
7. Empower Behavioral Health
New ABA therapy brand increases organic traffic by 327% with a full-funnel digital strategy
A private equity-backed ABA therapy brand, Empower Behavioral Health provides treatment services for those diagnosed with Autism Spectrum Disorder, offering full-time day programs for children, along with part-time, focused intervention and telehealth ABA services across 13 locations.
The Results
As a result of Cardinal's approach, Empower saw a 466% increase in total keyword rankings, a 327% increase in total organic impressions, and a 41% increase in quality leads since the beginning of our partnership in August 2022.
The Challenges
Empower was in a competitive regional market with multiple competitors who were outranking them organically. As a new brand, Empower also lacked brand equity, and their existing digital marketing efforts were doing little to bring in new patients.
The Strategy
Cardinal stepped in to implement a full marketing mix for Empower, ensuring patient volume would increase through brand-new paid media campaigns and SEO.  Cardinal's efforts included creating top-tier content in tandem with a robust SEO strategy, optimizing targeted PPC campaigns, and leveraging analytics to glean deeper insights and perfect overall performance.