How an addiction recovery center improved their organic online traffic and conversion rates.
Overview
A New Digital Presence to Fuel Patient Acquisition
Since the beginning of the pandemic, Milestone Wellness Center has been losing business instead of growing alongside their competitors. This is why they reached out to Cardinal Digital Marketing to revamp their digital presence and build a solid organic patient acquisition strategy.
Our website redesign and SEO strategy have helped Milestones improve lead acquisition, drive organic traffic to their business, increase patient growth, and more. Specifically, we saw a 62% increase in organic sessions, a 130% increase in organic conversion rate, and a 273% increase in organic goal completions post-site launch YoY.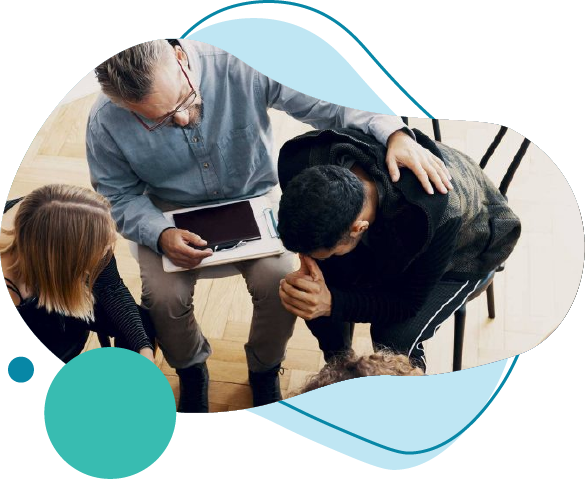 About the Company
Milestone Wellness Center
Milestones Wellness Center is an addiction recovery center with over a decade of experience providing services for opiate addiction. Historically, the business relied heavily on referrals. They lacked in-house resources and expertise in digital marketing strategies. As a result, MIlestones was not performing as well as its competitors reaching its audience and attracting patients.
Their goal was to improve their digital marketing strategies to increase lead acquisition, grow patient load, overcome the pandemic stall, and drive more self-pay leads as opposed to those involved with insurance. In the long run, they also wanted to provide a better patient experience through their portal and improve their telehealth offerings.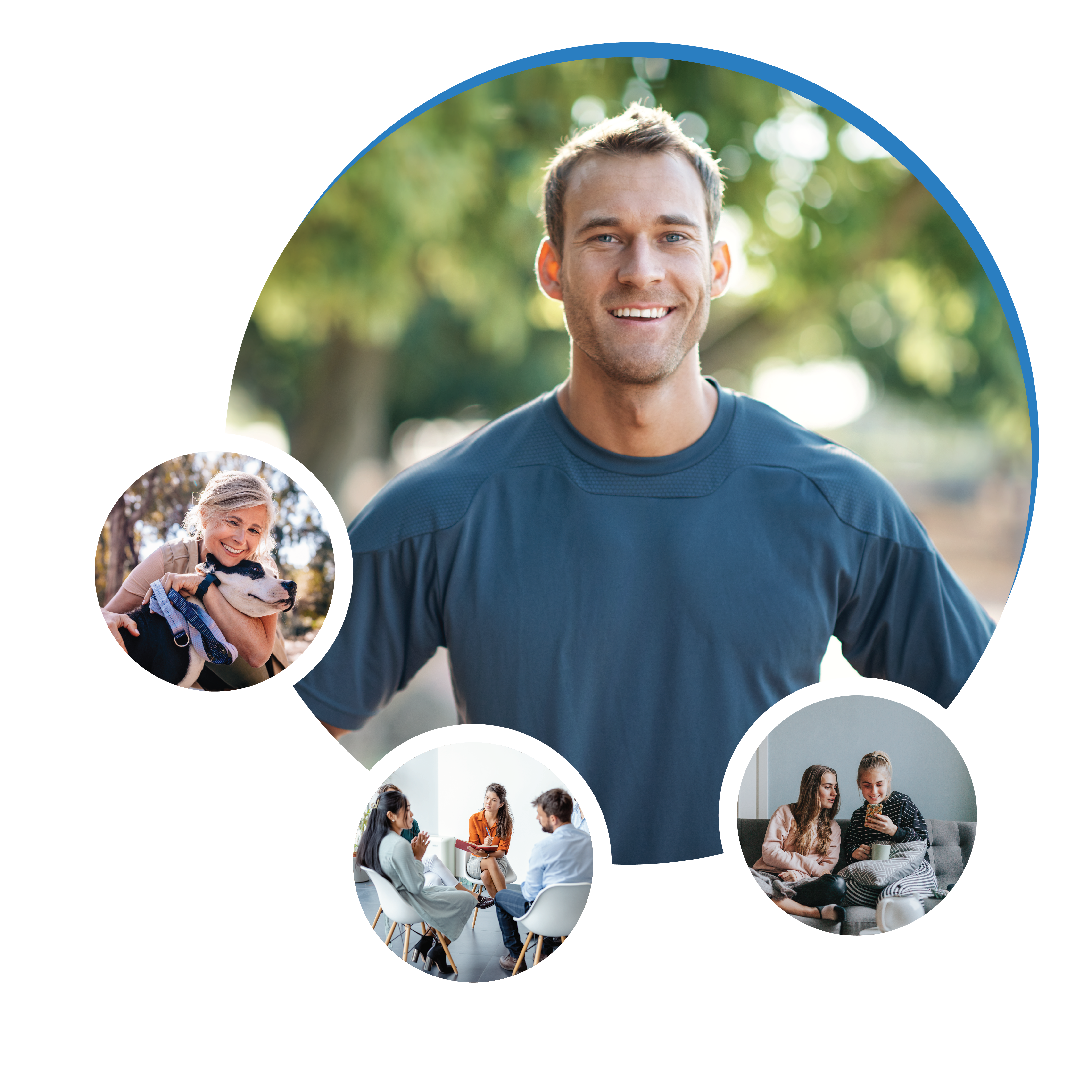 Our Strategy
Build a Patient-centric Website with a Strong SEO Foundation
We developed a comprehensive website redesign and SEO strategy to improve organic traffic and increase organic patient acquisition for Milestones. Now, instead of relying solely on word-of-mouth marketing, they can reach people who need help through the digital channels they use most. Here's how we did it.
Website Redesign
Revamped Website for Improved Organic Performance
To achieve better online rankings across search engines, our team needed to revamp Milestones' website. We collaborated with them to develop a brand identity that felt true to them and would resonate with prospective clients.
Not only does the website look good, but it also has a strong SEO foundation and a user experience that's optimized for conversions.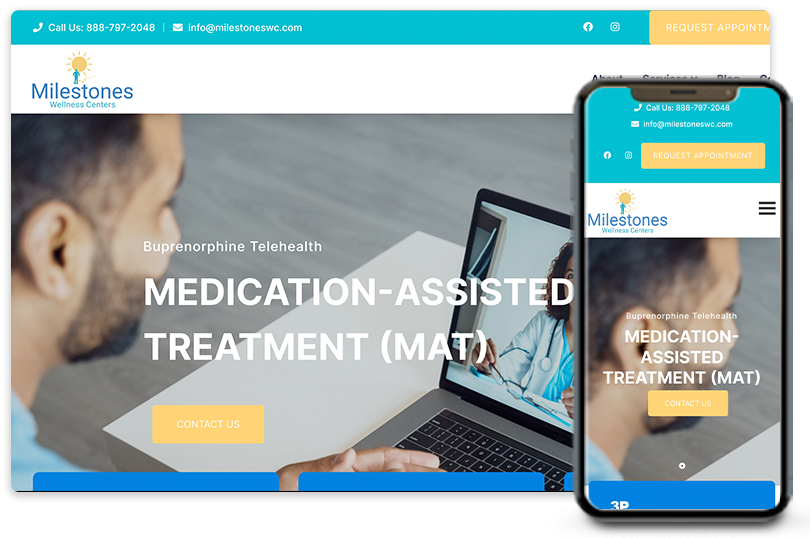 SEO Strategy
Built a Strong Technical SEO Foundation
We used a three-part approach to build a strong SEO foundation for Milestones, which encompassed technical SEO, content strategy, and link building.
Technical SEO
Technical SEO is the foundation of a website's long-term success, and Milestone's website was built with SEO in mind from the start. Being able to easily crawl a site is essential for Google to discover your pages and rank your content. A clean, well-organized site architecture ensured Google could crawl and index each page easily. 
We developed a fast and responsive design that was optimized for mobile, which ensured that it met Google's Core Web Vitals standards. Then, we Implemented optimized metadata throughout every page to target primary keywords.
Full-Funnel Content Strategy
We developed and implemented optimized site content on service pages and focused on signs and symptoms of opiate addiction to help search engines associate the site with its primary service line (opiate addiction treatment). This type of content also helps support the site's internal architecture and UX through strategic internal linking.
Post-launch, we developed a long-form blog strategy to build a successful organic funnel. A full-funnel content strategy allows you to reach patients at each stage of their recovery journey. Creating informational blogs and guides for family members and people suffering from addiction can help create brand awareness for top-level interest and increase conversion rates for mid-low funnel awareness.
Link Building
Milestones' competitors had a long and strong history of backlinks. Links from relevant websites signal to Google that a website is trustworthy.
To improve Milestones' backlink profile, Cardinal helped them naturally earn new backlinks through white hat outreach methods. Throughout our engagement, we've been able to secure several high Domain Authority links to help improve the website's credibility in Google's eyes.
Our Results
Increased Organic Visibility with a Revamped Website
After working with Cardinal Digital Marketing, Milestones has a more patient-centric online presence and robust website content, allowing them to reach more patients with the right information. They also now have a site structure that allows for more organic growth through improved site structure and user experience.
Our team focused on position tracking, lead volume, and keyword ranking to measure the growth and overall success of Milestone's online presence after working with Cardinal Digital Marketing. 
After redesigning the website and implementing our SEO optimizations, we observed the following improvements Q2 in 2021 vs. 2022:
55% increase in organic impressions (+4.3K impressions)
1,147% increase in organic impressions for "opiate addiction treatment" term (+1.9K)
New query visibility (starting at 0 impressions)

"Stages of addiction recovery" (+318 impressions)
"Addiction recovery stages" (+218 impressions)
"Opiate addiction help" (+266 impressions)
"Addiction counseling services" (+253 impressions)

Local keyword growth:

"Suboxone clinic butler PA" (avg position 35.7 → avg position 8.5)

"Psychiatrist Washington PA" (avg. position 85 → avg position 1)

Get Started
Ready to Grow?
Great partnerships start with great discoveries. We start with your business goals and budget, and then help you find the right digital marketing strategy to fuel growth.
Fill out the form to get started!
"*" indicates required fields