Having a strong keyword strategy for your behavioral health organization is more important than ever before. Since there is a lot of nuance and complexity to marketing mental and behavioral health groups, getting the most out of your SEO and PPC keyword strategies means having a deep understanding of several drivers.
You need clear insights into consumer behavior, for one, including how consumers search. This means understanding, too, what words they use at each stage of their patient journey—is someone in the early stages of figuring out a condition or already targeted on a specific intervention? Finally, you need to consider the other side of the coin, as well, identifying and avoiding keywords that might reach the wrong people and lead to poor lead quality.
Doing all this can give you a more than reliable foundation for SEO and PPC. A clearly defined keyword strategy will help you increase visibility for your services, improve lead quality to reach the right patients, and help you book more appointments. Let's dive in.
Understanding How People Search for Behavioral Healthcare
Before instigating a search for behavioral healthcare, remember that your patient might not yet have a formal diagnosis. This happens a lot in healthcare in general, as well as in the behavioral healthcare space. Patients start off by looking for information related to symptoms long before they even know what treatments are available.
Once patients feel confident that they may have an actual disorder, they often start searching for information related to treatment. Keep in mind, too, that patients are not always "new" to treatment, either; in many scenarios, patients may have received treatment in the past and then stopped for a variety of reasons, including feeling "better," not being able to afford treatment, or feeling as if treatment was not helping.
Given all of the above, you would have multiple persona buckets to define with regard to search. Those different persona buckets would be as follows:
Patient looking for disorders that match the way they're feeling (i.e., looking to self-diagnose before seeing a professional)
Patient who has a formal diagnosis and is exploring treatment options
Patient who has a formal diagnosis and is looking to change their treatment provider for a number of reasons (cost, needing a provider that better aligns with their goals, etc.)
These search personae will help you more easily refine your keyword strategy down the line.
Target Keywords at Each Stage of the Patient Journey
Now that you have your personae defined, how can you accurately target keywords at each stage of the patient journey? By understanding how keywords in behavioral healthcare function at the top, middle and bottom of the funnel.
Upper-funnel Mental Health Keywords
In the behavioral health space, upper-funnel keywords are completely informational and awareness-based. These keywords align well with patients who fit into your first persona— people who may not already have a diagnosis and are looking for information to get an idea of what disorder they may have.
Keywords in this stage may include:
Symptoms of depression
Am I an alcoholic
Signs of anxiety
What is autism spectrum disorder
Types of mood disorders
What does Xanax look like
How to help someone who relapsed
How addictive is Adderall
Mid-funnel Mental Health Keywords
These are people that match the second persona; in other words, people who are still looking for information but taking a more targeted approach. They may already know what disorder they have— even if they haven't been formally diagnosed— but are trying to determine what treatment option will work best for them.
Keywords in this stage may include:
Partial hospitalization program vs intensive outpatient program
Benefits of aba therapy
Occupational therapy vs aba therapy
Company X vs company Y
What to look for in a psychiatrist
How to find an addiction treatment center
Medications for anxiety
Treatment for PTSD
Best therapies for depression
How much does a psychiatrist cost?
Does insurance cover aba therapy?
Bottom-of-the-funnel Mental Health Keywords
At the bottom of the funnel is the persona who knows exactly what they're looking for. These individuals have already done all their research and identified the treatment they want, and are now just looking for a specific provider for that treatment.  Their searches typically focus on the local and involve terms such as "near me," "in-home," or "online." Some of these potential patients may even already have a provider in mind from their earlier research and may be running a search for a specific company.
Keywords in this stage may include:
Residential addiction treatment program Virginia
Psychiatrist near me
Aba therapy in Atlanta
Addiction treatment center near me
X company name
Online therapy
Virtual addiction treatment
In-home aba therapy
Outpatient mental health treatment center
Anxiety therapist Tampa
X provider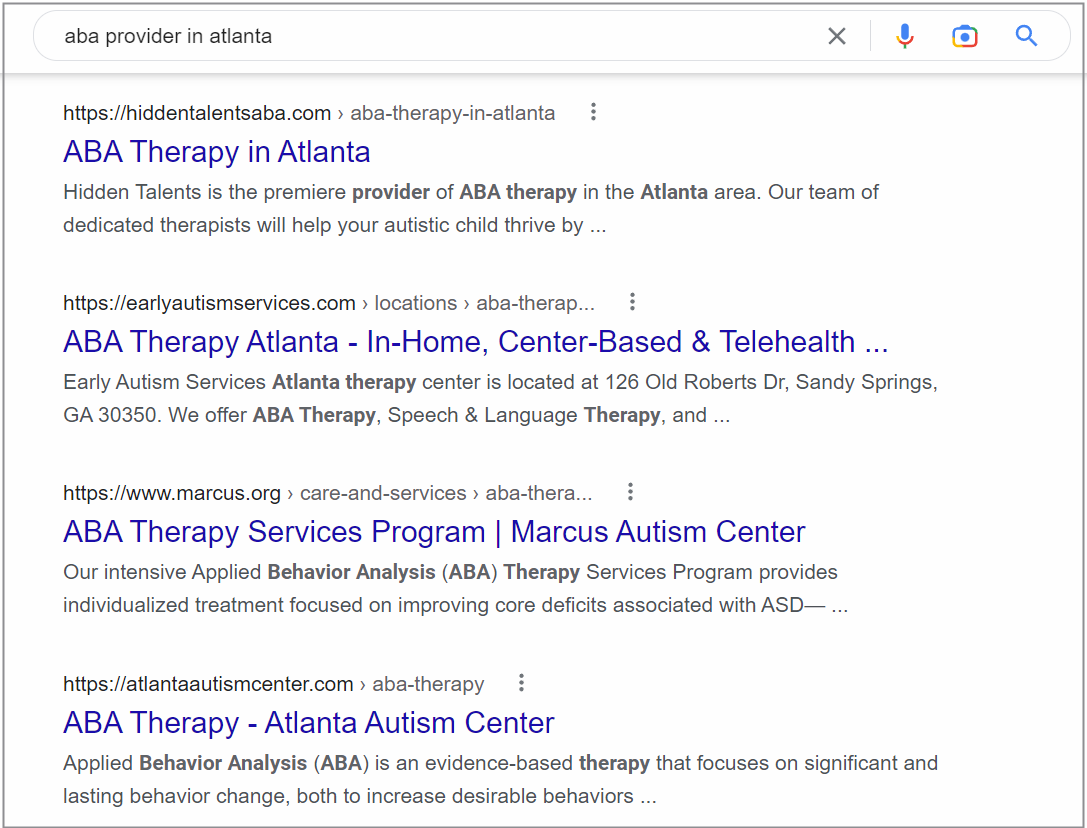 Targeting keywords like this at each stage of the patient journey works. That was particularly clear in a recent project of ours, which you can read about in detail here.
Behavioral Health Keyword Strategy by Provider Type
Another best practice to consider? Focusing your keyword strategy on provider type. The behavioral healthcare space is crowded, and you will need a good deal of nuance in your keyword strategy when targeting potential patients. Here is how that nuance will apply, including some strategies and best practices for developing a solid keyword strategy for your organization.
Nuances Amongst Specific Behavioral Health Provider Types
While many patients may have a general understanding of providers who work in behavioral health, people do not always really understand the differences between provider types. You've seen it before—patients conflate a therapist with a psychiatrist, for example, or even a psychiatrist with a psychologist. While this may seem innocuous, it can mean that people are not necessarily searching for the type of provider they actually need.
Consider this example: Someone who has ADHD may think they need therapy and search 'therapist near me.' But what do they need, in reality? A psychiatrist, most likely, who can prescribe medication and engage in effective medication management.
This is just one reason why it is so important to have website content that properly educates visitors seeking help for specific conditions and services. Make sure that all your conditions pages reference what type of care is associated with that condition and that your services pages specifically reference which conditions are associated with that service.
Now that we've reviewed that best practice writ large, let's focus in on some specific tips for particular providers.
Tips for Pediatric Mental Health Providers
How can you dial in on nuance in your keyword strategy if you work in pediatric mental health? We recommend the following tips:
Include the words 'pediatric,' 'children's,' 'kid,' etc. in keywords and throughout the content so Google understands that you are a pediatric provider.
Keep your content focused specifically on conditions/disorders related to children.
Write about the impact of different treatment options for children, especially pediatric psychiatrists. (Parents often have concerns about giving their child medication, and their minds will need to be put at ease.)
Write content about early intervention for different conditions and the benefits.
Create bios for each provider that showcases expertise so parents can trust in your care. (Remember, sometimes people will also look up specific providers.)
Include information about parent involvement, insurance, and individualized treatment plans.
Tips for ABA Therapy Providers
And in the ABA space? We recommend focusing on the following:
Create an individual service page for each ABA service you provide.
Create individual location pages to target local queries.
Build your topical authority by creating ABA-related blog content across all stages of the funnel.
Play up your value props to distinguish yourself in what can be a very saturated ABA market.
If you provide ABA therapy only for children, talk a lot about the benefits of early intervention, and use "children" or "kids" throughout your content.
Build a good online reputation to increase your conversion potential.
Google Ads & PPC Keyword Strategy for Behavioral Health
Now, let's take a look at your PPC ads. Google Ads campaigns are crucial for driving new patients to your behavioral health practice— you know this. So, how do you get more from your Google Ads campaigns/maximize conversions? We always start at the same place: keyword strategy.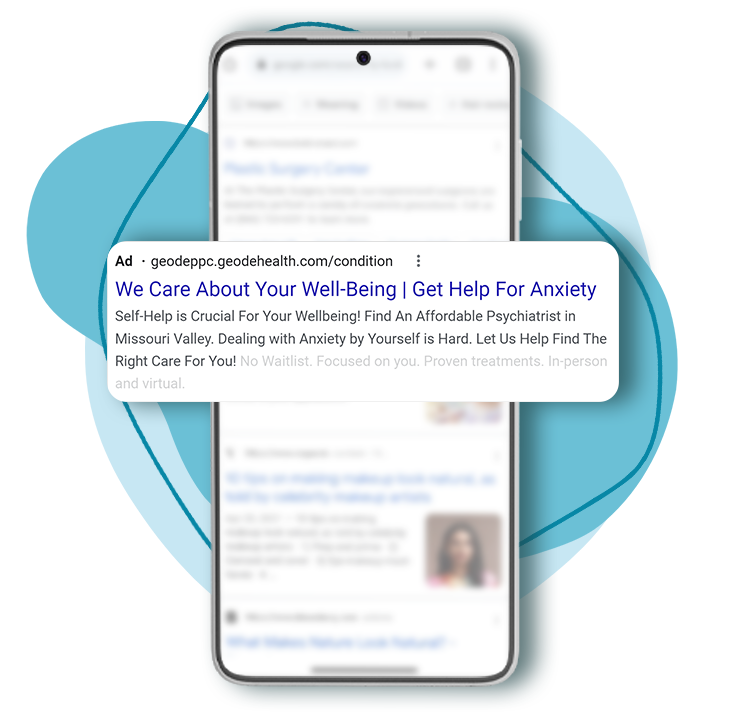 Structure Ads Accordingly & Lead to Relevant Landing Pages
In structuring your responsive search ads (RSAs), remember to stay focused on the nuances of behavioral health, as referenced above. Your RSAs should also be structured so that the most important value props and branding elements get exposure. Generally, those will be the following:
Insurance coverage
Appointment availability
Positive outcomes
Expertise
Even the most well-drafted ad needs to go somewhere relevant, so make sure your ad takes potential patients to a landing page that has all the relevant information they would need. This optimizes the post-click experience for your potential patients and, more importantly, can increase the Quality Score for your ads.
Ensure Ads Meet Approval
Next, you'll want to ensure you are properly certified and approved as an advertiser on Google. If you have errors in your accounts, that will prevent your ads from being shown across the entire account. Once LegitScript certifies and approves your account— essentially confirming that you are who you say you are— your account will be "whitelisted," and your ads will have the green light across your account.
This is particularly important for healthcare providers who want to include pharmaceuticals in their ads. Google maintains a non-exhaustive list of drug terms that are monitored in all aspects of your account, including keywords, ad copy, and website content. Having any of this content in your account will lead to restricted or disapproved ads.
This becomes hugely relevant for those behavioral healthcare facilities offering addiction services. If you are advertising in this space, you must be certified by Google to serve your ads. For example, if you are a clinic offering Ketamine as a treatment for depression, remember that "ketamine" is a regulated keyword and requires LegitScript certification and approval from the ad platform.
Yes, it can get complicated. What can you do? Here are some tips we think help in navigating the complexities of healthcare regulations/Google rules:
Always get certified and approved if you're running addiction-related or regulated content.
Don't try to fly under the radar even if your account hasn't been suspended yet.
Insurance Parameters
Knowing whether insurance covers a service is of the highest importance to many patients in the US. This is doubly so in mental health, where insurance is arguably the most important variable when seeking services.
For this reason, it's integral to make insurance coverage a prominent aspect of your targeting and creative strategy. Here are some tips that can help you ensure that you are hitting all the right notes when it comes to insurance:
Be transparent about what insurances you cover, and in which states
Target insurance-related keywords in your ad copy
Use insurance coverage structured snippets
Mental Health vs. Addiction Keywords for Google Ads
That bit up above about keyword regulation? Keywords are very regulated when it comes to addiction treatment. If you want to introduce addiction-related keywords into your paid search strategy, you must meet several requirements, including being LegitScript certified and being approved by ad platforms. Why? Because ad platforms want to ensure that those seeking help for addiction are receiving accurate and safe treatment options.
Remember, people with a dual diagnosis often search with queries that include both condition and addiction-related terms, so getting certified and approved will open up other keyword expansions.
Expect your potential patients in mental healthcare to be searching for combinations of relevant addiction and mental health conditions (e.g., anxiety and drug abuse), treatment options (e.g., dual diagnosis treatment near me), online support for dual diagnosis, and symptoms and effects of dual diagnosis.
Conclusion
It's hard to understate the importance of having a proper keyword strategy for your behavioral health practice. Not only will it help you target the right audience in a crowded space, but it will also help you ensure that you are staying in compliance and getting your ads and content seen. Plus, at the end of the day, a proper keyword strategy will save your organization money, while growing your patient pipeline.