Keywords are the foundation of search engine optimization (SEO) in healthcare. They're the language that people use to look online for information and answers related to their health. They're embedded on website pages, blog posts, and social media. They're the very fundamental "stuff" that search engines use to connect patients with what they need online.
All of which makes keyword strategy a foundational part of any medical practice's SEO program. Unfortunately, too many healthcare marketers never complete this step in any formal sense of the word. This is why we've put together this short guide to developing a keyword strategy for your medical practice.
Step 1: Determine Your Keyword Strategy Goals
The objectives of SEO are so variable across the healthcare industry. A multi-location plastic surgery group might want to grow their rhinoplasty or men's chin augmentation services. A dentist might be launching a new location that needs attention. As such, any keyword strategy needs to align with these broader organizational objectives. Are you launching a new location? A new service line? Is patient volume down at one of your locations? Trying to bolster your rankings against a rising competitor? Focus on keywords that will support these objectives and drive revenue.
TIP: Source these goals with the help of colleagues and stakeholders, and then get everyone's sign-off and write them down!
Step 2: Learn How Your Prospective Patients Search Online
The tie to a broader organizational objective naturally leads to audience research. If you're the plastic surgery group mentioned above, who is the target market for your men's chin augmentation services? What's the patient persona and, subsequently, what are those prospects looking for? What questions do they have about chin augmentation? And why do they need this particular procedure?
You'd be amazed at how much you can get down on paper when you ask these questions to a group of colleagues. This is a great start, but not enough. You want the actual language your prospects are using. For that, you can turn to one or more of the following keyword research tools:
Google Keyword Planner: Part of Google Ads, this tool provides keyword suggestions, search volume, and estimated costs. Not only is this useful for Google Ads campaigns, but they also give you a better understanding of the keywords people are actually using.
Google Trends: See how people search, what for, and their level of interest in particular keyword phrases or topics. "Related Topics" and "Related Queries" are particularly useful for keyword research.
AlsoAsked: Free keyword research tool that helps you dive deep and explore the questions patients are asking.
SERP Features: You can glean a lot of keyword research from search engines themselves. On search engine results pages (SERPS), Google often includes features such as "Suggested based on your recent activity," "People also ask," and "Searches related to."

Online Communities and Forums: How are people—real people—talking about particular topics online? Dig into online communities and forums related to your topic area for target keyword candidates. Try this: for your next Google search, add the word "Reddit" to your search phrase—it's like a whole new world.
Contact Form Submissions and Patient Feedback Forms: The forms customers engage with are another opportunity to capture language directly from customers. Review your contact form and survey submissions for common questions, topics, or themes.
Conversational Analysis: An emerging technology that can automatically gather insights from phone lines. CallRail, for example, uses CallScribe to automatically transcribe calls and identify keywords. This can help you uncover new keywords and phrases that patients are using to describe their problem and the type of solution they need.
Step 3: Align Your Keyword Strategy with the Patient Journey
While each patient journey is different, they all generally share the same core phases:
Research
Consideration
Decision
As people move through these phases and conduct searches, they'll exhibit one of four types of search intent:
Informational
Navigational
Investigational
Transactional
A closer look at any combination of journey phase and search intent will help narrow the focus on a particular grouping of target keywords. For example, someone curious about men's chin augmentation (research phase) might search something like "what is men's ching augmentation?" or "men's chin augmentation before and after" (informational). Once they've narrowed down their search to a few providers, they then might conduct searches like "provider name + chin augmentation reviews" (investigational).
Between these and related keyword phrases, healthcare marketers will have a good idea of the type of content to create for these particular points in the patient journey (and which keyword phrases to include).
About the Different Types of Healthcare Keywords:
As you continue mapping different patient journeys and tying search intent and keyword phrases to different phases, you'll come across a few different categories of keyword:
Broad Healthcare Keywords
These one- to two-word phrases tend to be quite general. As such, these broad search terms usually get a tremendous amount of monthly search volume, which creates nearly unrealistic competition for the top spots. For example:
Eye doctor
Physical therapy
Cold symptoms
Upset stomach
Cardiologist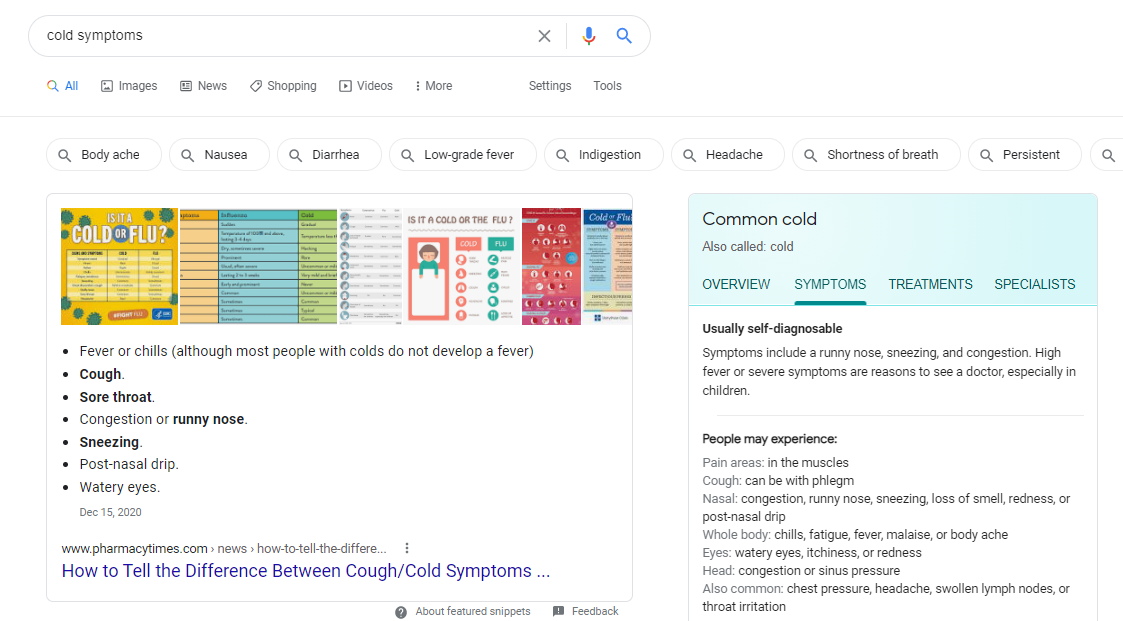 Again, on a national level, it's massive sites like WebMD that tend to rank for these broader terms. And while it might not be worth your time or investment to try climbing the ranks for these terms, they're not without use. When combined with location keywords, for example, like "Atlanta dentist," these keywords become far more realistic (and potentially more fruitful) targets.
Long-tail Keywords
As the name suggests, long-tail keywords are three words or longer. They often consist of broader keyword terms couched in additional language that narrows the focus and signals intent. Long-tail informational queries might be used to research symptoms or procedures ("what's the recovery time for hip surgery?"). Long-tail transaction queries might be used to make a purchase or schedule an appointment ("where can I buy a CPAP machine in San Diego?").
Here are a few other examples of long-tail keywords specific to healthcare:
Best orthopedic surgeon for knee replacement
Addiction treatment center with outpatient programs
Therapy for depressed teenage son
Exercises to relieve back pain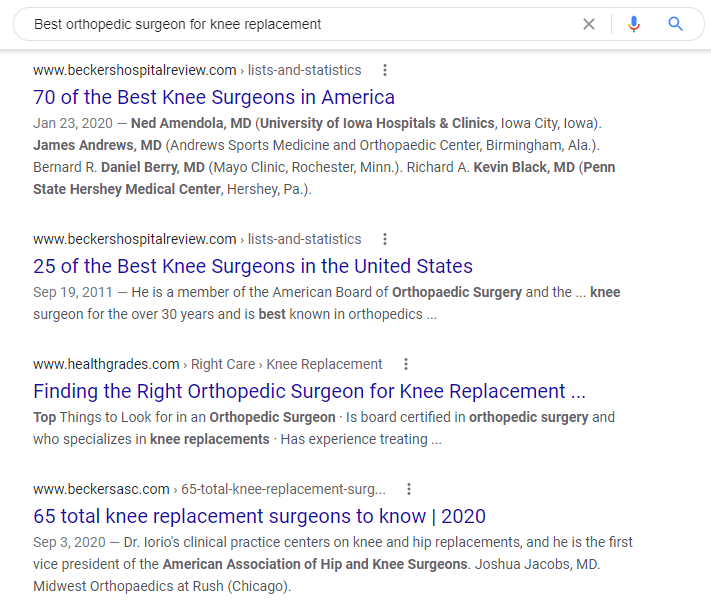 Targeting long-tail keywords helps you gain more visibility in competitive healthcare markets. You might struggle to rank for "Dallas dentist," but "gentle dentist in Dallas" or "kid friendly dentist in Dallas" might be well within your reach. To uncover these keywords, explore your unique selling proposition. What do you do best? What niche do you hold in the market?
Location-based Keywords
These are typically longer tail keyword phrases that include location identifiers, such as a postal code, area code, city name, or state. For example:
"24/7 urgent care north park".
"sports physical therapist 60015"
"hospice services Alzheimer's Tampa Bay"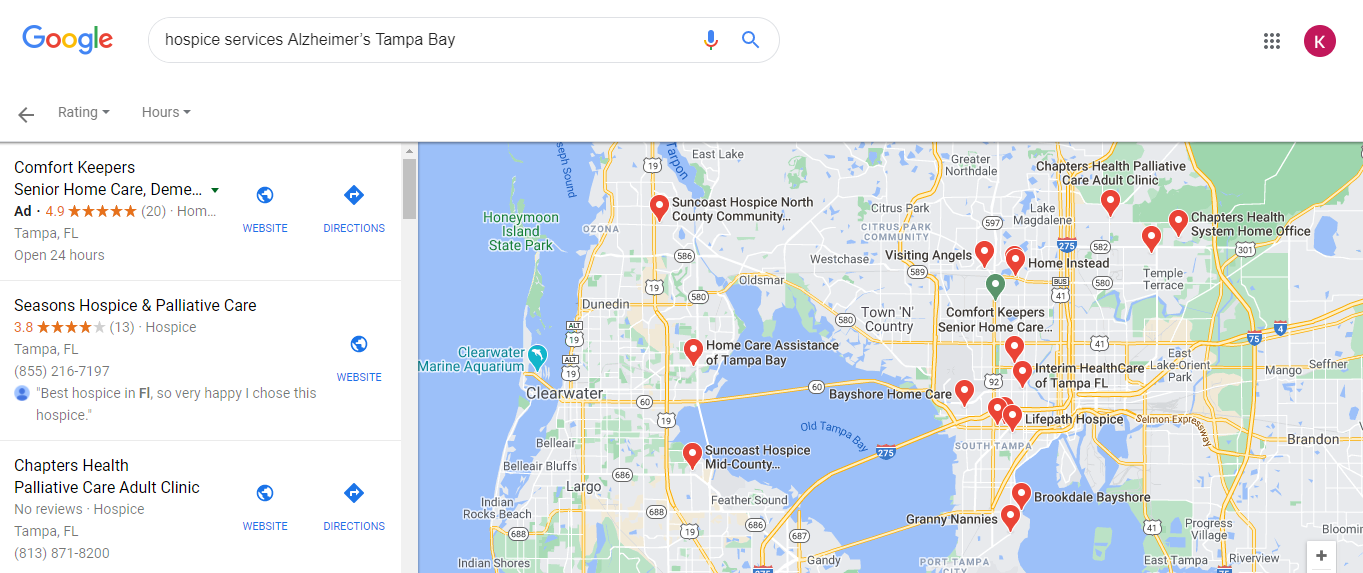 Targeting location-based keywords allow you to reach the audience near one of your locations. Location keywords are particularly useful for healthcare organizations, as most people are searching for a provider that is located near them.
If you have multiple locations, you have an added layer of complexity and need to develop a multi-location SEO strategy. This comes down to selecting the right local keywords for that location, as well as developing location-based site pages and digital listings (Google My Business).
Related: For a more extensive look at multi-location SEO strategies, see: How to Boost Local Rankings for Multi-location Medical Practices
Problem-aware Keywords
A problem-aware person feels so motivated by a certain need that they use a search engine to try and address it. There's only one caveat: they don't really know what their solution looks like. A person suffering from chronic lower back pain fearing the worst, for example, might not know that their problem could be solved with acupuncture. They might not even know acupuncture exists!
Here are a few other examples of problem-aware keyword phrases:
"Why do my knees hurt every day"
"How do I prevent eye strain from computer usage"
"Why do my wrists hurt after working on my computer"
Problem-aware keywords are typically used by patients at the beginning of their journey. Creating educational content, like blog articles or guides, for these keywords is a great way to reach searchers and demonstrate your expertise. By providing helpful answers and potential solutions to their healthcare problems, they'll be more apt to consider your brand when they begin to evaluate providers.
Solution-aware Keywords
On the other hand, a solution-aware person has a very clear understanding of the outcome they want. However, this person does not necessarily know the product or service that is going to get them there. For example:
"male pattern baldness treatment Chicago"
"orthodontics fix kid underbite San Diego"
"boxing program for weight loss Toronto"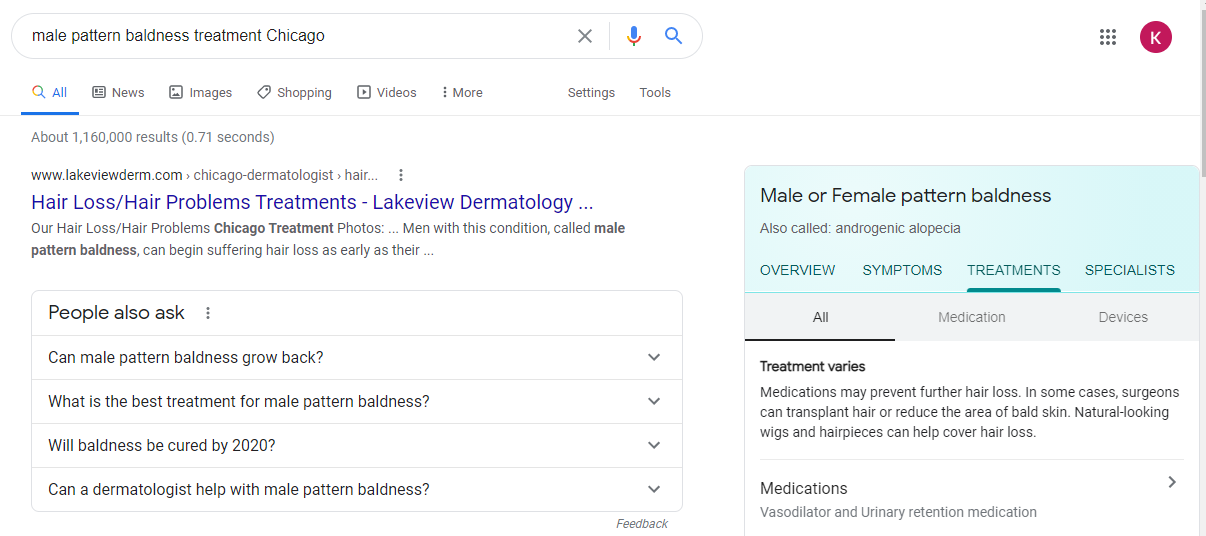 To rank for solution-aware keywords, healthcare marketers can tailor site content related to particular products or services to appeal to the solutions these prospective patients are looking for. Perhaps you provide a particular, highly effective procedure that cures male pattern baldness in the Chicagoland areas. Or perhaps you provide a particular treatment plan to help kids with underbites. A comprehensive service page that uses those solution-aware keywords and location keywords will help potential patients find you.
How to Target Keywords Based on Search Volume
Throughout the development of your keyword strategy, you'll want to strike the right balance between search volume and competition. While high volume, high competition keywords do have the potential for lots of traffic, they might be difficult to rank for, especially for newer practices or practices with poor digital authority.
Low volume, low competition keywords on the other hand are easier to rank for. This might be the place to look for keywords that are likely to:
Drive patient acquisition
Indicate high intent to purchase
Book an appointment
Finally, there are high volume, low competition keywords out there. But they're rare. With keyword research technology now in the hands of so many healthcare marketers and SEO, any high volume, low competition keywords that do remain viable won't stay that way for long.
Step 4: Create Content Using Your Target Keywords
With your target keywords in hand, backed by a documented keyword strategy, it's time to go after those top rankings. We recommend focusing your energy on three core areas:
Build Robust Web Pages
We've already mentioned a few examples, such as dedicated services or location pages. As you spin up new web pages or update existing ones, in support of your new target keywords, keep the following best practices in mind:
Think thick, not thin in terms of the amount of content to include on a given page
Use keyword phrases naturally (the words that make up the phrase don't always have to appear in the exact order)
Bring valuable information to your prospective patients, keeping their journey phase and search intent in mind
Build comprehensive "pillar" pages around a particular topic, rather than multiple low-quality pages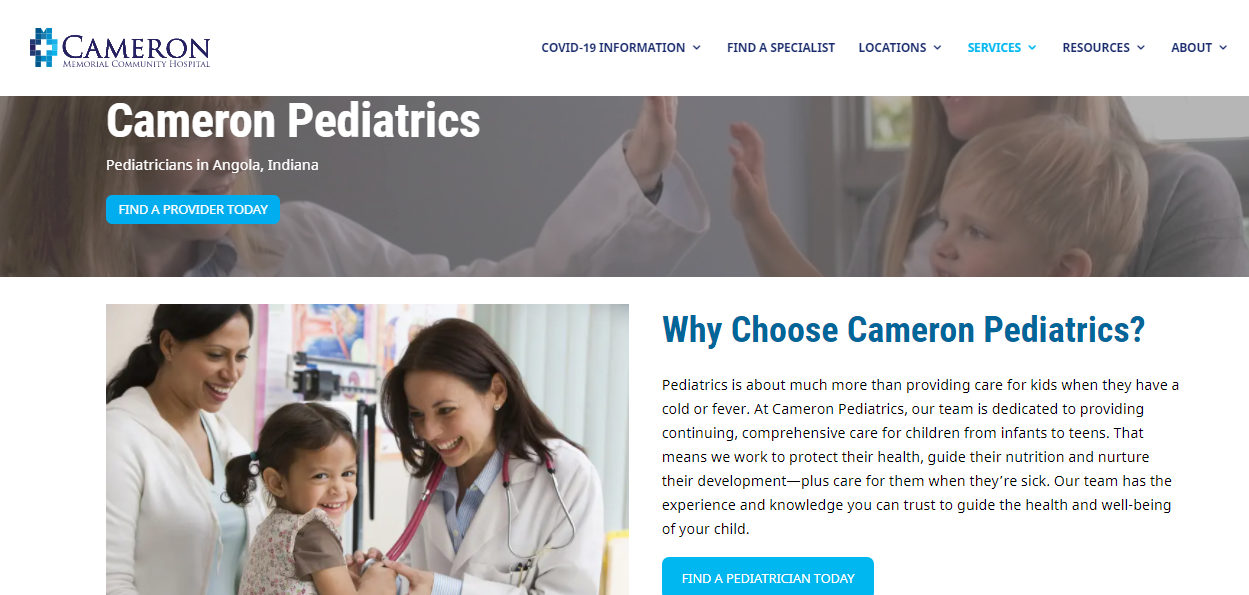 Build robust service pages that thoroughly describe your services and answer any questions patients may have.
Implement On-page Keyword Best Practices
There are lots of ways to enrich site content with target keywords. Done correctly, these on-page SEO best practices send strong signals that help you rank better in SERPs. Look for opportunities to incorporate target keywords into:
Page titles
URLs
Meta descriptions
Image alt text and captions
Internal links
Content headers (H1 to H6)
Create Content Marketing Strategies Around Target Keywords
Content and SEO go hand in hand. Beyond website pages, it's important to develop tailored content that supports specific keyword strategies. This might be a series of blog posts aimed at patients in the consideration/informational phase or video testimonials for solution-aware patients.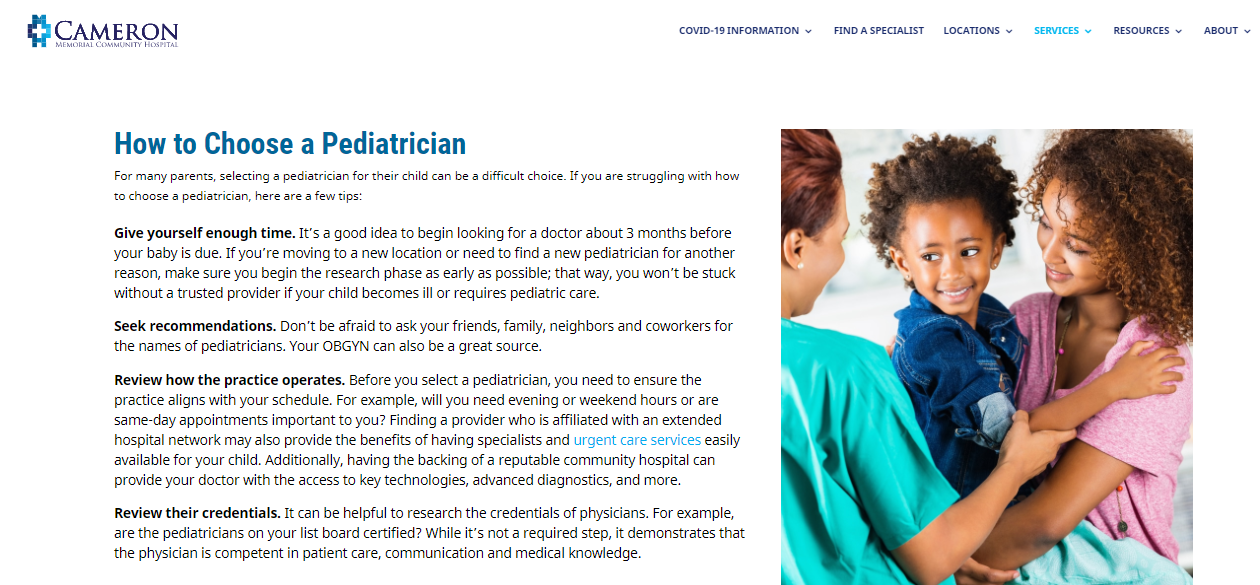 Provide useful information that helps patients navigate complex healthcare decisions.
In other words, you need to build content to meet needs for each stage of the patient journey, as well as each type of search intent. Ideally, this content should be authoritative, high-value, and backed by medical expertise. Pages in the Your Money or Your Life (YMYL) category, which includes healthcare, are held to a higher standard by search engines.
WHAT NOT TO DO: This is not the time to begin auto-generating crap content or keyword stuffing your existing stuff. In fact, there is never a good time for blackhat keyword tactics. Google won't like it, nor will your patients. They're looking for a provider they can trust.
In Closing: Know Where You Want to Go
Any old medical practice or healthcare marketing group can cobble together a group of keywords they think their company should rank for. What separates competitive SEO programs in the healthcare field is a more formal, organized, and data-driven approach to keyword strategy.
It all hearkens back to aligning your target keyword list with specific organizational objectives (step 1). From there, your team will have a great starting point to conduct thorough keyword research (step 2), build a patient-journey-aligned keyword strategy (step 3), and develop keyword-rich content in support of this strategy (step 4).
In our experience, this kind of comprehensive approach is the only way to improve search visibility and drive patient acquisition in the long term.