Healthcare marketers can learn a lot from JetBlue. Seriously. In recent years, the budget air carrier has totally revamped its customer experience, to wide and well-deserved acclaim. How did they do it? They put the customer experience at the center of their entire design. Today, things are much easier for passengers flying with JetBlue, from self-check-in and bag drop to a handy dandy mobile app.
Like airline passengers, healthcare consumers want the same level of thoughtful design. They want on-demand, low-effort digital experiences that are consistent across all of their devices. They want transparent, proactive communication that helps them, rather than sells them.
And when healthcare needs arise, as they inevitably do, these consumers want fast access to care. The data from the Kyruus 2019 Patient Access Journey Report doesn't lie:
30 percent of people schedule their appointments online
40 percent of people switched providers to get an appointment sooner
46 percent of people who visited urgent care in the past year cited "speed of access"
In a word, patient access matters. To remain competitive, healthcare providers must respond by removing barriers to patient access. This article takes a look at how five specific digital marketing technologies can increase consumer access to healthcare.
1. Start With a Well-designed Website
Before we dig into the other technologies, we need to start with the foundation. Your website needs to be the centerpiece of patient access, never an afterthought. Whether they find your site using a search engine, or come to you directly, your patients often begin their journeys on your site. The question is, can they quickly find what they need in a couple of clicks or less?
What we're talking about is your site's user experience (UX), a rather all-encompassing term. To build an all-around hassle-free experience, here are some website best practices to remember:
Intuitive navigation: Yes, reduce the clutter in your top navigation. But think also about the most sought after information, pages, and processes that the majority of patients need to find. How quickly can they schedule an appointment, for example? Find your phone number? Or find information about COVID-19?
Good copywriting: For many patients, the medical world speaks a different language. The quality of your website copywriting can help avoid confusion and guide people where they need to go. Keep it concise. Prioritize clarity. Minimize jargon. And write in laypeople's terms.
Use larger font sizes: This allows people with all abilities to read your site with more ease, and across more devices.
Comply with ADA site guidelines: What was once something that most sites ignored (and that some still do), is now an imperative. Especially healthcare providers have no excuse for failing to prioritize ADA website accessibility.
Be mobile responsive: The world is going mobile, including healthcare consumers. Make sure your site content is accessible across all mobile devices (smartphones, tablets, and so on) and easy to use. Be sure to test new pages.
Load fast: Both healthcare consumers and the Google gods expect strong site speed. Clunky pages that load slowly add friction to the patient journey, create frustrations, and can hurt your website rankings.

Speaking of ranking on Google …
For many healthcare consumers, Google and other search engines are their entry point. Fortunately, a good website, one that follows the best practices detailed above, goes hand in hand with strong Google rankings. As part of your website updates, consider auditing pages against search engine optimization (SEO) best practices, too.
2. Consider Your Online Scheduling Process
Remember that stat from Kyruus, that 40 percent reported switching to providers who could get them in sooner? Scheduling is a big deal to nearly all healthcare consumers. However, some people still have mixed feelings about online scheduling. According to the same report, some 55 percent still prefer to talk to someone and schedule on the phone.
Still, others enjoy the convenience online scheduling offers, especially younger generations. Overall, the preference for phone bookings is down, especially among younger people: 40 percent of Gen Xers, for example, and 35 percent of Millennials, prefer to book appointments online.
The first step is to evaluate interest at your practice. What's your core patient demographic, and how likely are they to book online? What are competitors doing in terms of online scheduling? Could online scheduling capabilities help you compete? Will implementing this option help you at all operationally? When launching your online scheduling interface, keep a few things in mind:
Test and refine the UX across devices, browsers, and even operating systems. Your UX mustn't be the reason patients abandon your online scheduling platform or neglect to use it at all. If online bookings are lagging, this might be why.
Make online scheduling availability obvious and promote it widely. Start with adding a prominent button or link to your homepage and top navigation menu. You can also add online scheduling to your Google My Business listing(s) and, if needed, launch ad campaigns to build awareness and drive appointments.
Find a good online booking solution that specializes in healthcare. The right vendor ought to offer easy, out-of-the-box integrations with your existing website experience, while handling all the technical nitty-gritty so you don't have to build something from scratch.

3. See If Chatbots Make Sense For Your Demographic
There's been a lot of hype around chatbots—a lot. And while they're not necessarily the cure-all for overburdened call centers or long call waiting times, they can help patients get the answers they're seeking. According to the 2020 Digital Health Consumer Survey from Accenture, for example, more than 12 million people have been reached through the WHO's Health Alert chatbot service.
The reason is simple: they can solve issues and answer questions so that patients don't have to call a contact center. There's no question that chatbots can help facilitate patient access. Here are some of the most common use cases we've seen in healthcare:
24/7 scheduling
Symptom checker
Volume control for spikes in COVID-19 related questions (Can I get the vaccine? Are you offering in-person visits? Do you offer telehealth appointments?)
Answers to questions in a judgment-free environment, any time of day
Healthcare recommendations (who to see depending on their question/symptoms, for instance)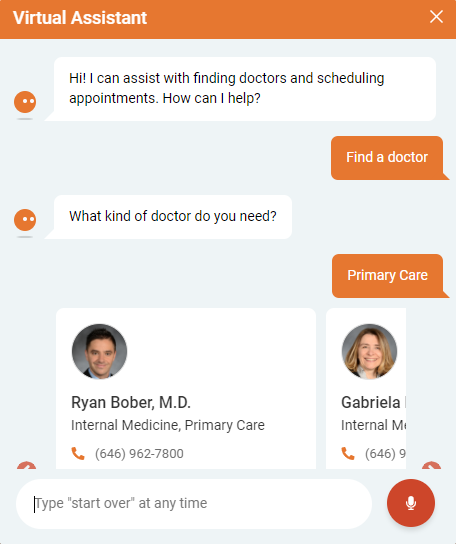 What's nice about chatbots is how versatile they can be. While some chatbots are 100 percent automated, others can gather information from a patient before handing them off to live agent chat. Other chat platforms can be integrated into messenger apps, such as WhatsApp or Facebook Messenger, as well as text messaging.
4. Optimize Your Telehealth Offering
There's no doubt that the global pandemic has accelerated telemedicine adoption and virtual care investments. For some patients, virtual care allows them to overcome disabilities, remote locations, or trepidation around COVID-19 exposure. For others, telehealth extends safe access to healthcare for at-risk populations for whom in-person visits are still not an option.
Coming back to the aforementioned Accenture report, we see that some 62 percent of healthcare consumers are open to virtual health and wellness advisories. 52 percent of consumers are open to conducting routine appointments using telehealth, while 44 percent are open to telehealth appointments with specialists.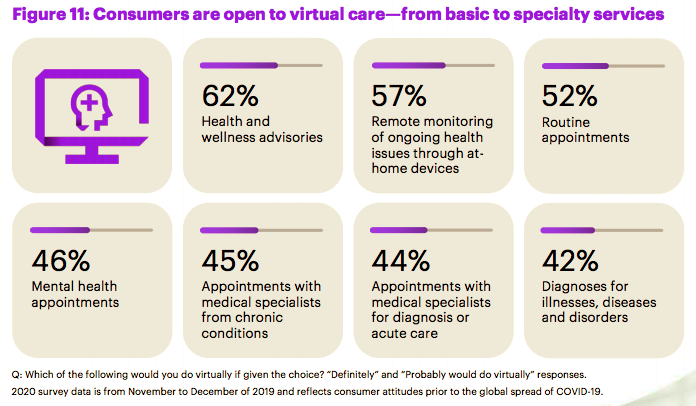 To drive telehealth adoption at your practice, you need to provide your patients with two things:
Awareness of your telehealth offering and how to take advantage of it.
Support for accessing, setting up, and using telehealth.
Though it has been around a while, telehealth is back in the news and back in vogue. For a more in-depth look at telehealth and how to successfully roll out your offering, see our Telehealth Marketing Best Practices.
5. Leverage Marketing Automation Where It Makes The Most Sense
Marketing automation is a slippery slope. Too much of it can make patients feel like automatons, or like their healthcare provider is intentionally trying to limit their access to an actual live person. On the other hand, marketing automation can bring tremendous value and convenience to the patient journey.
Just consider this excerpt from the Accenture 2019 Digital Health Consumer Survey:
"More than half of patients surveyed expect digital capabilities—from requesting prescription refills to booking appointments. These expectations increasingly influence who these patients choose in a provider. For instance, in 2019, 70 percent are more likely to choose a provider that offers reminders for follow-up care via email or text, compared to 57 percent in 2016."

We see automated messaging mentioned here, for good reason. How nice is it to get an email or SMS reminder of an upcoming appointment (one that you would have otherwise forgotten about)? This kind of automation is mutually beneficial: it helps patients stay on track while keeping time slots fully booked and reducing no-shows.
Again, it's all about a proactive, value-bringing approach. You can use automation to connect patients with specialists or continuing care options or provide reminders about upcoming milestones in their follow-up care (after a surgery for example).
It's Time to Take a Close Look in the Mirror
Remember our reference to JetBlue? Here's the thing: for a long time, JetBlue hardly had a reputation for top-notch customer service and thoughtful CX design. As recently as 2018, some outlets tabbed it the "worst airline in America."
The point is, patient experience matters to the very status and survival of your brand, and patient access comprises a central part of it. By constantly viewing the processes, operations, and marketing touchpoints that make up your patient journey through the lens of enhancing patient access, you'll quickly see your blind spots.
In many cases, barriers to patient access are self-imposed. Getting your practice squared way in the five areas we've enumerated above will put you head and shoulders above the competition.