As a DSO, a big part of your job is to attract a pipeline of qualified doctors and dentists to work underneath your brand. An even bigger part of your responsibilities involves maintaining healthy relationships with all the practices you acquire over time. 
Between the competitive labor market, wage pressures, and growing competition in the dental industry, it is more important than ever to make your individual practices and providers feel appreciated as you expand. Otherwise, you'll struggle to attract talent and practice groups to your and, and growth will be stunted by reduced capacity. 
Every independent practice has heard horror stories about what happens to businesses once corporate dentistry steps into the picture. Your mission is to break the stigma and create an inviting environment that makes your employees feel comfortable and proud to be a part of your DSO. 
So, how can you maintain this balance of acquiring new practices and keeping your existing ones happy as you continue to grow? That's what we'll be talking about here. In this article, we will go over five things you can do to strengthen relationships between DSOs and doctors/dentists:
Support Your Doctors and Dentists

Avoid Micromanaging Whenever Possible

Involve Your Practices with Your Brand

Offer Bonuses and Incentives

Empower Your Employees
1. Support Your Doctors
Once you acquire a new practice or attract young doctors to your DSO, they become your responsibility, which brings big benefits to your DSO. They'll help you increase capacity, reach new markets, and grow quickly. In turn, you'll help them grow their practice or career. 
To do this, you need to offer your support as their new head of operations.
There are many definitions of "support" when it comes to taking care of your affiliates, and you should aim to hit them all whenever you can. That way, you know you're providing the most well-rounded care for your teams. A few key areas to focus on include:
Resources

: As a DSO, your job is to make life easier for your practices. To start, you can provide them with all the business essentials they need to

bring in new patients

and provide them with a positive experience. This includes new office supplies, furniture, equipment, and more.
Updated Technology

: Along a similar vein, don't cut corners when providing more expensive tools and technology for your offices. New doctors are very tech savvy and expect to use the technology they used during their education. Plus, you can use these investments to

differentiate the practice

as a provider of the latest dental technology and services.

Opportunities

: Supporting your affiliates goes beyond purchasing physical things for them. You can also provide mentorship, career, and growth opportunities for new dental graduates and current employees to show your investment in their future with you.

Heartland Dental uses testimonials from affiliated doctors as a marketing strategy.
Open Communication

: If your affiliates are unhappy about something, they shouldn't have to jump through hoops to tell you about it. Be sure they have an open line of communication with you. The bottom line is your DSO dentists and doctors

will

leave if you aren't providing the necessary support for them. 
2. Involve Your Practices with Your Brand
One of the best things you can do to improve your relationship with your affiliated practices and providers is to involve them with your marketing strategies, brand messaging, and overall decision-making for their locations. By putting this into practice, you'll find it works in your favor—and the dentists' favor—in a few different ways.
For starters, your employees will feel heard when you validate their vision, which is the most critical takeaway when building strong relationships within your DSO. And as a bonus, you may find yourself with better ideas for your marketing strategies since you'll be talking to the people who interact with your target audience regularly.
Finally, by including your practices and their field teams in your marketing strategies, you are more likely to attract and retain patients that are loyal to your brand. You'll seem more honest, trustworthy, and transparent with unified messaging that reflects the practice itself. All in all, involving your practices with the brand will work wonders in improving relationships between DSOs and doctors, and patients.
Your relationship is a partnership, not a dictatorship.
3. Avoid Micromanaging Whenever Possible
Along a similar vein, it's essential to know when to step back and let your individual practices do what's best for them. One of the hardest parts of acquiring a new practice is teaching them to let go of the idea that they are losing a part of their business.
To help ease this transition, it's important not to take everything over. Instead, your job as the overarching organization is to provide capital, strategic direction, and any additional support they need to build on the momentum of their practice. 
Your level of involvement in overall strategies depending on whether you're going with a branded house or a house of brands approach. That said, you should still give your individual brands as much autonomy as possible.
4. Celebrate Your Employees
In any position, employees who feel valued will provide a better quality of work, which is no different for the dental industry. So, in addition to listening to your affiliates' wants and needs, consider taking things a step further by actively celebrating your employees.
You can implement a few easy practices that will make celebrating your employees simple. 
Internally, you can start an employee reward program for peers to recognize coworkers that go above and beyond. You can also make your employees feel better by sharing their accomplishments with the rest of the world.
This includes sharing news about your employees (such as rewards, records, promotions, new hires, etc.) on your social media channels. This will make your practices happy and offer some free advertising for you, too.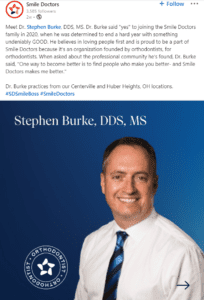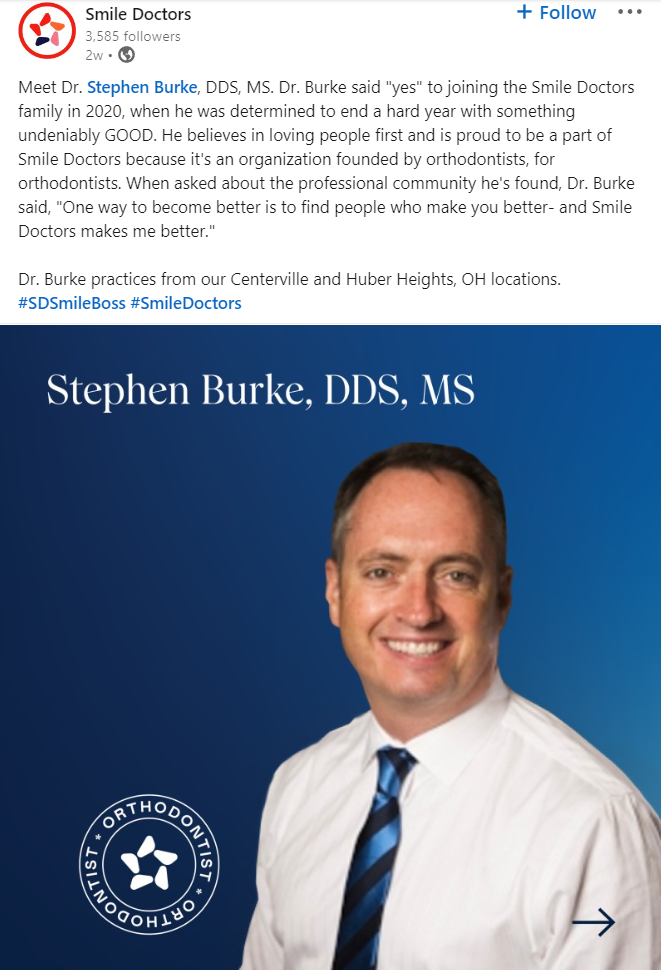 When your doctors are happy, their patients will be too. Why? Because no one performs well at work if they feel unappreciated. If you want to create a positive patient experience, it needs to start with your doctors. When they feel valued, it'll trickle down to patients and better experiences at every level.
5. Offer Bonuses and Incentives
On top of listening to your employees' needs, it never hurts to offer financial incentives, too.

DSOs and large practice groups have increasingly faced staffing shortages for both dental professionals and administrative staff. As a result, wage requirements have increased considerably, making it essential to offer attractive compensation packages. 
Here are a handful of actions you can take in terms of financial compensation and other bonuses to incentivize dental professionals:
Promote Internally Whenever Possible

Start an Employee Referral Program

Provide Sign-On Bonuses

Maximize Compensation for Employees
  "Many DSOs are miserly with comp and don't offer incentive bonuses or earnout payments for hitting growth targets, nor do they offer equity. Doctors should have the opportunity for both." – Forbes
You can throw a lot of money into recruitment, but ultimately you will struggle to attract dental professionals to your DSO if you have a poor employee culture. 
That's why the previous recommendations must be implemented. In the tightly knit dental industry, word spreads fast, and no one will want to affiliate with a DSO that doesn't respect its doctors. 
Start Strengthening Your Internal Relationships with Your Practices
When running a successful DSO, creating and forming healthy relationships with your affiliates and potential patients will be key to your success. With wage pressure growing throughout the healthcare industry, promoting a strong culture within your DSO is more crucial than ever. You want to make your organization a place people want to go to and, more importantly, stay. 
Fortunately, this should be one of the most straightforward parts of running a DSO, especially after reading through this article. The job requires listening to your practices' needs and helpfully responding to them. If you haven't already put any of these ideas into practice, consider integrating them into your organization to strengthen your relationships with your employees. 
Should you have any other questions about your digital marketing strategies for your DSO, get in touch with our team at Cardinal Digital Marketing to discuss helpful solutions for your business today.