Marketing for a dental support organization (DSO) is a bit of a two-headed monster. First, you have to get people to patronize your member practices with cost-efficient patient acquisition strategies. Then there's your affiliate program, the success of which is essential to sustainable growth for your DSO.
Here's the rub: patients and affiliates are two different audiences with two very different objectives. And while both groups will engage with your marketing channels—organic search, paid advertising, social media, etc.—their motivations, needs, and requirements for doing so are quite distinct.
What follows is a look at some practical strategies you can use to bring the two efforts together to maximize your success.
Best Practices for Marketing to DSO Patients
First, let's talk about your unique selling proposition (USP). This is the reason that patients come to you instead of choosing another option. It's how you differentiate your DSO in crowded locations or areas of specialty. To give you an idea of what this looks like in practice, let's look at some DSOs from Becker's list of Top 10 largest DSOs:
Pacific Dental Services elevates patient experience above all else in its messaging. They've even developed (and copyrighted) a so-called "Perfect Patient Experience." This is a pretty distinct way of reinforcing the idea that Pacific Dental Services provides patient experiences a step above the rest.

The USP for Aspen Dental seems to be the reach and quality of its network and providers. Their website emphasizes convenient ways to find appointments (walk-in denture care, for example) in multiple places. Notice, however, that I used the word seems. This site is an example of a DSO that could further refine and more prominently articulate its USP.
To define your own USP from the patient's perspective, think about high-level differentiators consistent across all of your member practices. What idea about your brand do you want a person to walk away with after first encountering your DSO? For example:
The most widely reviewed, awarded, or recognized provider of a particular service (dental implants, pediatric dentistry, etc.)
The most advanced technology for a particular procedure or service
An alternative and superior approach to a common sticking point among patients (cost, pain, etc.)
The best growth and support program for member practices
A unique philosophy on dentistry and patient experience
Suffuse Your Marketing Channels with Your USP
You'll want to get specific about your USP and consider formalizing it. Why? Because the next step is to make sure that USP is emphasized, reflected, and amplified across your marketing channels. Typically, these are the channels and strategies at the core of a healthy patient acquisition program:
Search engine optimization (SEO) to reach people searching for dental services online
Local SEO to compete in the geographical locations of particular practices
Bottom-of-funnel pay per click (PPC) ads that convert high-intent people into bookings, appointments, registrations
Social proof, testimonials, and reviews that establish authority and reinforce confidence
Advertising that you can scale as you capture market share to build brand awareness and your pipeline
Again, all of these are opportunities to underscore your patient-facing USP. Do the teams in control of that messaging have a clear understanding of what that USP is?
Best Practices for Marketing to DSO Affiliates
Your affiliate-facing USP is all about why affiliates should join your DSO. What is it about your model that makes the experience different or better? This is your opportunity to stand out and attract members who are the right fit for your DSO.
Here's a good example from the Heartland Dental What We Do page:
"At Heartland Dental, we help you get back to being what you're meant to be: a dentist. We provide comprehensive administrative support services to tackle marketing, accounting, and other aspects of your business, allowing you to focus on what really matters: caring for your patients."
Based on a cursory review of that DSO's site, it's clear that they're making it a priority to appeal to prospective affiliates. Again, once you have your affiliate-facing USP chiseled out, you'll use it to guide your efforts in a few key areas of your B2B marketing:
Understand that Decision-Making Takes Longer for Affiliates
This might be the single most important recommendation we can make, as it will affect all of your affiliate-facing marketing. Dentists may start planning for their exit several years before they're ready to actually retire or reach out to a DSO for support. It's not necessarily a "high-intent" touch, though the decision can happen quickly based on circumstances (COVID-19, for example, caused many dentists to seek a DSO for support).
As such, your marketing program needs to be geared toward a much longer journey than patient-facing strategies.
Mind Your Website
I've already referenced three different DSO websites in this blog post. As you can see, first impressions are everything, and prospective affiliate practices will check out your website one way or another. It's critical that you get your website in order in a few areas:
Navigation, page speed, and messaging. In other words, what's the first thing people see and feel when they open the door and walk into your house? Do they feel comfortable, welcome, and in the right place? Can they easily find what they need or get their questions answered—in a timely and efficient manner? To appeal to affiliates, your website needs to be well structured, optimized across devices, and rich with engaging and consistent messaging. Otherwise, they'll just leave.
Valuable content. Think about the kind of content that an affiliate might need to make a decision. They might just need education about how DSOs work and the benefits. They might have a question or concern. They might want to see proof that they'll be better off as an affiliate of your DSO. These needs can be met with all kinds of content, such as:
Case studies reinforce value – show the successes affiliates achieve
Produce annual reports, demonstrate stability, show your growth, patient volume, etc.
Frequently asked questions (FAQs)
White papers, ebooks, and blog posts that educate or articulate a problem/solution
Help and support content (knowledge base)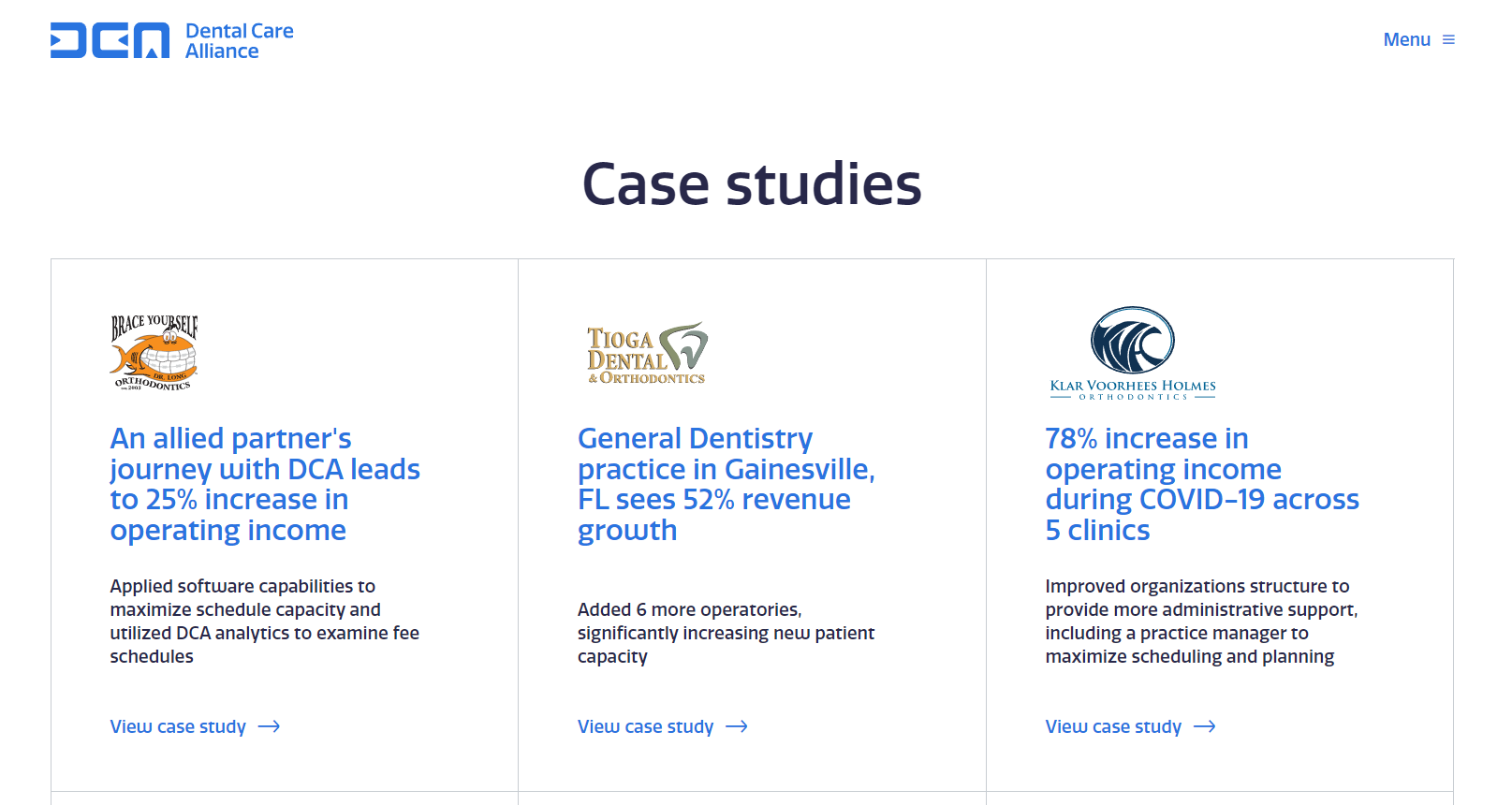 Make the Most of Your Dental Associations and Partnerships
Showing up goes a long way in making your DSO brand stand out. Look at dental associations, like the ADSO, for opportunities to speak at events, network, be a sponsor, and so on. You might also find opportunities for features in publications, podcast appearances, and guest authoring.
Nurture the Contacts You Already Have
In marketing, one of the primary ways we stay with potential buyers over the long term is through nurturing. Step back and map out the entire journey one takes from the first touch to becoming an affiliate. Across that journey, you have an opportunity to move those prospects along the funnel through email, organic social media content, and more. Ideally, all of these "touches" are tracked and attributable so you can better understand how to attract members to your DSO.
Bringing it Together for a More Comprehensive Approach to DSO Marketing
While your patients and affiliates are two distinct audiences, the marketing strategies you use to reach them can support each other. Both audiences will notice the strength and visibility of your brand. Both audiences can be compelled by patient testimonials—they just consider them from a different perspective.
And the messaging and structure of your website can be finagled to clearly and concisely take care of both audiences while staying true to your USP. For example, Smile Doctors has a different version of its site just for affiliates, while its main site is for patients.
One area of overlap we haven't mentioned yet is digital reputation management. It might be the most important, too, because both patients and prospective affiliates can and will look at your reviews as part of their evaluations. So, how are you and your member practices looking across Google My Business, Facebook Business, Yelp, Healthgrades, and 1-800 Dentist (to name a few). Potential members want to know that patients like and recommend the DSO too.
For a lot of practical tips on this particular topic, I encourage you to read our ​​Digital Reputation Management Strategy for Dental Groups.
Finding Harmony Between Patients and Affiliates
As I've detailed here, there are steps you can take to build a symbiotic marketing strategy that engages both of these important audiences. It can feel like a delicate dance at times. But it is possible. A lot of it comes down to 1) knowing your USP for each audience and 2) guiding each audience from start to finish.
It's funny, but all roads really do lead to your website. You'll probably point affiliate-specific PPC ads to a landing page designed just for affiliates (vice versa for patients). You can adjust your site's headline to speak to both audiences, but structure content and subpages so that patients and affiliates don't have to sift through content intended for the other audience.
In the end, what you're really doing is designing two versions of the same marketing funnel. For that, you'll need a deep understanding of your unique selling propositions, your target audiences, and the channels at your disposal.