Out of preference or necessity, many patients still prefer the telehealth option unless an in-person visit is absolutely necessary. Many people are not willing to go back to their primary care provider just yet.
In other words, people are on the fence.
This sentiment is reflected in growing calls for a hybrid approach, or the option to choose between in-person and telehealth visits. According to DocASAP's annual State of Patient Access and Engagement survey:
44% of people would prefer to receive care "both in-person and via telehealth" in the post-COVID era
40% of people would switch providers based on availability for both telehealth and in-person visits
New developments in telehealth regulations also seem to indicate the lasting place that this care option will have moving forward. The Temporary Reciprocity to Ensure Access to Treatment (TREAT) Act, for example, is designed to ease state and federal licensing requirements for healthcare providers to improve access to care. In addition, the U.S. Department of Health and Human Services (HHS) has issued waivers from the Centers for Medicare & Medicaid Services (CMS) for telehealth.
Lastly, our recent state of healthcare marketing survey found that 49% of survey respondents said they're focused on increasing telehealth awareness in 2021.
Telehealth is here to stay, it seems.
RELATED
:
The Future of Telehealth: a Hybrid Approach
How to Overcome Patient Objections to Telehealth
Given the necessity of telehealth amidst all the uncertainty that COVID-19 has created, many healthcare providers have made significant investments in their telehealth offerings. Assuming telehealth remains part of these broader healthcare offerings, how can these providers continue driving adoption (and ROI on these investments)? How do we convince patients who are on the fence about telehealth?
What providers are asking:
How do I ensure that my telehealth offering continues to be used after the pandemic?
What will persuade patients to continue to use telehealth?
Should I continue to make investments in telehealth? Will people continue to use it?
How do I get patients to buy into telehealth?
What patients are asking:
Will the doctor be able to properly diagnose me?
Is telehealth as good as in-person care?
How do I know the doctor understands my issue if he can't physically examine me?
How do I access the platform? Do I have the right technology?
What follows are three common patient objections to telehealth, as well as our recommendations on how to overcome these objections through telehealth marketing campaigns, communications best practices, and other means.
Objection 1: "It's not as good as an in-person visit"
This is by far one of the most common objections to telehealth. Whether borne of habit or resistance to something new, many people associate their healthcare with in-person visits. Ask someone with a curious skin growth whether they'd prefer to have it evaluated in person or via video and most will choose the former.
Doing it over video just seems … strange.
While there are certain situations in which an in-person visit makes more sense, that's kind of the point of a hybrid approach—it doesn't have to be one or the other. Patients decide. Telehealth now complements in-person care, often creating new conveniences and efficiencies for both patients and providers.
Telehealth can increase communication frequency, for example. It enables doctors to check on patients more frequently, whoever and wherever they are, leading to better patient outcomes. One visit every two months turns into bi-weekly check-ins now made possible by telehealth.
In some cases, these more frequent visitations can reveal minor changes that might signal an emerging issue. They're also a chance to monitor symptoms, surgery recovery, and side effects from medication. All of this without the same risk, cost, or inconvenience that may accompany in-person visits.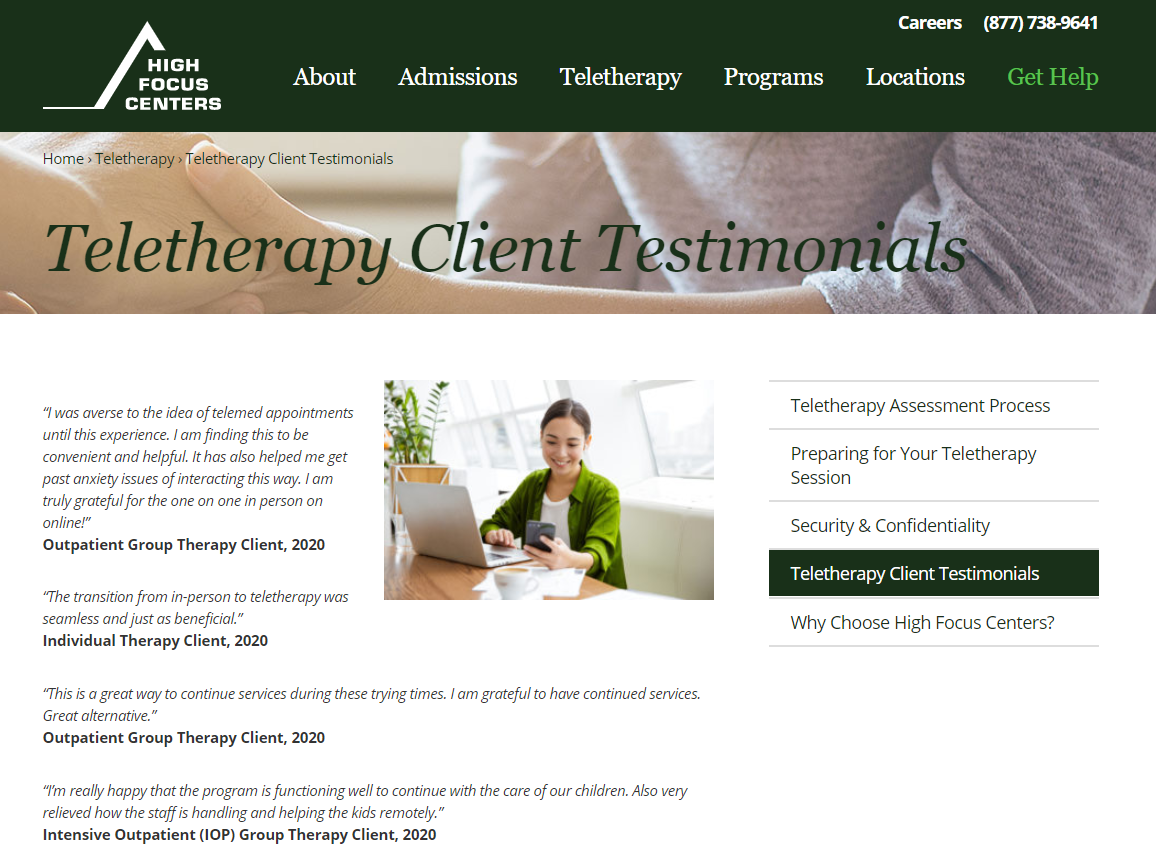 How to overcome the in-person-is-better objection
Much of this objection is due to a lack of awareness about telehealth. For that, consider launching an educational campaign around telehealth, one that includes:
Patient Testimonials: Create both video and text versions—even graphical creative—of testimonials from patients who had similar objections to telehealth. Use a multi-channel approach to share testimonials on your website, social media (organic and paid), and through email campaigns.
Case Studies: The idea is to dig into the real nitty-gritty. Show how telehealth helped a physician uncover and head off an emerging health issue. Or the practical ways that telehealth helped a travel-restricted patient adhere to their treatment plan during COVID-19.
Patient Reviews: Develop a review solicitation program to gather reviews after your telehealth appointments. Create a seamless path that makes it easy to leave a review, such as in-app reminders, text messages, and email. Some patients will peruse your reviews on places like Google, ZocDoc, and HealthGrades to get a feel for the telehealth experience.
Mock Treatment Plans: Sometimes, patients need to see how their schedule or care plan will look with telehealth in the mix. This is an opportunity to highlight the timeline and show how patients can receive more frequent care with telehealth. Take post-op care for hip replacement surgery, for example: with telehealth, the doctor can evaluate the incision, or discuss any mobility issues, every week between in-person visits. While it's still difficult to get around during recovery, this makes it easier for the patient to check-in from home and can, in turn, lead to better recovery outcomes.
Objection 2: "It's going to cost me more money"
For good reason, many patients worry about their cost of care. It's easy to assume that the introduction of a new way for conducting appointments, one that might enable more appointments over time, will be costly.
The truth, however, is that it depends. In many cases, telehealth visitations are covered—and even incentivized—by insurance carriers. They can potentially lower healthcare costs over time, too. Either way, transparency and proactive communication can go a long way to overcoming this objection.
How to overcome the costs-too-much objection
So, show them! Beyond making it easy to find which insurance carriers are accepted on your website, give patients the information they need to verify with their insurance carriers that telehealth is covered. While a comprehensive pricing page might not be possible for various reasons, provide as much detail as possible around price comparisons for certain visits (in-person vs. telehealth), anticipated co-pays, and so on.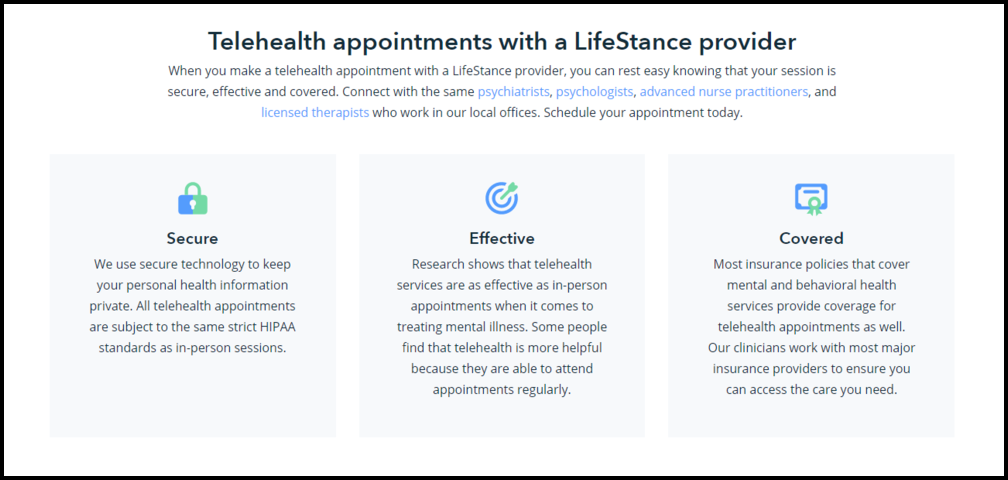 Remind patients that one of the top objections people have to healthcare overall are delays and long appointment wait times. Telehealth can help patients sidestep long in-person wait times to address their issue sooner while spending less time living in pain, discomfort, or risk.
Share patient stories and testimonials that tell these stories. For example, parents whose child gets severe poison ivy can get a same-day telehealth assessment and prescription for immediate relief. That's a lot better than waiting a week or more for an in-person appointment with their pediatrician.
Objection 3: "It's too complicated"
Don't overlook the technology side of telehealth. This can be a major obstacle for aging populations, especially those who feel less at home with smartphones and the internet than their millennial counterparts. For many, any kind of new technology or process is a non-starter—they just won't engage with it.
This means healthcare providers have their work cut out for them.
How to overcome the new-technology-is-scary objection
Step one is to make telehealth as easy as possible for patients to use—even so-called "lay" users. Ideally, patients won't have to install any software or create a new username/password to access their telehealth appointment. They ought to be able to access their appointment from their smartphone in a click or two.
Minimize points of friction that might trip up a novice!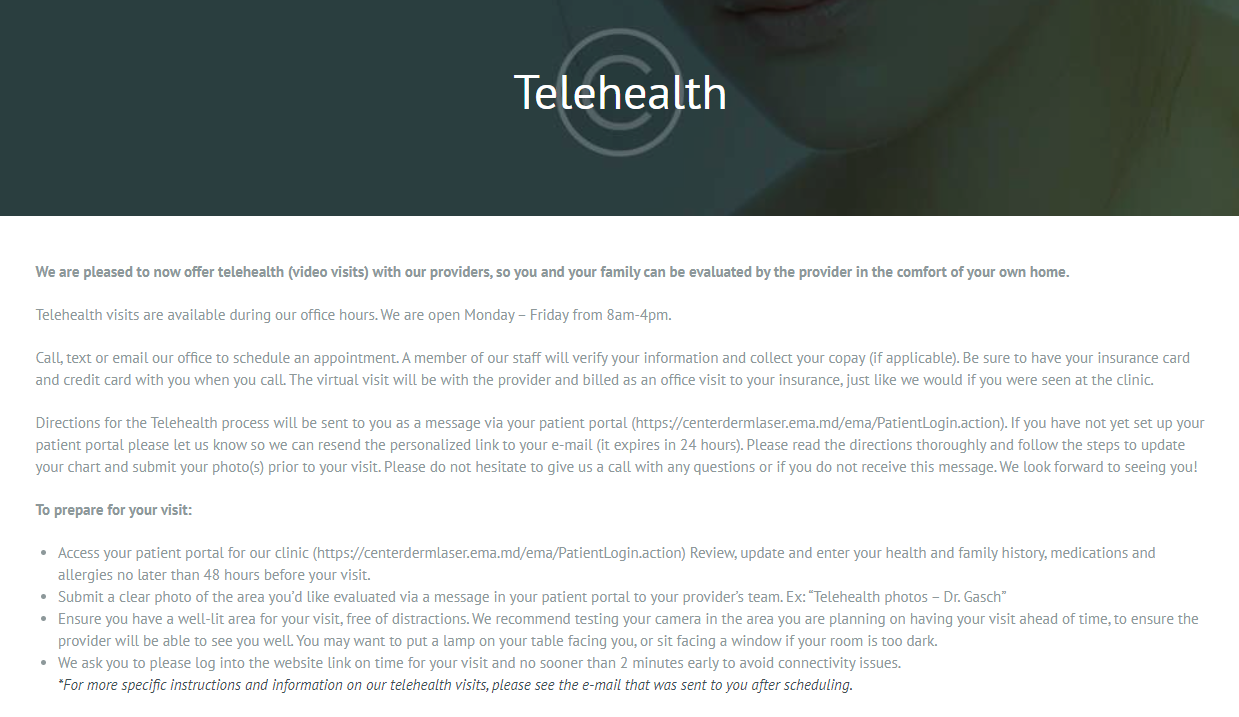 To improve telehealth adoption, create a hub on your website that answers patients' questions and provides clear instructions on how to receive virtual care.
Beyond selecting an easy-to-use telehealth solution, here are few ways to educate patients about how it all works:
Create a comprehensive telehealth "hub" on your website: This hub should include step-by-step instructions for getting set up, frequently asked questions (FAQs), and contact information for technical support. We've seen some providers make things even easier by allowing people to quickly run software and system checks, or providing hyperlinks to necessary resources and downloads.
Create print telehealth instructions: Include step-by-step instructions, FAQs, and visuals on print cards. These can be sent to patients by mail in advance of telehealth appointments or given to them after an in-person appointment or surgery.
Build a virtual waiting room: Virtual waiting rooms give patients a place to prepare for their telehealth appointment, address questions with office staff, complete paperwork, and address any technical issues. This ensures that patients don't miss their appointment, and doctors don't have to deal with any issues. These can be especially useful for larger practices with large patient volumes.
Bottom Line: Patients Want Transparency About Their Objections to Telehealth
Telehealth is not a cure-all and it's not without challenges—and that's okay. What patients care about most is transparency. By and large, they want information about telehealth—what it is and how to use it—not a sales pitch. You can build a lot of trust with patients—and drive telehealth adoption as a result—when you acknowledge these challenges and show how you're trying to overcome them.
Learn more about telehealth marketing best practices that will help you increase adoption.