An important aspect of running an online business is to generate more leads that translates into more sales. Fortunately, you can get great results from your marketing efforts with the many channels you can utilize.
Paid search is a popular and effective way to rank a website for important keywords and help get it to the top of pack without the long wait that SEO services require. Also, Google estimates that businesses make an average of $2 for every dollar spent on Google Ads giving you more bang for your buck.

Email marketing is another powerful channel used by digital marketing agency, where marketers can gain leads and sales. Therefore, it makes sense that an average business receives 97 email messages daily.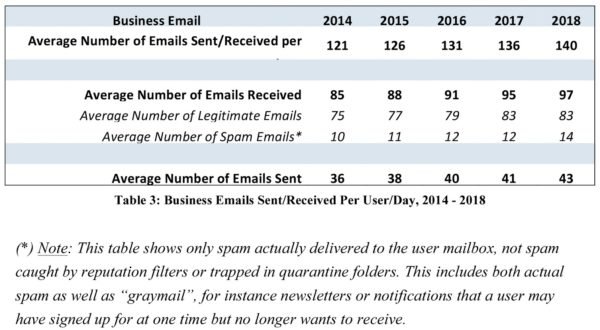 When you consider that email marketing has a return on investment of $44 for every dollar spent, then using this channel is a no-brainer.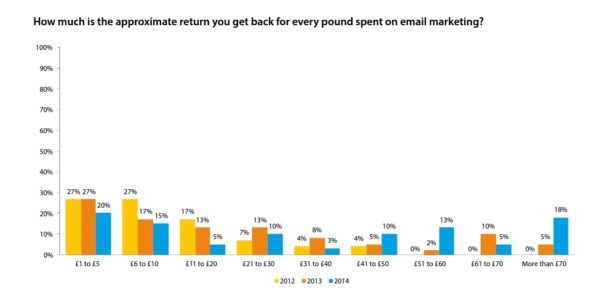 A recent survey shows that B2B marketers revealed that email is their top source of leads and also produces leads with the highest ROI.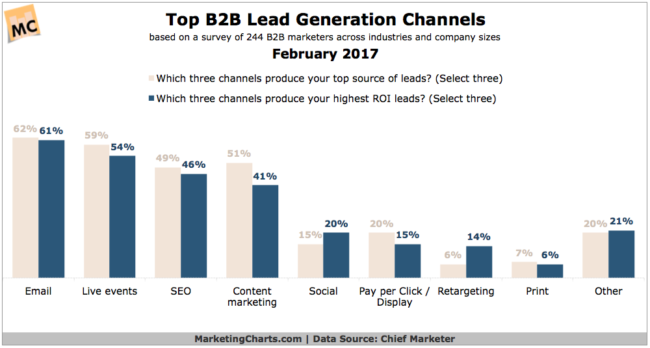 But what if you combined both paid search and email marketing channels together? There is a way to utilize both channels together to boost their effectiveness.
But combining the 2 marketing channels isn't as simple as adding salt to water. So where do you begin? And how do you ensure that both channels work for your business?
In this guide, we'll share 5 steps on how to combine paid search and email marketing to increase your leads and sales.
1. Target the right keywords
What happens when you run your paid search with the wrong keywords? Unfortunately, it ends up being a waste of money and time. And as a marketer, you want to increase your chances of a better click-through rate for your ads.
Therefore, to achieve this you need to first perform keyword research.
Whatever type of keywords you're targeting, you need to be sure people are searching for them. Luckily, the Google AdWords tool can help you free of charge to carry out this task.
To start, enter your target keyword. Google will show you its search volume estimate, competition, and the cost per click (CPC).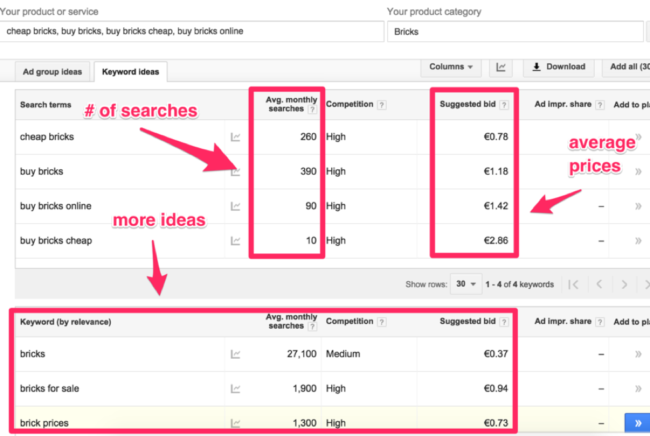 You'll also see similar keywords to your target keyword which gives you more keyword ideas that are useful to your business.
To improve conversions, you can target long-tail keywords that have a low search volume and less competition. Traffic through these keywords is more targeted and likely to draw in more qualified leads.
A free tool you can use for keyword research is Ubersuggest. To use this tool, plug in your target keyword: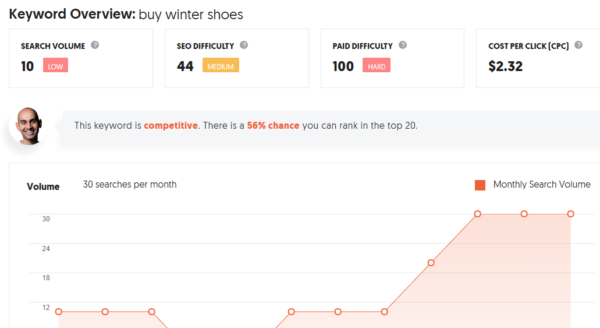 You'll see details like paid difficulty and CPC of that keyword. You'll also see similar keywords in the keyword ideas.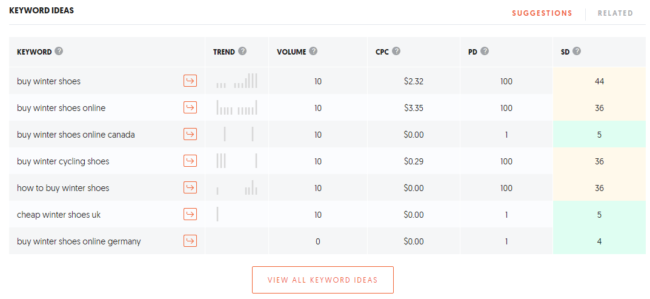 When doing keyword research, consider the type of keyword you're targeting for your paid search campaign.
Generally, there are 2 popular types of keywords to target in your paid search campaigns which are:
Informational keywords
Commercial keywords
You might have heard about how PPC ads perform on the search results page compared to organic SEO and how search engine users click more on organic search results than through paid search results.
But this is only partially true. It more depends on the type of keyword a search user puts into the search box.
For instance, WordStream found that for commercial-intent keywords, PPC ads outperform SEO by far in terms of how many clicks they got.
WordStream found that 64.6% of clicks from commercial-intent keywords go to PPC ads while the remaining 35.4% go to organic results.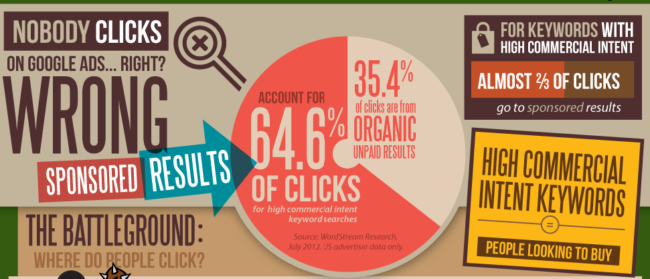 So, what is in these types of keywords?
Informational keywords
These are keywords search engine users put in the search box to get more information about a product. You can capture these users through PPC ads but they're unlikely to buy your product right away based on their first impression of your business.
For instance, a keyword like "SEO tips for my website" is an informational keyword. This type of keyword will perform better on organic results than PPC management.
However, you can still run PPC services ads for these types of keywords and gain leads from them.
Commercial keywords
These are the keywords people use when they're ready to buy a product or pay for a service. For instance, a keyword like "buy winter shoes" or "hire an SEO company expert" are keywords that help a user take action right away.
You should target both types of keywords but focusing more on commercial keywords has a better chance of increasing your ROI.
Even when you target informational keywords, it should lead to a landing page that provides a solution to the problem and helps capture user information like their email address to be able to keep in contact with them.
For instance, your landing page could be an article about the benefits of your service with a sign-up form at the end of the post or an exit pop up email capture box.
2. Optimize your PPC landing page to capture emails
Creating your PPC ad and bidding for keywords is only the beginning of your campaign. The aim of your ad is to attract people and entice them to click through to your landing pages.
You also must optimize your landing page to either make your sale or capture an important lead. Your landing page is a page where a search engine user "lands" after clicking on your PPC ad, so you want to make it engaging to the user and worth the money you paid to send people there.
This could be your sales page or a traditional landing page where you have an offer to capture people's name and email addresses.
You can have all sorts of landing pages on your website that serve different purposes. For instance, HubSpot found that companies see a 55% increase in leads when they increase their number of landing pages from 10 to 15.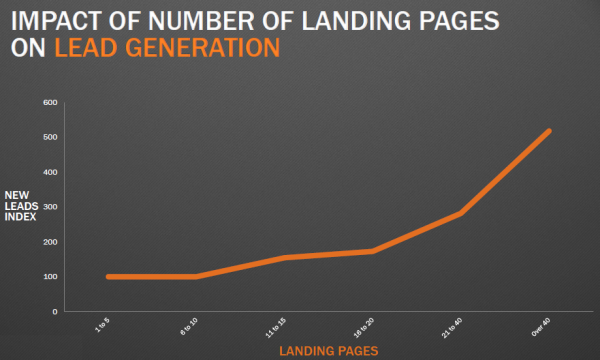 Whatever the function of your landing page, you should have a way to capture visitors' emails.
This way, you can keep in contact with them by either sending your lead messages that move them through your sales funnel or upsell/cross-sell a customer on more of your products.
Here are some points to keep in mind to successfully optimize your landing page:
The title of your ad and offer must match your landing page
When search engine users click on your ad, it's because they're attracted to the content in the headline and the offer. When they get to your landing page, they want to see more of that.
Not something else entirely different, otherwise they'll feel misdirected and a little scammed. But as obvious as this sounds, many marketers still make this mistake.
Check out the ad below.

The ad tells the viewer to access a guide but there's no talk about the guide on the landing page, even though that's one of the main selling points for clicking on the ad: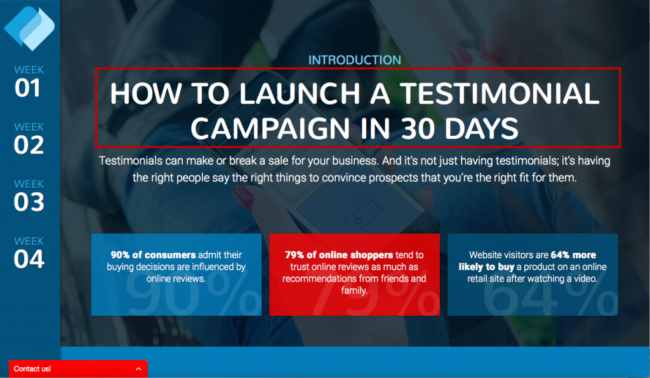 However, below is another example of an ad:

On the landing page, you can see similar headlines and content about starting a packaging design project.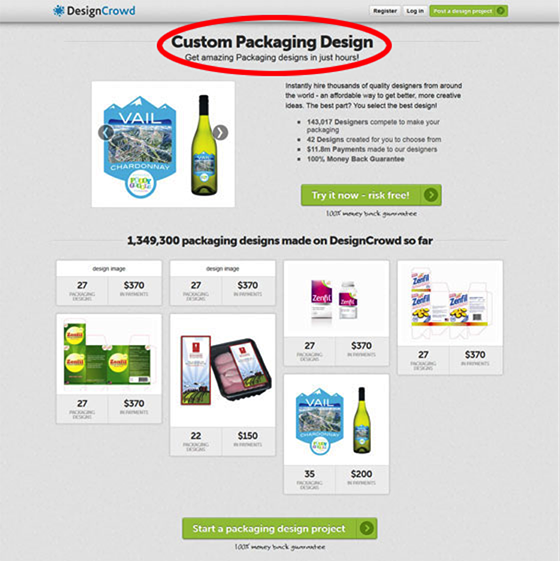 When creating your own landing page, your first duty is to ensure that it follows the tone of your ad.
Otherwise, all you will have is a high bounce rate and lost leads. A high bounce rate on your landing page could also affect your ad quality score, which could then cause you to spend more money on your ads in the future.
Therefore, you should work on your ads and landing pages in tandem and before running your ads, compare them with the landing page they are tied to. Your ad headline and meta description should be pretty close to the summary of your landing page.
Offer a lead magnet to capture leads
Sometimes, visitors that end up on your landing page need further encouragement or an incentive to give up their email address. One way to get your lead's contact information is to implement lead magnets.
Your lead magnet could be a downloadable infographic, special report, checklist, whitepaper, case study, video, or something that is added value to the visitor.
To make your lead magnet effective, its content should be able to solve a problem for the visitor at that moment.
It should also be easy to digest and it should lightly demonstrate your expertise in the matter. Below is an example of a lead magnet by OptinMonster to capture emails: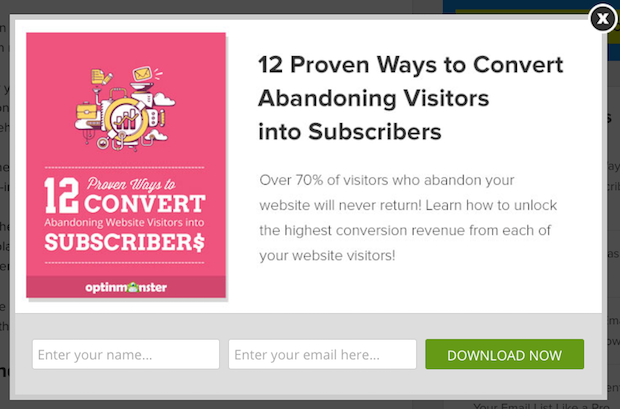 Perform A/B tests on your landing pages
No matter how well you think you've optimized your landing page, it's still not going to be perfect.
Once you acknowledge that, then you understand that testing is a necessity. And by tweaking elements of your landing page, you give yourself the opportunity to increase conversions or captured leads in order to remarket to them and eventually sales.
Some parts of your landing page to test are:
Headlines
Page copy
Background
Content type
Call to action
Navigation bars
Lead form fields
A Glasgow Airport parking resource, Flying Scot Parking, performed a test on the number of form fields on its landing page to see its effect on how many submissions they received: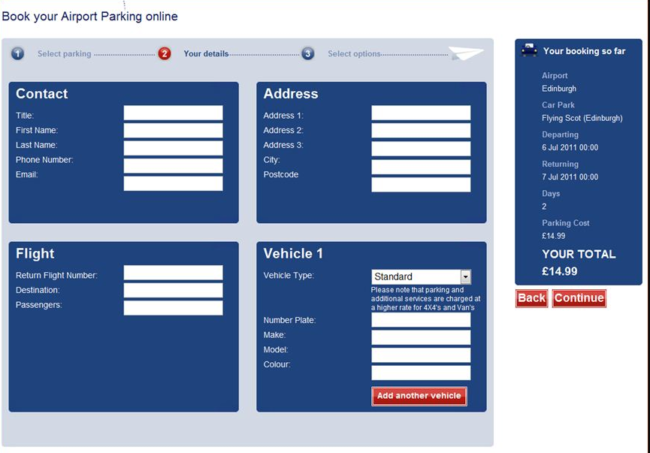 They reduced the number of form fields and amount of information required and found that this led to 35% more submissions.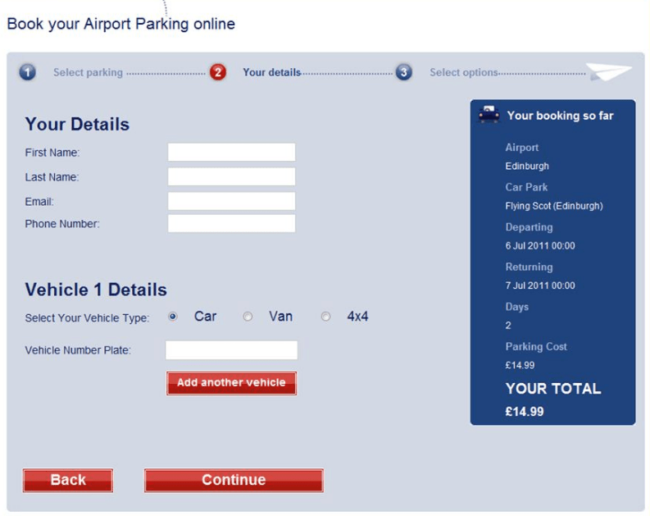 3. Create an effective sales funnel
To combine paid search and email marketing effectively, you need a sales funnel to capture leads at the top of the funnel and convert them to sales at the bottom of the funnel.
To create an effective sales funnel, you need different types of content at each stage of the process.
The 3 stages of a sales funnel are:
Top of the sales funnel (ToFU)
Middle of the sales funnel (MoFU)
Bottom of the sales funnel (BoFU)
Top of the sales funnel
The top of the funnel applies to visitors in the brand awareness stage, and content should be mostly articles related to the product you sell or service you offer. For instance, if you sell shoes, you can have articles about the benefits of wearing your type of shoes.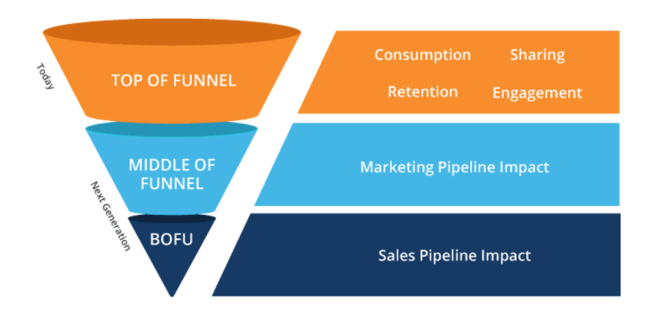 Middle of the sales funnel
At this stage, you've had a couple of interactions with the potential customer and you want to increase their interest in your product. Therefore, you may want to push out content about considerations to make before buying your shoes, offer them deals on shoes appropriate for that particular season, share a comparison between different types of shoes, etc.
With this content, the goal is to nurture a lead to the stage where they want to buy your product.
Bottom of the sales funnel
At this point, your qualified leads are ready to buy. If they've shown interest in a type of shoe that you can see through the pages they visited on your website, it's time to send them an offer for that shoe.
In some cases where your leads abandon their shopping carts without buying the product, you can send them enticing messages or a discount to bring them back for the purchase.
You can also use retargeting methods with your customers after their product purchase and paid search can bring in leads at different stages of the sales funnel. One strong case for combining these 2 channels is that you can bring in qualified leads with paid search and then use email marketing to nurture them and turn them to customers.
However, before you can get combine these to generate the best results, you need to create an effective sales funnel with the right content.
4. Create personalized email sequences
Years ago, the most common way of email marketing was sending email blasts to one main audience, which was innovative at the time but it had a big problem- not all email subscribers want to see the same thing.
Therefore, email software systems came up with ways for companies to add personalization which allows you to send messages to your leads based on their interests. These messages are more likely to be effective as you're sending messages that are tailored to the individual.
In a high-performing email, personalization starts from the subject line keeping in mind that emails with personalized subject lines have a 26% higher open rate than non-personalized subject lines.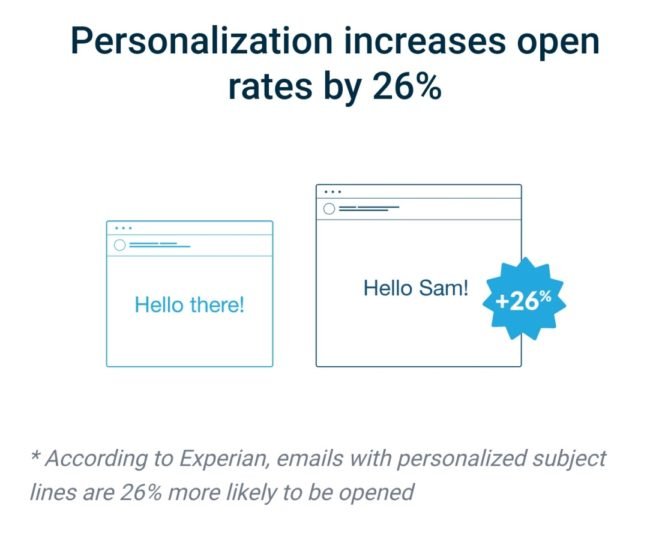 ExtraSpace Storage increased its email conversion rate by 50% when it personalized its emails to subscribers and specifically addressed their pain points.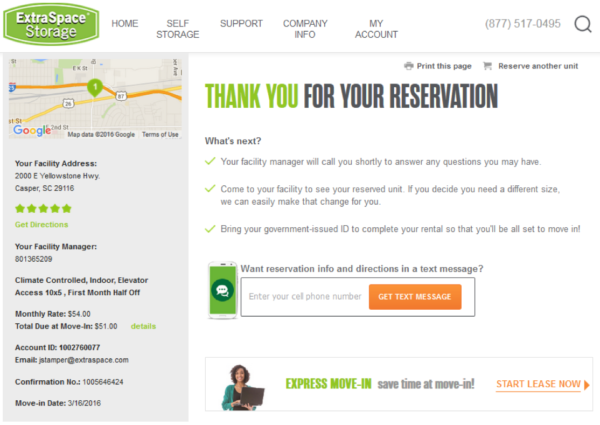 Here are some examples of automated email sequences that are tailored to certain individuals to use during your email campaigns:
Welcome sequence
This is a sequence that contains a few pieces of content to welcome a new subscriber.
Afterwards, you can then add subscribers to another sequence depending on their interest in your emails and the website pages they view during the "welcome" period.
Lead nurturing sequence
It's exciting to have a lead, but your work is still far from done. You have to nurture your leads with the right content, slowly convincing your lead to take the step to become a customer.
According to a Forrester report, companies that understand the lead nurturing process generate 50% more sales-ready leads at a 33% lower cost.
Through lead nurturing emails, Crowe Horwath, a public accounting and consulting firm, was able to get a 133% ROI through emails after 7 months.
Product launch sequence
Don't start publicizing a product after launching it, do that before launch to drum up interest in your product before it's available.
Send this email sequence to subscribers who are interested in your product based on past interactions with your business. Samcart got over 3,000 new customers for its new checkout page through this sequence that was originally generated from a list of 25,000 opt-ins. This led to a 7-figure product launch.
As a marketer, you can promote your landing page through paid search, lead them to a landing page that captures their information, and then put the subscriber into an email sequence to start promoting your new product to them.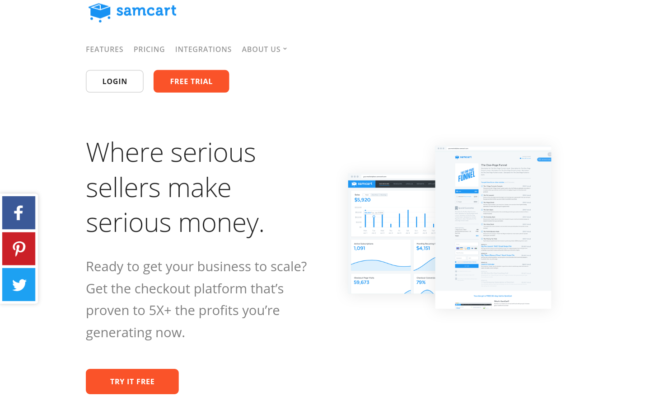 Cart Abandonment sequence
What if your email subscriber saw your ad while searching for a product you sell, went to your website, put your product into their shopping cart, and then didn't buy it? Don't worry- it doesn't mean you've lost this sale. But only if you can act fast.
Moosend found in a study that cart abandonment emails get an average click-through rate of 21% and half of those who clicked through the email or sequence went back and purchased the product.
A cart abandonment sequence sends messages to your subscriber about their abandoned cart. Here's an example of a cart abandonment email by Fab: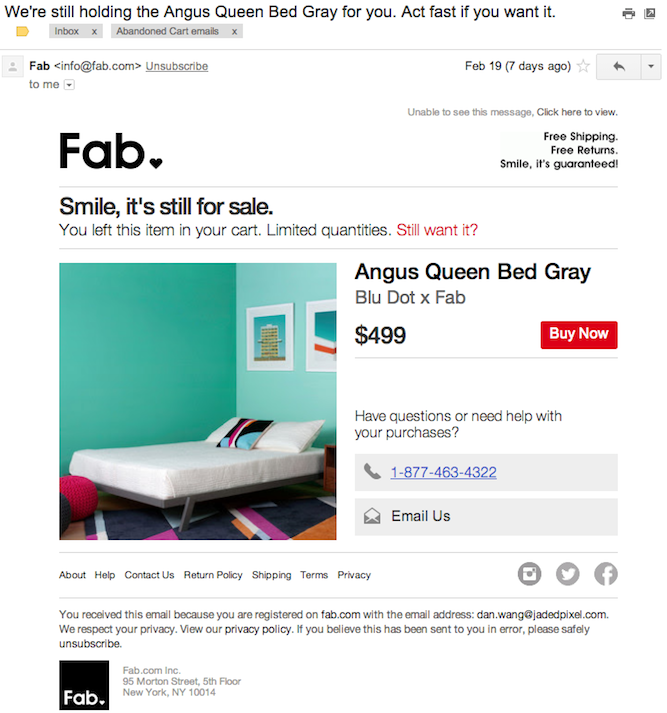 If they still didn't buy it after opening this email, they may receive another message with discounts for the product they've shown interest in.
For people who abandoned its carts, Smileycookie.com used a 3-part triggered follow-up email sequence. With this, they recalled 29% of cart abandoners into sales.
When you capture an email through your paid search landing page, add them to email lists depending on their interests or their stage in the sales funnel.
Leads captured through informational keywords are usually at the top or middle of the sales funnel.
Determine whatever stage each landing page belongs to which is then linked to the email list that each lead capture form is connected to.
If someone visits your product information page through paid search, for example, you can send offers to their email address about this product.
5. Automate your emails
The idea of having personalized email sequences may sound like the perfect way to get more sales, but you may be concerned about the time it takes to monitor your email subscribers and add them to new sequences manually. Fortunately, many email software companies offer streamlined ways to do this through automation features.
According to a study by Blueshift, automated emails have a 180% higher post-click conversion rate than non-automated emails.
With automation, you can set conditions needed to add an email subscriber to a list or remove the subscriber from an email list.
To achieve this, you need to use an email service provider that offers automation. Some of them are ActiveCampaign, ConvertKit, Drip, Infusionsoft, Constant Contact, etc.
Through your email provider, you can see statistics about your emails with the highest open and click-through rates and test different email subject lines to determine what is most effective.
It is a good idea to then use the highest converting subject lines as your ad headline and track the pages on your website with the highest conversions during your email campaigns.
With this knowledge, you can integrate these pages as your landing pages in your paid search campaigns.
Conclusion
If you want to generate more leads and sales for your website, combine these 2 effective channels.
One benefit paid search provides is the opportunity to start capturing important leads today and start converting them to customers through your emails.
Furthermore, you can use paid search to improve your email marketing campaigns and vice versa.
To get more leads and sales, combine these 2 marketing channels but if you feel like you need a bit of extra help and support, the Cardinal Digital Marketing team is happy to help.