When it comes to the senior care industry, reputation matters. In fact, more than a third of respondents to an NRC Health Study said that a doctor's online reputation is critical, while 60 percent said that they had avoided a doctor based on the negative reviews they read online. In addition, an astonishing 83 percent said that they trust online ratings and reviews more than referrals and personal recommendations.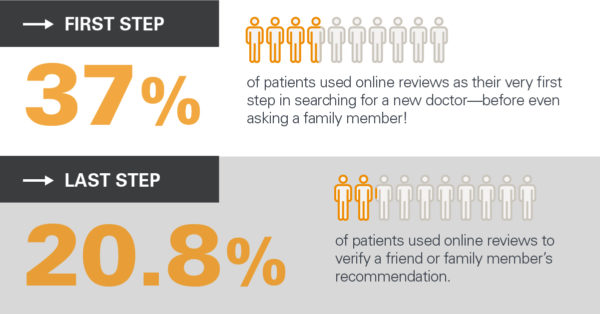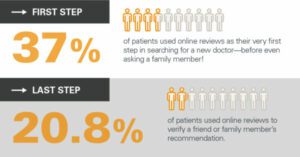 Clearly, an excellent online reputation is essential for any senior care organization hoping to attract more clients. On the other hand, poor online reputation management can have serious consequences. Negative reviews can all but erase the positive ones by turning off and turning prospective residents and patients. 
Best Practices for Managing the Reputation of Senior Care Organizations
It can be challenging to effectively manage the reputation of independent living, assisted living, nursing home, and memory care communities, especially if you need to do so for larger multi-location senior care groups.
Here's how you can take control of your online reputation:
Expand your presence
Seniors and their families go to a number of websites to read reviews. The most trusted platforms to read reviews include Facebook, Yelp, Google, BBB.org, and Google My Business. Consumers trust these platforms equally, with no single platform substantially outpacing the others. Senior care communities should have a profile on each major platform and check them frequently to ensure their business information is correct.
Develop a review encouragement program
Identify specific points of the patient journey where you can ask for reviews. One of the best times to ask for a review is right after the client chooses your senior care community. At this point, your business is still fresh in their mind, and they are happy about choosing you.
Be sure to encourage reviews at the right time in the patient journey and to be sensitive to the nature of senior care – moving to a senior care community is often an emotional time for both the older adult and their family. Avoid recommending reviews at sensitive times, such as asking a family to leave a review immediately after the death of a loved one.
Normalize the act of asking for reviews
Asking for reviews was once taboo but is quickly becoming a best practice among those who reach clients online. Train your staff to ask for reviews at the right point in the patient journey. If they're unsure how to navigate the topic within the senior care space, you can create scripts your team can use to encourage reviews.
Automate the process
Invest in tools like BirdEye to automatically solicit and collect reviews, run surveys, convert leads, and get referrals through messaging. Sending automated emails and SMS can also help generate reviews, which these tools make possible. In addition, they integrate with your CRM and can be designed to send at ideal moments in the senior patient journey. 
Manage your Google My Business (GMB) and other business listings
Google is one of the most popular places people go for information. To make it easier for senior care businesses to be found on search results, Google offers a free business profile, formerly known as Google My Business (GMB). Now known as Google Business Profile (GBP)
Optimizing your GBP listing can keep you at the top of search results. Enrich your listing by adding photographs of your senior care facility, answering user questions, and posting updates. You also need to ensure that your business name, address, and phone number are accurate and match what is listed on your website. While you are at it, make sure your categories, hours, and other details are up-to-date, too.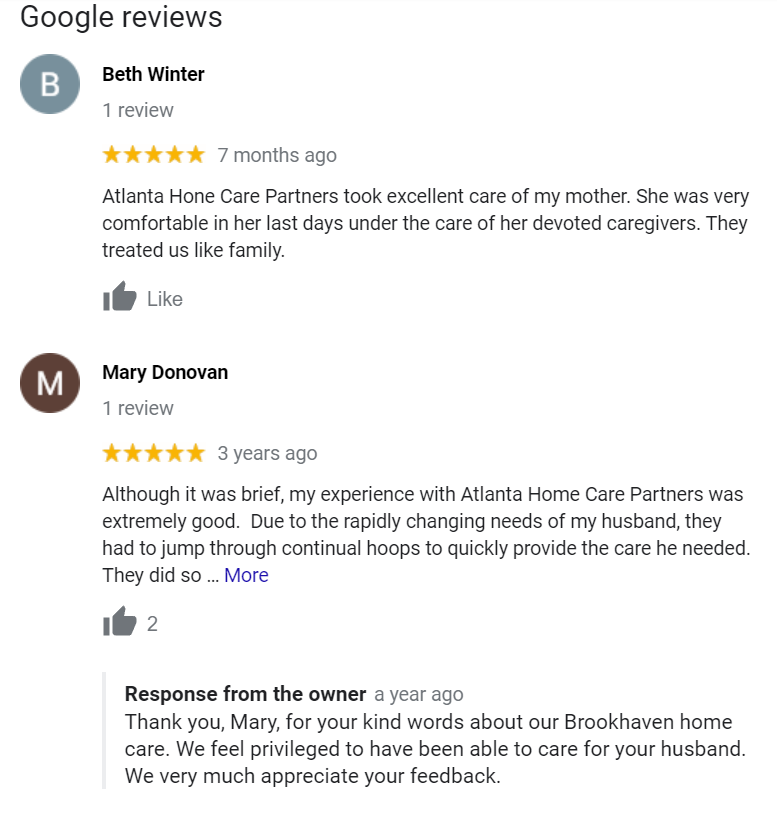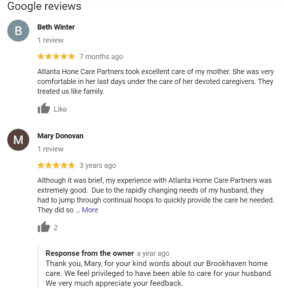 Show that you're listening by addressing both good and bad reviews. Be sure to formulate a plan for how to respond to negative reviews.
Most of all, be transparent and honest when answering questions or addressing concerns. Avoid admitting fault for specific accusations, but be sincere to show that you are listening. For negative reviews, ask to take the conversation offline so that you can hear them out in a more private setting, as there are no winners when it comes to debating online.
Keep in mind that GBP is not the only business listing. Identify those sites that are more relevant to the senior care industry. Other senior care directories include Caring.com, SeniorLiving.org, and Senior Care Finder. Be sure to optimize and manage your reputation on these sites as you would on GBP.
Share testimonials and reviews
Keep in mind that your digital reputation also extends to your website–it is where people go to assess the care your senior living community provides. So be sure to feature testimonials prominently on your website. Better still, create a dedicated testimonial section that is easy to find and navigate. For best results, add testimonials to specific pages where conversions happen, such as the pages on which visitors book a tour, schedule a consultation or learn about pricing.
Create eye-catching branded graphics that highlight your overall five-star rating. You can add five-star graphics to your "About Us" page, service pages, appointment scheduling pages, and even footers.
Consider embedding reviews directly from your review platforms using embed codes, review platform tools, or site customizations. These embeds are frequently automatically updated and refreshed, which is a real timesaver for busy senior care organizations.
Add a scrolling banner section, too, which features quotes from your testimonials and reviews. Be sure to include names and photographs whenever. For many organizations, the optimal spot for scrolling banners is near the top of the homepage.
Creating a dedicated reviews and testimonials page allows you to present your most impactful and persuasive reviews in an engaging way. Optimize the results by giving the page structure and context in the form of supporting and engaging headers, rather than merely providing a flat list of reviews for a patient to scroll through. 
Video testimonials are compelling and can help you build trust with potential patients and their families. Consider putting together one or more short videos on your reviews page.
Create a strong, compelling About Us page
Your organization's website plays a role in your digital reputation. One of the most important pages is the About Us page, as it provides an opportunity to tell your community's story and to share your mission and values. Featuring photos of your team and sharing quotes about why they're passionate about senior care helps put a face to your senior care brand.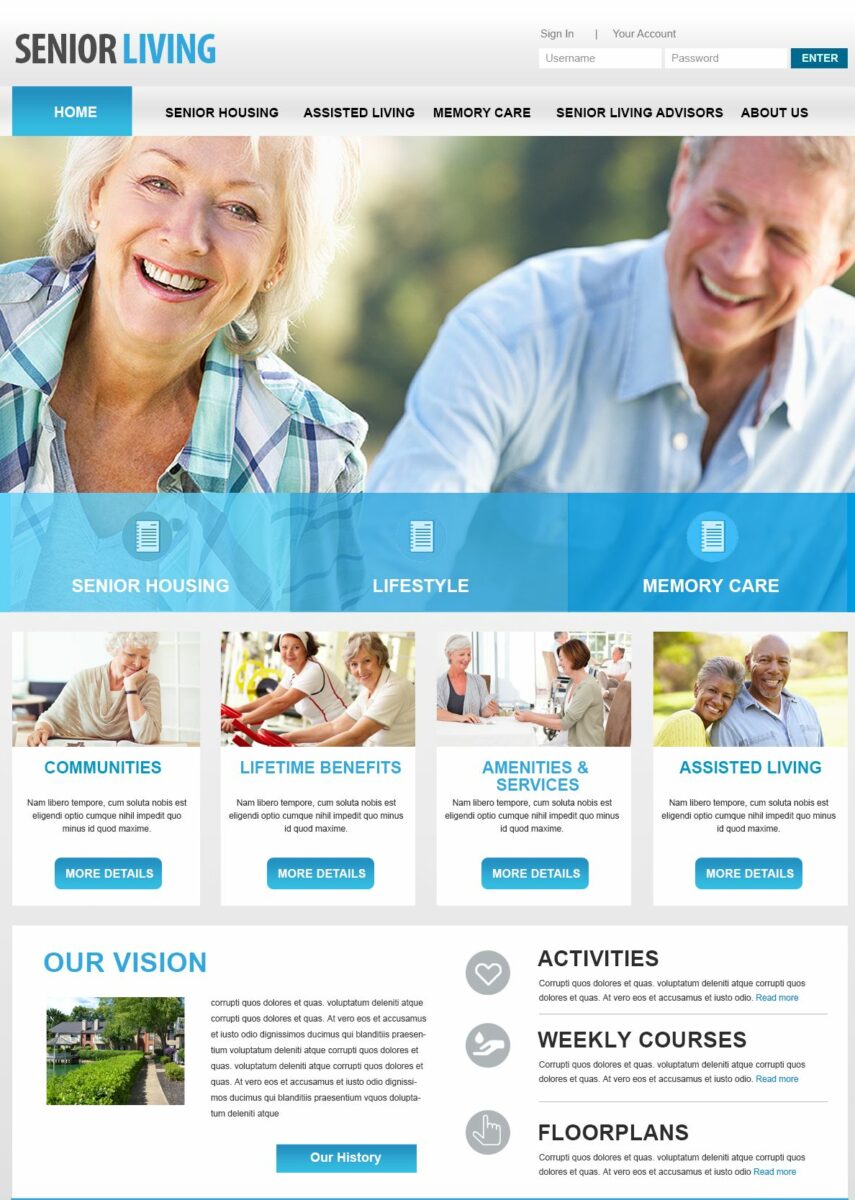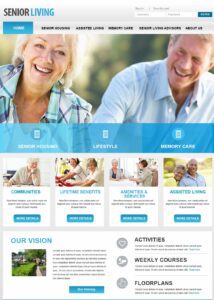 Give people a place to share feedback or complaints
Feedback is always helpful, but having negative feedback plastered on review sites can be extremely detrimental to your organization's reputation. For best results, encourage people to give their feedback directly to you by adding links to emails and other transactional communications that lead directly to your reviews and feedback page. 
Avoid burying the feedback page. Make it easy for people to reach you by prominently displaying your phone number, email address, and website forms asking for feedback.
In those instances where you do receive complaints by phone, email, or in person, be sure to make the person feel heard and understood. Addressing their initial complaint is the best way to prevent negative digital reviews.
Your Digital Rep is Your Lifeline—Treat it That Way
Let's be honest. It doesn't take much to avoid a healthcare provider of any type. We quickly move on when we find one negative word-of-mouth review or online rating. Why? Because we have a lot more choices these days, thanks partly to the rapid digitalization of healthcare journeys.
Senior care organizations can no longer afford to neglect their digital reputation. On the contrary, a digital reputation is a living, breathing work in progress that must be frequently nurtured, attended to, and updated. Otherwise, bad reviews can get away from you, gradually degrading your digital brand.