Change is afoot as the dental industry navigates new ways forward out of the pandemic and into a new recession. Here are the top DSO marketing trends to keep in mind for 2023:
1. DSOs Need Scalable Web Platforms for Growth
Throughout 2022, dentistry remained one of the fastest-growing healthcare industries. This trend is only going to continue in 2023. The latest data from the American Dental Association shows that solo practice ownership is rapidly declining, due to an aging dentist population, COVID-19 and practice management fatigue, and a new labor force of young dentists. 
In contrast, DSOs are rapidly growing as private equity funding continues to flood the dental scene. Dental's proven resiliency will continue to make it an attractive investment as we transition from Q4 of 2022 to 2023.
DSOs and multi-location dental groups need scalable websites to support both their umbrella brand, as well as affiliated practices. Fragmented websites, disjointed marketing tech stacks, and outdated marketing strategies will stunt growth and reduce returns. A centralized website that connects all brands within the DSO will produce the most efficiency.
If considering a new website in 2023, we recommend you prioritize a:
Modular WordPress framework to ensure site consistency and ease-of-use
Branded website templates that can be customized per location or affiliate as needed
Consistent information hierarchy across brands
Integrated marketing analytics that ties all brands and marketing activities together
DSOs will need to leverage scalable and efficient digital strategies to support the growth to come and reach revenue goals for 2023.
2. Patient-centric Content Is a Must
The Helpful Content update has arrived from Google, marking a transition period for many in the healthcare space, including DSOs. Previous updates from the search engine giant have maintained a focus on eliminating harmful or useless content. Now, Google has shifted its focus to improving quality and authenticity to ensure content is actually helpful to searchers.
We've seen for ourselves in the few months since the rollout how significantly these changes have impacted the dental space. Thankfully, the flip side is that DSOs will actually benefit from this rollout, provided they take some key steps in their digital marketing initiatives.
What should DSOs focus on to rank in light of these changes? Consider taking the following steps:
Develop content that directly answers the core questions that patients are asking.

Create thorough and extensive content that answers as many relevant questions in one piece as possible.

Build a comfortable UI and prioritize the mobile experience with content that is easy to scan so readers can find the answers quickly.

Focus on evergreen content that follows the fundamentals of

SEO

. This strategy tends to be algo-proof and provides the best user experience.
Keep in mind that helpful content varies by healthcare specialty and service line. What is deemed "helpful" depends on what the user is looking for.
Take general dentistry. Patients in search of a dentist have a clear idea of what they want; more importantly, they understand the service in some detail. No general dentistry patient, in other words, is running a search for "what is a tooth cleaning." Because of this, robust medical info on the service page isn't as mission-critical. Truly robust content in this context can mean other things, however, including maps and directions, provider info, availability info, and details on insurance. 
This all changes once we switch focus to orthodontics and specialty dentistry. Here, the patient is searching for more complex dental care, and robust content on service pages is critical. Whether someone is looking for braces, implants, or even sedation dentistry, they likely don't know what the service entails. They will have questions and need more information. 
In developing this robust content, DSOs may find some great opportunities for optimizing their funnels. With Smile Doctors, we saw a lot of benefits from building out pages for different alignment options, helping users who search "Invisalign" decide if that's really what they want. If yes, there's a way to convert or find a location; if not, we can lead users to a better option and convert them there.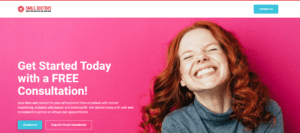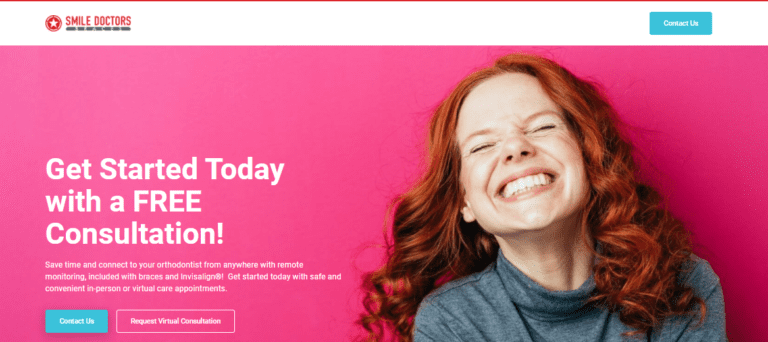 3. Website User Experience Remains Paramount
If the recent rollout from Google told us anything, it's that Google wants good user experiences. Luckily, that's what patients want, too.
What is a good user experience? As discussed above, general dentistry patients know what they want in terms of service. However, they do have some logistical questions, and they (and Google, natch) want to find that information quickly and easily.
DSOs should focus on creating an easy-to-navigate site architecture so that no one is left digging for the information they need. In designing the layout for general dentistry practices, make sure that your visitors can easily find answers to the following questions:
Do you have appointment availability?

What insurances do you accept?

Do you have a strong reputation?
Consider taking the following four steps to enhance your site's UX:
Keep things organized.

Neither Google nor your patient wants to spend a lot of time searching for what they need. Keep the menus and structure of your site clean and in order. 

Keep key content discoverable.

Clicking 4 or 5 times to get to what you want is almost a perfect formula for encouraging a visitor to drop off. Make sure that all of your recent and relevant content is discoverable and within easy reach.

Keep your site unique.

You want your site visitors to have a differentiated experience when visiting your site. Consider what distinguishes you from competitors and weave this into messaging, voice, tone, etc. 

Keep a site linkable.

If you are generating top-grade content, you've completed step one. You will also want to evaluate links on your pages and undertake linkbuilding campaigns if you haven't already.
Take a look at our 7 Essential Principles for Optimizing Your Website for Search for some additional tips on how to optimize your DSOs website.
4. Personalization Will Be the Gold Standard
Personalization was highly relevant in 2022, and it's still highly relevant now. What are some of the ways in which you can enhance personalization? Geo-personalization is one of the easiest and most important techniques to consider in 2023.  DSOs can leverage geo-personalization to personalize landing pages so that all the information a user sees is relevant to the location closest to them.
People who are on the lookout for a new dentist are typically motivated by one thing— convenience. When you provide a page that is personalized to a patient's location, they get immediate access to everything they need to convert, including:
What providers are nearby

Which providers are accepting new patients

Services offered at that location

Specifics on insurance, etc. 
A big plus to this approach? Geo-personalization does not violate HIPAA regs on patient privacy. It also reduces the number of steps to conversion, giving users all the information they need early on in their customer journey. With geo-personalization in the mix, you should see an increase in new patient acquisition.
What additional steps can DSOs take to optimize personalization in 2023? Consider doing the following:
Launch and refine your patient portals and/or mobile apps

. It's one thing to build an email list based on protected personal health information. Once a person logs into a portal or mobile app, however, your options broaden considerably. Within those interfaces, you can display condition- or treatment-specific content, or recommend certain services or appointments. You can also give patients direct access to their medical information and physicians. That must be part of the reason that 

more patients use patient portals than ever before

.

Personalize the patient experience by building patient portals that give direct access to their medical information and customized content resources.


Let patients choose their journey

. You don't need personal health information to adapt content journeys to what specific patients want. For example, if you know that one of your web pages is getting a lot of organic search traffic for the keyword "sedation dentistry in los angeles," you can tailor it to that particular journey. What kind of information would a person who used that search term and clicked through to your website need? How can you adapt the page to be a bit more personalized to this particular journey?
5. Economic Uncertainty Impacts Marketing Strategy & Investments
As the end of 2022 approaches, the economic tumult and uncertainty of the last few years is beginning to impact some dental providers. While we're not economists, all signs seem to be pointing to a recession as we move into the first half of 2023.
What will this mean for dental over the coming year? High deductibles will continue to have a big impact in healthcare writ large, reducing some of the protections healthcare providers often have when consumer spending decreases. If and when we enter a recession, decreasing employment numbers will naturally lead to more uninsured patients. All of this means that consumer sensitivity to costs may increase, with many patients even deferring care. 
This becomes even more nuanced when we dial into dental. After all, let's be honest— many people have always viewed dental as discretionary, or at least not as critical as other preventative care. What's more, many people don't have dental insurance; if they do, it's not very good. Thus, out-of-pocket costs are higher, triggering more price sensitivity in patients and, in some cases, deferral of care.
We see some caution from DSO marketers as we approach 2023, and we can expect to see some dental groups pulling back on their marketing budgets. While many are still investing with an eye on growth, this environment of caution will keep some on the back foot and keeping a close eye on budget and marketing performance through the new year.
6. Recruitment Marketing Captures Greater Budget Share
National staffing shortages in healthcare are continuing to have a big impact on all sectors of the industry. The U.S. Bureau of Labor estimates that some 1.5 million healthcare jobs were lost in the first months of the pandemic alone. While we have seen some bounce-back recently, those numbers still remain low, with the total number of healthcare workers down by 176,000 compared to the first quarter of 2020.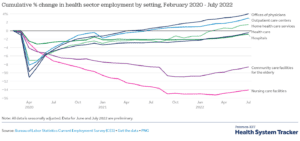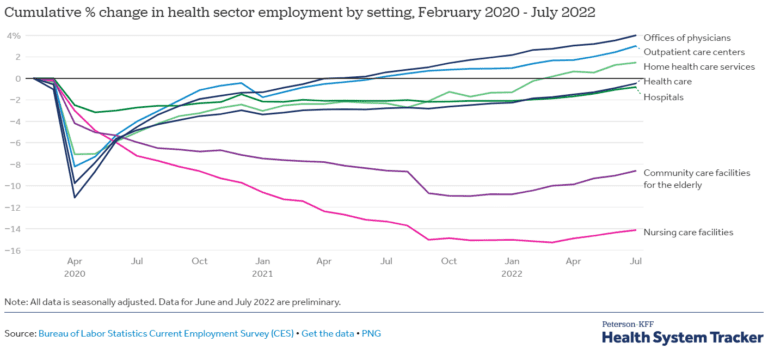 A strong recruitment pipeline will be critical, therefore, in 2023. 
DSOs and practices should focus on building a culture of collaborative care. Without that, the patient experience will decline, along with the quality of care. DSOs can do their part by effectively managing brand reputation and promoting a supportive employee culture in support of recruitment campaigns. 
What are some ways in which DSOs can do this? Consider the following:
Engage in well-positioned digital PR.

This is one of the easiest ways to share the best aspects of employee culture. Use digital PR to promote how your dental organizations value employee achievements, new hires, and employee support programs.  

Optimize the digital recruiting experience.

DSOs can also do a lot of practical work by streamlining the digital recruiting experience in 2023. Projects to undertake can include: 

the development of employee-centric recruitment pages;

running conversion rate optimization testing to improve application rates;

running recruitment-specific media campaigns; and,

engaging in effective channel management on platforms like LinkedIn, Glassdoor, and Indeed.
7. Dental's Digital Transformation Continues
Let's face it— healthcare, in general, has been slow to get on board with digital transformation, including those in the dental space.
This was highlighted in our recent survey on the status of technology in healthcare:
"… 47% still do not use a customer relationship management (CRM) solution. The same was true last year (46% did not use a CRM then). The complexities of integrating CRMs with EHRs and across multiple locations can be daunting, and it looks like many organizations still aren't ready for the challenge."
While this can stem from legitimate triggers (such as patient privacy) and less legitimate ones (such as staying entrenched in analog workflows), the good news is that technology adoption is picking up its pace in dentistry. Expect to see that continue in 2023.
So, yes, momentum is increasing, and it can't happen soon enough. Why? Because digital is not only the key to improving efficiencies and producing returns for private equity investors but also the key to improving the quality of patient care and access.
Private equity investment and consolidation are fueling technology adoption. To improve efficiency and reduce redundancy, more and more DSOs are investing in marketing and patient experience/access technologies, including:
Centralized call centers

Online bookings

Centralized CRMs

Chatbots

Call tracking

Review generation technology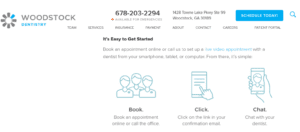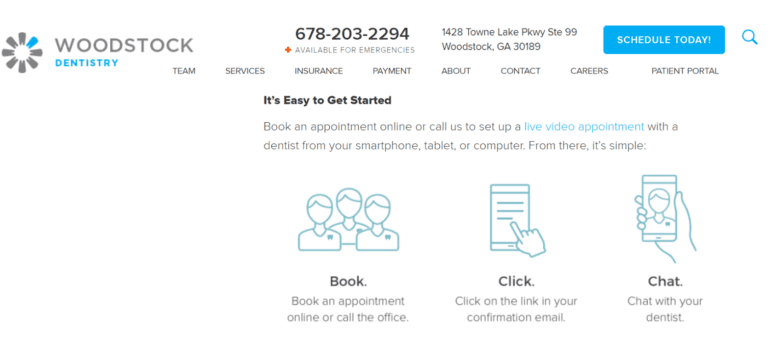 These technologies can have a real impact on operations. Online booking via a website, for one, is one of the biggest ways that you can streamline operations. Administrative staff will be free from the phones for the first time, allowing them to focus on more critical goals and tasks. 
For multi-location brands, centralized call centers provide an easier way to answer routine patient questions about insurance, hours of operation, etc. And, yes, the CRM referenced above can do a lot for operations, making it easier for stakeholders to access patient information, share information between patients and send reminder information as needed. An added bonus? The right CRM not only improves efficiency but also allows a marketing team to personalize patient experiences and improve patient retention.
8. AI Investments Increase and Strengthen Market Position/USP
AI has been making a real impact on multiple industries. In 2023, expect to see some real momentum in dental, as well. AI will bring a lot of value add to the space, affecting everything from patient care to advanced dental procedures.
AI will help dental professionals:
Conduct more sophisticated dental procedures easily.

Just one compelling use case makes this clear: robotic devices supported by AI are now being leveraged in advanced dental surgeries.

Provide better care.

AI-driven practice management tools will continue to provide large dental groups with effective ways to improve patient care and productivity.

Operate more efficiently. AI-driven analytics will continue to help improve operational best practices, as well as shorten procedure times, allowing practices to expand capacity and reduce operational staff requirements.
As DSOs continue to explore AI and make investments, it will be imperative to communicate the value these investments bring to both patients and affiliates. Patients want to know that their providers are investing in solutions to improve the quality of care being provided.
On the professional side of the equation, doctors want to go to a DSO that uses the latest technology.
They don't want to work at an outdated place— especially young doctors. Additionally, you can attract more people to work at your DSO when you offer tools to make their job easier. Incorporate the value of these tools in all your marketing materials and channels in 2023.
Conclusion: A Better Web for Dental Patients
So, that's what's coming in 2023 in a nutshell. The year will offer a lot of opportunities to create a better digital experience for patients, making it easier for people to get quality dental care. With more information on hand to make more informed choices, patients will be more willing to commit to dental care and not put it off to a later date. DSOs leveraging effective digital tools and channels will continue to increase patient access to care while helping practices improve the quality of care. 
All in all, 2023 promises to be a transformative year for dental.