Google Ads continue to be a highly valuable resource for healthcare organizations. The truth is that the majority of patients out there turn to Google for answers to their healthcare questions. The search engine giant receives over 1 billion healthcare searches every day, or 70,000 requests per minute. For those between the ages of 18 and 29, a whopping 97 percent turn to Google for healthcare research; that only goes down by one point to 96 percent for those between 30 and 49. 
Those numbers make it all too clear: the Google advertising platform is a must for any healthcare group or hospital that wants to reach their target audience immediately. Want to see how that plays out in the real world? We've assembled 5 case studies that really drive home just how important Google Ads are as a part of your healthcare marketing strategy. 
1. LifeStance Health
The country's largest mental health care provider scaled digital marketing to 500+ locations
Founded in 2017, LifeStance Health is one of the nation's largest providers of virtual and in-person outpatient mental health care for children, adolescents, and adults experiencing a variety of mental health conditions.  
The Results
Cardinal implemented new campaigns for the brand that have driven nearly 28,000 conversions in just six months, all while maintaining a consistent cost per conversion. Conversion rates across this same period have exceeded 20%, and the brand has realized an 82% increase in traffic from new users, as well as a 168% increase in site traffic MoM in six months.
The Challenges
LifeStance needed to scale marketing up from three fragmented regional brands to more than 20 brands located across the U.S. This would require a "repeatable" digital platform that it could quickly spin up for new regional brands as they were acquired.
The Strategy
In addition to efforts across SEO, paid social media, and more, Cardinal also helped LifeStance launch various paid search campaigns. Our approach to running media across paid search involved investing the next dollar in the most effective channel to maximize efficiency. This fluid allocation, on a month-to-month basis, allowed us to remain agile and adaptive to new trends. In this way, we were able to scale LifeStance PPC with minimal efficiency loss.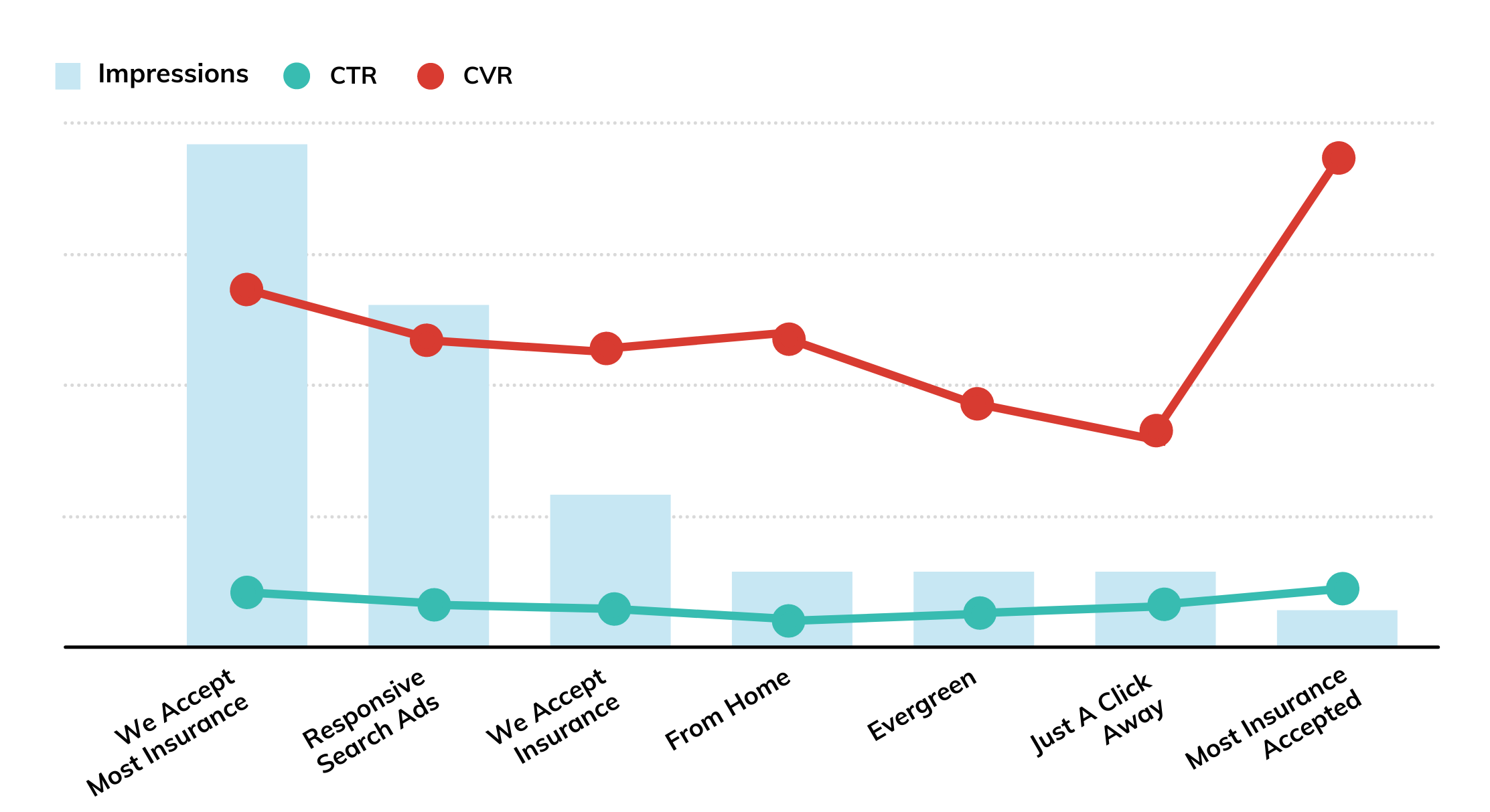 Read the full Lifestance Health case study.
2. TheKey
Expanding home care brand increased total conversions by 225%
A leading provider of home care for older adults across the country since 2005, this in-home senior care provider and luxury homecare brand is now active in 76 markets across 40 states and includes more than 10,000 employees.
The Results
As a result of Cardinal's efforts, TheKey is well-positioned to pursue plans for continued growth at a rapid pace. Year over year, our approach resulted in a 225% increase in total conversions, including both phone calls and form submissions. While we had to ramp up ad investments by 56%, CPA dropped 52% compared to the period preceding our comprehensive account restructure.
The Challenges
TheKey had a solid and established brand, but they needed to increase market penetration with a particular focus on efficient lead generation. While they had a prime opportunity to reach a lot more hand-raisers for senior home care, they needed a way to target this audience earlier in the funnel to drive demand when patients were experiencing a precipitating life event, such as a fall or acute illness.
The Strategy
Cardinal took TheKey's accounts from a local campaign structure to a consolidated national structure with immediate improvement in the cost-per-conversion (dropping 52% per conversion). In addition, we put together responsive search ads to layer on more automation and improve performance and expanded TheKey's campaign portfolio into display and discovery ads.
Read the full TheKey case study.
3. SENTA
Targeted campaigns helped an expanding ENT & Allergy MSO meet and exceed business goals
A private equity-backed ENT & Allergy/Immunology specialist Southern Ear, Nose, Throat, and Allergy (SENTA) provides high-quality allergy, asthma, immunology, and otolaryngology care that leads to better patient outcomes. The brand currently oversees 56 locations across 8 brands, with SENTA Partners serving as the main brand.
The Results
With Cardinal's help, SENTA was able to increase their conversion rate by 217%, decrease CPA by 63%, and increase new patient lead volume by 40%.
The Challenges
SENTA's existing campaigns were not scalable, causing the brand to miss out on multiple opportunities to capture demand. Given the seasonal nature of the allergy care industry and a crowded market of providers, campaigns would need to set the brand apart and target their audience during the most relevant times of the year.
The Strategy
We leveraged our deep experience in building multi-brand strategies to optimize their existing campaigns and built entirely new campaigns for each new brand they acquired. Our efforts also included the development of a new keyword strategy and landing page optimizations.
In terms of ad copy, we centered our strategy around responsive search ads (RSA) that would alert us to the best combination of assets for a given campaign and ad group combination. We updated ad campaigns on a seasonal basis, as well, to target relevant, season-specific keywords.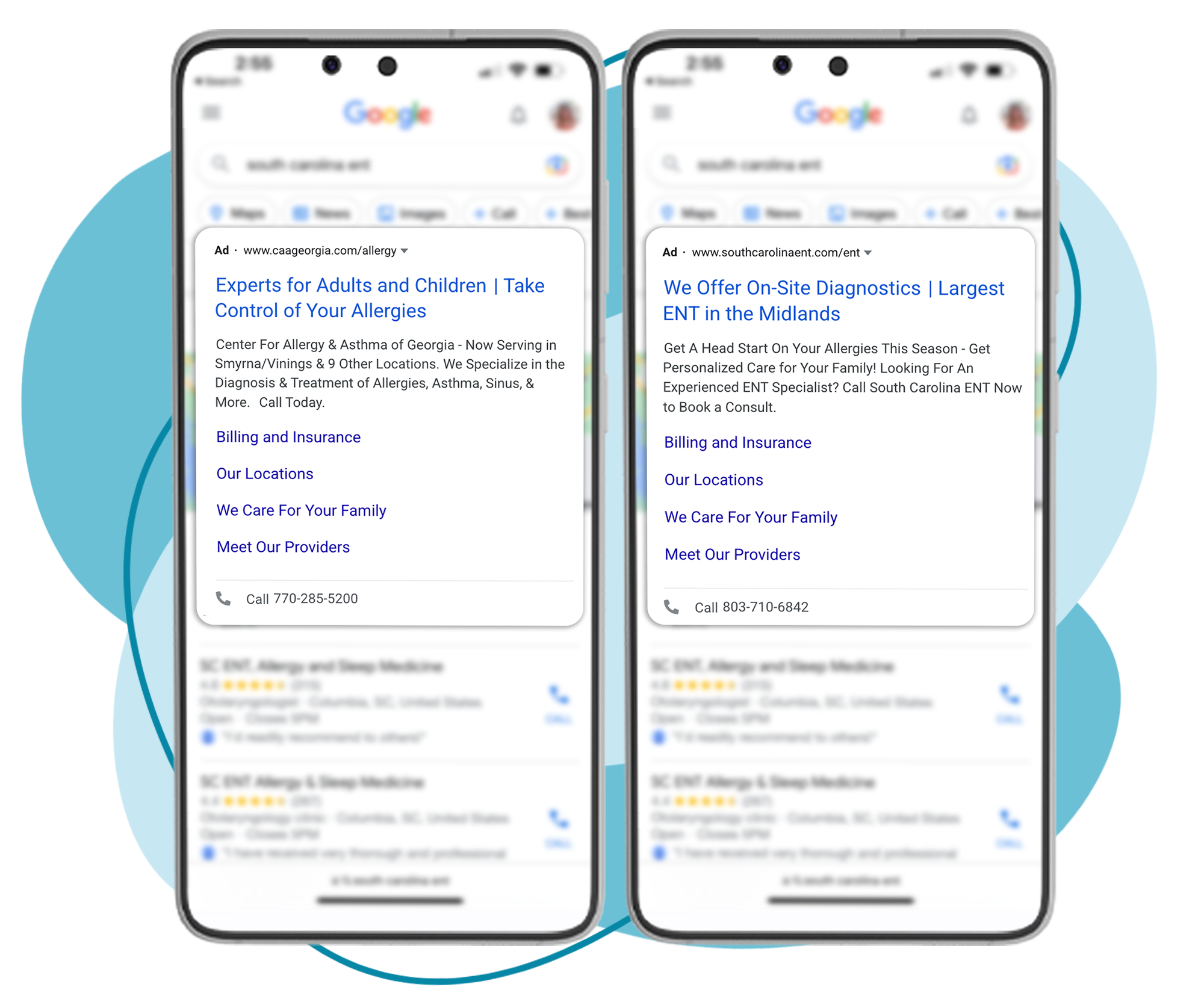 Read the full SENTA case study.
4. ARSA
Emerging plastic surgery MSO experienced a 294% increase in new patient volume.
A PE-backed physician management services organization (MSO) that heads several reconstructive and cosmetic surgery brands, Advanced Reconstructive Surgery Alliance (ARSA) operates as a house of brands in which all organizations retain their own identities.
The Results
After working with the Cardinal team for just six months in 2022, ARSA experienced a 73% decrease in cost per acquisition (CPA), an 118% increase in new patient conversion rate (CVR), and a 294% increase in new patients.
The Challenges
Since ARSA was an entirely new brand, Cardinal would have to develop a media strategy and Google Ads for the MSO from scratch. Any digital marketing strategy would need to be highly scalable, as the organization had plans in place for rapid growth, and campaigns would need to effectively allocate spending.
The Strategy
We started by segmenting existing campaigns for individual brands under the ARSA umbrella and creating new accounts for each of them. As part of this, we conducted keyword research, developed campaigns and ad groups, and organized accounts into a model that prioritized smart bidding. We also refined the company's keyword strategy to drive qualified leads and optimized their landing pages to increase conversions.
Read the full ARSA case study. 
5. Embark
Teen mental health provider expanded from five to 14 markets with a highly efficient Google Ads strategy.
A behavioral healthcare company focused on care for families, preteens, teens, and young adults struggling with mental health and substance abuse, Embark offers a full spectrum of care ranging from outpatient to short-term residential services.
The Results
Cardinal implemented a Google Ads strategy that has produced a 272% increase in lead volume for the brand, growing leads from 62 per month to 232 per month. Additionally, Embark's conversion rates increased by 74%, growing from 3.64% to 6.34%, and the cost per lead (CPL) decreased by 57%, translating into continuous growth at a lower cost for the company.

The Challenges
An over-segmented account structure and a media strategy that was not scalable meant Embark was not realizing maximum efficiency in their digital marketing efforts. Moreover, a cumbersome media strategy was making it difficult for the brand to onboard de novo locations
The Strategy
Cardinal established a paid media foundation for Embark that focused on scalable, strategic growth. To restructure their media strategy so that it was more scalable while still being able to attract qualified leads, we implemented a more efficient account structure and paired it with a robust keyword strategy, allowing us to drive new patient acquisition at a low cost.
Read the full Embark case study.