Think about it… how much better off would your practice be when you have more patients? It can be a constant worry if you struggle to get patients to your medical practice now, but it's not impossible.
One area you might need to improve on is how your market your business. 67% of consumers say they research products online before shopping in physical stores- and this even applies to medical practices. Take a look at this statistic: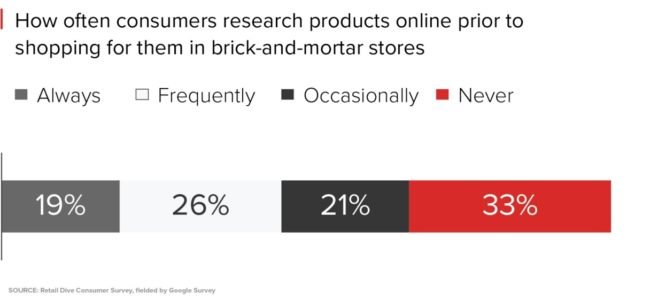 Every kind of business needs some form of marketing to bring in their ideal customers. Ask yourself, how do you attract the type of customers you need rather than just finding random people pulled out of the blue?
This is why it's necessary to have data-driven marketing.
What is data-driven marketing?
Data-driven marketing is the process of reaching out and attracting potential customers for your business with the help of the data you have about them.
And it can be used to understand your ideal patient and predict their future needs, building a relationship based on what you know about them.
These pieces of data could either come from your medical practice or collected by other organizations with similar customers.
In this guide, we're going to share 5 data-driven marketing insights you can use to promote your medical practice. We hope these tactics help:
1. Improve your local SEO
For your medical practice, one of the most important demographics is location. The majority of your patients probably live close to your medical practice, so you want to target your region first to find new customers.
For instance, if your medical practice is based in New York, it's unlikely that you'll have regular patients from California.
Assuming that most of your potential patients are in your locality, how can you then reach them?
One of the major ways you can is through local healthcare SEO. Many people search online before using local businesses. According to BrightLocal, 97% of consumers have gone to the internet first to find a local business: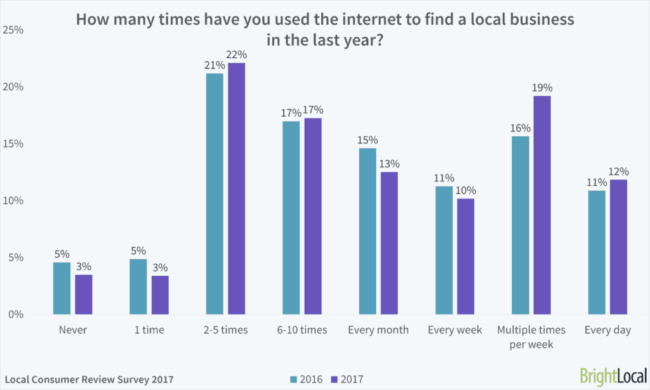 Furthermore, people who perform these searches act fast. 50% of people who initiated a local search on their smartphones and 34% of tablets/desktop users visited a store within a day.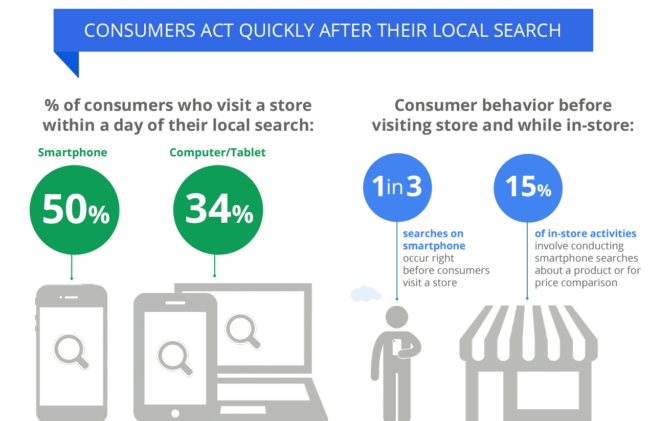 When new patients fill out their introductory/health form, you can always find out through that of where the majority of your patients live. By gathering and paying attention to this information, it's easier for you to optimize your website to target more people in this locality.
After determining where the bulk of your patients live, how do you improve your marketing to people who are likely to come to your medical practice?
Add your practice to local listings
Adding your medical practice to local online directories and listing sites is a way to establish your credibility as a local business. Plus, information put out on the web about your practice show up when people search for keywords that are related to your practice thus boosting your position in search engine rankings.
In a local search rank survey by Moz, marketing experts say that local listings is the fifth most important factor for local organic rank and the fourth most important factor on ranking in local maps: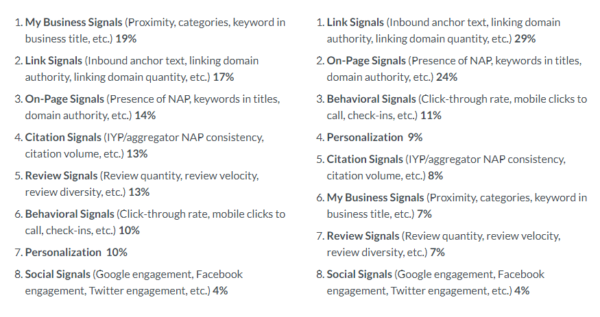 According to BrightLocal, businesses that appear at the top 3 of local searches have an average of 85 local citations. This further cements the importance of adding your practice to local listings: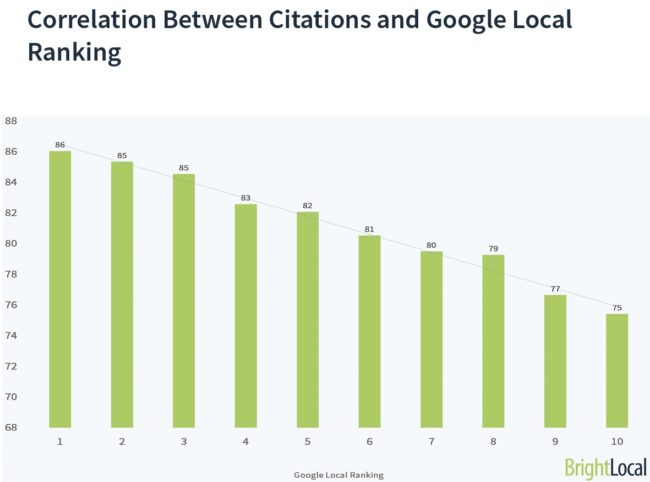 However, local citations is not only about the numbers, but also about the quality of content. To get your medical practice out there, consider the following categories of local listings:
General local listings: These are listings that are available to every type of business in every industry and they are viewable in any part the world or in many countries. Examples of these listings are Google My Business, Yelp, Yellow Pages, Foursquare, etc.
Below is an example of a Yelp page for Dr. Steven Shoshany: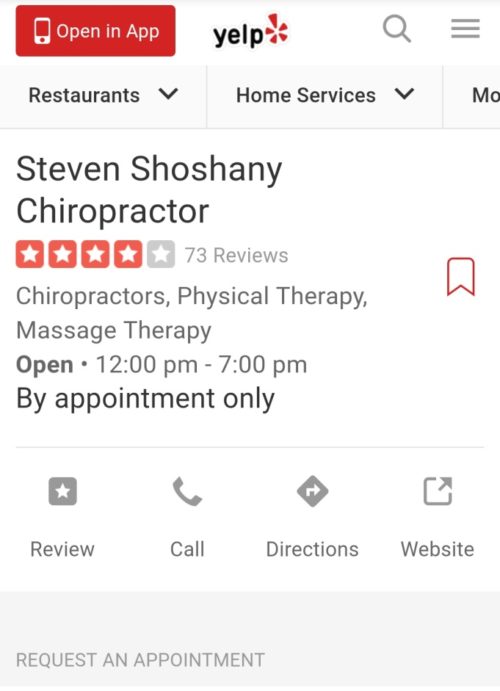 City-based local listings: These are listings that are restricted to your city or state and contain all sorts of different businesses. For instance, take a look at nybizlist.com for businesses in New York City.
Professional listings: These are listings are specific to your profession. To generate trust as a doctor, you should have your profile and practice of directories dedicated to medical professionals. Examples of these listings are ZocDoc, HealthGrades, Wellness.com, RateMDs, and there are more of them out there.
Below is an example of Dr. Shoshany's Zocdoc page: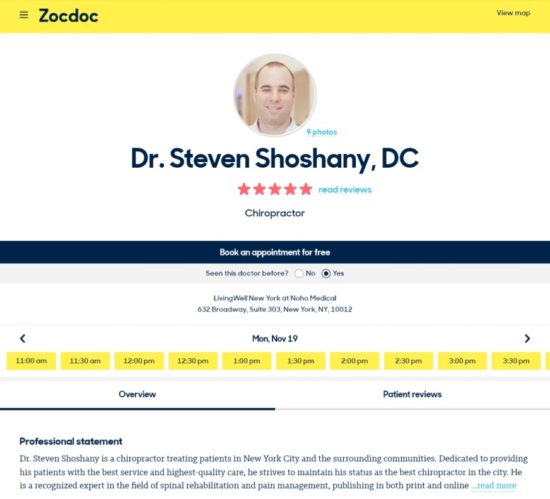 Encourage Reviews
Let your current patients help you to attract new patients. With reviews, potential patients get to see unbiased opinions of how others have used your service to improve their lives.
When a potential patient must choose between a medical practice with no review and one with many reviews, they'll usually go for the one with reviews.
In fact, BrightLocal found in a survey that 85% of consumers trust online reviews as much as personal recommendations.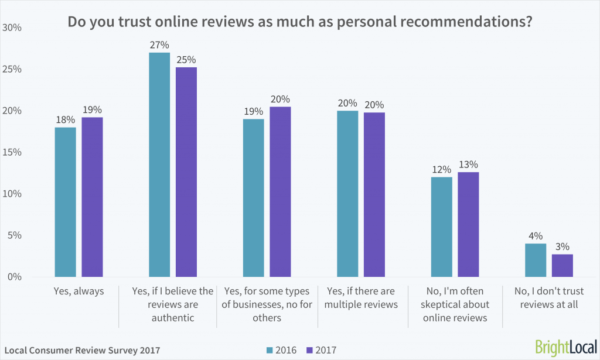 Your patients' reviews can also be a source of data to use in the marketing efforts for your practice because it's real people giving honest accounts about what you're doing well and where you need to improve.
A study by local SEO guide found that user reviews are the biggest determinant of whether a person will use a service based from a business local search rank: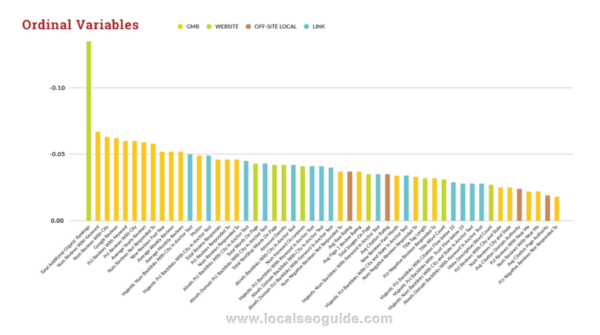 Below is an example of reviews on Dr. Shoshany's Google My Business page. You can see how he engages with reviewers as he replies to their reviews: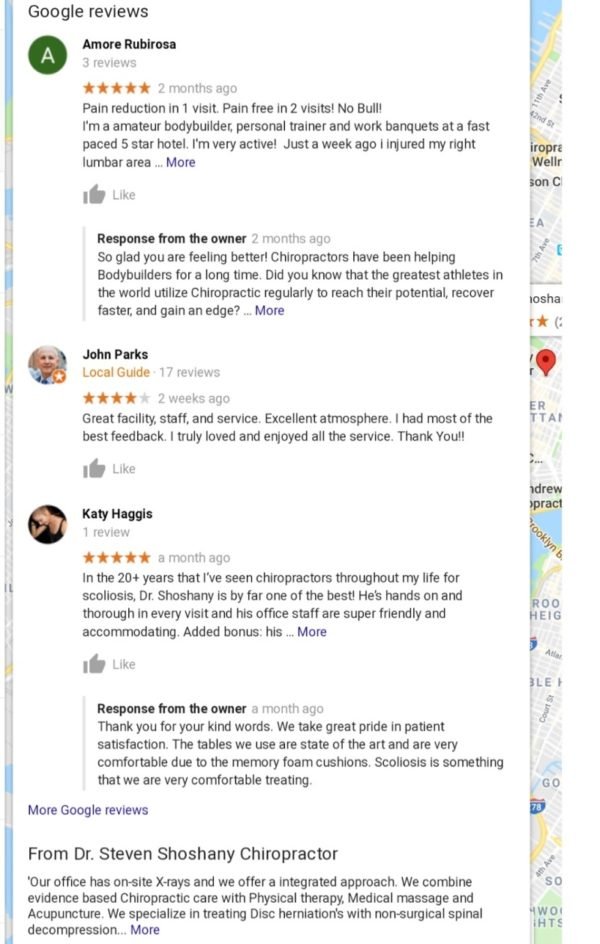 2. Personalization is the key
Why do you gather data about your patients and what do you do with it? Besides getting information on their medical records, it also gives you the ability to personalize your marketing and service to each patient.
Even though your patients may be similar in their conditions, they are also different in some of their needs.
One of the biggest insights in data-driven marketing is being able to use it to personalize your marketing messages to your new or existing patients.
This data allows prospects to further interact with your business and you can use this to send the right message to your potential client at the right time.
In fact, potential customers are willing to give you their personal data to get personalized service. According to a Salesforce survey, 57% of consumers say they're willing to share personal data in exchange for personalized offers or discounts.
Furthermore, 52% of them will willingly share their information for product recommendations and 53% will opt for a personalized shopping experience.
And one of the biggest applications of personalization is in email marketing.
Email marketing
When prospects visit your website and give you their email address, it's usually because they want to get more information from you. But that doesn't mean every prospect wants to get the same message.
People have different interests. In the past, you can just send a broad-based message to all your email subscribers and hope that it will resonate with a small portion of your subscriber list. But nowadays, it won't help you because email marketing has changed- people expect personalized emails.
And that starts with the subject line.
It has been found that personalized subject lines have a 26% higher open rate than a non-personalized one. Therefore, you have a better chance of getting your email read when you are speaking to your email subscriber directly.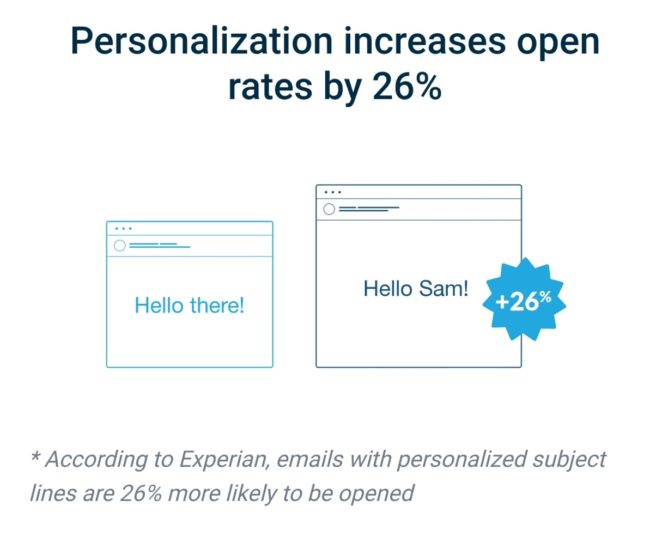 Most automated email marketing software systems are able to track how subscribers interact with your business through open and click-through rates. Knowing this, your subscribers can receive more messages of your services they're interested in.
For example, if an email subscriber reads about antenatal or baby delivery on your website, it could be that the subscriber or their wife is pregnant. Getting more messages about antenatal care would attract this subscriber to contact your medical practice for more information.
Another example of personalization is a popular story about Target's pregnancy prediction algorithm. Through its data, the company is able to know when a shopper is pregnant and expecting a baby. In one case, it was so accurate that Target even knew about a girl's pregnancy before her father!
This algorithm was used to market baby products to people who are expecting which may look creepy but it shows how a business can use the data provided by a prospect to market your service more effectively to them.
Artificial Intelligence
Through artificial intelligence and machine learning, different technological applications can use prospects' data to serve them the right type of marketing messages.
In Forrester's Global State of Artificial Intelligence Online Survey, 57% of business professionals believe AI will improve customer experience and support while 44% believe it will provide the ability to improve upon existing products and services.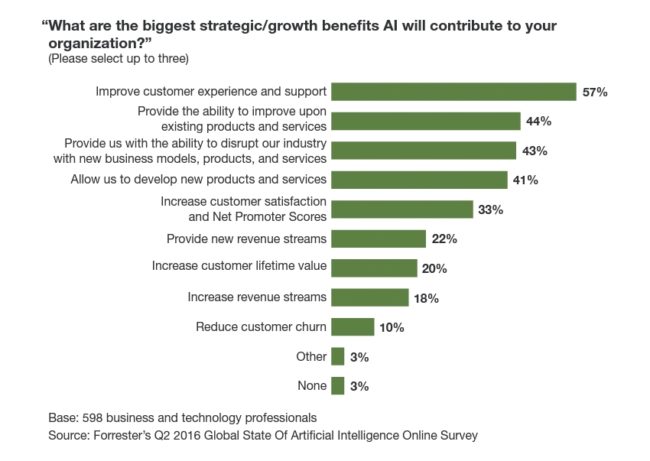 3. Optimize your ads to improve conversions
One vital aspect of marketing is in effective advertising. Without access to the right data, you might end up wasting your ad budget without any results to show for it. Therefore, consider the important traits that your ideal patients possess.
This will help you to target the right people at the right location. When you target people who actually need your service, there's a higher chance of converting them through your ads.
These 2 major platforms offer you targeting options through their data to improve your ads' effectiveness:
Google Ads
This is the biggest ppc management platform online in terms of reach and the amount of money spent.
As a medical professional, placing Google ads that target important and relevant keywords means potential patients are more likely to find you when they search for medical practitioners in Google. Below is an example of a Google Ad for a specific search term: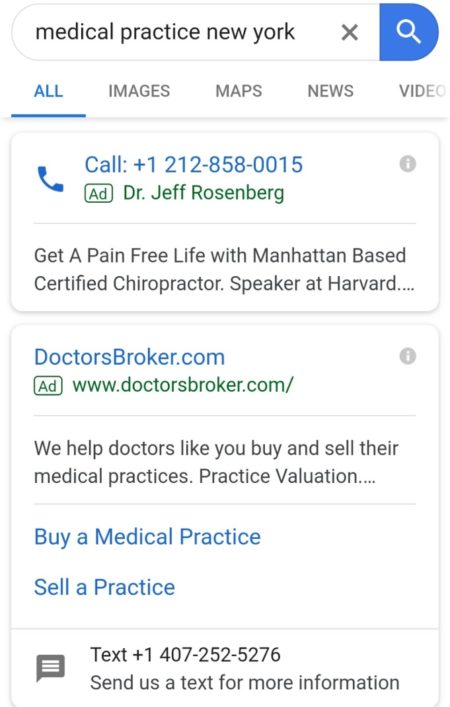 You may ask, what about local SEO? Even though local healthcare marketing SEO aims to get you to the top of local searches, it takes time.
With an online Google Ad, you can start showing up for search terms immediately after bidding for them. Some targeting options/specific terms for prospects are:
Demographics
Affinity
In-market
Custom intent
Similar Audiences
Remarketing
Topics
Placement
Content Keywords
In some cases, you may want to target people who have visited your website before because people rarely convert after visiting your website for the first time. In fact, AdRoll found that only 2% of first-time visitors of a website will make a purchase.
You can also use the retargeting option to get patients to see additional features of your practice. For instance, a study found that the conversion rate increases as the number of ad impression increases: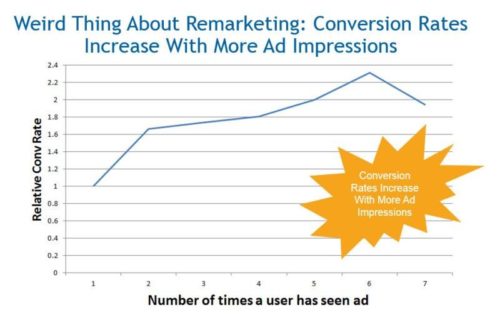 You can also remarket to people who visit your website or a specific page: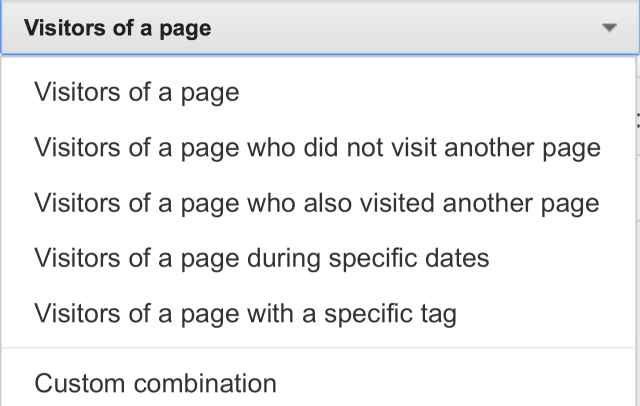 Facebook Ads
With a monthly active user base of 2.27 billion users, Facebook is the largest social media channel online. Added to this, Facebook also has the most extensive ad targeting option of any social network because it collects more user information than any other social network. No matter your area of specialization as a medical practitioner, know that your potential patients use Facebook daily.
Some targeting options for Facebook Ads are:
Location
Relationship Status
Interests
Connections
Life events
Employment
Pages liked
Site visitors
Contact lists
App users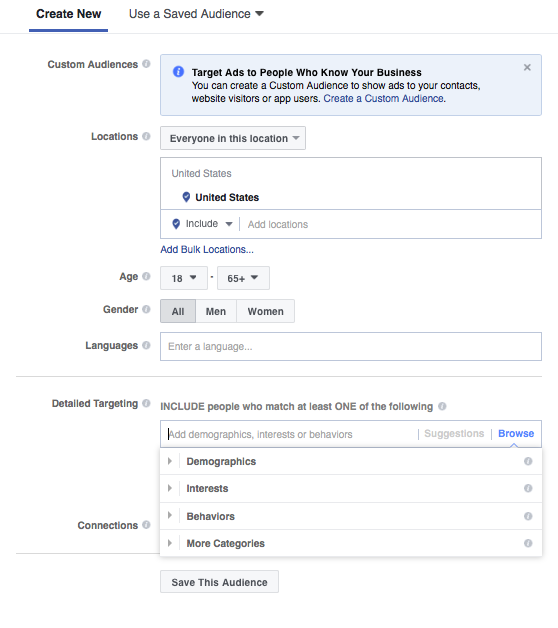 Facebook Ads also allows you to use the retargeting option. When a prospect visits a page on your website- let's say your service page- you can send them more offers about your services when they visit Facebook by using the custom audience option to target people who visit specific pages on your website.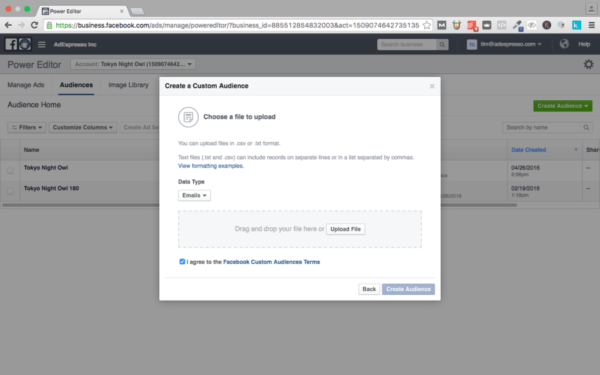 To do this, you'll have to add a Facebook tracking pixel to your website. You can also use Facebook Ads on Instagram since they are owned by the same company.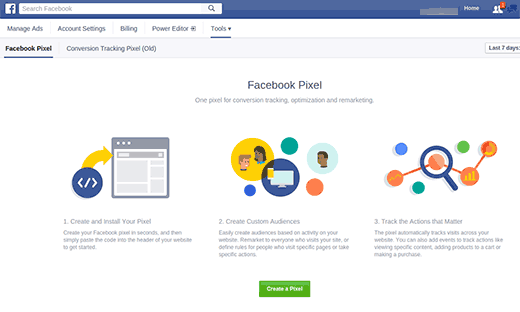 4. Use social media to connect with potential clients
People visit their preferred social media networks daily to interact with other people. And brands. According to Ambassador, 71% of consumers who have had a good social media service experience with a brand are likely to recommend it to others.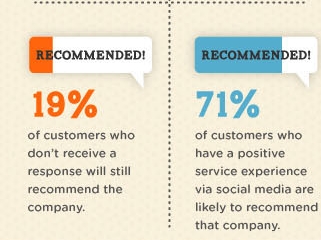 With over 3.1 billion social media users, there's a pretty good chance that your potential patients are on it.
But there are so many social media channels that it's difficult to focus on all of them. That's if you can even track them.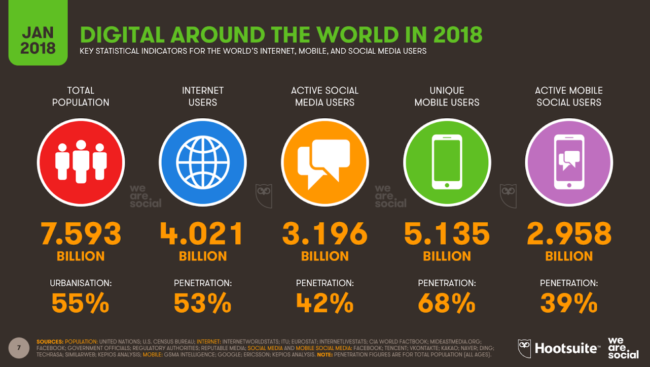 To know which social media platform to focus on, you need to know a little bit about your ideal patients. Which social media channels do they use most often? Look at the data you previously gathered about your patients and what you personally know or ask about them, and use that to connect with them on a social media network.
With these pieces of information, you're able to focus on the right social media channels to connect with your potential and current clients.
Apart from Facebook, which contains a lot of people from all different backgrounds, cultures, and locations, keep in mind what other online platforms they are using as well.
While interacting with your followers on social media, track the metrics of how they engage with your social media posts.
There are tools that help you determine how effective your social media marketing is at connecting with prospects and bringing them to your website. Some tools you that help track social media interactions include Buffer, Hootsuite, Edgar, and there are about a dozen others.
5. Omnichannel marketing
Today, prospects can interact with your business through a plethora of different marketing channels. For instance, a prospect may interact with your business on live chat and then continue the conversation on social media.
In another sense, a prospect may use their smartphone, desktop, and even tablet to find out more information or communicate with your medical practice.
So how can you ensure that you are tracking this information correctly? One effective way is through omnichannel marketing.
Prospects expect you to have the information they've given you in the past regardless of how they gave it to you. With omnichannel marketing, potential patients can book your services on your website and someone in your office can get back to them right away.
According to a Patientpop survey, 41.5% of patients prefer to book an appointment with a website or mobile app without having to call the office. This type of flexibility can be all it takes to turn them into a patient.

All the information you get through your website, search marketing, email marketing, social media marketing, and other digital marketing tactics should be integrated into one platform where you can monitor them.
A tool you can use to implement omnichannel marketing is with a customer relationship management (CRM) software.
This can help you track all your interactions with prospects and customers and can also enhance collaboration between different departments in your hospital or practice.
Each department can have all the important information they need about every customer or prospect at the tip of their fingers. With this data, they're able to relate with your patients and give them the continuum of care they need.
For instance, take a look at Starbucks. This large chain of coffee shops has executed its omnichannel marketing flawlessly by managing customer data effectively across many channels.
With the Starbucks app, customers can avoid standing in line by ordering coffee ahead of time: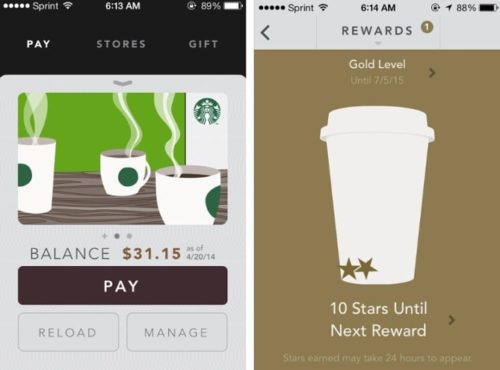 They can use the app to check the menu and specify any customization to their drinks.
Furthermore, when customers buy coffee with a Starbucks card, they get rewards. And these rewards are current on whatever device or channel they may use.
Another example is the fashion brand, Oasis. Customers can check the availability of a product at a nearby store and easily make a reservation to pick it up later: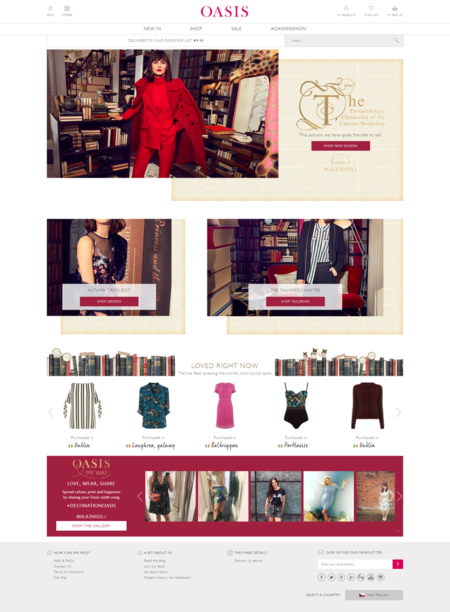 In a case where you don't know what to buy, you can book an appointment with their stylists who can make recommendations for products that'll fit your requirements.
Conclusion
Following data-driven marketing insights, provided by our Digital Marketing Agency, can help you make the right decisions for your business based on actual numbers, rather than taking a shot in the dark.
It unlocks the door to market your medical practice creatively. Backed by numbers, this helps you to market your business to prospects who are more likely to become your patients.
You can apply data about your potential and current patients using local SEO, personalization, digital ads, social media, and omnichannel marketing.
If you're not yet doing so, you've been missing opportunities in marketing your medical practice effectively.
Hopefully these insights help you make better marketing decisions so that you can start taking on more customers and watch your medical practice grow.