Demand in the senior care vertical is evergreen, at least with respect to the numbers. According to research from the Urban Institute, there will be 80 million adults aged sixty five or older by the year 2040. With an aging population comes the need for assisted living, hospice care, and other important services.
It's no surprise that the senior care market is large and highly competitive. The market size for in-home senior care franchises in the United States alone is $16 billion. To stand out, be seen, and keep lead pipelines full, many organizations turn to senior care marketing agencies to execute part or all of the marketing function.
As an established senior care marketing agency with a deep portfolio, we've talked to, pitched, won, and grown a variety of senior care accounts. Here's our no-frills, unbiased guide to selecting an agency for your own senior care organization.
1. Have a Clear Understanding of Your Marketing Needs
Before you start reaching out to digital marketing agencies, work internally to determine your specific needs. There are a lot of senior care marketing agencies out there; to the extent possible, narrow your focus so you can narrow the field of candidates. Bring in internal stakeholders to determine why you need the support of a digital agency. What needs will a senior care marketing agency help you fill? For example:
In-house team is failing to meet MQL quotas
Cost per acquisition is out of control
Lack of expertise needed to execute growth strategy
Need headcount to scale
From a structural standpoint, we typically see one of three scenarios:
"I am a one-person marketing team and need to outsource everything to an agency."
The lean-and-mean model is very common in senior care marketing. It's not uncommon to see a Chief Marketing Officer as the lone member of the marketing team. While providing strategic oversight, they also outsource core marketing activities to an agency, partner, or various software and technology vendors.
"We need an agency to augment our existing in-house team."
In this scenario, you might have a perfectly capable marketing team that just can't do it all without burning out. We regularly see senior care marketing teams outsource content creation or search engine optimization (SEO), so that they can focus on core competencies or more urgent matters.
"We need an agency to handle a specific marketing activity."
Sometimes, certain digital marketing strategies require expertise that you don't have in-house. Maybe you need to bring in a conversion rate optimization (CRO) specialist to improve campaign ROI. Or perhaps you need digital media specialists to improve the efficiency of your Google Ads strategy.
2. Know the Difference Between Specialized and Full-Service Agencies
The decision to bring on a full-service vs. specialized agency goes beyond do it all for me vs. do only some if it for me. There are distinct differences between these two types of agencies in terms of capabilities, personnel, scope of service, and cost. Both have pros and cons, and both can deliver strong results under the right circumstances.
What is a Full-Service Senior Care Marketing Agency?
A full-service agency has the professional experience, technical expertise, tools, and infrastructure to handle all the aspects of a traditional in-house marketing program. This is your solution if you're looking to hand it all over to a trusted partner that guides and executes the lion's share of your marketing strategy.

A full-service agency will integrate with your organization to plan, strategize, build, execute, and analyze your entire marketing strategy.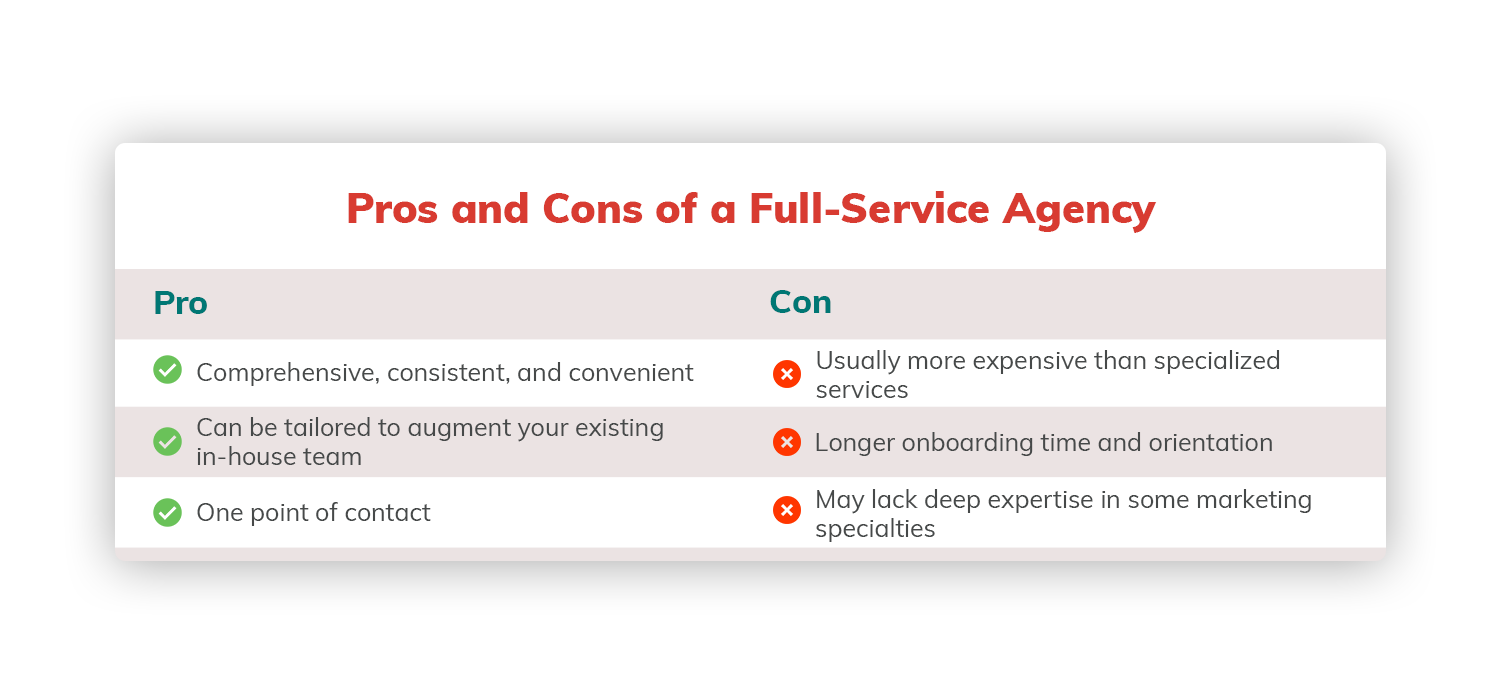 What is a Specialized Senior Care Marketing Agency?
Not everyone needs the world from their marketing agency. Often, a very specific marketing need arises based on demand, shifts in business strategy, or—let's be honest—because the C-Suite says so. For example:
Web development: "Our site is slow and poorly optimized for mobile experiences."
SEO: "We need to refine our keyword strategy and attract qualified organic traffic."
PPC: "Lead-gen is flagging, and we need to fill the pipeline fast."
Social media: "How do we strengthen our brand presence?"
Content: "Our blog is stagnant. Can you revive it?"
Email: "How do we build effective nurture sequences?"
Then, of course, there's video marketing, CRO, and many other specialized marketing services. Again, it comes down to what your particular team needs.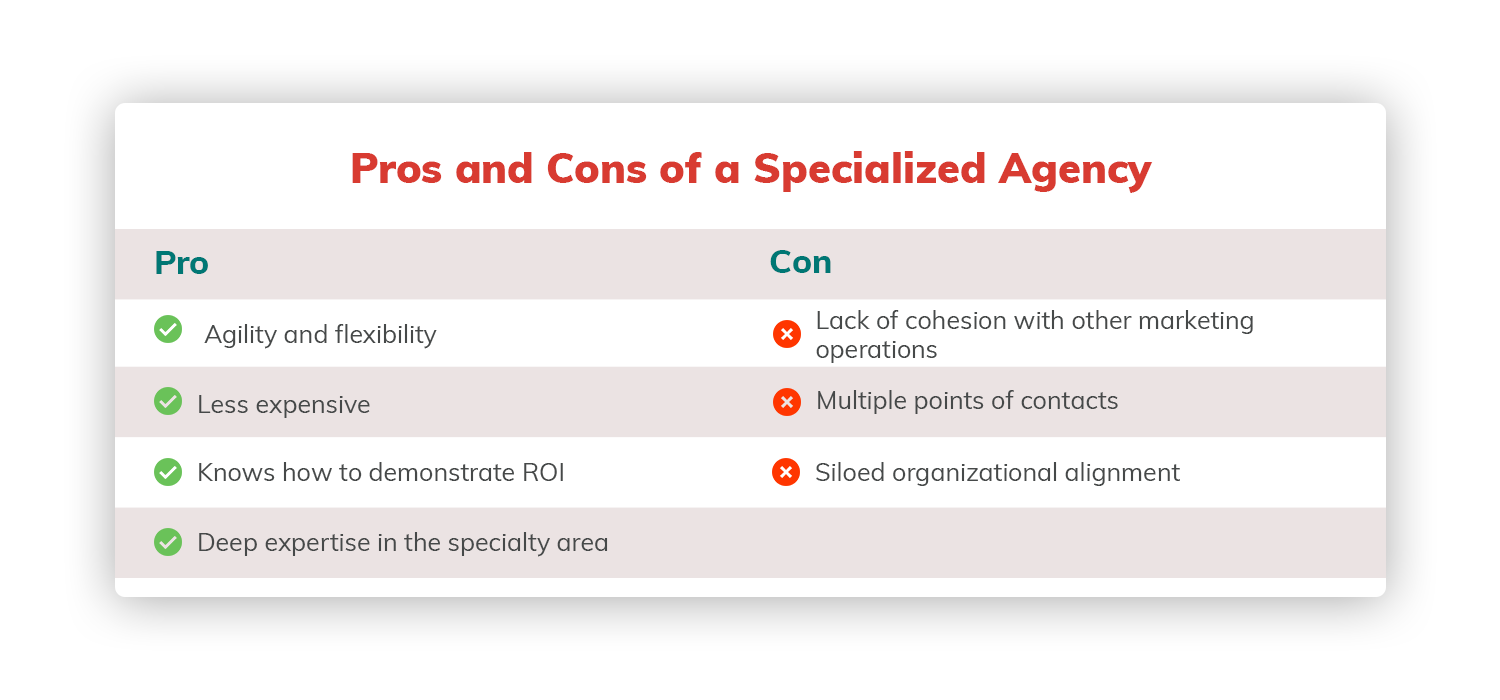 3. Ask the Hard Questions
It's important to know what you need before you reach out to agencies. There are a lot of senior-care-specific marketing agencies out there. When the phone starts ringing, here's how to differentiate between the good agencies and bad:
Direct experience in senior care. Narrow your focus to agencies that understand your target audience. Do they know how to reach not only seniors, but decision-making units (sons, daughters, and other family members)?
Senior care case studies. Can the agency provide recent case studies that demonstrate a track record of delivering success for senior care organizations? Here's what a senior care marketing case study looks like.
A results-driven approach. You can avoid being sold a bill of goods by asking your prospective agency to share how exactly they measure, track, and report on progress. By which metrics do they evaluate success?
4. Weed Out the Bottom-Feeder Agencies
Unfortunately, not all senior care marketing agencies work in earnest. The first and best way to disqualify an agency is to read their reviews—bonus if someone in your network has encountered an agency in the past. Are they reliable? Do they follow through on what they promise during the pitch?
Here are a few tell-tale signs of agencies you might want to avoid:
They promise overnight results.
They can't provide case studies, testimonials, or financial impact statements.
They can't give you a straight answer about how they measure, report, and communicate on performance.
They don't give you access or keep you out of your own accounts
A Real-World Case Study for Senior Care Marketing
At the outset of this blog post, we promised unbiased and uncompromising value. To that end, we must recommend our Complete Guide to Digital Marketing for Senior Care. Read it and take what you need to round out your own digital marketing strategy.
To see these strategies in action, check out our senior living retirement community case study. Our client King'sBridge leaned on us to completely revamp their PPC strategy. The results?
1075 percent YoY increase in PPC conversions
64 percent decrease in PPC cost per acquisition (CPA)
140 percent YoY increase PPC conversion rate
59 percent YoY increase in organic sessions
#1 keyword rankings for 4 competitive keywords
92 percent increase in local visibility through Google My Business (GMB) optimization
Be Specific and Demand Measurable Results
The senior care providers that reach out to Cardinal Digital Marketing mean business. They put our team through the wringer. They want to see a clear-cut approach to whatever their marketing need might be. They want to know how we'll measure results. And they ask for case studies, testimonials, and other social proof that underscores our experience in this space.
As they should!
And as you should. No matter which route you go with respect to selecting a senior care marketing agency, our four steps hold their salt:
Know your needs
Decide between specialized vs. full-service
Ask the hard questions
Disqualify the bottom-feeders
In such a competitive senior care landscape, your choice of agency might make all the difference.