With that many prospective patients looking for care, it's no surprise that the top spots on search engine results pages (SERPs) are very competitive. No matter how large or small your plastic surgery practice is, you're likely battling it out with other practices, vendors selling to hospitals, and even health insurance companies.
It's crowded on the Googles!
Now, to fetch the topmost spot on the SERPs for your target keywords, you have two options: build an organic search engine optimization (SEO) strategy or place pay-per-click (PPC) advertisements on the most prominent search engines. While both are viable strategies that ought to be part of any plastic surgeon's digital strategy, SEO is the longer game between the two. After launching an SEO strategy, it might be six to twelve months before you gain any measurable traction.
PPC, on the other hand, can start generating site traffic, building brand awareness, and driving leads for you today. However, doing so efficiently requires a targeted strategy.
Why Plastic Surgeons Should Consider PPC for Their Practice(s)
Beyond the ability to generate clicks and (potentially) leads rather quickly, PPC offers a few other benefits to plastic surgeons. For one, you can use PPC retargeting campaigns to show ads to people who have visited particular pages on your website. You can also launch highly targeted campaigns based on competitive, high-intent keywords, and audience personas. In terms of budget, you can spend as much or as little as your books allow, all of which can be configured in platforms like Google Ads.
Here are a few more reasons that make PPC ads so compelling:
The ability to target very specific audiences has never been so comprehensive.
The availability of rich data that can be used to optimize campaigns has never been deeper.
The ability to quickly pivot or launch new campaigns is astounding.
Here's what a PPC ad looks like on Google. I searched for "tummy tuck atlanta" and, as you can see, the first few results are paid ads (you have to scroll down to see the so-called "organic" results):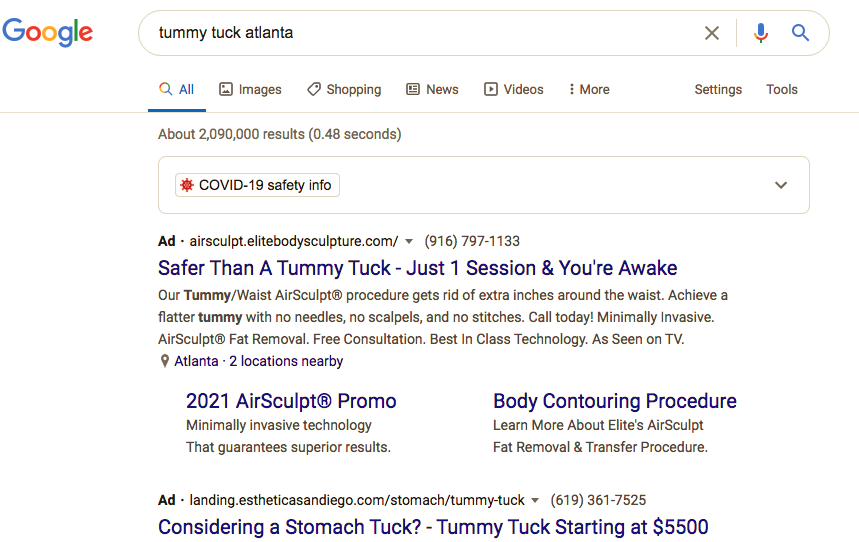 While you wait for your SEO strategy to get your website to the top of the SERP, you can use PPC ads like these two to increase your visibility on search engines.
Best Practices To Get the Most Out of Your PPC Campaigns
In today's business climate, staying competitive requires a little bit of agility. Despite elective surgeries still being suspended in some states, and many patients opting to postpone elective surgeries due to coronavirus, plastic surgery is poised to return to full swing soon enough.
When it does, you can quickly launch PPC ads that drive leads. How can you get the most out of these paid search campaigns? Are you doing everything you can to optimize your ad campaigns? Here's where to focus your energy and resources:
1. Develop Your Target Audience Persona(s)
Most paid search campaigns include the following components:
Targeted keywords
The ad text/messaging
Landing pages
An effective paid search campaign ensures that each of these components not only speaks the language that your audience uses during their searches but brings them value with timely, authoritative information that suits their plastic surgery needs. That "target audience" ought to be well defined for each campaign, from age and income down to physical location, gender, as well as behavioral tendencies. To extract this information, ask yourself the following questions:
Who is your target audience?
What barriers might prevent them from choosing surgery?
What are their primary motivations?
Do they really want surgery or are they looking to improve in their overall life?
How do they search for plastic surgeons? What questions are they asking?
Chances are you'll have several types of personas. What do 80% of people that come to you for rhinoplasty have in common, for example? Who is the ideal patient for a tummy tuck consultation? Distill these traits and characteristics into a persona, replete with basic demographic information, as well as their buying considerations, top priorities, and any barriers that prevent them from choosing plastic surgery services. The best way to gain these insights is by talking to your actual patients and listening to how they navigated their patient journey. Where did they start? What did they do at each stage? What resources did they use?
It's also important to get internal endorsement for these personas from stakeholders, as you'll use them to align every aspect of your ad campaigns.
2. Write Persuasive Copy and Use All the Space Available
Once you understand your ideal plastic surgery patient, you can write advertising copy that appeals to them. The words you use in your ads are just as important as any under-the-hood PPC tactics. Writing persuasive ad copy means empathizing—it means understanding what your audience's plastic surgery needs are at precisely the moment they encounter your ads.
Are they just curious about a particular procedure?
Are they ready to go but need to find the right doctor?
Are they shopping around for deals?
Do they have reservations about outcome, safety, or whom they'll be working with?

Good ad copy extends beyond your headline to address these pain points. Be as thorough as possible. Arguably, you create more value and occupy more space on the SERP by filling in all available content blocks with well-written ad copy. You can even use expanded text ads (ETAs) to provide additional space for ad content if needed. Here are a few additional tips for writing persuasive PPC ad copy:
Address your audience directly by writing in the second person. Make it about their needs. Make it direct, conversational, and human.
Address pain points that your prospect might be experiencing (high cost is a common one in plastic surgery, as well as general fears about going under the knife).
Use emotional triggers and words that appeal to fear, consequences, flattery, and so on. As healthcare marketers know, a person's plastic surgery decisions are often motivated by these feelings.
Use strong, direct, action-focused CTAs that encourage action and give the person an idea of what to expect if they do click your PPC ad.
Thanks to Google's push to make RSAs the default option, most PPC folks are familiar with RSAs. With RSAs, all you have to do is supply the ad headlines, descriptions, and so on—Google does the rest. Something to keep in mind as you put together your ad copy internally, or outsource to an ad copywriter.
3. Use Every Ad Extension You Possibly Can
Extensions such as call buttons, links, more text, and location information give Google a handful of elements to include with your ad. The ad engines will automatically choose which extension to add based on search behavior, with the goal of increasing the click-through rate. These extensions include:
Sitelink. This sets the link text and URL that people will see included in the ad.
Callout. Additional text callouts, such as "Free Initial Consultation," "Accepting Most Major Insurance," and so on. Consultations, calls, and specific deals are common callouts in plastic surgery ads.
Structured snippet. Additional header/supporting detail that displays beneath your ad copy. An example might be "Plastic Surgery Services" then "Rhinoplasty," "Body Sculpting," and other surgeries beneath.
Call. Add your business phone number to ads so users can tap to call you directly from their smartphones. Some people don't need to click through to your landing page and want to schedule an appointment immediately!
Location. Display your practice's physical address, map, directions to, etc. beneath your ad. Most people are looking for a plastic surgeon in their general area.
According to Google Ads Help, ad extensions can increase click-through rate "by a couple of percentage points." In the world of PPC, an improvement of a couple of percentage points is significant, which is why you need to consider using ad extensions. Here are what some of these ad extensions look like in practice: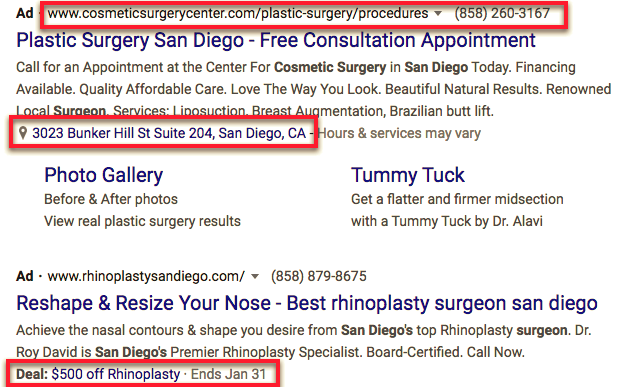 4. Develop a Seamless Experience
Here's a fun little PPC metric you should know about: Google Ads Quality Score. The higher your score for a given ad, the lower the cost-per-click (and the higher the conversion rate). One important factor in this score is the landing page you point your ad to.
Your landing pages must align with the language and offer included in your ads. In other words, you want to create a seamless journey from the search term, to PPC ad, to the landing page. Here's how:
Use the same offer. Don't bait and switch your audience with an ad that says one thing and a completely different offer. If the ad is about a free liposuction consultation, for example, don't point them to your homepage.
Create optimized landing pages for each campaign. If your PPC ad is about rhinoplasty, including a $500 discount offer, make sure your landing page is all about rhinoplasty and mentions your offer.
Make it easy for people to schedule an appointment from the ad. This is especially important for plastic surgeons. You can do this by enabling certain ad extensions we already mentioned.
Test the patient journey, including the appointment booking process. Put yourself in your prospect's shoes. Is there any part of the journey that's high effort, or doesn't make sense? Is there a hidden obstacle in the journey that's quietly impacting conversion rates?

Too often, we see paid search ads that point to a generic homepage that does not build on the language, detail, and offer introduced in the ad. This kind of disjointed experience will increase your bounce rate and degrade the overall performance of a given ad.
5. Optimize Your Ads for Mobile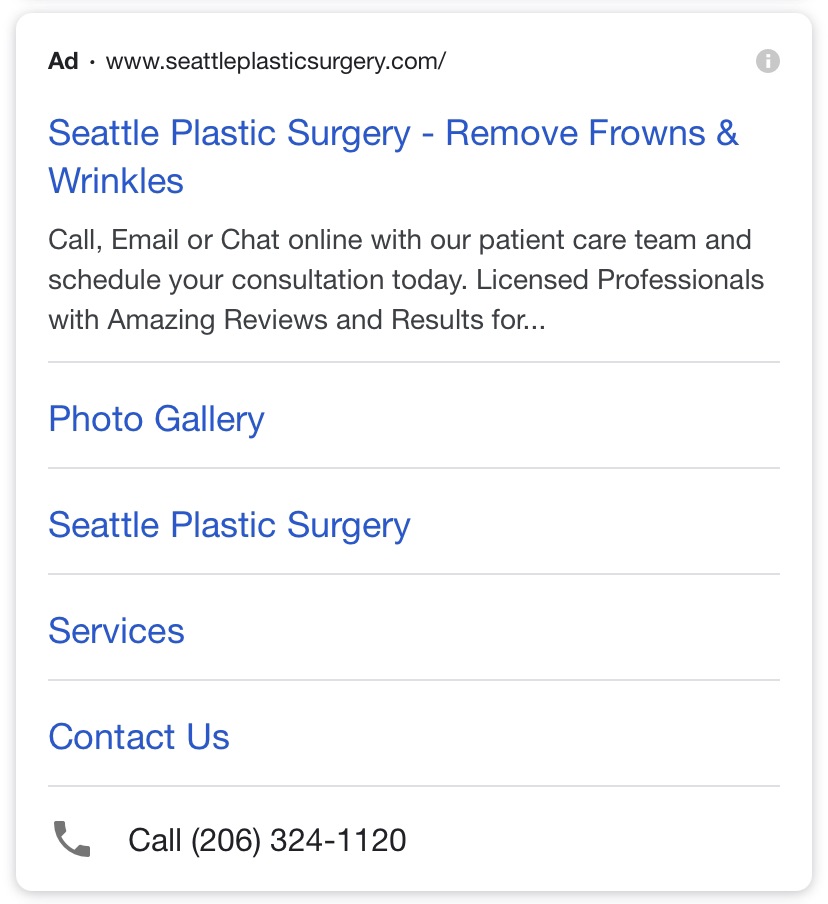 People spent 23 additional minutes per day on their smartphones in 2020. Statista estimates that there are more than 3 billion smartphone users worldwide. Getting text, images, CTAs, and other elements of your PPC ads optimized for mobile devices can be the difference between percentage points on click-through rate (CTR), return on ad spend (ROAS), and other metrics.
By and large, responsive search ads (RSAs) automate this process. RSAs will take your ad copy variations and optimize them based on the user's device (among other important factors). However, you can also take a look at your ad metrics to look for other opportunities to optimize the mobile experience, or boost conversions. And don't forget to optimize landing pages for mobile devices, too.
One of the best things you can do is test your ad journeys on mobile devices to pinpoint any friction points or incongruities.
6. Behold the Power of Geotargeting
So much of a successful PPC campaign is about narrowing the focus, and location-based targeting is yet another tool in the PPC toolbox. Most PPC platforms, including Google Ads and Microsoft Ads, offer some form of geotargeting capability, sometimes called "geofencing." This capability means plastic surgeons can target specific regions.
Once you develop your patient personas and conduct research to better understand where your customers come from, you can develop ad campaigns that are only displayed to people who live in the defined region. If the majority of your clientele reside in a specific neighborhood, you can target your campaign there. Instead of wasting your ad budget targeting the entire city, you increase your ROI by targeting the people most likely to convert.
Another option is called "geo-conquesting." As the name suggests, geo-conquesting is the targeting of people who are at or near a competitor surgeon's location. For densely populated areas with stiff competition among plastic surgeons, this kind of strategy can be quite effective.
Make PPC a Digital Marketing Mainstay
While PPC is certainly capable of delivering shorter-term results, it too ought to be an evolving strategy. Why? Because your campaigns will provide a multitude of data that can be used to tinker, refine, and retarget your paid search ads. You will always have the option to expand your keyword targeting strategies or to test new ad copy.
The good news is that possibly thousands of people within your specific target area go online to look for plastic surgery options, including searches that include your plastic surgery services. This creates a tremendous opportunity to tap into this search demand, get your brand and services seen, and drive highly qualified leads to your practice. The six best practices detailed above are a great place to start.