As competition in the dental industry has increased, more dentists and DSOs have realized that investing in digital marketing is no longer an option. If you want to reach healthcare consumers, you need to go where they spend their time. One of the best ways to reach people online is through Facebook. The famed often embroiled social media platform enjoys more than 1.79 billion daily active users (a number that's increasing 10%+ annually).
This massive audience creates a tremendous opportunity for dentists to use Facebook Ads to build brand awareness for multiple locations and nurture prospective new patients. Here are seven strategies we use to help dental practices build better Facebook Ads campaigns.
Questions We Aim to Answer
Is social media advertising a reliable tactic for dental practices?
How do I reach more people with social media advertising?
Do prospective dental patients respond to ads on FB?
How do I improve my Facebook Ad campaigns?
1. Put Time and Resources Toward Good Ad Creative
Like, really good. There are a lot of dental practices in the world. In fact, most geographical regions are saturated with dentists vying for eyes online. It's a very crowded digital landscape. How will your practice's Facebook Ads compete for eyes, clicks, and conversions?
People respond with ads that are:
Timely
Relevant
Compelling
To meet those needs, your ads need to excel in two particular areas:
Copywriting for Facebook Ads
Ad copywriting includes the headlines, descriptions, and CTA language of your ads. As crucial as "the writing" is to successful Facebook Ads, too many dental practices go the generic route. They use the same tired language that every other dental practice uses or relegate ad copywriting to an afterthought.
What we do is bring in ad copywriters very early in the ad ideation process. We invite them to collaborate with other campaign stakeholders—the social media managers, ad specialists, marketing wonks, and graphic designers. This tends to give writers what they always want more of: context and visibility. When writers are on the same page as other stakeholders in terms of audience, featured service, and objective, the better ad copy they'll produce.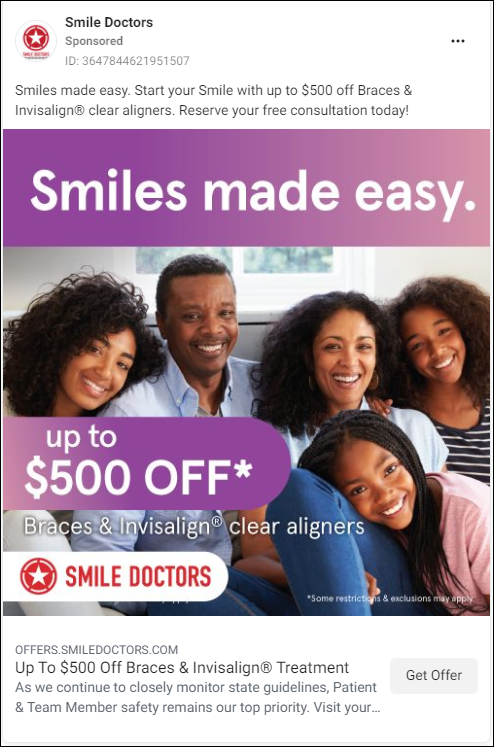 One important feature of Facebook Ads is Multiple Text Options. This feature is very similar to Responsive Search Ads (RSAs). Essentially, you can upload a total of five copy variations for headline, text, and description, then leave it to Facebook's fancy algorithms to serve up the text combination most likely to succeed.
Graphic Design
As with ad copywriting, the same rules apply in terms of when and how to think about your ad design: early. A creative design can be the antidote to a kind of "ad blindness" that people have developed. First of all, people are spending more time on their phones than ever—the sheer volume of graphical content they consume is unprecedented.
Then there's the constant competition, with hundreds upon hundreds of different vendors vying for eyeballs across all social media platforms. It takes something a little bit different for your ad design to grab viewers' attention. That means avoiding stock photos and developing a unique brand identity. When viewers see your ads, you want to catch their attention and quickly identify your brand. Over time, you'll build brand recognition, and when they need dental care, they'll be more likely to recall your brand or respond to a new ad.
Great Facebook Ads achieve a certain harmony between writing, design, and campaign objective. In both areas of ad creative, two guiding principles will serve you well: be authentic and use strong CTAs. Your ads are there to compel people to take action and then walk through your dental practice's front doors.
RELATED:
Are Your Facebook Ad Campaigns Ready for iOS14?
2. Don't Settle for Mediocre Messaging
Can you tell how seriously we take ad messaging? To that end, let's elaborate on specific tools for refining ad messaging and enhancing performance:
Interview your patients to get a better understanding of how they found you, what they were looking for in the first place, and why they chose your practice. This can be a rich source of information to refine your message.
Create detailed buyer personas that define your target market in no uncertain terms, then share those stakeholder-approved personas with all campaign stakeholders.
Try a little bit of empathy that acknowledges the simple fact that most people don't want to—or neglect to—go to the dentist. It's uncomfortable. Often time-consuming and expensive. Look for ways to disarm those objections through your ad messaging.
Test different themes to get a data-backed picture of what's resonating with your target personas and what's missing the mark.
3. Build Mobile-First Ads First
Scrolling through your Facebook feed has become an American pastime, it seems. This might explain why Facebook surpassed the $15.6 billion mark for mobile ad revenue in 2019. When 94 percent of total ad revenue comes from a single device type, guess where you should be focusing most of your energy?
That's true both for Facebook and the dental practices that advertise on it. Mobile Facebook advertising is likely where your audience is, so failing to get the most out of this ad channel would be a missed opportunity. Of course, we don't simply mean repurposing your existing desktop ads for mobile audiences. We mean starting with mobile and building images, videos, copy, and other content accordingly.
What does mobile-first ad content look like?
Shorter, more digestible assets
Optimized images and media
Larger font sizes for ad graphics
Vertical format for video
Mobile-optimized landing pages
You'll notice that these tips begin to steer the conversation toward user experience (UX). For a more comprehensive guide to mobile UX and marketing, see Healthcare Marketing for a Mobile-First World.
4. Tailor Your Landing Pages to Each Ad Campaign
We rarely recommend the homepage as a destination for Facebook Ads. Think about it: if you're advertising a free first cleaning, but the user sees generalized info about your practice when they click through, it's a disjointed experience that can hurt your engagement, click-through, and conversion rates.
Instead, we recommend taking the time to spin up tailored landing pages for each ad campaign (or each campaign grouping). These landing pages should align with your ad audience, offer, and creative, while providing all of the additional information your audience wants.
In the world of dental practices, this might include the details and timeline of a particular service, such as teeth whitening. Your landing page might also introduce a head dentist, dental surgeon, and other staff. Service-specific testimonials are always a plus, as is clearly stated information about cost and insurance. Finally, be sure to deploy prominent CTAs that drive a specific action, such as scheduling a consultation.
Again, your landing pages should be optimized for the specific ad campaign. For example, you might have dedicated landing pages for:
All of your primary, high-volume dental services
Specialty dental services and surgeries (cosmetic dentistry, whitening, etc.)
Implant dentistry for a more senior demographic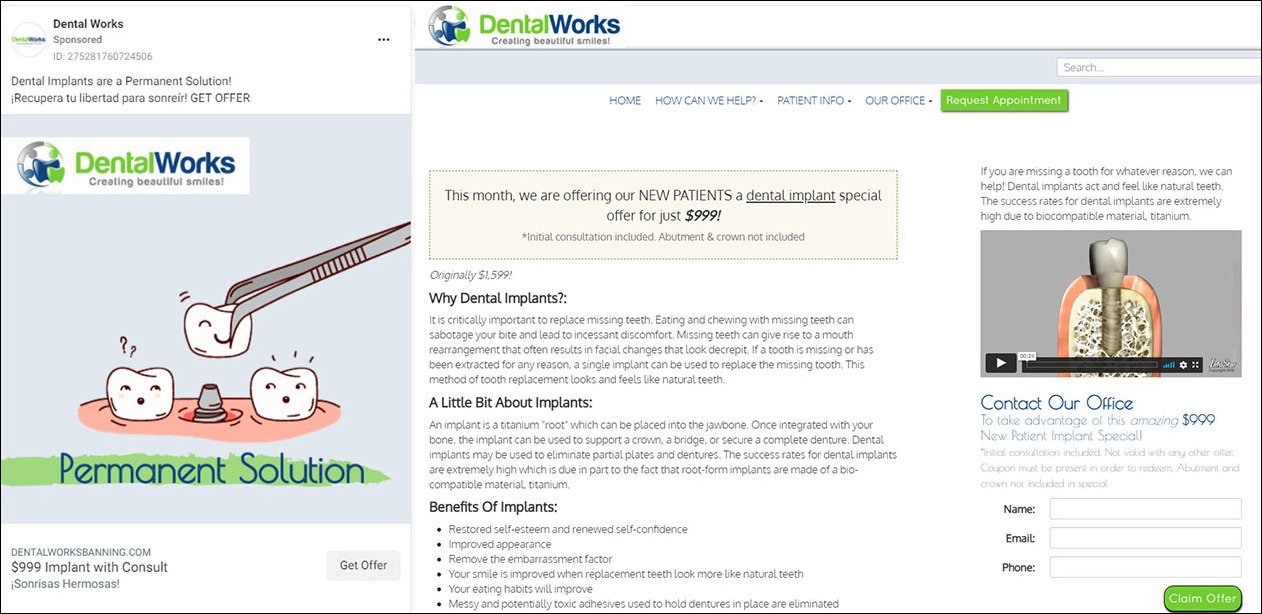 5. Bring in Lots of Video Content
There's no denying the importance of mobile-first ads. Yet, video is pretty important too. By some estimates, there are more than eight billion daily video views on Facebook. The platform's own tips for optimizing ad creative for mobile emphasize incorporating video.
Video has a lot of advantages. It's better for storytelling. It moves, makes sounds, and appeals to the senses. It can be optimized for mobile in creative ways. And the sky's the limit in terms of various video ad formats at your disposal. For a dental practice, video ads might include:
A creative showcase of what makes your practice different (friendly staff, state-of-the-art equipment, etc.)
Walk-throughs of your facility to give patients an idea of your practice's environment and vibe
Patient testimonials that address some of the objections people might have about dental care
Finally, think about what people look for when shopping around for a dental provider. They're looking in their local area, most likely. They're likely closer to ready to make a call or book an appointment than they might be for other health-related decisions. Cost and insurance are always big questions. Is there a way to appeal to these needs through video?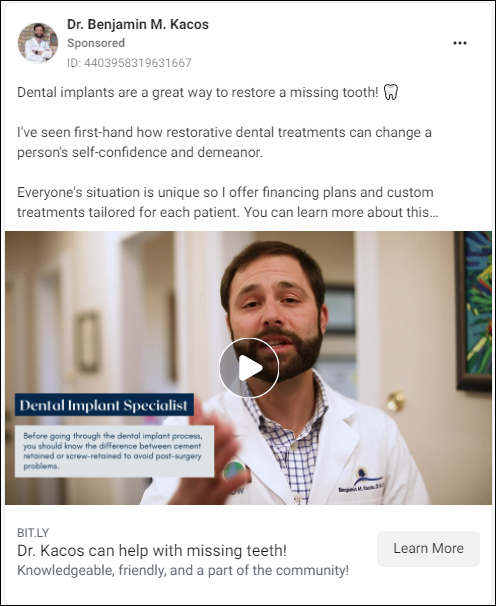 6. Deploy a Full-Funnel Strategy
Even though many people looking for dental practices online might be ready to pull the trigger, the decision to seek care can take some time. Especially when it comes to higher-ticket dental procedures, such as surgeries or cosmetics, prospects need a little nurturing. This is where a full-funnel Facebook Ads strategy comes in.
A full-funnel ad strategy makes appeals to prospects at each stage of their journey, from awareness to consideration to conversion. This journey is going to look a bit different depending on the makeup of your particular dental practice, but the principles are generally the same:
Display an ad to your pre-defined target audience
Use the Facebook platform to get ad engagement data
Create and launch a second ad campaign only for the most engaged users
This model can be expanded and made more complex, of course. But a simple example would be a "Don't hide your smile, brighten your teeth" video ad that appeals to those with that dental aspiration. You can build a second campaign that is triggered when users watch the video ad for more than ten seconds. Ideally, this second ad builds on the first overview, perhaps with a graphic or written asset that explains your teeth whitening services. Then, the following ad shows a patient testimonial, moving that person farther along the journey. That most engaged audience is then served an ad for a special teeth whitening offer.
7. Test, Test, and Test Again
Scientists, data geeks, and, yes, advertisers are famous for testing theories. Establish baselines and try to break them with new ideas, concepts, or approaches. In the world of Facebook Ads, that means testing different messaging against different audience profiles over and over again. Is your senior citizen crowd responding more to fear-based or opportunity-based appeals? Are photographs or graphics performing better among millennials?
Consider creating multiple variations to test different parts of your ad creative, including messaging, keywords, graphics, and so on. Run split tests on those variations to see what works best. Often, what we think people want to see is different from what the data actually tells us.
Remember What You're Really Optimizing For
Efficiency, return on ad spend—it's easy for numbers and budgetary concerns to consume our focus. But well-optimized Facebook ads do more than improve the bottom line for marketers. They can build brand awareness in a geographic area, nurture relationships, and get people the dental care they need.
So, you're optimizing for what patients need and what your dental practice is all about. This kind of brand strength can be a considerable competitive differentiator within the crowded dentistry space. So, try bringing a little empathy and personality to the table. Poke around and do some competitive analysis. You're going to find a lot of repetition, generic ad creatives, and run-of-the-mill strategies.
Instead, what makes your dental practice unique should permeate the media and messaging you use across all campaigns. After all, the decision to buck up and call the dentist can be tricky to pin down. Ads optimized for how people feel at that critical decision point are far more likely to outperform.