At its core, healthcare is about taking care of the patient. While long ago a patient's experience likely involved a telephone and an in-person appointment, things are far different nowadays. Most patients begin their journey online.
Some of those journeys end online, too.
In a recent consumer healthcare survey, 81% of patients reported that they read reviews about doctors even with a referral, and 63% choose their providers based on a strong online presence. When it's time to make an appointment, nearly 50% prefer to make their request through some digital channel, further underscoring the significant shift in preference toward digital experiences.
So how do healthcare organizations continuously deliver strong experiences across these diverse, often non-linear patient journeys? Not, as it turns out, without the help of marketing.
RELATED: 12 Healthcare Marketing Trends for 2020
Creating a Roadmap for Brand Continuity
There's no question that technology and marketing play pivotal roles in shaping a patient's experience. When that experience is seamless, supportive, and informative, it correlates with the patients perceiving a higher quality of care. Naturally, a patient who has this kind of experience is more likely to continue using the same healthcare provider, as well as to recommend that provider to friends, colleagues, and family members.
This is where consistently delivering positive patient experiences can significantly accelerate a healthcare provider's business growth.
The overarching priority is continuity. Looking at the big picture, marketing plays a role in ensuring consistency along each step of the patient journey: research, appointment setting, communications, and even onsite experience. To cultivate a positive and authentic relationship with the patient, marketers need to collaborate with physicians, office staff, and IT.
This collaboration creates an experience in which the patient is seen and treated as an individual—something that all of us want. This includes leveraging technology like ad integrations, well-designed patient portals, automated and personalized follow-up communications, and healthcare record databases to tailor patient experiences and increase brand continuity. Along each stage of the patient journey, marketers can work with their collaborators across the organization to reduce obstacles, strengthen the brand image, and add value for the patient.

Each stage of the patient journey offers opportunities to improve patient engagement, build trust, and demonstrate superior care. When you think of the patient experience holistically, including digital and in-person channels, you're able to craft an experience that leads to long-lasting patient-provider relationships.
The Unsung Hero of Healthcare Marketing: Team Collaboration
Breaking traditional silos that keep these different departments working separately is a necessary piece of this puzzle. Healthcare marketers, IT professionals, physicians, and even office staff need to all deliver the same level of care in a consistent package.
The question is, how?
The steps are similar to those I outlined in How CMOs and CIOs Can Work Together to Improve the Patient Experience. Here's a quick overview of all that goes into the first step of successful collaboration, which I like to refer to as "bridge-building":
Align around the broader organizational goals of growth, revenue, and efficiency that are shared among all team members.
Bridge the gap between teams, not just leadership, through face-to-face interactions.
Create open communication channels and encourage transparency by coordinating teams on the operational level.
Learn the business languages of each of your team members so you can have productive conversations.
Share successes, celebrate collaborations, and provide visibility into both across the organization.
Connect data and marketing suites so that everyone has access to the same information.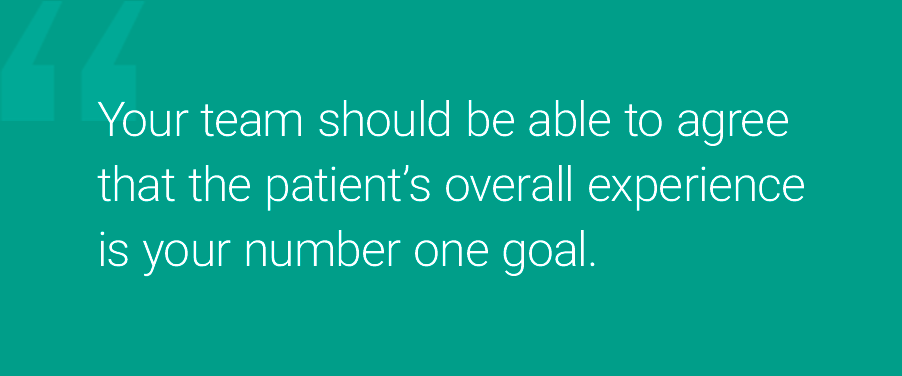 Every member of your team should be able to agree that the patient's overall experience is your number one goal. Once you have agreed to work together to make sure that priority is met, you can start addressing each step of the patient's journey.
A Closer Look at the Patient Journey
In every industry, consumers and customers expect their experiences to become more and more personalized, timely, and relevant to the moment. Within the healthcare marketing world, specialized technology is now making it possible to gather user data, discern needs and context, and tailor solutions for each individual.
The consequences of this type of personalized customer service are profound for both consumers and the businesses they patronize. When healthcare providers employ these strategies to ensure patients feel seen, heard, and taken care of, we cultivate trust and intimacy with patients during one of the times they need it most.
Making a Good First Impression
Seeking a healthcare provider on the internet can be overwhelming. In a digital world full of millions of choices, many patients are apprehensive—they don't want to make the wrong decision. How you appear in search engine results, as well as the experience you provide once people reach your web properties, are your first opportunities to establish trust through relatable branding and easily accessible information.
Customers spend nearly one-third of every day engaging online, including everything from social media and email to sports updates, news, and shopping. That means your brand is competing with more than just other providers. You're competing with every digital experience the patient is engaged with. Your brand has to be strong and you have to make information easy to find before you lose your potential patient's attention and they move on.
Branding should be cohesive with the rest of the experience the patient will have, and website content should be patient-focused and informative.
The search engine results page (SERP) is often the first time a patient will see your brand. Make sure that your website's meta descriptions and page titles accurately describe your healthcare organization and help searchers achieve their goals. And if you're using paid search ads, you'll want to include helpful ad extensions so searchers can easily access your phone number, address, services, and scheduling information.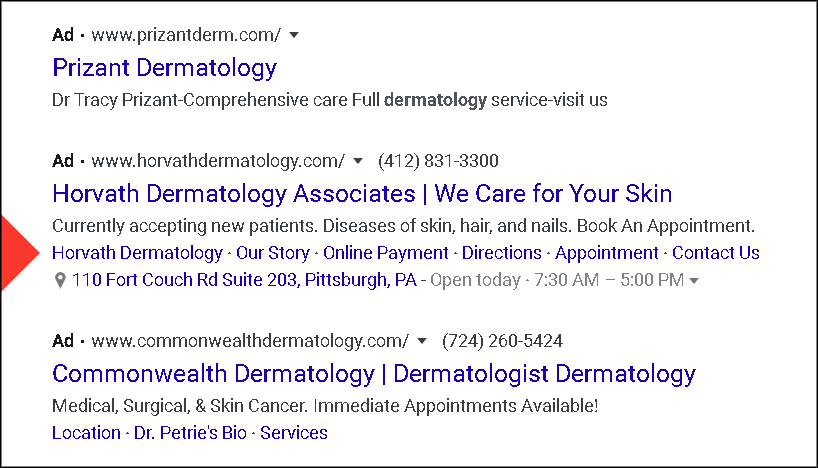 The patient experience continues once they follow a link to your website. Through user-friendly web design, you can quickly give users the information they're likely looking for, such as location addresses and contact information, doctor bios, and a direct link to scheduling an appointment. In addition, you can add resources and articles to your website that are relevant to the services your organization provides. Ease apprehensions and showcase the quality of care they can expect by sharing positive reviews and customer testimonials where appropriate.
RELATED: 7 Effective Tips for Medical Firms Using Google Ads to Drive Customers
Setting up for Success: Pre-appointment and Patient Portals
Too often, patient portals feel like an entirely new website experience, which is confusing to the user. They're left asking, where do I start? How do I find what I'm looking for? Like every other step along the patient journey, patient portals should match your branding in appearance, tone, and usability. They should be just as informative and easy to navigate as your website with good UX-design.
All of this contributes to building trust with the patient.
Patients want to know that their information is secure, while still easily accessible. Portals should include a record of patient history that is easy to navigate so patients can view previous appointment dates, doctors, tests and results, and upcoming appointments. Your patient portal should also automatically send information to your patients about upcoming appointments, including if the patient needs to take any special action for tests.
Oh, and don't forget the most overlooked, but vastly important, function on your portal: account creation. Have you reviewed the user flow for this lately? Is it easy and intuitive? It could be a major source of friction (and unnecessarily so).
Seamlessly Bridging Digital and In-Person Experiences
The in-person experience, from the waiting room decor to interactions with the front staff members, is your brand come to life. Just like the patient portal, stepping into your office should be a seamless transition from your patient's digital experience.
Staff and practitioners should speak the same language as your website and patient portal. They should understand what the journey has been like up to this point. During the intake process, staff should also be as informative as your website and able to up-sell and cross-sell information for the good of your patient's experience. Physicians and providers should greet your patient with background about why they are visiting and have an overview of their personal medical history, as well as have their records on-hand.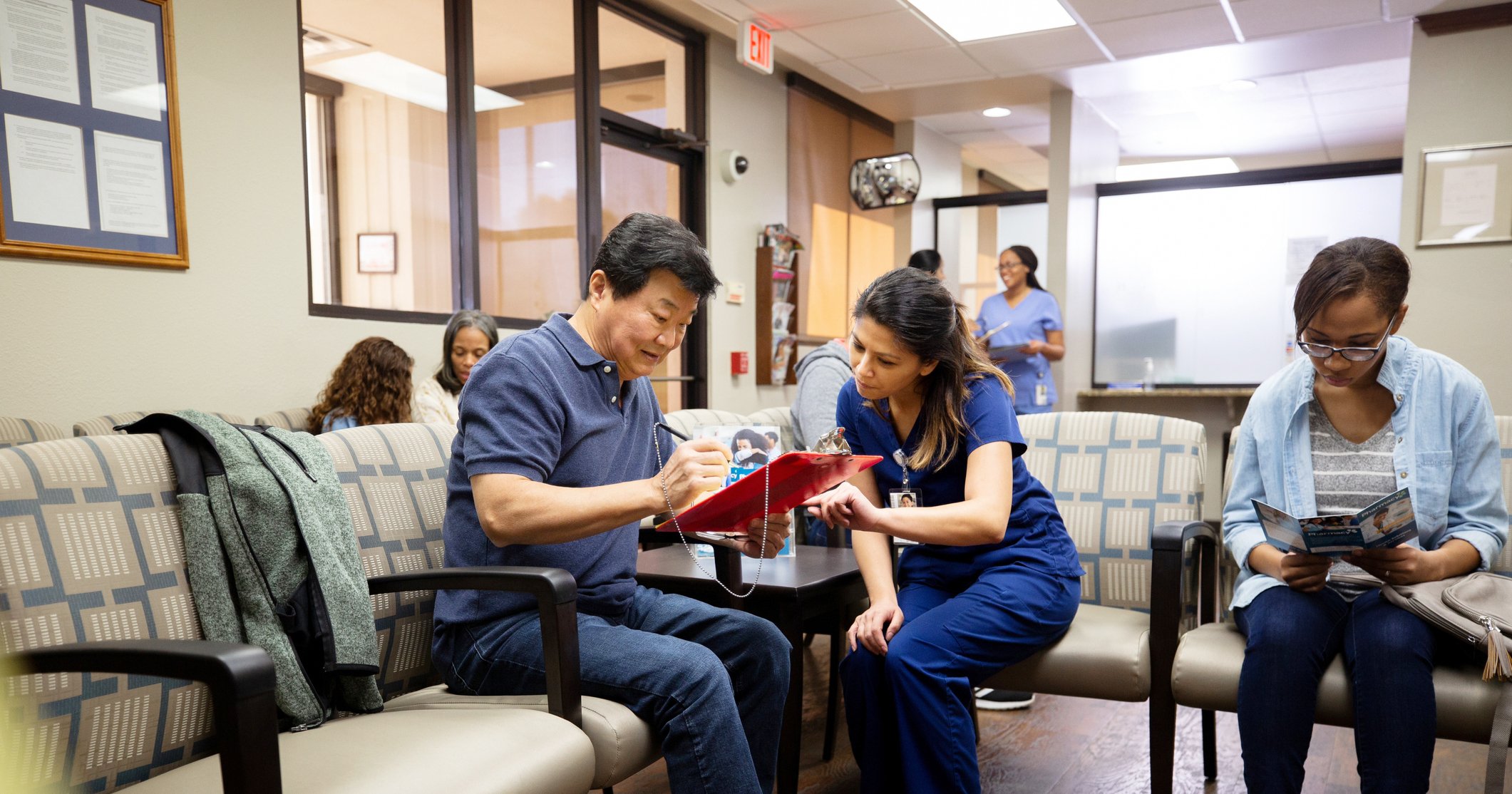 Finally, the waiting room and appointment room decor should also be on-brand and comfortable. You want your patients to feel physically and emotionally comfortable in all of the spaces you provide. Some easy ways to do so include choosing comfortable seats from which patients can see the front desk and have personal space, continuity of brand colors, and providing relevant literature (as well as hand sanitizer!). Though these might seem like small details unrelated to your healthcare marketing experience, the two are absolutely connected in the patient's mind.
Again, think about continuity across the journey, instead of only focusing on individual parts.
Following up with Your Patients
The patient journey continues once they've left the building, yet another opportunity for your healthcare marketing experience to shine. Show them that you care about their healthcare experience by following up with a survey asking them to provide feedback, one that's mobile-optimized and low impact. From a patient's perspective, this demonstrates that you are listening to their needs; and from a healthcare provider perspective, evaluations provide you with information on how to refine your brand strategy and improve the patient experience. Of course, the survey should also be on-brand even if you're outsourcing.
After a patient's appointment and results are complete, the patient portal should reflect new information as soon as it becomes available and be easily accessible (think about when you are waiting for test results). Remind patients to schedule any follow-up appointments or recurring visits through automated messaging. If a treatment plan has been put in place, automate communications asking patients how they are, if they'd like to speak with their doctor, or if they're interested in receiving more resources in regards to their care. Show the patient that their doctors and providers care about their healthcare experience.
If a patient does not have a continued care plan, there is still the opportunity to build the patient-provider relationship and retain your patients. Utilize automated emails to share content relevant to their patient history, which can include blog articles, resource centers, health apps, and educational videos.
Marketing's Role in Brand Continuity
The better a patient's experience, the more successful a healthcare provider is going to be. That means that the patient experience is everyone's priority—marketers, IT, physicians, and office staff.
Marketers and the digital marketing suite have a key role in considering the big picture and collaborating with each of these stakeholders to shape a seamless brand experience in both digital and in-person interactions. From anticipating what patients will look for on your website, to what is relevant waiting room literature, and how to follow-up in convenient and meaningful ways, use every tool at your disposal to make sure everyone a patient encounters along the journey knows who your patient is and what they need to have a positive experience.