Let's set the record straight: no single tool or platform can fully automate the kind of depth that's needed to conduct proper digital due diligence. Now, you might use tools like Semrush, Google Analytics, and so on to derive powerful reports that help your efforts. But you'll need to go much deeper to build a true picture of an organization's alignment with digital marketing best practices.
You need a comprehensive effort that shows you where to make investments that create more value. Typically, the strong digital due diligence reports we've scene go deep and wide in the following areas:
Perform a Deep SEO Analysis
Mistake #1 is to rely on nothing more than an export from Semrush to do your digital due diligence. That's no slight to Semrush, Moz, and other SEO tools. But a quick one-tool analysis is unlikely to cover everything you need to make an informed decision.
Before you start generating reports, think about the information you'll need for your analysis. Square this list against the tools and platforms already at your disposal to see which information you already have, and which will take more effort to retrieve.
A thorough SEO analysis ought to include:
A defined and specific keyword strategy, including existing ranking positions and organic search volume
Evaluating the mobile experience a
Health of local SEO strategy, business listings, and citations
A look at the ​​expertise, authoritativeness, and trustworthiness (E-A-T) of all content
Core Web Vitals assessment of the updated ranking signals (an acceptable score is above 50 for Google's QS formula)
Backlink quality analysis, including competitive analysis
A technical SEO audit encompassing accessibility, performance, crawlability, and indexability
Put the Website Through the Gauntlet
We mentioned Core Web Vitals, technical SEO, mobile responsiveness—all of these website performance metrics affect other aspects of a company's digital health. The point is, website analysis goes far beyond look and feel. Typing a URL into the address bar and clicking around is not enough.
Here's what we'd say if we had to put our money down and commit to only three bare minimum areas of a website to evaluate:
It must be optimized for mobile, be fast, and be responsive regardless of device, operating system, or browser
It must be aligned with user experience (UX) best practices that move people to take action
It must generate leads and have a strong traffic-to-lead conversion rate (CVR)
The good news is that you can test for all three of these (and do so on an ongoing basis). A good digital marketing agency ought to include metrics for all three of these important website performance considerations in its reporting dashboard.
Evaluate the Strength and Scope of Content
First, here's what a not-so-good content audit looks like: an inventory of existing marketing content and where it lives. They've got some blogs and ebooks? Check! Unfortunately, existing content is only part of the picture.
What we're looking for is a content audit that considers the existing body of content in-depth and evaluates its ability to reliability generate organic traffic. D they rank for the keywords that drive revenue?
We like to see if a website has content throughout the funnel that fully answers consumers' questions and guides them towards conversion. Are they publishing content that meets the expectations of top-, middle-, and bottom-of-funnel customers? Or are there gaps?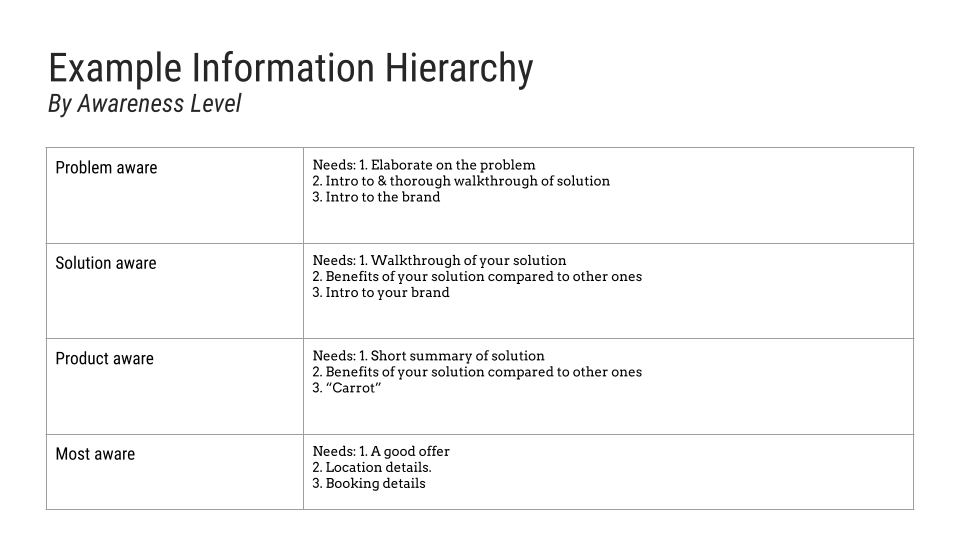 Alongside funnel alignment, content needs to map to the website's broader search strategy. One way to do this is:
Develop campaigns around a single topic
Build pillar content targeting a competitive keyword related to that topic
Use longer-tail target keywords to inspire related content (blog posts, social media posts, etc.)
The editorial strategy should map to both target keywords and different stages of the funnel. It's not enough to just have the content; it needs to be the right content and of a quality that persuades readers to trust the brand and take action.
Finally, evaluate how the site's content compares with competitors in terms of depth, engagement, and funnel advancement.
See Where Paid Media Is and Isn't Working
There's a misconception that just because a company has Facebook Ads or Google Ads running, their paid media is okay. Another box checked. But paid media is a significant investment whose budget and ROI can quickly get out of hand if mismanaged.
To avoid inheriting a broken or massively underperforming paid media strategy, you need to understand how effectively and efficiently each paid media channel is attracting the right people. And you need to understand where improvements can be made (and how much it will cost).
This will require close scrutiny of the actual account structure and strategy, among other factors.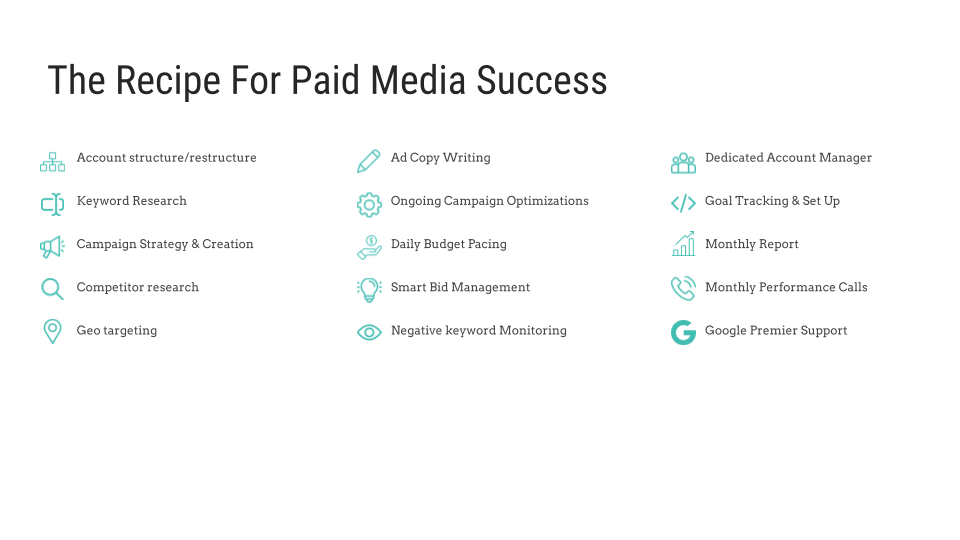 At the core, there are three areas of paid media that require evaluation:
Account structure: Are the accounts structured to leverage machine learning? Or are they so segmented that data can't be shared between campaigns? Account structure is the foundation that will determine the overall effectiveness and efficiency of a company's media strategy.
Conversion quality: The algorithm should be fed inputs on conversion quality and customer attribution, so campaigns can work towards optimizing for a specific type of conversion. Not all phone calls or form fills are the same. Media campaigns must be fed customer data so the algorithms can optimize accordingly.
Bidding strategy: Do they use smart bidding and lean into the power of machine learning? If not, they're missing opportunities to improve efficiency and conversions. Let machines do what they do best: bidding, testing, and optimizing for conversions.
Too many marketing teams are focused on efficiency alone and will proudly tout low cost per lead (CPL) metrics. You also need to examine if their media strategy is actually effective.
A low CPL is meaningless if none of those leads convert into new customers. Instead, examine ad lead quality, new customer acquisition rates, and new customer acquisition costs.
Take Inventory of Analytical Tools, Systems, and Processes
Your ability to assess the marketing practices, campaigns, channels, and touchpoints that drive the greatest value will depend on integrated marketing measurement. As we touched on in How PE Advisory Boards and In-House Marketing Teams Can Work Together to Create Value, you'll notice a few hallmarks of companies with strong marketing integration and data analytics:
Connected business systems that bring access and data out of organizational silos. Think CRM, marketing automation platforms, data collection tools, reporting and analytics.
Integrated analytics suite that a) provides a single source to review holistic marketing efforts alongside specific channel performance and b) enables closed-loop reporting.
Lead tracking all the way through to revenue, including reliable attribution.
Custom reporting dashboard that rolls up various data sources (Analytics, Google Ads, Search Console, Facebook, CRM, etc.) to provide real-time performance data, comparisons, and trends.
Assess the Competitive Landscape
The goal of a competitive landscape assessment is to see how a company competes digitally. What doesn't work in this scenario is simply making sure the company is doing the same marketing activities as everyone else.
Instead, square your assessments of the aforementioned areas against competitors or competitive industry benchmarks. Where do they excel? How are they innovating (or not)? Here are some angles to consider from a competitive standpoint:
Website: Gauge and compare quantitative UX metrics, such as page speed and bounce rate, as well as qualitative aspects, such as navigation and structure.
SEO: Does the website rank for the keywords that drive leads in your industry or vertical? How much of the total available organic clicks do they capture? How does its domain authority compare to competitors? What about the backlink portfolio?
Ads: Does the company advertise? What's their ad quality score rankings compared to competitors or industry benchmarks? Qualitatively, how does their creative compare?
Social Media: How do the company's social media engagement and brand loyalty stack up?
Email Marketing: Take a look at the number of newsletter subscribers, for example, and overall email engagement rates.
Appraise Team Talent and Capabilities
You'll encounter a variety of configurations for digital teams. Some handle everything in-house, for better or worse. Others outsource certain tasks and functions to an agency. I"ve personally seen plenty of one-person marketing teams consisting of a VP and their third-party marketing partner.
It's easy to assume that an in-house digital marketing team will be enough. And it might very well be. But you need to do some evaluation to reach that conclusion. Beyond rosters, which should include detailed job descriptions for each role, request an evaluation of each employee's ability to support new growth objectives.
It's not unlike a SWOT analysis, really—an assessment of strengths, weaknesses, opportunities, and threats for both the team and individual employees. This information will help you answer three important questions:
Is the in-house digital team strong?
Do you need to augment the in-house team with an agency?
​​Where will we need to invest in headcount?
When In Doubt, Send in the Professionals
By now, you understand the core parts of digital due diligence. To gauge a portfolio company and direct investments with purpose, get yourself a clear and sober assessment of:
SEO
Website
Paid media
Analytics, data, and reporting
Competitive landscape
In-house marketing talent
It's about going deeper to make informed investment decisions. Today, digital due diligence is just as important as financial performance or growth opportunities. Across most industries and verticals, digital marketing is the primary growth driver.
Why Private Equity Firms Turn to Cardinal for Digital Assessments
It's easy for agencies to claim "they go deeper" on digital due diligence. We're here to show you what that actually means in practice:
A thorough audit of all channels and activities backed by data (we bring the receipts)
Assessment of threats, opportunities, and competitive landscape tailored to company and industry
Industry- and vertically-specialized digital marketing professionals conducting the audit
Access to the very latest in digital marketing tools, strategies, and best practices
Finally, you'll be working with an agency with its own portfolio of clients in private equity.