When someone talks about paid search or pay-per-click advertising, they usually are referring to Google Ads and for good reason. After all, Google dominates the search engine space by grabbing 92.51% of the market share. Basically, at this point, Google is pretty much synonymous with search engines.
If you're looking to use paid search as part of your digital marketing strategy, there's a good chance that you're considering Google Ads. However, there are other paid search options in addition to Google Ads. If you are looking for an alternative to Google Ads, Microsoft's Bing Ads is your next best bet.
So, Google Ads vs. Bing Ads, which paid search platform is better? Let's start at the beginning and take a look at both platforms. Then, I'll discuss the pros and cons of each platform and why one might be better for your business.
What is Google Ads and How Does it Work?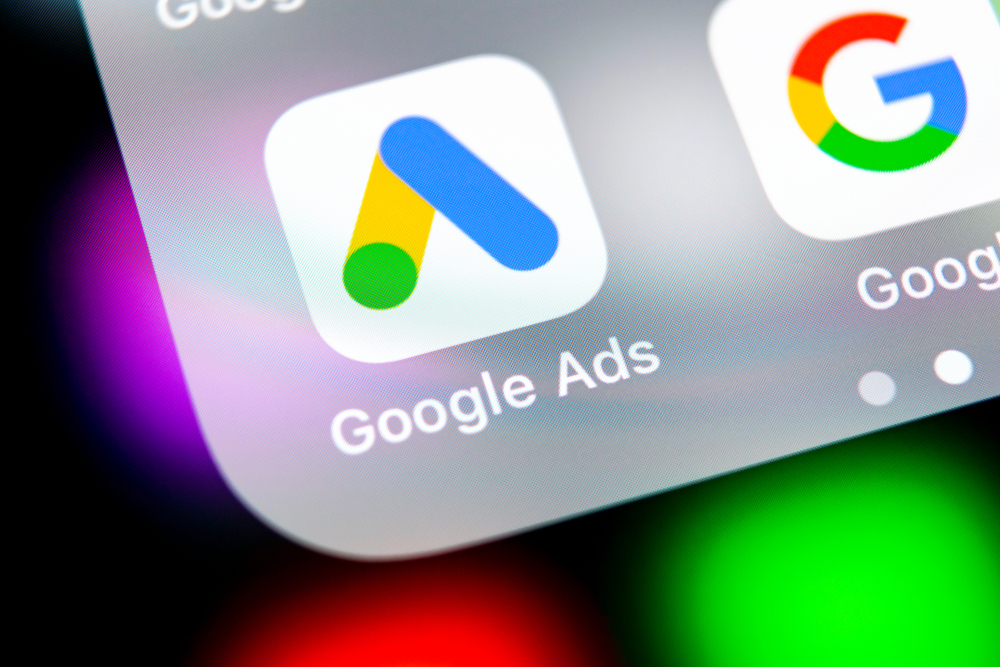 Google Ads (formerly Google Adwords) is a paid advertising service offered by Google. The paid ads will appear either in search engine results pages (SERPs) on google.com or as ads on Google-partnered websites. Google Ads is a pay-per-click advertising model that's designed to help businesses reach their target audience, drive traffic to their websites, and increase revenue.
Google Ads is comprised of two networks: Search Network and Display Network.
Search Network: When you think of Google Ads, you're probably thinking of the Search Network. These are text-based advertisements that appear whenever a user searches for a related product or service. Search Network ads are distinguished by having the "Ad" or "Sponsored" label next to the search result URL. Search Network ads are triggered by keywords. If a user's search query matches one of your targeted keywords, your ad will be displayed alongside the organic search results.
Display Network: The Google Display Network is basically a set of partner websites that have signed up to show Google advertisements. The Display Network is comprised of over 2 million websites and reaches over 90% of internet users. Display ads don't just appear on websites but also on banners, texts, and within other Google services such as Gmail, YouTube, Shopping, and many others. In general, Display ads are designed to target users early in the buying cycle.
Google Ads work on an auction system that is triggered whenever a user searches using a keyword. To win the auction and secure a position in the SERP, you need a good Ad Quality Score and an optimized bid amount. The more optimized your keywords, the more likely your ad will appear and gain a better ad position on the SERP. To learn more about how Google Ads work, check out this Google Ads guide to the basics.
What Is Bing Ads and How Does It Work?
Bing Ads, now renamed to Microsoft Advertising, is a pay-per-click advertising platform from software giant Microsoft. Basically, Bing Ads is the equivalent of Google Ads and both platforms work in a very similar fashion. With Bing Ads, you create ads and bid on keywords. If you're familiar with how Google Ads work, you'll feel right at home when working with Bing Ads.
Like with Google Ads, one place where your ad may appear is within the search engine results pages, labeled with "Ads" or "Ad". Here's an example of a results page with Bing Ads.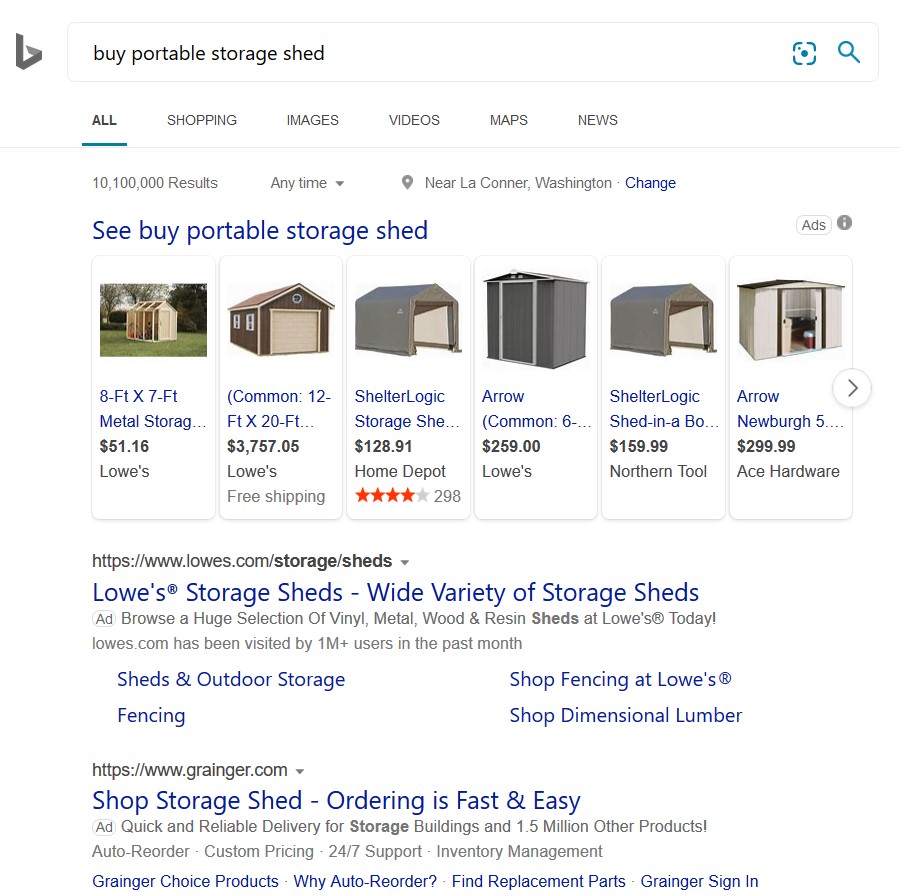 As you can see, Bing Ads look very similar to Google Ads. Similarly, Bing Ads target users who are already actively searching for the product or service that you offer. Whether customers want to purchase a product, request a service, or sign up for information, your primary goal is for potential customers to see your ad, click on it, and visit your website.
When a customer clicks your ad and gets sent to your site, the person can either make a purchase, request a quote, subscribe to your blog, download your app, etc. These customer actions are referred to as "conversions" and you can think of it as turning a potential customer into an actual buying customer.
Through Microsoft Advertising and the Microsoft Search Network, marketers can reach hundreds of millions of users on the web. The Bing Ads platform offers precise and flexible targeting options including keywords, language, scheduling, location, time of the day, day of the week, shopping, device type, and many others.
Again, like with Google Ads, Microsoft Advertising uses keywords and keyword bids. You may create your own keyword lists or use the tools provided to determine the effective keywords and bids. Also, optimization is a must if you want to generate leads and gain better overall ROI. Bing Ads provide reporting tools to enable users to review, study and adjust their keywords and bids accordingly.
Google Ads VS. Bing Ads: The Key Differences
If you're looking to maximize the audience reach for your marketing efforts, then you can wrap up this article and go with Google Ads. However, the Google Ads vs Bing Ads debate is not as clear-cut as it seems. Here are the key differences between Google Ads and Bing Ads:
#1: Reach
In online advertising, reach is perhaps the most important component of one's marketing campaign. You want to reach as many as you can. If your reach is limited, then you're potentially missing out on people would purchase your products or service.
As mentioned, when it comes to pure reach, Google just takes the cake. Check out these quick stats:
Google.com is the most visited website in the world. In 2019, Google has been visited 62.19 billion times.
Google dominates the search engine market with a commanding 92.18% of the market share. Since its introduction in 1997, other search engines have had a tough time unseating Google.
Google processes over 3.5 billion searches per day. If you do the math, it means that on average, the search engine processes over 40,000 queries per second.
When it comes to product searches, 46% of such queries start with Google. This means that almost half of people searching for products start by visiting Google.
When using the Display Network, marketers can reach about 90% of internet users.
As you can see, Google just dominates the competition when it comes to pure reach. However, Bing Ads does offer a few unique advantages as far as audience reach goes. Here are some key Bing stats that you should know:
While it pales in comparison to Google, Bing's reach is nothing to scoff at. It's hard to deny that there's plenty of untapped potential here. When you play your marketing cards right, Bing allows you to reach an even wider audience and a specific demographic of potential customers.
#2: Demographic
Another essential component of your online advertising campaign is the features of your audience, which means tailoring your ads to the right demographic. With that said, Bing Ads and Google Ads provide a wealth of targeting options that you can use to your advantage.
Bing and Google have different demographics and knowing the differences is the key to reaching the audience that is more likely to convert. First, let's take a look at Bing or Microsoft Search Network audience:
Bing is used by over 116 million unique desktop searchers who are conducting 5.5 billion unique desktop search queries.
The Bing network also enjoys a 36.2% share of the desktop share market.
One very interesting stat about Bing is that its audience spends 35% more online when shopping using their desktop computers.

About 55% of Bing users are under the age of 45 and about 40% of those are between 35-54 years old. Also worth noting, around 43% of the users are married.
In relation to buying power, 22% of Bing users have household incomes in the top 25%.
On the other hand, Google users are generally on the younger side and perhaps more tech-savvy. Google commands a massive market share, which allows them to offer very targeted advertising demographics.
However, if your audience belongs to the 35-54 years of age and earns an income of $100,000 or more, then you should consider Bing as your advertising platform. For everyone else, Google Ads is generally the safer bet.
#3: Targeting
The targeting features are also important for successfully reaching your targeting audience. You may have created an excellent set of ads but you'll need them to be seen by the right people at the right time. In Google Ads, you're offered two targeting options: Audience and Content targeting.
Audience Targeting:
Demographics – target your ads based on location, age, gender, device types, and more.
Affinity – reach users based on a holistic picture of their habits, lifestyle, and passions.
In-Market – show your ads to users who have been searching for a product or service similar to yours.
Custom Intent – use words or phrases that target people that are likely to visit your site and make a purchase.
Similar Audiences – target customers with interests similar to the users in your remarketing list.
Remarketing – target users who have already clicked on your ad, visited your website, or downloaded your app.
Content Targeting:
Topics – this targeting option lets you market to a broad range of pages on the Display Network.
Placement – target websites on the Display Network that your audience visits.
Content Keywords – select keywords that are related to your product or service.
Display Expansion for Search – Google automatically finds users for you using a combination of smart targeting and automated bidding.
On the other hand, Bing Ads offer these targeting tools:
In-Market
Remarketing
Location Targeting
Device Targeting
Custom Audiences
Linked-In Profile
Keywords
Location
Gender
Age
As you can see, Google offers more targeting options when compared to Bing. However, Bing does have a few unique targeting options such as LinkedIn targeting. This is useful if you want to target users based on the company, profession, and industry that are found in their LinkedIn profiles.
#4: Cost
Cost is perhaps the biggest difference between Google Ads and Bing Ads.
According to a recent study, businesses across all industries generally spend about 20-35% less on Bing Ads in comparison to Google Ads. However, this doesn't mean that you'll arrive at the same results with either platform.
Obviously, you can expect to pay more with Google Ads because of its much wider reach. The average cost per click of Google Ads is between $1 and $2 on the search network and about $1 on the Display Network. In comparison, Bing Ads' cost per click is slightly lower at $1.54. Again, just because Bing Ads has a lower CPC, it doesn't automatically mean that it's the best option for you, even if you're on a tight budget.
#5: Conversion Rate
The conversion rate is another metric that you can't afford to ignore when developing a PPC campaign. The conversion rate refers to the percentage of visitors who have completed your advertising goal, such as purchasing your product or calling your business. This is in comparison to the users who have clicked your ad but didn't complete any goal.
So, what's the average conversion rate for Google Ads and Bing Ads? For Bing Ads, the average conversion rate for Bing Ads is 2.94% while Google Ads' average conversion rate is 3.75%. Although it might be close in terms of conversion rate, Google clearly has the upper hand especially considering the amount of competition in the platform. However, Bing Ads has a pretty good conversion rate as well even if it's slightly lower than Google.
Google Ads Vs Bing Ads: Which Platform Should You Use?
If you're planning to invest in PPC marketing, there's a good chance that you're already considering Google Ads. If so, let may say that's a great idea. It's hard to go wrong with Google Ads.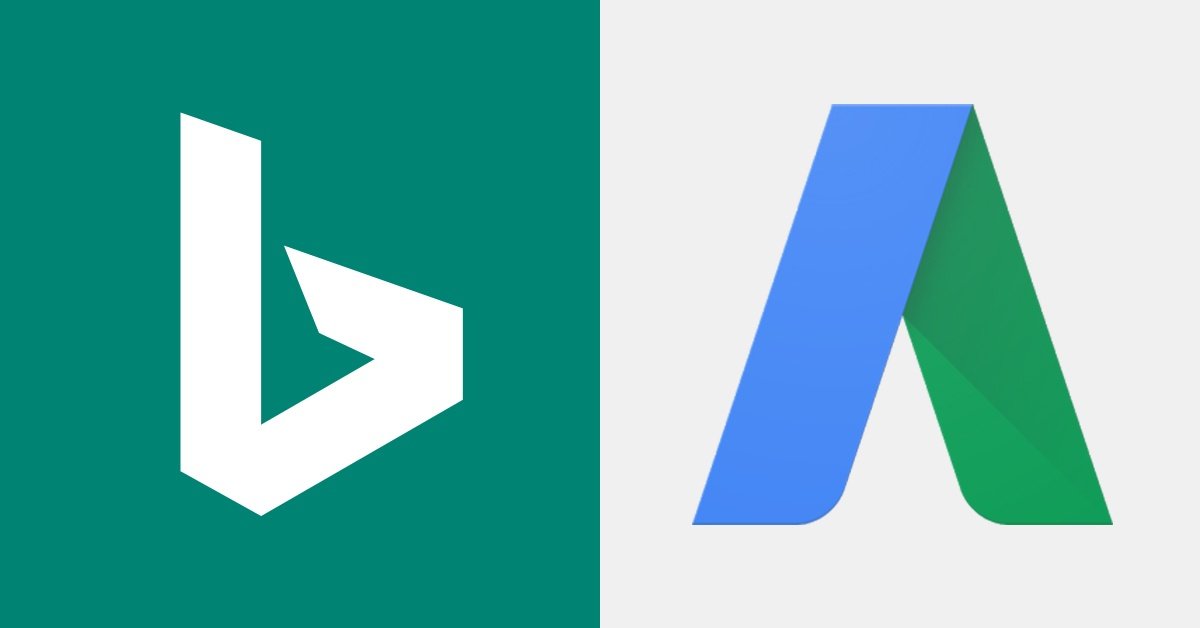 In its current state, I can't really recommend Bing Ads over Google Ads. If you skipped Google Ads, you would be missing out on the platform's massive audience. Google's advertising platform is also very versatile and includes a wide range of useful marketing tools.
However, this doesn't mean that you shouldn't include Bing Ads in your advertising strategy.
Bing offers plenty of advantages that are unique to the platform. Here are a couple of examples:
Bing Ads has less competition which means that it can be a boon for small and medium-sized businesses. Due to lesser competition, businesses can take advantage of benefits like cheaper CPC and better ad positioning.
Bing Ads provides more granular control over your campaign and ad levels. For instance, you can set a different keyword group depending on the time zones. This allows for some seriously sophisticated ad scheduling, which is helpful for any business with a national or international market.
Google does not offer precise demographic targeting for its Search Network. So, when a 15-year old and a 50-year old search for "things to do in Atlanta," they see the same ad, even though it's unlikely they want to do the same activities. Bing Ads gives its advertisers the ability to control who sees their ads with demographic targeting by age and gender.
Although Google's massive reach is undeniable, it's a fact that not everyone uses Google. Bing is the 2nd most popular search engine available, so if Google is not working out for you, Microsoft's advertising platform is a solid alternative.
As you can see, there are numerous advantages to using Bing Ads. However, I don't recommend that you use Bing Ads alone. But you should consider it as part of your digital advertising strategy, as it makes a great complement to Google Ads. If you have some room in your budget for another PPC campaign, Bing Ads is an excellent add-on. These days, the Google Ads vs Bing Ads debate is not an issue anymore. In reality, the two PPC platforms can work hand in hand for boosting your brand, generating leads, and growing your business. If you have the budget, I'd say you go for it!
Hopefully, this article has helped you understand the differences between these two ad platforms and also which is best for your marketing needs and business. If you need help with your Google Ads or Bing Ads campaign, a PPC management company like Cardinal can help you manage both platforms for the best results.