No year passes without change, but 2020 was in many ways profound. Tumultuous, you might say, given all the new challenges that faced the healthcare industry. How patients seek and receive care underwent fundamental shifts, which extend directly to the world of marketing.
In many ways, healthcare marketers are in the spotlight more than ever before. After all, who else is responsible for keeping up with and adapting to the increasingly digital, increasingly remote consumer behaviors? To help get healthcare organizations the information they need to adapt, we conducted a survey to assess the current state of digital marketing in healthcare. Namely:
How other organizations adapted
The digital strategies that have been most effective
Where to best invest marketing dollars
How their strategies compare (are they remaining competitive?)
Are there opportunities that will help them succeed in 2021 and beyond?
We surveyed more than 110 healthcare marketers who manage the marketing functions at a wide range of healthcare organizations, including hospitals and health systems, specialty clinics, primary care facilities, and behavioral health centers.
65% were responsible for marketing strategy
35% were CEOs, COOs, owners, doctors, or directed practice operations
66% were from specialty clinics and 31% from a hospital or health system
The survey was conducted over a period that spanned January and February 2021. What follows are the results, as well as some discussion and key insights we found most helpful.
RELATED:
Podcast Ep. 6 – The State of Healthcare Marketing in 2021
Executive Summary
Let's not beat around the bush: 2020 was difficult for most everyone in healthcare. The pandemic resulted in many healthcare organizations temporarily closing or severely restricting capacity. Frontline healthcare workers were at times overwhelmed, with supplies, beds, and therapeutics often in short supply.
Patient Volume & Sentiment Take a Hit
All of which had a direct impact on healthcare consumers. Patient volume suffered as consumer fears grew, with 62% of survey respondents reporting patient volume was down (20% of those saying it had decreased a lot). It's no surprise that 81% of survey respondents said that increasing patient volume is their top marketing goal.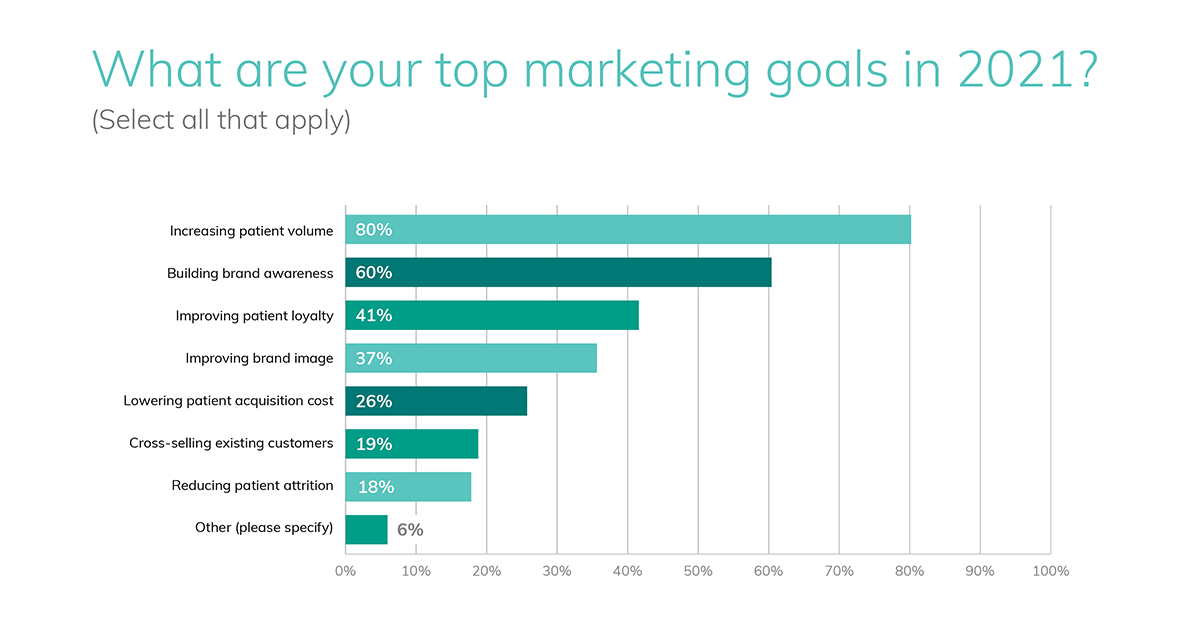 The uncertainty and fear that characterized 2020 affected more than patient volume. Patient sentiment and loyalty wavered across the healthcare industry. As a result, improving patient loyalty is another top priority in 2021.
Investments in Virtual Care and Digital See Uptick
This uncertainty is also fueling investments into telehealth marketing. Telehealth and virtual care offerings have proven effective in maintaining continuity of care, especially for patients who are still nervous to receive care, or who simply cannot take the risk as a result of their condition. Indeed, 49% of survey respondents said they're focused on increasing telehealth awareness in 2021. Of all marketing tech investments, online scheduling was the top new investment for 2021, with 20% of respondents indicating they planned to use online scheduling in 2021.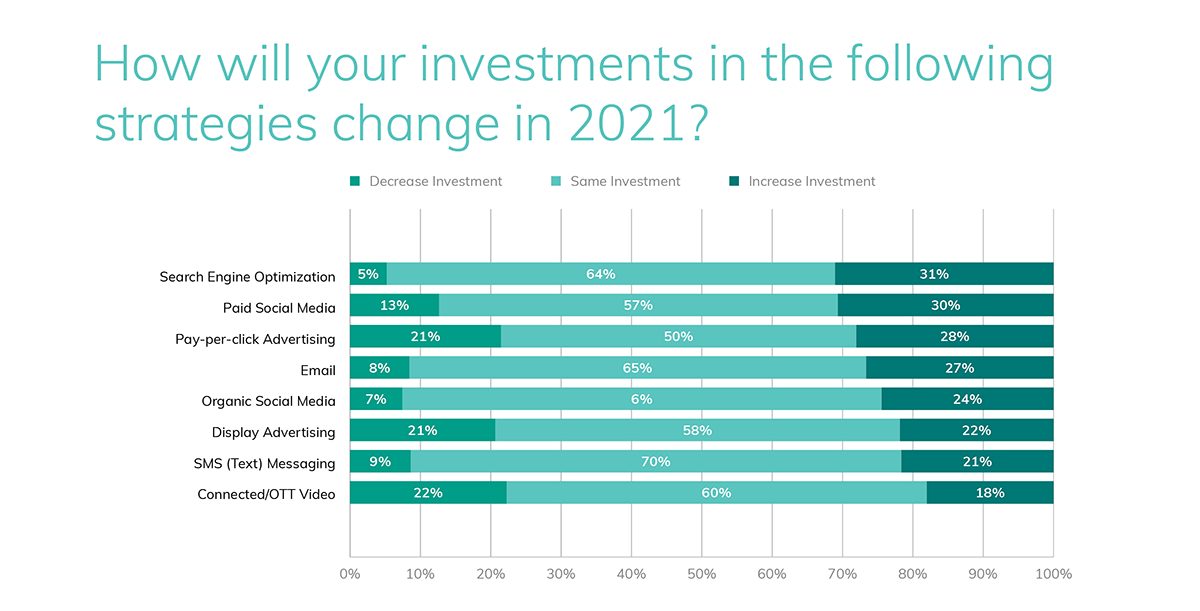 Beyond telehealth, investments into digital marketing continue to increase across the board. Our survey revealed that 45% of healthcare marketers invest 41% or more of their budget into digital marketing. A full 10% of respondents said that 100% of their marketing budget is invested in digital.
The top three digital strategies healthcare organizations are investing in are search engine optimization (SEO), paid social, and Google Ads.
Implementation Remains a Key Obstacle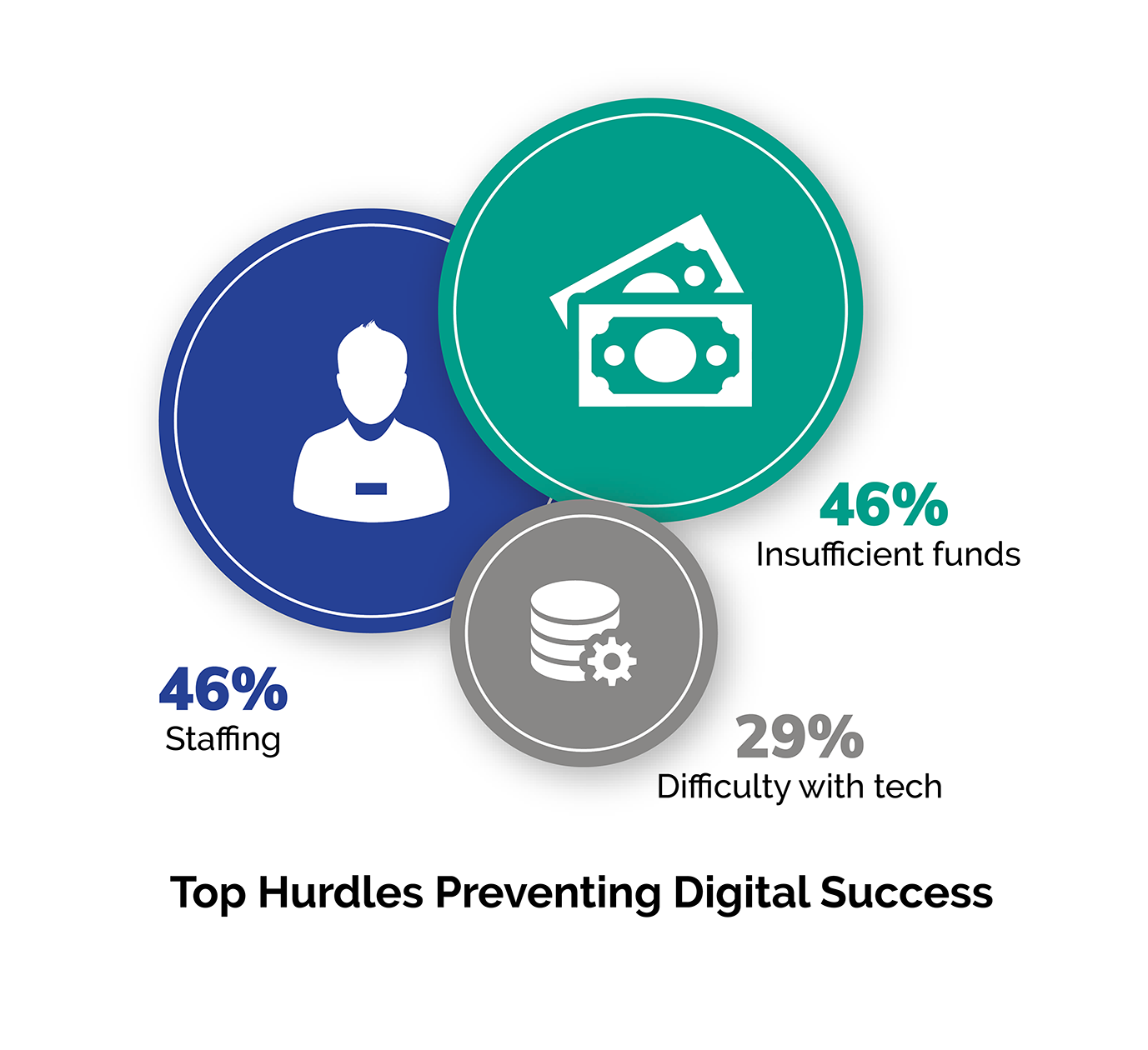 Demand for digital is strong, but healthcare organizations still struggle with implementation. Top hurdles impeding digital marketing program success are lack of staffing (46%), insufficient funds (46%), and difficulty implementing and integrating marketing tech (29%).
Executive buy-in is not a big issue for most organizations anymore, with only 10% citing it as a barrier to implementing new digital marketing strategies. It appears more healthcare organizations have realized the opportunities digital provides and are supporting them.
Download the Full Report: State of Healthcare Marketing in 2021
The results of this survey were eye-opening in several ways, and it'll guide our marketing strategy in the year ahead. We hope it helps you better understand the current state of healthcare marketing, how others are navigating the post-pandemic world, and what you need to do to grow your healthcare organization.
The full report digs into the survey results, discusses key findings, and shares the responses to all 23 questions. Download the State of Healthcare Marketing in 2021 report to get full access.