Digital Marketing For Hospitals
Increase service line revenue through
innovative digital marketing strategies
A Digital Marketing Agency Trusted by the Top Names in Healthcare






Turn to Cardinal for your hospital marketing needs. Our team of dedicated experts understands how to build brand awareness, generate leads, and increase revenue with strategies tailored for the healthcare industry.
Growing Your Reach Starts with Building Digital Connections
To stand out in today's competitive healthcare marketplace, your current and future patients
need to be able to find you online.
Here's how Cardinal Digital Marketing helps get you there:
Build a user-friendly website rich with patient-focused content that's optimized for SEO
Increase brand awareness about your hospital or healthcare facility, including services, staff, location and contact information
Drive patient engagement through social media marketing and content marketing strategies
Provide valuable information about specific health conditions and potential treatment options

Why Your Hospital Needs Cardinal?
To keep up in the highly competitive, highly innovative medical field, you need a digital marketing agency that understands healthcare. We've helped many hospitals and healthcare businesses achieve dramatic growth.
Our approach? Innovative marketing techniques based on the latest technology and best practices, all tailored to the healthcare market.
Expand digital presence

Increase patient referrals

Improve online reputation and reviews
Drive patient engagement

Attract healthcare providers

Grow hospital revenue

Are you looking to grow your practice in these areas? Contact us today to discuss your project, plans, and objectives with a digital marketing expert.

"We were a bit nervous to invest so much in a digital marketing agency but our practice very quickly started generating a return on investment. We couldn't be more thrilled!"
-Gaye P.
Digestive Healthcare of Georgia

Healthcare Clients Who Trust Us
40%

25%

decrease in cost per conversion
digital leads in 9 months
100%

increase in organic traffic
21%

increase in brand convertions
17%

decrease in branded cost per acquisition
334%

325%

increase in
leads per month
6

more surgeries
each month
91.06%

1300

additional qualified leads
192%

increase in
conversion rate
69

21%

Increase In Organic (SEO) Website Visits
51%

increase in overall
conversions
Impressions generated by Prominent Hospital
average cost per lead for Orthopedic service line
Learn More About Our Hospital Marketing Services

SEO & Content Management
To attract new business on the internet, you need to generate valuable, search-optimized content on a regular basis. Our specialists will help you demystify healthcare-specific SEO with strategies that work.

Paid Media
Don't just advertise online, advertise smart. We help you place strategic ads that your target audience will see and engage with, all while
staying in budget.

Social Media
Get much more than likes and comments. We'll help you generate real conversation, engagement, and leads from your social media channels, whether well-established or starting from scratch.
</br/>

Reputation Management
In today's competitive healthcare landscape, your reputation is everything. Reading reviews about your medical practice is where people go first. We help you proactively manage your online reputation so that people see the good you do in your community.
See the Results We've Delivered for Medical Clients
"Our Google Advertising has generated over 30 leads in the last month and we have converted those into 5 surgeries."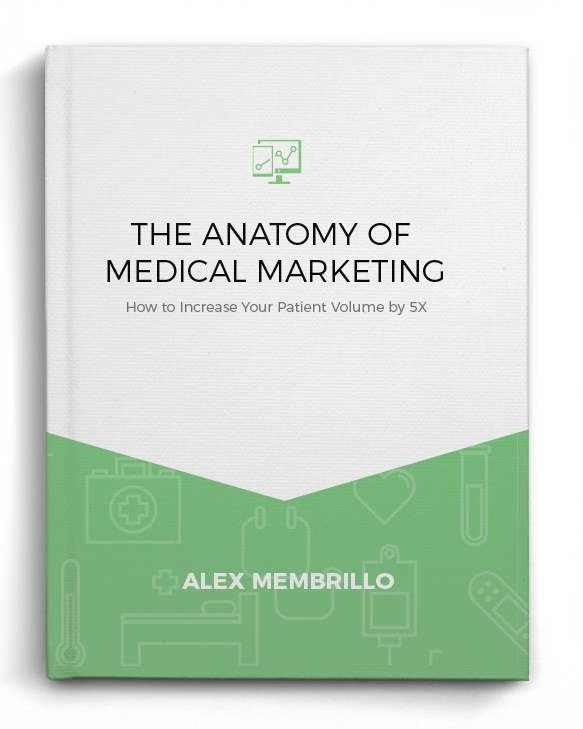 What are the tactics, strategies, and steps that healthcare business or hospital need to execute a successful medical marketing strategy? What does success even look like?
Download our free ebook, "The Anatomy of Digital Marketing," to learn our step-by-step approach to increasing patient volume and keeping your practice in growth mode.

Tap Into the Power of PatientStream Technology

Double Your Patient Volume for the Same Spend
Dump the campaigns that don't generate returns. Our AI based marketing platform automatically optimizes towards the campaigns that are driving high value patients.

Give Your Executive Team Access to Rich Reports
Give your CMO the reporting she didn't even know was possible. No longer do you have to report on cost per lead. With Patient Stream, you will now be able to report on Cost Per Patient.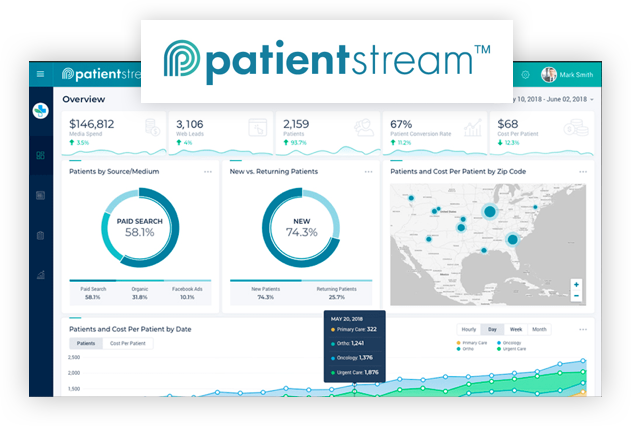 What is healthcare marketing?
Just like any other business, healthcare organizations need to be able to generate revenue by building their audience and attracting new customers, clients, and partners. Healthcare, after all, encompasses a broad range of services that people seek out each and every day. Reaching, attracting, nurturing, and converting these "customers" is essential to maintaining healthy operations.
Just like traditional consumers, healthcare consumers industry research online, compare providers and facilities and respond to different forms of medical advertising. Healthcare marketing applies many common marketing practices and strategies, such as SEO, email marketing, and advertising to the promotion and sale of various healthcare services.
Why do medical organizations need marketing?
Good question! Let's put it this way: how are patients supposed to find and select providers for their various medical needs? While this process might seem simple and straightforward from the patient's point of view, the perspective of the healthcare organization is a bit different.
Like any other business, healthcare organizations operate in a marketplace. That means they face (sometimes stiff) competition from other providers, manage revenue and cost challenges, and depend on a strong digital reputation. This is especially true for providers of specialty medical services. Healthcare marketing activities help ensure that patients keep coming through the door, build market share, and facilitate lean and efficient operations.
What kind of results can I expect from a medical marketing agency?
A medical marketing company like Cardinal will support a variety of marketing objectives. These include:
Improving digital lead generation
Increasing conversion rates (new patients, scheduled appointments, etc.)
Boosting organic website traffic
Creating better rankings on Google for high-volume keywords
Dentalworks, for example, saw a 40% increase in conversions alongside a 25% decrease in cost-per-conversion for their healthcare PPC campaigns.Digestive Healthcare of Georgia saw a 334% increase in lead volume.
How much does healthcare marketing cost?
The cost of any healthcare marketing program will vary depending on objectives, duration, and your particular medical vertical. While healthcare marketing can be a significant investment, a healthcare marketing company can help you optimize your marketing program to make sure you get a higher return on investment (ROI) and minimize cost per lead. Cardinal, for example, has experience delivering results for companies of all sizes and budgetary limitations.
Is the website for my medical practice really that important?
Yes! It is often the first impression that new or potential patients and partners will get of your practice. Beyond that, your website can be optimized to attract organic search traffic, provide valuable information to prospects, and bring in new cases, patients, and partnerships.
Without an optimized website with targeted messaging—one that follows SEO best practices—your practice stands to miss out on organic net-new business or, worse, lose out to competitors. Luckily, our team of healthcare marketing professionals knows how to help.
Which healthcare marketing strategies are best for my practice?
The right digital marketing mix will first and foremost depend on the size, nature, and maturity of your healthcare company. At the very least, it's important for any company to shore up its digital presence to meet today's best practices. This includes their website, SEO, any existing marketing campaigns.
Our experienced medical marketing experts will work with your teams to complete a thorough audit of your existing marketing strategies. From there, we will recommend a detailed plan, including specific performance metrics mapped to your desired business outcomes.
Ready to Rise Up on the Internet?
Fill out the form to get started!