How we helped a multi-location rural hospital system grow its digital presence and increase specialist leads by 285%
Company Overview
Cameron Memorial Community Hospital
Serving Northeast Indiana since 1926, Cameron Memorial Community Hospital (MCH) is a modern, full-service hospital with high-tech facilities, cutting-edge treatment options, and a team of friendly and skilled medical specialists. Throughout nearly one hundred years of operation, Cameron MCH has constantly evolved its approach to care. To meet the region's needs, it's expanded to eight additional offices and provider locations. As such, the group's digital marketing needs have also evolved.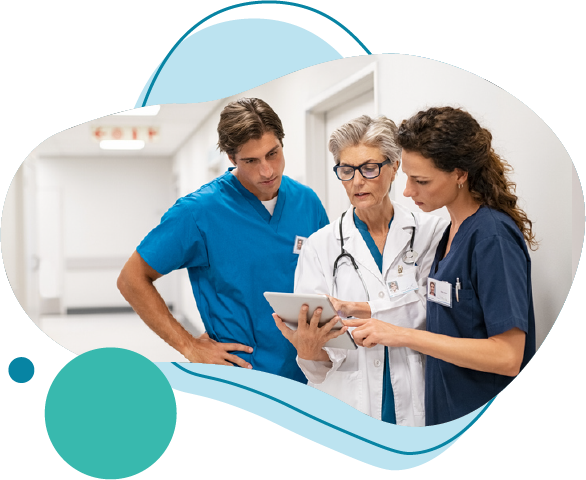 Shift public perception
from critical access hospital to a health system
Increase brand awareness
about state-of-the-art facilities and high quality providers and staff
Capture local market
and increase patient volume
Promote specific services
including orthopedics, family medicine, and pediatrics
The Problem
Flagging Public Perception, Outdated Digital Strategy
Historically, rural critical access hospitals like Cameron MCH are challenged by budget restraints and a lack of in-house marketing support. This can make it quite difficult to compete with larger urban hospital systems. Despite its remarkably modernized facilities and clinical service development, Cameron MCH was still perceived as a "band-aid station" by local residents, lacking the comprehensive care options available in Fort Wayne. This perception was particularly prevalent among senior audiences. Underscoring each of these challenges was an underdeveloped digital marketing program, including an outdated website and a lack of strategy around reputation management.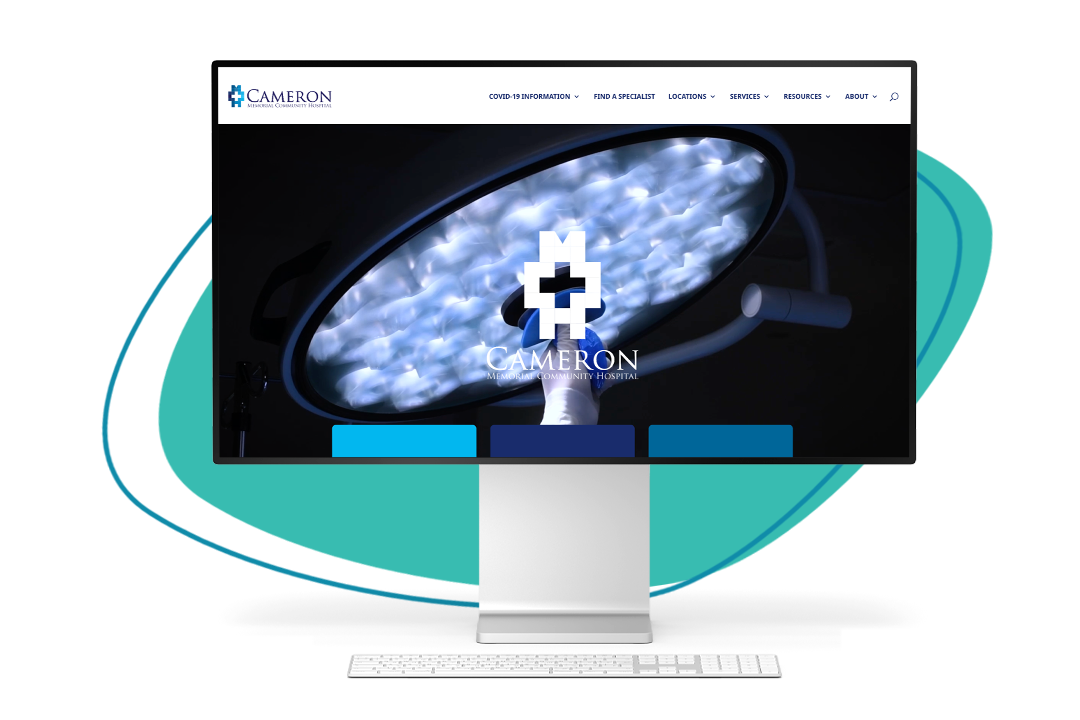 The Solution
Increase Organic Visibility with a Robust SEO Strategy
The first step was to bring an antiquated digital presence into alignment with modern SEO best practices. To get there, the Cardinal Digital Marketing team acted as an ongoing partner, helping to revamp and structure the Cameron MCH website, location pages, and Google My Business listings. We also launched a new mid-funnel content strategy tailored to the hospital's goals of increasing rankings for the specific services that people want locally.
1. Restructured and Expanded Website Content
The Cardinal Team performed a complete site audit, then planned and executed a consolidation and restructuring of content aligned with SEO best practices. Our team expanded all service, resource, location, and about pages to target specific keywords, improve keyword value, usability, and lead generation. We also worked together to build out comprehensive service-specific pages to support Cameron MCH's goal of increasing rankings for all of its core services, including Occupational Health, Birthing Center, Cardiology, Respiratory, and COVID-19. Our approach to these pages was to enrich them with authoritative details about each service that creates value for healthcare consumers, helping to educate, answer common questions, and introduce Cameron MCH's unique approach.
2. New Location Pages
In alignment with local SEO best practices, we created new location pages for all Cameron Medical Group locations. These pages are organized from a centralized location page, which links out to more information about additional Cameron Medical Group pages, such as urgent care facilities, regional cancer care, and pharmacy.
3. Google My Business Optimizations
Digital reputation is an essential part of Cameron MCH's locally and regionally focused digital strategy. After an audit of existing channels, our team created and optimized Google My Business profiles for all CMG locations. This effort included the launch of review generation campaigns for each location, prioritized by each location's size, volume, and demand. This strategy was supported by the implementation of Birdeye, which we helped the Cameron MCH team integrate and onboard.
4. A Patient-Focused, Mid-Funnel Content Strategy
Our team developed and implemented a mid-funnel content strategy that addressed top patient priorities based on in-depth research and internal marketing data. This included service-specific resources, guides, and blog posts to help patients make more informed medical decisions. See the Pediatrics Resources page for a good example.
Restructured and Expanded Orthopaedics Page Content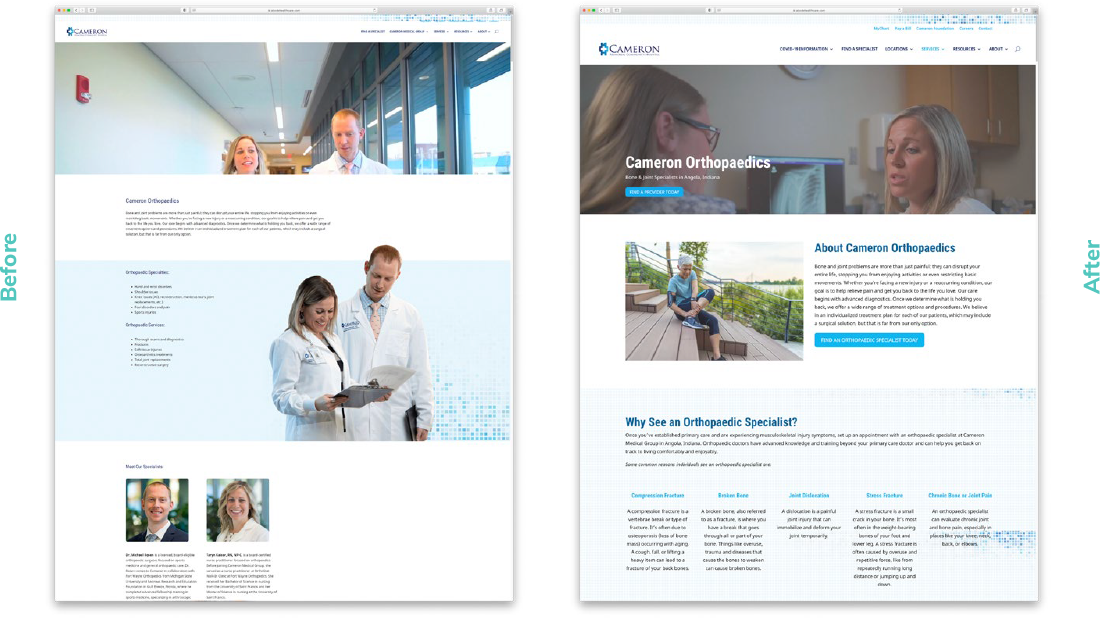 Organic Keyword Rankings That Generate Leads
While the marked increase in keyword rankings and traffic is one thing, the Cameron MCH team has seen a 285% increase in Find a Specialist leads as a result. This supports the hospital's original goal to increase awareness and visibility of its core services. Since engaging with Cardinal Digital Marketing, Cameron MCH has significantly boosted its digital presence in its target region.




The Results
In the Top 100 Rankings for 165% More Keywords
Throughout this relationship, the Cardinal team has become Cameron MCH's go-to partner in the digital space. At the core of this relationship is flexibility and openness toward helping Cameron MCH grow its digital footprint holistically.
The focused effort on restructuring and revamping Cameron MCH's entire digital presence has given a significant lift to the group's domain, as follows:
165% increase in total Top 100 ranking keywords Ranking for +1500 more keywords
42% increase in organic impressions
12% increase in organic traffic
285% increase in Find a Specialist leads