Nobody panic! But the year is almost over, and it's time to map out your 2022 marketing strategy. The DSOs we work with are knee-deep in year-end planning. They're evaluating past performance and determining their strategic direction for the coming year.
What follows are our recommendations for a stronger 2022 digital marketing plan—some trends and best practices to keep in mind as you assess (and address!) your strengths and weaknesses. While year-end planning is a chance to shore up weaknesses before it's too late, it's also a chance to go on the offensive. As you'll find, there's some low-hanging fruit here that you might have overlooked up to this point.
Make Your Digital Presence a Top Priority
If you need extra encouragement to commit more boldly to your digital presence, take it from us: you can't afford not to. All roads lead to your website, and a poorly designed, clunky website is no longer an option. Instead, your visitors will just go elsewhere (say, a competitor DSO who is more serious about their digital presence).
What you can do now
A comprehensive website audit that examines:
Domain authority and technical red flags
SEO health and performance
Design, user experience, and information architecture
Content (top-performing, redundant, unnecessary, outdated)
Mobile experience and speed scoring
Online scheduling experience
Trust us on this one thing: don't bother investing in top-of-funnel advertising and social media if your website is a mess. Build a strong foundation first that adheres to technical, SEO, and UX best practices.
Build Strong SEO Foundation
This goes hand in hand with your brand's digital presence and authority. Use an SEO tool like Google Analytics or Semrush to get baseline information about your SEO health. If you don't have strong organic visibility, rankings, and traffic, consider investing more heavily in that the coming year. While it takes time to generate quality organic site traffic, this is a move your future self and company will thank you for.
We liken a strong SEO foundation to a house. It's something you own, rather than media channels that you rent. As such, the strength of your SEO is up to you to maintain, and it's ongoing. As best practices, you'll want to build a very strong technical SEO foundation and create high-value content across the entire funnel.
What you can do now
Shore up your local search strategy, including:
Updates to all Google My Business Listings
Optimized location pages on your website
A local keyword strategy
Flesh out thin service pages
We find that SEO can feel like a big bad monster for some DSOs. Start with your local search strategy, where you'll find lots of low-hanging fruit.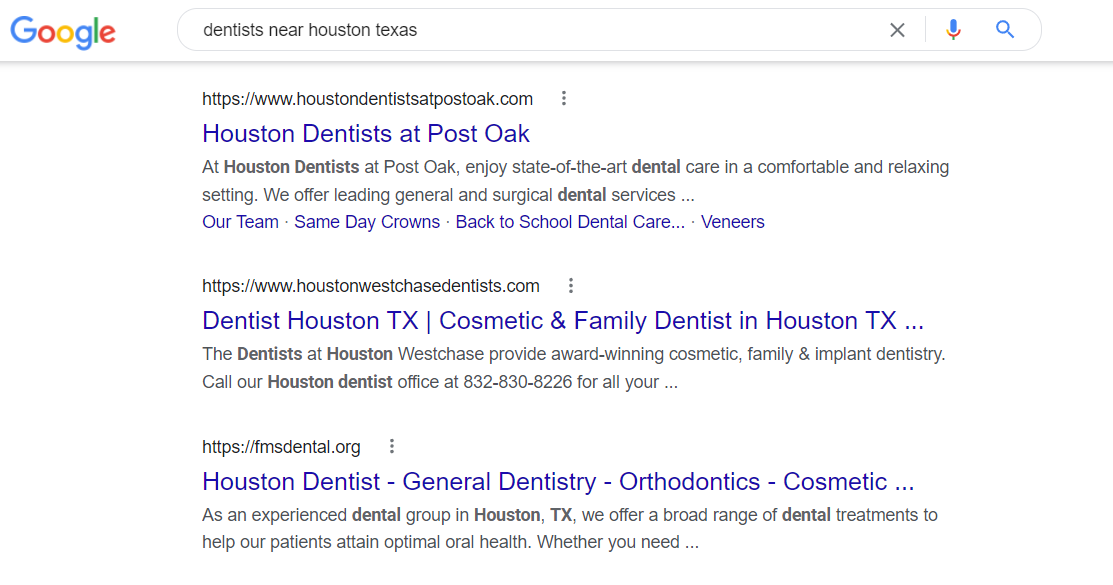 Align Your Strategy with Your DSO's Marketing Maturity
Reality check time. Depending on the maturity of your marketing operations, only certain strategies will make sense to implement. Build your strategy based on your particular reality. What is your marketing maturity level? How strong is your lead pipeline, and are leads actually converting into patients? Are your customer acquisition costs sustainable? Do you have strong brand equity?
Make an honest and sober assessment. Here are a few common scenarios that help illustrate the point.
Example 1: You have poor brand awareness and need to generate leads quickly
This is the reality for a lot of DSOs with de novo growth strategies. Pay-per-click (PPC) advertising is your best bet in this situation. Organic SEO strategies aren't going to generate leads as quickly as you need. Top-of-funnel advertising on Facebook, display, and so on might seem like a good idea, but Google is where dental patients go to find care.
Answer: invest in paid search to capture those leads.

Example 2: You're dominating the SERP with organic listings and PPC ads
Nice! Now it's time to turn more of those clicks and traffic into actual patients. This is where we recommend investing in conversion rate optimization (CRO), the practice of assessing the pre and post-click experience and identifying opportunities to increase conversions. CRO goes beyond simply changing button colors. It's about evaluating if users' information needs are being met, removing conversion barriers, and shortening the path to purchase or book.
Example 3: Patient churn is out of control
In this scenario, you need a strategy that focuses on new ways to build brand loyalty and improve patient retention. For instance, you could audit the patient experience to identify friction points and improvements. You can run social media and public relations campaigns, or invest in online community building. These tactics will help improve patient loyalty and lead to more word-of-mouth recommendations.
Example 4: You have lofty new patient acquisition goals
Conduct an analytical deep dive to determine your actual market penetration. Are there opportunities to be had? Are some of your campaigns performing poorly (low conversion rates, for example)? What roadblocks may be preventing patients from booking?
To meet new acquisition goals, you might explore new digital advertising channels, refine your keyword strategy, or change your media mix. Consider market expansion, too—are there viable opportunities nearby? Finally, don't forget the power of CRO to improve patient acquisition (and reduce costs).
Marketing Across The Funnel
While we know that consumers don't follow a linear path to your DSO, certain channels and messages are more appropriate at different stages. Keep in mind that consumers tend to go back and forth across the various stages, linger here, abandon there. The key is to understand consumer intent within digital interactions and how you can give them what they want at each point in the journey.
Here's Jacqueline Ruma, VP, Sr. Director of Media & Analytics from Smile Doctors, talking about funnel intricacy on a recent webinar, How to Scale Growth – A Conversation With The Largest Orthodontic DSO:
"In order to drive leads, you have to focus on more than just the lower funnel. I know a lot of times we get caught up in KPIs and digital tactics and how we are going to drive one extra lead to get one extra sale, all very important things. However, if you are not balancing that with your storytelling and providing prospective patients with the reasons to believe in your brand, then you're missing an opportunity for the long tail."
When preparing your 2022 marketing strategy, consider where in the patient journey there are opportunities for improvement.
Building Top-of-Funnel Demand Brand Awareness and Demand Generation
At the top of the funnel (TOF), it's all about providing value and educating. At this point, healthcare consumers are becoming aware of a dental need. It may be a chronic pain that keeps them up at night, or they notice their teeth don't look pearly white as they did ten years ago. They're unsure of what to do and are seeking guidance.
Your job is to stand out, answer their questions, and provide accurate and useful information. The TOF is a good place to educate people about high-consideration dental purchases, such as braces, crowns, and bleaching. Develop content that's both search-friendly and deeply authoritative so people can find you when they inevitably go to Google.
This is also an opportunity for some brand storytelling that communicates your unique selling proposition (USP). This might include TOF social media campaigns focused on educational brand building. You might also consider some public relations activity to expand the reach of your brand.
Meet Consumer Needs During Middle-of-Funnel Consideration
At this stage, people begin to know what they need and are likely considering your particular practice or brand. They need dental services, for example, in a particular service area. However, they also need more information to inform their decision or compare providers. This might include educational content and customer testimonials. One DSO we're familiar with that specializes in braces uses video testimonials to great effect in their MOF marketing.
Convert and Create Loyal Patients at the Bottom of the Funnel
Here's where you need to not only get new patients over the finish line but deliver a stellar patient experience. At this stage in the funnel, your reviews and reputation will be particularly important. Your quality of service, communication, and follow-up will all contribute to patient loyalty, too.
There's more to it than just BOF conversion rate optimization. Again, here's Jacqueline Ruma from Smile Doctors:
"I think in this space there's a lot of opportunities because there's had to be a lot of evolution in a lot of other verticals, historically, that have propelled marketing as consumption habits change and I think with the evolution that has occurred in healthcare, a little bit prior to COVID but exacerbated by COVID-19, I think we're starting to see that happen more rapidly in the healthcare space."
Focus on Customer Engagement and Brand Evangelists
What's next? Well, there's a role to be had for organic social media in building your DSOs brand and strengthening your funnel. Your social media can be an effective way to support patient retention, engage patients, and fuel recurring revenue. This can be a rich source of word-of-mouth recommendations, too.
Ultimately, you must find the right balance between activation, lead generation, and brand building. It really comes down to understanding your market position, goals, and so on. From there, you can figure out how brand building and lead gen work together to support each other better than if alone.
"It's a delicate dance, and it's a balance that you have to find, and not every situation allows for you to have the same balance of storytelling and activation. In your paid search initiatives, you're not going to have as much of an opportunity to tell your brand story, but you may have an opportunity through public relations to have one of your doctors interviewed to be able to lean into what your brand story is, which may ultimately help drive SEO once you link that on your website and people and people start looking for the article. Again, you just have to be mindful of the whole picture no matter what you're trying to achieve in a given moment."
Be Bold This Coming Year, But Be Adaptable Too
As you plan for next year's marketing strategy, embrace a measure-and-adapt approach. Look at and listen to what the data is telling you. Closely scrutinize your current performance and what you want to achieve, but avoid trying to do everything (or following the latest trend). Your existing data and performance will reveal a lot about which opportunities are most realistic for your DSO. As with most things in marketing, you can always dial things up or pare them back based on what the data calls for.
Adaptability. What a concept!