How much do you have to invest in digital marketing to get results? Is digital marketing even worth it? These are important questions to ask if your business is considering implementing a digital marketing campaign. We'll answer these questions in a bit. Today, marketing has evolved from traditional offline channels to the digital world, and the good news is that the costs have dropped. The case can also be made that digital marketing is much more effective than its predecessors, which mostly consisted of print advertising, TV and radio ads, and direct mail.
Many businesses are interested in adopting digital marketing to spur their business growth but are not sure how much they would have to pay for it. If this description is accurate, read on. This digital marketing pricing guide will help you. It will give you an idea of how much you can expect to invest in digital marketing and what you can expect in terms of pay-off, whether you work with an outside marketing firm or DIY. Your business is unique, so a one-size-fits-all digital marketing approach won't work. Several factors that will determine your investment:
Business size
Marketing objectives
Marketing budget
Timeline
If you have a small-to-mid-sized business, plan to spend roughly 10-20% of revenue on digital marketing. This estimate is supported by a study conducted by Brafton, which shows the average percentage of revenue that businesses spend on digital marketing is 11.2%. A small business's needs for advanced SEO operations obviously are less than those of a large multinational company like Starbucks or GM. Small businesses typically have fewer webpages, whereas a large company may need to optimize more than 1000 web pages. For example, OfficeDepot.com currently has roughly 600,000 pages indexed by Google.

The top three components of digital marketing that you are probably most familiar with are search engine optimization (SEO), social media advertising, and pay-per-click (PPC) advertising. Digital marketing also includes email marketing, content marketing, influencer marketing, and affiliate marketing, among others. Let's focus on the "top three," since they are the most commonly used and often, yield faster results. A rough estimate of their costs are:
Search engine optimization: $1,000-$7,500
Social media advertising: $4,000-$7,000
Pay-per-click advertising: $9,000-$10,000
Let's break down each of the digital marketing services and what their costs entail.
1. Search Engine Optimization (SEO)
Search engine marketing (SEM) is one of the oldest forms of digital marketing and can either be in the form of search engine optimization (SEO) or paid search. SEO—website optimization, webpage structuring, keyword researching, search intent, content development, content optimization— is completely free. You don't have to pay the search engine anything. You do it all yourself if you have the expertise to do it well. Otherwise, you should outsource the SEO implementation to a professional SEO expert or agency. Always verify the claims of a freelancer or agency. Interview them, ask for references, and check for online reviews. Insist that they prove they can "walk the talk."
According to data from Moz, an agency specializing in SEO, here's the average cost of SEO services, if you decide to outsource:
Hiring a professional freelancer for SEO costs about $80-$130 per hour
Hiring a digital marketing agency costs about $750-$1,500 per month
One SEO campaign or project costs about $1,000-$7,500.
Whether you decide to use an agency or DIY is the way to go, do your homework. Have a concrete plan, timeline, and means to measure effectiveness. Otherwise, all of your efforts (and expenditures) could yield disappointing results.
I'll talk about paid search a little later in the article.
2. Social Media Advertising Costs
Social media marketing (SMM) includes social media optimization (SMO) and social media advertising. As with SEO, if you or your marketing team is skilled in this area, then you won't have to spend much or any money on SMO besides what it costs to build and retain your team.
Social media platforms like Facebook, Twitter, and LinkedIn offer advertisement options like sponsored posts. There is no set minimum and costs can range from as little as $100/month to $10,000/month. However, it's common for social media advertising costs to fall between $3,000-$7,000 per month, depending on the platform, the target audience and its size, and the frequency of posts/ads.
Why should you pay that much to advertise on social media if it is free for everyone? SMM goes beyond just sharing images and coining hashtags; it involves paying the social media platform to get your posts or ads to your target audience. If you have a small following with little brand awareness, you'll have difficulty reaching the people you want. Advertising on social media channels helps you increase your reach and grow brand awareness.
Social media platforms like Twitter, Instagram, Facebook, and LinkedIn can give you access to huge audiences. Facebook alone has more than 2.4 billion monthly active users. They also offer ways to precisely target your ads so that the right people are viewing them.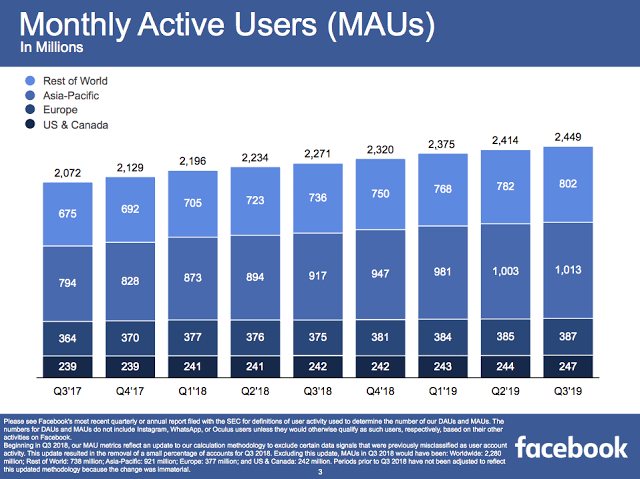 This sure sounds great, but before you go throwing money at Facebook, Twitter, or Instagram, you need to have a strategy. You need to take a holistic view and have a plan and the means to review the analytics to see if it's a worthwhile investment. It usually takes a little trial and error and tweaking of campaigns before you know if social media marketing makes sense for your business.
To better understand how social media marketing service cost works, let's consider these two giant social media platforms–Facebook and Twitter.
Facebook Ads
Facebook Ads operates on either cost-per-click (CPC), where you pay Facebook for each click on your link by your audience or cost-per-thousand (CPM), where you pay Facebook each time your post or ad is seen by 1,000 users. A CPC campaign usually costs between $0.50-$2.00 per click, while the average cost of a CPM campaign is about $11.
Here's a Facebook ad example from FreshBooks: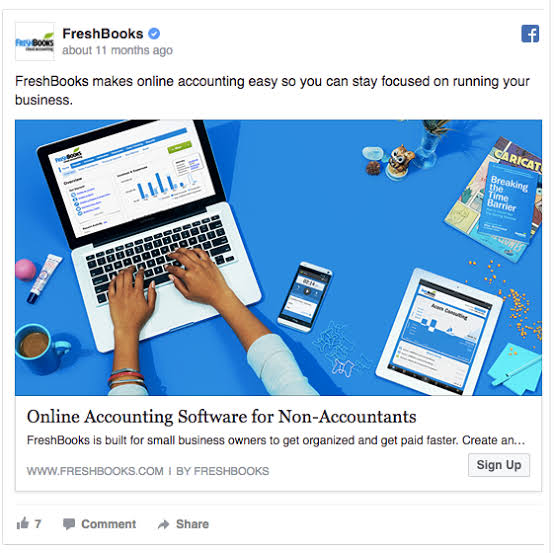 Twitter Ads
Twitter Ads work similarly to Facebook Ads in that you can target an audience that isn't following your profile. When you run a sponsored tweet campaign, your tweets will appear in their Twitter feed. Twitter Ads offers a CPC campaign, where you pay an average of $1.35 each time a user clicks, replies, or retweets your tweet or ad. The reason why the cost of CPC varies is that CPC operates like an auction; the more competitors you have, the higher your bid (i.e. you'll need to bid more money than your competitors to have your ads rank higher).
Here's a good example of a Twitter ad from Spotify: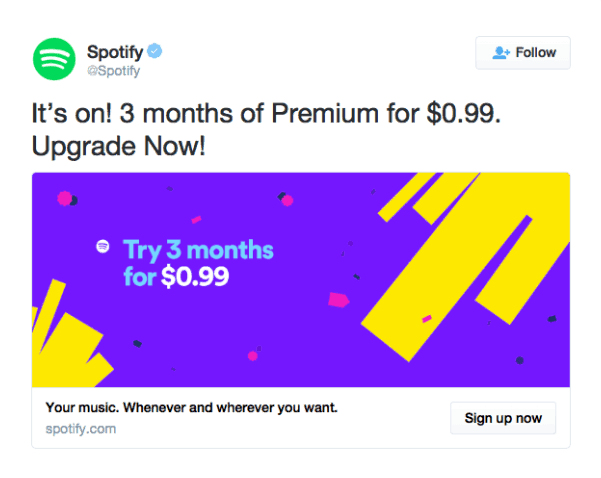 Twitter Ads also offers a feature where you can promote your business to gain new followers, and for each new follower you gain, you pay Twitter between $2-$4. You can also promote a hashtag or trend relating to your brand to encourage users to talk about your business. This feature costs a flat rate of $200,000 per day and is meant for businesses with a large marketing budget and established online presence.
3. Pay-per-click (PPC) Advertising Costs
Pay-per-click advertising is a marketing strategy where the advertiser pays for ad clicks or impressions. One of the largest PPC advertising platforms is Google Ads. It was formerly called Google AdWords, which you may be more familiar with. This PPC online advertising platform allows advertisers to display their ads on Google's search engine network. Bing is another search engine that also offers PPC advertising. Bing Ads has been renamed to Microsoft Advertising. These ads are similar to Google Ads and appear on the search engine results page (SERP).
As you know, people head to a search engine when they have a question. Advertising on the search engines gives you the ability to reach people at the precise moment they have a question or need.
Within the search engine advertising platform, you place bids to secure better visibility and position for your ads. The following is an example of two retailers, The Tie Bar and JoS. A. Bank, that ranked first and second in a Google search for "pocket squares."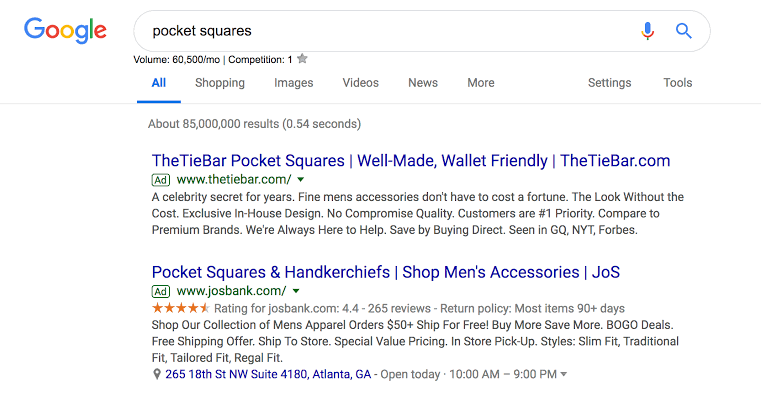 If you're not familiar with PPC advertising or Google Ads, I discuss how they work in more detail in this blog article.
Google Ads and Bing Ads are very customizable and you can tailor your campaign to your marketing goals and budget. On average, small to medium-sized businesses spend between $9,000 to $10,000 monthly (that's $100,000 to $120,000 per year). The average cost of an ad on Google's network is about $1 to 2$ per click. Don't be scared by those numbers; as I said, there's a lot of variability in costs. Give this article a read to learn more about how much Google Ads cost.
Here's an example that demonstrates the effectiveness of Google Ads. Aliera Healthcare reached its target audience by advertising on Google and Facebook. It generated 8,779 leads at $0.73 cost per lead (CPL) and acquired 3,973 leads from social media.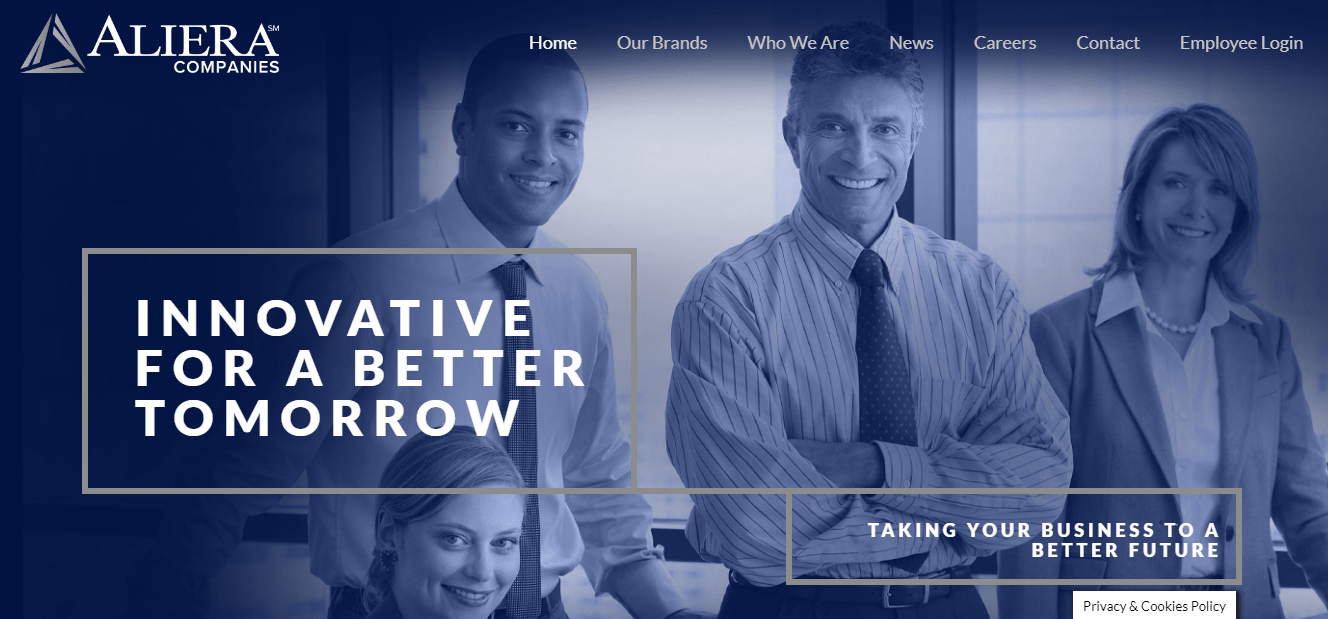 4. Email Marketing Costs
Email is another cost-effective and time-tested digital marketing strategy. Email marketing helps businesses build brand awareness and brand loyalty, which leads to increased lead conversions and sales. When done effectively, email marketing can give businesses an ROI of about 4,300%. Dell adopted this strategy and realized an increase of about 109% in revenue.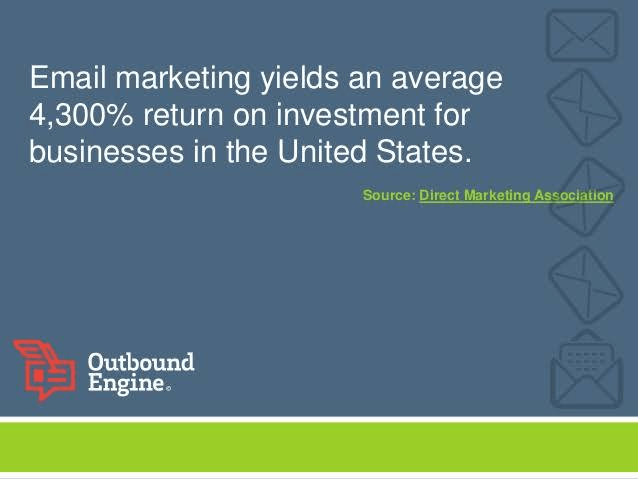 Email marketing is versatile because it can be easily integrated with other digital marketing strategies. For instance, if you're investing in content marketing or video marketing, you can repurpose your content or video and include it in an email marketing campaign. For example, your latest eBook could be broken down into a 5-step email course.
This digital marketing strategy costs between $300-$2,000 monthly if you use an outside agency. This cost includes extras to enhance the email marketing campaign, such as a customized email template design. It can be even cheaper if you do it in-house. Email marketing providers like MailChimp offer a free monthly plan and other plans start at $10/month. Then, it's just up to you to develop your email marketing strategy, maintain your email list, and write your emails.
5. Video Marketing Costs
Video marketing is another digital marketing strategy that can fuel business growth. Video marketing is similar to content marketing in its ability to increase brand awareness, engage audiences, and influence purchasing decisions, because it involves creating valuable, informative, and engaging content for the audience.
Investing in video marketing can increase your conversion rate by more than 85%. This would subsequently lead to an increase in leads/customers and, in turn, increase your sales revenue.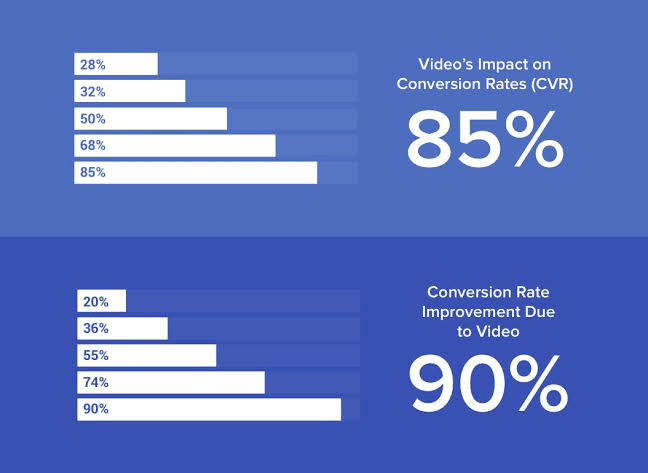 If you've already implemented content marketing, you can easily complement it with video. Blog articles, white papers, and eBooks can be repurposed into video content. Turn your latest eBook into a video tutorial. Adapt your case studies to create testimonial videos.
Tubular Insights showed that 64% of buyers purchased products or services after watching branded videos and business owners who use video marketing grow profits 49% faster than those who don't. You'll notice an upward trend in conversions just by incorporating video into your digital marketing campaigns.
If you're considering video marketing, then earmark between $1,200-$50,000 of your marketing budget. Professional videography services can be expensive, but DIY is also an option. Cell phone cameras are increasing in sophistication and quality, which means you can create videos in-house if you have a good cell phone. These types of videos are especially well suited for social media channels like Facebook and Instagram, where you can create live videos to connect with your followers.
6. Voice Search Optimization (VSO) Costs
Voice search optimization (VSO) is a new and growing digital marketing strategy. Just like SEO, VSO focuses mainly on tweaking your featured snippets with relevant keywords to enhance voice search. VSO is growing in demand because of the increasing use of voice-activated assistants, such as Google Assistant, Apple's Siri, Microsoft's Cortana, and Microsoft's Alexa.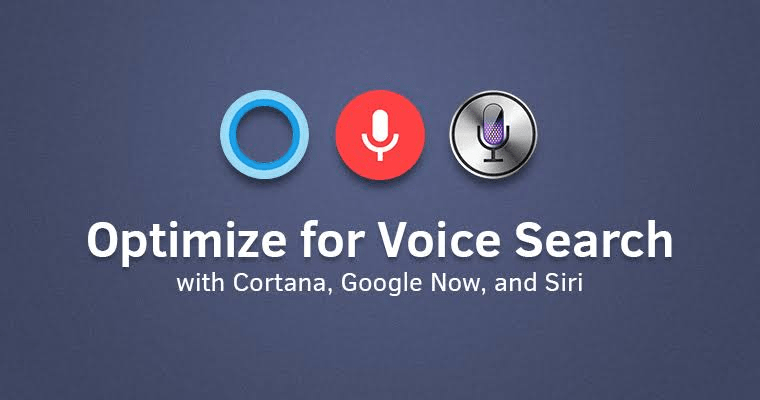 Voice assistants use featured snippets to answer vocal queries. For instance, if a user asks in Google voice search, "Google. how do you respond to negative reviews online," Google Assistant would respond, as shown in the snippet below: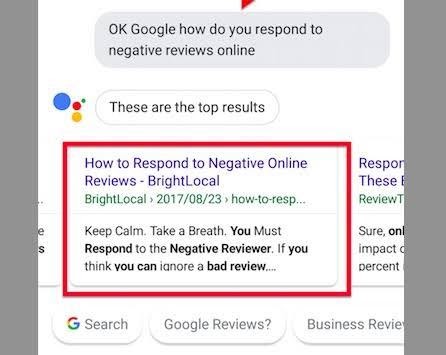 With more than 20% of all web searches done with voice searches each day, VSO is becoming more valuable to savvy business owners. Investing $600-$2,000 a month in VSO can give you an advantage over your competitors and help easily connect with both new and returning customers.
Tips on How to Maximize Your Digital Marketing Budget
Brands are expected to spend about 10-20% of their revenue on digital marketing. However, this straightforward percentage-of-sales model may not apply to everyone. For small businesses with a minimal budget, they need all the help they can get to maximize their digital marketing budget.
Now that you know what to expect when it comes to digital marketing costs, here are some ways to help you maximize your budget.
Establish or Review Your Company's Marketing Goals
Succeeding in digital marketing means that you have a firm grasp of your company's marketing goals. Nothing derails a marketing campaign better than starting on the wrong foot. Thus, before creating ads and identifying your target audience, you must establish or review your company's marketing goals.
Having realistic, specific, and measurable goals will enable you to judge the performance and success of your marketing campaign. Begin by establishing one goal with scaling potential to a larger business objective.
A clear set of goals helps you determine which metrics to focus on (organic rankings, cost per click, cost per acquisition, bounce rate, social shares, etc.) while building your campaign.
Determine the Appropriate Marketing Channels
Not all digital marketing channels are created equal, and not all marketing channels are a good fit for your company. As such, the marketing channels that you select for your campaign will vary vastly from industry to industry.
Ask yourself these questions:
Do I need an outreach strategy?
Do I target specific audience groups based on demographics such as age, gender, title, etc.?
Do I target specific audiences based on search intent?
Is conversion my primary goal, therefore tracking qualifying activities?
Is my goal to raise brand awareness, which means tracking traffic and impressions?
In digital marketing, one of the most important parts of budget allocation is putting your resources in the right places. Therefore, doing market research activities such as developing buyer personas and customer/stakeholder reviews is a must. These activities will help you gain valuable insights about which channels to advertise your product or service.
Fine Tune Your Targeting
As a business leader, it should be your priority to ensure that your marketing campaign is targeting the right people. Marketing to people who have no interest in your product or service is a massive waste of time and money.
The beauty of digital marketing is that you can tailor your strategies and content to target users who are more likely to buy your product or service. Sure, it's nice if you can drive more traffic towards your website but it's meaningless if you can't convert visitors into paying customers.
Determining your target/ideal audience and fine-tuning your targeting means going for people who are already in the market for what you're selling. Once you get your targeting right, you can potentially cut down your customer acquisition cost by as much as 13%. Of course, it also helps you maximize your budget and get the best ROI.
Actually Set a Budget
Of course, if you want to optimize your marketing budget, you need to set an actual budget. It might come as a surprise but many small business owners don't bother with setting a budget. The main reason for this is that they have no idea what they should be spending.
They have the mentality that they're ready to "spend whatever it takes" to get a customer through the door – an admirable sentiment but it's not the right way to do it.
Any legitimate business knows the importance of setting a budget – whether they execute their marketing strategies in-house or through outsourcing. Here are some questions that you can answer when setting a budget:
How large is your target audience?
How long do you plan to run your campaign?
How experienced are you with your chosen marketing platforms?
A good practice is to set an annual marketing budget that is set in stone. Then, you can slice it into a monthly plan where you can stay flexible on a monthly level.
Track Your Budget
Don't just stop at budget setting, you should commit to staying on top of your marketing spend via tracking. Otherwise, you'll have a difficult time assessing your marketing spend.
Using a marketing budget tracker, you can easily visualize the performance and data of your campaign and see how your money is being spent by category. The generated report will also help prepare subsequent budgets by looking at your spending proposal, actual spending, and the results.
For tracking your marketing budget, you can use tools such as Allocadia or download free budget templates from reputable sources like Hubspot.
Always Quality Over Quantity
Fewer things can make you hemorrhage money than running numerous underperforming campaigns at the same time – don't spread yourself too thin.
In reality, it takes a lot of time and resources to jumpstart a digital marketing campaign. On top of the money to spend on your ads, you'll have to create content, implement each campaign properly, and monitor them. If you have multiple campaigns, the cost will add up.
To make the most of your budget and save on costs, focus on campaigns that perform well and provide you with the best results. Underperforming strategies and campaigns are money sinks, so recognize when it's time to pull the plug.
Make Decisions Based on Data and Trends
When it comes to digital marketing, there's no such thing as following your "gut feelings" or "instincts." Digital marketing is quantifiable and measurable which can't be said about other traditional marketing methods.
If you're properly monitoring your campaigns, you'll have plenty of valuable data that will greatly influence your future decisions. Consult the data and adjust your decisions accordingly.
For example, your CEO may be concerned about a high cost per click (CPC) on one of your campaigns. Instead of reacting quickly, look at the data and get the bigger picture. One other factor that's worth looking into is your cost per acquisition (CPA) and if it's properly aligned with your product margin.
As you run your campaign, you'll gather more data and observe trends that you can capitalize on.
Expect to Spend 10-20% of Revenue on Digital Marketing
Digital marketing is more effective and affordable than the traditional forms of marketing. But, it's important for business owners to know the costs involved before deciding to use it to drive their business growth and success. Businesses should expect to spend about 10–20% of their revenue on digital marketing, but, if done correctly, it can increase revenue by more than 109%.
Keep in mind that digital marketing is an ongoing strategy and your budget may change as your business grows. So, if you are interested in learning more about how digital marketing can grow your business, you've come to the right place. Speak with one of our digital marketing experts today.