As you know, due diligence is a crucial part of evaluating prospective investments. However, one aspect that often gets overlooked is digital due diligence. Despite being the 21st century, too many businesses lack user-friendly websites, search visibility, and a scalable digital marketing strategy.
A poor digital presence can significantly impede value creation and profitability, and you may want to reassess the risks it brings to your firm, change your valuation, or even reconsider your investment.
How Digital Impacts Profitability
Let's compare two dental brands that might be worthwhile investments. One is ranking on the first page of Google for relevant keywords such as "best dentist" and "cosmetic dentistry services" in several major markets. However, the other practice doesn't rank for any keywords, has a clunky website, and its online presence is confusing—you can't even book online.
You can expect a healthy flow of new patients from the first dental brand's robust digital efforts. The other brand likely has a slow or nonexistent patient pipeline that certainly isn't ready to scale.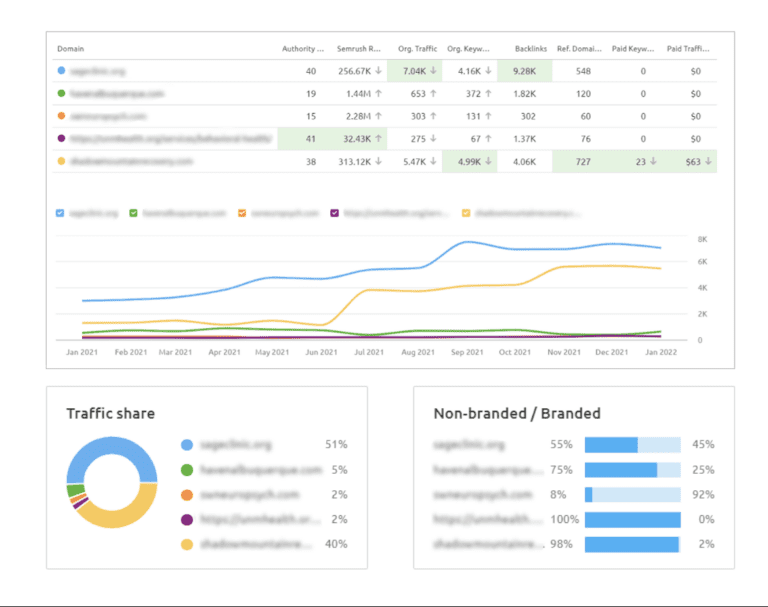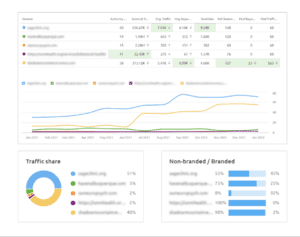 This lack of a modern digital structure is a major red flag and will make scaling difficult.  Investors need to be aware of all digital marketing risks before solidifying their investment. Failure to do so could result in improper valuations, slow growth, and diminished returns.
Here's where we recommend starting:
Biggest Digital Marketing Risks for Investors
1. Clunky and Confusing Websites That Can't Scale
A website is the digital front door of any company. It's arguably the most essential part of a business' online strategy since all digital efforts lead back to your website. It's where you define your positioning, build online authority, reach new users, educate, and ultimately capture new leads.
At first glance, a website might look good enough. The design and messaging are pleasing; the content seems to accurately represent the services. What could else could be wrong? A lot. We urge you to dig deeper. A surface-level review of an investment's website won't reveal major issues that could impact your ability to generate new business.
Both consumers and Google have strict demands for digital experiences. Websites must be fast and optimized for mobile devices. On a foundational level, the site architecture should be organized in a way that makes it easy for both Google and users to find the information they need.
Being pretty isn't good enough. You need to verify that the website is built to scale and rank on search engines. A thorough investigation of the website's backend is a must.
Signs of a Poor Website
CMS is hard to manage: When a CMS (content management system) is difficult to use, it'll be difficult and perhaps costly to update or create new content. You need a nimble CMS.
CMS is antiquated: Similar to the above, the website may be incompatible with apps, analytics platforms, and CRMs. In this case, the business may need to hire developers to implement necessary integrations or they may not be possible at all.
Slow or "clunky" site: Not only is slow site speed terrible for SEO, but it also creates a frustrating experience for the user, ensuring they will not return to the site again.
Poor design: As mentioned, it's not far-fetched to think users are exiting a web page based on its design. No one wants to navigate a web page that looks like it was built in the '90s. Users judge businesses based on their website.
Bad user experience: If the business' website creates work for the user; it provides a poor user experience. A website should be easy to navigate and provide a solution within seconds. If a user has to search high and low for an answer or solution on your site, you can pretty much guarantee they will not return.
These are signs that a potential portfolio company will need a complete website redesign, which can be a costly and time-consuming project.
2. Poor Organic Search Rankings
If a website is the digital front door to a business, SEO is how people find and get there. However, an organization with no search visibility means customers can't find the front door to get inside.
SEO is a long-term commitment, and you can not expect to see results overnight. Good SEO practices take months, if not an entire year, until significant visibility improvements are realized. Meaning it will take a lot of time and money to improve a portfolio company's visibility and lead pipeline.
On the other hand, good SEO keeps clients coming like a revolving door. A business with robust SEO practices and significant keyword rankings is hard to find and an attractive investment.
Signs of a Poor SEO
Poor rankings for core business function keywords
Poor rankings for branded keywords
Low percentage of traffic share
Little to no site authority
Low domain authority
Spammy or paid backlinks
Confusing site structure
Slow site speed
SEO can be confusing, especially for those not involved in digital marketing. Here are some questions you can ask when evaluating a prospect's SEO practices:
Which keywords are driving traffic to the site, and for which pages?
Who is ranking for the industry's most important keywords?
How difficult is it to rank for target keywords organically?
How is the site's content organized, and how thorough and optimized is it for target keywords and audiences?
How many reputable sites are linking back to the site's pages?
3. Bad Digital Reputation
If you're like most people these days, you check the reviews before booking a hotel, hiring a service, or selecting a healthcare provider. Now more than ever, a positive digital reputation is a requirement for brands.
Good reviews create a different form of trust with a brand since someone outside of the organization vouches for them. For example, 91% of 18-34-year-olds trust online reviews as much as personal recommendations, and 93% of consumers say that online reviews influence their purchase decisions.
While good reviews can encourage someone to make a purchasing decision, bad reviews can push away potential customers and patients. The best marketing campaigns will fail if consumers find a bad reputation. Review sites are often the last stop before making a decision.
So, while performing your digital due diligence, ensure you're evaluating the business' online reviews and reputation. Focus on the most popular sites such as Google Business Profile, Yelp, and Facebook, but don't forget about niche healthcare review websites like ZocDoc, Healthgrades, and Vitals.
Signs of Poor Digital Reputation and Online Reviews
No reviews
Bad reviews
Staff is rude or combative responding to comments
Improving a negative digital reputation and shifting the public's perception takes time. It's challenging to remove reviews, and even if you could, you may lack a significant volume of positive reviews. The best strategy to overcome a negative reputation is to implement a robust review generation campaign.
Negative reviews can also be a warning sign of deeper issues within an organization that could make it a risky investment. As investors, you shouldn't dismiss negative reviews as an isolated problem.
Read them and look for clues of operational issues lurking beneath the surface.
Due Diligence and Digital Marketing Risks
Every component of a business's digital presence has the potential to help or hurt profitability. To ensure you're accurately assessing value and avoiding unnecessary risk, digital due diligence must be part of your evaluation process.
While digital marketing has the penchant for being fast and nimble, change doesn't happen overnight. Developing a strategic digital presence and building brand equity takes time. A great website, strategic SEO, and a positive online reputation is a recipe for profitability. However, a lack of digital strategy could mean your investment falls flat. Conducting digital due diligence helps identify the potential digital marketing risks for investors.