When you are spending your hard-earned money on Google Adwords or any paid search, you want to get the most value you can out of your money.
Generally, Google estimates that businesses make an average of $2 for every $1 spent on AdWords. While a 100% ROI is a great return, that doesn't mean you're getting everything you can for your money.

The truth is that no ad is perfect. A few or many aspects of your ad can be probably improved to increase its quality and awareness while also reducing your ad spend.
When you continue to get more clicks and conversions through your ad, Google will recognize that and give you better ad positions at lower costs.
So what are the steps you need to follow to maximize your ad spend?
1. Bid for the right keywords
Do you know what search terms your potential customers are using in search engines? This is a simple question, but the majority of your ad performance depends on the answer.
If you bid on the wrong keywords, there are two possibilities:
Your ad may have a low click-through rate (CTR) since you may be targeting the wrong audience.
Your ad may get clicks that will end up leading to no conversions because the people clicking aren't your ideal customers, which is also a waste of your ad budget.
So how do you select the right keyword to bid for?
Getting into Google Ad keyword planner and a keyword research tool is a good way to start. In PPC Management, to use the Google keyword planner efficiently, think of a general keyword that your customers are likely to search for to find your business,
Enter this keyword in the keyword planner tool. The results will display related keywords and their search volumes.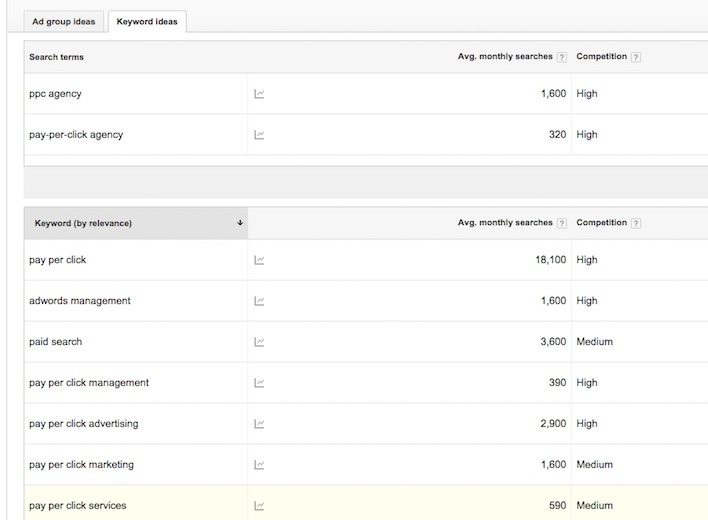 You can also use the trend graph to check the variation in the popularity of the keyword at any particular time, just note that the trend of a keyword doesn't necessarily indicate its search volume. It just denotes its popularity compared to other search terms.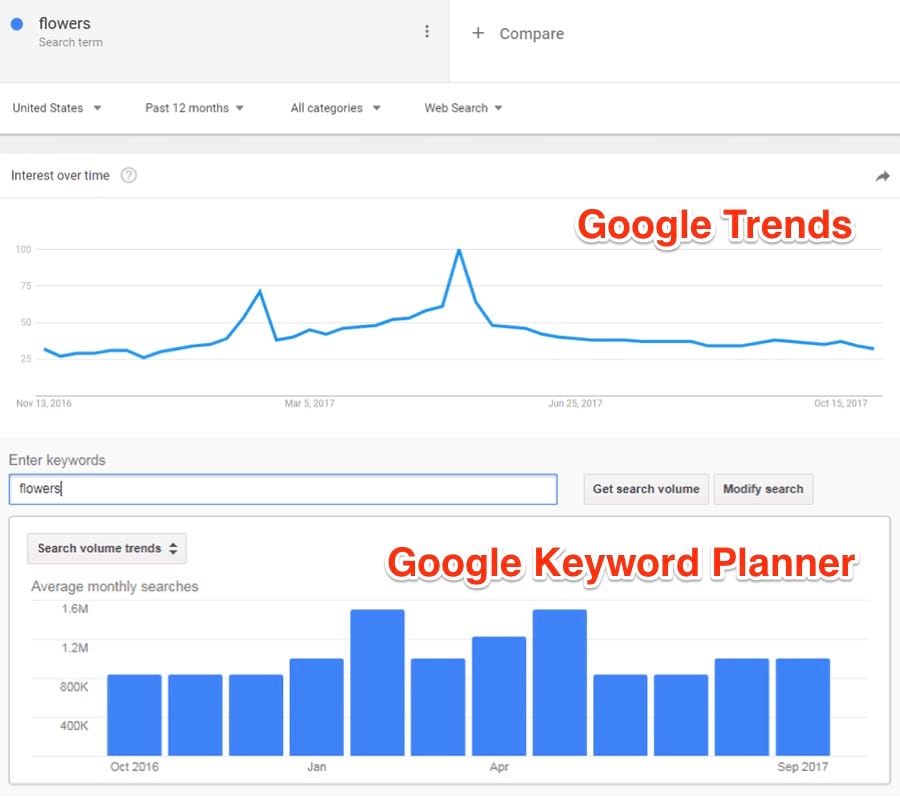 It may be tempting to bid for keywords that have high search volumes but that might be a mistake if you don't have a huge online ad budget.
There's usually a higher cost per click (CPC) for those keywords and it's difficult to judge a user's intent when they see or click on them.
To use your ad budget more effectively, you should compile long-tail keywords that give users a better idea about what your business is about.
The CPC for these keywords is lower as there's less competition. Plus, you get better conversions.
Banckle Chat, a live chat software company, bid for long-tail keywords that gave people a better idea of what they do. This led to a 167% increase in click conversion rate and a 60% reduction in cost per converted click.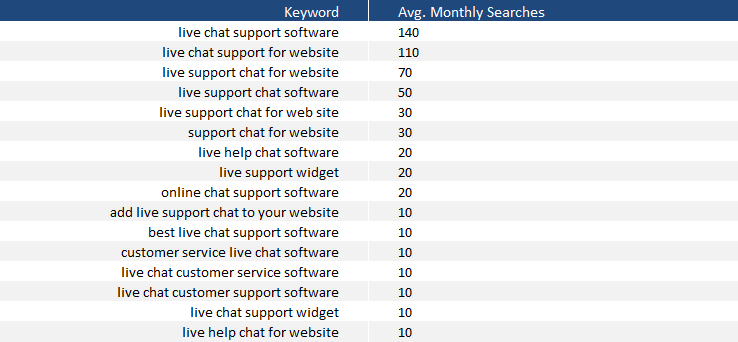 It's also important to bid for branded keywords. If people are searching for your brand, it's easier to convert these searchers.
Plus, it's risky to allow your competitors to show up under your business name and steal your customers.
Furthermore, branded keywords often have higher conversion rates than non-branded keywords, which makes sense due to the relevancy.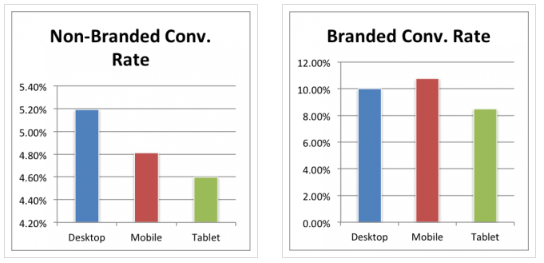 2. Calculate your cost per acquisition and customer lifetime value
When you spend $1,000 to acquire a customer, what does that mean? Well, it can be subjective. If the customer is going to spend $10,000 on your business and you're going to make a $3,000 profit over the course of your relationship, then that is the customer's lifetime value.
However, if the customer is going to spend $2,000 and you're going to make a profit of $500, then that indicate that you spent more money on acquiring that customer than it's worth.This is why it's important to compare your cost per acquisition to your customer lifetime value.
Your customer lifetime value should always be higher than your cost per acquisition. How do you calculate your cost per acquisition? HubSpot shares a method to calculate your cost per acquisition using 3 factors:
Cost of Customer Visits (CoCV)
Cost of Lead Acquisition (CoLA)
Cost of Customer Acquisition (CoCA)
For instance, if you spend $1,000 on ads to get 500 visitors to your website, that equates to $2 per visit to your website in ad spend. If 5% of your visitors become leads, that would equate to $40 for each acquired lead.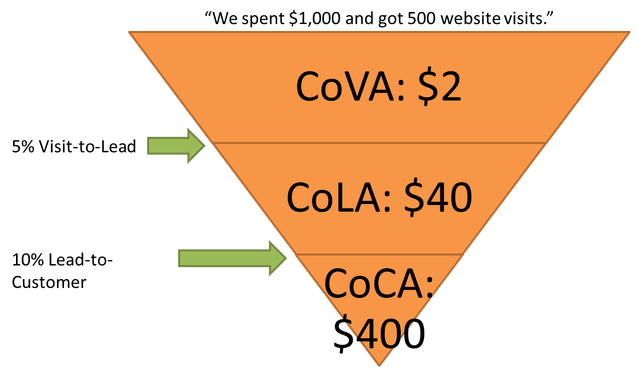 If you convert 10% of your leads to customers – that means you have spent $400 to acquire a single customer.
Of course, this is a simple calculation. To have a more accurate value, you can add in the cost of labor and everyone who used their time towards your ad campaign.
Do you know what your average customer lifetime value is? If it's lower than $400, then you need to make your ads more effective in order to to reduce your costs. To learn more, you can try with professional PPC Management Services.
3. Use geo-targeting
If you're running ads for a small, local, or niche business, then you probably don't want them displayed all over the world as that would be ineffective and cost-consuming. You need to target the location where your potential customers live or work, which is especially important if you run a local business.
The way to do this is to set up geo-targeting by going to your "Campaign Settings" tab and click "Edit" under locations: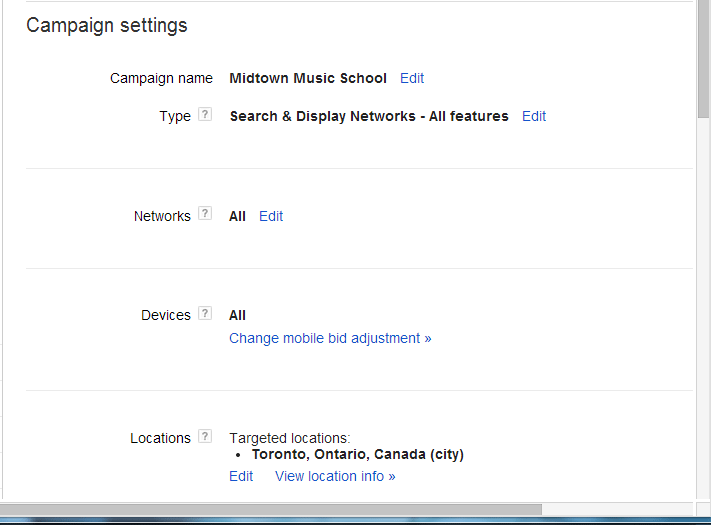 Plug in the location you want to target and Google will show you the potential reach of each one: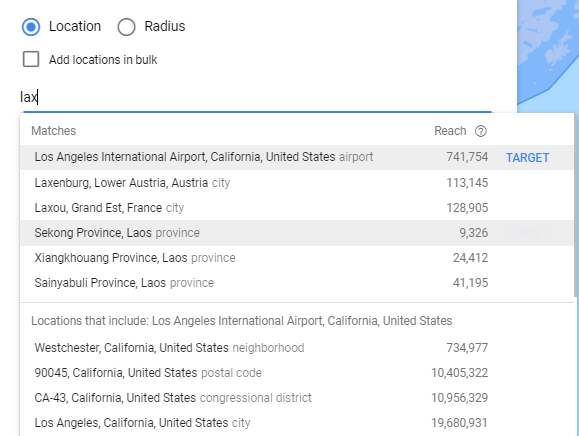 If you've selected a region, you can see the map with the region highlighted: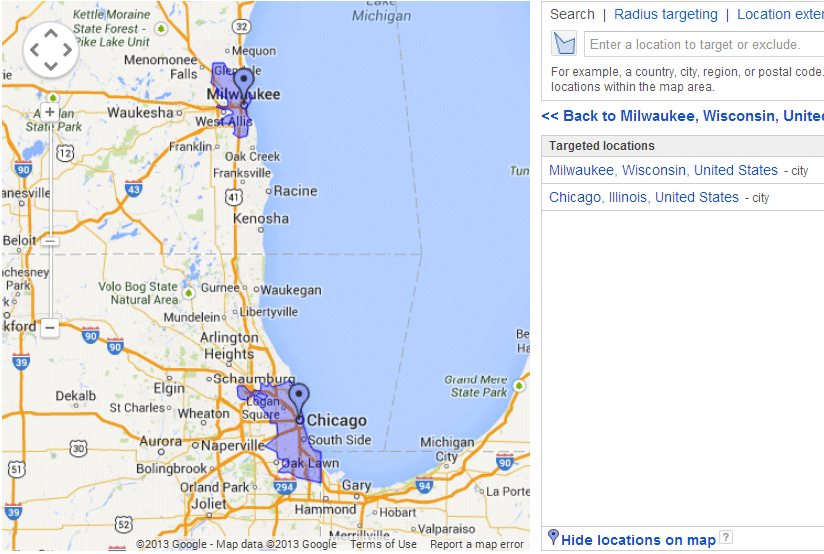 If you don't want to target a particular city or region, you can also target a specific radius around your business. Click on the "Radius Targeting" tab and enter the location- the center of the radius should be your business.
Enter the size of the radius around this location, in miles or kilometers: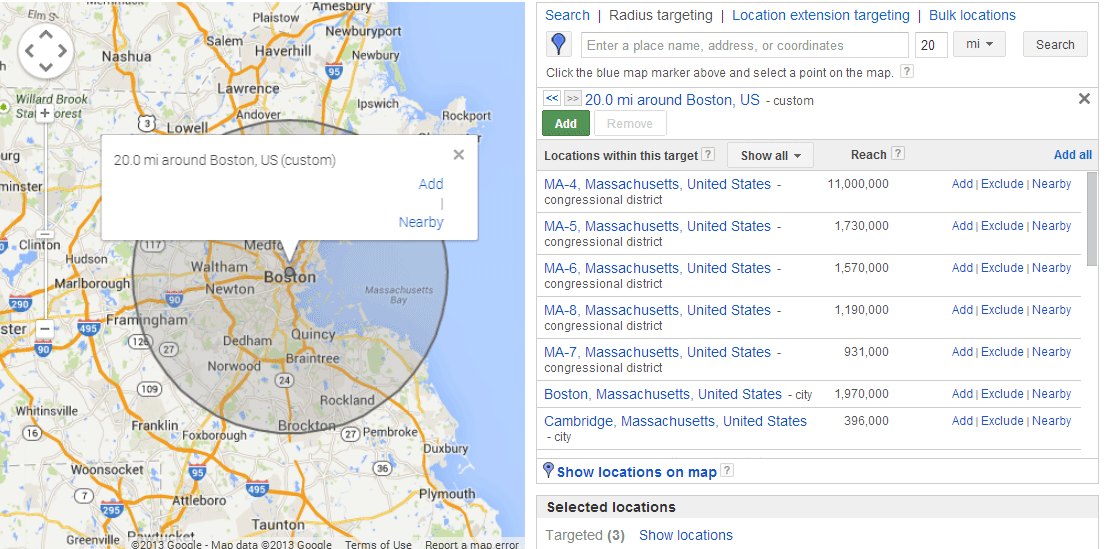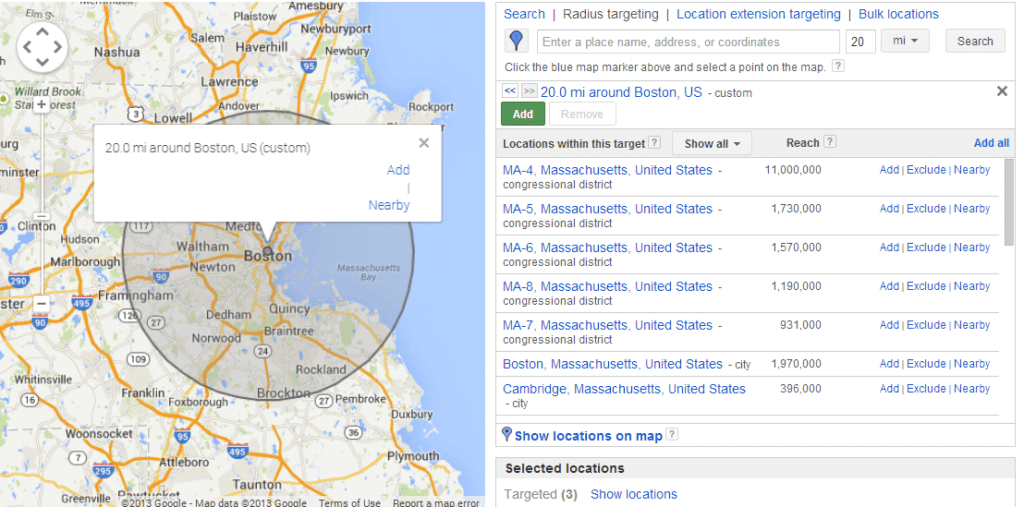 You can also exclude locations you don't want to target using the "Bulk locations" tab. This location should be in the same country you're showing your ads and you'll need to specify your country code to do this.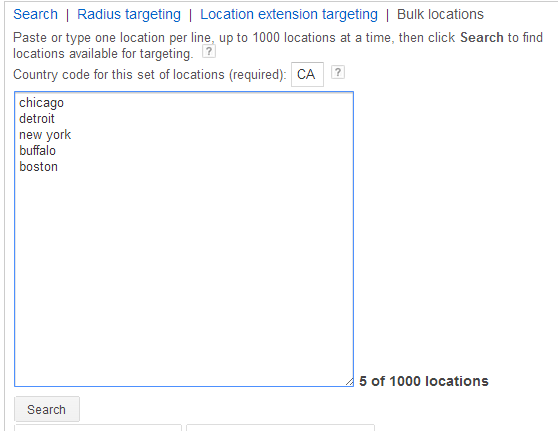 Georgia Eye Associates were able to reduce their cost per click from $4.91 to $2.31 using geo-targeting, location-based keywords, and bid optimization, which also increased their CTR from 0.95% to 2.80%: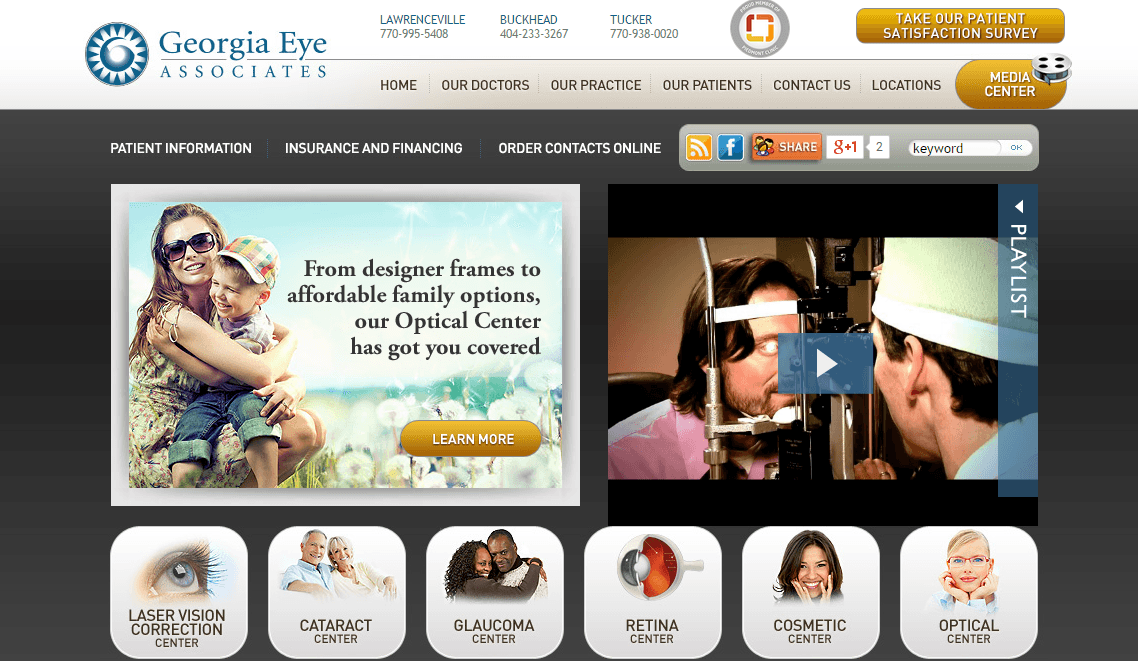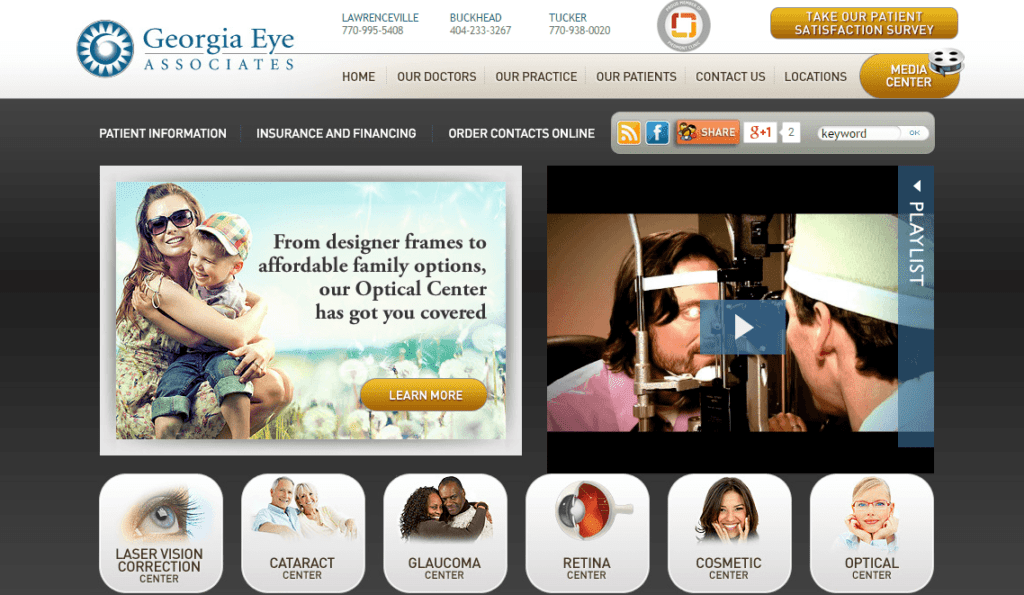 Definitely a real life example of proper PPC Advertising.
4. Run mobile-optimized ads
If you're running ads on Google, it would be a mistake to neglect the devices that actually account for the largest share of searches. One study shows that mobile devices account for 60% of Google searches.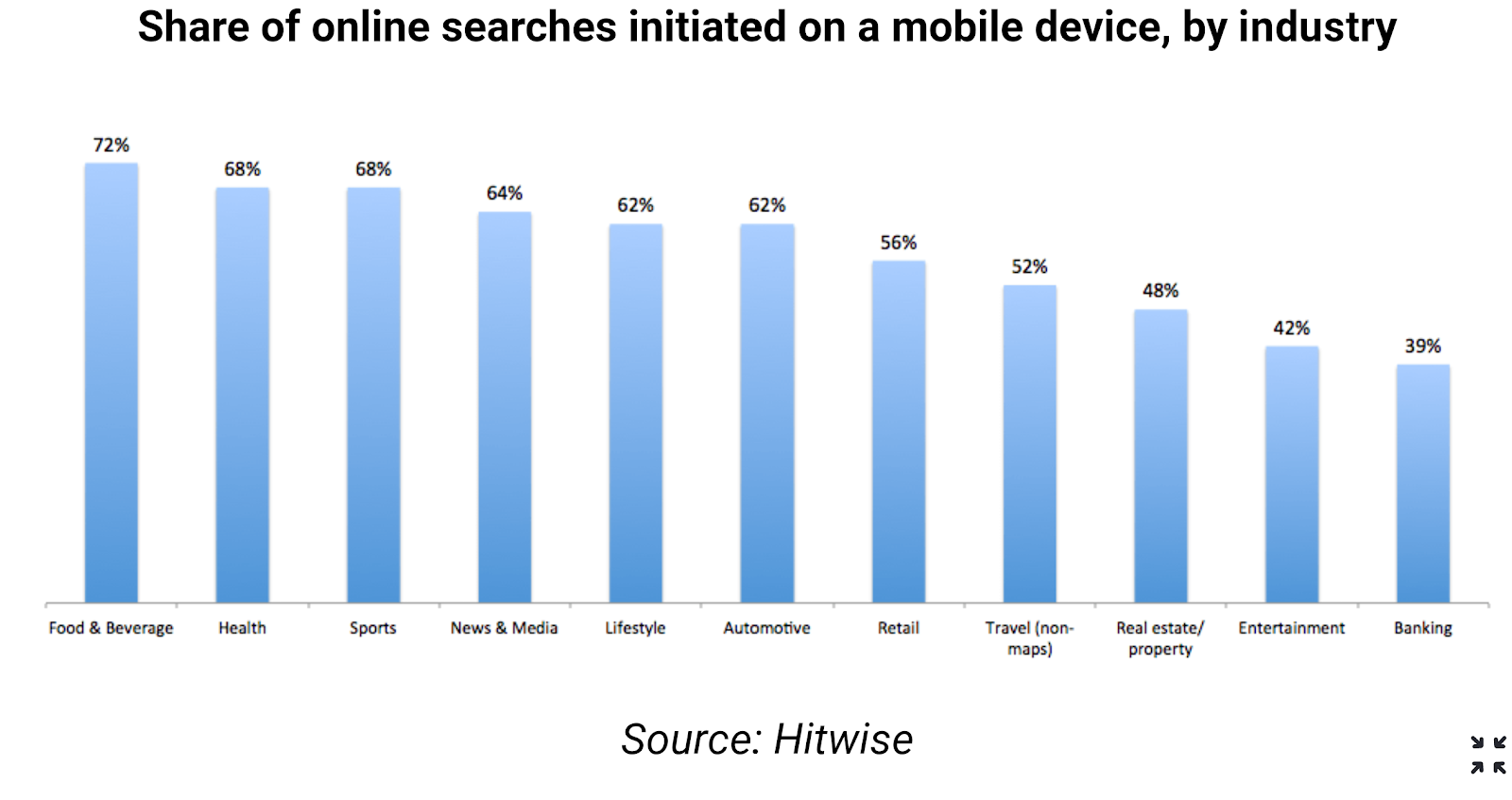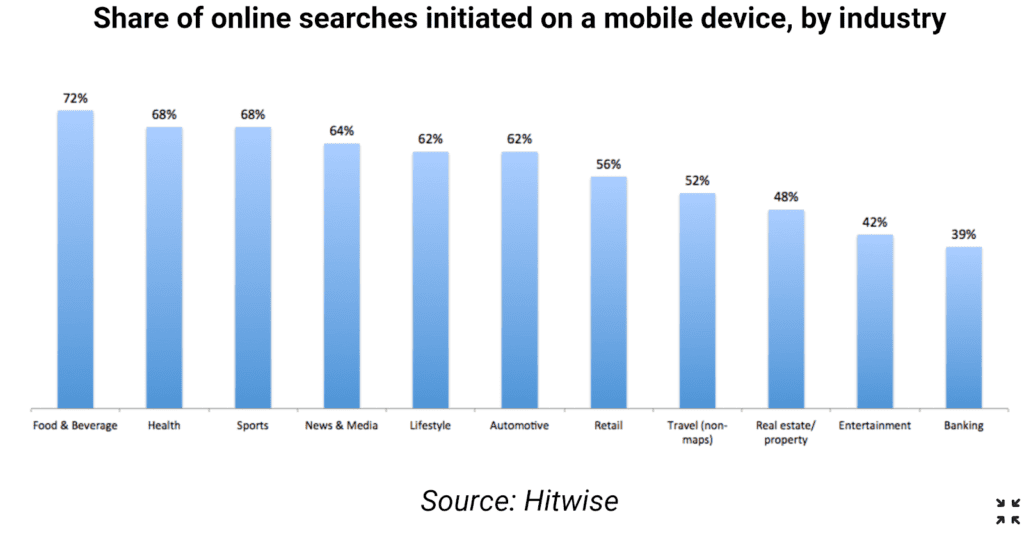 If you don't currently target mobile devices with your ads, then you're missing out on a lot of traffic and cheaper conversions as the CPC on mobile is usually lower than targeting people using a desktop.
However, if you target mobile devices but have a poor mobile or unresponsive landing page, then it will be a waste of your ad budget and your visitors' time as they are more likely to bounce off your website than convert.
When this happens, Google looks unfavorably upon your ad. Your ad quality score will go down and you'll need to spend a lot more money on conversions. It's easier to just have a mobile-optimized ad and landing page.
To test the mobile-friendliness of your landing page, you can use a Google tool. Within your account, enter your landing page address and click on "Run Test" and it will quickly show you whether your page is mobile-friendly or not.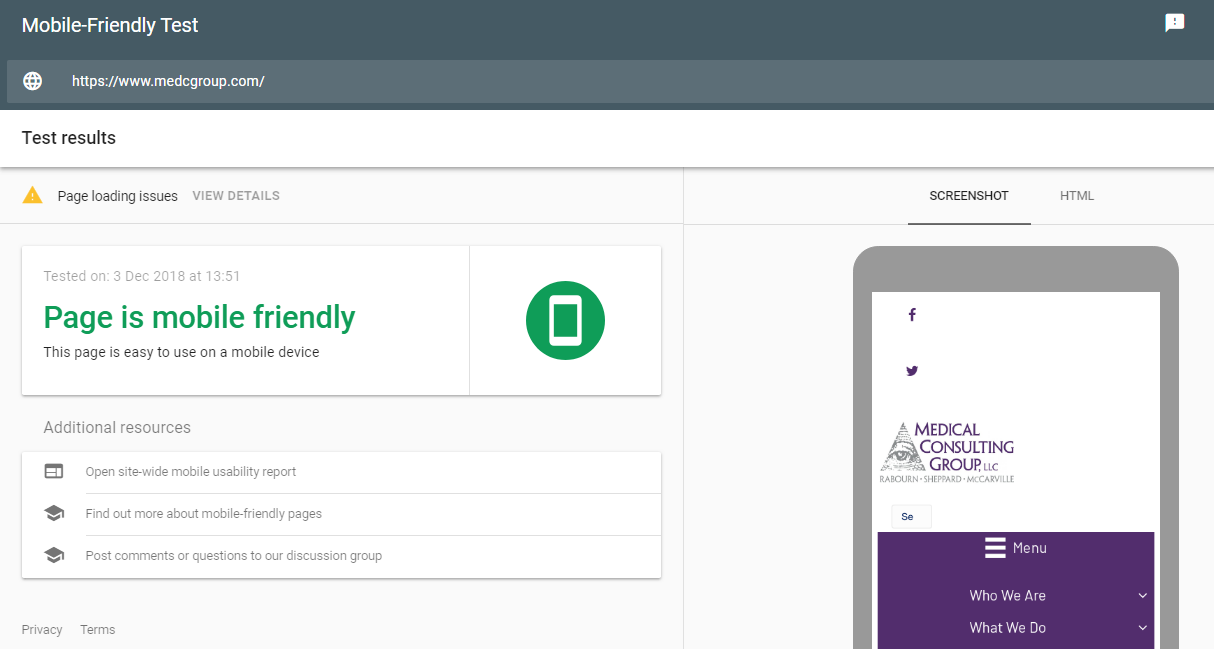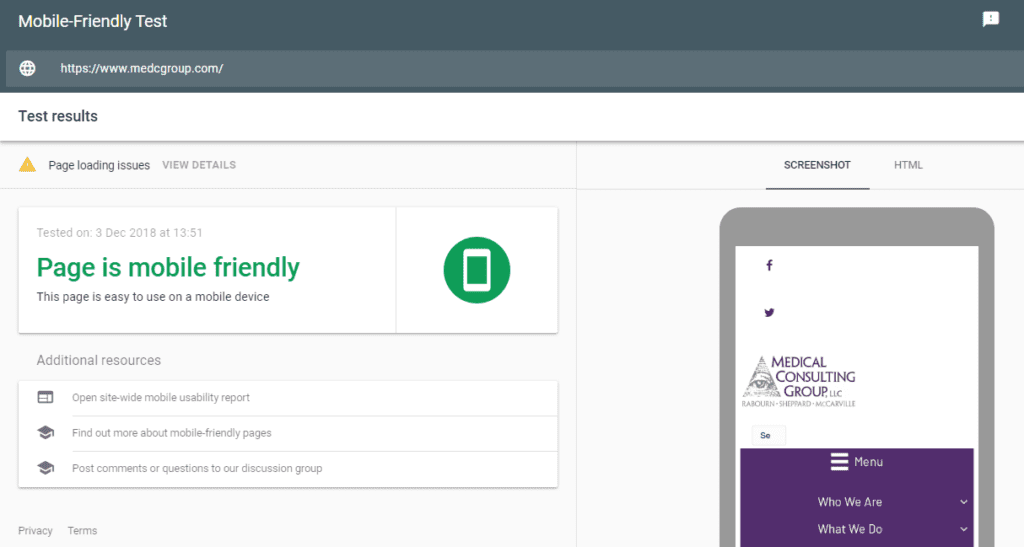 You can also see other details that can give you an idea of what adjust to improve your page's mobile-friendliness.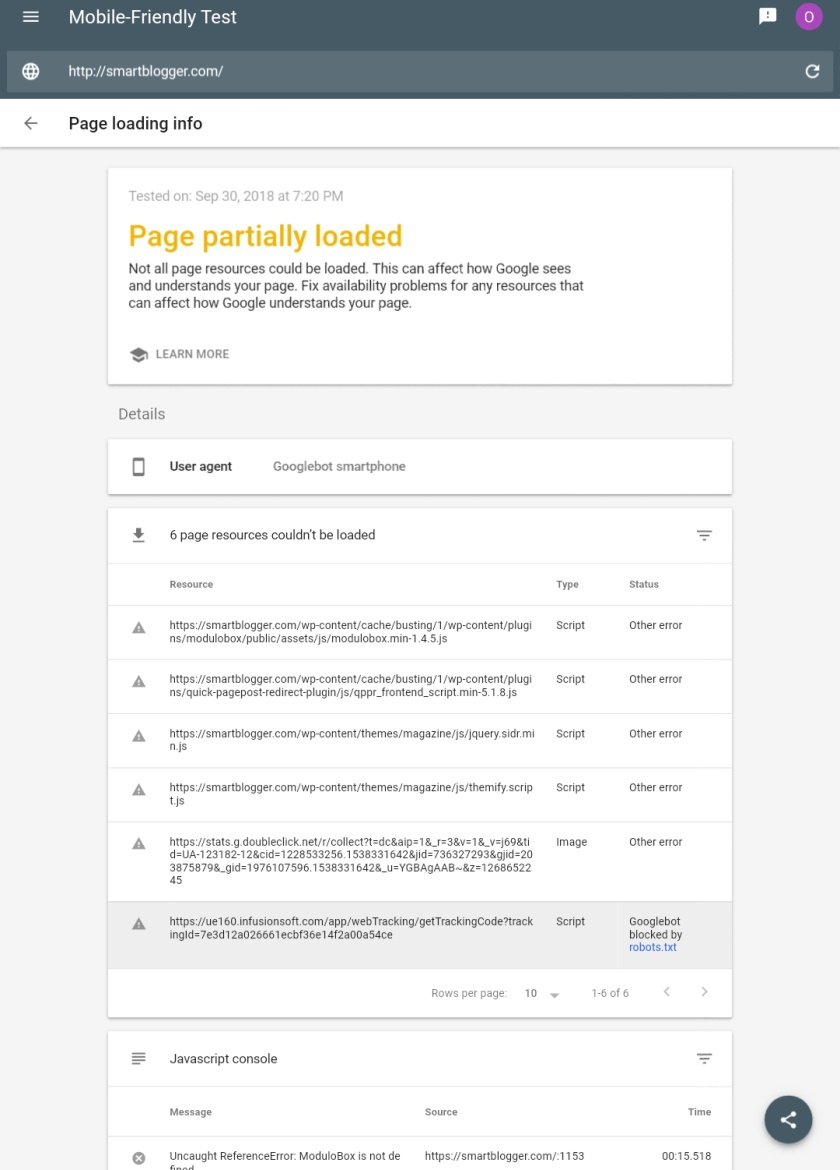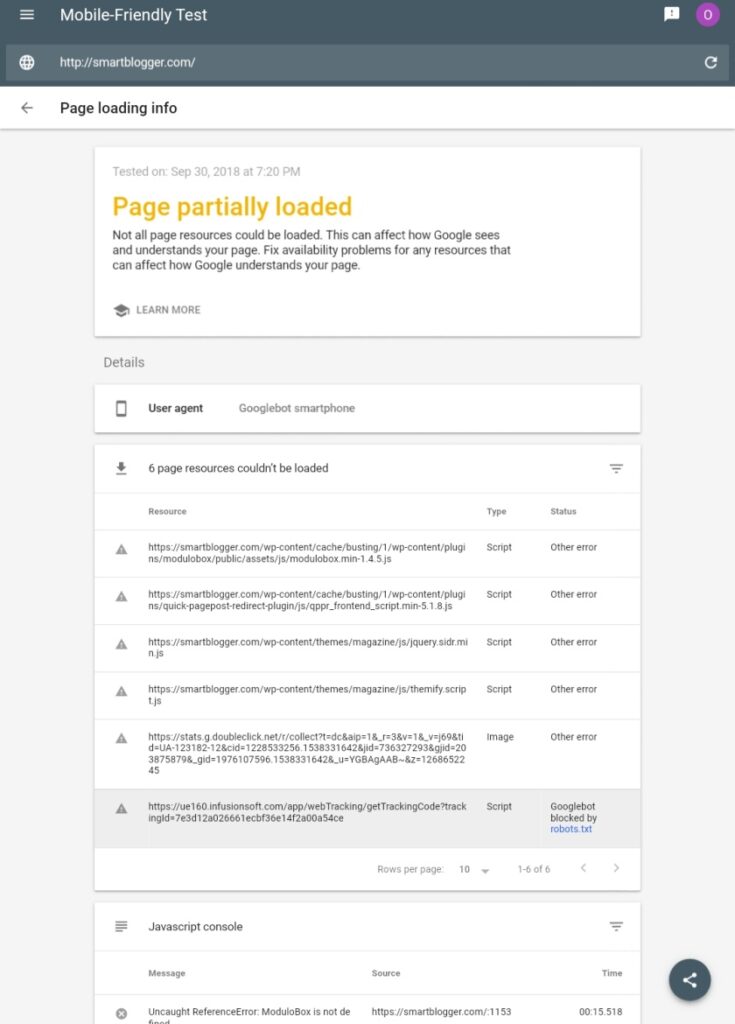 5. Schedule your ads
If your ads perform best at a particular time of the day, isn't it better to display your ads during that time? Th ad scheduling tool lets you do that.
For instance, if you run a restaurant, you might display your ads during your opening hours or when users are likely to search for restaurants.
To schedule your ad at a particular time, go to the settings of a particular campaign and click on "Ad schedule".


After this, you'll see your ad schedule overview. Click on "+Ad Schedule".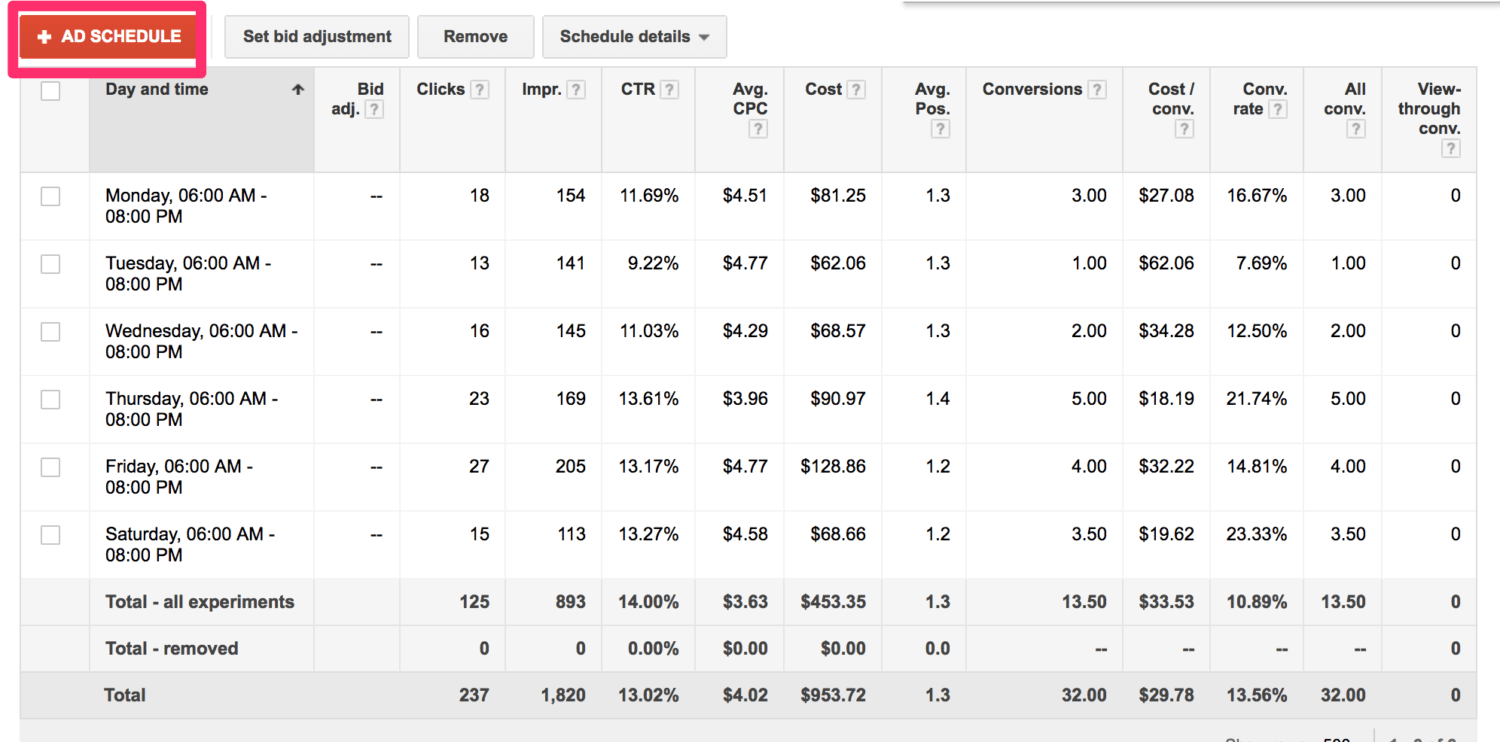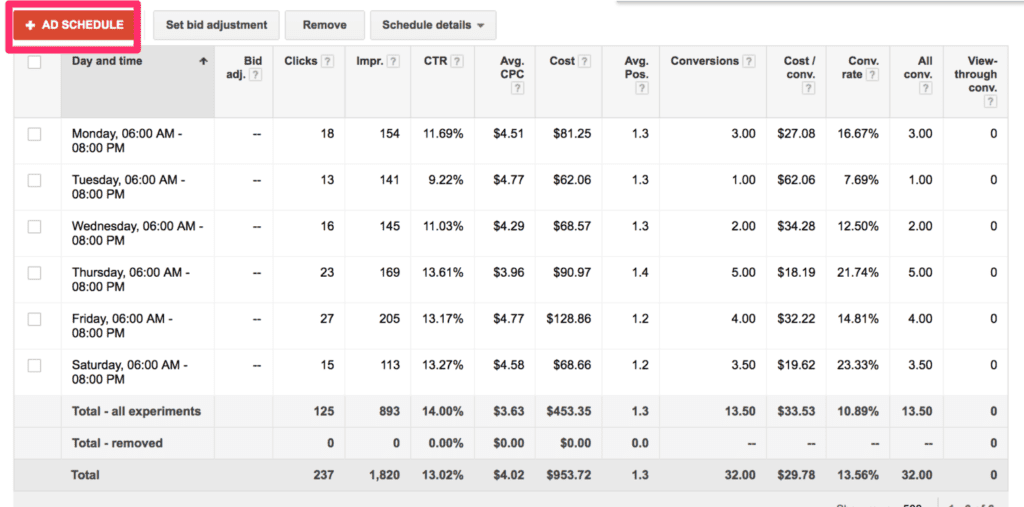 You can now set the time you want your ad to display to potential customers in either the 12 or 24-hour format. When you're done, remember to click "Save".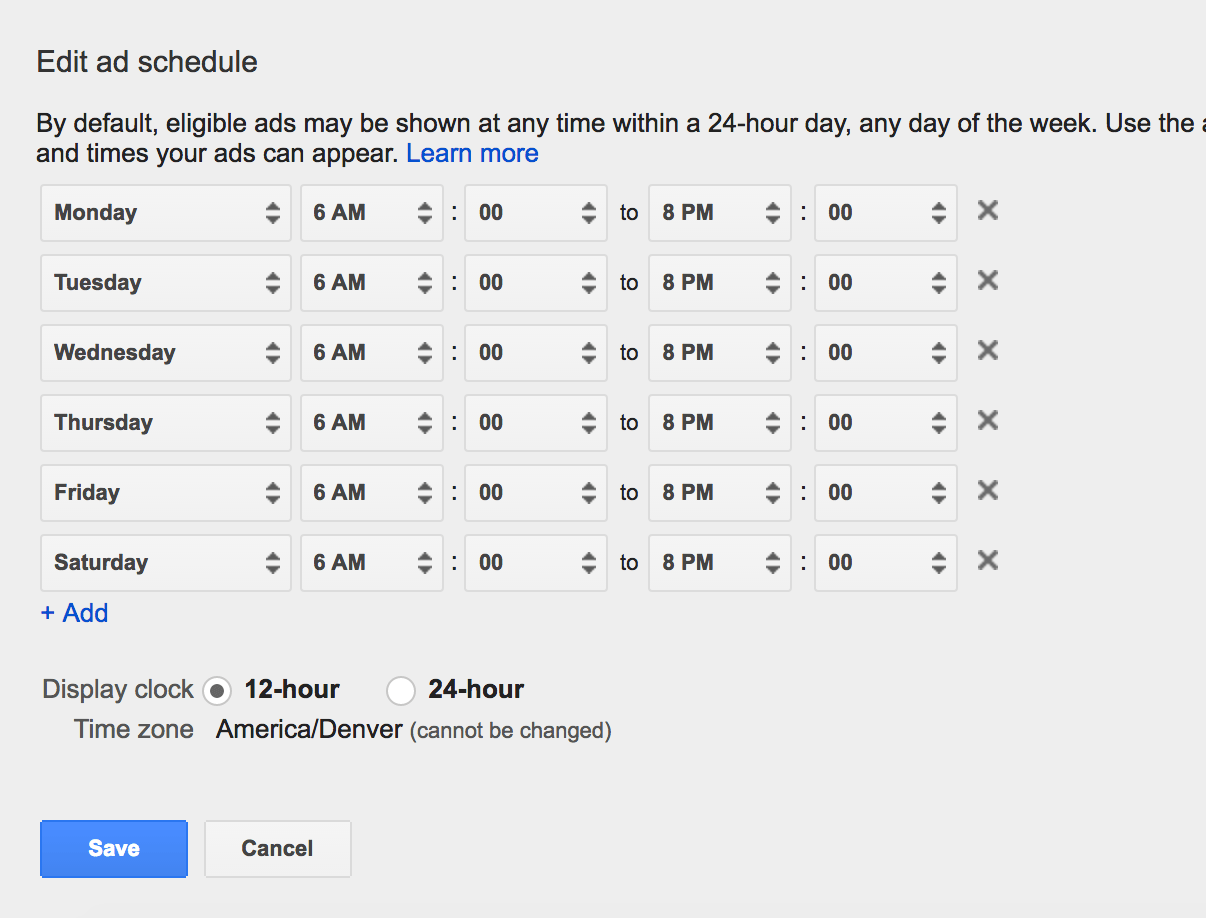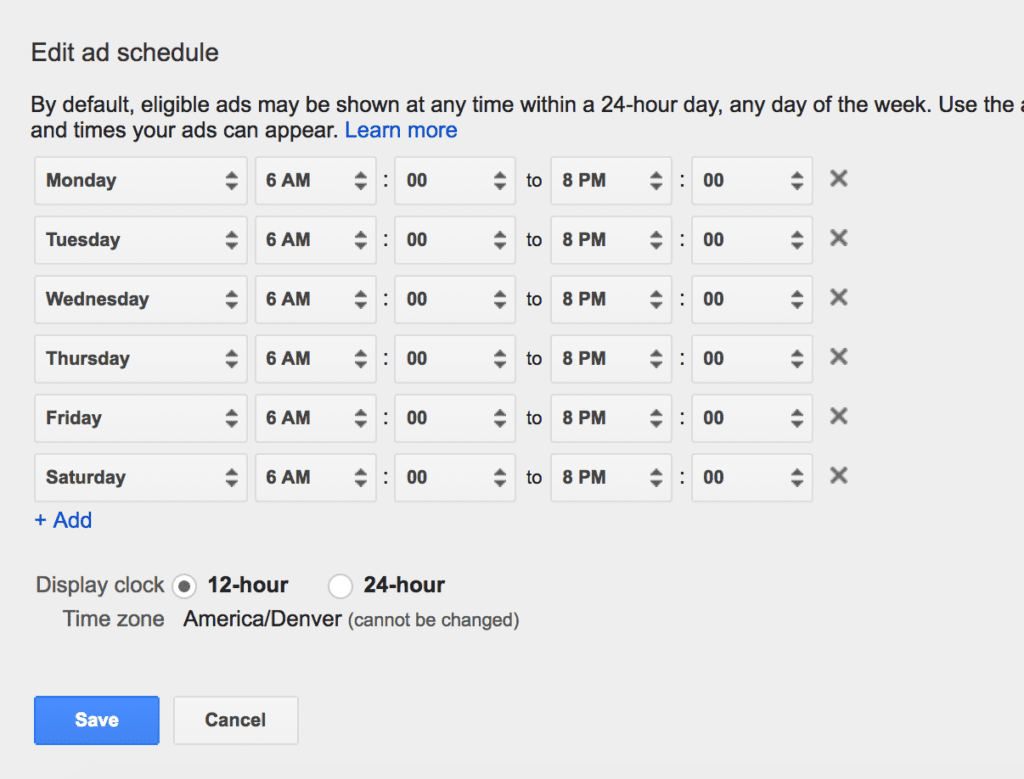 If you notice a high performance during this period, you can boost your bid higher during this period so that you can stay on top of the rankings.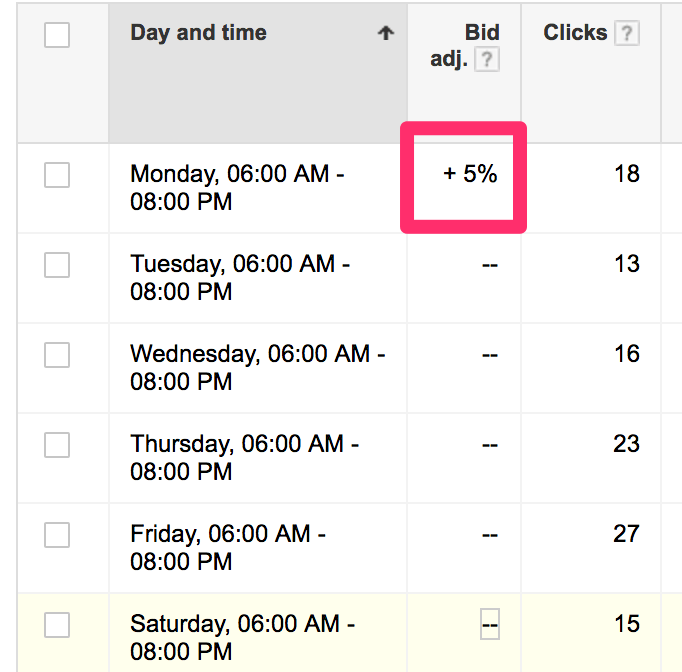 6. Use effective ad extensions
Ad extensions help your ad occupy a larger space in the search results and a great bonus is that you can have elements in your ad extension that will improve your conversions.
With ad extensions, potential customers can take certain actions while on the search page. These ad extensions include a:
Sitelink extension
Callout extension
Structured snippet extension
Call extension
Message extension
Location extension
Affiliate location extension
Price extension
App extension
Promotion extension
i). Message Extension
This extension allows potential customers to send you a message or book an appointment.
Google found that 65% of consumers would consider using messages to get more information about a service or schedule an in-person appointment.
If this may be helpful to your business, go to the "Ads and Extension" tab and click on "Extensions".


On the next page, click on "Create Ad Extension":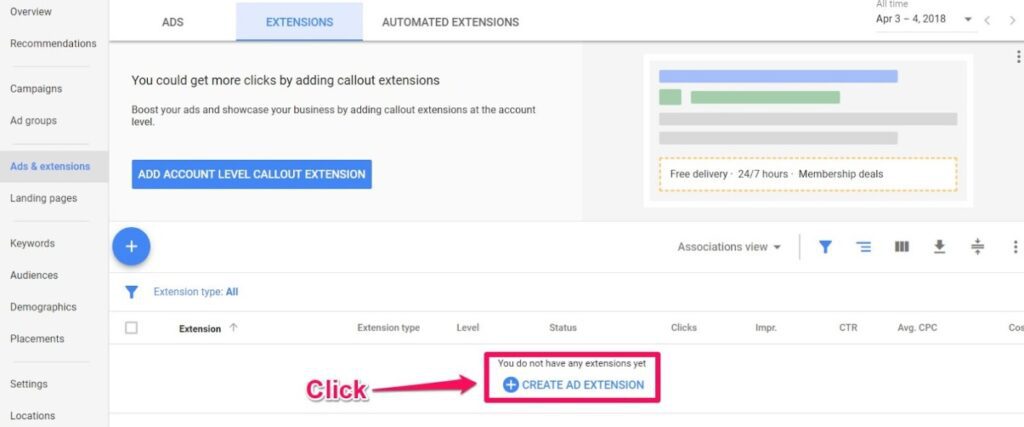 A list will appear and from it, select "Message Extension":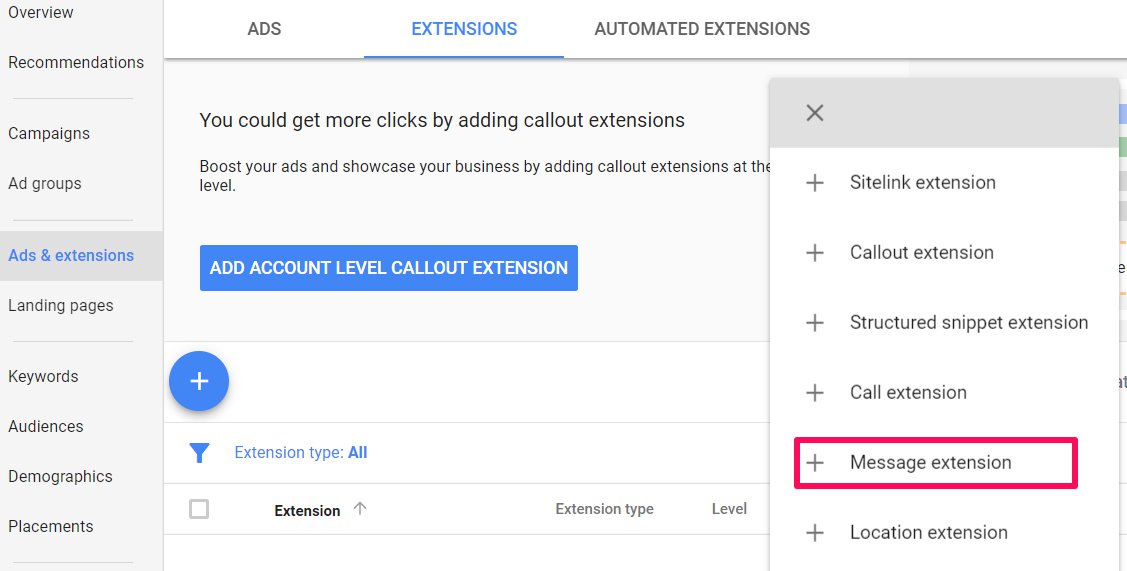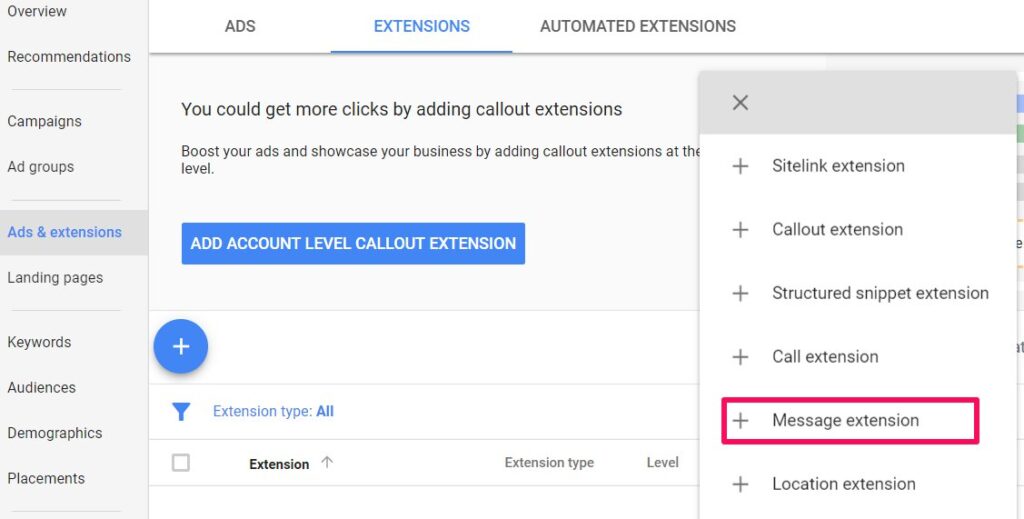 On the next page, enter your business details like the phone number and text: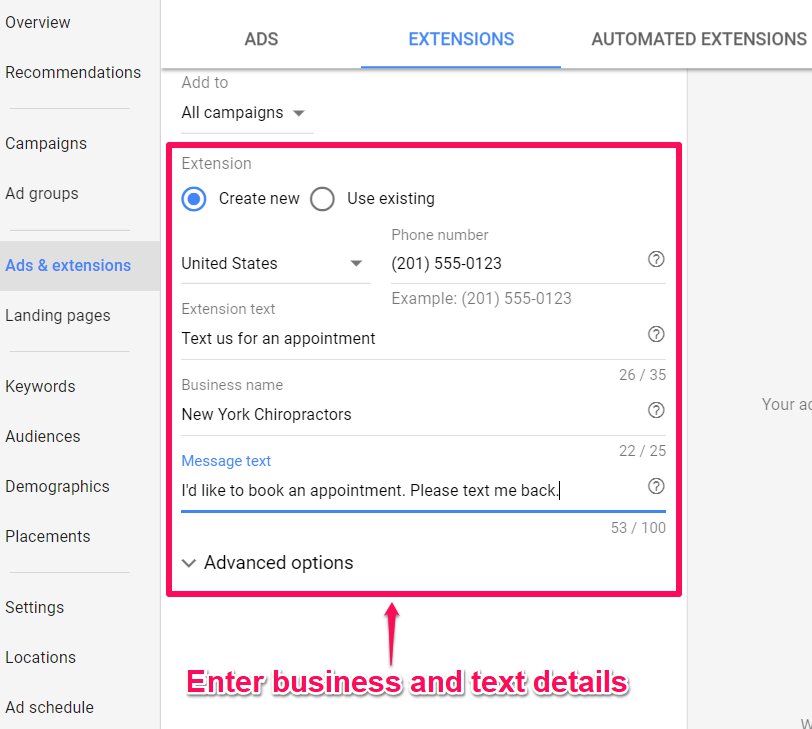 After filling in the details, you'll see an example of how your ad looks: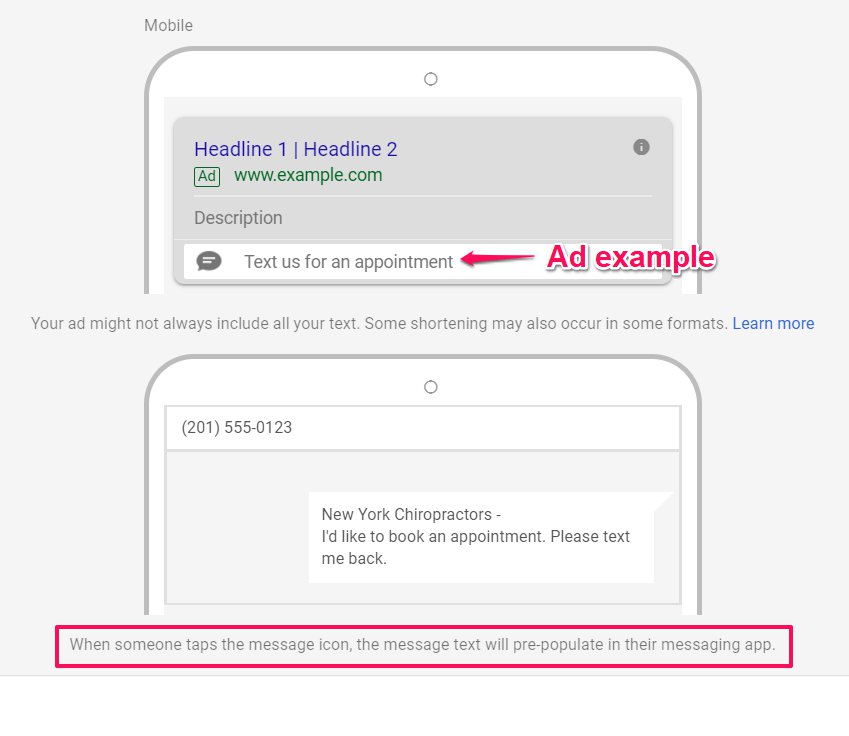 After filling in the necessary details, you can save your extension.

And this is how your ad with the extension will look in search results: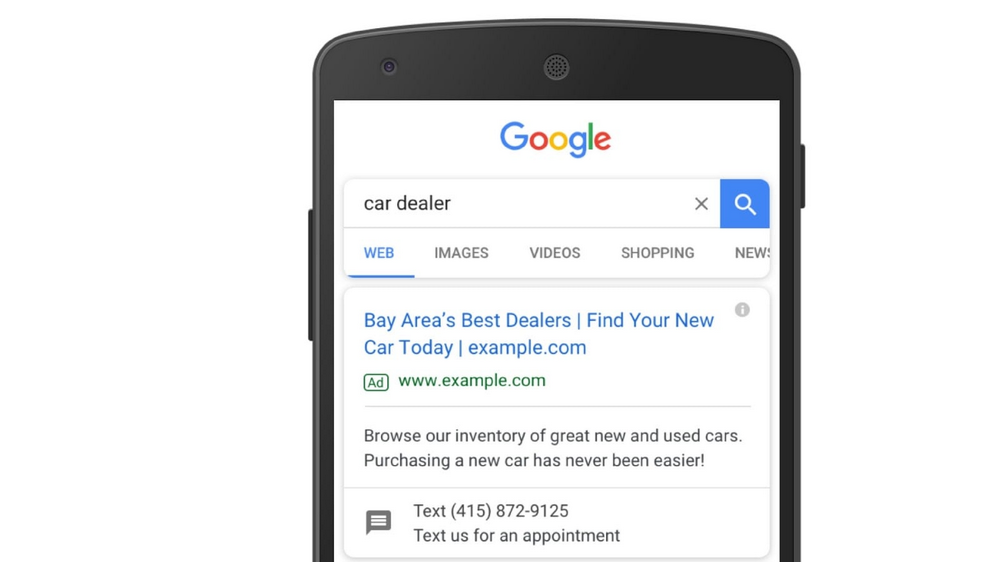 When Career Path Training Corp. implemented a message extension in their ad, they got qualified leads from 30% of the texts they received.
ii). Promotion Extension
With promotions, your potential customers can buy your product or service at a lower cost, which can serve as an incentive to buy your product and increase CTR. For instance, Wordstream found that their clients got a 10% increase in CTR with the use of promotion extension.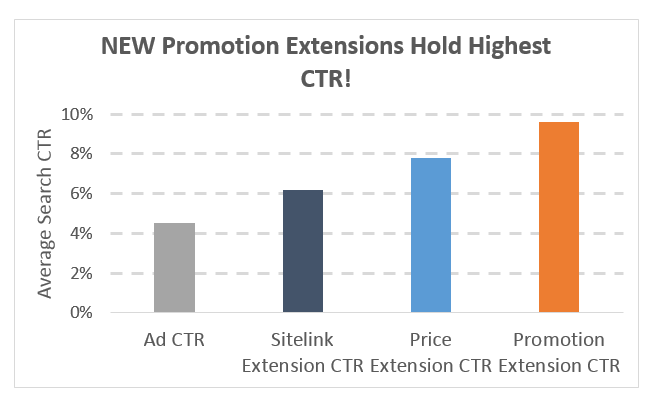 Your promotion can be a special event coming up, a discount for a new product offering, holiday sale, etc. To add this extension, click on the "Promotion Extension" option.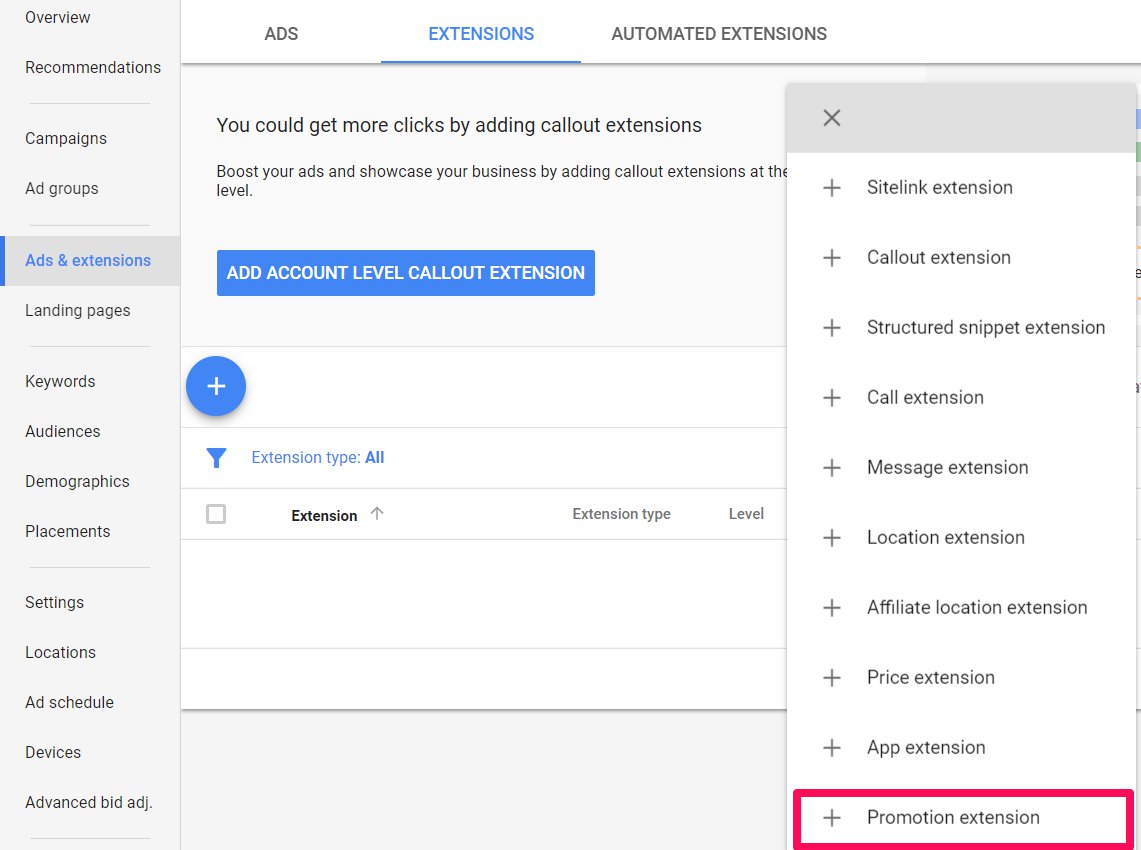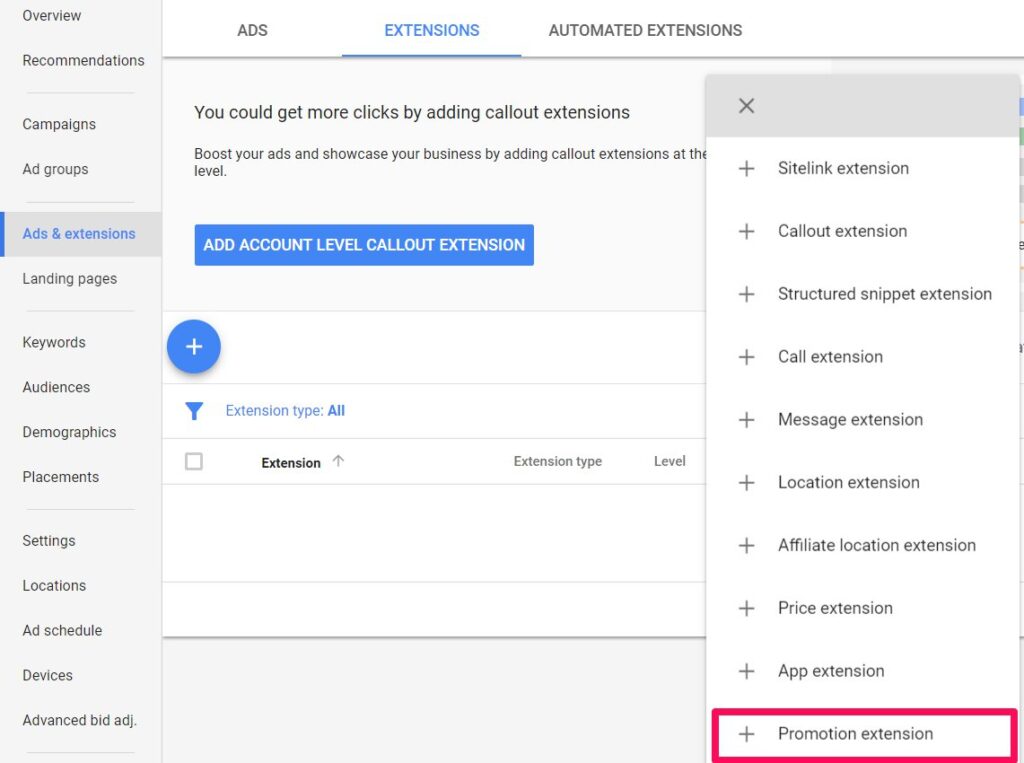 Click on "Create new" if you don't have a promotion extension and you can also select the reason or occasion for your promotion.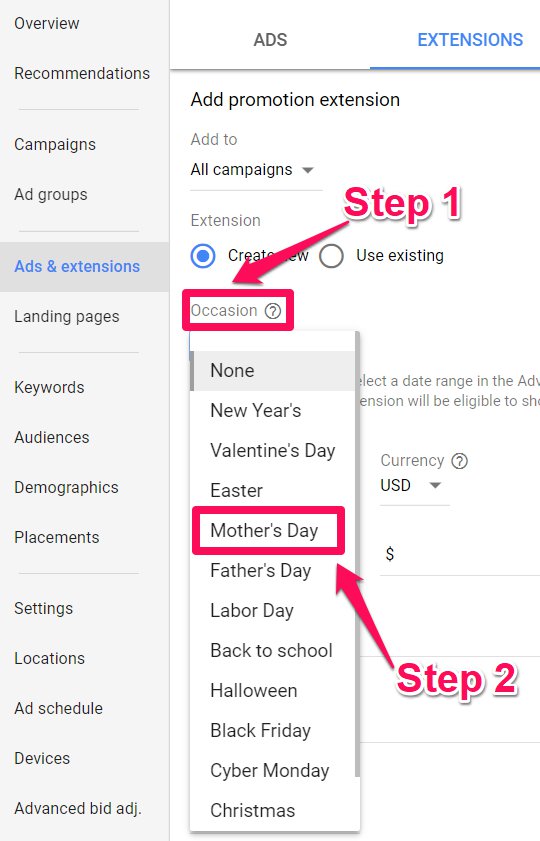 Enter your promotion details like percentage off or monetary discount on your products or service. Then enter the item your promoting and the complementary destination URL.


When you're done, set the start and end date of your promotion.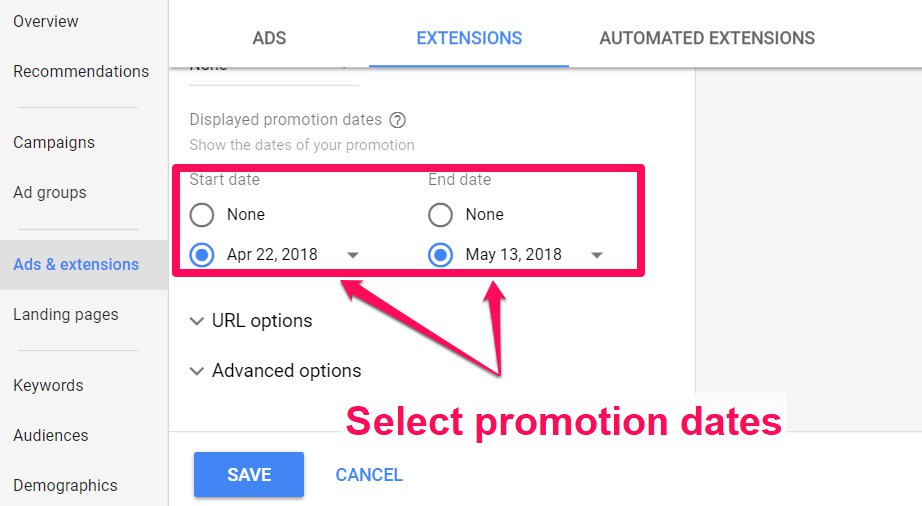 You can also add other details in the advanced options like targeting mobile devices or extending promotion dates.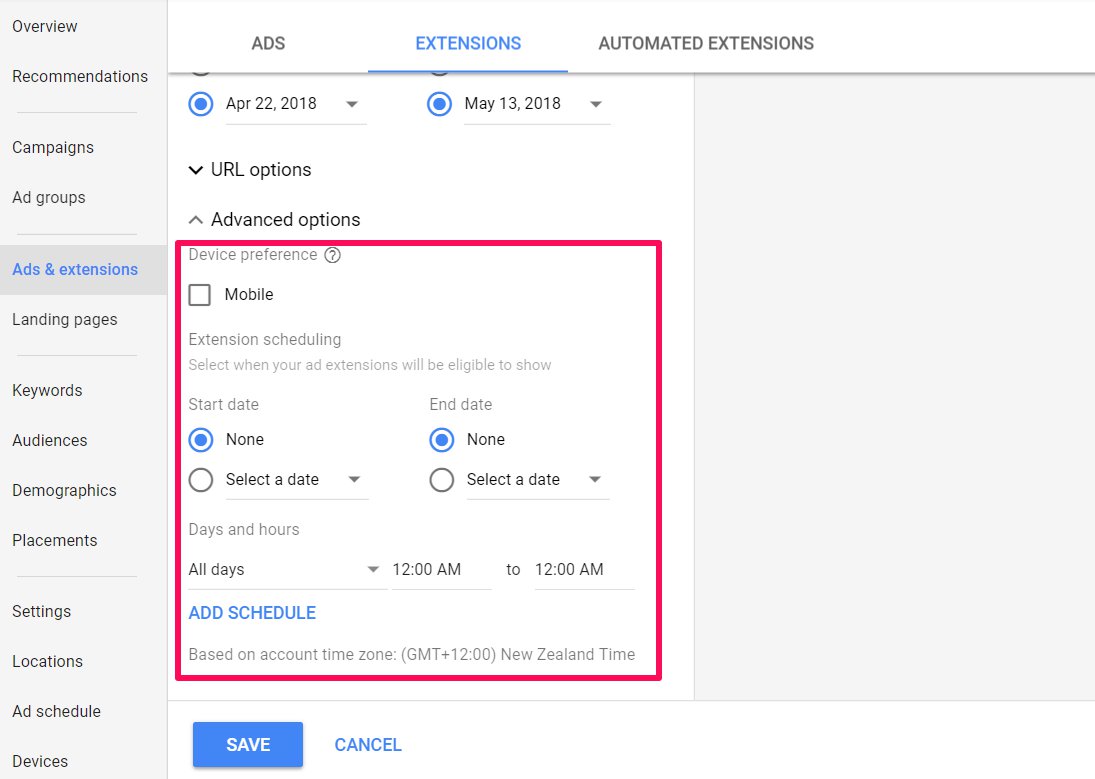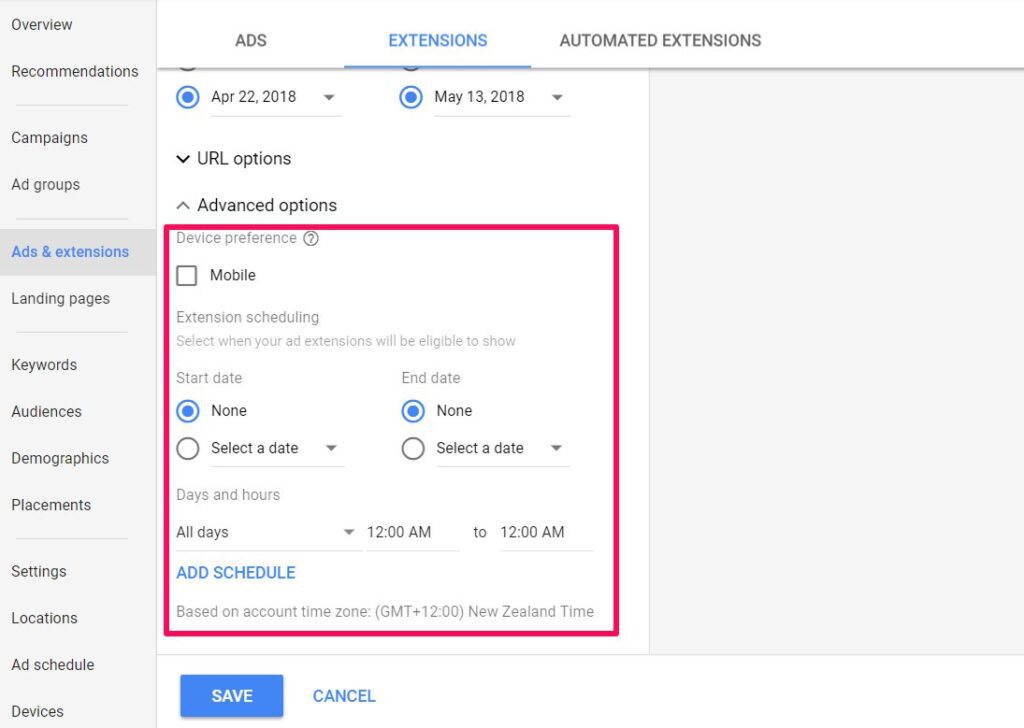 Click on "Save" after adding necessary details to your ad extension.

Here's an example of a promotion extension: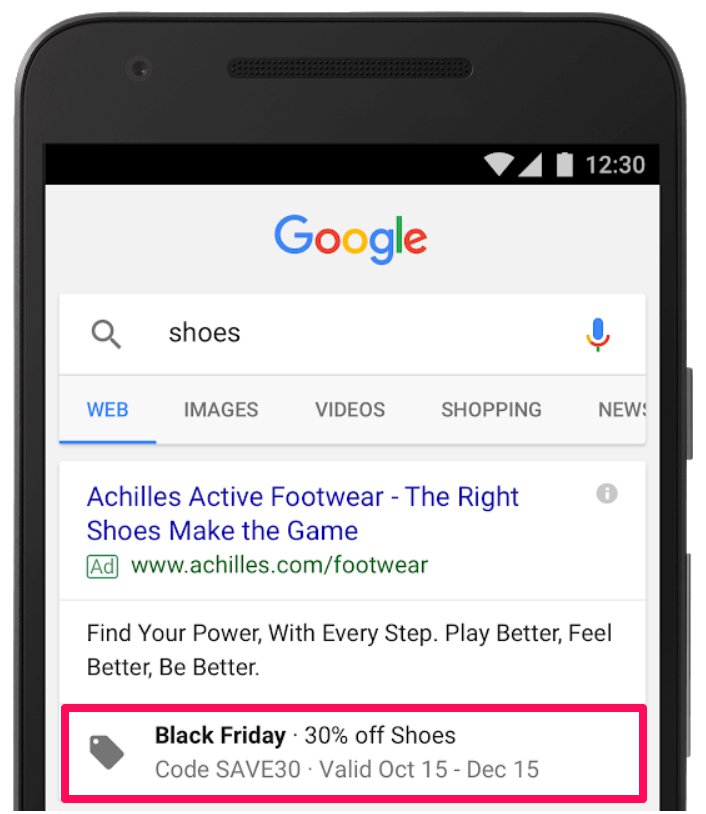 You can use other types of extensions that may help promote your business.
Conclusion
Spending money on Google ads aides your business in gaining more visibility to more customers. However, you can always improve your ads to get more customers at lower costs.
It's a no-brainer for your business to take advantage this opportunity. Follow these 6 steps and you'll get more value- in customers and sales- from your ad budget.