Drug rehabilitation digital marketing encompasses a wide variety of tactics worth pursuing (SEO, Social Media, Healthcare Reputation Management), but the quickest way to drive online clients to your rehab facility is through paid search ads on search engines such as Google and Bing.
While SEO strategies can deliver long-lasting results, it often times takes weeks, if not months, to see the fruits of your labor.
PPC is different.
With a well-crafted digital marketing strategy focused on paid search, you can appear at the top of search engines in a matter of days for the keywords and phrases essential to your industry.
Of course, there's the matter of dollars and cents. Ads in the drug and alcohol rehab space can get expensive, simply because there's a lot of competition in the auction.
But keep this in mind: all that competition means that PPC ads are working. In other words, it's time you step up your game and compete so that your clinic comes out on top.
The best way to do this is to ensure that your ads deliver high-quality leads – folks most likely to become clients. That way your ads are delivering results, and providing you a high return on your investment.
But how do you go about doing this? It's all about relevancy. Our mental health marketing agency uses this strategy to grow clients' business.
Make your ads relevant and compelling
We typed in "drug rehab facilities" into Google (Google then suggested we add "near me" to the search, which we did), and came up with these ads: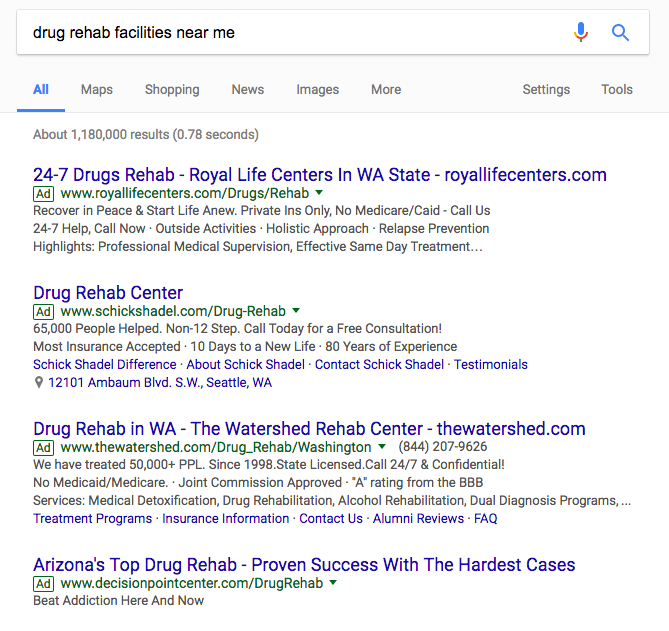 The search we conducted was out of the Greater Seattle area, to put things in perspective. Now, let's delve into the relevance of these ads, to see how your clinic can benefit.
First off, you'll notice that each ad listed here features the term "drug(s) rehab." That's sensible enough. It's important that you place your keyword in the ad title (and copy of the body as well).
In this effort, each ad demonstrates its relevance. Fantastic.
Except, the first three ads don't feature headlines with compelling copy. There's nothing about those ad titles that make the searcher want to click. Sure, by process of elimination the searcher might choose one of these ads, but do you really want to rest your fate in the hands of a game of eeny, meeny, miny, moe?
Then there's the fourth ad: "Arizona's Top Drug Rehab – Proven Success With The Hardest Cases."
This ad includes the keyword ("drug rehab") but wraps it into a headline that pulls the reader in. As far as compelling content is concerned, that fourth ad wins.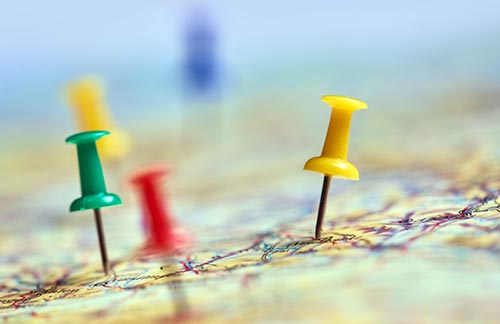 But relevancy isn't just about the messaging. It's also about location.
Now, our Atlanta PPC company knows that people in search of drug/alcohol rehab can – and will – travel great distances to get the help they need. But keep in mind the searcher's intent here: that added "near me" suffix added to our search entry.
Arizona, while on the same side of the Continental Divide as Seattle, is nowhere near it. As such, this ad is targeting the wrong people. What very well might happen here is the searcher would be so moved to click on that Arizona ad (just because it stands out from the others), but not convert from that ad because, well, Arizona is a bit beyond a hop, skip and a jump away from the searcher's home base.
That click = lost money.
When considering the relevancy of your ads, keep in mind the importance of location.
To set up your location targeting in AdWords, go to the Settings tab, then to the Locations. Select the city, region, or postal code you're targeting. If you want to get even more granular, you can click on Advanced Search to target by radius.
Homing in on intent – and playing around with what-ifs and negative keywords
We're going to continue to focus on ad relevancy here because, well, it really is that important. Here at Cardinal, we've worked with a number of drug and alcohol rehab facilities from across the country, most of whom had previously launched PPC campaigns with lackluster results.
One of the commonalities for these failed campaigns is the lack of diversity in ad messaging. For example, let's say you create just one ad campaign, with one message, and one landing page. You push your ad aggressively across the Google landscape, only to be disappointed by the lack of leads, and overwhelmed by your ad spend.
The issue here is you aren't crafting ads that mirror the intent of your searchers. Keep in mind, for example, that many drug/alcohol rehab online searches aren't conducted by those in need. They're conducted by family, friends, or loved ones.
So it's not so uncommon for an online search to be crafted as such:
Does my son need to go to drug rehab?
We conducted that search on Google to see what we came up with: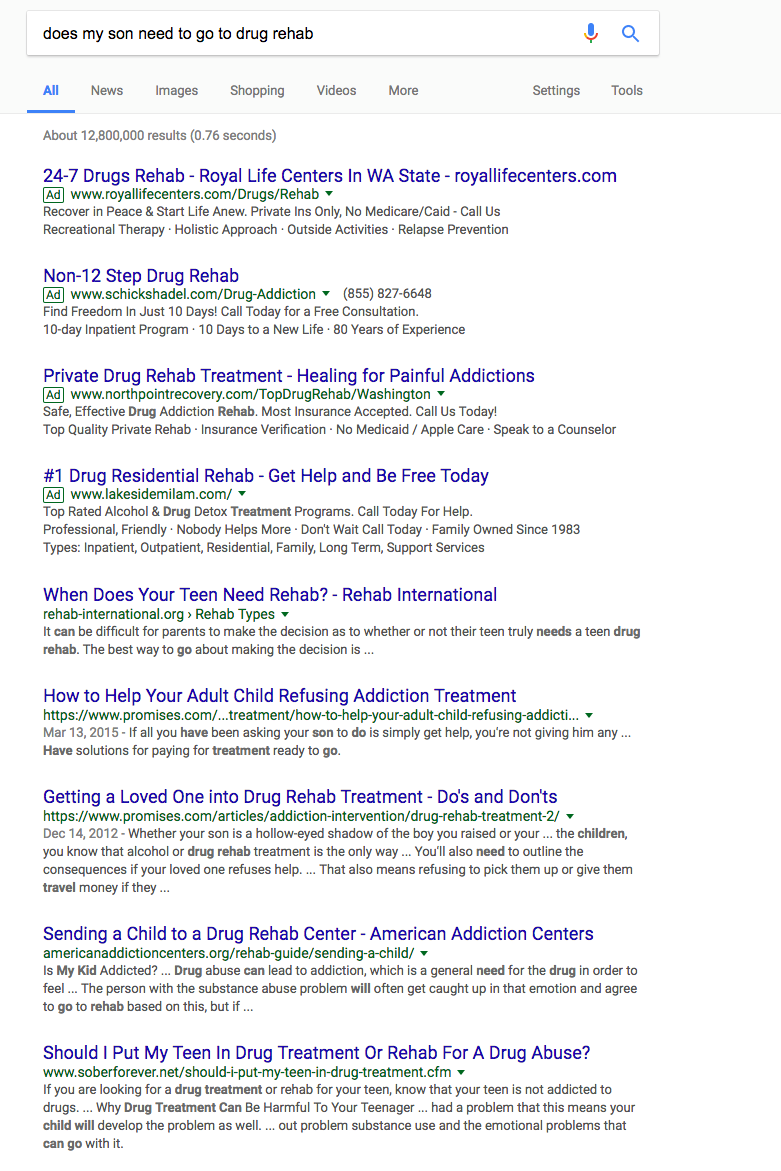 First, let's explain the image: the first four spots are ads, while the remaining five spots are organic (SEO) entries.
This troubles us because what we see here in this image is what we tend to see from our clients who struggle with rising costs of PPC, and minimal results.
In this image, the five organic entries got it right: they speak directly to the intent and mindset of the searcher. They answer the question found within the search phrase.
Keep in mind, the phrase we used included the term "son" yet Google, smart as it is, was able to associate "son" with "teen," "adult child", "loved one" and "child."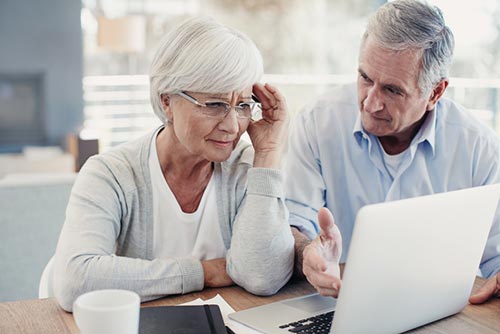 A distressed mom, looking for answers to her query, will scan the page in a millisecond, skip over those paid ads, and go right to one of these organic entries.
That's because each of those ads is generic. They showed up on the results page because we used the term "drug rehab" in our search.
Sure, that gets more views for the ad, but it's a wasted view. The ad doesn't speak to the searcher, based on his/her intent.
That's why it's important to create multiple campaigns based on the types of audiences you're targeting. Someone in need of rehab immediately will respond to one type of ad, whereas a friend looking for support for someone in need would respond to a different ad.
Building out these what-if scenarios, based on keyword research and your own goals, will help you to target the right people, at the right time, with the right messaging.
But you also want to craft a rather healthy negative keyword list as well. That way one of your ads doesn't show up where it's not supposed to.
This screenshot below tells it all:
Notice our search term: physical rehab center near me.
We're looking for physical rehab therapy, not drug rehab. Sure, some searchers might type in "physical therapy," but that won't always be the case. In this instance, the first two ads are specific to drug/alcohol centers – rehab centers that have nothing to do with the searcher's intent. That's because these advertisers opted to show the ad for all instances of the term "rehab," without building out a negative keyword list to exclude, for example, terms that include the word "physical."
Trust us – building out a negative keyword list can save you thousands of dollars on ad spend by ensuring your ads show up when they're supposed to.
Make it easy for folks to contact you
Searching for a rehab center is a very personal, and monumental step in anyone's life. Eventually, the searcher is almost certainly going to want to talk to an actual person. That's why it's important that your contact information is easily available for your prospects to get in touch. You can do this by:
Setting up call extensions, location extensions, and sitelink extensions for all of your campaigns. These extensions are easy to set up and will extend the real estate of your ad. Not only that, but they've been known to improve ad rank on SERPs.
Adding your contact information to every landing pages. Here's a good rule of thumb: if you have a landing page, then it must have your contact information. Period.
PPC can be the best tool for your drug/alcohol rehabilitation center
As we noted in one of the screenshots above, SEO is important to your digital strategy; but organic traffic alone won't bring in the leads you need.
With the rehabilitation industry being one of the most competitive sectors on the web, eventually, you're going to have to turn to paid ads.
But by investing your time and money wisely, focusing on local markets, and knowing who you're targeting, the business you earn from your PPC campaigns will almost certainly outweigh the associated costs.