Most people avoid the dentist if they can, a stigma made worse by the emergence of COVID-19. It's no slight to dentists, of course. In the end, who really wants to be poked, prodded, or numbed? Then there's the shame that comes with having bright lights shown on chompers that haven't been flossed in months.
Despite how reluctant people might feel about selecting their next dentist, more than half of all adults (and more than two-thirds of children) had a dental visit in the past year, according to the latest Oral and Dental Health statistics from the Centers for Disease Control and Prevention (CDC). Which puts the onus on dental practices and, more specifically, dental support organizations (DSOs) to create better patient experiences.
What follows is our brief guide to doing just that—to alleviating patient anxiety through transformative, patient-centered care.
What an Exceptional Patient Journey Looks like
The patient experience is more than what happens in the office or on the examination table. It extends across channels and time. It has a before, during, and after. So make sure you're giving patients the experience they expect across the board. Because these days, there are plenty of potential friction points.
1. Show People You Care Long Before They Visit You
The patient experience usually begins somewhere online, long before the actual appointment. To make sure prospective, new, and existing patients can all be successful, focus your energy on three core activities:
Make it easy to find care
The local market for each of your locations is probably quite crowded. Can people find your website when they're seeking a dental provider? For those that do get to your website, what do they see once they're there? Is your site well structured, simple to navigate, and written in plain language? All of these aspects of both your website and broader SEO strategy contribute to the pre-appointment patient experience.
In our experience, patient-focused dental practices excel in a couple of areas, including:
Consistent, well-optimized websites and listings in relevant local directories
Comprehensive information that explains services, conditions, etc.
FAQs based on top patient issues, such as insurance questions, pricing, and COVID-19 info
Complete and consistent location and contact information
Background on doctors and staff, including bio, experience, reviews, video intro, etc.
Testimonials that show how good dental hygiene leads to overall health or that highlight your practice's differentiators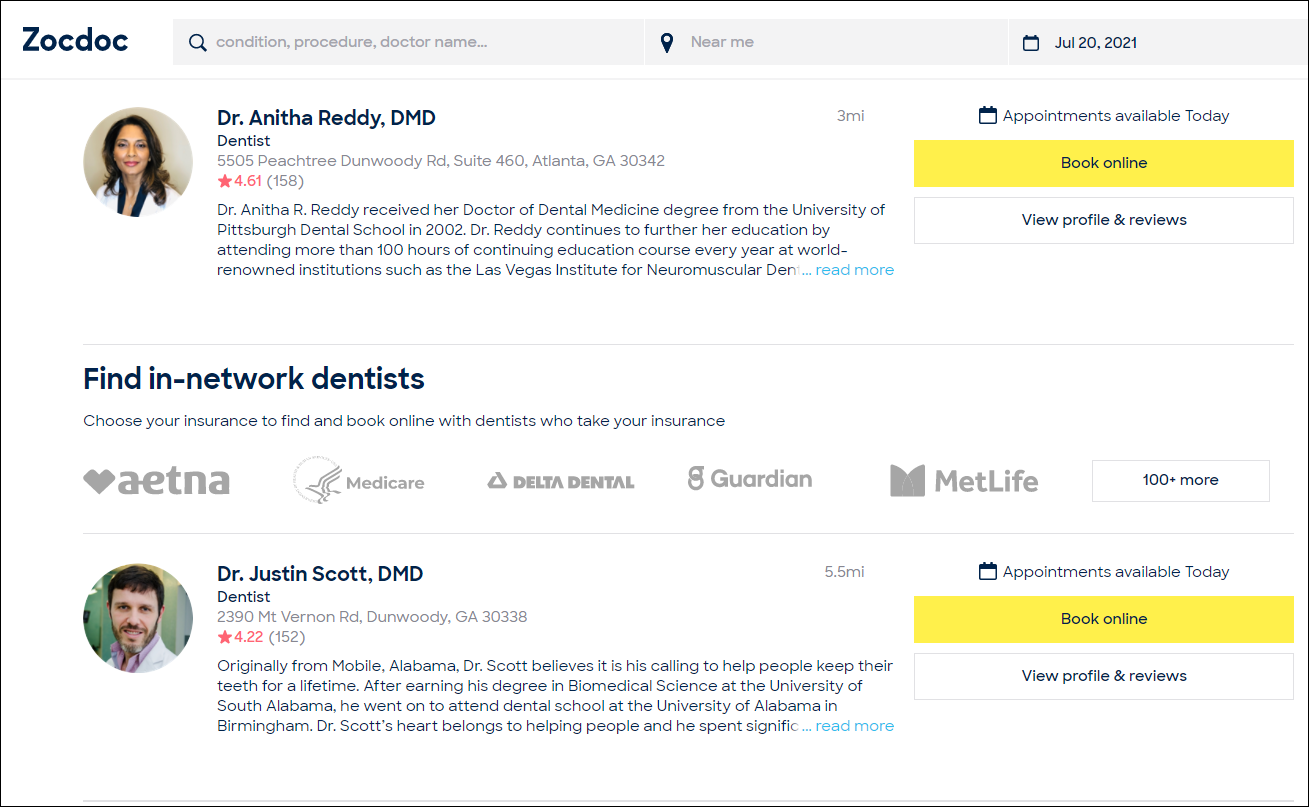 Expand and optimize your scheduling options
Perhaps nothing is more frustrating for a patient than being unable to contact their provider successfully. It's easy to tell dentists to make it easy to schedule appointments. Practically speaking, you can go a lot further than slapping your phone number and email address onto your website. Think about what would make life easier for someone who just found you and has a question or might want to book a consultation. Will they be able to book an appointment immediately? Or will they look for another dentist that shares their availability and offers online scheduling?
For starters, they're probably not looking you up in a phonebook. Instead, they're likely on a mobile device. This means your contact information needs to be mobile-optimized, including the contact form, click-to-call phone numbers, and click-to-send email addresses. Once that patient has contacted you using their method of choice, you'll need to make sure the call-routing or email response system is timely, polite, and personalized.
How people find and schedule dentist appointments:
Conduct a Google search for dentists in the area
Fill out a website contact form or send an email
Call the practice directly by phone
Contact through business listings, such as Yelp, Facebook Business, or Google My Business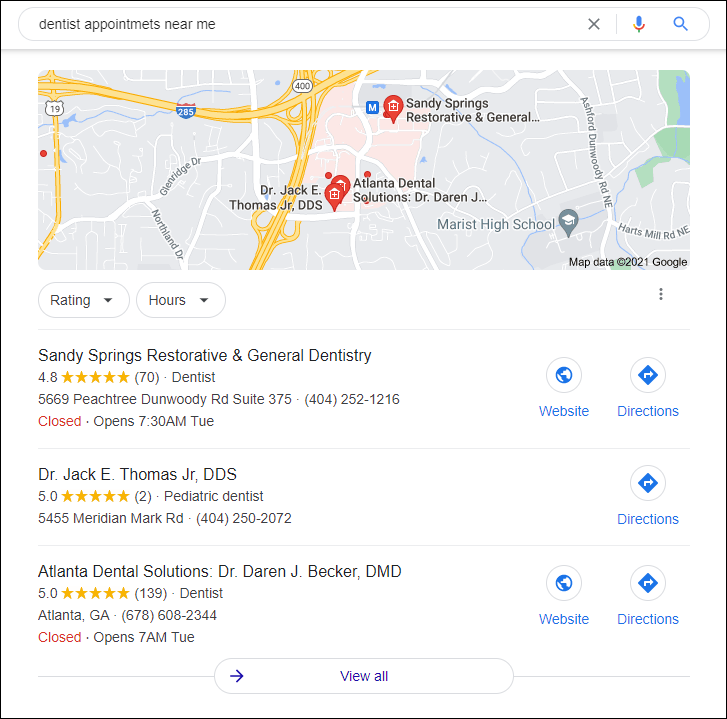 Step up your appointment reminders
No-shows and forgotten appointments are frustrating for both patients and their dentists. So while the trusty email or phone reminder still has its place, many dental practices are finding success by sending automated reminders via SMS. In their messages, they include links to forms, educational content, or special instructions (for example, fasting before having your teeth pulled). Most people always have their phones nearby, which makes SMS a reliable way to contact patients.
What's nice about email and text reminders is that you can send them at automated intervals in the days leading up to the appointment (for example, seven, three, and one day before the date). You can also personalize your email and text notifications or incorporate messaging for telehealth appointments.
2. Provide an Exceptional In-office Experience
I recently switched dental providers for insurance reasons and was blown away by my experience at the new office. From start to finish, no detail went overlooked. I never waited too long, and if I did, someone popped in to check on me. The front desk staff, hygienists, and dentists alike were all attentive, friendly, and thorough. I've already referred three family members to this office based on my first visit alone.
The point is, your in-office experience is very important. Here are a few ways to differentiate yourself during the actual appointment.
Cleanliness & safety
Until COVID-19 is no longer a threat throughout the world, most dental practices plan to keep at least some precautions in place. Patients in high-risk categories, especially, will want to know ahead of time that your practice is taking the proper precautions. These precautions ought to build on an existing reputation for a clean, organized dental practice.
Friendly staff
Being friendly might seem like a no-brainer, but far too many practices overlook this important part of the patient experience. Of the DSOs we work with, most have in some way "operationalized" things like greeting patients by name as they walk in, introducing staff members to new patients, and providing tours of the facility. You can also formalize on-phone scripts to ensure a consistent and helpful experience for patients who choose to call.
Bedside manner
No one wants to feel like they're just another person on the conveyor belt. Far be it from us to tell dentists and dental professionals how to act with patients, but a little bit of active listening, asking questions, and general empathy for what people are going through can go a long way.
Technology
We've mentioned mobile-optimized experiences and good website UX. These are just two examples of how technology and technology best practices can enhance the patient experience. Rather than listing out all of the technologies to consider for your DSO, I'll ask you to consider the experiences those technologies make possible.
Continuity (or seamlessness) is one. For example, wouldn't it be nice if patients didn't have to repeat themselves over and over (reason for visit, updated insurance, etc.)? What if you could automatically pre-populate and pass on the information your patients have already provided? Think of what makes for a seamless digital experience elsewhere (Amazon, Walmart.com, Target, etc.) and look for opportunities to simplify your patient journey in similar ways.
Today, people expect the same level of technology and convenience as they get elsewhere in their life. That's why so many DSOs are rolling out mobile app experiences. Mobile dentist apps now allow patients to send physicians messages without a call, upload documents, check appointments, and so on.
BONUS TIP: Revisit your automated phone system and call tracking system to check for opportunities to give patients the information they need without proceeding to a live phone interaction.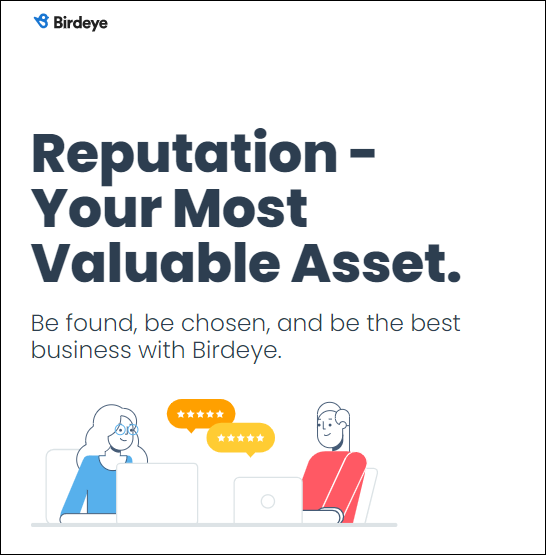 3. Follow Up After the Appointment
For many patients on routine care schedules, calendar invites or appointment reminders for their next cleanings will suffice. However, you'll want to continue communicating with patients who had procedures, surgery, or any tests. Call to check up on them, reiterate recovery guidelines, or let them know that their prescriptions have been sent to their pharmacy on file.
The post-appointment window is also an opportunity to solicit feedback. Go get that review while the appointment is still fresh in the patient's mind. The quicker you send review requests, the better. Consider using a review management platform to automate reviews, so they send once the appointment is marked complete. Many of these platforms can send surveys out by SMS. If you go that route, personalize the experience by including the patient's name and who they saw. Be sincere and thank them for their support while including a direct link to the review platform you want them to use.
Finally, Infuse The Whole Experience with Lots of Empathy
Regardless of how people feel about going to the dentist, most have high standards for dental care. They expect excellence at every point of contact we've laid out above—start to finish. Show them that your DSO cares! Show them that yours is not just another big-name shop—that you've considered things from their perspective and that you're invested in their health.
This will build your reputation, increase demand, and ultimately strengthen your brand loyalty. As with any healthcare experience, a little bit of empathy goes a long way.