Healthcare Facebook Ads are in for some significant changes in 2024. The healthcare consumers of today are not only increasingly savvy but also skeptical of what they read online–especially on social channels like Facebook and Instagram. What's more, in the face of growing consolidation and more healthcare groups entering the digital age, marketers are faced with a more and more competitive digital landscape.
To overcome these challenges, marketers must invest in performance branding and a full-funnel advertising strategy in 2024. You must engage patients across their journey to find care with relevant, authentic ad creative.
Cookie-cutter, generic social ads? They just won't cut it any longer. Instead, you need to have a deep understanding of your patients and design social media advertising strategies tailored directly to their needs. Meta tracking pixels? No longer HIPAA-compliant. Moving into 2024, you'll need a full-funnel approach that uses patient-centric ad creative and sequential messaging to stand out from competitors and reach patients. Here are the social media and Facebook advertising trends for 2024 that will help you do just that.
HIPAA's Impact on Social Media Advertising
We've written a lot recently about recent FTC and HHS regulatory updates and enforcement that have impacted and will continue to impact healthcare marketing in 2024. In summary, both entities have made it clear that healthcare marketers will have to make changes to their marketing technology stack and advertising strategy to ensure compliance:
September 2021

– The FTC issued a policy statement asserting that all health

apps and devices connected with those apps must comply with the Health Breach Notification Rule.
December 2022 –

  the HHS Office for Civil Rights issued new guidance for online tracking technologies, stating that potential disclosures of ePHI could happen as data traveled from HIPAA-regulated entities to only technology tracking vendors.

Early 2023

– The FTC fines GoodRx, BetterHelp, and Premom/Easy Healthcare for various violations of the HBNR. 
In more recent FTC guidance regarding the HIPAA Privacy Rule, the regulator clarifies their recommendations further and states that HIPAA-related entities must get signed authorization before using or disclosing an individual's PHI and that privacy policies must use plain language. 
The current situation can best be summed up by the following statement from Samuel Levine, the Director of the FTC's Bureau of Consumer Protection:
"The FTC is again serving notice that companies need to exercise extreme caution when using online tracking technologies and that we will continue doing everything in our powers to protect consumers' health information from potential misuse and exploitation."
What impact do these revised guidelines have on your Facebook marketing strategy? 
First and foremost, you can no longer use the Meta pixel on your website. You also cannot upload the email addresses of patients to Facebook to build Facebook ad audiences. Nor can you build lookalike audiences.
In light of this, your 2024 social media advertising strategy must pivot to ensure that it's HIPAA-compliant. The FTC is going after healthcare groups big and small. Marketers must conduct a website, martech, and advertising audit to understand their risk or exposure when it comes to HIPAA compliance. 
For Facebook advertising, that means using in-platform demographic targeting, including location, gender, age, and interests. From there, you can use a full-funnel strategy in which people who engage with TOF video content are subsequently served ads relevant to the first video and that patient's journey. How can you do that most effectively? Let's dive in to the details below. 
Facebook Needs an Integrated Full-funnel Strategy
In light of HIPAA-data restrictions and the removal of the Meta pixel, healthcare marketers now need to use a full-funnel strategy to reach the right people. To build a full-funnel advertising strategy, you need to have a deep understanding of your ideal patients and the journey they undergo to find care. 
With that information, you can then design content and ads that will resonate the most with your patients and their journeys.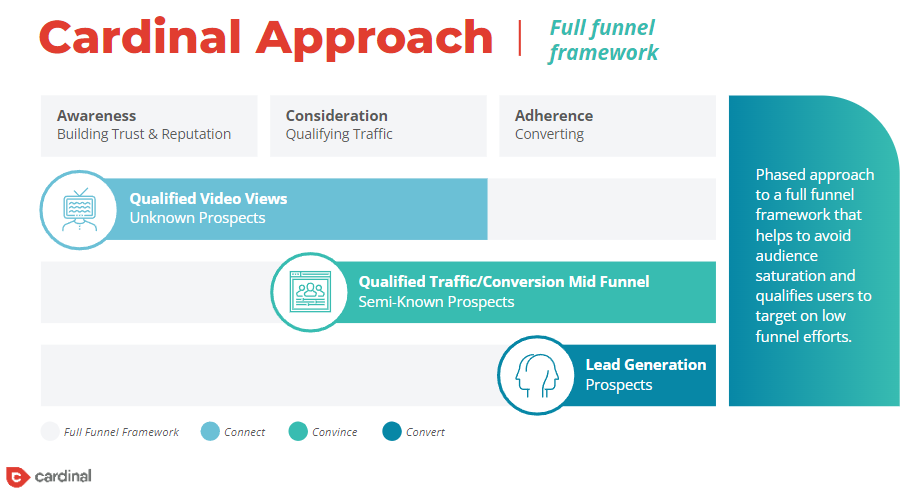 Here are some tips on just how you can do that.
A full-funnel approach to social media ads is designed to reduce the overall cost of generating a lead at the bottom of the funnel. In our experience, serving direct-response ads to prospects who have never interacted with your brand before can drive up CPA costs by more than 400 percent.
It's critical that you deploy a full-funnel approach to keep our reach wide where ad serving costs are low and push only those qualified audiences down the funnel to call-to-action (CTA) ads. That's why we recommend using tight ad group structures to better identify what stage of the funnel a prospect is in, then serve them a message relevant to where they're at in their decision-making process. If they engage with a specific ad, that signals where they're at in the journey. With that information, we can then show them sequential ads they'll be most likely to respond to.
In a full-funnel model, your ad group structure will be built around the four awareness levels that comprise most ad awareness hierarchies, namely:
Problem Aware
At this stage, a person knows they have an issue but is unaware of potential solutions. In fact, they might not even be actively seeking a solution at all.  
Messages to Use at This Stage: Ad content that leads to website content that creates value upfront. This might be "pillar" content, introductory guides, or even video overviews.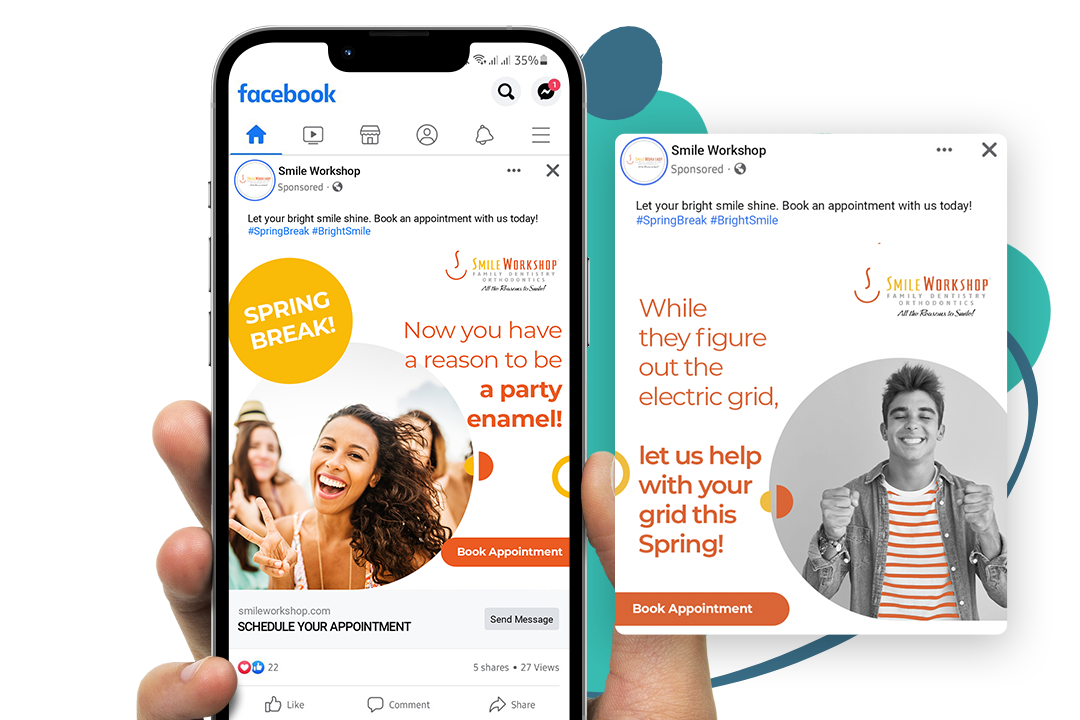 Solution Aware
A consumer in this stage is in the process of evaluating different solutions to their problem. They might even be ready to pick up the phone or put their credit card down. 
Messages to Use at This Stage: ads that lead to a walkthrough of your particular treatment, e.g., a short (30-60 seconds) video covering the benefits of your approach compared to other treatments for this condition. Any content demonstrating why your solution is a viable treatment for their problem.
Product Aware
Product-aware consumers need convincing that one solution is better than another, i.e., they're not entirely convinced that your treatment is best. 
Messages to Use at This Stage: Ads and messages that perform the function of product comparison, "unboxing" each solution, walking the consumer through the details (objectively), and laying out the pros and cons.
Most Aware
At the most aware stage, your audience likely knows and trusts your brand. This person has passed through the other stages of your ad funnel and encountered other content and messaging. 
Messages to Use at This Stage: Content that incentivizes them to pull the trigger and choose you, i.e. a free 60-minute evaluation, complimentary video chat, or even a discount on a bundle of sessions.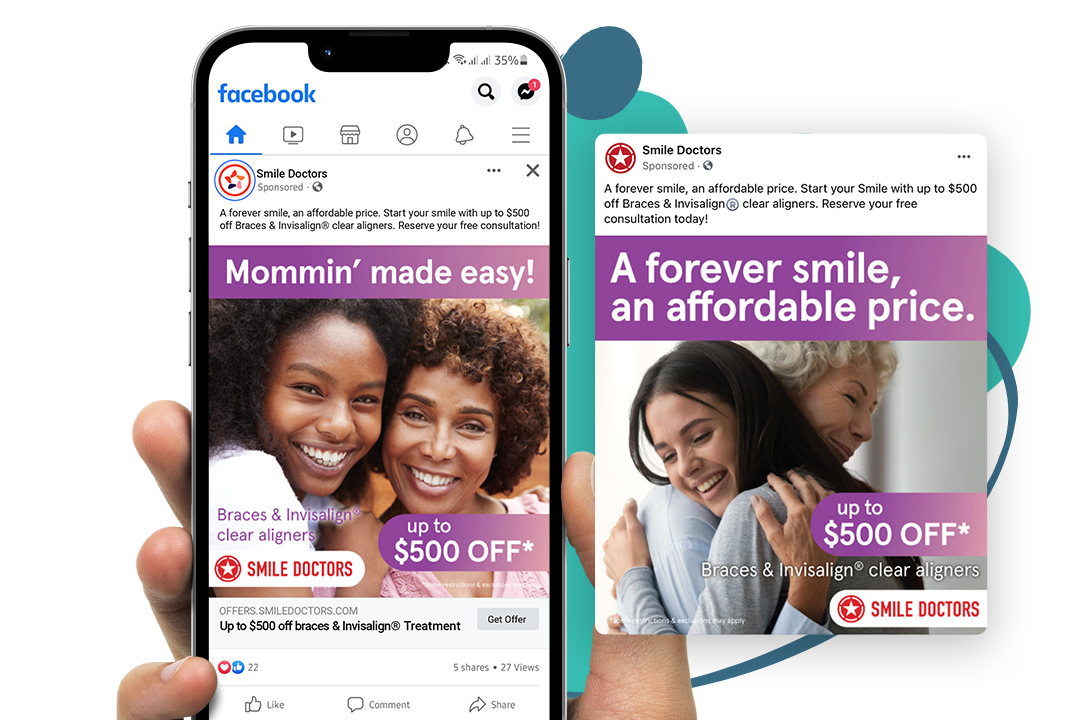 With this approach, you're adapting ad creative and messaging as the consumer moves through the patient journey, and creating campaigns that align closely with each consumer's stage of awareness. 
Investments in Social Performance Branding Increase
To continue to grow In highly competitive markets that are dominated by mature, sophisticated healthcare groups, marketers are turning to performance branding. 
Performance branding blurs the line between traditional branding initiatives and direct response performance campaigns. Upper funnel campaigns can be measured and tested so their impact on overall business performance is better understood. 
Your marketing maturity will determine when it's time to move beyond the bottom-of-the-funnel (BOF) and expand into demand generation. Here's a look at the sliding scale of demand:
Demand capture = lower marketing maturity –

Capturing existing demand, typically with Google Ads (think "near me" searches).

Demand generation = building brand –

 Building awareness sooner in the buyer's journey,  through channels like social media.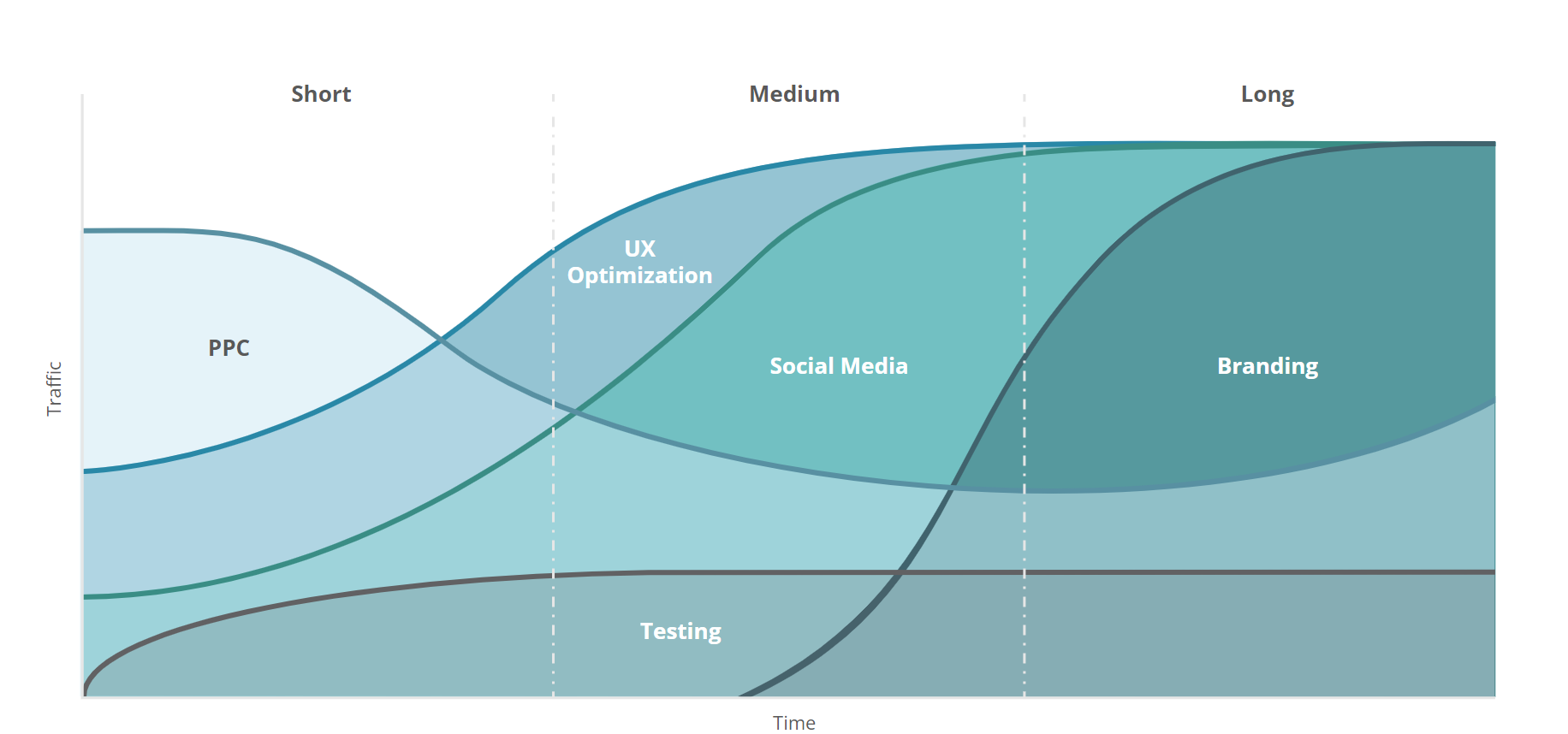 After you maximize demand capture and BOF activities, you should then start layering in things like video advertising, display, and social media advertising. Apply performance marketing's HIPAA-compliant analytical capabilities to these upper funnel initiatives. 
At Cardinal Marketing, we are seeing more investments in performance branding happening in mature markets like dental, behavioral, urgent care, dermatology, and aesthetics. To continue to drive growth in 2024, more healthcare groups will turn to Meta (FB and Instagram) to reach patients and expand their pipeline.
Why? It helps brands grow, for one. By mixing brand and performance activities, marketers make a stronger impact and improve measurability. It can also help increase market share. Many marketers use brand marketing to establish their personality and point of view over time, then add performance marketing to take their offer directly to buyers, all backed by hard data. 
Marketing with a purpose like this improves patient acquisition, increases profitability, and expands your market share.
Your Social Advertising Creative Matters More Than Ever
Over the last decade, marketers have become enamored with data and the ability to segment and target niche audiences. Us included! For a time, Facebook advertising was all about segmenting to find the perfect audience. As access to that data is increasingly diminished, however, marketers have to go back to the fundamentals.
They have to go back to the origins of effective advertising: developing great ad creative. 
In 2024, marketers must invest in their ad creative by prioritizing buyer research, copywriting, graphic design, and video production. They'll need to build a foundation of solid research to understand their target buyers. What motivates them? What barriers prevent them from taking action? What triggers are tied to the buying journey? Answering these questions will be key to developing copy that resonates and persuades.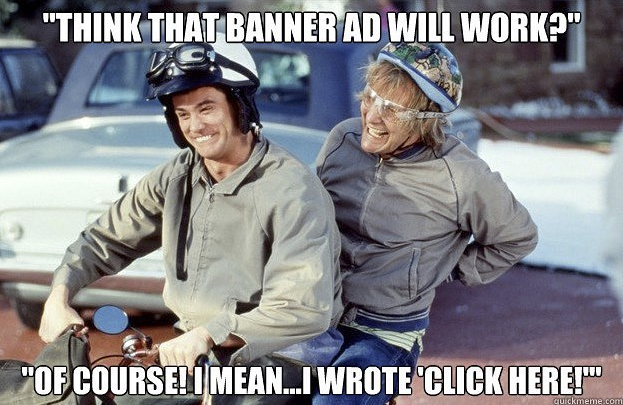 Speaking of good ad creative, take your time. We see too many marketers rushing to churn out or refresh existing ads. Good creative takes time, first and foremost. It also takes time to understand whether or not ad creative is effective. Instead of making spot changes on the fly, review, analyze, and incorporate feedback from internal creative reviews. Work with your analytics team to identify winners and losers. And create those constant feedback loops that serve as ongoing quality control.
Need for Authenticity in Social Media Advertising
Unfortunately, patients today aren't trusting providers like they used to–one of the lasting impacts of the COVID-19 pandemic. The rise of AI-generated content is compounding the problem, feeding fears that the information patients view online isn't trustworthy.
In this climate, authenticity and originality are key. To underscore both, healthcare groups must prioritize their brand and their experts. Content cannot be generic or solely generated by AI, and it must prioritize a brand's unique point of view (POV) and be backed by research.
A great approach is to promote educational content as a way to display authenticity. Put your providers' expertise and experience on proud display with educational content. Use your Facebook ads to show the people behind your brand, including doctors and support staff. 
Healthcare in 2024 is complicated, and your potential patients seek accurate information. Make sure to develop a strong voice and POV that is backed with proof to ensure that your messages resonate with the authenticity your audience demands. One way to do that? Video social media marketing.

Video Still Reigns Supreme in Facebook Advertising
In 2024, people love video just as much as before. At Meta's Agency Performance Marketing Summit in June 2023, Meta shared that since launching Reels to Instagram, the total amount of time spent on the platform went by 24%. A clear signal that users want video content.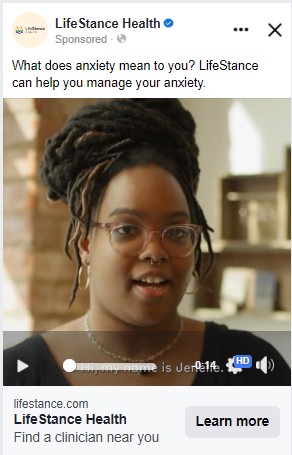 By creating video content, you are fulfilling this demand while also underscoring your authenticity. What better way to be authentic than with video, where your audience can see your providers front and center?
For a full-funnel advertising strategy to work, you need strong video content to capture users' attention at the top of the funnel. Video allows you to show your brand leaders and advocates, highlight your physicians, and feature patient stories and successes that your audience will relate to.
Remember that healthcare video doesn't only mean flashy big productions with 150k budgets for television. There's no need to let a small budget prevent you from embracing the medium and creating Facebook ads or Instagram Reels.
Audiences don't necessarily want 'big budget' creative— they want authenticity, and they want information. The good news is that on social media, you can get by with more casual video content. In fact, this 'casual' approach often helps reinforce the authenticity of the content. An added bonus? New AI tools and video creation software exist that allow you to create videos more efficiently and on a budget. Meta has also introduced Reels Enhancements like larger call-to-action buttons, music optimization, and text enhancements.
AI Redefines Facebook Ad Creative
While AI has only entered the mainstream conversation relatively recently, the technology has been part of advertising strategies for a long time. Facebook and Google, for example, use Machine Learning to analyze user behavior and vast amounts of data to identify patterns.
Over the past year, AI has been increasingly leveraged to generate copy and ad creative. To that end, Facebook has been ramping up its generative AI capabilities and has released its first generative AI-powered features for ad creatives in Ads Manager. 
What are these new features? Take a look: 
Background Generation:

Creates multiple backgrounds that complement your product images (Available only for Advantage+ catalog ads)

Image Expansion:

Automatically adjusts your assets to fit different aspect ratios (Available in Advantage +creative)

Text Variations:

Generates multiple new versions of your original ad copy (Available in Meta Ads Manager)
According to Meta, you can expect some pretty sizable benefits in using this technology, including saved time and resources, reduced creative fatigue, and increased productivity. Who doesn't want that?
It's important in all of this, however, to remember that AI is not a total replacement for ad copy and creativity. Think of it as a tool in your pretty diverse toolbox. Yes, it can spark new ideas and reduce creative fatigue, so use it as needed. AI also offers some other significant benefits, including improved efficiency. According to one recent survey of advertisers who took part in early testing, participants stated that AI will save them 5+ hours a week, or one month a year. With all that 'busy work' saved, imagine how much more productive work your team can engage in?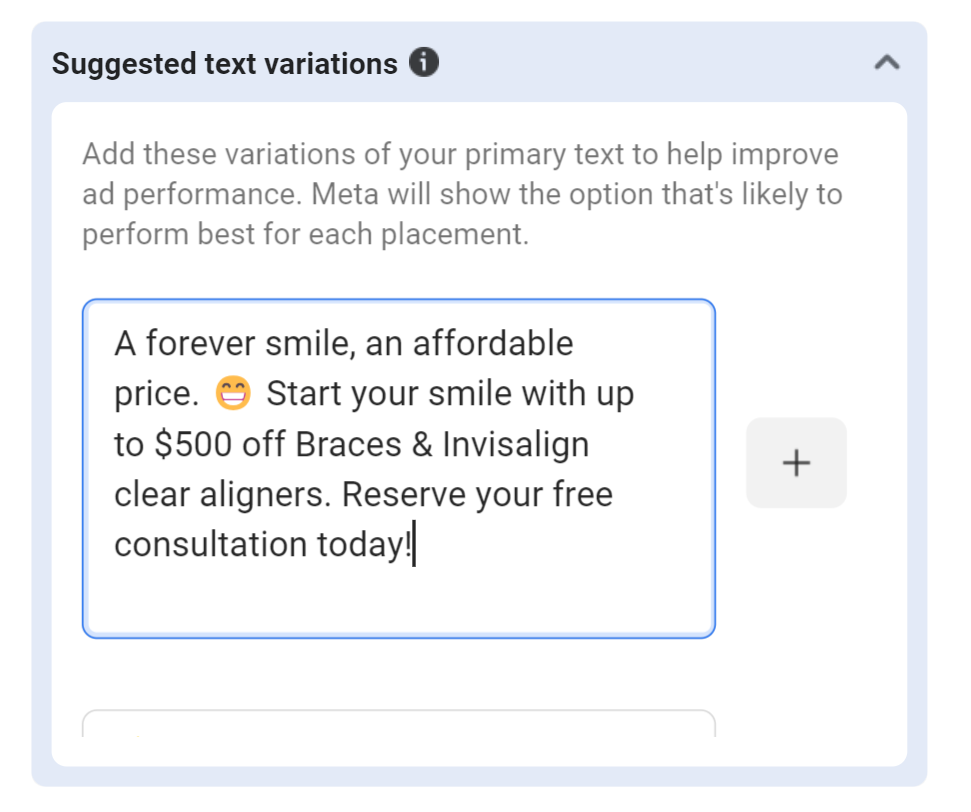 However you use AI, remember that you will still need someone to oversee and ensure the machine is being guided appropriately. Despite AI's capabilities, you still know your ideal patients and how you can help them best. AI can allow FB advertisers to create more impactful creative that resonates with patients, provided the human touch is still in the mix. 
Concluding Thoughts on the Future of Social Media Advertising
So, those are the social media advertising trends to keep in mind for 2024. By focusing on a full-funnel strategy, staying compliant, and leveraging AI in the most effective ways possible, you'll be ahead of the curve in the coming year, 
Above all? Focus on nurturing patients with relevant, authentic, and high-quality ad content that addresses a patient's needs across the patient journey. With that in mind, you'll be more than prepared for 2024 and beyond.